Dual cab utes are selling in record numbers these days and that means, for a lot of people, it's their first four-wheel drive vehicle. Getting off sealed roads for the first time can be an intimidating prospect because it requires changes to both the way you drive and how you prepare for the trip.
With that in mind we want to give you some tips for taking that first step into the larger world of off-road adventure. Recently we travelled to K'gari, also known as Fraser Island, to sample the Mazda BT-50 on what is the world's largest sand island.
There are countless places in Australia where you can take yourself off-roading for the first time, but K'gari is a popular spot, not only is it a beautiful island with lots of spectacular places to visit and explore, but it's only a few hours north of Brisbane with ferry access each day, so it's very accessible.
You do need to have a four-wheel drive vehicle to visit K'gari because aside from a few hundred metres of paved roads in the large resort, the entire island is criss-crossed with hundreds of kilometres of sandy tracks and beaches.
But, because it's entirely made of sand you need to understand some of the basic principles of tackling soft surfaces to avoid getting yourself into trouble. Experienced off-roaders will no doubt find these tips fundamental, but every veteran adventurer was once a novice and it's vital to learn the basics first before heading out on more extreme journeys.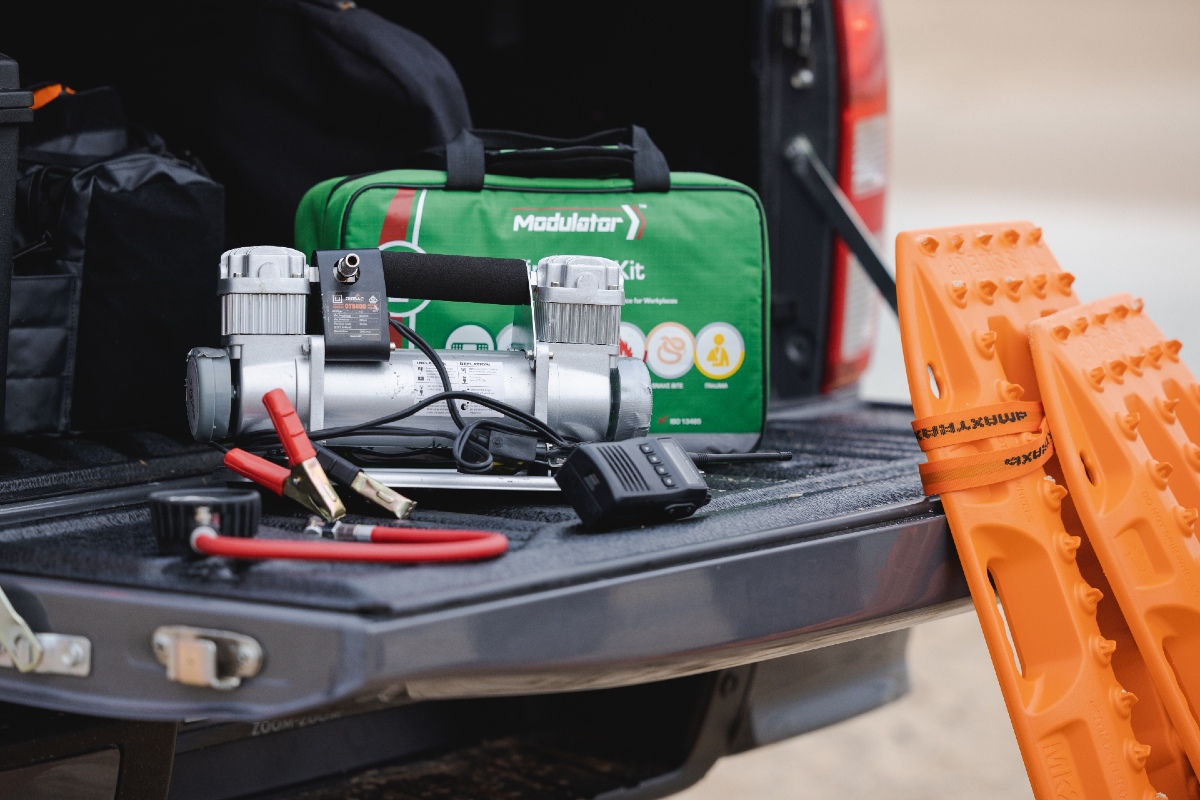 While it's great if you can go with a mate to help you out, don't be afraid to try it yourself as long as you're properly prepared. For not much money you can get some key pieces of recovery equipment that will make your life easier if you do get stuck (or just give you peace-of-mind hopefully, knowing that you have them). A snatch strap for connecting to another vehicle can be purchased from as little as $20 at your local Supercheap Auto. Recovery boards are more expensive (retailing for approximately $320) but could prove enormously helpful if you get caught in soft sand.
And these are only the beginning, there are countless off-road items you can buy at Supercheap Auto and other specialty retailers, like winches, air-compressors, etc that you can splurge on depending on your budget and how much off-roading you plan to do.
Before you drive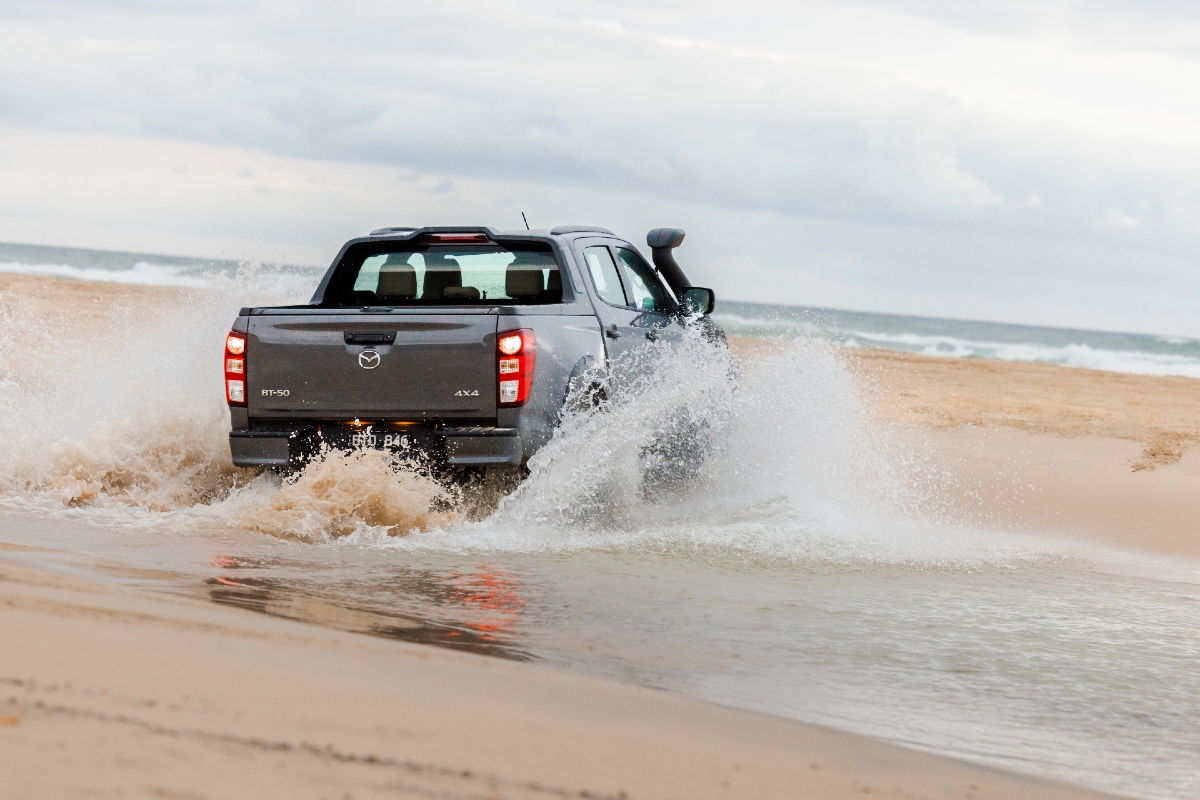 Regardless of how much you spend, the first thing you should do when driving on sand is free – lower your tyre pressures.
It will depend on your car and tyre type, but in the BT-50 the pressures were lowered to between 18 and 24 psi, and this allows the tyre to spread the load across the surface more and increase your 'footprint' on the sand.
The next thing you need to do is turn off traction control and electronic stability control. That may seem dangerous, given these systems are designed to avoid an accident, but that's on sealed roads. On soft surfaces like sand and mud you'll need the wheels to slip a bit to avoid you getting stuck.
If you leave stability or traction control on, the ute will detect wheelspin and cut power to the engine and kill your forward momentum and leave you stranded.
If you do get bogged and you don't have help or any equipment, don't panic, popular off-road spots like K'gari Fraser Island are full of experienced off-roaders that are typically happy to stop and help a fellow adventurer out of a tight spot.
Hitting the (off) road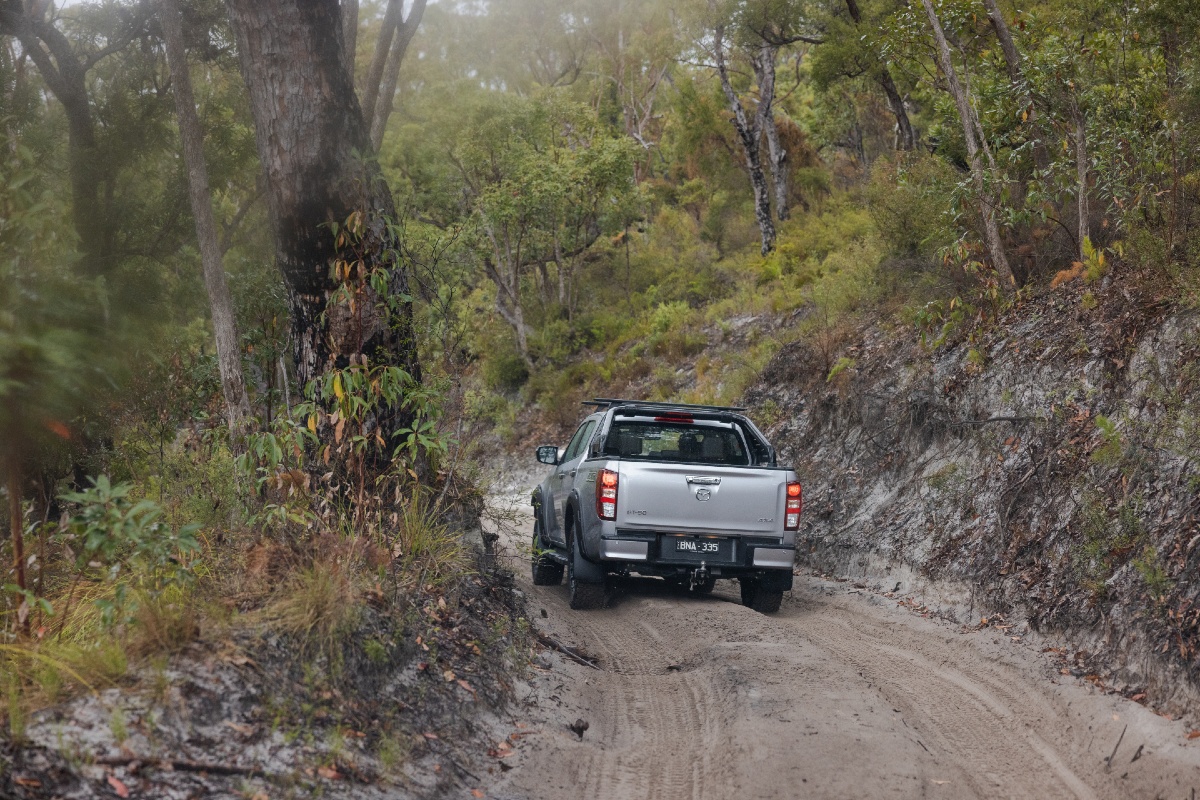 On rutted tracks you'll want to be mindful of how you're seated in the ute. Make sure you've elevated your seat so you can get a clear view down the road to spot any obstacles and keep your thumbs out of the steering wheel spokes in case you do hit a sudden bump and jar them.
If you're driving on the kind of long, bumpy tracks that feature on K'gari Fraser Island you'll find yourself bouncing around the cabin. The key to avoiding fatigue is to brace yourself with your lower body, spreading your legs wide against the side of the ute. You'll get fatigued holding onto the steering wheel and by using your legs you're engaging your bigger muscles to do the hard work.
A key driving tip when off-road is when you approach an obstacle, like a big dip, rock or tree branch, get your braking done early, that gives the suspension a chance to recover so it's not compressed by the weight of the ute shifting forward.
Also, if you're approaching a bump or tricky section, don't be afraid to pause and take a moment to assess the safest and easiest way through. That may mean looking out the side windows or even jumping out of the ute.
Surfs up
Out on beaches of K'gari or any sandy driving the key is momentum. You wanted to be smooth on the throttle and allow the ute to flow through the sand without any sharp or dramatic movements.
If there are ruts try and stay in them as opposed to fighting against them. Again, you want to let the ute flow and allow momentum to do the work.
It can be tempting to drive down on the hard-packed sand near the water's edge because it's like a smooth highway, but you should always be mindful of the water as it can disturb the car. Plus it's sea water and getting all that salt on your ute isn't good for the metal.
Driving on the sand is great fun, it will make you feel like you're in the Dakar Rally, but you need to keep your wits because there can be hidden dangers. Rocks covered by sand can damage your suspension if you hit them hard enough.
But the other less obvious danger for beginners are what's known as river gutters. There are where inland rivers flow out into the sea and they create sharp edges and recesses that can be hard to spot if you're not paying attention and will cause drama if you hit them at speed.
Enjoy the ride
While there are some dangers and things you'll need to be mindful of, driving off-road is a great experience and something every 4×4 should experience at least once with their vehicle.
Obviously as experience builds you'll be able to enjoy even more adventurous roads and remote places of this amazing country, so don't be afraid to start.