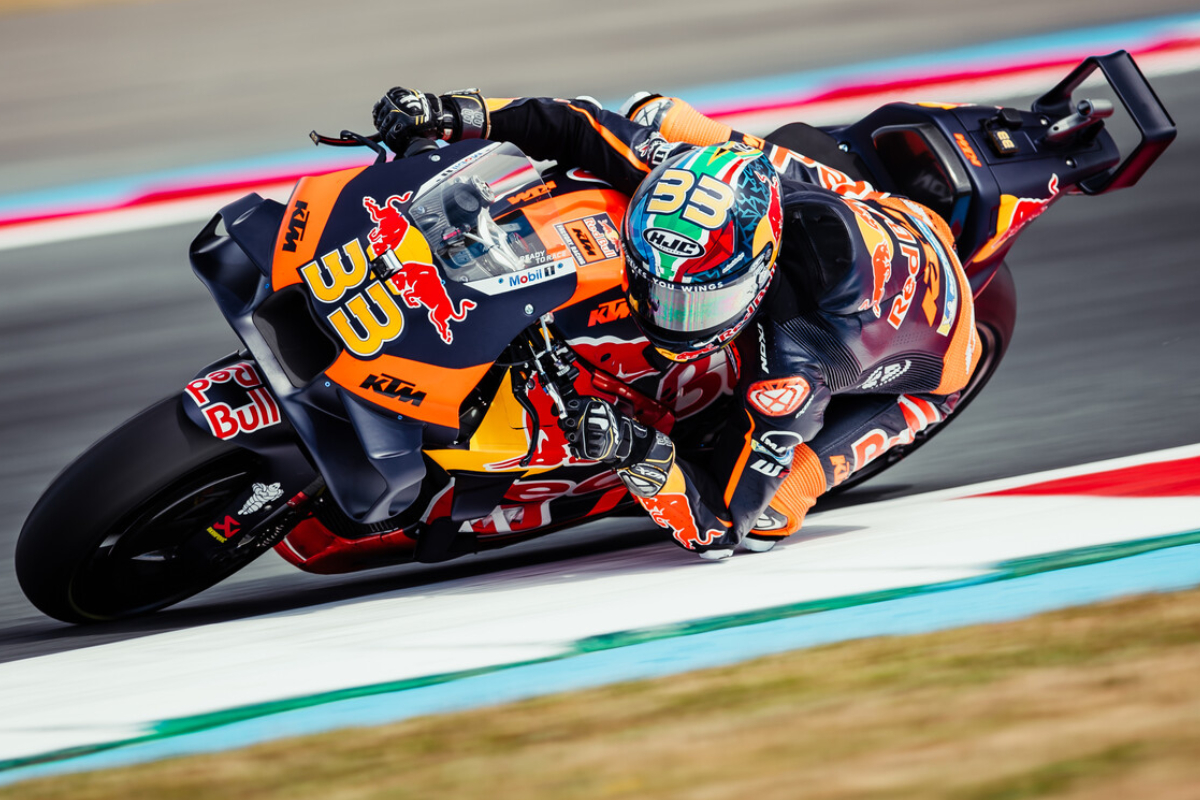 The TT Circuit Assen brings MotoGP to the end of an intense three-week back-to-back stint of Grands Prix and Red Bull KTM charged into the Saturday agenda of round eight of the series with Brad Binder bursting with top three potential. Teammate Jack Miller scored 11th on a sunny day in the north of The Netherlands.
The TT Circuit Assen might have chopped and changed over the course of a glorious 74-year history in the world championship but the Drenthe trajectory is still a wonderfully fast, weaving and challenging prospect for the record-breaking speeds of MotoGP.
Binder, who has finished 12th and 5th at Assen in his two premier class appearances at the venue, scorched to two rapid laps in Q2 and briefly held Pole Position. He was nudged down the order and then occupied 2nd. A slender two tenths of a second was the final difference between #33 and Pole; 5th on the grid meant the middle of the second row and his second-best qualifying of the season so far.
Jack Miller returned to the scene of happy memories. The Australian earned his maiden MotoGP victory in the rain-sodden 2017 Dutch TT and has been subsequently hunting the podium again. Miller was on the pace through P1 and P2 sessions on Friday and earned direct entry to Q2 but could only manage one viable time attack on Saturday morning due to an issue with the front end of the bike and settled 12th on the grid.
The 4.5km, 18-corner layout meant 13 laps for the Tissot Sprint and Binder made a brilliant start to hold 2nd place. He was passed by eventual winner Marco Bezzecchi but bravely held off the challenge by Fabio Quartararo on the last lap to cross the line in 3rd. Binder was then saddled with a three-second penalty for the tightest of track limit calls and relegated to 5th. Miller had a busy Sprint just inside the top ten and collected 11th at the flag.
The Motul TT Assen main event starts at 14.00 with 26 laps in store. The race will be followed by a five-week summer hiatus and broken with the British Grand Prix at Silverstone in early August.
Brad Binder, 5th in qualification, 5th in the Sprint: "I did my best and I think I did a pretty good race. I would have loved to have been on the podium but the reality was that I touched the green. I had no idea and it must have been by a couple of millimeters. Somehow I missed on my dashboard that I had a warning already. It's over for now and tomorrow I'll give myself a few more centimeters! Overall, it's a bit frustrating because you don't know you are touching that area and it means you are fuming after the race! But I touched it, and I'd actually lost the front end in the corner before on two occasions and I think that put me a little bit more out than usual. Anyway, tomorrow is another day!"
Jack Miller, 12th in qualification, 11th in the Sprint: "Quali was tricky. We had quite a lot of vibration so we're just trying to understand why. I felt really comfortable on Friday but missed that final bit of confidence for Q2 which kinda went into the race. It was chaos on the first lap but we were able to get through it all. My pace was OK and if we can find a bit more stability heading into corners for tomorrow then we'll be right there. It's so tight out there. We just have to be better tomorrow."
Francesco Guidotti, Red Bull KTM Factory Racing Team Manager: "Happy to be competitive and Brad made a good lap this morning and was able to start from the second row. His launch was great, he fought for the podium, he took a podium but he touched the green zone too many times and he was penalized. It's a shame to lose a podium like that and because he did not see he had a warning on the dashboard. This is a track where the rider really has to pay attention because of the speeds they are making. We have to accept it…but the positive part is that we're fast and we're in the running and we're excited for tomorrow. Jack was talking about some front end vibration this morning and we thought it might be related to the wheel but it wasn't. He suffered again in the race and we need to get to the bottom of it."
Results Qualifying MotoGP Motul TT Assen
1. Marco Bezzecchi (ITA) Ducati 1.31.472
2. Francesco Bagnaia (ITA) Ducati +0.061
3. Luca Marini (ITA) Ducati +0.158
5. Brad Binder (RSA) Red Bull KTM Factory Racing +0.232
12. Jack Miller (AUS) Red Bull KTM Factory Racing +1.243
Results MotoGP Sprint Motul TT Assen
1. Marco Bezzecchi (ITA) Ducati 20.09.174
2. Francesco Bagnaia (ITA) Ducati +1.294
3. Fabio Quartararo (FRA) Yamaha +1.872
5. Brad Binder (RSA) Red Bull KTM Factory Racing +4.582
11. Jack Miller (AUS) Red Bull KTM Factory Racing +11.191