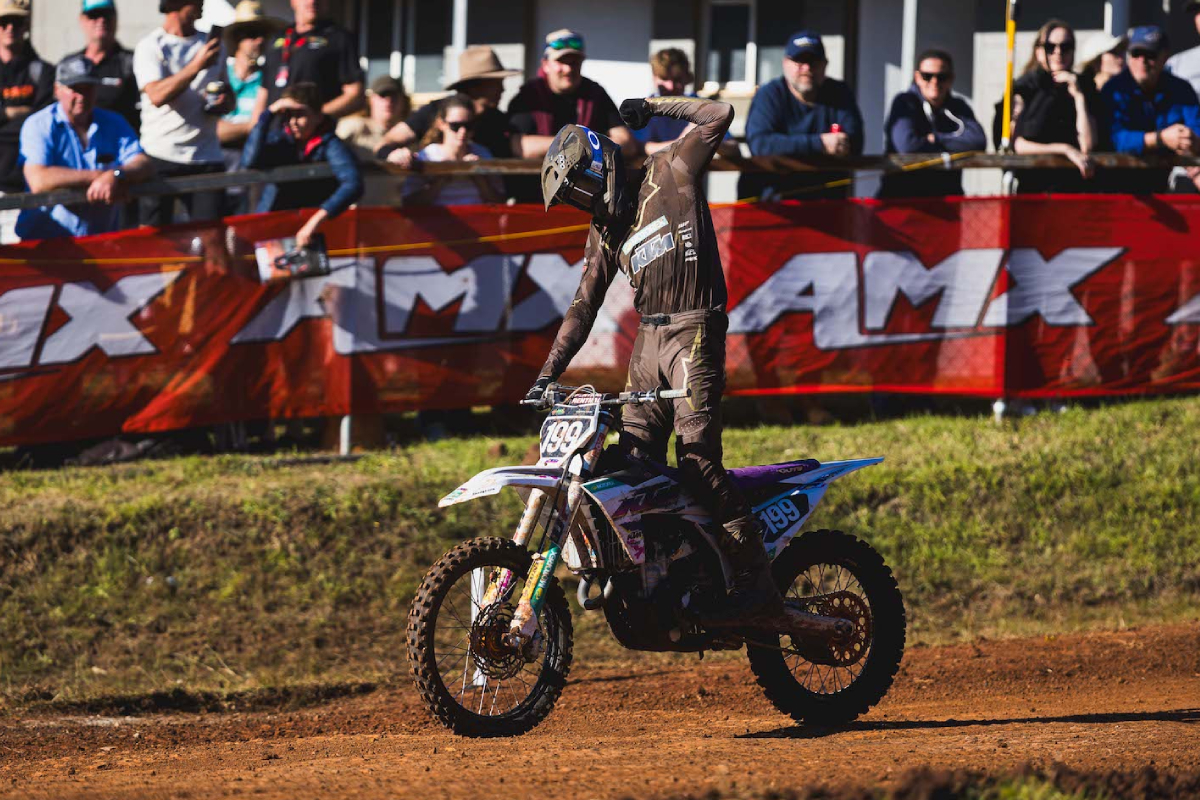 KTM Racing Team's Nathan Crawford mastered the mountain at Round 6 of the 2023 ProMX Championship in Toowoomba, QLD, landing a 1-2 moto scorecard to claim the MX2 class victory overall. MX1 contender Kirk Gibbs posted a consistent ride with a fourth-place result, as MX2 rookie Kayden Minear finished in 10th position.
After topping the qualifying timesheets, Crawford clawed his way through the field following a mid-pack start in the opening moto, reaching the leaders by the halfway point of the race. Some quick passes on his KTM 250 SX-F saw the Queenslander earn the race victory, and combined with a strong second place in moto two, he took home the round win to edge closer in the standings.
MX2 newcomer Minear put in a pair of strong rides while getting to grips with the undulating Echo Valley circuit, as the teenager notched a 9-10 moto scorecard, which gave him 10th overall on the day. In his first full season of professional competition, Minear sits sixth in the points with two rounds remaining.
MX1 saw KTM Racing Team's former champion Kirk Gibbs begin his day with a qualifying time that positioned him in a solid second place heading into the event, riding the KTM 450 SX-F. Two consistent rides gave Gibbs a pair of fourth-place finishes, which provided strong points towards the 2023 championship, where he is currently ranked P4.
This weekend saw the KTM Racing Team livery inspired by the look of KTM's 1994 production models as part of the annual retro round theme. The 2023 Australian ProMX Championship now heads to the Queensland Moto Park venue for the penultimate round of the season on 13 August.
Nathan Crawford: "I had a really positive day today at Toowoomba! It was almost a perfect weekend, topping every session, minus the second moto. Finished in P2, which gave me the overall, so I'm really happy with that and I'm stoked on my weekend. The team and I worked great together and we are looking forward to the next round."
Kayden Minear: "Mixed emotions here for round six at Toowoomba. Definitely saw a lot of improvement in my riding, I felt really good in the last race and overall I'm happy to come away with another top 10 result."
Kirk Gibbs: "I had a decent day today, ended up with second in the pole shootout, which was cool. Got off to a solid start in the opening moto and sat second for a while, but just rode a little bit tight and lost a few positions to come home in fourth. Then second moto, another good start, just lacked a little bit early, and ended P4. Went 4-4, so it was a nice consistent day, although I want to be on the podium, so I was right there, but just need to execute a little better and we'll be on the podium."
2023 Australian ProMX Championship – Toowoomba, QLD
MX1 round six results:
1. Dean Ferris (Yamaha) 50
2. Jed Beaton (Honda) 42
3. Aaron Tanti (Yamaha) 38
4. Kirk Gibbs (KTM Racing Team) 36
5. Kyle Webster (Honda) 31
MX1 championship standings:
1. Dean Ferris (Yamaha) 221
2. Jed Beaton (Honda) 214
3. Aaron Tanti (Yamaha) 201
4. Kirk Gibbs (KTM Racing Team) 190
5. Luke Clout (Yamaha) 172
MX2 round six results:
1. Nathan Crawford (KTM Racing Team) 47
2. Wilson Todd (Honda) 45
3. Noah Ferguson (GASGAS) 42
4. Rhys Budd (Yamaha) 34
5. Brodie Connolly (Honda) 33
10. Kayden Minear (KTM Racing Team) 23
MX2 championship standings:
1. Wilson Todd (Honda) 242
2. Nathan Crawford (KTM Racing Team) 207
3. Brodie Connolly (Honda) 188
4. Rhys Budd (Yamaha) 176
5. Noah Fergusson (GASGAS) 153
6. Kayden Minear (KTM Racing Team) 150