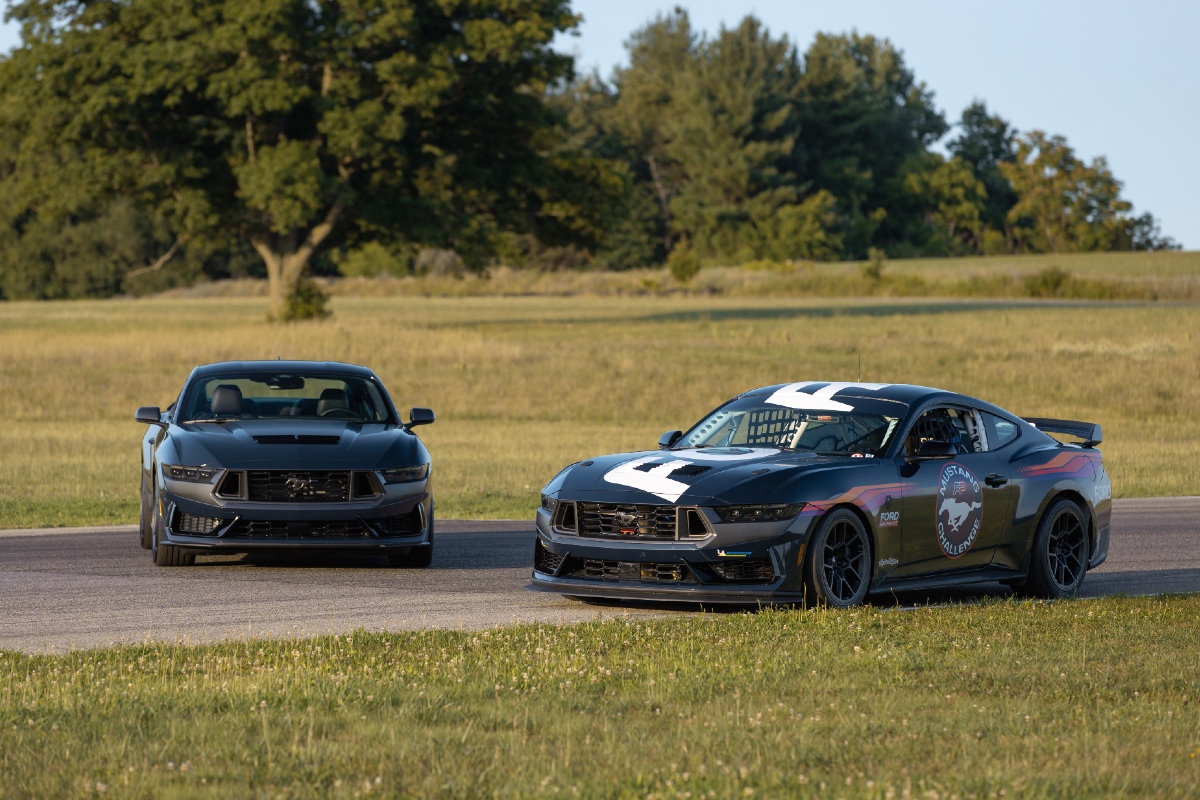 Ford has revealed the newest member of its Mustang line-up – the track-only Dark Horse R.
Aimed at track day enthusiasts and designed for one-make racing, the Mustang Dark Horse R joins the expanding range of racing models of the S650 generation alongside the Supercar, NASCAR, GT3 and GT4 machines.
READ MORE: Ford Mustang Dark Horse – new hero revealed
"Mustang Dark Horse R has been developed with Mustang racing enthusiasts top of mind," said Jim Owens, Ford Mustang marketing manager. "Ford Performance leaned into countless areas of expertise developed through years of racing the Mustang and honed in on an aggressive yet approachable package for customers to pick up and play with."
In the US the company has announced plans for a one-make series, the Mustang Challenge, which will act as a support event on the IMSA schedule.
"Mustang Dark Horse R owners will have the opportunity to race and test their driving skills with other Mustang enthusiasts at some of the world's most incredible tracks," said Mark Rushbrook, Ford Performance's global director motorsport.
He added: "Production-based Mustang vehicles have raced from the very beginning, all the way back to winning the 1964 Tour de France, even. Dark Horse R offers our passionate customers not just an attainable, factory-built race car, but also a racing series to compete with other Mustang enthusiasts."
Ford Performance has partnered with racing partner Multimatic to give the Mustang Dark Horse road car a comprehensive overhaul with upgrades to the powertrain, chassis, brakes, wheels and tyres.
While the majority of the 5.0-litre V8 engine actually remains stock, this version gets a Borla exhaust and upgraded oil system and additional cooling for the transmission and differential. The Tremec six-speed manual gearbox and Torsen limited slip differential from the road-going Dark Horse have been carried over.
Other major changes include adjustable suspension and Multimatic's DSSV dampers, while the Brembo brakes have been upgraded for better longevity on the track.
The Dark Horse R uses 19-inch flow-formed alloy wheels fitted with slick Michelin racing tyres developed specifically for the car.
The interior is race specification, with little of the original road car remaining. There's a safety roll cage added along with a racing seat, racing harness and fire suppression system, plus a MoTec digital display.
The car will be sold via Multimatic, and while customers for the Mustang Challenge will be prioritised initially, the car will be available to any interested buyer, meaning any would-be Australian owner can place an order.