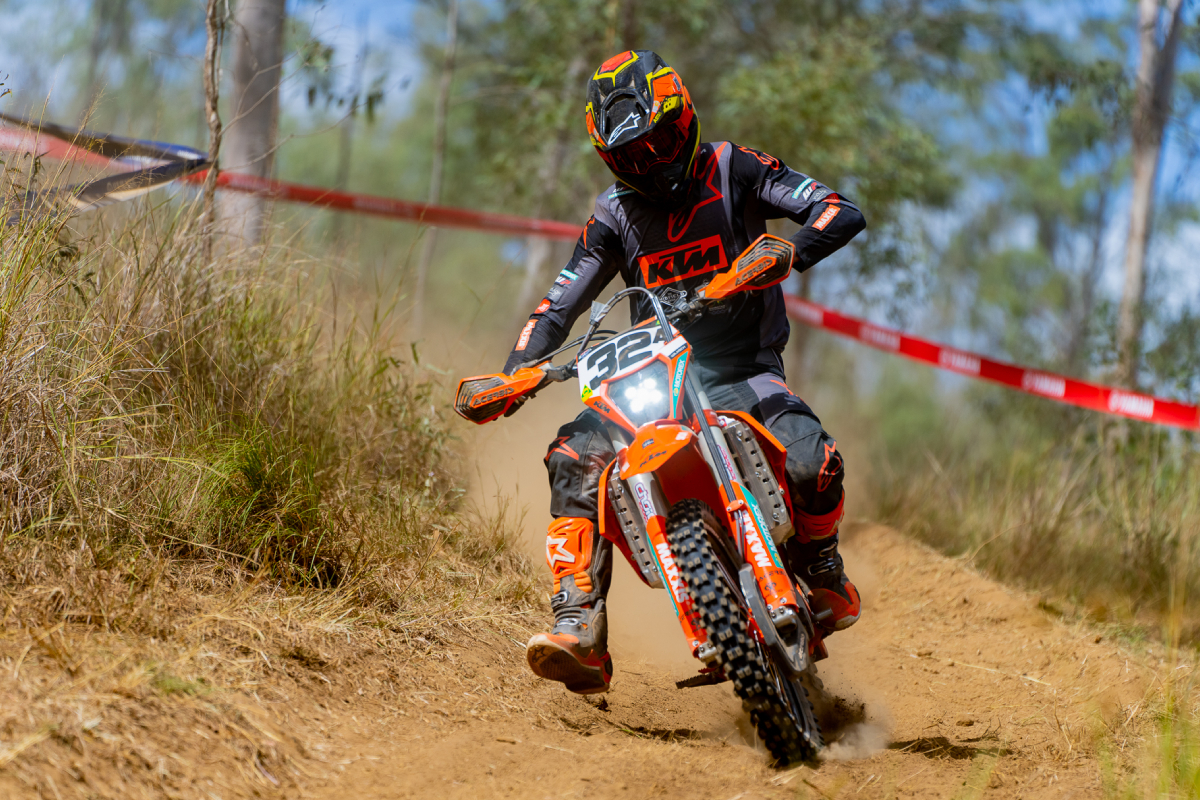 KTM-backed rider Andy Wilksch put in a gritty performance on his return from a serious knee injury to claim a pair of top-five results in the third and fourth rounds of the 2023 Australian Off-Road Championship (AORC) at Queensland Moto Park.
Just seven weeks ago, last year's E3 champion crashed and tore his ACL and MCL, as well as sustained a stress fracture to his right leg, but to minimise any championship points' damage he worked tirelessly to return to racing early.
Equipped with the 2023 KTM 450 EXC-F, 26-year-old Wilksch pushed as hard as he dared through the rocks and dusty conditions in Queensland across the weekend.
In the series' first Enduro format of the year, Wilksch finished fifth in the E2 class on Saturday. Sunday's round saw the racers line up another Enduro and Wilksch was the big improver of the day, climbing one position to fourth in his class.
Meanwhile, in the E3 ranks, KTM-supported teenager Riley McGillivray faced all sorts of challenges as he charged to a memorable round win on Sunday.
After his bikes were unfortunately stolen on his way to the event, KTM was able to source McGillivray a brand new 500 EXC-F to race over the weekend and he responded with a P2 result on Saturday after a tough battle. He then broke through for his first E3 win in round four.
Round 5 and Round 6 of the AORC will be held at Edenhope, VIC, on July 22-23.
What Andy Wilksch had to say
"Ideally there would be a 12-week recovery to return from this injury, so there's been a bit of a process getting that sped up in time for the weekend's racing. I came into the weekend knowing I'd be a bit under-done as far as bike time goes, and I'll admit yesterday was challenging, lacking confidence in my riding. I quickly adapted and felt I improved a lot in the second half of the day, but it was frustrating to get held up by slower riders in front of me. After today's opening test the gap between riders was extended from 20 seconds to 25 seconds and that made a big difference – I was able to get in some good, clean runs and some real quality time on the KTM. Moving forward, the Australian Four-Day Enduro is on next month and that's what my focus turns to now."
What Riley McGillivray had to say
"Our bikes were stolen on Thursday night on our way to Queensland, but KTM was awesome and able to source another bike for me. Luckily I had some spare suspension with me, and the weekend was just about trying to ride the best I could on a brand-new bike that wasn't really set up for me. I stayed consistent on Saturday, and on Sunday I felt a lot more comfortable, especially as the tracks deteriorated after a full day of riding. Despite everything, it was a good weekend and there are lots of positives to come from it, so thank you to everybody who was able to keep me on track for these rounds."
2023 Australian Off-Road Championship – Queensland Moto Park, QLD
Round three results:
E2
1. Joshua Green (Yamaha)
2. Fraser Higlett (Beta)
3. Jye Dickson (GASGAS)
4. Jonte Reynders (Sherco)
5. Andy Wilksch (KTM)
E3
1. Stefan Granquist (Husqvarna)
2. Riley McGillivray (KTM)
3. Sam Pretscherer (Husqvarna)
4. Patrick McGillivray (GASGAS)
5. Ruben Chadwick (Beta)
Round four results:
E2
1. Jonte Reynders (Sherco)
2. Joshua Green (Yamaha)
3. Jye Dickson (GASGAS)
4. Andy Wilksch (KTM)
5. Matt Murry (KTM)
E3
1. Riley McGillivray (KTM)
2. Stefan Granquist (Husqvarna)
3. Sam Pretscherer (Husqvarna)
4. Patrick McGillivray (GASGAS)
5. Luke Bunnik (Beta)