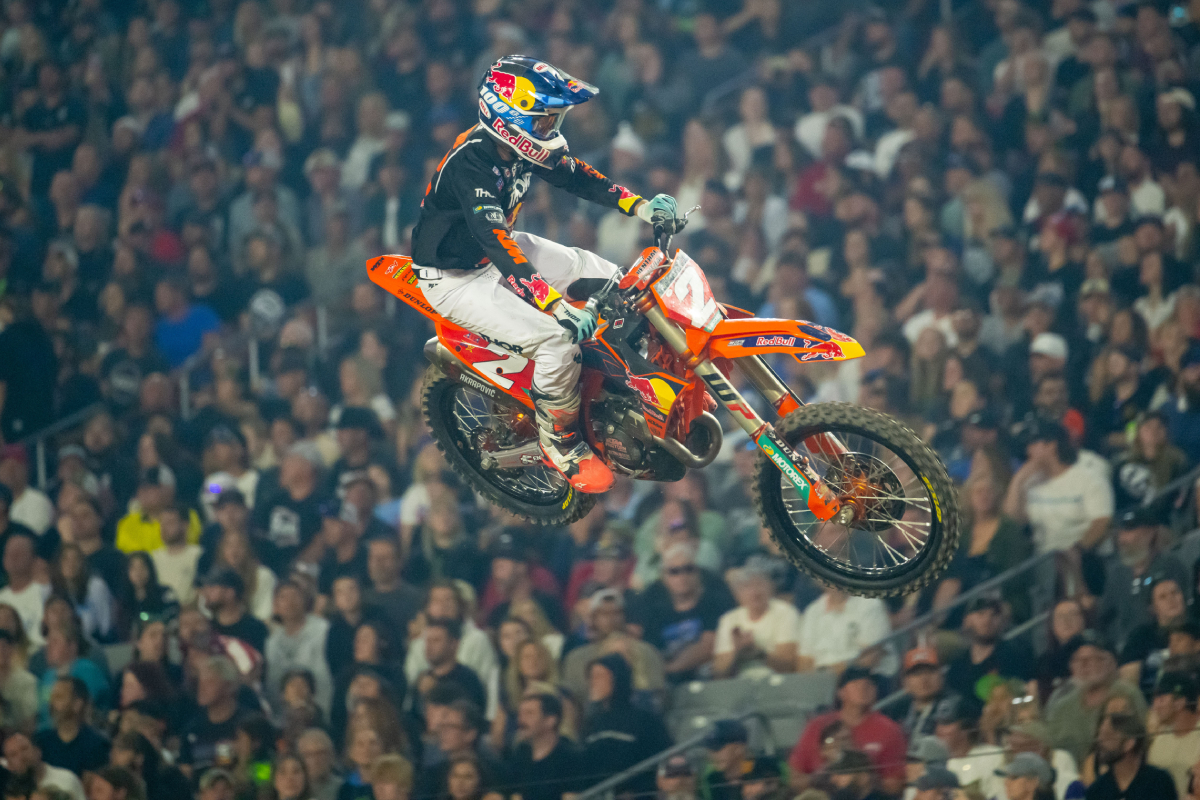 Red Bull KTM Factory Racing's Cooper Webb worked his way to a consistent fourth-place result at the final Triple Crown round of the year in Glendale, marking round 12 of the 2023 AMA Supercross Championship.
His 450SX team-mate Aaron Plessinger finished the night in seventh, as Maximus Vohland claimed an eighth-place result in the 250SX West division.
Webb put the eighth-fastest qualifying time behind him by launching his 2023 KTM 450 SX-F Factory Edition into second place in the opening Triple Crown race, keeping within striking distance of the leader throughout the 12-minute sprint to open his Glendale account with a P2 result.
As the track continued to firm up, Webb kept himself in round podium contention with a fifth in the second race, but an uncharacteristic mid-pack start to the final outing saw him having to fight to an eventual P4 result and fourth overall.
Webb remains second in the 450SX championship with five rounds remaining.
What Cooper Webb had to say
"Not the greatest of days, but not particularly bad either. I was equal third in points on the night, but fourth overall given my last race finishing place, and with 2-5-4 finishes. These Triple Crown races can really swing either way when it comes to points – be really good to you or be costly in points if you let them. In the first race, I rode pretty well and was battling up front for second place, but I just didn't ride that great in the second and third races, made too many little mistakes and passing was really tough, which cost me the overall podium. I think things will be a lot better in Atlanta next week – I really like racing in ATL. It will be back to a normal Main Event format, so we will regroup and look to make back those championship points I lost out on tonight."
The 10th-fastest qualifying time put Plessinger in a mid-pack position off the start of the first of the 450SX Triple Crown races. After some quick, early passes aboard his 2023 KTM 450 SX-F Factory Edition, he settled for ninth in the opening encounter.
Two good starts to the remaining two Triple Crown races saw him placed well early on, but small errors and a slippery, hard-packed track saw him finish the final two races with P9 and P6 scores on his way to seventh overall for the night. Plessinger currently sits seventh in the championship order.
What Aaron Plessinger had to say
"I was feeling decent early in the day, but it was a track that I didn't gel with and didn't feel comfortable on. In the first race, I was in a decent spot, but I got held up on the first straight and that put me back a ways. I got another good start in the second race but just went backward, so I made some big changes to the bike for the final race and got a really good start. Again, I went backward a little, but I felt like it was a better race. All in all, it was an off day for me – it was a tough track to pass on, and we haven't seen hard-pack conditions like that for a while. We'll rebound next weekend at Atlanta, which has always been good for me."
In the 250SX West championship, Red Bull KTM Factory Racing rider Vohland overcame a tough first race to salvage eighth overall in the Triple Crown round, despite dealing with a sickness coming into the race weekend.
After qualifying in eighth place, the restarted first race saw Vohland and his 2023 KTM 250 SX-F slide through the first turn and into fourth place, but contact from another rider saw him go down. After remounting at the back of the pack, he circulated to finish in 18th.
Vohland put in two consistent performances for the final two races of the evening, with a pair of P6 results giving him enough points for a well-earned eighth overall. He now sits eighth in the Western Regional 250SX points with three rounds of the series left to run.
What Maximus Vohland had to say
"It was a tough night in Glendale. I was sick all week coming into the race, so I knew it was going to be challenging. Unfortunately, in the first moto restart, I got taken out in turn three, which resulted in me getting an 18th. The second two motos were better, going 6-6 for eighth overall. I'm looking forward to getting healthy and ready for East Rutherford."
Next Race: April 15 – Atlanta, Georgia
Results 450SX Class – Glendale
1. Eli Tomac (USA), Yamaha, 1-2-1
2. Chase Sexton (USA), Honda, 4-1-3
3. Justin Barcia (USA), GASGAS, 3-6-2
4. Cooper Webb (USA), KTM, 2-5-4
OTHER KTM
7. Aaron Plessinger (USA), KTM
12. Justin Hill (USA), KTM
15. Josh Hill (USA), KTM
19. Kevin Moranz (USA), KTM
Standings 450SX Class 2023 after 12 of 17 rounds
1. Eli Tomac, 275 points
2. Cooper Webb, 267
3. Chase Sexton, 249
OTHER KTM
7. Aaron Plessinger, 196
10. Justin Hill, 127
13. Josh Hill, 86
21. Kevin Moranz, 47
29. Marvin Musquin, 11
Results 250SX West Class – Glendale
1. Jett Lawrence (AUS), Honda, 1-3-1
2. RJ Hampshire (USA), Husqvarna, 2-1-3
3. Levi Kitchen (USA), Yamaha, 3-2-2
OTHER KTM
6. Derek Kelley (USA), KTM
8. Maximus Vohland (USA), KTM
14. Joshua Varize (USA), KTM
19. Kaeden Amerine (USA), KTM
Standings 250SX West Class 2023 after 6 of 9 rounds
1. Jett Lawrence, 153 points
2. RJ Hampshire, 127
3. Levi Kitchen, 101
OTHER KTM
8. Maximus Vohland (USA), 85
10. Derek Kelley (USA), 70
18. Joshua Varize (USA), 33
29. Kaeden Amerine (USA), 7