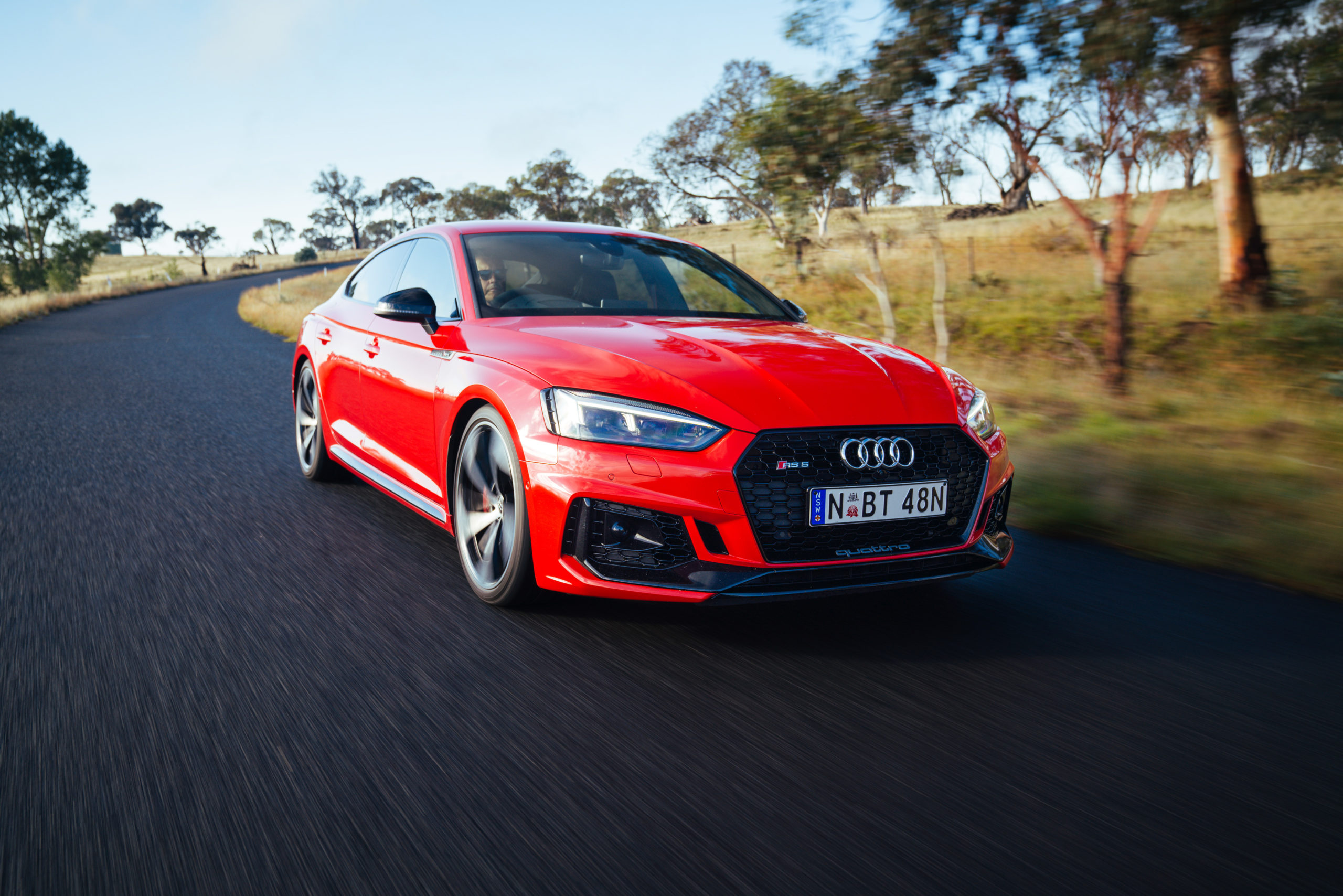 What is it?
We live in a world filled with more choices than ever before. From cars to phones to breakfast cereals, you can tailor your life to fit your precise needs.
CLICK HERE FOR AN EXTENDED GALLERY
Audi has you covered when it comes to cars, specifically mid-size performance cars where it offers the RS4 Avant, RS5 Coupe and this, the RS5 Sportback. Each use the same turbocharged, all-wheel drive powertrain but package it up in different bodywork.
The RS5 Sportback is the most interesting of the trio, with its combination of sedan size but liftback boot it's developed a niche of its own within the luxury car market.
Does it have any racing pedigree?
Audi is steeped in racing culture, from pioneering its quattro all-wheel drive system in the WRC to its domination at Le Mans. These days its focus on Formula E and the German DTM touring car championship. The RS5 Coupe is the basis for Audi's DTM entry, underlining its importance of the performance coupe market in Europe. The RS5 Sportback would make a good-looking race car though, with its sweeping roofline and aggressive stance it already looks fast just standing still.
What's under the bonnet?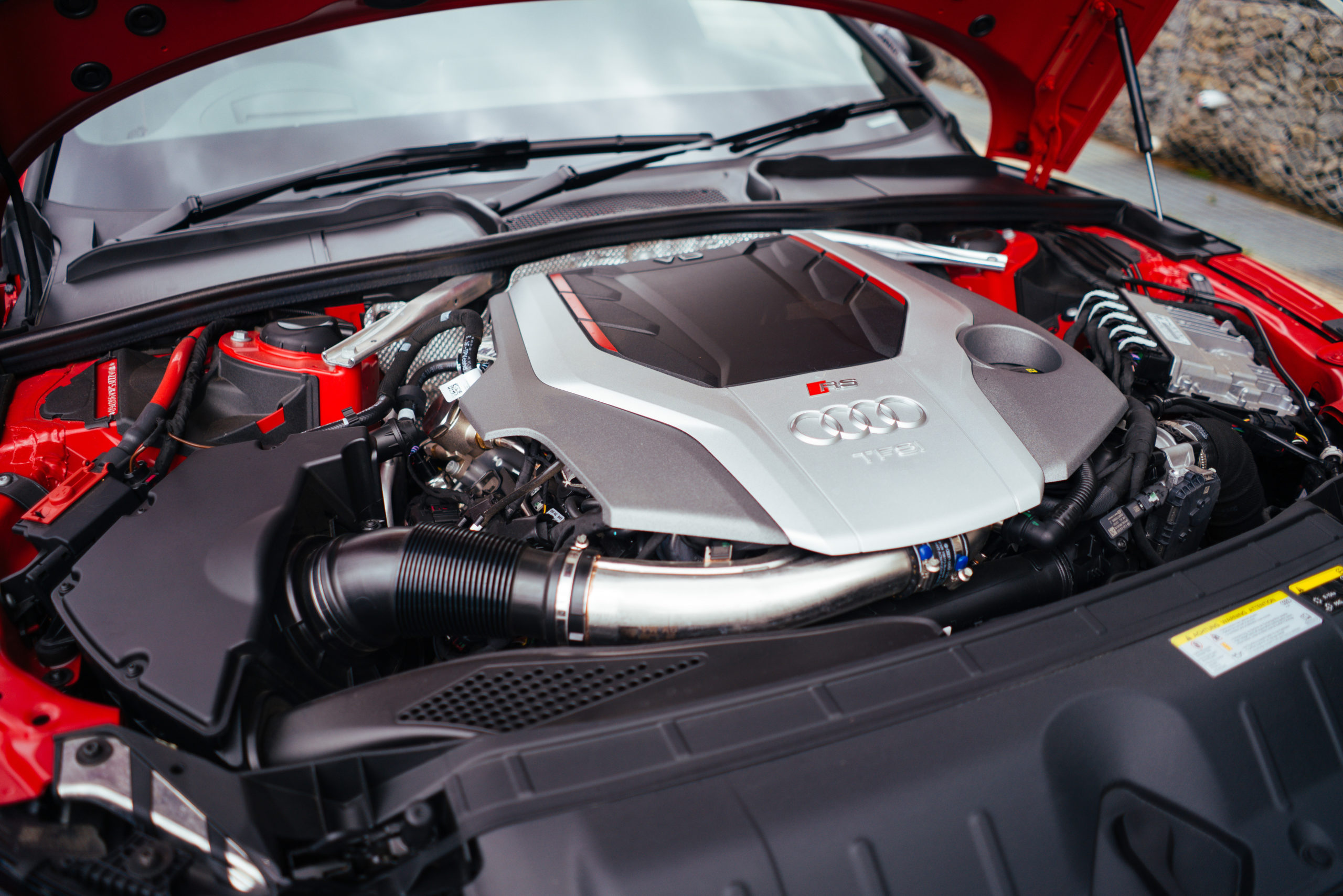 For this latest generation RS5 Audi ditched the old model's naturally-aspirated V8 in favour of an all-new 2.9-litre twin-turbo V6 engine. It's part of a new family of turbocharged engines from the Volkswagen Group that Porsche was responsible for developing.
The downsizing comes as all car makers are forced to look for greater efficiency in the face of stricter fuel economy standards around the world. But that doesn't mean it comes at the expense of performance.
The new V6 has more grunt than the old V8, making 331kW of power and 600Nm of torque. It's paired to an eight-speed automatic transmission and, naturally, quattro all-wheel drive.
What the engine also does is deliver its performance in a very different way to the V8. Instead of need plenty of revs, the forced-induction V6 offers up peak torque from just 1900rpm and stays flat to 5000rpm, which is when the power kicks in at its best, at 5700revs.
It makes for better punch off the mark and throughout the mid-range but comes at the expense of the V8s glorious soundtrack. Not that the turbo six sounds bad, just different.
It all works in harmony so well, the combination of that power, torque and quattro means this five-seater will do the 0-100km/h sprint in a sports car-like 3.9 seconds; that's seriously quick.
Fuel economy is rated at 8.9-litres per 100km, which is not only better than the old model but more than 2.0L/100km, but is impressive for such a potent sports sedan.
How does it handle?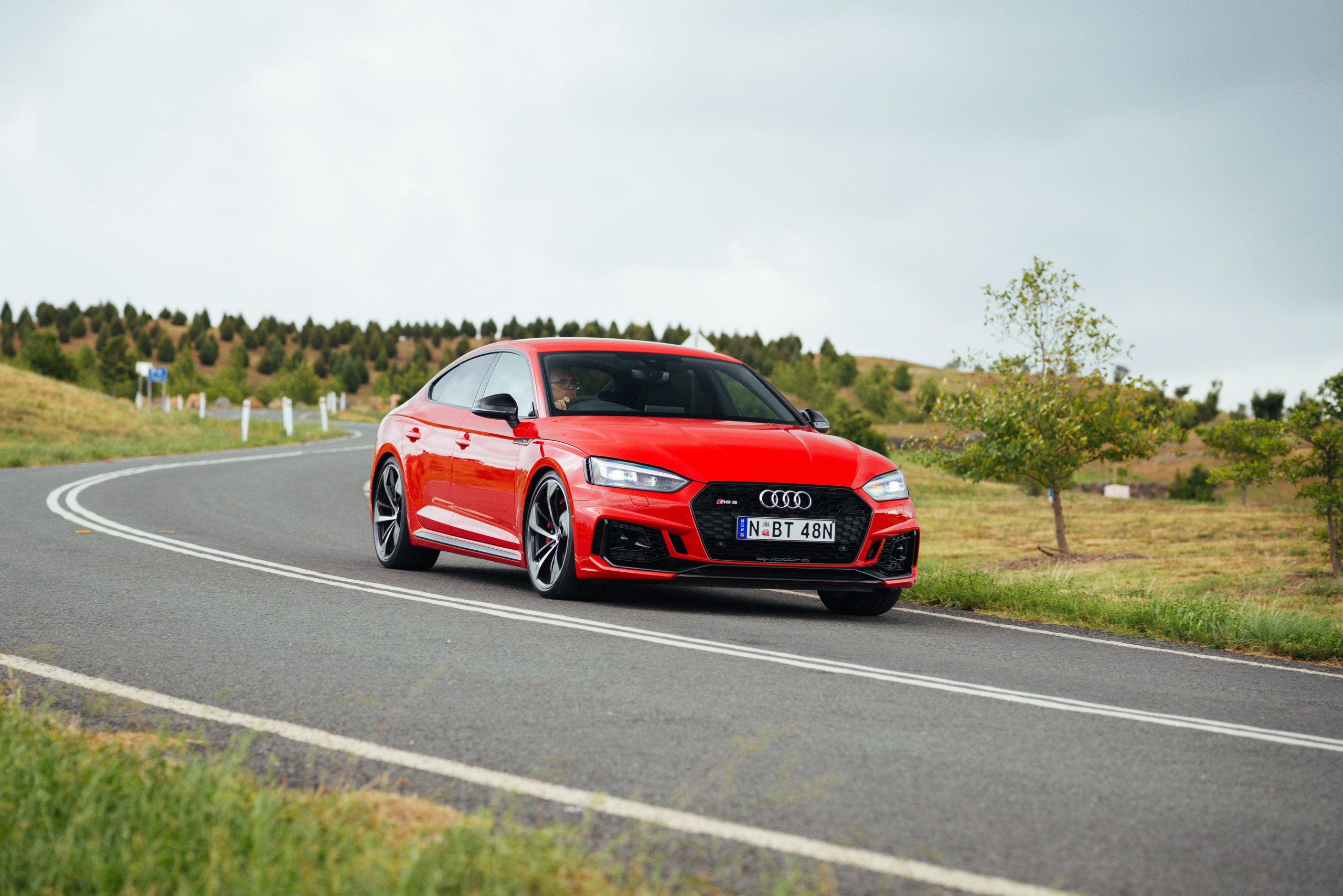 Perhaps the biggest advancement in this latest generation of RS5 is the handling. Previous RS models have been good, without being great, often let down by an uncompromising ride or vague at-the-limit steering.
This new RS5 Sportback has not only solved those problems but actually excels in those areas. Like all RS models it's equipped with adaptive driving modes, which alter the response of the engine, transmission, suspension and steering – from Comfort to Dynamic and with Individual settings.
Dial up Dynamic and you find yourself piloting an extremely sharp sports sedan – the engine is responsive to your most subtle inputs, the suspension is taut and the steering nicely weighted and direct which allows you to place the car with precision. It's a genuine joy to drive at the limit.
But then, when fun-time is over, switch to Comfort and the engine goes docile (but it's still ready to unleash 600Nm if you put your foot down), suspension becomes more compliant and the steering lighter and easy to navigate in traffic.
For someone who desperately wants a sports coupe but needs the practicality of a four-door, five-seater the RS5 Sportback is a dream come true.
Where would you most like to drive it?
A road trip across its natural habit of Germany would be ideal. It could stretch its legs to its limited 280km/h top speed on the autobahns but when you head off into the mountain roads it would feel just as home – and make the journey an experience for the driver.
What's the interior like?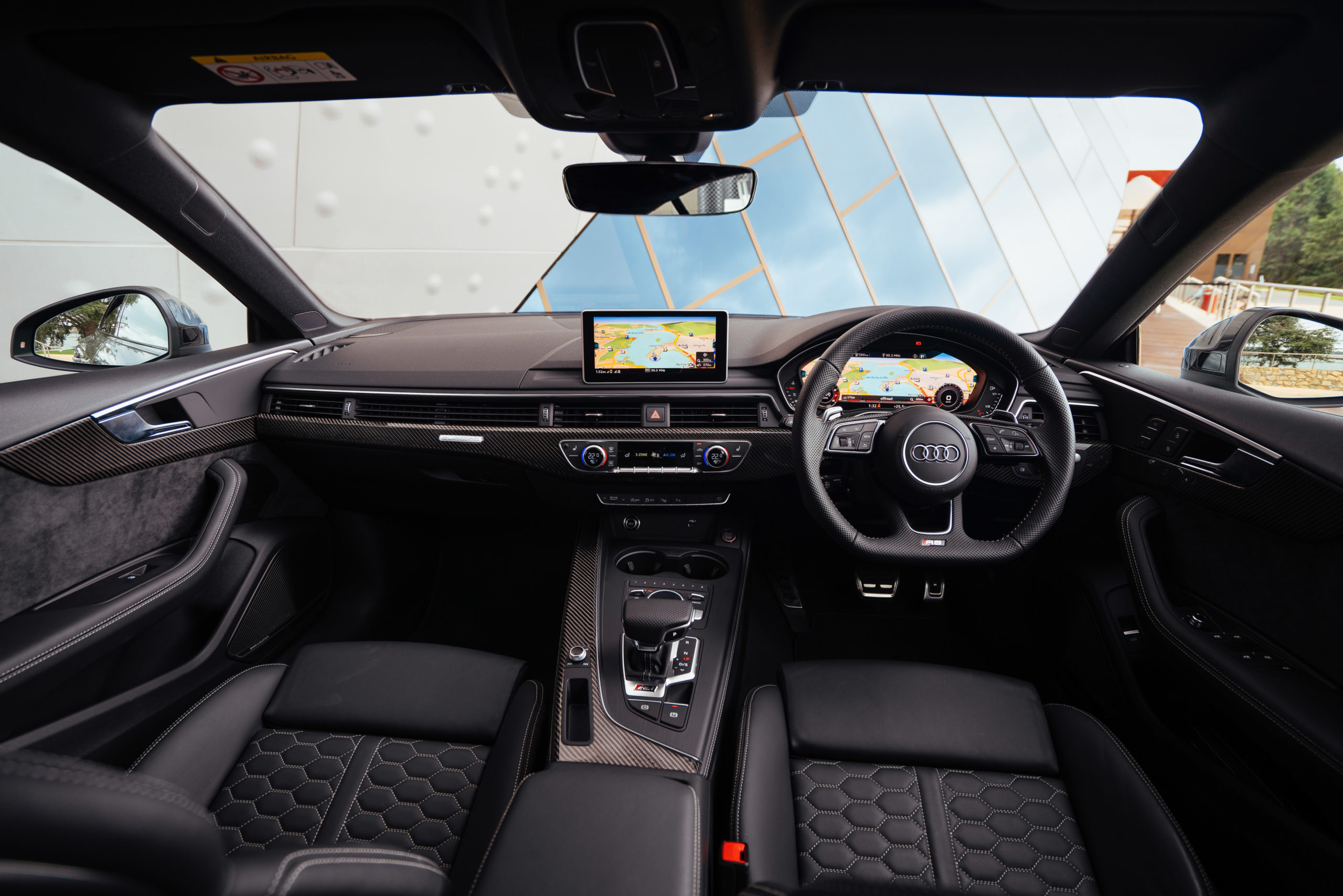 Audi has been leading the way for cabin design for over a decade. While its German rivals play it safe with conservative, almost unchanging design, Audi has produced a string of stylish, modern interiors.
The RS5 Sportback is particularly good with its combination of luxury appointments and sporty touches. Our test car was fitted with the optional RS Design Package which elevated it even further with its Alcantara-wrapped flat-bottomed steering wheel and other Nappa leather trim with red highlights throughout the cabin.
It's roomy too, despite the swooping roofline there's enough room in the back for this 180cm tester to sit comfortably behind his driving position with adequate headroom and good kneeroom.
Then there's the liftback boot, which only measures 480-litres on paper but thanks to the huge opening it swallows plenty of luggage with ease.
Is it good value for money?
Starting at $157,700 (plus on-road costs) the Sportback is the same price as the RS5 Coupe, which puts it right in the ballpark for this class of sports sedan. Although, it's worth noting RS4 Avant is cheaper, at $152,529, so you are paying a premium for its RS5 badge.
Still you get plenty of equipment for the money, beyond just the performance it offers. It comes loaded with 20-inch alloys, RS Sports exhaust, panoramic sunroof, LED headlights, RS sports steering wheel, leather seats, digital instrument panel and Bang & Olufsen 3D sound system.
Even with the RS Design Package ($3300), carbon fibre interior inlays ($1000), metallic paint ($1950) and Matrix LED headlights ($1900) our test car totaled a very reasonable $165,850.
Would I buy one?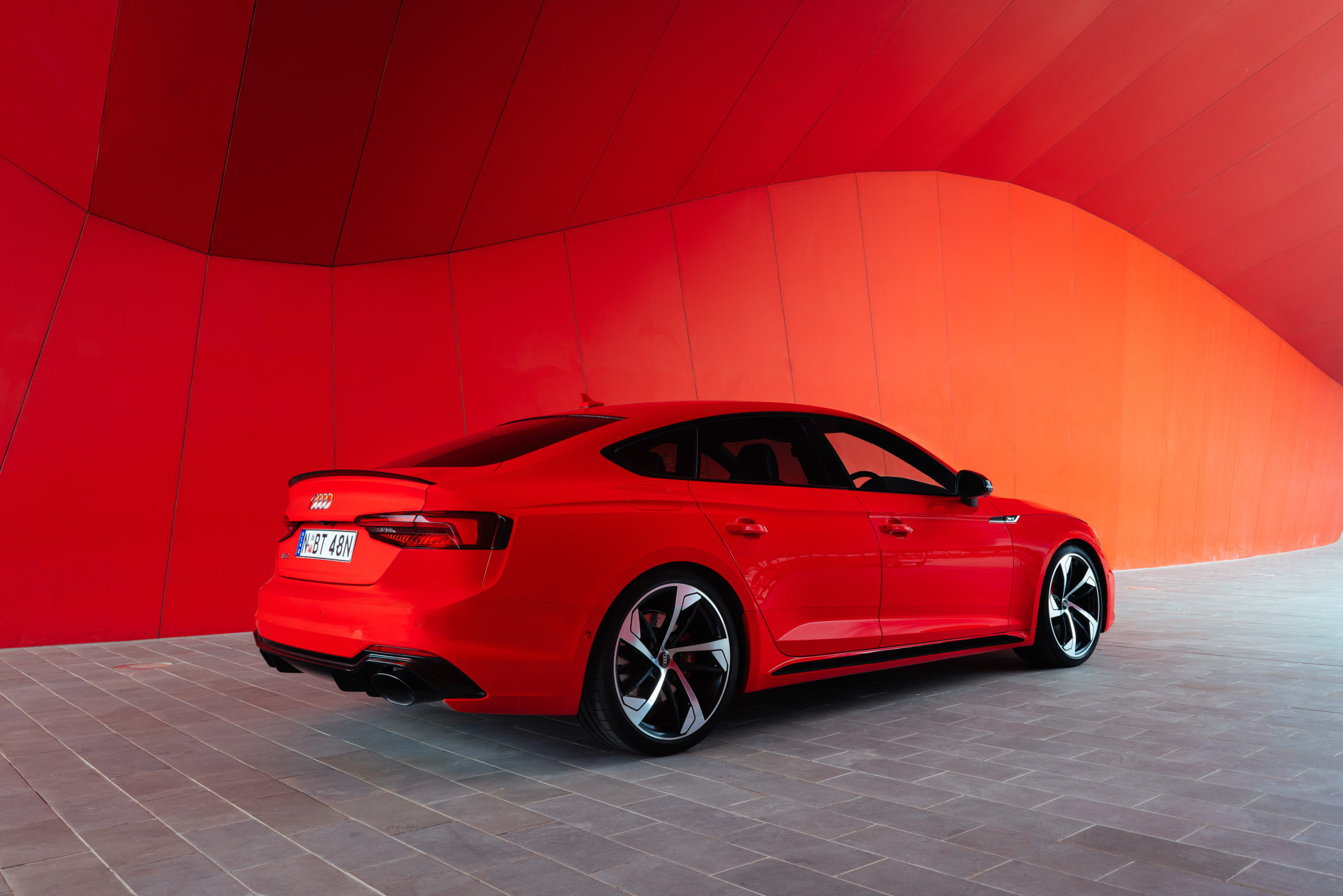 There are a lot of great sports sedans on the market today, most notably the Mercedes-AMG C63S, but this new RS5 Sportback is a compelling proposition. Style is subjective but to my eyes the Sportback shape is striking, especially when in RS form with its five-arm trapezoid rims, lower stance and wider guards.
It's backed up by impressive performance from the new turbocharged V6 and the vastly improved chassis makes it more dynamic and engaging.
Add to that the well-appointed cabin with space for the whole family and you have a performance car I could quite happily live with everyday.
2019 Audi RS5 Sportback price and specifications:
| | |
| --- | --- |
| Price: | From $157,700 plus on-road costs |
| Engine: | 2.9-litre twin-turbo V6 petrol |
| Power: | 331kW at 5700-6700rpm |
| Torque: | 600Nm at 1900-5000rpm |
| Transmission: | Eight-speed automatic, all-wheel drive |
| Fuel use: | 8.9L/100km |
| Wheels: | 20-inch alloys |
| Length: | 4782mm |
| Width: | 1861mm |
| Height: | 1360mm |
| Weight: | 1730kg |
| 0-100km/h: | 3.9-sec (claimed) |