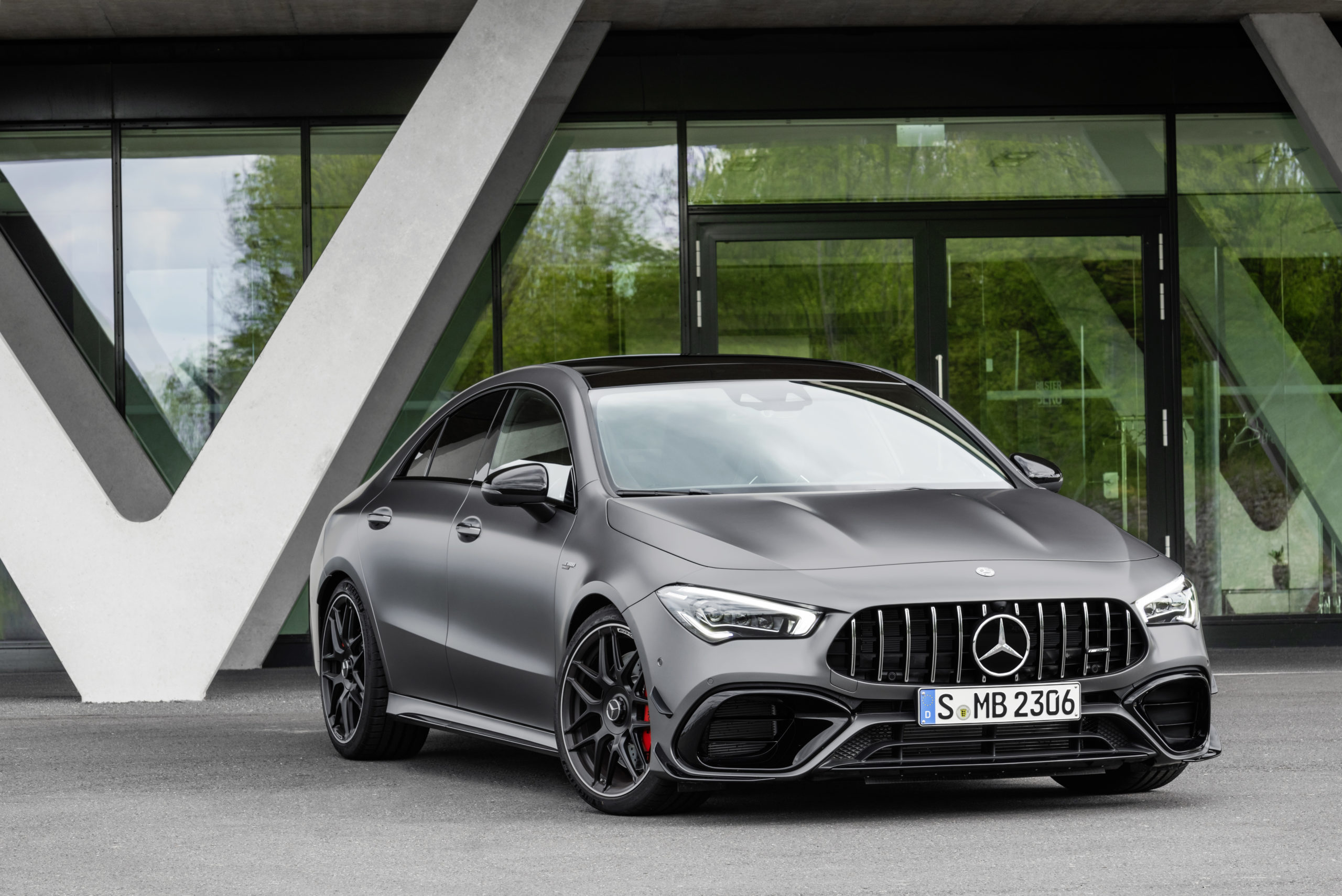 What is it?
The Mercedes-AMG CLA45 is the pioneer of the new class of compact four-doors that the European luxury brands have embraced in recent years.
The CLA-Class is what the German brand calls a "four-door coupe" and since the original arrived in 2013 both Audi (A3 sedan) and BMW (2-Series Gran Coupe) have followed suit with small, four-doors that extend their respective ranges, giving buyers unprecedented choice.
This particular example is the AMG fettled variant, which takes the standard car and dials everything up to 11.
This is also the second-generation of the CLA and it has grown up significantly. Whereas the original had slightly awkward proportions and looks like a squashed version of its bigger sibling – the CLS – this new model can be mistaken, at first glance, for a bigger model than it is.
Approaching from the front you're greeted with the same 12 vertical louvres on the grille as you'll find on the AMG GT 4-door, which adds to the sense of maturity.
Does it have any racing pedigree?
While the CLA45 has never graced the track in an official capacity, Mercedes and AMG have plenty of motor racing knowledge to embed into its four-cylinder performance cars.
AMG's history is tied to motorsport and you can feel that with each and every car they make, even this CLA45 which is its smallest model. Circuit hot laps aren't just expected with an AMG it's encouraged, with the drive mode system now featuring the AMG Track Pace, a track-specific "virtual race engineer" that monitors vehicle data, lap and sector times as well as providing a reference time at selected tracks so that you can study and improve your driving.
What's under the bonnet?
AMG made its reputation building big, powerful V8 and V12 engines, but when the A45/CLA45 arrived the company made its first four-cylinder. It was an immediate hit, packing more punch than anyone had previously expected from a four-pot.
So, having raised the hot hatch game first time around, AMG has done it again with an all-new 2.0-litre four-cylinder turbocharged engine that's the most powerful of its kind. It pumps out a shocking 310kW of power and 500Nm of torque – figures previously that required more capacity and more cylinders.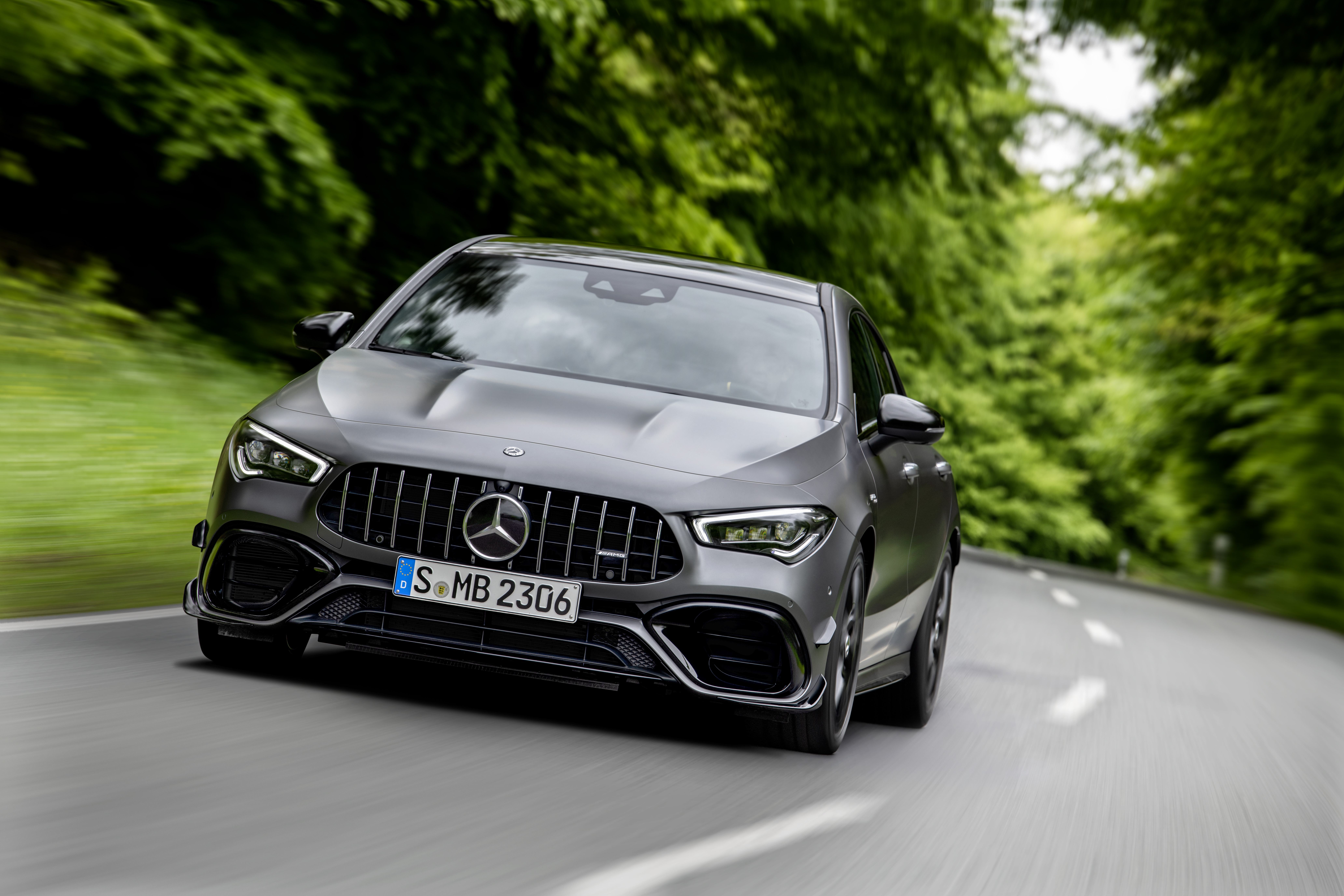 In order to harness so much grunt the engine is paired with an eight-speed dual-clutch transmission of (Speedshift DCT in Mercedes-speak) and an all-wheel drive system (or AMG Performance 4Matic+ as it's corporately known). It also features what's called the AMG Torque Control system, a pair of electronically controlled multi-disc clutches built into the rear differential that can help split drive between the left and right wheels depending on the conditions.
The net result is a beast of a car that truly feels like a small performance car rather than a 'hot hatch', because the latter term suggests it's similar to a Volkswagen Golf R or Honda Civic Type R, and as good as those cars are, the CLA45 is operating on another level.
If anything the engine is too potent, often feeling like it wants to burst out and scream to its 7200rpm redline when you're trying to commute. Once you do let it off the leash, however, it doesn't disappoint, offering so much power it can shove you back in your seat.
The transmission offers rapid shifts too, firing between the ratios when you use the steering wheel-mounted paddles. But somewhat strangely, even in Sport and Sport+ drive modes the gearbox defaults to automatic, which often seems to favour economy over outright performance, and leaves you needing to physically select the manual-mode.
The other disappointment in the engine is the soundtrack. In anything other than Race mode the exhaust sounds muffled and restrained, almost strangled. When you do unleash the full noise it still has the snap and crackle that makes it sound like an angry rally car.
How does it handle?
In the old days AMG could be guilty of sometimes spending too much time and attention on the engine and forgetting to ensure the handling matched the power. Not anymore though, AMG leaves no stone unturned in the search for ultimate performance and so the CLA45 is fitted with its latest AMG Ride Control adaptive suspension system.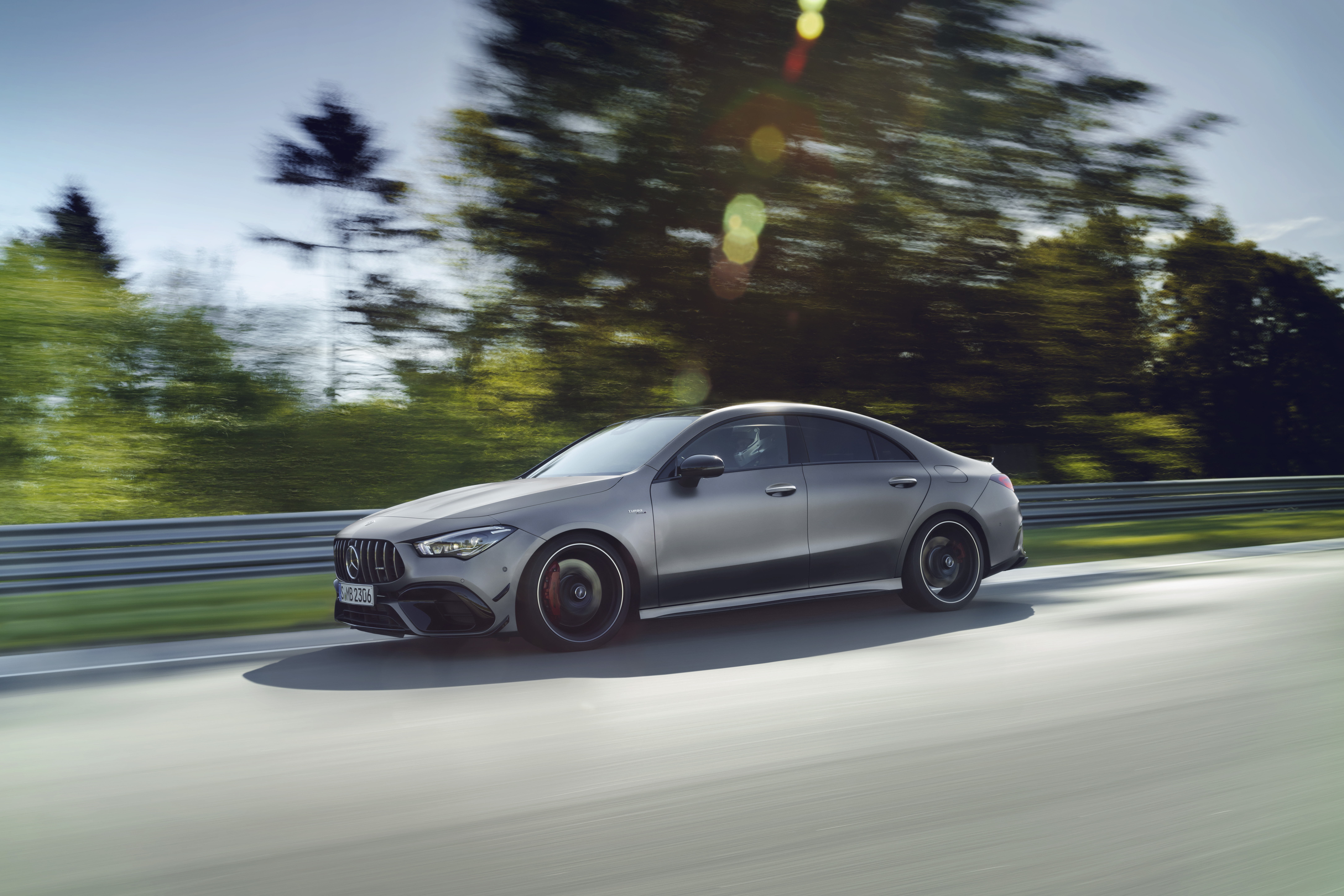 That means there's three different levels of damping to choose from, with comfort to track use in mind. Unfortunately, given the dynamic character of the CLA45 all three settings are a different version of taut; less comfort, sport and track and more firm, firmer and firmest.
While it means the ride can be busy at times (and you need to watch out for potholes and speed bumps) the net result is an incredibly dynamic and responsive car. The steering is just as sharp so you can position the CLA45 with precision.
It stops always as quickly as it goes, with huge six-piston callipers clamping down on 360mm front rotors; with a single-piston, 330mm disc at the rear.
Where would you most like to drive it?
Mercedes may have a reputation for comfortable luxury cars, but the AMG elements overwhelm the CLA45 to the point it feels more at home at speed rather than being driven sensibly.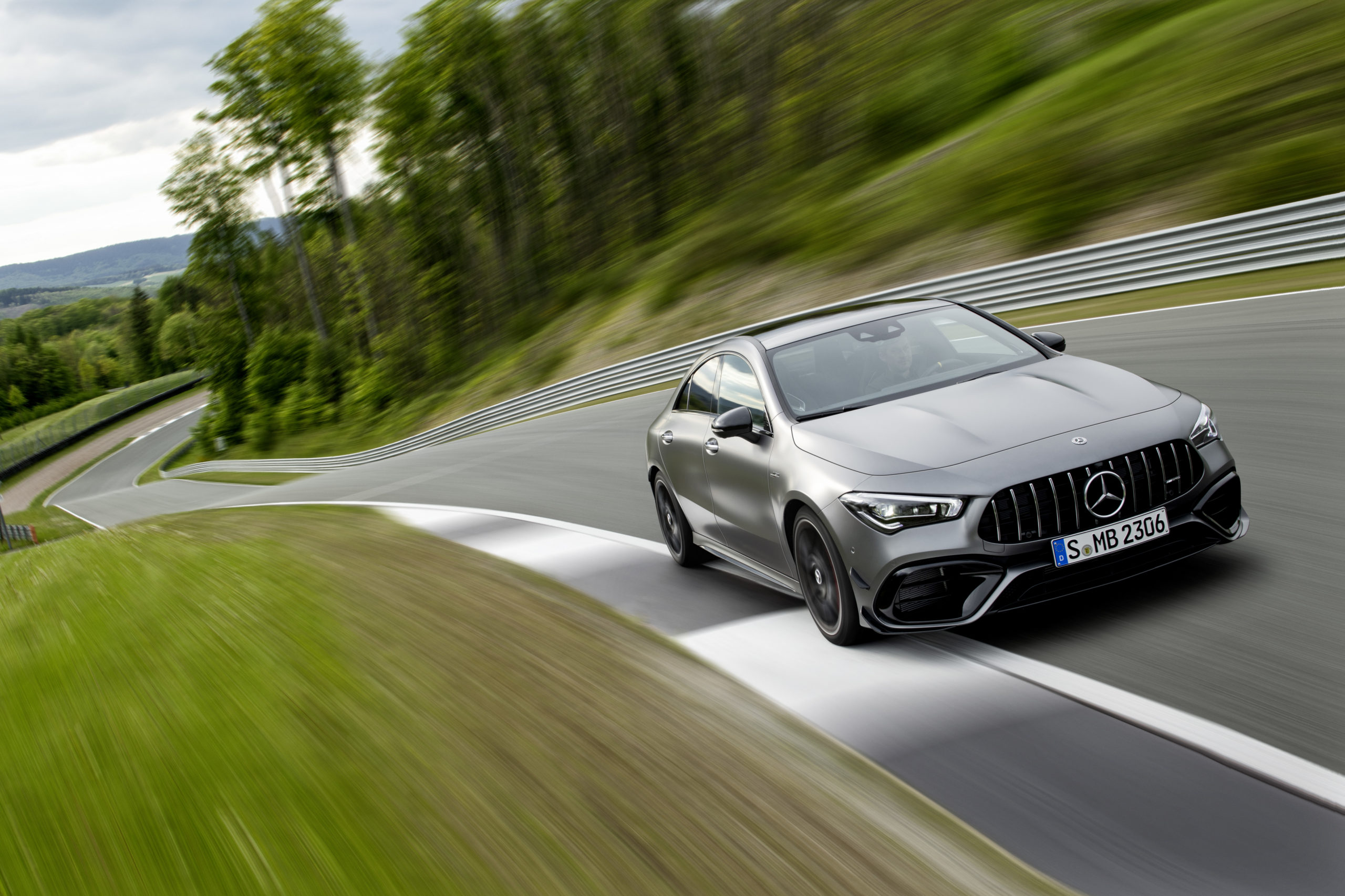 With that in mind I'd love to get it onto a technical track like Winton where you could explore the capability of the chassis with its all-paw traction and trick diff, whilst also getting to feel the pulling power from the engine out of each corner.
What's the interior like?
Like the exterior, the cabin of the CLA45 is more grown up. When you climb aboard there's nothing to suggest this is the 'entry-level' AMG model.
From the thick-rimmed, Alcantara-wrapped steering wheel, the extra-wide double-screen that acts as both dashboard and infotainment system to the leather-lined sports seats, every element of the CLA45 looks and feels top-notch.
If there's a criticism it's that at first the cabin looks a bit busy, but it doesn't take long to get comfortable with the layout and its functionality. The CLA is fitted with the latest MBUX infotainment system that features the latest in speech recognition. So, for example, you can say 'Hey Mercedes, I'm cold' and the car will automatically adjust the climate control up one degree. Clever stuff.
Is it good value for money?
Being more grown up comes at a price. The AMG CLA45 starts at $110,835 plus on-road costs, which is why thinking of it as a hot hatch simply doesn't compute; it costs more than double what a Volkswagen Golf GTI will set you back.
To really quantify the value you have to compare it to its rivals in this compact, premium four-door space. At the moment that means the Audi RS3 Sedan, which is slightly less powerful but priced from $86,136. BMW's most potent 2-Series Gran Coupe is the M235i xDrive, but with 'only' 225kW it's aimed more directly at the less-potent AMG CLA35.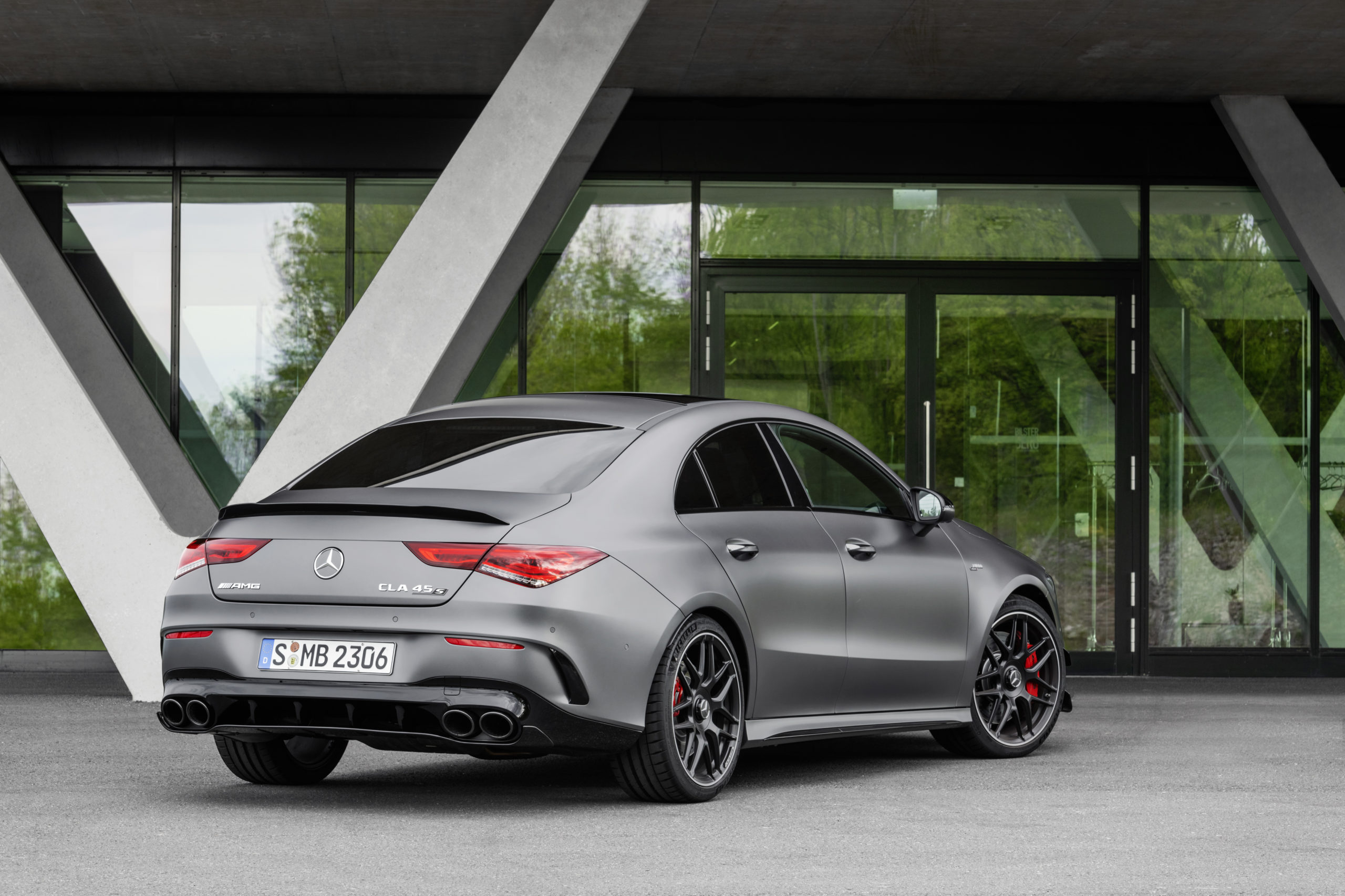 Which means some buyers may look to stretch their budget to the next size up, which includes the Alfa Romeo Giulia Quadrifoglio (from $145,900), Audi RS4 Avant (from $147,900), BMW M3 (coming soon) and even the Mercedes-AMG C43 (from $111,935) and C63 S (from $165,835).
Would I buy one?
There's a lot to like about the AMG CLA45 S, from its outrageous engine to its stylish design, there's no doubt this baby AMG has grown up. But you do need to spend up to pay for that new-found maturity and at its core it feels too fast, too highly-strung to be enjoyed as an everyday performance chariot.
Still, it's easy to understand why these smaller, but no less rapid, performance four-doors have become so popular.
2020 Mercedes-AMG CLA45 S 4Matic+ price and specifications
| | |
| --- | --- |
| Price: | From $110,835 plus on-road costs |
| Engine: | 2.0-litre four-cylinder turbo petrol |
| Power: | 310kW at 6750rpm |
| Torque: | 500Nm at 5000-5250rpm |
| Transmission: | 8-speed dual-clutch automatic, all-wheel drive |
| Fuel use: | 8.9L/100km |
| Wheels: | 19-inch alloys |
| Tyres: | 255/35 ZR19 |
| Length: | 4688mm |
| Width: | 1830mm |
| Height: | 1439mm |
| Weight: | 1640kg |
| 0-100km/h: | 4.0secs (claimed) |