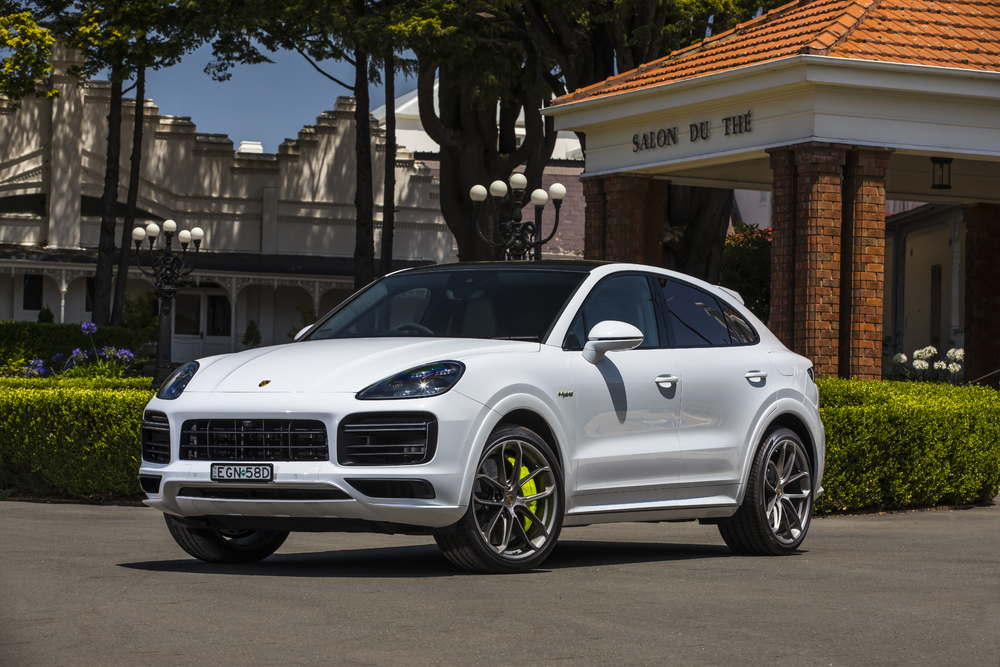 What is it?
An amalgamation of everything popular in motoring right now. Decades from now if someone asks you to point to a car that summed up 2020 it would be the Porsche Cayenne Coupe S E-Hybrid.
It speaks to our love of premium brands (it's a Porsche), the popularity of SUVs (the Cayenne part), the rise and rise of coupe-style SUVs (that's the Coupe part), it's high-performance (it's a Porsche and that's the 'Turbo S' in the name) and, on top of all this, it's a hybrid (that bit should be obvious).
But all of that does mean it's a good car. To find out when spent a few days behind the wheel to see how it lives up to its position as peak 2020 motoring.
Does it have any racing pedigree?
Obviously Porsche is synonymous with competition, but only with its sports cars, primarily the 911. However, it's never done any serious motorsport with the Cayenne which is disappointing when you remember that back in the 1980s Porsche won the ultimate off-road race – the Dakar Rally – in 1984 and '86.
It's not hard to imagine some Dakar-prepared Cayenne racing across the desert wouldn't have at least helped temper some of the original objections to the brands radical shift into the SUV market two decades ago.
What's under the bonnet?
It's a complex combination of turbocharged petrol engine and electric motors and batteries. But the most important fact is this – it's the most powerful powertrain available in a Cayenne Coupe. The days of hybrids being only for efficiency and gutless city commuter cars is over, this Porsche is part of the new breed of vehicles using the electric power for performance as well as fuel saving.
There's a 4.0-litre twin-turbocharged V8 petrol engine, good for 404kW of power and 770Nm of torque, which is more than enough to make the Cayenne Coupe suitably fast enough to be the flagship model. But for the E-Hybrid Porsche added an electric motor that takes combined total system output to 500kW and 900Nm. That's a lot of performance even in such a big SUV and it means this sizeable beast can sprint from 0-100km/h in a ridiculously rapid 3.8 seconds. It can also keep going all the way to 295km/h (if you need to), but it can also manage 135km/h on battery power alone.
If you leave it in electric-only mode the E-Hybrid can manage up to 40km before it runs out of juice. But when you run the two power sources together, Porsche claims this big SUV can sip as little as 4.4-litres per 100km.
But thoughts of economy quickly leave your mind when you drive the Turbo S E-Hybrid, because the sheer potential of the highly-sophisticated powertrain is so impressive. The straight-line performance, the off-the-mark acceleration, the rolling acceleration and even the way it feels right across the rev range marks this out as a genuinely fast SUV. It's so potent it makes you forget you are driving such a big vehicle.
How does it handle?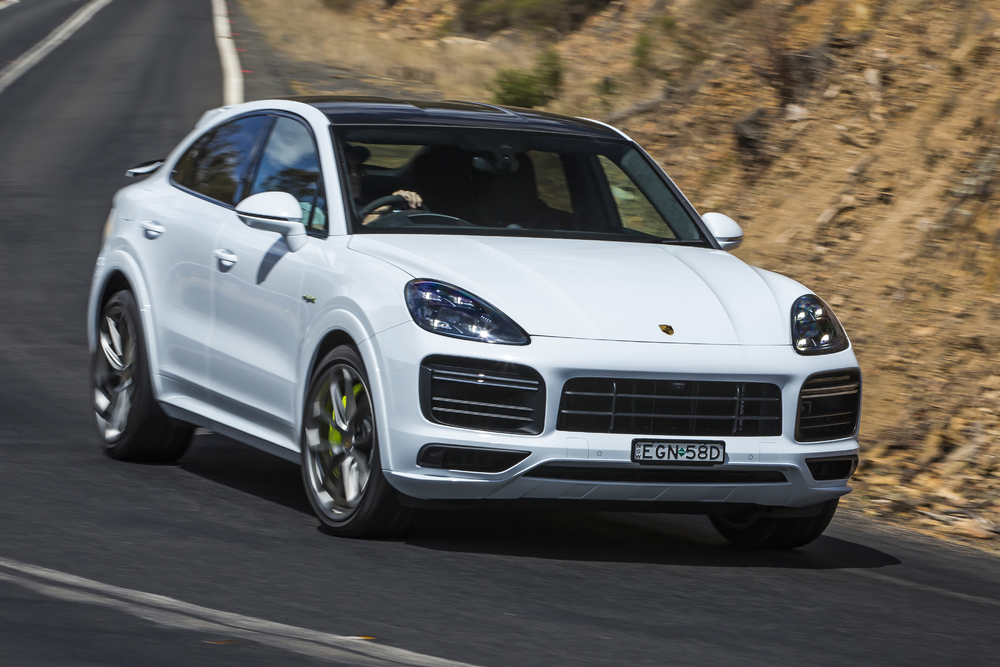 Unfortunately you are forced to remember just how big the Cayenne Coupe is when you get to a corner. With the big V8 engine, electric motor and battery pack all housed inside an SUV body that can seat four adults in comfort the E-Hybrid weighs a portly 2535kg.
Even Porsche, with all of its knowledge of dynamics and decades of vehicle tuning can't perform miracles, so the Cayenne Coupe doesn't feel razor sharp when you throw it at some corners. For starters, given you can approach corners at high speed because of all the grunt, the weight is noticeable as soon as you hit the brakes. There's solid stopping power, but the huge 440mm front discs and 410mm rears have to work hard to pull up.
The steering itself is nicely sorted, which is what you'd expect from Porsche, being nicely weighted and direct. But, again, it can't fight the physics and trying to get such a heavy and tall vehicle to change direction quickly and smoothly is an almost impossible challenge. As a result the Cayenne Coupe feels slow to react and can't be placed with the kind precision you find in the lighter variants, and especially in the smaller and more agile Macan model.
The handling and ride isn't helped by the huge 22-inch wheels that come standard, which results in a firm and at times fussy ride. So if you're trying to hussle the Cayenne Coupe along a twisty and bumpy road it can be a handful to tame. Unsurprisingly, it comes standard with adjustable air suspension, so you can select the Comfort setting and it will do a better job of soaking up the bumps if you just want to drive sedately.
Of course, that's the trade-off of the Cayenne Coupe – it may be a Porsche so it has inherent sportiness, but it's also a comfortable, luxury SUV so you'll probably spend most of your time cruising around town and rolling down the freeway; in those situations it excels.
Where would you most like to drive it?
A smooth, straight stretch of road is ideal for the Cayenne Coupe, so it's a shame we don't have autobahns in Australia. But if you've ever driven on Germany's unrestricted freeways you'll understand why cars like this exist – it eats up kilometres with both speed and ease.
What's the interior like?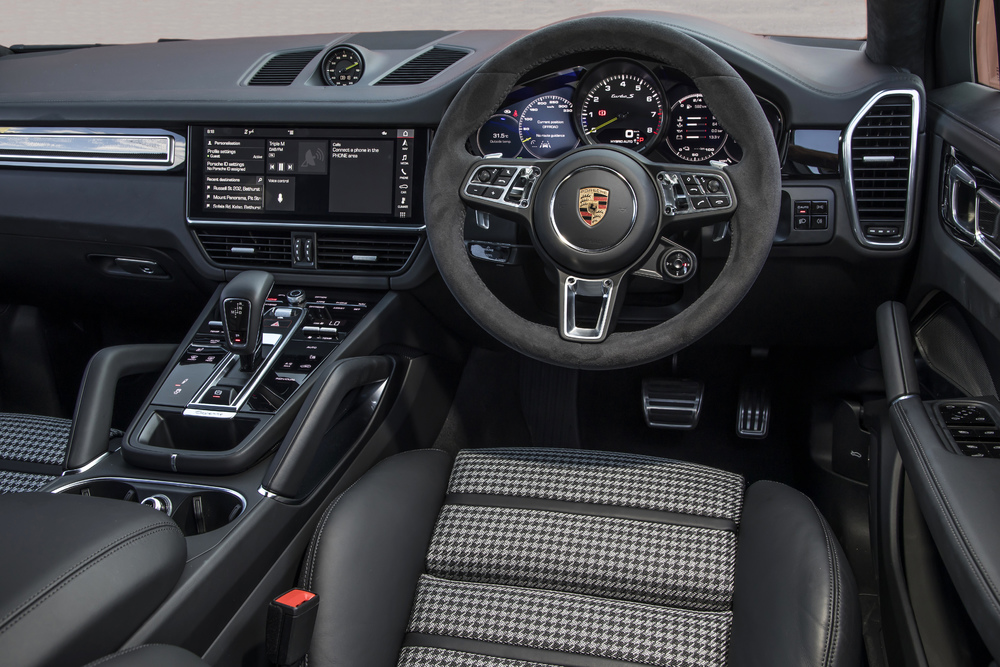 Porsche's have always had a timeless elegance about their interiors, always contemporary but never slaves to the latest fad. That's true of the Cayenne Coupe, with a clean and modern design supported by high-quality materials and build quality.
The leather seats are comfortable and supportive, though naturally the swooping roofline of the Coupe does eat into rear occupant headroom – but there's a regular Cayenne if that's a problem for you. Our test car included a patterned inset in the seats that looked nice and lifted the overall appearance of the interior.
The company's infotainment system is top-notch too, simple to read and adjust on the move, easy-to-navigate menus and plenty of connectivity to appeal to the modern owner.
Is it good value for money?
Priced from $292,700 (plus on-road costs) the Cayenne Turbo S E-Hybrid Coupe isn't cheap, but you do get a lot of vehicle for your money. It's a luxury SUV, a sporty SUV with awesome straight-line performance, it's highly-efficient and can drive on battery-power alone.
It also comes with 22-inch alloy wheels, air suspension, Porsche Dynamic Chassis Control, Porsche Sports Chrono, a panoramic glass roof, leather upholstery and a 14-speaker Bose sound system – so you know you're buying the top-of-the-range model.
However, despite being the flagship Cayenne Coupe, our test car was fitted with more than $41,000 worth of options – that's an entire Hyundai i30 N worth of extras. Porsche is not only, particularly in the luxury market, in leaving plenty of room for the starting price to blow out, so the value equation ultimately rests in the hands of each buyer and how far they are willing to stretch it.
Would I buy one?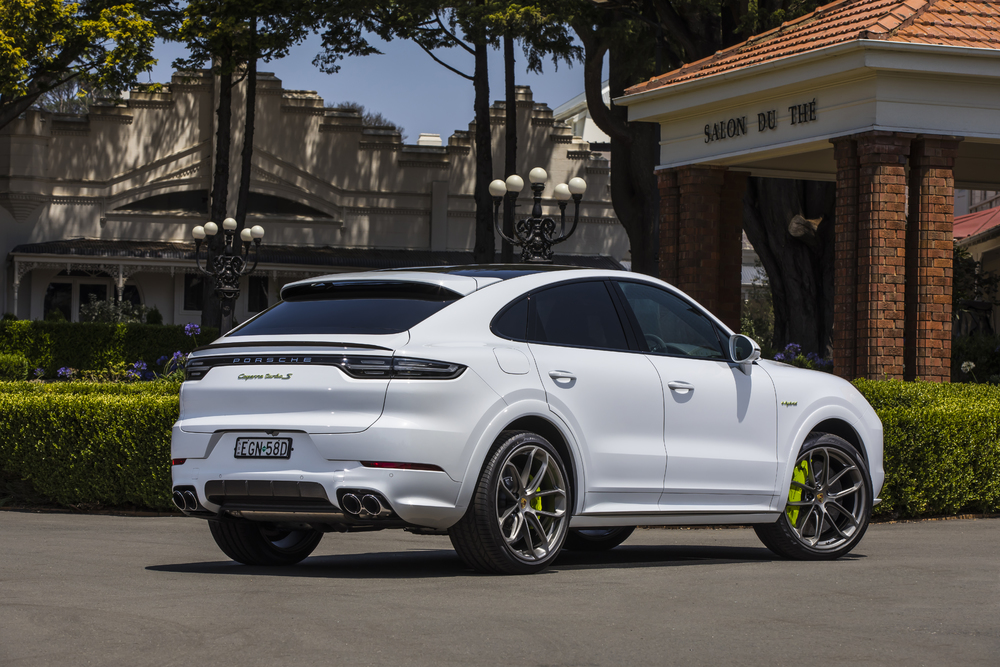 It's a very tempting proposition. It's fast, comfortable and (at least to my eyes) looks nice for a coupe-style SUV; certainly a better execution that the bulky BMW X6 and Mercedes-Benz GLE Coupe. But as impressive as it is, and it really does sum up the current market demands all in one package, there's something about its complexity and sheer size that leaves me feeling cold.
Make no mistake, this is a very good SUV, but it feels like it's trying to be all-things to all-people and so it misses the mark for some individuals.
2020 Porsche Cayenne Turbo S E-Hybrid Coupe
| | |
| --- | --- |
| Price: | From $292,700 plus on-road costs |
| Engine: | 4.0-litre V8 twin-turbo petrol with electric motor |
| Power: | 500kW |
| Torque: | 900Nm |
| Transmission: | Eight-speed automatic, all-wheel drive |
| Fuel use: | 4.4L/100km |
| Wheels: | 22-inch alloys |
| Tyres: | 285/35 front & 315/30 rear |
| Length: | 4939mm |
| Width: | 2194mm |
| Height: | 1653mm |
| Weight: | 2535kg |
| 0-100km/h: | 3.8 sec (claimed) |