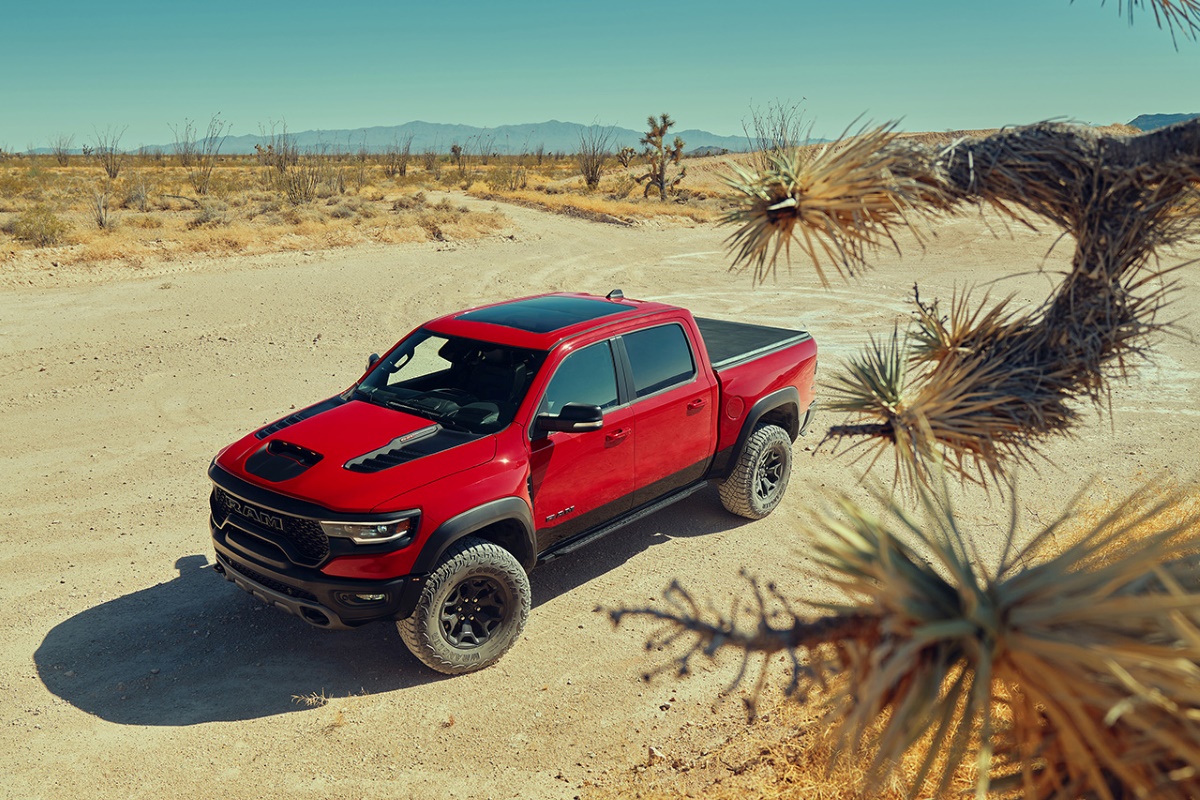 What is it?
In a word – epic. The RAM 1500 TRX is the ultimate ute (or pickup, as the Americans prefer), boasting sports car like performance, incredible off-road credentials and genuine workhorse capability.
While the clear sales pitch is its mind-bending performance, with a 523kW (702hp) 6.2-litre supercharged V8 'Hemi' engine, this isn't a one-trick pony. This is the ute that does it all – it can drag race, jump desert whoops, crawl over rocks, tow up to 3500kg and drive your family and friends around in comfort. It really is a multi-purpose tool.
The goal of this RAM is clear from the name, TRX, which is inspired by the famous tyrannosaurus rex dinosaur. Thanks to Jurassic Park, we know that while the Raptor was a very capable beast, nothing could ultimately stop the T-Rex from being the king. So RAM has clearly taken aim at the Ford F-150 Raptor in the US and the Ranger Raptor here.
It's fitting too, because like the dinosaurs, the TRX is a much larger creature compared to the mid-sized Ranger Raptor so when you come up behind one in traffic you do feel like the apex predator…
Does it have any racing pedigree?
RAM has been able to draw on its experience in both drag racing and off-road desert competition to develop the TRX. The engine is a development of the now-famous 'Hellcat' Hemi that Dodge originally created for its Challenger and Charger muscle cars.
Ram (and Dodge before it) also has a history of competing in the US off-road desert racing scene, so knowledge from those Trophy Trucks has undoubtedly played a role in ensuring the TRX is so capable.
What's under the bonnet?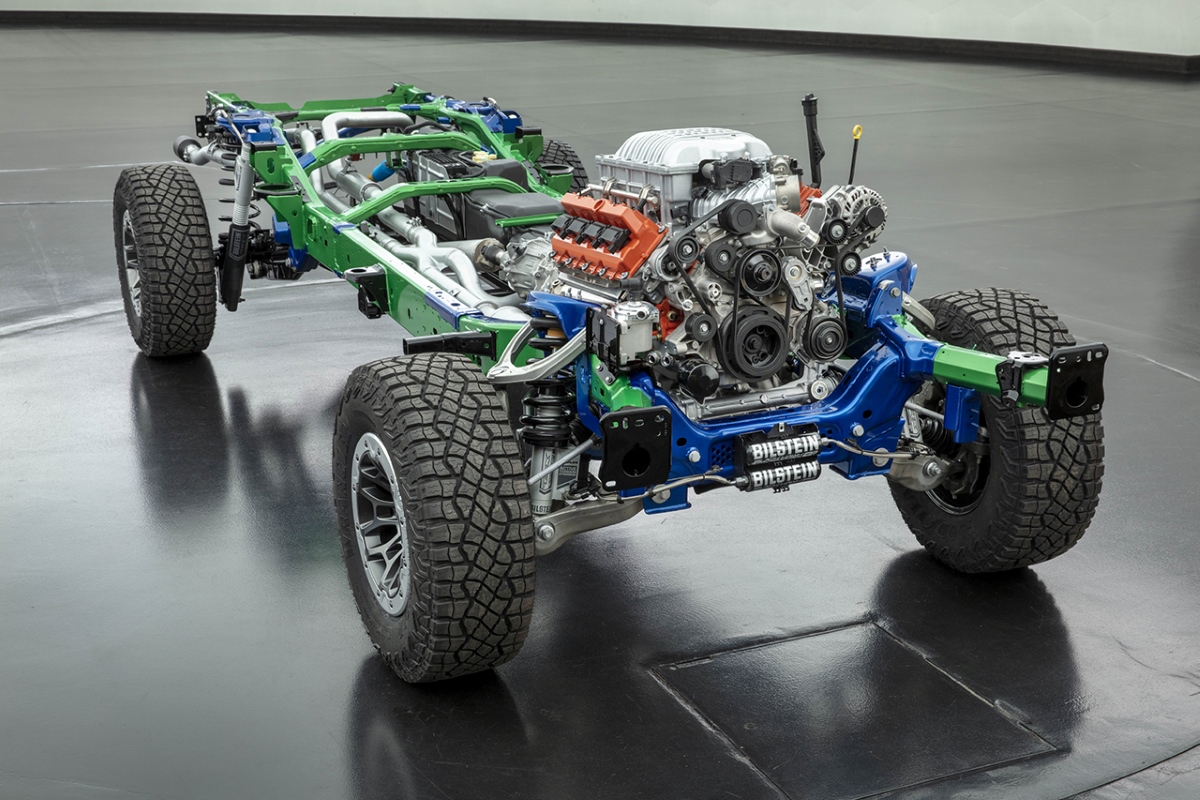 If you're the kind of person worried about fuel economy and cutting emissions – look away now. This is an old-school (but utterly modern in execution) muscle car engine.
The 6.2-litre supercharged V8 makes 523kW of power and a massive 882Nm of torque. Those figures make it the fastest, most powerful ute in the world, according to RAM.
For comparison, its US equivalents, the F-150 Raptor and Chevrolet Silverado ZR2 makes 335kW691Nm and 313kW/623Nm, respectively.
Its most likely Australian rival, based on what's popular here, will be the Ranger Raptor, but it's 3.0-litre twin-turbo V6 makes 'just' 292kW/583Nm, which isn't really in the same ballpark as the TRX.
On the road the TRX lives up to its on-paper reputation. It has immense pulling power, anytime you put your foot down the big RAM can surge forward with intent. But it's not a blunt instrument, this is an engine with range.
If you want performance, that deep V8 growl gets joined by the whine of the supercharger and the TRX genuinely feels like a sports car with the way it launches. RAM claims a 0-60mph (0-96km/h) of just 4.5 seconds, which is staggering for a vehicle of this size. However, unlike many high-performance engines that can feel highly strung at low speeds, the RAM's Hemi is very comfortable just cruising around town, ticking along at low revs with minimum fuss or noise.
How does it handle?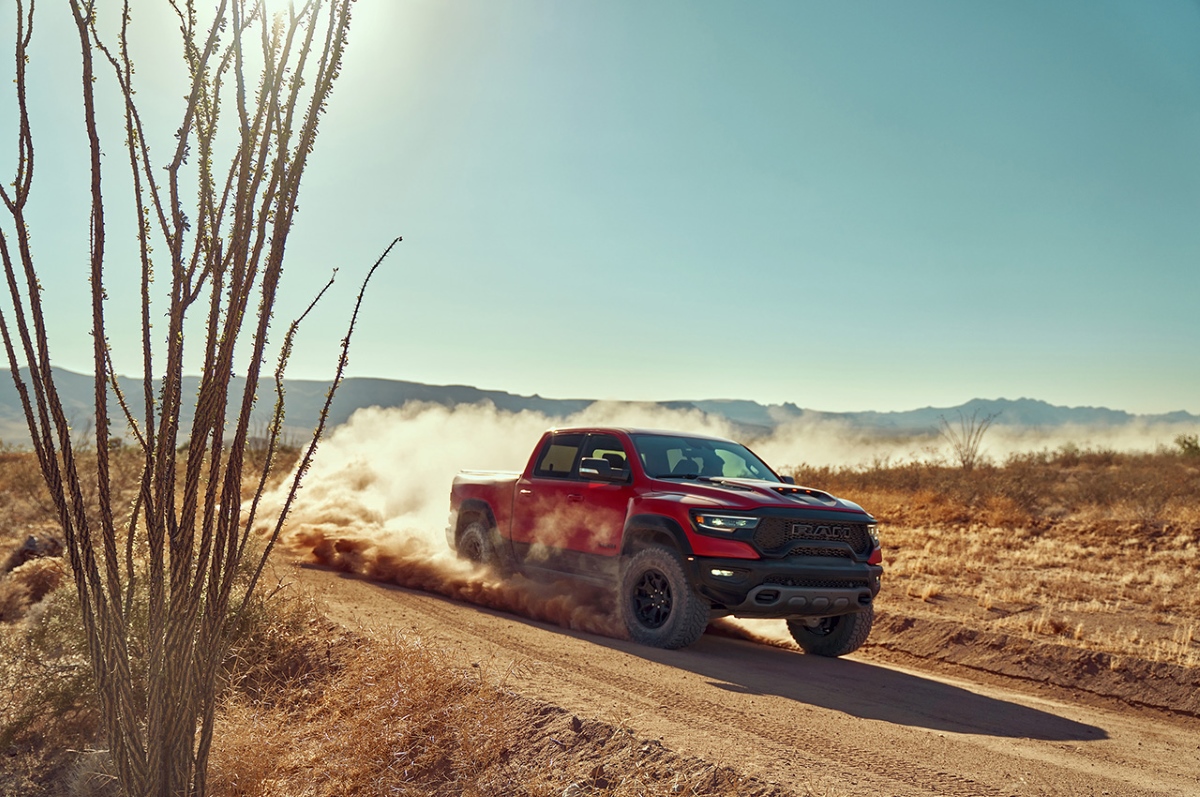 While the V8 and its whopping performance numbers are undoubtedly the attention-grabbing element of the TRX, the work done to the chassis and suspension is just as impressive.
RAM's engineers have completely overhauled the suspension system, taking inspiration and ideas from its Trophy Trucks and other desert racers. This means new Bilstein Black Hawk e2 adaptive performance shock absorbers, as well as forged aluminium control arms and a Dana solid rear axle. RAM also worked with Goodyear to develop unique Wrangler Territory All-Terrain tyres for the TRX to ensure the best chance of transfering all that power to the ground.
Unfortunately we didn't get to take the TRX for any meaningful off-road running, but regardless it impressed deeply with the way it rides and handles. In fact, the way it carried itself around the urban environment was arguably more impressive than what it could do off-road. That's because, despite being such an enormous and highly specialised vehicle, the TRX drives with a very relaxed manner.
The steering is excellent, nicely weighted and direct, which is still a rare find in any ute. And with such heavy-duty suspension the TRX rides over speed bumps and potholes in suburbia without flinching.
Obviously it's not small, so this isn't a vehicle for the faint-of-heart. Australia isn't really designed for this size of vehicle, our lanes are narrower than what you typically find in the US and our car parks, shopping centres, etc don't really cater for them. So it may take some time to understand just how big the RAM 1500 is before you'll feel confident driving it anywhere, but the surround view cameras (which also help you off-roading) make it easier to navigate at low speeds.
Where would you most like to drive it?
Ford Australia designed two high-speed off-road circuits to launch the two generations of Ranger Raptor, one in outback Northern Territory and a second on a Queensland property just outside of Brisbane. It was a huge effort but showcased the, at-the-time, unique ability of the Raptor as a high-speed off-road vehicle, as opposed to the traditional idea of low-speed off-road driving.
Unfortunately, for our drive of the TRX we didn't get access to a private off-road racetrack, so if the opportunity presents itself in the future we'll jump at it. That's because based on our on-road experience and the suspension hardware, not to mention the Hemi V8, it's hard not to think the TRX would be amazing as a high-speed off-road toy.
What's the interior like?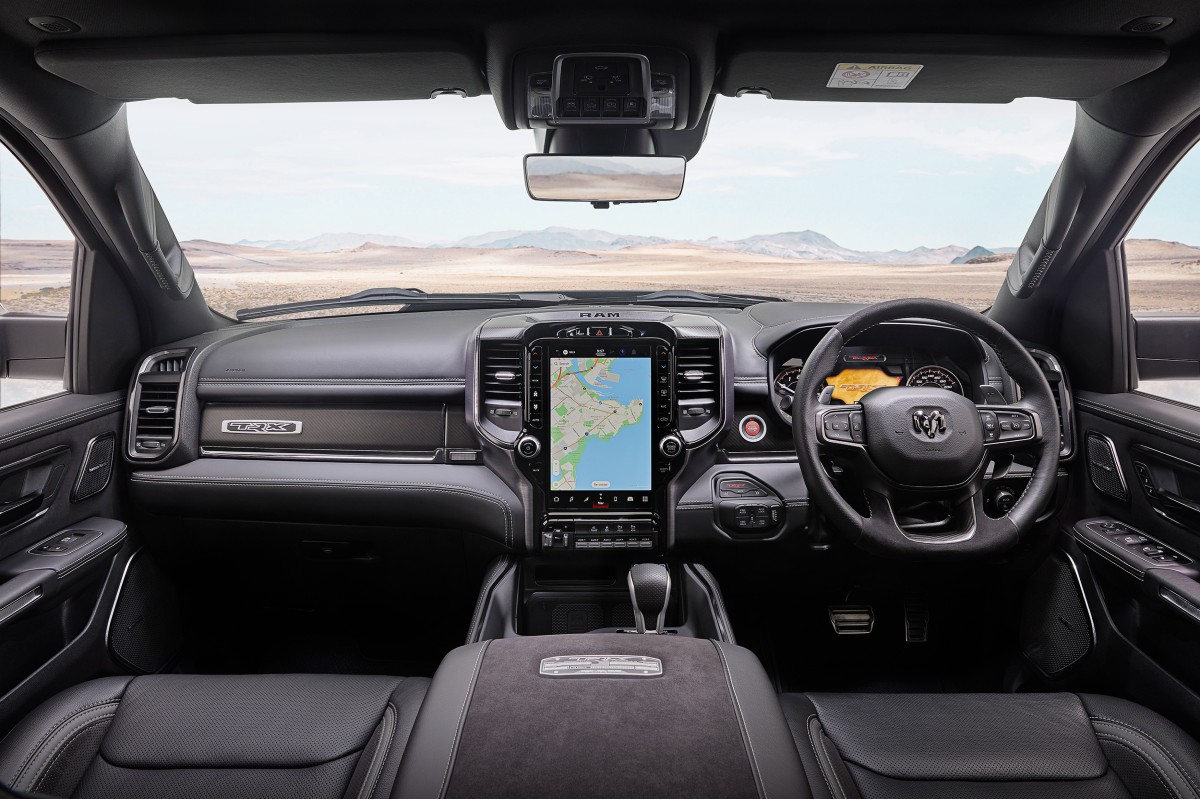 One of the biggest pluses offered by this new wave of US-style pickups (the Chevy Silverado is already on sale and the Ford F-150 and Toyota Tundra are coming soon) is the sheer size of their cabins.
Compared to the traditional dual-cab utes offered in Australia, like the Ranger, Toyota HiLux, etc, these US machines have a much larger cabin. There's comfortably room for the whole family, both in terms of length and width, with ample room in the rear for three kids or even adults.
As for the rest of the interior, the build quality of the local right-hand drive conversion is nothing short of brilliant. If you didn't know this was how it came out of the factory you might not pick it.
While US pickup trucks aren't the most premium vehicles, every element of the RAM 1500 feels like it has been put together well. In particular the TRX feels built-for-purpose, with a leather and Alcantara flat-bottomed steering wheel, carbon fibre-style inlays and leather-appointed seats.
How much does the RAM 1500 TRX cost?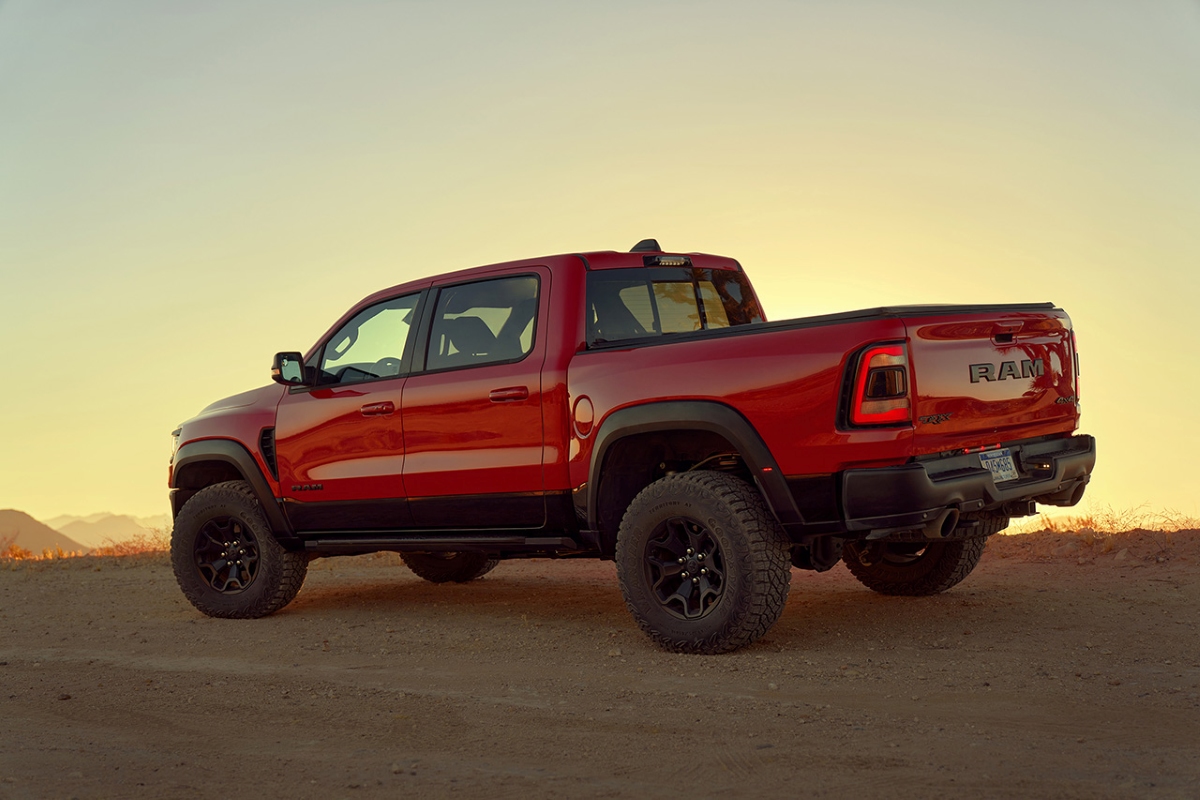 Brace yourself, because as impressive and multifaceted as the TRX is, the price is still jaw-dropping. It starts at $209,950 (plus on-road costs) which is a truly staggering price tag for a ute, regardless of how powerful and capable it is.
For context, the Chevrolet Silverado ZR2 is priced from $124,000, while the smaller Ranger Raptor costs $86,790.
But RAM Australia is comfortable with the price, because it has been very open from the start that the TRX is not meant to be a 'volume seller' but a niche offering for those who are willing to spend up big to get something very special. And it appears to be a strategy that's working, because the company says it's selling them almost as quickly as it can build them.
Would I buy one?
If I had a spare $210K I'd definitely have the RAM 1500 TRX in my garage. It's an extreme creation that will turn off as many people as it appeals to, but that's kind of the point. This is the ultimate iteration of the modern performance ute, pushing the limits in every dimension – power, acceleration, suspension articulation, off-road traction, etc.
This is a vehicle that lives up to its name, like the T-Rex that would stalk its prey the TRX is ready to pounce at any moment and anywhere.