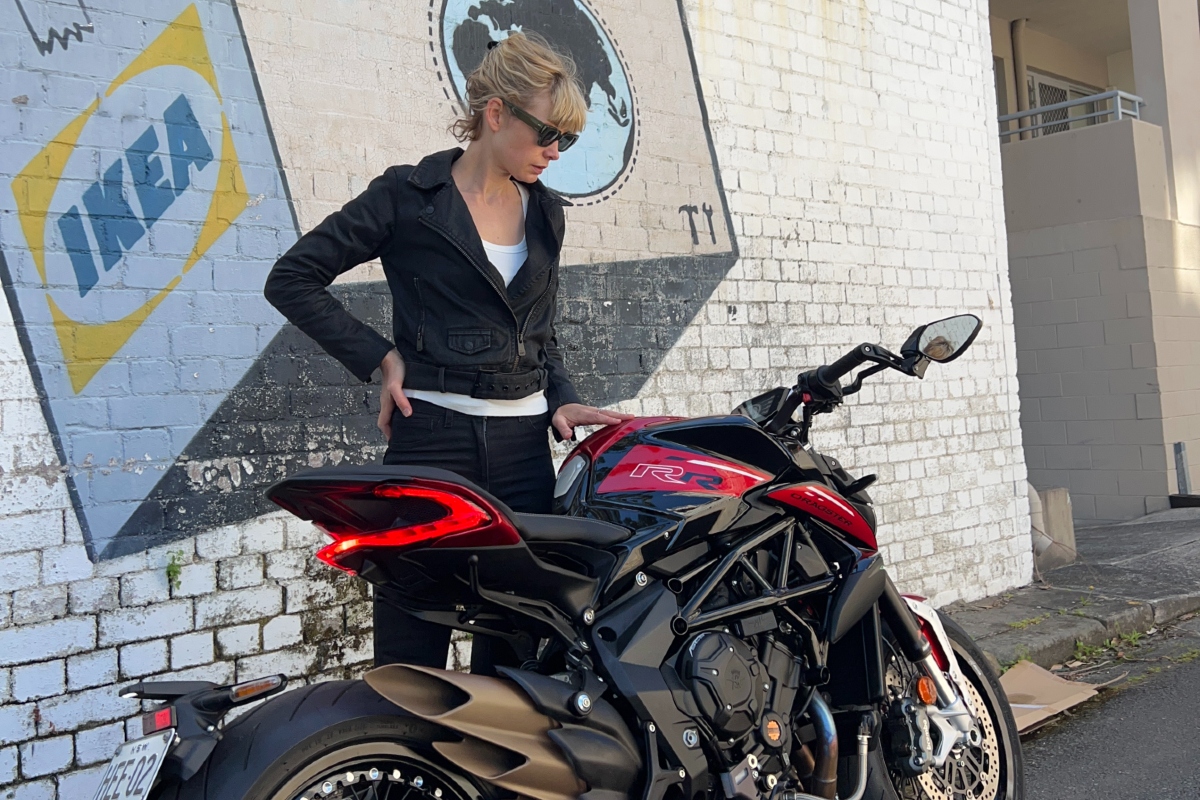 What is it?
The MV Agusta Dragster RR SCS 800 is the Italian manufacturer's "most opulent and irreverent model" and I never knew a motorcycle could be described this way 'till I met an MV. Opulent, irreverent and undeniably intimidating in its presence. Not intimidating enough to stop Ruth* from the gardening shop in Bondi from backing into it while I had it on loan but luckily Ruth appreciates moto art and left her number.
The Dragster is described as a muscle bike or supernaked. Who doesn't want to fang around on a supernaked muscle bike feeling like a supermodel every damn day. That's literally what you feel like, the hottest piece of human on the road in a 100km radius.
The SCS in the Dragster RR SCS stands for Smart Clutch System and it blew my mind, a revolutionary feature that redefines the motorcycle riding experience. You must read more about it below…
Does it have any racing pedigree?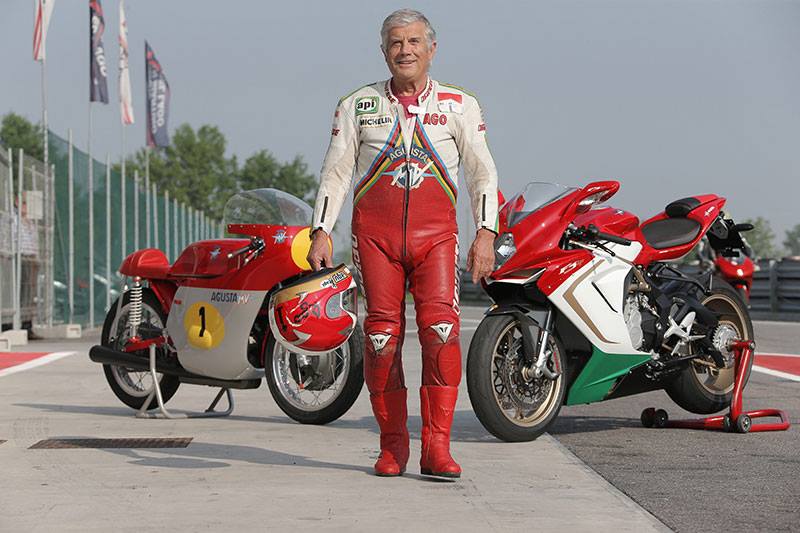 First a little history. Founded in 1923 by Count Giovanni Agusta, the brand initially ventured into airplane manufacturing. How do you even become a Count, the only Count I know is Dracula?
Post-WWII restrictions on airplane production in Italy forced the Agusta sons, who took over the company, to pivot. Giovanni's son, (also a Count) Count Domenico Agusta, decided making a cheap, efficient and simple mode of transport after war had ravaged their country, would keep the business and their IP alive. Their first bike was presented in 1945, a 98cc single-cylinder, two-stroke with two-stage gearbox (two gears). MV stands for Machina Varese – their workshop in Agusta's OG hometown in Italy. It wasn't long after that first bike hit the market, they began racing, and similar to Enzo Ferrari, their efforts producing and selling bikes was all to fund their racing.
From there they revisited aviation making a motza building helicopters under license to American manufacturer Bell. Bikes became a hobby for the Count, however this aviation technology was used to build their grand prix motorcycles and this was evident in their insane on track success.
From 1952 to 1974 MV Agusta went on to conquer the circuit racing world in all classes of grand prix racing, with icons of racing like John Surtees and Giacomo Agostini aboard and are considered the most successful European brand ever to go circuit racing.
The Dragster has not featured heavily in racing but its engine platform is derived from MV's multiple world championship winning bikes.
I am so overwhelmed with MV's history. If you have a minute, go a little deeper, it will blow your mind.
Initial impressions?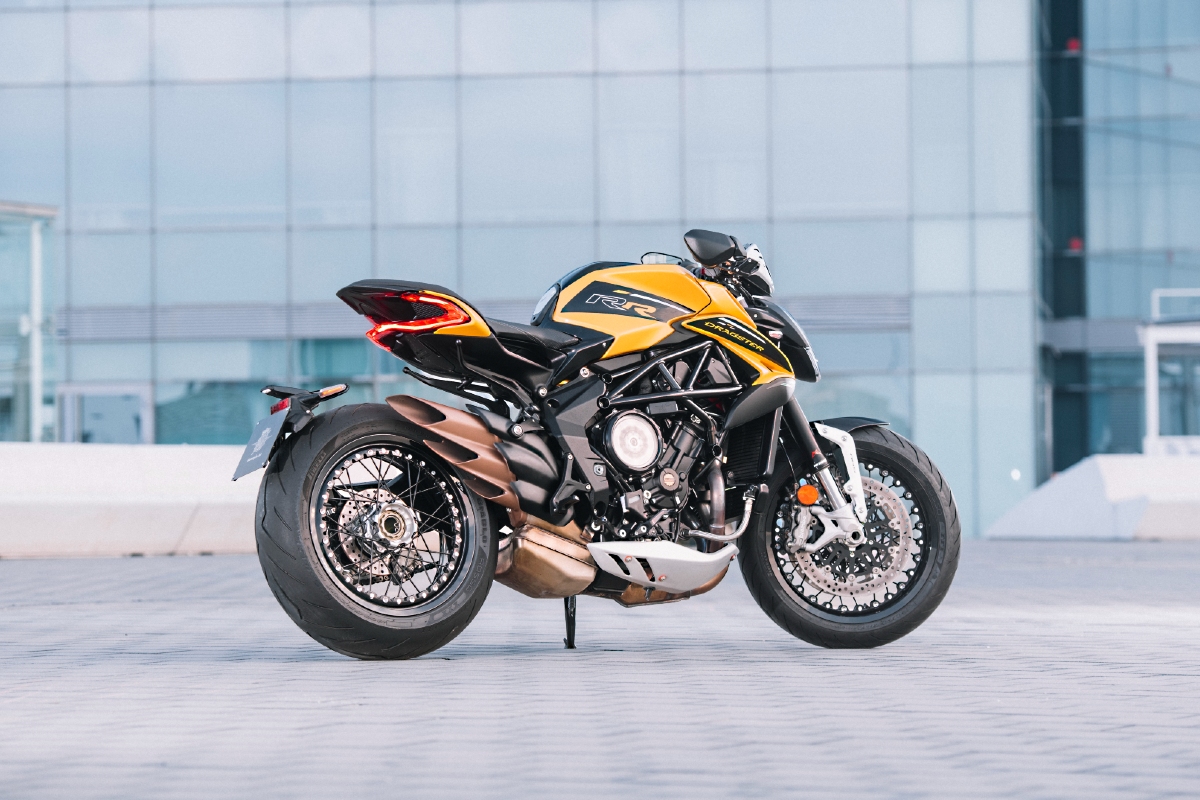 To be fair I've never ridden an MV Augusta, this is not a huge surprise. I don't know too many who have, their presence in Australia is limited but that's all set to change with KTM taking control of the brand. MV has been a bit of an international basket case and has seen its share of ownership transitions, including Malaysian car maker Proton, GEVI S.p.A., Harley Davidson, Mercedes-AMG and UK-Russian fund COMSAR Invest. None able to fulfil MV Augusta's full potential. It's like the Ferrari of motorcycles that no-one can quite nail. I'm incredibly excited to see what KTM can do injecting new energy and high levels of professionalism into the brand.
This is a more than a standard bike manufacturer, even their website reads like a fashion magazine. Worth mentioning is their fashion line which includes velvet, corduroy pants. Outrageous. MV deserves and requires the highest standards and level of attention from its new owners. And if you buy one, you want to know you are getting a Ferrari level of performance, service and love. Because you are paying for it!
And wow, before you even get on it, your jaw is on the floor. I've never been so visually taken aback by a bike and it's design. It's a piece of art, a sculpture. This is a bike that almost requires no riding, just staring. The aggressive and dramatic lines of almost every feature on the bike (except the tyres but even they look good wearing spokes) is a feast for the eyes. The seat appears to be floating and is almost galactic. Then the sound when you start it, it's like a spaceship firing up. Four quick low grunts and it's game on. The tank glistens in the sun like a galactic ruby, the pipes looks straight out of a very stylish hell. If Cruela de Vil was about 30 she'd ride this in a full suit of red leather and a cigarette in a carbon fibre cigarette holder hanging out her helmet. Batman would ride this too.
Quality, soft, stitched leather wraps a comfortable and well structured seat that rises slightly at the back allowing you to feel surprisingly snug when you get on the gas. It's very Italian though, I feel like these seats are only designed for certain sized bottoms.
What's under the tank?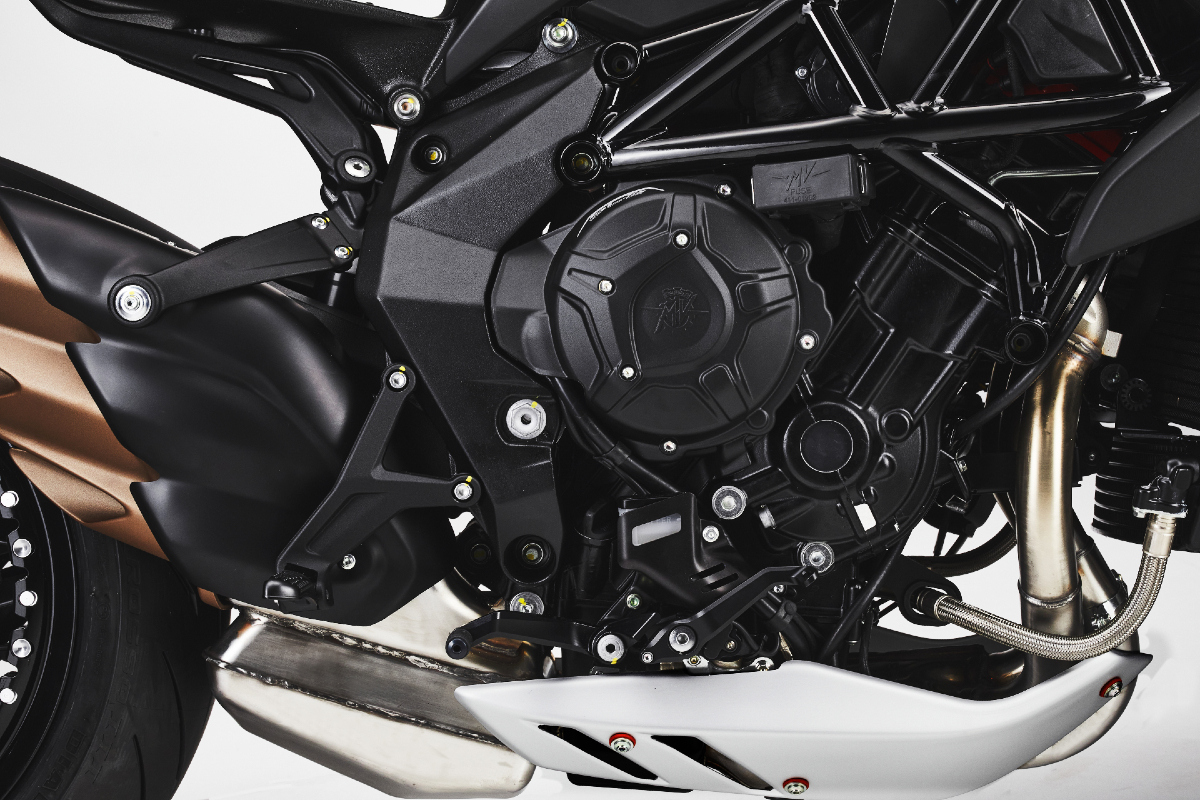 In a nutshell – an 800cc engine, a 16.5-litre tank and 140hp. The Dragster has a max speed is 244km/h, runs 0-100km/h in 3.55s and, thankfully, is fitted with world-class Brembo brakes
The Dragster contains MV's renowned inline three-cylinder engine. MV developed their first 350cc three-cylinder engine back in 1963. This engine became renowned after it went on to win five world championship on the bounce between 1968 and '72 in the GP350 class, piloted by none other than the man himself, Giacomo Agostini. They used the same platform to develop the 500cc version and won seven 500cc GP world championships between '66 and '72. An MV rep explains that this engine platform allowed for significant power output from an ultra-light, ultra-compact package. It was also very reliable and of course superbly beautiful. Having a narrower, lighter engine allows for a slimmer bike. The same principals have been carried forward into the new generation of MV Agusta three-cylinder engines from its introduction in 2001 with the new Brutale 750, right up until now.
Another key feature is a racing-derived engine counter rotating crankshaft. I asked the MV rep to give this to me in the idiot version, he explained that the crankshaft in the engine rotates in the opposite direction of the wheels. So it essentially spins backwards and help to reduce the inertia caused by everything spinning in the same direction. This greatly improves the handling of the bike, especially on the change of directions where the rider will notice the bike is much easier to flick from side to side. So get ready to get your flick on!
How does it handle?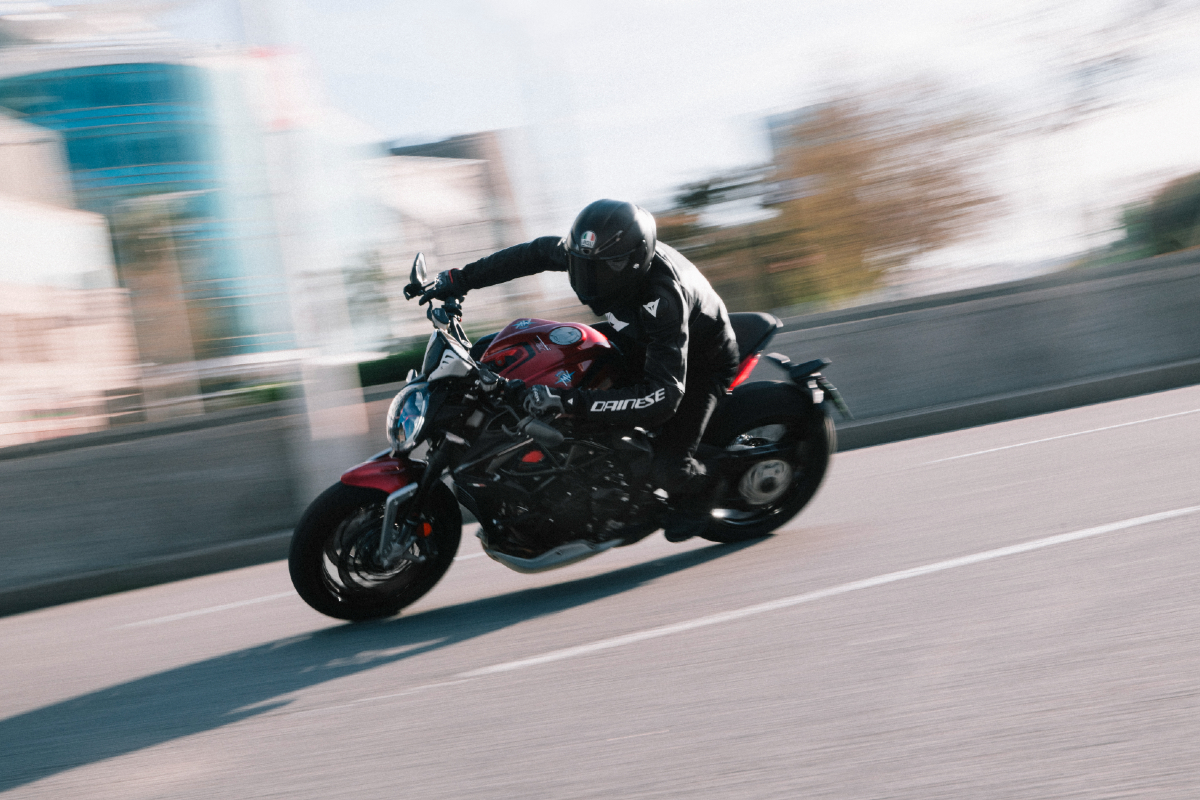 The general jist is a street beast with high track potential but at 800cc with outstanding tech, you won't find yourself out of control in second gear. Heaven (or hell) will not be your first point of call. This is jolly good news.
It is extremely ridable and comfortable in the lower gears. This is in largely due to the SCS – the life changing, game changing, extraordinary Smart Cutch System. Basically you can't stall and with high performance bikes, it's the low speed that can catch you out as much as the high speed. The only time you need the clutch is getting into first gear. But that's it from there.
Low speed traffic is no longer a 'sore clutch hand' issue. It's an extremely bizarre concept to wrap your head around. But because of this you need to be extra aware that when old mate next to you wants a drag race (and on an MV they will), the simple art of the noisy rev will take you well into the intersection with the SCS (you will always be in first because the SCS allows you to take your hand off the clutch at the lights so no neutral required when stopped). But for slow riding, traffic and roundabouts the SCS makes things incredibly smooth and easy. You can take off in first or second with no clutch but the TFT screen will warn you if you are in third, you'll need to gear down.
Not to be confused with automatic gearing though, you still bump through the gears in quick shift fashion, you just don't need the clutch. It's the most perfect balance – offering a smooth, easy, low fuss ride while still retaining that important motorcycle function of shifting through the gears. I think that's where the electric bikes loose me a little, I enjoy the bumping up and down of the gears and getting that feedback from the engine and the revs.
Keep in mind the bike can roll when left in first gear and parked on an incline or decline. To combat this, MV have implemented a park brake which is located in front of the back brake. It's very simple to use, you just have to remember to use it. Or your MV may roll down the hill. Of course, this is something that will only happen once. You won't forget a second time.
The turning circle is small but standard for this style of bike and the handle bar position mean you will be fairly upright.
Where would you most like to ride it?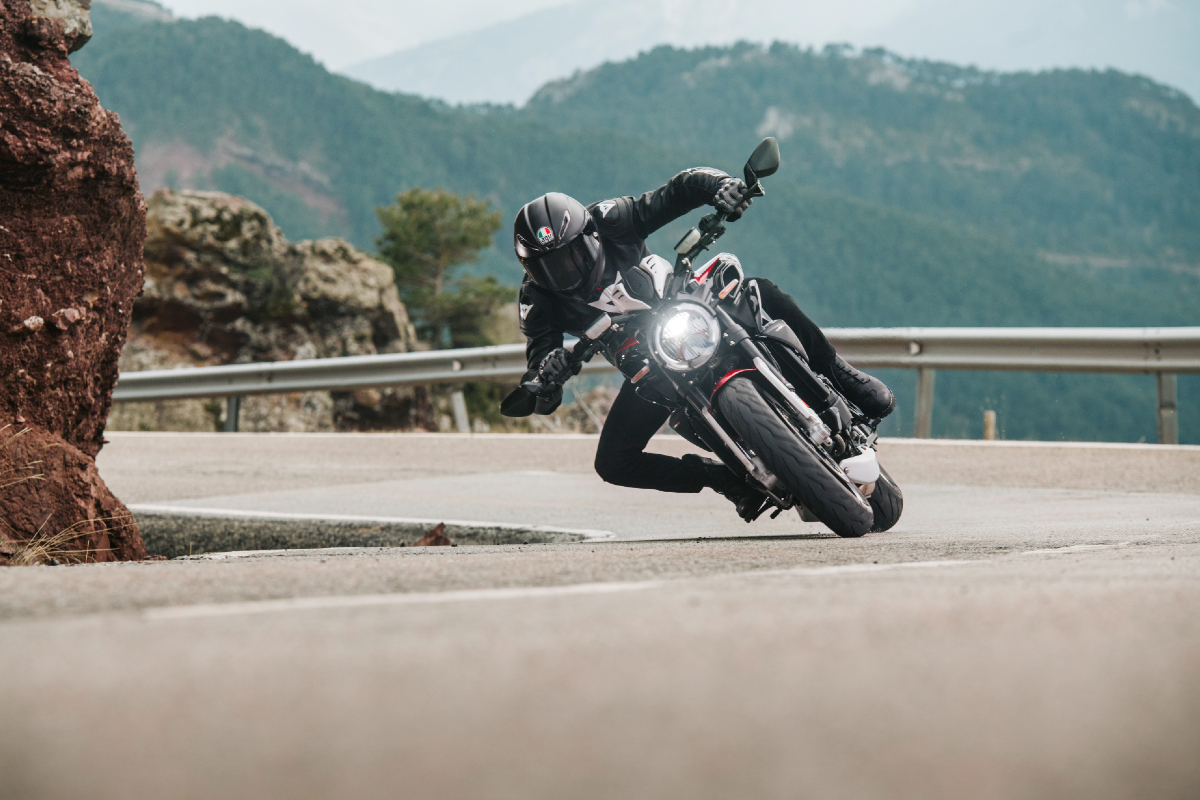 If you have a stunning mountain range nearby I'd probably take that. Or a race track. Or a road you can get on the gas and go full beast mode without losing your license (if you know the location of this road in Australia, can you please write in and tell me where, I'll meet you there). If this isn't possible then perhaps down to your local beach or somewhere busy and sexy where you casually cruise in first gear and watch everyones tongue roll out their mouths, running across intersections to get a closer glimpse.
So if you're off to the track then cool, go for gold, this thing belongs there, it's a weapon. But if you're not then listen up, you will be ok… more than ok. The power delivery is simply stunning.
What's the tech like?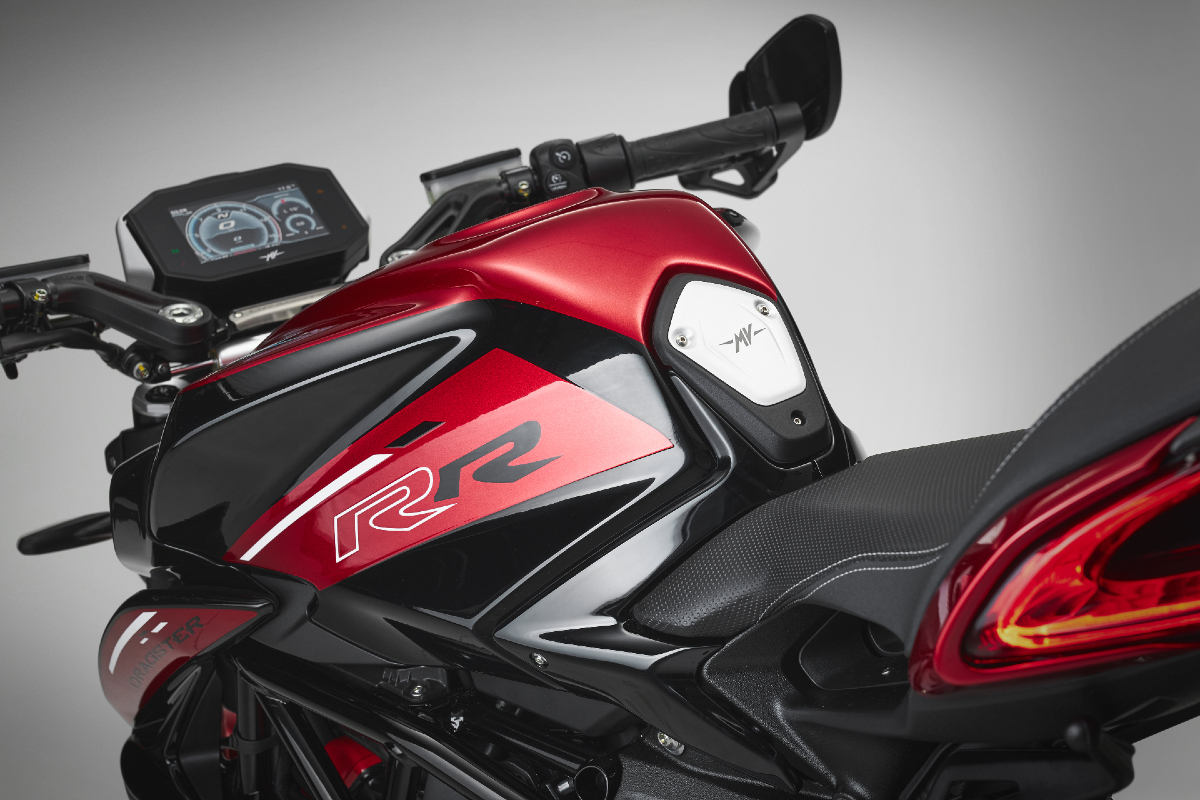 It's Italian and unsurprisingly things were never meant to be simple, they were meant to complex and beautiful and there is much to talk about in terms of tech.
MV have really thought through the whole emotional process of why we ride. They have designed an app that talks to the TFT screen, plans epics road journeys and peppers your ride report with the photos you've taken along the way. The app's epic roads journeys are currently only European roads but Australian management is in the process of adding our classic rides to the app and of course the navigation simple to use. It also gives you a detailed report on how hard you were going, if you got a knee or perhaps a shoulder down with inertia/lean angle plus pitch with details of your all your stoppies and wheelies.
Its standard four selectable ride modes (sport, race, rain, custom) are all adjustable, including lap time features, this thing is meant for speed and performance and so it certainly caters for those who want that data.
Launch control is a good time if you dare to use it and obviously we've mentioned the SCS – Smart Cutch System but their updated and advanced FLC Front Lift Control is definitely something I didn't get to master in my short time testing. Nor would I want to even I owned it, the risk vs reward isn't quite there for me or my bank account. FLC is like an advanced wheelie control, you get to set where your wheelie stops and then keep it there as you and your inner hooligan are gassing it down the highway.
Does it have a charger plug for your phone? No. But you can buy as an add on.
One thing that does surprise me in the indicator, I would have expected it to auto turn off like Harley Davidsons. It's a little bit plastic. But I'm nitpicking here.
How much does the MV Augusta Dragster cost?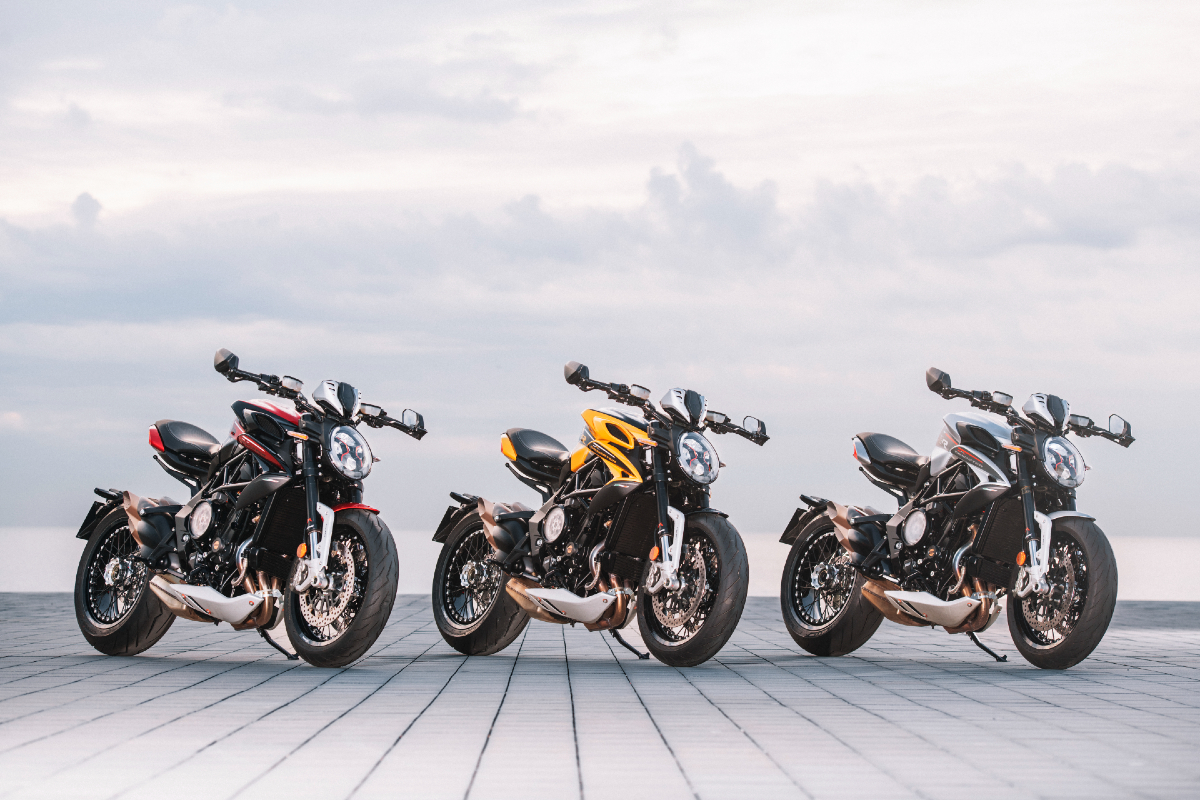 There are three version of the Dragster, spanning just under $30k to just over $40k. The Dragster R starts at $27,295 (ride-away, including on-road costs), but this misses out on the SCS tech. For that you'll need the Dragster RR SCS we tested, which is priced from $34,595. Or if you want the range-topper, you'll be spending $40,195 for the Dragster RC SCS, with the RC standing for Reparto Corse, which translates to Racing Department. This is the top spec model and comes with a beautiful race kit which includes Akrapovic racing exhaust, ECU map, ownership plaque.
As a side note here – when Ruth from the Garden shop backed into this godlike creature, superficially she only damaged the mirror but it got me thinking about parts. Agusta parts used to be a nightmare to source but now KTM have brought all parts operations to it's factory in Mattighofen, Austria which Australia will be leveraging so that's a big win – for me and for Ruth.
Would I buy one?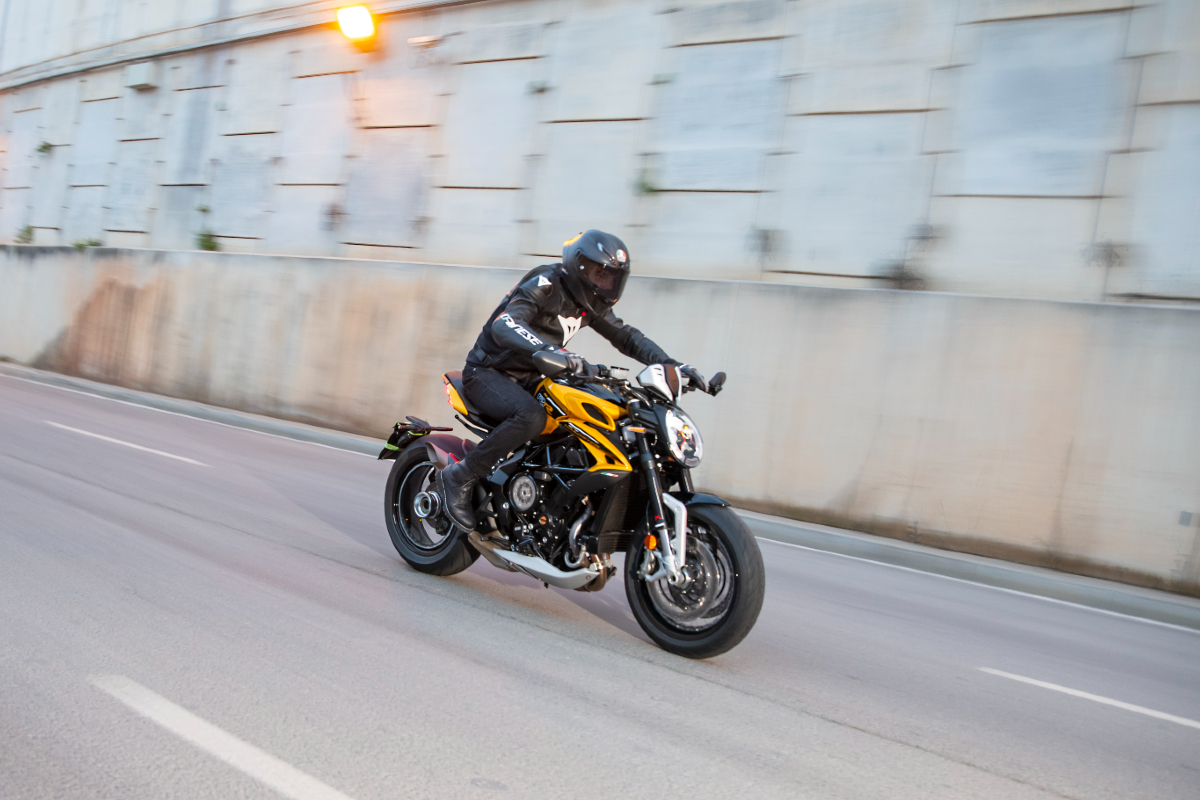 I asked my favourite MV Agusta rep who their typical Dragster client is and was told it's "the wanna be hooligan who enjoys a spirited ride, while appreciating the refined sophistication and absolute riding pleasure offered by the Drgaster."  So if you take one for a spin, hop off and this doesn't describe the energy pulsing through your body then you don't need an MV Agusta Dragster in your life.
But beware, when you get one of these on the road and under your behind, you will morph into this exact client. And from there I suggest you hide your wallet as it could soon be empty.
*Ruth is not her real name. It's actually Sally.