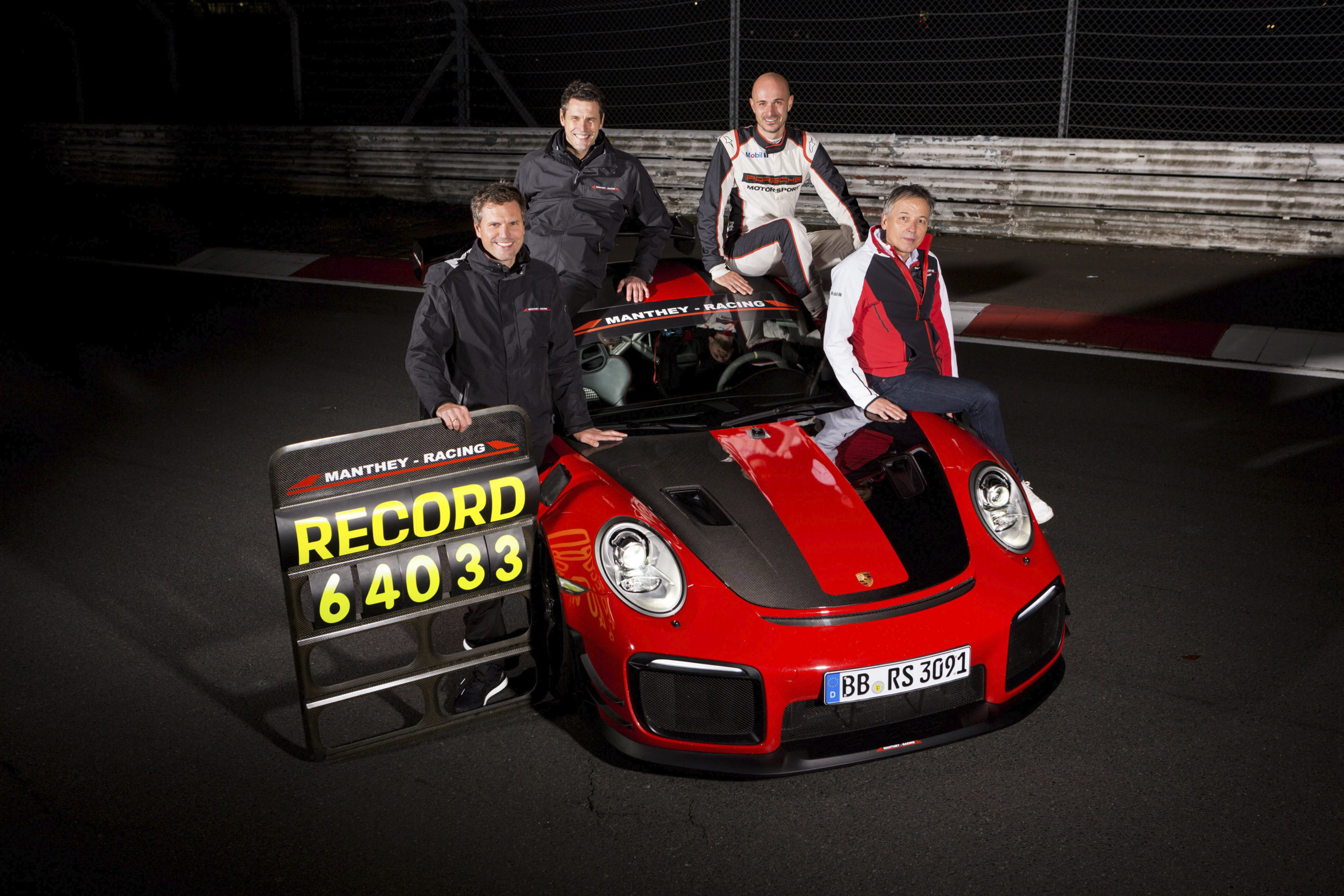 The Nurburgring Nordschleife is the ultimate test of man and machine.
The 20km ribbon of tarmac that snakes its way around the Eifel Mountains has been drawing drivers and their cars like a spider lures prey into its web. For car manufacturers it is the ultimate test ground to prove a car's dynamic capability, and claiming the lap record is a badge of honour. So much so certain brands have devoted countless hours and dollars to chasing the fastest time, even going so far as to create specific models with the Nurburgring in mind.
With so many of us now in self-isolation and in need of some entertainment, we've selected five of the most entertaining laps of the Nordschleife for your viewing pleasure. Please note, we said 'entertaining' not the fastest, because some of these are more exciting to watch than others – but none of them are slow. Hang on tight!
Porsche 911 GT2 RS MR, Lars Kern, 6:40.3sec
Porsche has a roster of some of the finest drivers in the world at its disposal. But when it comes to Nurburgring lap times it typically falls to one man to handle the fastest times – Lars Kern. He's the German brand's official test driver for all new models and has done thousands of laps of the Nordschleife so he knows exactly how hard he can push at each one of the 173 corners.
His lap aboard the 911 GT2 RS Manthey Racing edition is a thing of beauty – he manages to tame Porsche's ultimate beast, complete with Manthey upgrades – and places the car with precision and finesse. This is a masterclass of Nurburgring driving.
Lamborghini Aventador LP770-4 SVJ, Marco Mapelli, 6:44.9sec
This is the reason Porsche had to build the 911 GT2 RS MR, because Lamborghini unleashed its ultimate Aventador with Italian GT ace, Marco Mapelli, behind the wheel. This 6:44sec lap beat the record time that Kern had set in the standard 911 GT2 RS.
The Aventador SVJ is quite a handful to tame, with 556kW from its 6.5-litre V12 engine, but Mapelli manages to make it look relatively easy. The sound of the engine is just as impressive as the car control, so make sure you turn up the volume.
Porsche 918 Spyder, Marc Leib, 6:57sec
While Kerns is the man responsible for most of Porsche Nurburgring records, back in 2013 then Porsche GT ace Marc Lieb ended up mastering the hybrid 918 Spyder better than anyone else.
His time of 6mins 57secs was set with the special Weissach Package fitted to the V8 and hybrid powered hypercar, which made it lighter and more aerodynamic. The result is a lap that was, at the time, the fastest ever around the circuit and the first full-production car to achieve a sub-seven minute time.
Ferrari 488 Pista, Christian Gebhardt, 7:00.3secs
Roll your sleeves up and hang on as German magazine, Sport Auto, unleashes its test driver, Christian Gebhardt in Ferrari's ultimate track car. The Italian brand doesn't generally buy into the Nurburgring lap record so it was left to the German magazine to see what the twin-turbo V8 machine can do.
While it didn't break the seven-minute barrier it's still a super fun lap to watch as Gebhardt tries to hang onto this 530kW prancing horse. Who knows if Ferrari's official test driver could manage to go faster, but Gebhardt certainly doesn't lack for effort.
Nissan GT-R Nismo, Michael Krumm, 7:08.6secs
The Japanese brand has a long history of Nurburgring lap time claims, getting into a war of words with Porsche about exactly who set what time using what specification of car. In a bid to end the dispute, Nissan set its long-time GT star, German Michael Krumm, to lap the GT-R Nismo as quick as he could back in 2013.
The result was a 7:08sec lap that was 10 seconds quicker than the 997.2 generation Porsche 911 GT2 RS had managed in 2010. Of course, it didn't stop the slanging match between the two brands because Nissan was forced to admit afterwards that it had tuned the car specifically for the track with a so-called 'N Attack Package'. But regardless, it's a very rapid lap and Krumm should be applauded for managing such a fast time in such a powerful machine.
Which is your favourite video? Tell us in the comments below or join the conversation on social media.