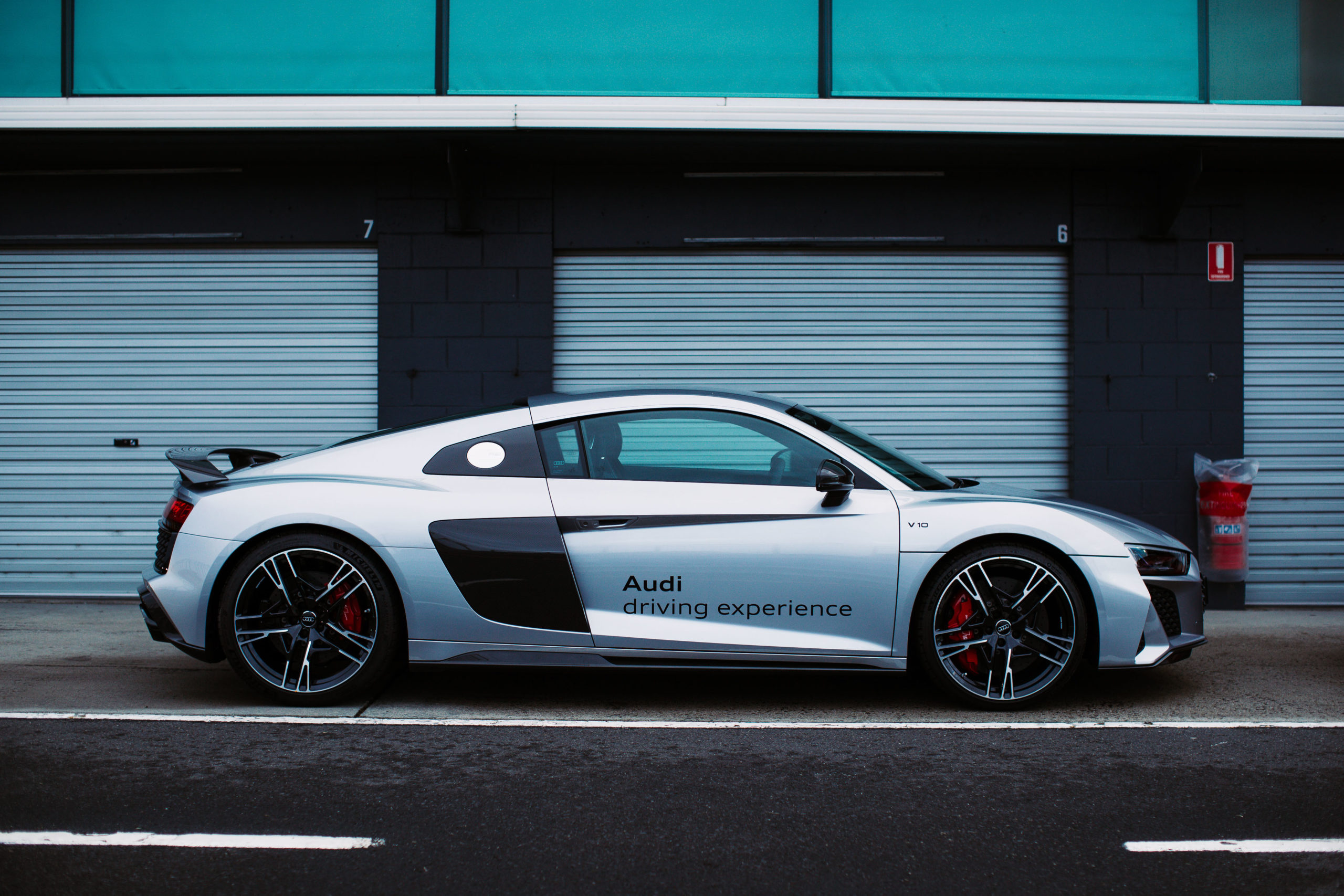 The Audi Driving Experience has returned for 2021 – you can read all about it here – and Torquecafe.com was invited along to sample the refreshed program. Which also means we got to sample Audi Sport's rejuvenated line-up of models.
While not every model was on hand for our day at Phillip Island, Audi Australia has invested more than $5.5 million in a 23-strong fleet of RS models for its Driving Experience. The fleet at our disposal included the compact TT RS, stylish RS5 Sportback, practical but ballistic RS6 Avant, unlikely performance hero RSQ8 and range-topping R8 supercar.
Audi's marketing tagline for its RS range is 'Raised by Racecars' and it's appropriate, as the brand has a rich motorsport heritage to draw on. The R8 in particular has strong ties to the track, with the road car and GT3 versions developed simultaneously to ensure it could be as competitive as possible.
The Audi Driving Experience is part educational tool, part sales pitch. But for us it was a chance to get some time behind the wheel of Audi's ultimate performance cars and push them to their limits. While we had time in all five models, we've focused on the two range-topping models, the R8 and RSQ8, which also happen to be polar opposites.
R8 V10 Performance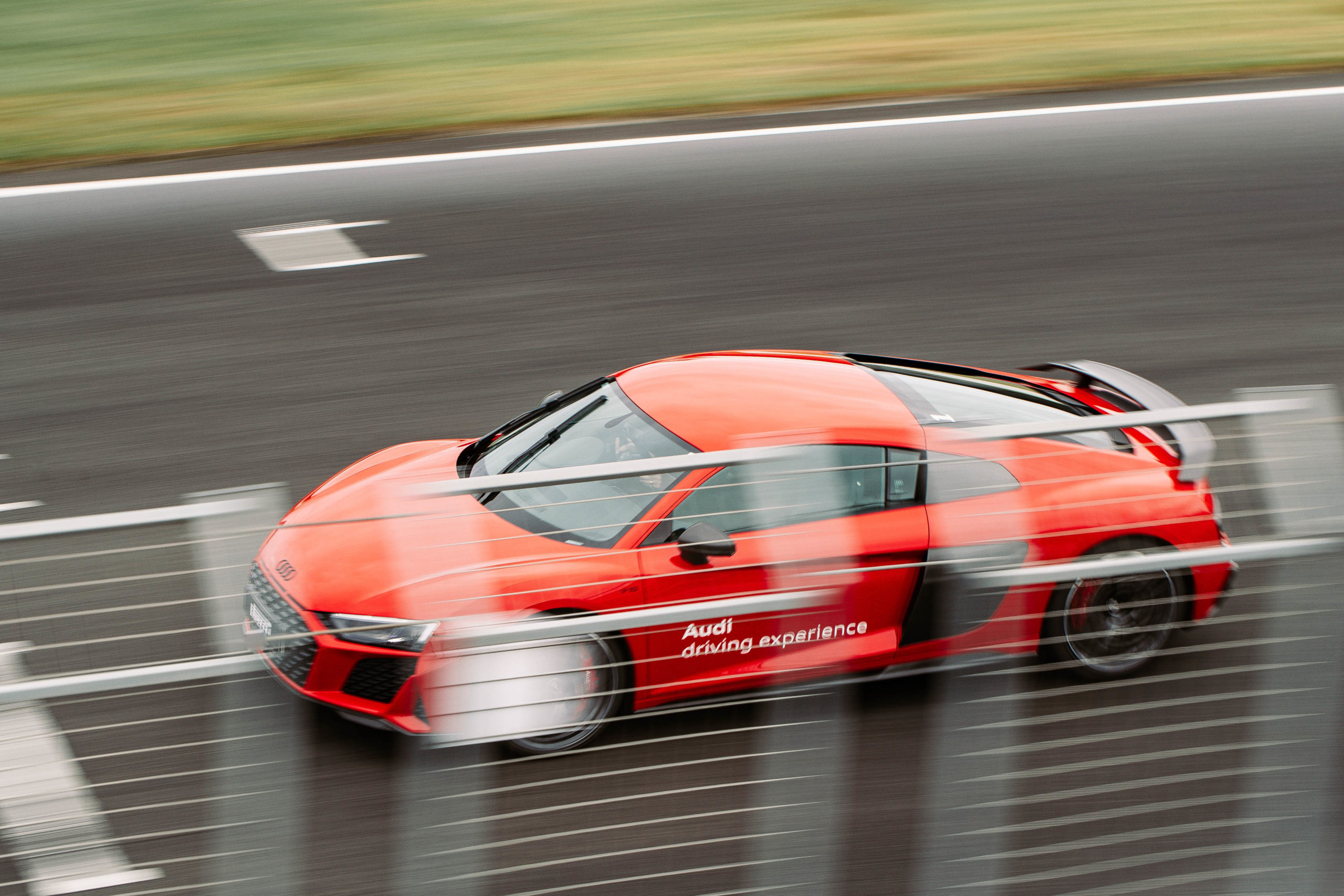 Let's start at the very top. The R8 is the brand's now-iconic halo model and with good reason.
It shares plenty of mechanical DNA with the Lamborghini Huracan, including its 5.2-litre V10 engine which is one of the last remaining naturally-aspirated gems. Not only does it make 449kW of power and 560Nm of torque but it also makes a glorious noise as the engine screams to the redline as you keep your foot buried down Phillip Island's Gardner Straight.
Through the fast corners, including Doohan Corner (turn one), Stoner Corner and The Hayshed, the R8 can feel slightly nervous but that's because you're generally carrying a lot more speed than you would in anything else. But it's also down to the lightness of the R8, it doesn't have sheer mass pushing it down, so you need to rely on the aerodynamics (which includes a small rear spoiler) and the huge tyres to keep you planted.
Through the slower corners (Southern Loop and Siberia) the R8 feels planted and launches out the exit with ferocity thanks to the V10 and all-wheel drive system working in harmony.
Overall the impression left by the R8 is a car that requires skill and precision to drive but one that rewards those with those traits with an immensely fast and enjoyable car.
RSQ8
When I reviewed the RSQ8 in 2020 I said I'd like to sample this new machine on the track, as Audi claimed it was built with track days in mind. So, it was nice of Audi to oblige by adding it to the Audi Driving Experience fleet.
The newest member of the Audi Sport family may seem like any unlikely track machine at first glance – what with it being a 2100kg SUV. But there are some other factors that meant it acquitted itself surprisingly well when we hit Phillip Island.
For starters it pulls like a freight train thanks to its 441kW twin turbo V8 engine. Despite its size it launches out of the corners like a much smaller car. Secondly there's the brakes, with Audi wisely opting to fit the RSQ8 with the optional carbon ceramic brakes. Not only are they lighter, they are the largest brakes fitted to a production car, measuring a whopping 440mm at the front and grabbed by huge 10-piston calipers. While you certainly notice the size of the RSQ8 when you try to slow down, when you hit the brake pedal the big machine slows quickly and does so with amazing consistency.
Another factor that makes it so good on the track is the electromechanical active roll stabilization system. This clever suspension set-up allows the big and tall RSQ8 to sit remarkably flat when cornering, which in turn makes it feel smaller and more agile than it should.
And while the RSQ8 feels like a very different beast to the R8, there's also a clear family connection between the pair in the way they perform. As we explained in our review of the course, the Audi Driving Experience is more than just a customer perk, it's a great way to both gain some expert guidance on track, but also learn about the similarities and differences between the Audi Sport range.