Fans of affordable, rear-wheel drive sports sedans can relax – the Kia Stinger is sticking around.
Despite overseas reports that the South Korean brand was considering dropping its relatively new addition, in fact an updated model is on the way and will be in Australia by the end of the year.
Kia has filled the hole left by the demise of the locally-made Holden Commodore and Ford Falcon, and while it hasn't been a sales hit for the brand it has found a loyal audience. It remains one of the most affordable rear-wheel drive performance cars available in Australia.
Fresh look
Kia recently revealed the styling changes for the new model with a raft of subtle tweaks to keep it fresh.
At the front there's new "multifaceted" LED headlights and LED daytime running lights. The rear also gets new lights, to be specific, 10 individual LED lights that have been arranged to look like a chequered flag.
The V6 models will also get new, larger exhaust tips finished in silver and a "performance-inspired" rear diffuser.
There are new designs for both the 18- and 19-inch alloy wheels too to complete the exterior changes.
It's a similar story inside where the cabin design is largely carried over but with a few key changes. The most notable is the upgraded 10.2-inch touchscreen, that brings with it the latest Kia infotainment system.
There's also a new mood lighting system that allows for 64 colour changes and should bring a premium touch to the Stinger.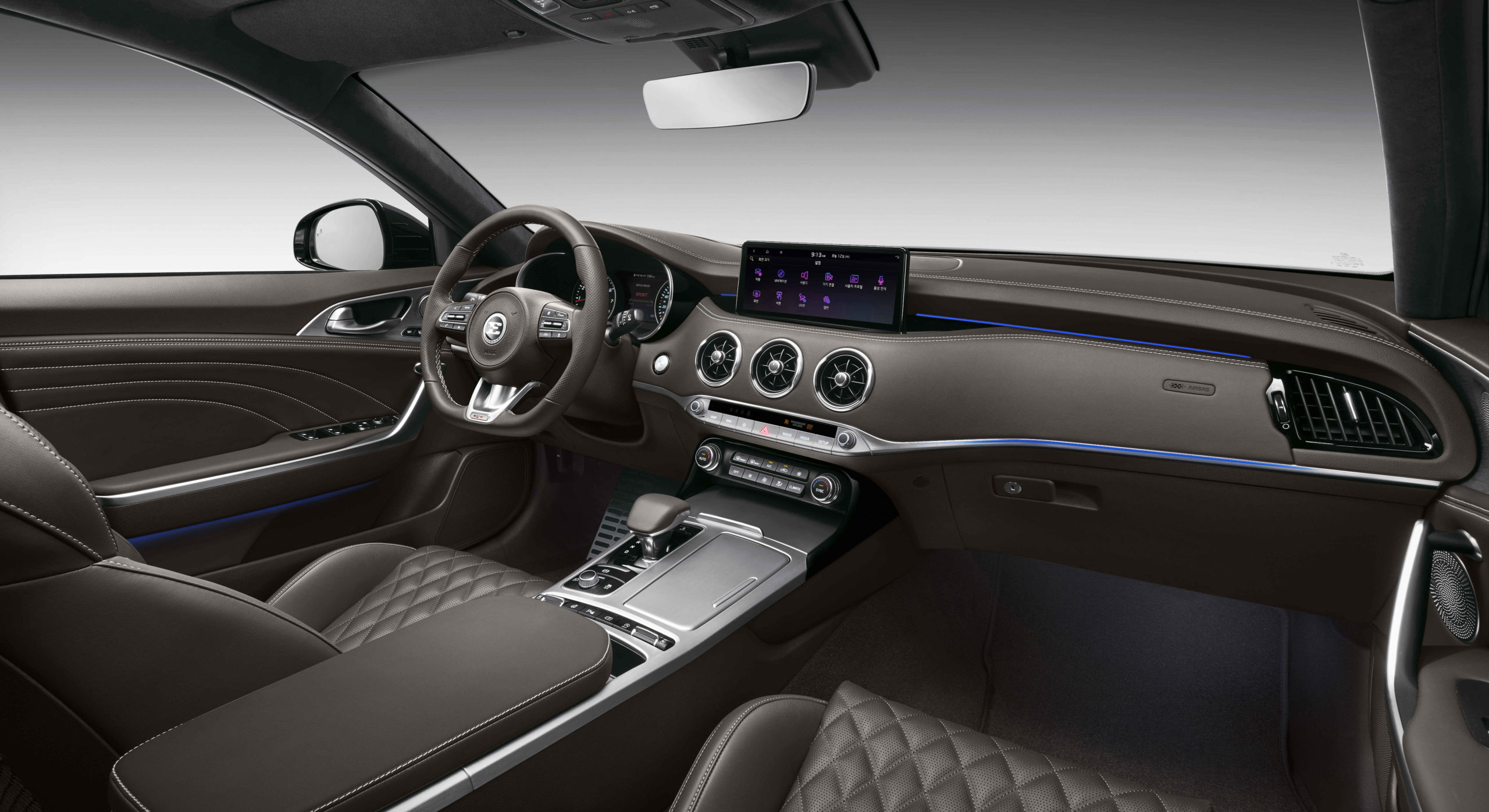 Under the bonnet
Despite some earlier reports that the Stinger would adopt Hyundai's new 3.5-litre turbocharged V6, instead it looks set to continue with the current 3.3-litre twin-turbo V6.
Reports from South Korea suggest it will get a very minor tweak that will up the power and torque slightly, from the current 272kW and 510Nm.
However, the 2.0-litre four-cylinder turbo engine may be dropped in favour of a new 2.5-litre unit that makes 224kW/422Nm; a significant upgrade over the 182kW/353Nm of the current engine.
That new engine has been developed by Hyundai for a range of performance applications, including the new Genesis G80 but may also find its way into the halo N sports car. But, it's important to note this is speculation and there's been no official confirmation from Kia Australia or globally.
Local tuning
Also due for an upgrade is the stuff you can't see, with Kia Australia reportedly planning some changes to the car's steering and suspension in order to get it better suited to our unique roads.
The local operation has been running its own ride and handling program for new models for years, driving the cars in Australia and then sending feedback to Korea so local models have different set-ups to other international markets.
The out-going Stinger is a nice car to drive but can be unpredictable on the limit so it's likely that this mid-life update will allow Kia Australia's engineers to tune that out for a better driving experience.