While GT3 racing has boomed in Australia in recent years, the GT4 division hasn't enjoyed quite the same level of attention from non-professional drivers. But that hasn't stopped Porsche from finding buyers for its GT4-spec 718 Cayman model.
Now, in the wake of the introduction of the all-new 718 Cayman GT4 RS comes the updated 718 Cayman GT4 RS Clubsport.
This new model is powered by the same 4.0-litre flat-six as its big brother, the 911 GT3 Cup, upgrading from the previous GT4 model's 3.8-litre engine. The bigger new motor means more grunt, with approximately 370kW of power (a 55kW boost) and 465Nm of torque (a 40Nm bump).
The engine is paired to the same gearbox as before, a seven-speed dual-clutch, but it has been overhauled. Previously the Clubsport only used six gears, but for this new model all seven ratios are used and each is shorter than before for greater acceleration.
Other upgrades for 2022 include modified suspension with new two-way adjustable shock absorbers and adjustable sword-type anti-roll bars front and rear.
There are also aerodynamic changes with a new, extended front spoiler lip, while the swan neck wing remains (and clearly inspired the road-going GT4 RS).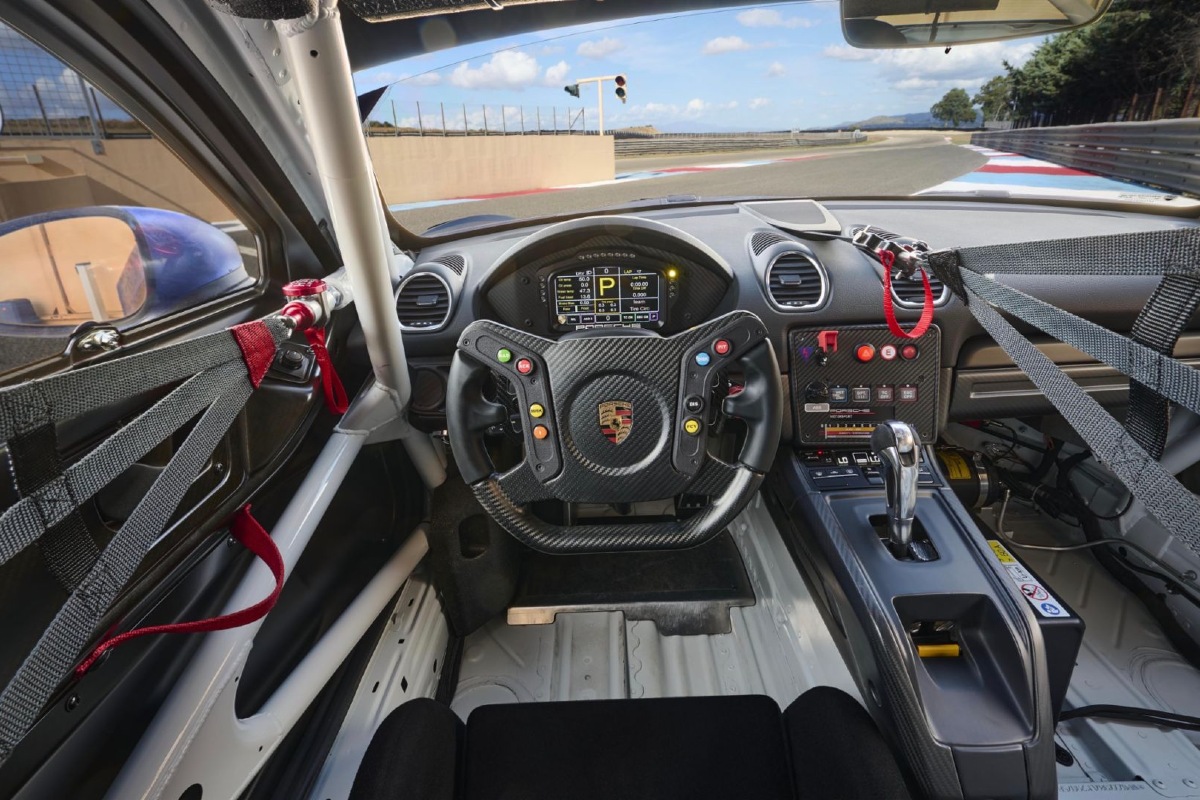 Inside the cabin there's very little of the original car left, with a roll cage installed along with a six-point racing harness and a new digital, data-logging dashboard and race-spec steering wheel.
Porsche Motorsport Australia sold seven examples of the previous 718 GT4 model and has confirmed it is expecting an allocation of the new model for 2022.
As before the car will be available in two different specifications – either in full-homologation GT4 racing trim or ready for track days. This is because Porsche Australia has found a strong market for the latter, because it allows customers to take their track day driving to the next level without the expense and complexity of a 911 Cup car or GT3 machine.
One of the key appeals of the GT4 model is that the car doesn't require a race team to operate it, and can actually be serviced at any official Porsche dealer.
"It's a real 'turn-key' racing car," explained Angus Thompson, Porsche Motorsport Australia's spokesman.
However, it cannot be bought through a dealer, with customers needing to contact Porsche Motorsport Australia directly to arrange securing one of these GT4 machines. Pricing is yet to be confirmed for Australian delivered models, but in Europe the price is set at €196,000 (approx. $305,000).