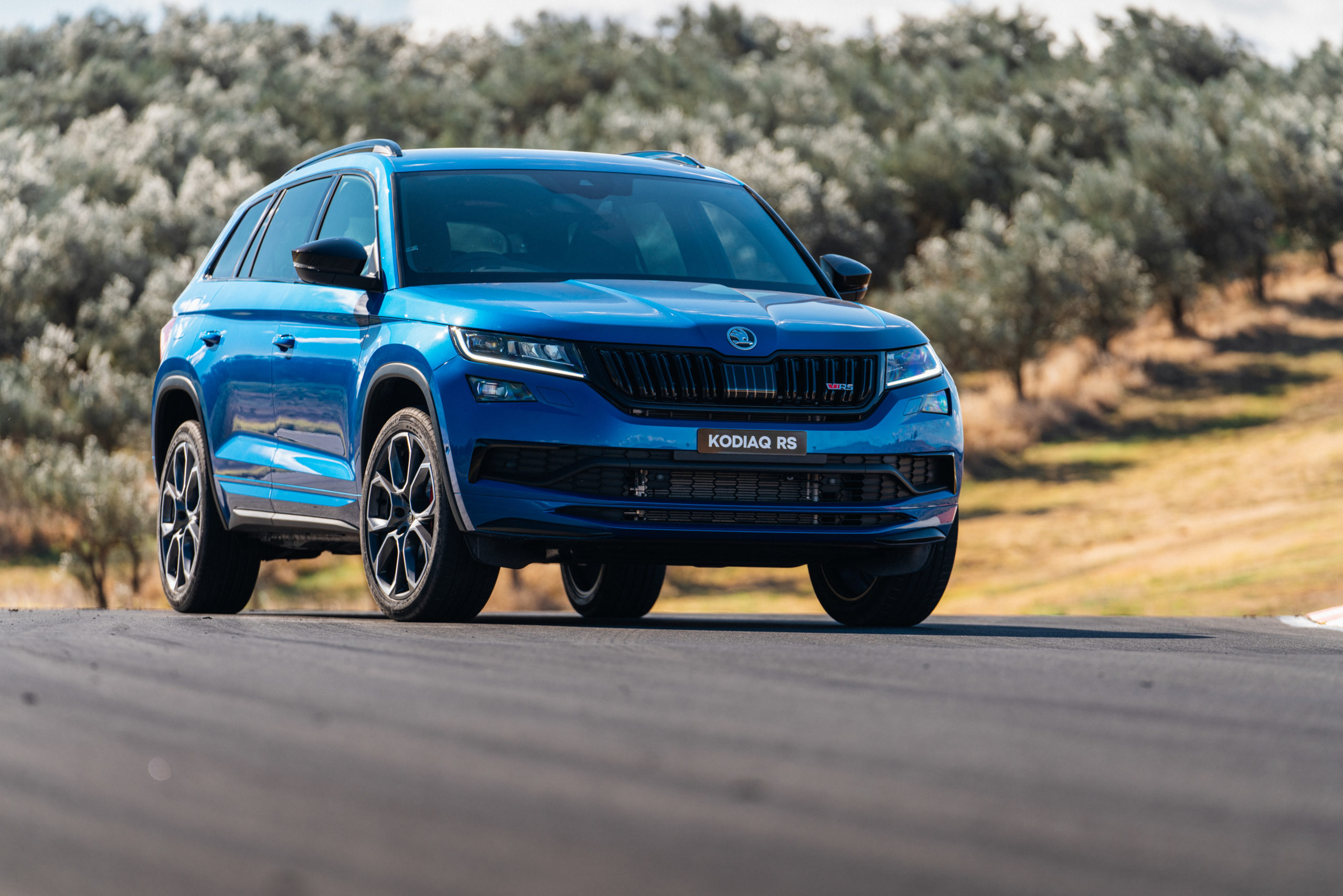 What is it?
The first non-premium brand to join the performance SUV brigade. The Skoda Kodiaq RS blends space for seven with a genuinely sporty powertrain and chassis.
Go-fast SUVs have become a staple for brands like Audi, BMW and Mercedes-Benz – RSQ3, SQ5, X3M, X6M, AMG GLC63 and GLE63 to name just a few.
But until now the mainstream brands hadn't taken the leap into this new niche space. Skoda has demonstrated in the past it isn't afraid to take a risk, so the arrival of the turbo diesel makes sense for the adventurous Czech brand.
Does it have any racing pedigree?
Seven-seat SUVs aren't typically found on the racetrack, but in order to prove the credentials of the Kodiaq RS Skoda took it to the most famous circuit in the world – the Nurburgring Nordschleife.
The company teamed up with Nurburgring expert Sabine Schmitz (the woman who famously beat Jeremy Clarkson around the 20km circuit in a Ford Transit van) to see how fast the Kodiaq RS could lap the track. Her time of 9:29.84 minutes set a new record for a seven-seater SUV, while it may be well off the outright record of 6:40.3 minutes held by the Porsche 911 GT2 RS MR, but the German coupe can't take you partner, kids and their friends to footy practice as well.
What's under the bonnet?
While Volkswagen Group (which owns Skoda) is moving away from diesel and towards an electric future, the Kodiaq RS is powered by its know-how of turbo diesel engines.
It's a 2.0-litre four-cylinder twin-turbo unit that makes 176kW of power and a hefty 500Nm of torque. It's paired to a seven-speed dual-clutch transmission and all-wheel drive for an overtly sporty powertrain.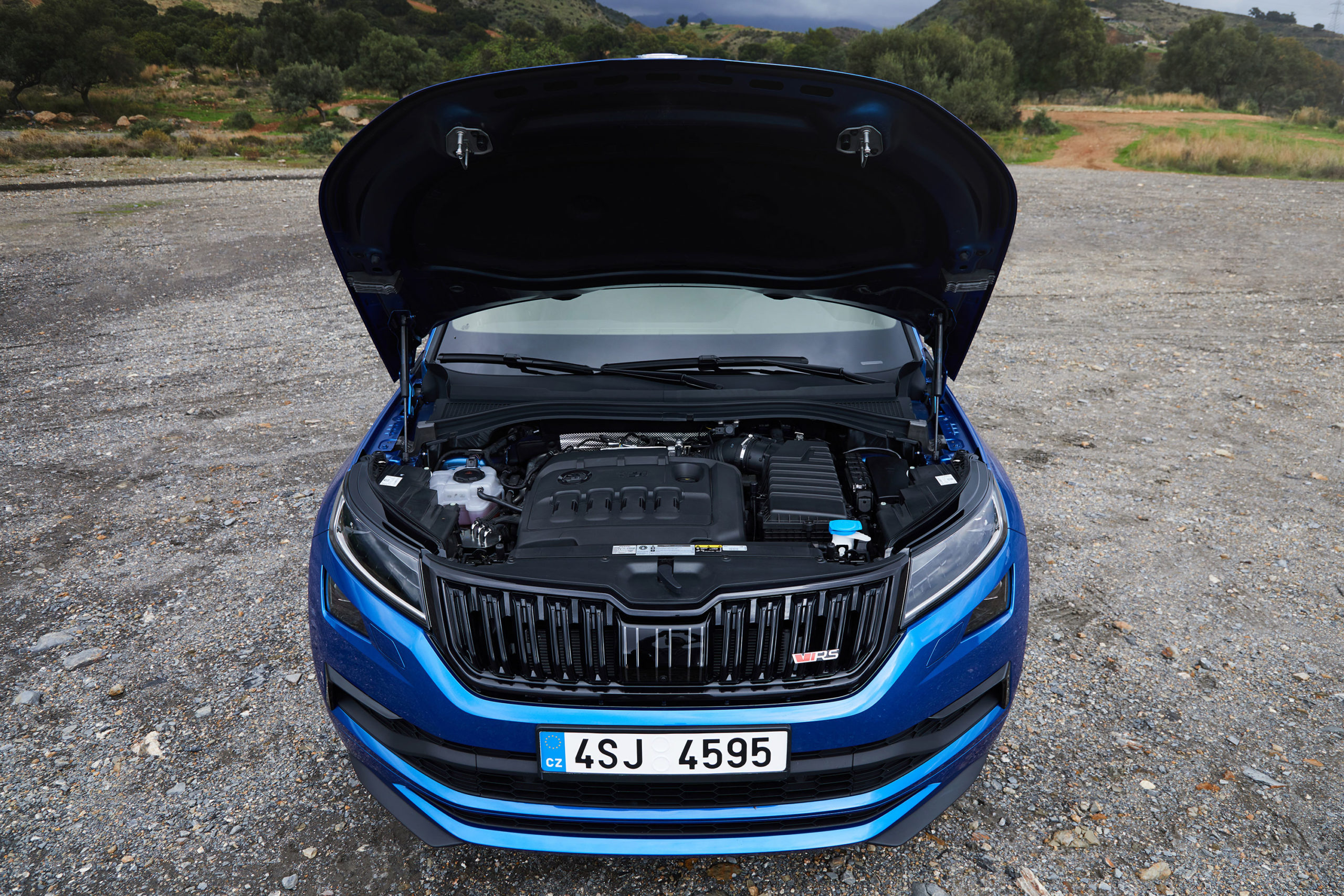 Like all good performance SUVs it's the torque that really makes the Kodiaq RS feel quick. It offers up impressive pulling power, enough to shove you back in your seat when you bury your right foot. That's because of the way Skoda deploys the two turbochargers, using a combination of a low- and high-boost turbos to ensure there's good initial performance and top-end grunt.
While it may not feel like a sports car, it certainly feels quicker than your average SUV with a greater feeling of responsiveness. On paper it looks like a small engine, but it packs a suitable punch.
It also makes a unique noise, with an almost supercharger-like whine when the turbos spin up to unleash its performance, thanks to the Dynamic Sound Booster that helps make an otherwise muted turbo diesel sound exciting.
How does it handle?
The Kodiaq RS comes equipped with Dynamic Chassis Control which allows you to alter the response of the steering and the firmness of the suspension. Naturally a seven-seat SUV that weighs more than 1800kg is never going to be a genuinely agile and playful performance car, but that doesn't mean the Kodiaq isn't an engaging drive.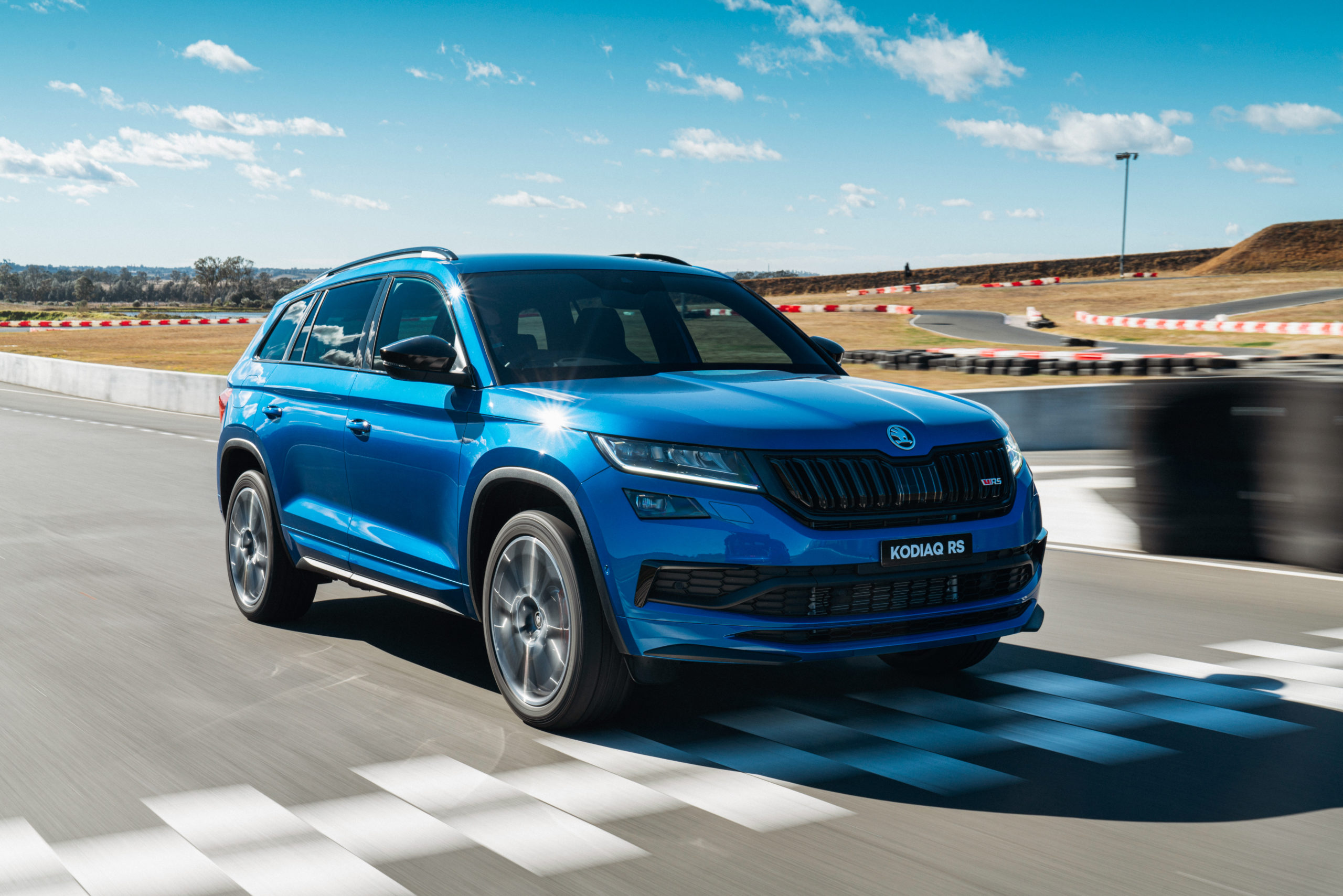 The chassis is well balanced, so it feels direct and responds to your inputs faithfully. Point it at a twisty back road and there's plenty of grip from the Continental tyres, good traction from the all-wheel drive system and just a hint of understeer to make it feel safe and stable.
Push it hard and the weight and height of it becomes problematic because Skoda can't fight physics, but the Kodiaq RS will satisfy those who need space for a family but still enjoy a spirited drive when the mood takes.
Where would you most like to drive it?
While it could handle itself adequately on a track – as Sabine Schmitz has demonstrated – but where it's really at its best is playing the dual-role of daily runabout and a weekend, open-road toy.
What's the interior like?
This is one department where Skoda really shines. While it's seen as a budget alternative to Volkswagen in Europe, Skoda Australia has discovered its buyers appreciate the finer things in life, so they have positioned the brand slightly more upmarket. That means, without moving into true luxury, the interiors are generally finished at a premium level.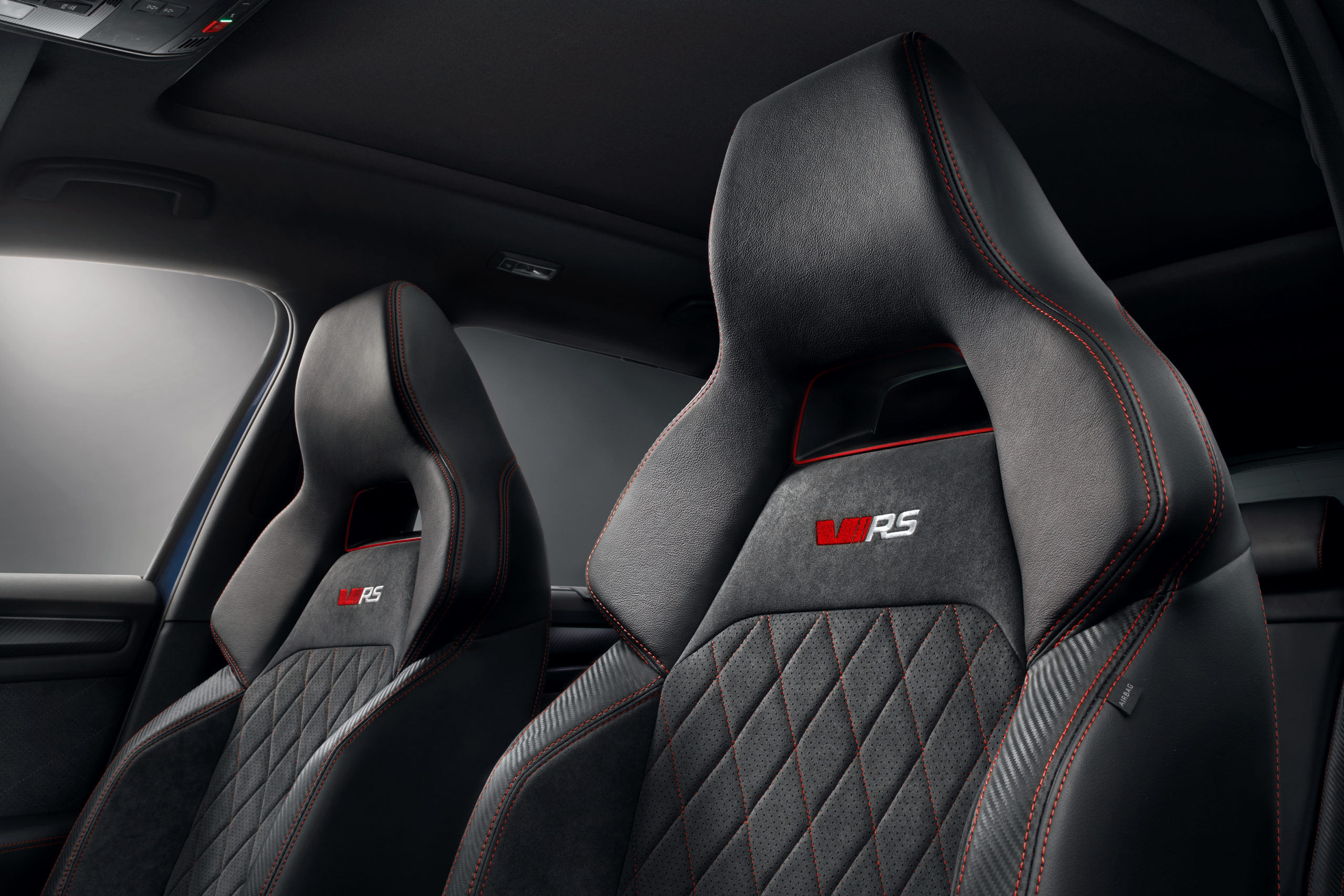 The RS elevates the Kodiaq beyond that level, offering great-looking sports seats with diamond-quilting, leather-trim with red stitching and a thick-rimmed, flat-bottomed steering wheel.
The Czech brand also has a reputation for being 'Simply Clever' (it's their marketing slogan) and that's true of the cabins. Little touches like the clip for your parking ticket on the windscreen, umbrellas hidden inside the doors, a torch in the boot and little pop-out protectors for the doors when you open them elevate the Kodiaq above most rivals.
Is it good value for money?
The problem with being a pioneer is that you often end up standing out awkwardly from the crowd. That's the case for the Kodiaq RS, which starts at $65,990 (plus on-road costs) more than $17,000 extra than the Kodiaq 132 TSI Sportline.
It's also on par with the top-spec models of other seven-seat SUVs, albeit less-sporty examples, such as the Toyota Kluger Grande (from $68,574) and Mazda CX-8 Asaki (from $65,440).
Given the performance it offers in combination with its stylish and practical cabin and it makes a compelling value argument.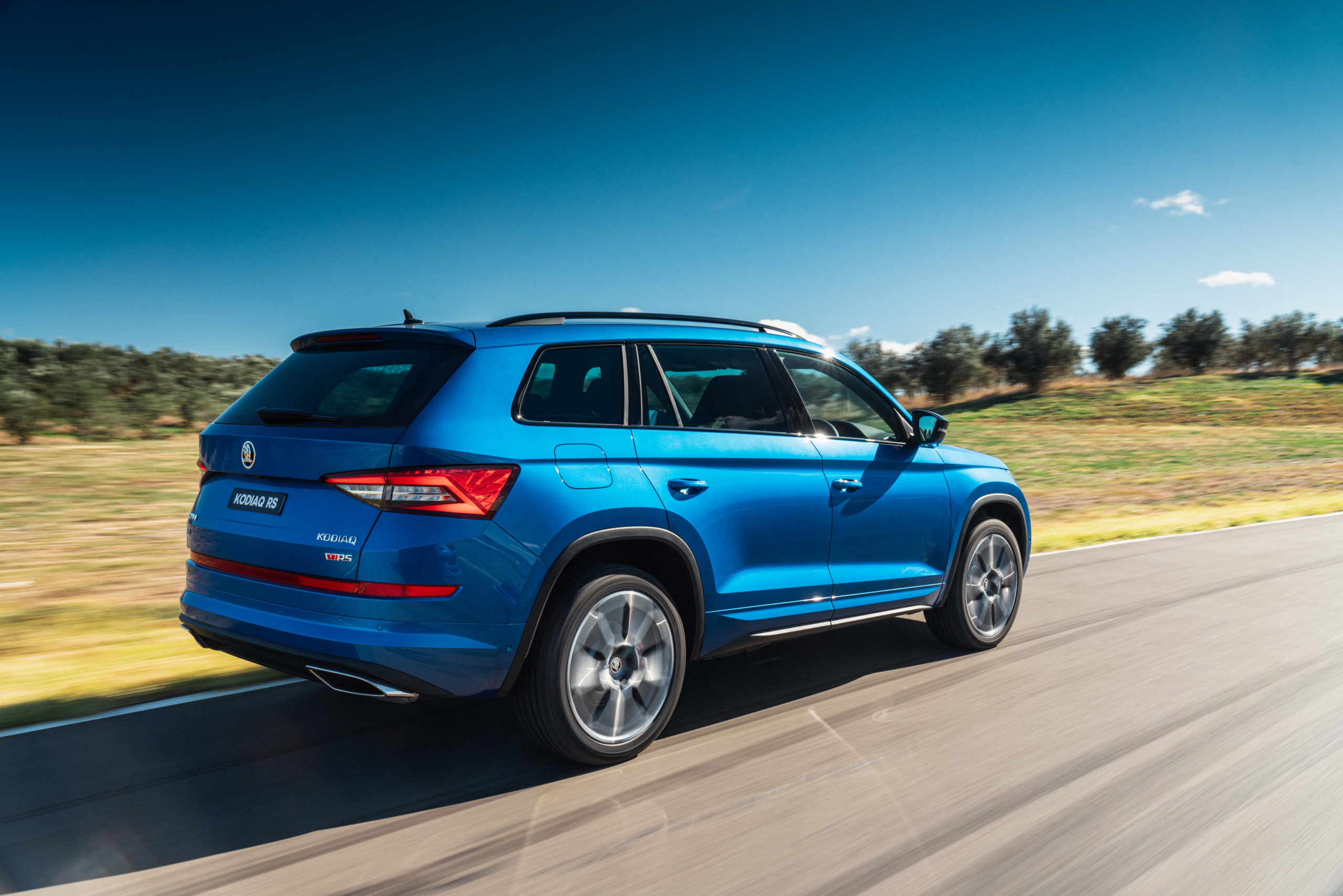 Would I buy one?
As a dad who enjoys a spirited drive I'd certainly have the Kodiaq RS on my shopping list. Especially when you consider the five-seat Audi SQ5 starts at more than $100k, so it offers good bang-for-you-buck. More than that though, it makes a strong argument on its own merits. It's got a punchy engine, standout cabin and room for a family of five (and two friends on occasion) so I'm glad Skoda has decided to join this growing performance SUV movement.
2020 Skoda Kodiaq RS price and specifications
| | |
| --- | --- |
| Price: | From $65,990 plus on-road costs |
| Engine: | 2.0-litre four-cylinder twin-turbo diesel |
| Power: | 176kW at 4000rpm |
| Torque: | 700Nm at 1750-2500rpm |
| Transmission: | 7-speed dual-clutch automatic, all-wheel drive |
| Fuel use: | 6.2L/100km |
| Wheels: | 20-inch alloys |
| Tyres: | 235/45 R20 |
| Length: | 4699mm |
| Width: | 1882mm |
| Height: | 2087mm |
| Weight: | 1895kg |
| 0-100km/h: | 6.9 secs (claimed) |