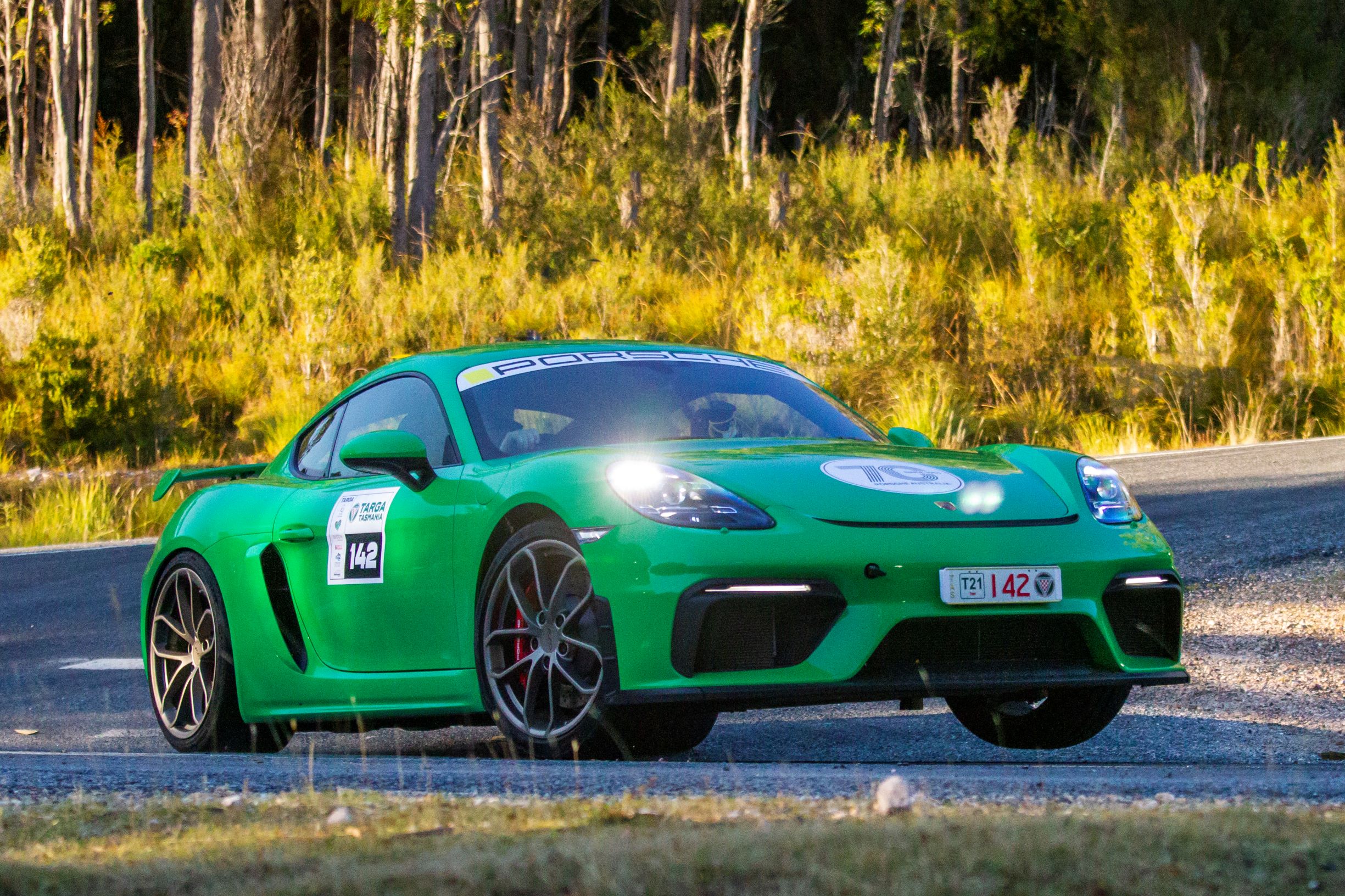 What is it?
For starters, this isn't a normal review. Typically we spend a week in a car on familiar roads and explore its dynamic limits and daily realities in our own time. But for this new addition to the Porsche fleet, the 718 Cayman GT4 with PDK, we were embedded with the German brand's annual pilgrimage to Targa Tasmania.
As you can read elsewhere on this website, we spent four days with the Porsche Tour on Targa, which allowed us to experience the new GT4 in a new and very revealing way. The Tour allowed us not only plenty of mileage behind the wheel in ordinary conditions (well as 'ordinary' as Tasmania's stunning roads get) but also the extraordinary experience of running Targa's special stages with no concern for following conventional road rules.
REVIEW: 2020 Porsche 718 Cayman GT4
Yes, there was a 120km/h top speed limit, but for the most part you don't want to be going much faster than that when you're surrounded by trees and you're not wearing a helmet. What the closed stages did allow us to do though, was push the GT4 to its limits in a relatively safe environment, we could use both sides without worrying about on-coming traffic or the long arm of the law.
The net result was more than 2000km of driving over four fabulous days in arguably the best part of Australia for motoring enthusiasts – and one special review.
Does it have any racing pedigree?
For those unfamiliar the 718 Cayman GT4 is the pinnacle of the 718 range; the baby brother (if you will) to Porsche's iconic 911. In 2020 Porsche launched the GT4 with a six-speed manual transmission, which we've already tested, but for 2021 the company has introduced this PDK variant – Porsche-speak for a dual-clutch transmission.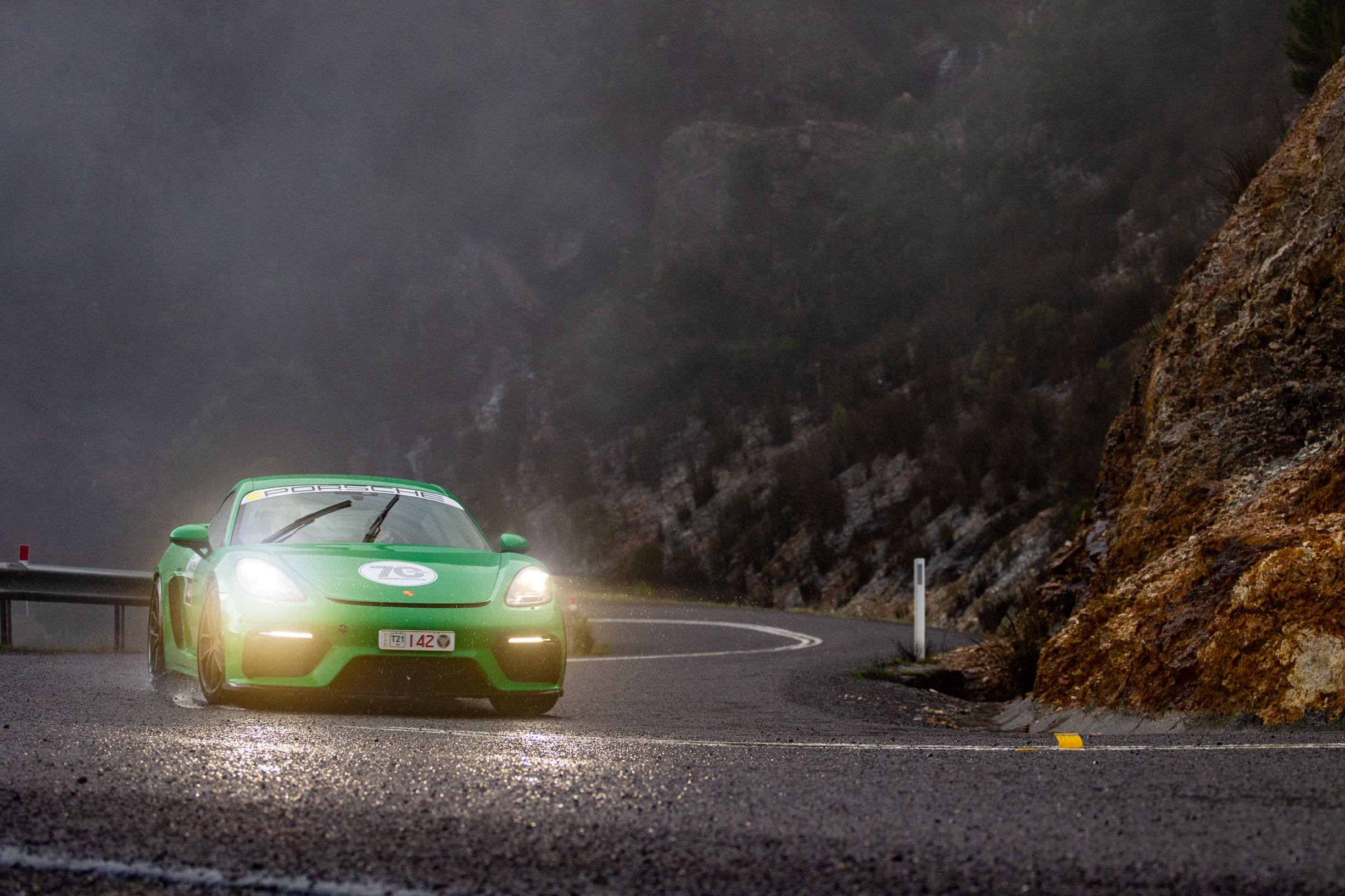 As we explained in our initial review, there is a strong connection between the Cayman GT4 and the racetrack, with Porsche building a GT4 racing variant for the increasingly popular series. While the racing-spec GT4 is obviously different to ensure it meets FIA safety standards, there's a lot of shared mechanical DNA between the two, including the 4.0-litre flat six engine.
What's under the bonnet?
One of the biggest criticisms we had of the manual-equipped Cayman GT4 was its very tall gear ratios – second gear takes you all the way above and beyond Australia's national speed limit. But Porsche had to use it because it simply didn't have another suitable transmission to pair with the naturally-aspirated 4.0-litre engine.
READ MORE: We take on Targa Tasmania with Porsche
However, in a golden example of the principal of 'swings and roundabouts', Porsche had to be used the awesome 4.0-litre flat-six because it simply doesn't have any other high-performance engine that would fit; the turbocharged 3.0-litre flat six in the 911 Carrera and Carrera S don't fit in the Cayman's mid-mounted engine compartment.
That means this is the same engine you find in the GT4's big brother, the 911 GT3, albeit with a unique tune to create some differentiation between the range. Still, the Cayman GT4 is good for 309kW of power and 430Nm of torque, which is more than enough for the Targa Tour. The PDK gets an extra 10Nm of torque compared to the manual variant, which is a nice bonus.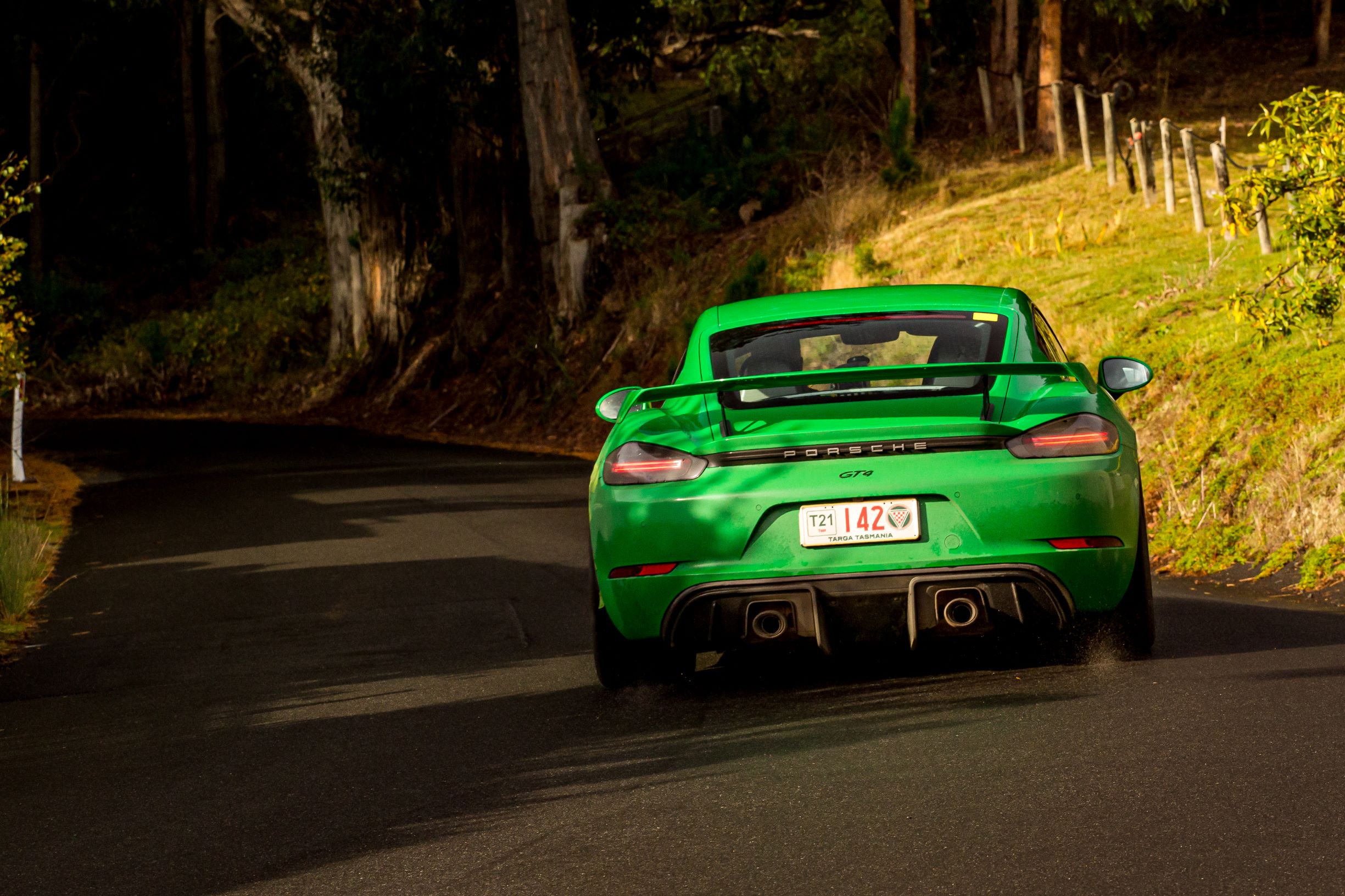 The transmission is a seven-speed dual-clutch unit so obviously the ratios are different than the six-speed manual. Even so, with the flexibility of the engine and transmission we could hit the 120km/h Tour speed limit in second gear.
But that flexibility really shone on the Targa stages, once we were rolling along we lived almost exclusively in second and third gears, allowing the torque of the engine to pull us out of the corners and keep screaming all the way to the redline. Even though peak power doesn't kick in until 7600rpm, there's a flat band of torque between roughly 5000-7000rpm which keeps you surging forward under power.
And the noise the engine makes is nothing short of majestic. The days of the naturally-aspirated engine are numbered, but thankfully Porsche is holding onto this fantastic 4.0-litre for as long as possible. The unique Porsche flat-six soundtrack is amplified as the revs build and bounce of the Tasmanian scenery, resulting in one of the most glorious noises a modern car makes.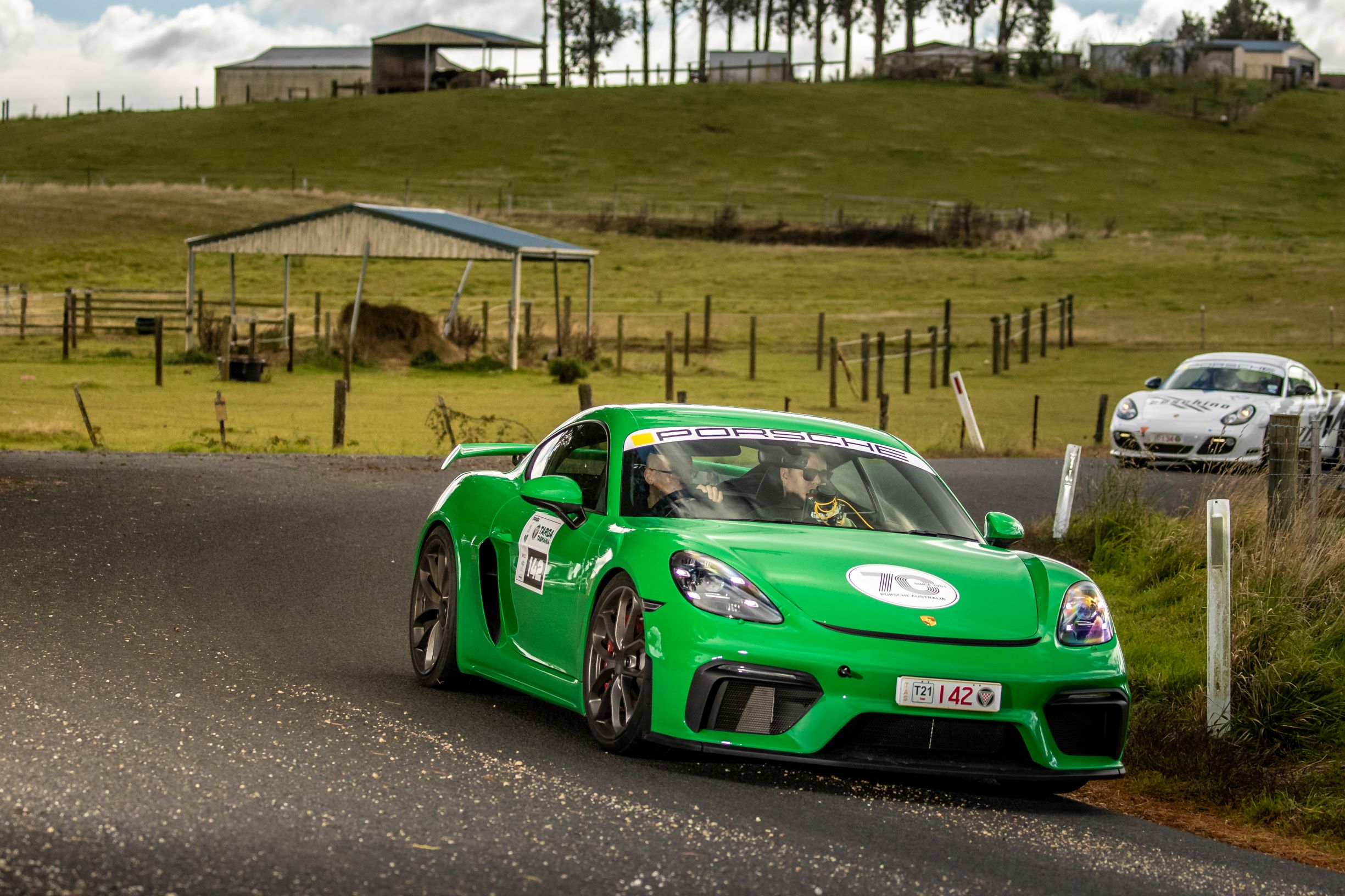 While we didn't need to shuffle through the gears at a rapid rate, every shift offered up by the PDK is crisp and purposeful. Obviously in the stages we used the manual setting, using the nice steering wheel-mounted paddles-shifters to swap gears. There's a reason why the Supercar drivers don't want paddle-shifters, because they make life easy. Fortunately for me, that's exactly what you want when you're trying to drive flat-out down an unfamiliar road with only limited navigational notes. A simple tap of the paddle quickly got me into a higher gear, while the corresponding downshift comes with an automatic throttle blip for a smoother change.
Another highlight of the powertrain is how it performed when we weren't on the special stages. The engine and transmission work seamlessly at cruising speeds on the open road or around town, there's no lumpiness that can sometimes be found in high-strung performance engines. Instead it casually went about its business in such a laid-back manner you could occasionally forget you were driving such an extremely rapid sports car.
How does it handle?
One of the first things you notice when you look around the GT4 cabin is the lack of a drive mode system. Unlike so many members of the 718 and 911 family that get a dial on the wheel to choose between 'Comfort' and 'Sport' settings, the GT4 is a sports car and that's its default setting. In some ways that's a bold choice by Porsche, at a time when buyers seemingly love individual configuration and technology, but personally I love it. The GT4 is all about performance and it doesn't pretend to worry about anything else.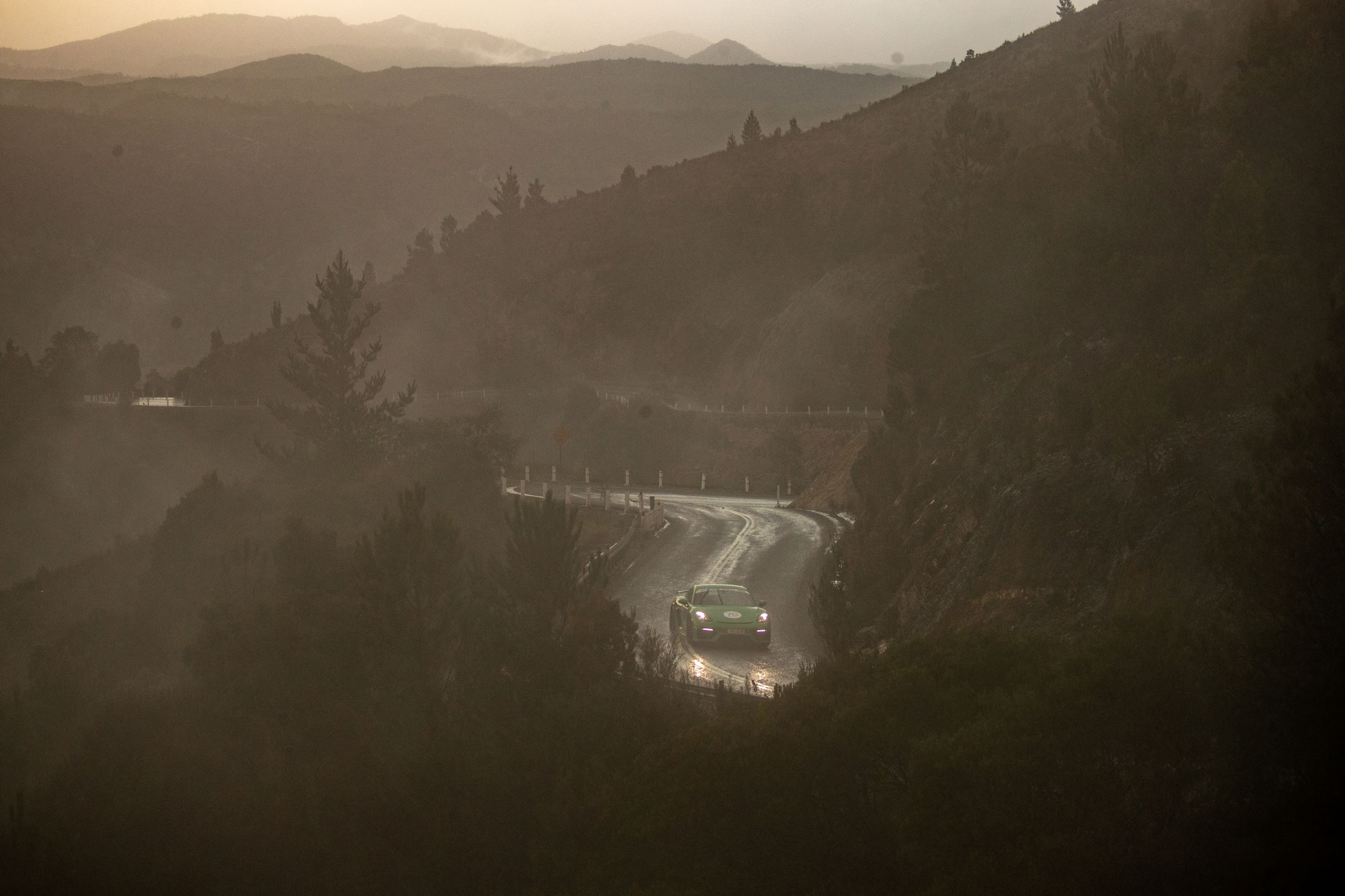 Having said that, even though it doesn't have a 'Normal' or 'Comfort' drive mode, the GT4 is hardly a chore to drive. We covered thousands of kays on the liaisons between special stages, driving all the way from Launceston to Hobart with various detours along the way. This required long days behind the wheel, often from before sunrise until late afternoon, but despite this the GT4 was never hard work. While comfortable may be too strong a word, it's certainly a compliant sports car that's easy to live with on long journeys.
But that's not the real heart of the GT4 and its handling, for that we need to discuss what it felt like on the closed Targa special stages, where we could really let it off the leash.
The problem for us became the weather and the standard tyre the GT4 comes on, the Michelin Pilot Cup Sport 2 tyres. On a dry road these are excellent tyres, offering huge grip and making you feel confident to push. But in the almost freezing conditions of Tasmania (the Porsche Tour starts off first every day, so we were often driving early morning in low single-digit temperatures) weren't ideal for the Cup Sport 2 tyres as we couldn't get them up to working temperature and as a result we slid around a lot more than you typically like on roads surrounded by trees and rocks.
The tyres weren't helped by the random deposits of gravel that seemingly littered all of Tasmania's roads, often causing sudden grip loss mid-corner.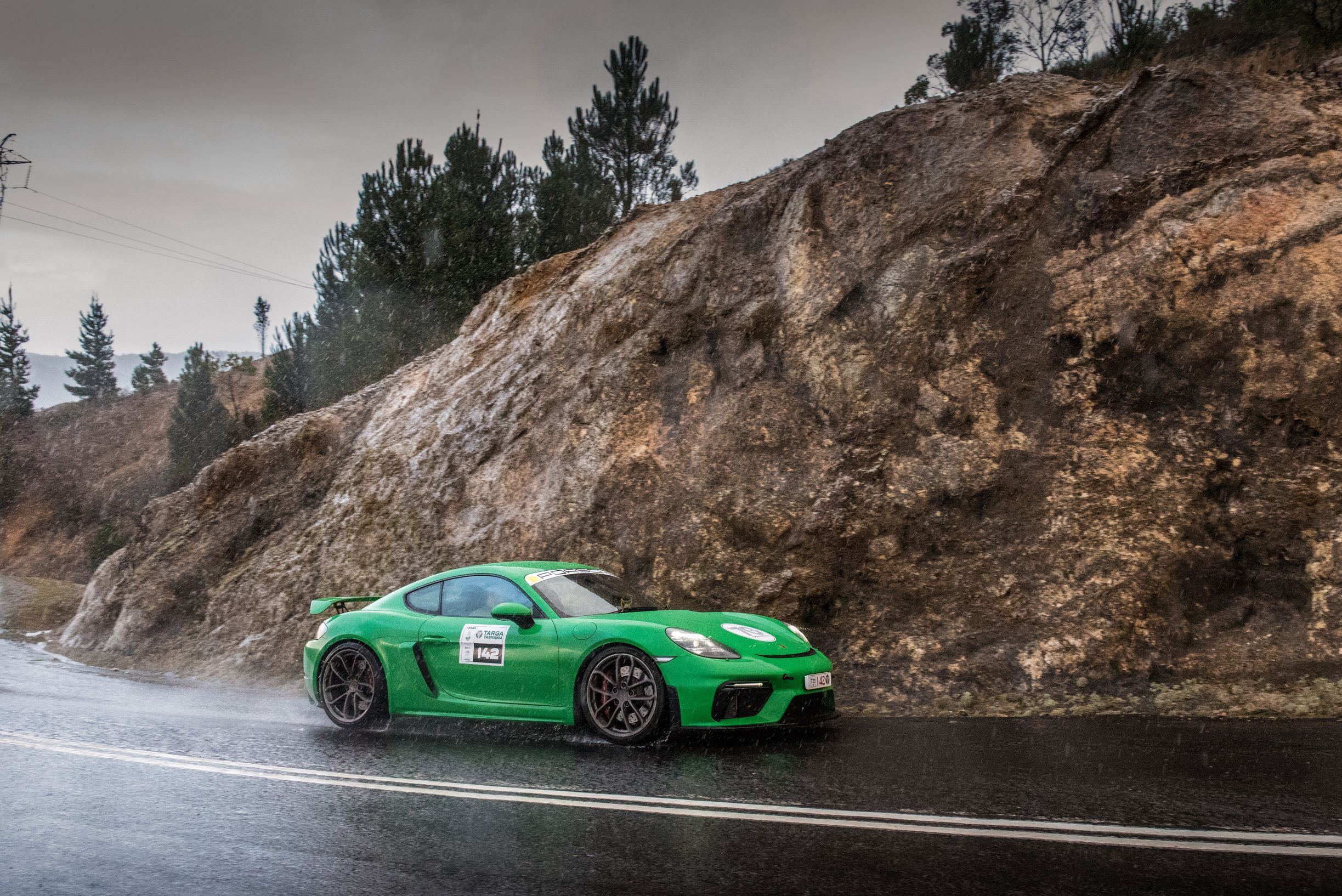 Even so, the inherent balance of the Cayman GT4 shone through and made up for the tricky conditions. Every element of the GT4 feels finely-honed – steering, suspension and the brakes – all feel in balance and harmony and that makes for a sports car you can push on in, even in challenging conditions on unfamiliar roads.
The way the GT4 turns into a corner is a thing of beauty. The steering is super-direct and the chassis responds with precision, allowing you to place the car exactly where you want it. That's important anytime but takes on special significance when a mistake could send you into the surrounding scenery. Even if you do make a small mistake, the GT4 can react and help you correct with ease too. That's true of both the slower corners and the faster ones, with Tasmania throwing up plenty of both.
While it doesn't come with Drive Modes, the GT4 is equipped (as standard) with Porsche Active Suspension Management (PASM), which brings adaptive dampers. It does allow you to dial up a firmer sports setting via a button on the centre console, but we chose to leave it in the standard setting which was ideal. The suspension handles the bumps and dips in the roads with ease, never feeling too stiff or too soft and instead in complete control.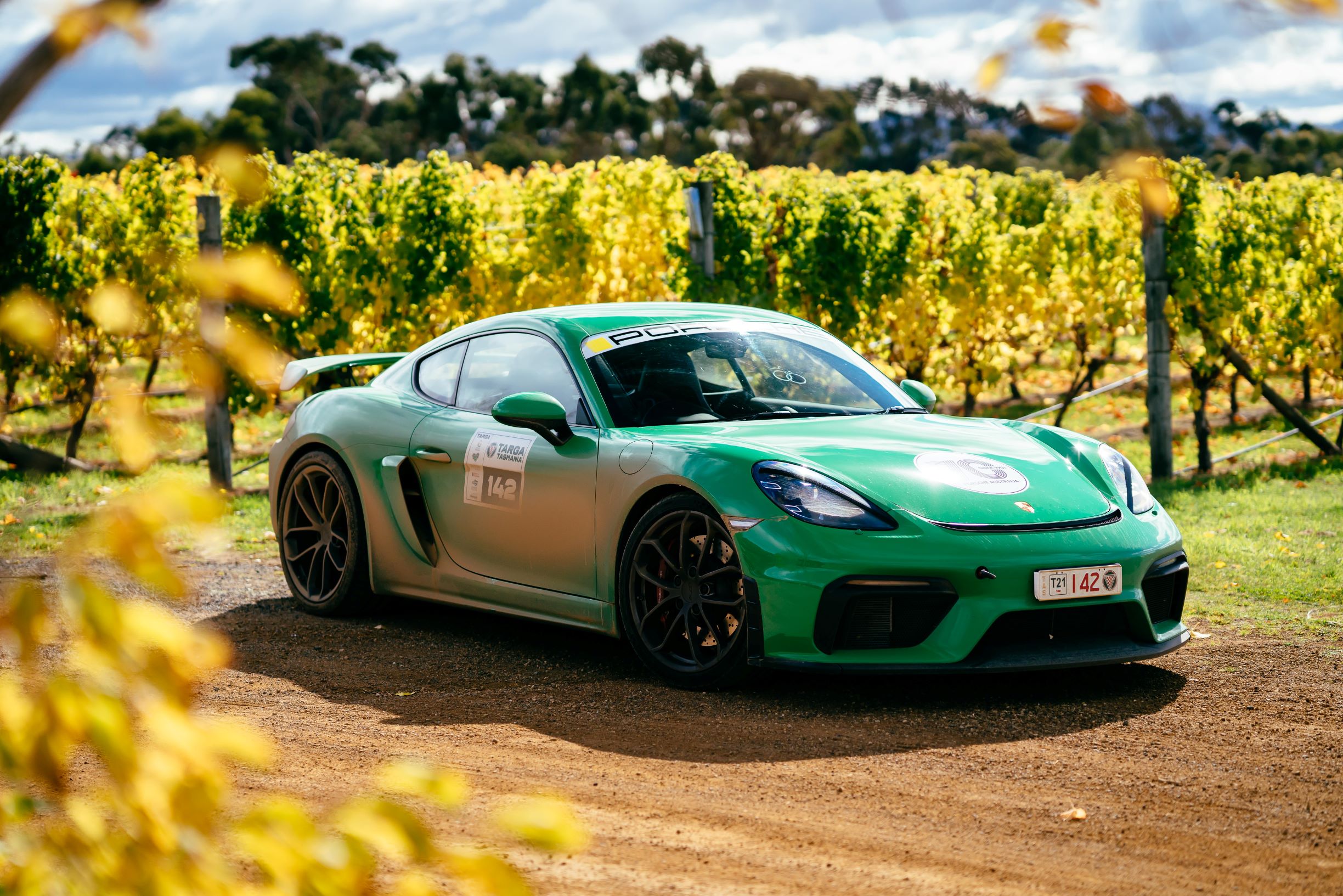 Where would you most like to drive it?
I mean, if Porsche wants to have me back for the 2021 Targa Tasmania Tour I wouldn't say no.
What's the interior like?
Surprisingly comfortable, but a bit impractical.
It's a relatively spartan affair, without feeling stripped back or lacking creature comforts you expect from an expensive sports car. For example, the steering wheel feels lovely in your hand, thick-rimmed and trimmed in Alcantara, but it's devoid of any buttons – it's all business.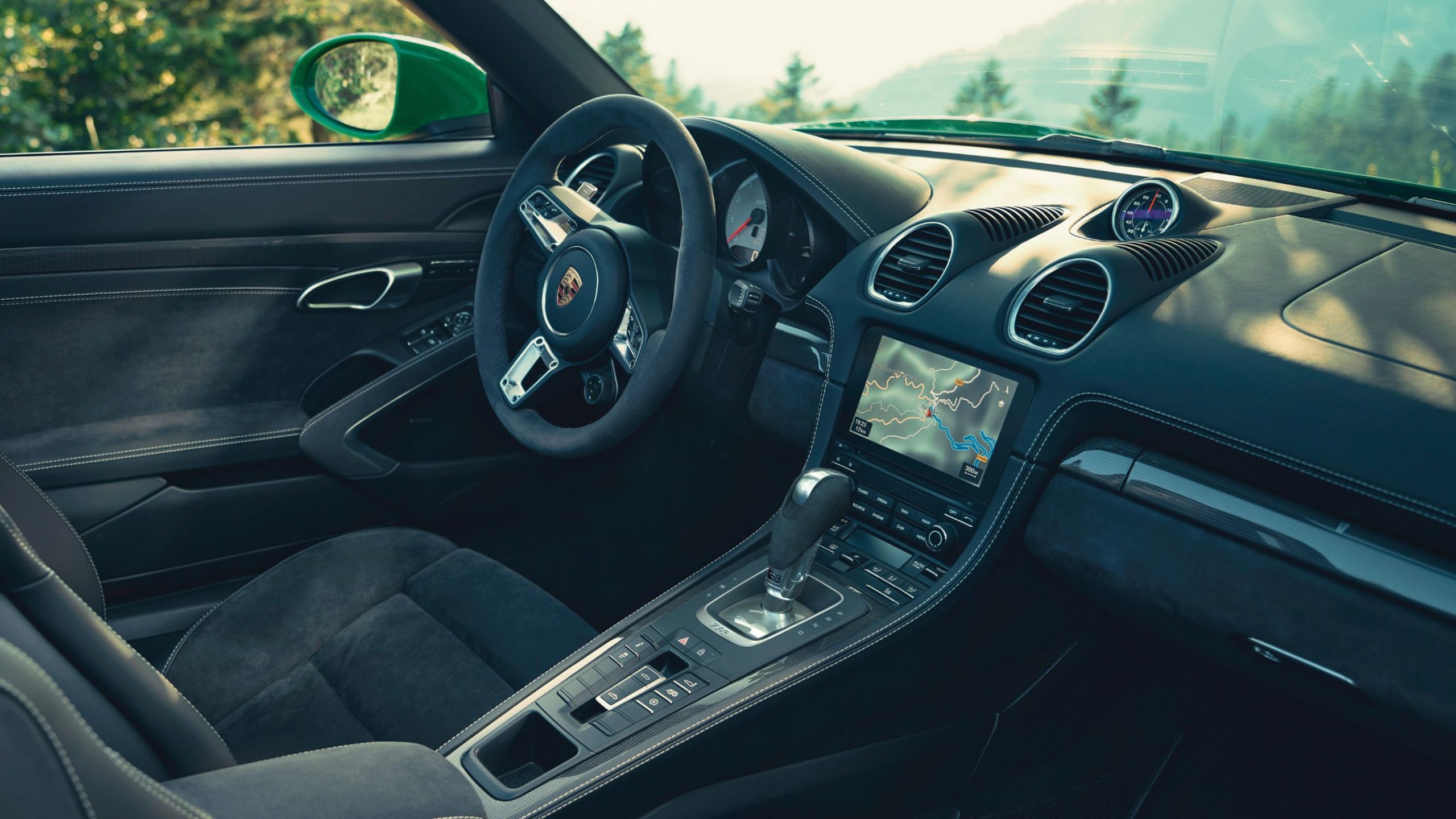 The seats in our Targa chariot were optional 18-way electronically-adjustable Sports buckets, and unsurprisingly were extremely comfortable and made the long days behind the wheel feel easier. Our car was also fitted with the optional leather interior treatment which did make it feel suitably premium.
If there's a significant criticism to level at the Cayman interior it's the practical aspect of it for what was ultimately a four-day road trip. There's very limited small item storage space, so stashing sunglasses, Targa road books and other items was a challenge at times. As was finding a suitable place for our water bottles and coffee cups, especially during the stages, as Porsche's pop-out cupholders couldn't hold onto them properly when we put the hammer down.
As grievances go, for a sports car this is a minor problem.
Is it good value for money?
The Cayman GT4 got a price increase for 2021, bumping up to $210,200 (compared to $207,000 when it launched in 2020). The PDK adds $4580 to the price, so you're looking at $214,780 before you start adding options and on-road costs. Our test car, complete with Python Green paint (a $6070 option) totalled $239,750 as seen here.
Obviously that's hardly what you'd call a 'cheap' car but when you look at a Porsche 911 Carrera starting at $236,300, it suddenly looks like very sharp value. Sure, the 718 doesn't have the heritage and cache of the 911, but in terms of on-road performance the Cayman GT4 is hard to fault.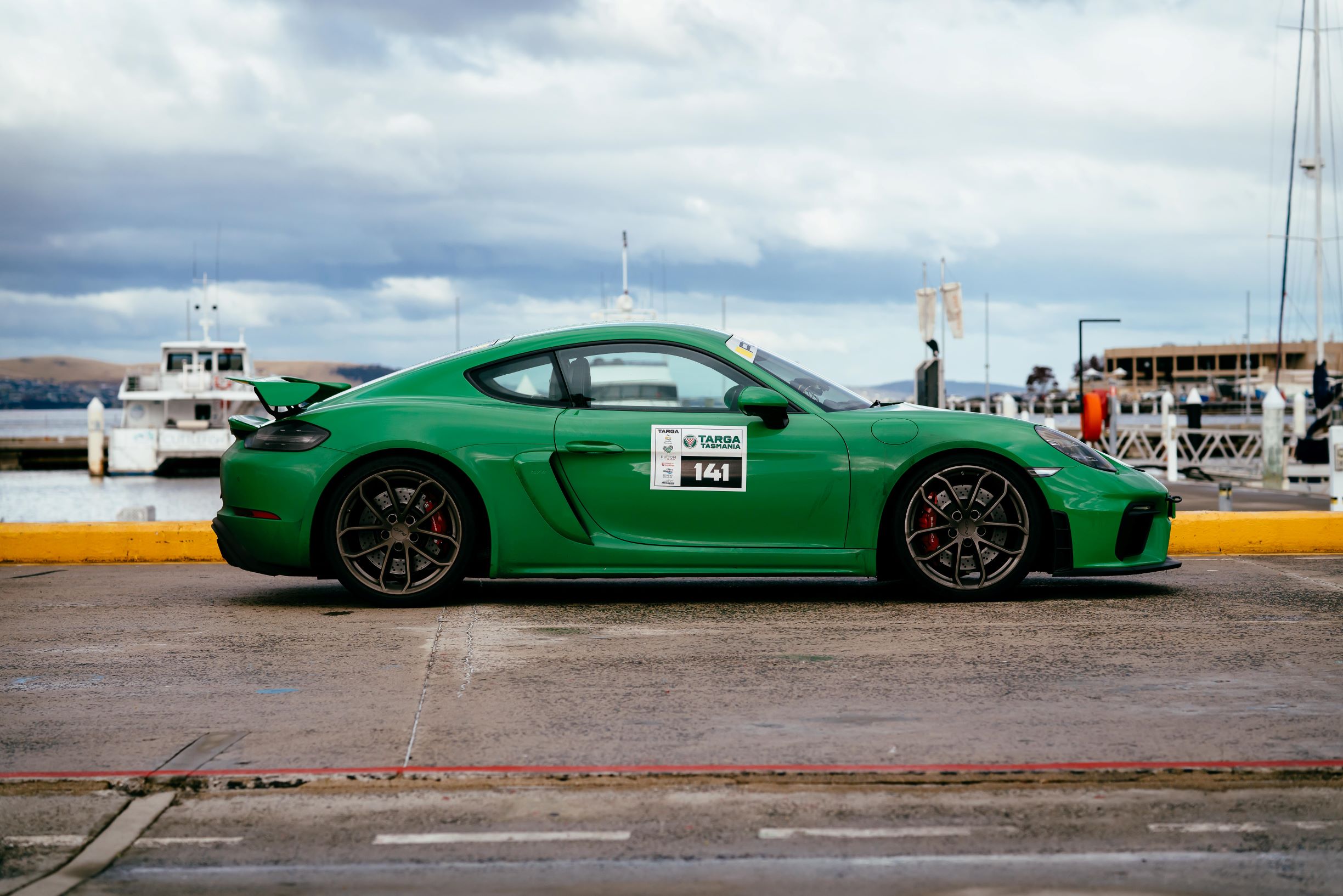 Would I buy one?
In a heartbeat.
This is one of the best balanced sports cars I've ever driven, with a chassis that feels well suited for both road and regular track use. The same is true of the 4.0-litre flat-six, a genuine gem of a motor that belongs in the naturally-aspirated engine Hall of Fame.
The Porsche Targa Tour was arguably the ultimate test drive, a way to experience the Cayman GT4 across almost every condition and situation you could reasonably expect to find, as well as testing its livability factor over the four days we spent behind the wheel. It's a test this car passed with flying colours.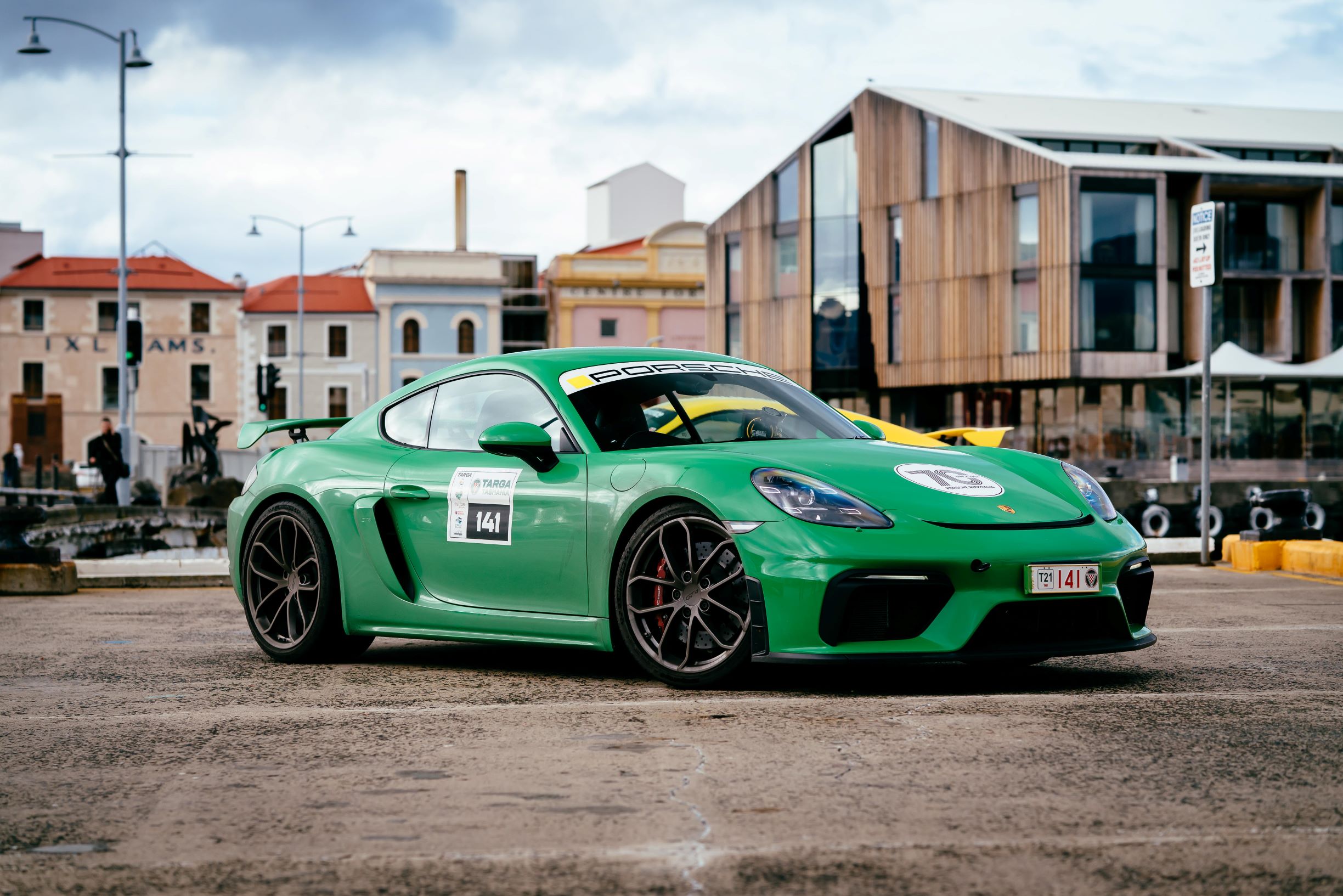 2021 Porsche 718 Cayman GT4 PDK price and specifications
| | |
| --- | --- |
| Price: | From $214,780 plus on-road costs |
| Engine: | 4.0-litre six-cylinder petrol |
| Power: | 309kW at 7600rpm |
| Torque: | 430Nm at 5000-6800rpm |
| Transmission: | Seven-speed dual-clutch automatic, rear-wheel drive |
| Fuel use: | 10.4L/100km |
| Wheels: | 20-inch alloys |
| Tyres: | 245/35 ZR20 (front), 295/30 ZR20 (rear) |
| Length: | 4456mm |
| Width: | 1994mm |
| Height: | 1269mm |
| Weight: | 1450kg |
| 0-100km/h: | 3.9 seconds |