What is it?
The latest in a growing number of warmed-up compact SUVs that are blurring the lines between hot hatches and the modern crossover trend. Last year we were pleasantly surprised by the Kamiq's bigger sibling, the Karoq 140TSI Sportline, which combined a practical and polished SUV with some genuine sportiness – without really pushing into genuine hot hatch performance.
This Kamiq has some overtly sporty touches, specifically its Monte Carlo badge, which signifies its place at the top of the range, with a more powerful engine, sports chassis and unique styling elements.
Does it have any racing pedigree?
As we've written before, Skoda has a long and reasonably successful legacy in rallying and that continues to today with the current Fabia R5. It's one of most successful R5 cars around the world and has become a fixture on both the WRC2 and domestic rally stages.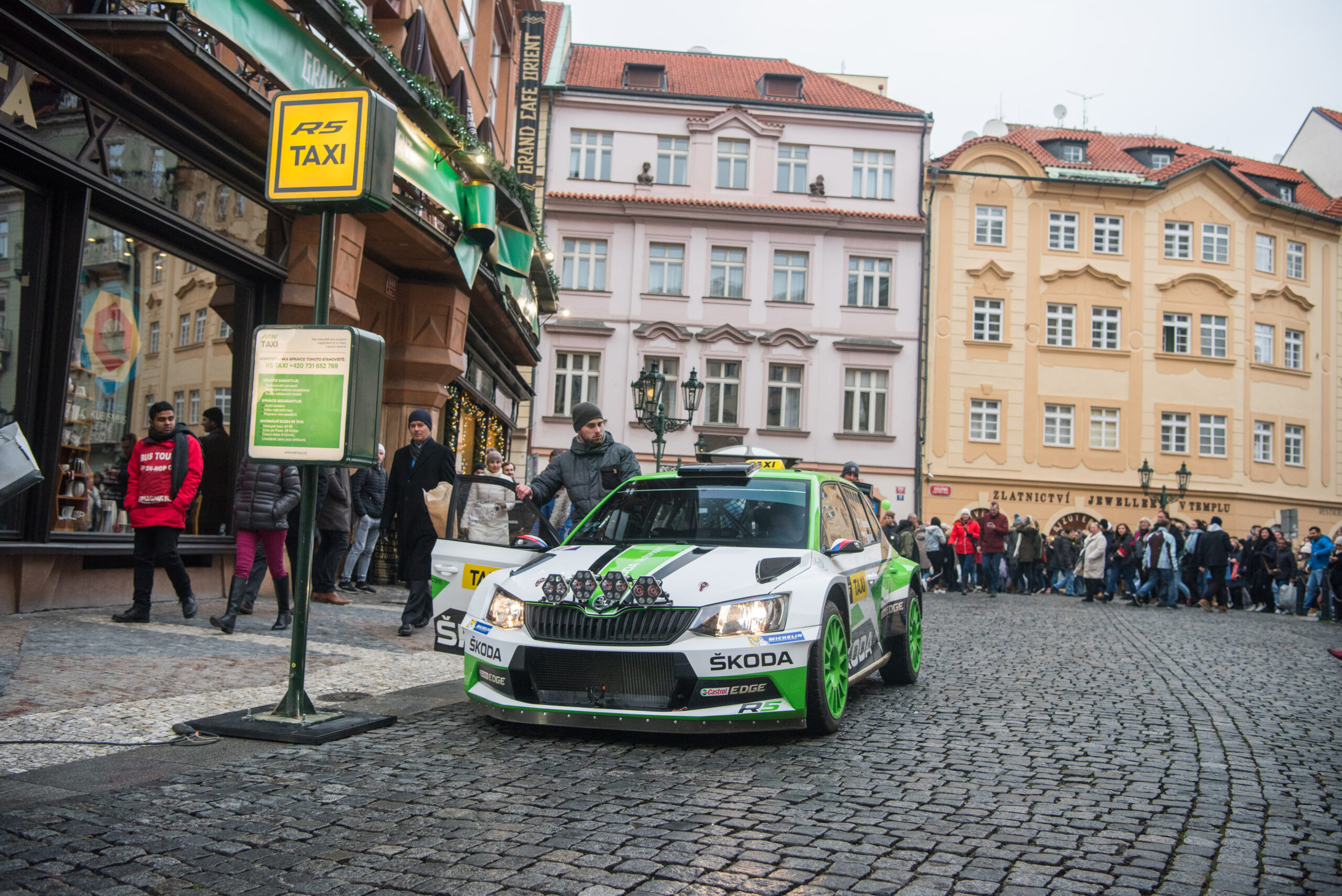 The Kamiq Monte Carlo feeds into that rally heritage, with the Monte Carlo badge a clear reference to the famous snow and tarmac rally. Monte Carlo isn't specific to the Kamiq, it's a badge used across the Skoda range to signify a sporty model that's not quite as red-hot as an RS (Skoda's version of a Volkswagen GTI or R).
What's under the bonnet?
Befitting its compact size, Skoda has given the Kamiq a compact engine – a 1.5-litre four-cylinder turbocharged petrol unit. But, while small it packs a decent punch, making 110kW of power and 250Nm of torque. It's paired to a seven-speed dual-clutch automatic transmission and sends its grunt to the front wheels.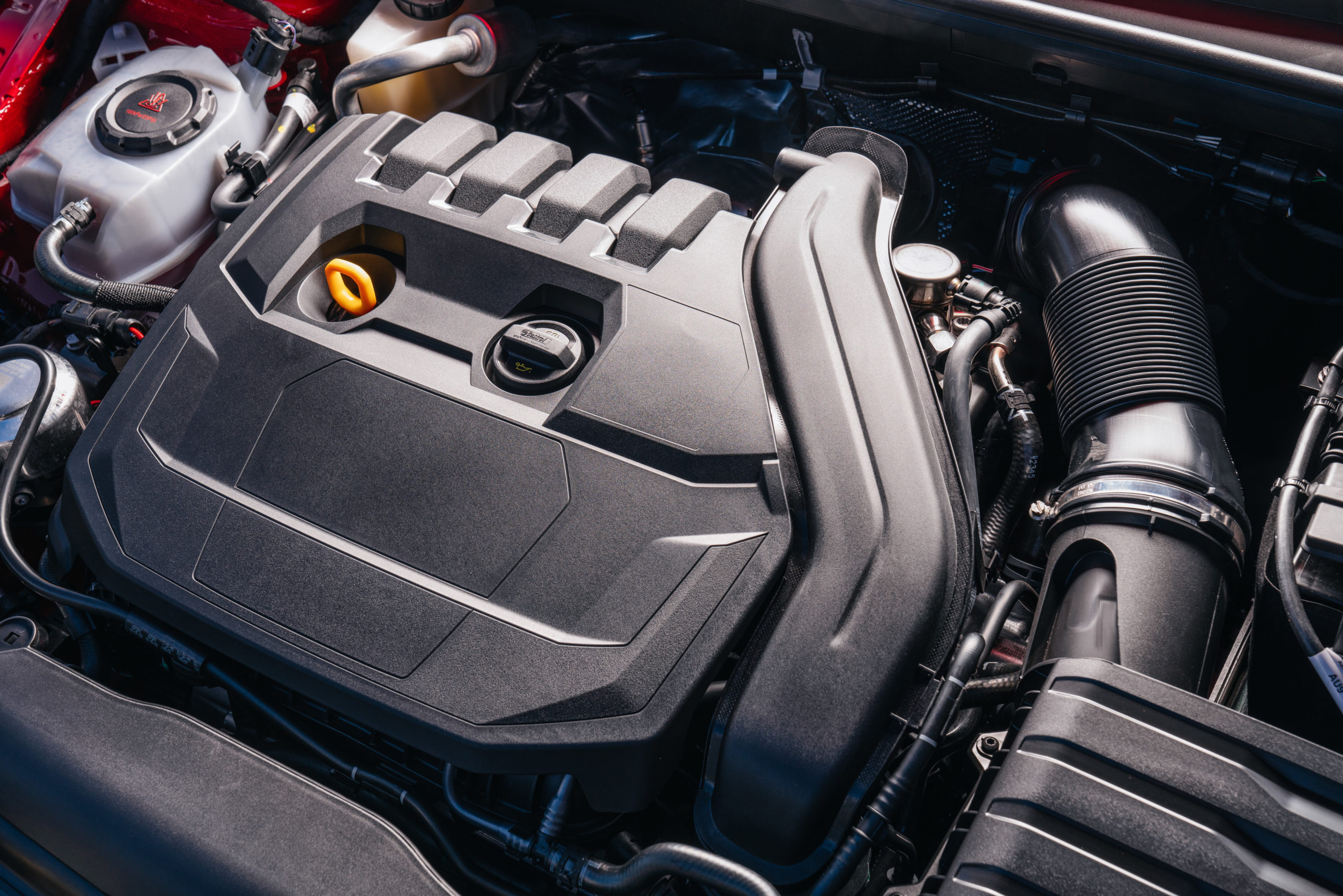 While it may sound modest on paper, in the real world the engine has more-than-enough to make the Kamiq feel fleet-footed. In fact, the engine actually has no problem overcoming the traction of the front tyres, so you can spin them up a bit too easily at times.
No, it's not a proper hot hatch and it doesn't feel like one on the road, but it does feel faster and more responsive than your typical compact SUV, especially when you dial up the Sport Drive Mode.
How does it handle?
Again, while it falls short of the kind of handling you get from a genuine hot hatch, this is an above-average SUV to drive. And it has genuine dynamic ability too, with a typically well-sorted chassis and direct steering that make it feel responsive to your inputs.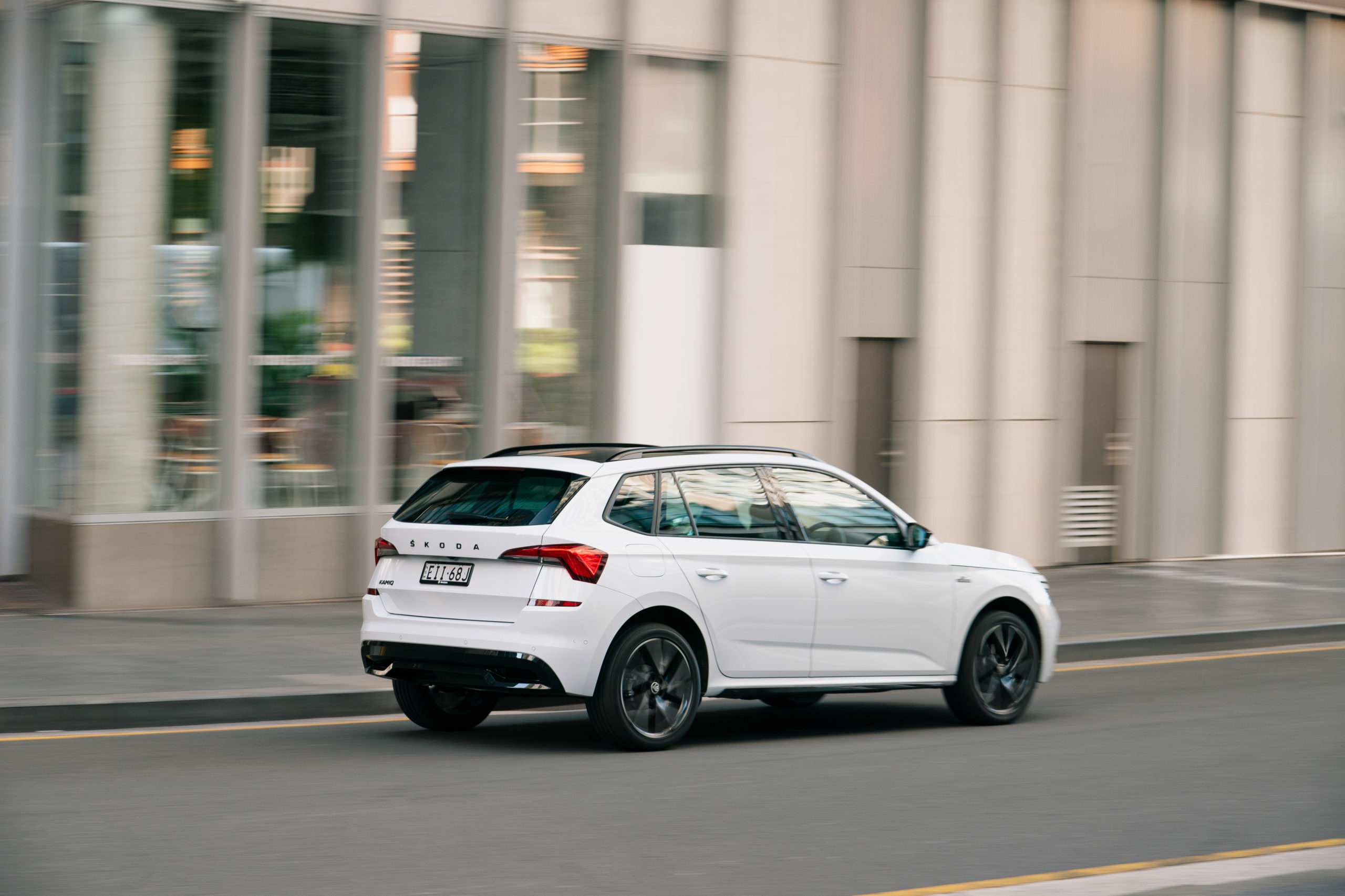 One of the key Monte Carlo upgrades is the Sports Chassis Control, which lowers the ride height by 15mm and includes the Drive Mode Select, which allows you to alter the responsiveness of the car's key driving parameters – engine response, gearbox response, etc.
That gives the Monte Carlo a more engaging driving experience, while still leaving room for a Kamiq RS in future if Skoda so desires. At a time when more and more car companies are shifting towards SUVs and away from passenger cars, it's nice to know some still put an emphasis on handling and the Kamiq Monte Carlo is definitely one of those.
Where would you most like to drive it?
I once had the good fortune to run through Rally Monte Carlo's famous Col de Turini stage – a twisting ribbon of tarmac that snakes its way up and down a mountain in the south of France. While the Kamiq Monte Carlo isn't a true hot hatch, it has enough performance and a well-honed chassis that it would be enjoyable to tackle the Col de Turini.
What's the interior like?
To be blunt, the interior is a step above most rivals in the compact SUV market. Especially the Monte Carlo, which features unique red trim highlights across the black interior that lends to its sporty theme.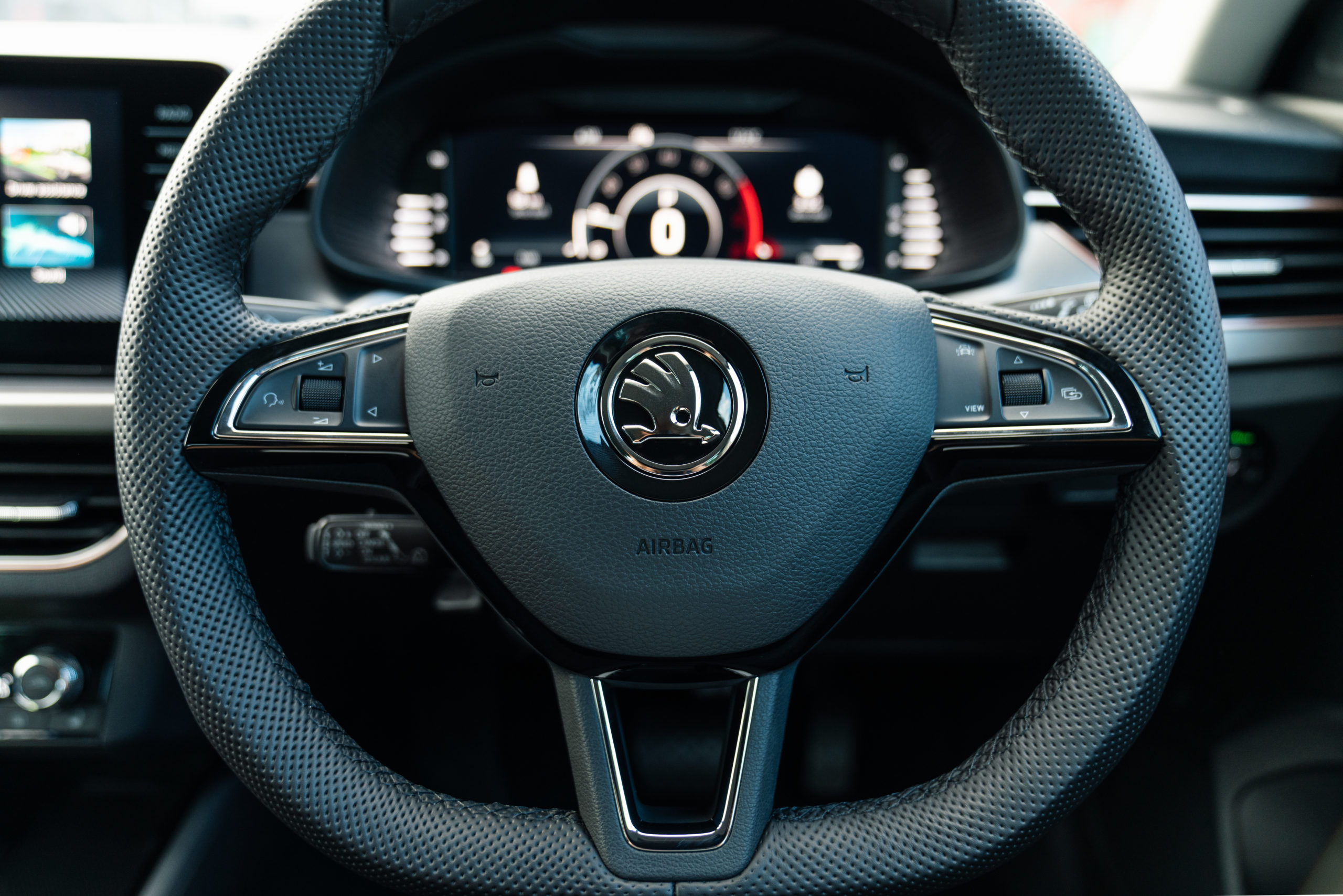 There's some other unique elements to the Monte Carlo too, including the sports seats which offer more bolstering for improved lateral support. There's also a very nice steering wheel, which is slightly thicker than the standard tiller and wrapped in perforated black leather with contrasting red stitching.
These details make the Kamiq Monte Carlo feel genuinely premium when you're inside.
Is it good value for money?
Skoda has carved itself a niche in Australia, finding space between the mainstream brands like Toyota and the 'semi-premium' players such as Mazda and sister-brand Volkswagen. The Kamiq fits into that niche, with the entry-level Kamiq 85TSI starting at $26,990 while the 110TSI Monte Carlo starts at $34,990 (plus on-road costs).
That puts it in the same ballpark as the Volkswagen T-Roc 110TSI (from $33,990), Mazda CX-30 G20 Touring (from $35,190) and Toyota C-HR GR Sport Hybrid (from $37,665), so while it's a lot of money for a compact SUV it's competitively priced.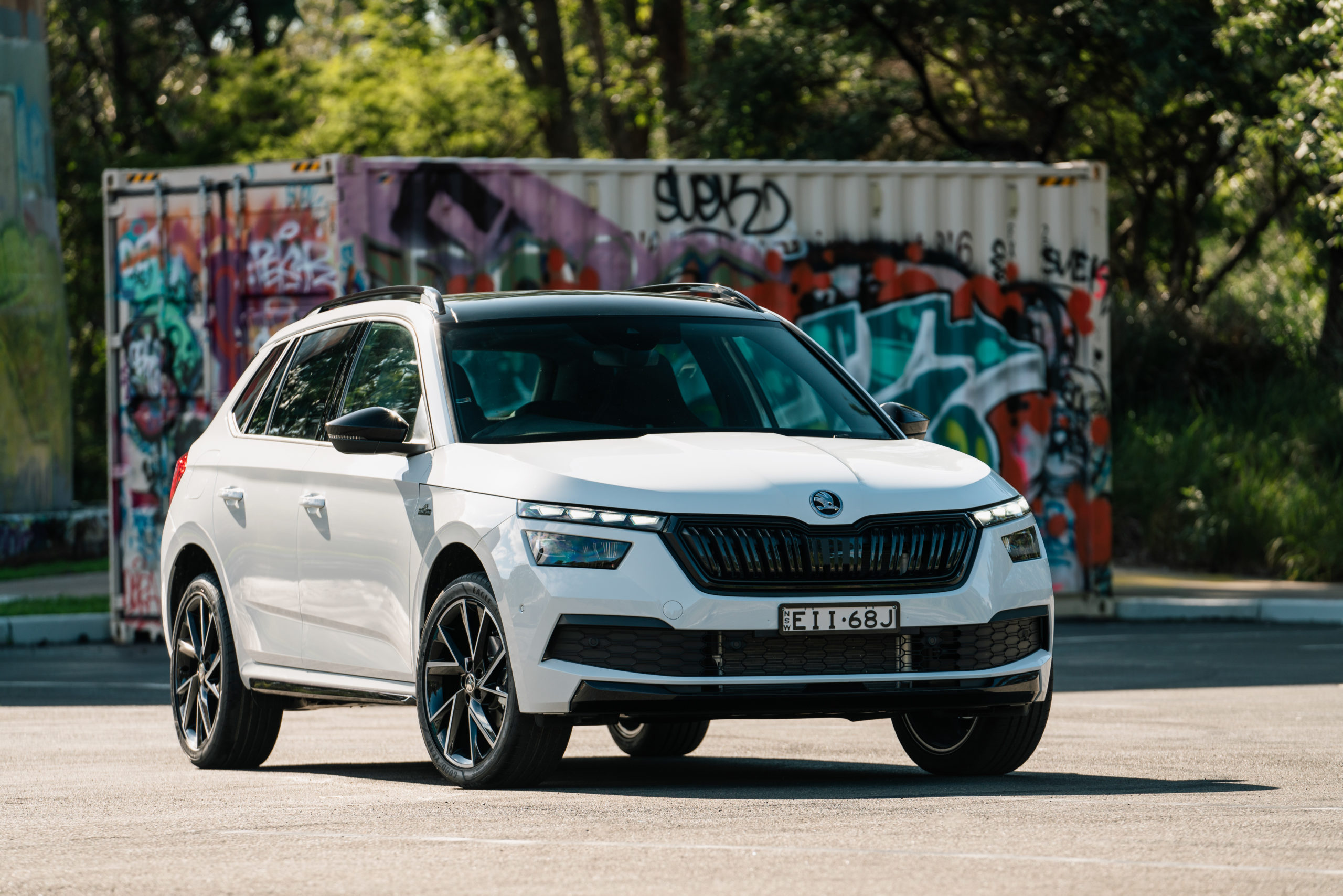 Would I buy one?
While a compact SUV wouldn't be my first choice for a performance car, there's certainly a lot to like about the Kamiq Monte Carlo. The unique Monte Carlo elements – both the blacked out styling and the performance upgrades – make it a smart-looking and nice-driving SUV.
As we've said in the past, if the world is headed down an SUV-dominated road, then hopefully car makers will continue to blur the lines between SUV and hot hatch so performance car fans can continue to enjoy themselves on a budget.
2021 Skoda Kamiq 110TSI Monte Carlo price and specifications
| | |
| --- | --- |
| Price: | From $34,990 plus on-road costs |
| Engine: | 1.5-litre four-cylinder turbo petrol |
| Power: | 110kW at 6000rpm |
| Torque: | 250Nm at 1500-3500rpm |
| Transmission: | Seven-speed dual-clutch automatic, front-wheel drive |
| Fuel use: | 5.6L/100km |
| Wheels: | 18-inch alloys |
| Tyres: | 215/45 R18 |
| Length: | 4241mm |
| Width: | 1793mm |
| Height: | 1531mm |
| Weight: | 1237kg |
| 0-100km/h: | 8.4 seconds |