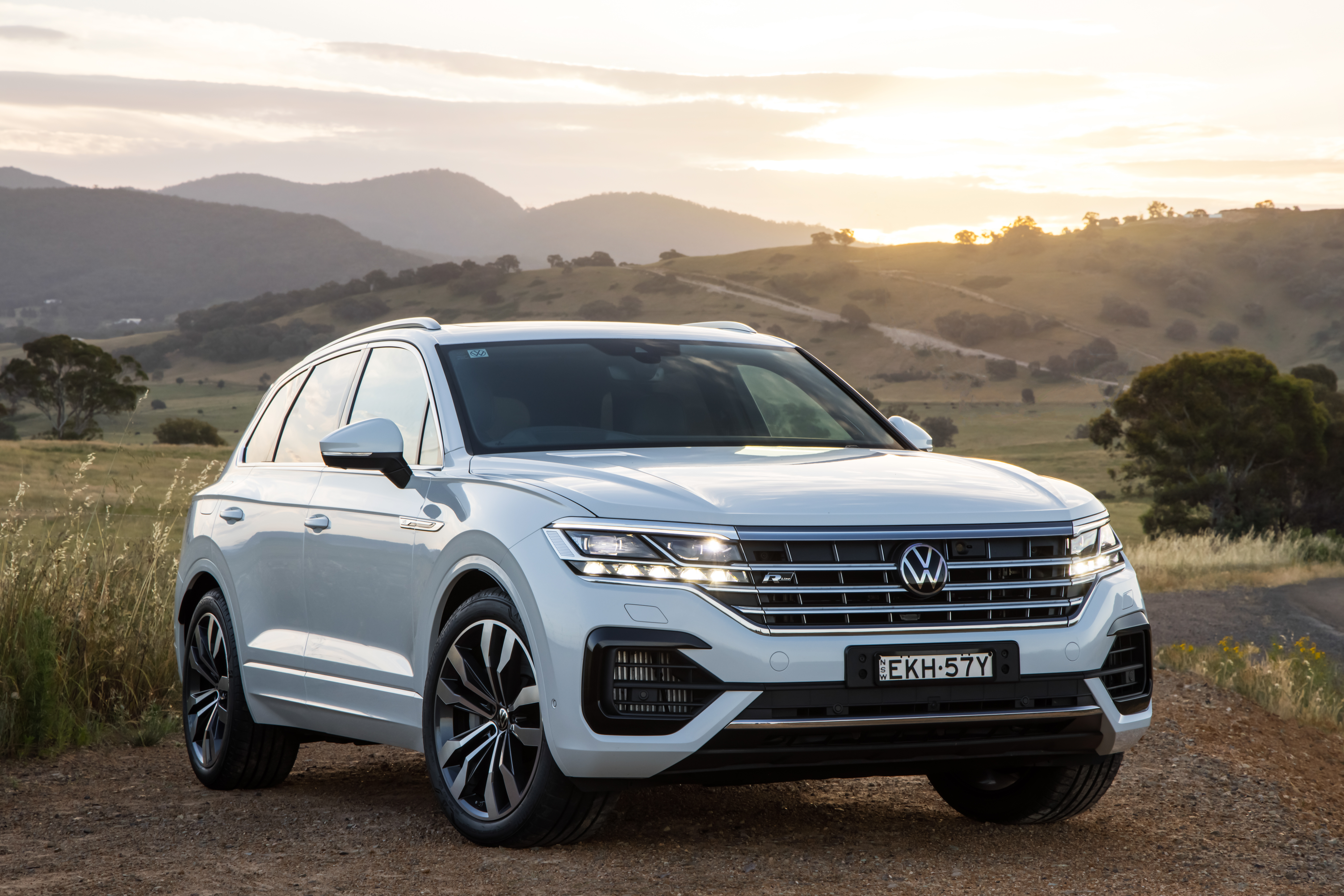 What is it?
A luxury SUV on a budget. Volkswagen has been pushing itself upmarket over the past two decades, finding a niche as a mainstream car company that offers a bit more – both in the way its cars drive as well as the creature comforts.
The company's latest Touareg SUV shares plenty of mechanical DNA with some more prestigious brands, notably the Audi Q7, Porsche Cayenne and Bentley Bentayga (and, whisper it, even the Lamborghini Urus). Already an impressive SUV, offering both luxury and comfort at a price below the premium brands, Volkswagen has now added more performance – installing a 4.0-litre V8 turbo diesel under the bonnet.
Does it have any racing pedigree?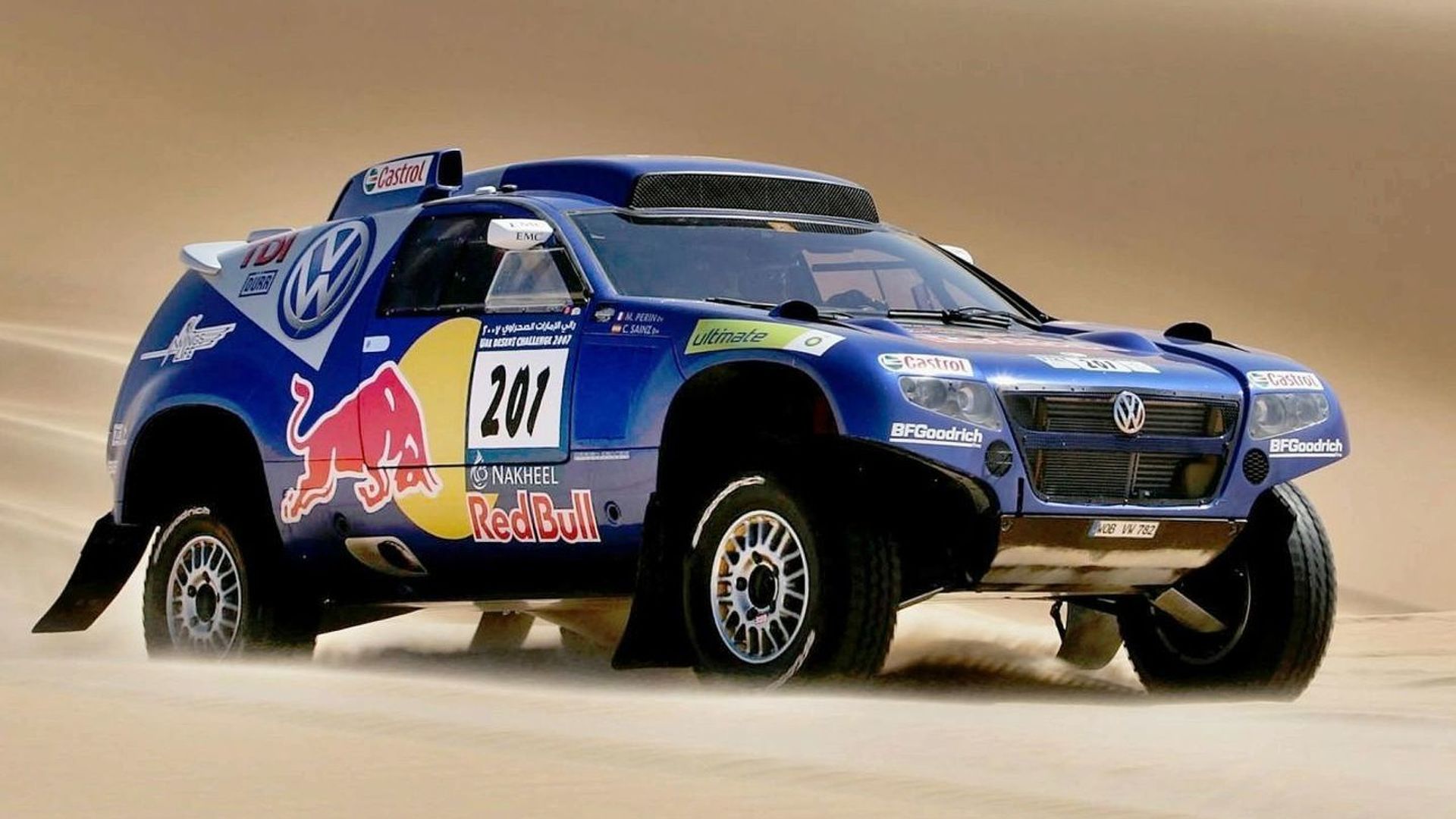 Volkswagen recently decided to call time on all of its racing activities; at least in a factory-backed capacity. But there's plenty of heritage there, even for the Touareg.
The German SUV was the basis for the brand's entries in the Dakar Rally between 2004 and 2011. After a relatively slow start the Volkswagen became the vehicle to beat in the Dakar, winning the event three years in a row – 2009, 2010 and 2011 – when the event moved to South America.
What's under the bonnet?
The new Touareg V8 TDI R-Line feels ready to take on the Dakar Rally. The 4.0-litre twin-turbo V8 diesel makes 310kW of power and 900Nm of torque, making it feel incredibly powerful and responsive despite the significant size of the Touareg; this is a spacious five-seat SUV, after all.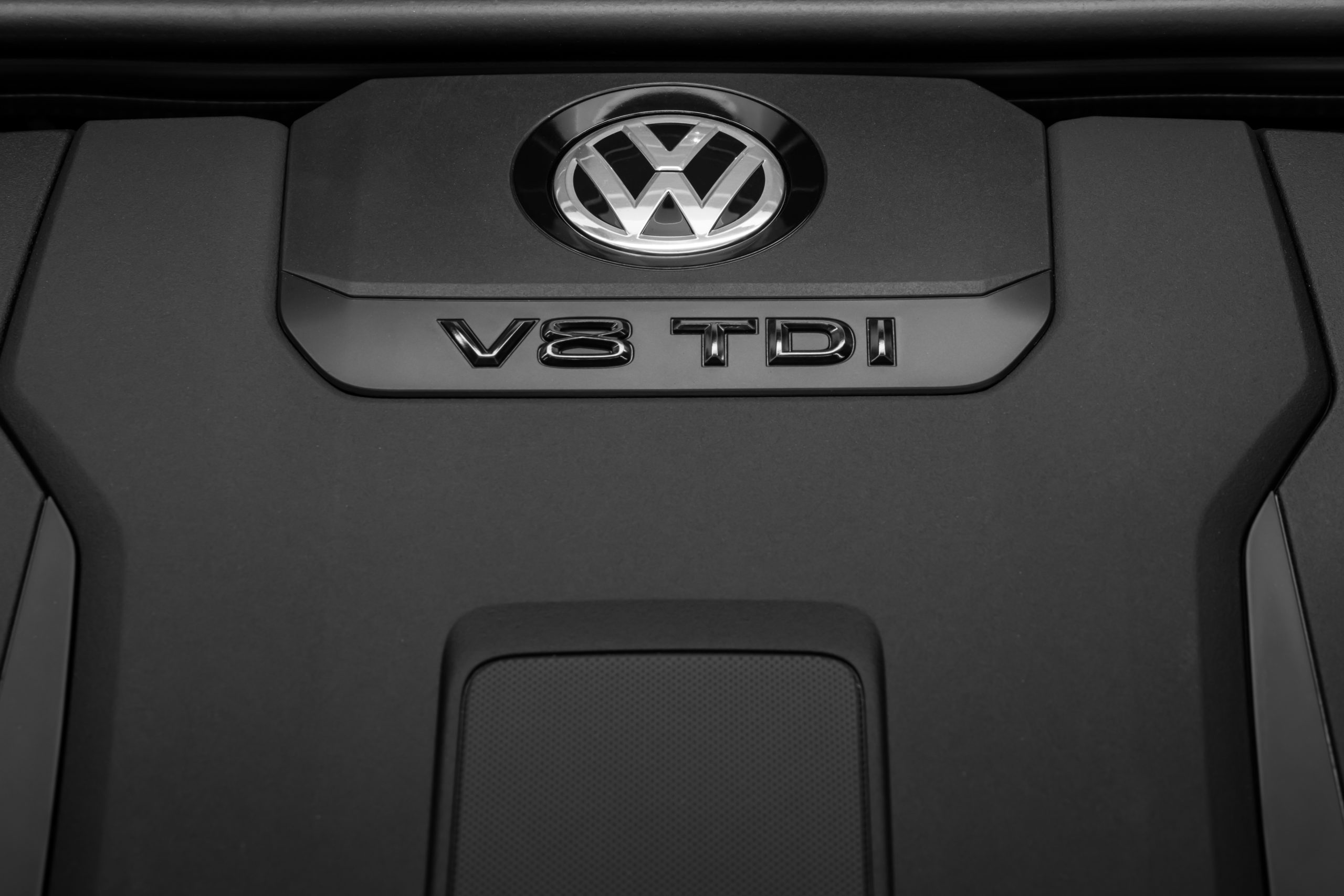 To further underline the early point about the Touareg offering luxury SUV value and performance on a smaller budget, this engine is the same V8 found under the bonnet of the Audi SQ7 and Bentley Bentayga.
As we discovered in the SQ7, this engine is a gem. It offers tremendous pulling power thanks to all that torque, so whenever you need a burst off acceleration you only need to squeeze the throttle and the engine responds with a surge.
Volkswagen claims it will sprint 0-100km/h in just 4.9 seconds, which is ridiculously quick for such a big machine. In fact, that's so quick Volkswagen's Golf R hot hatch would only beat in a race by a scant 0.1 seconds.
How does it handle?
Naturally the Touareg doesn't perform like a hot hatch in the corners, but thanks to the R-Line package it does a good job of handling like a smaller SUV.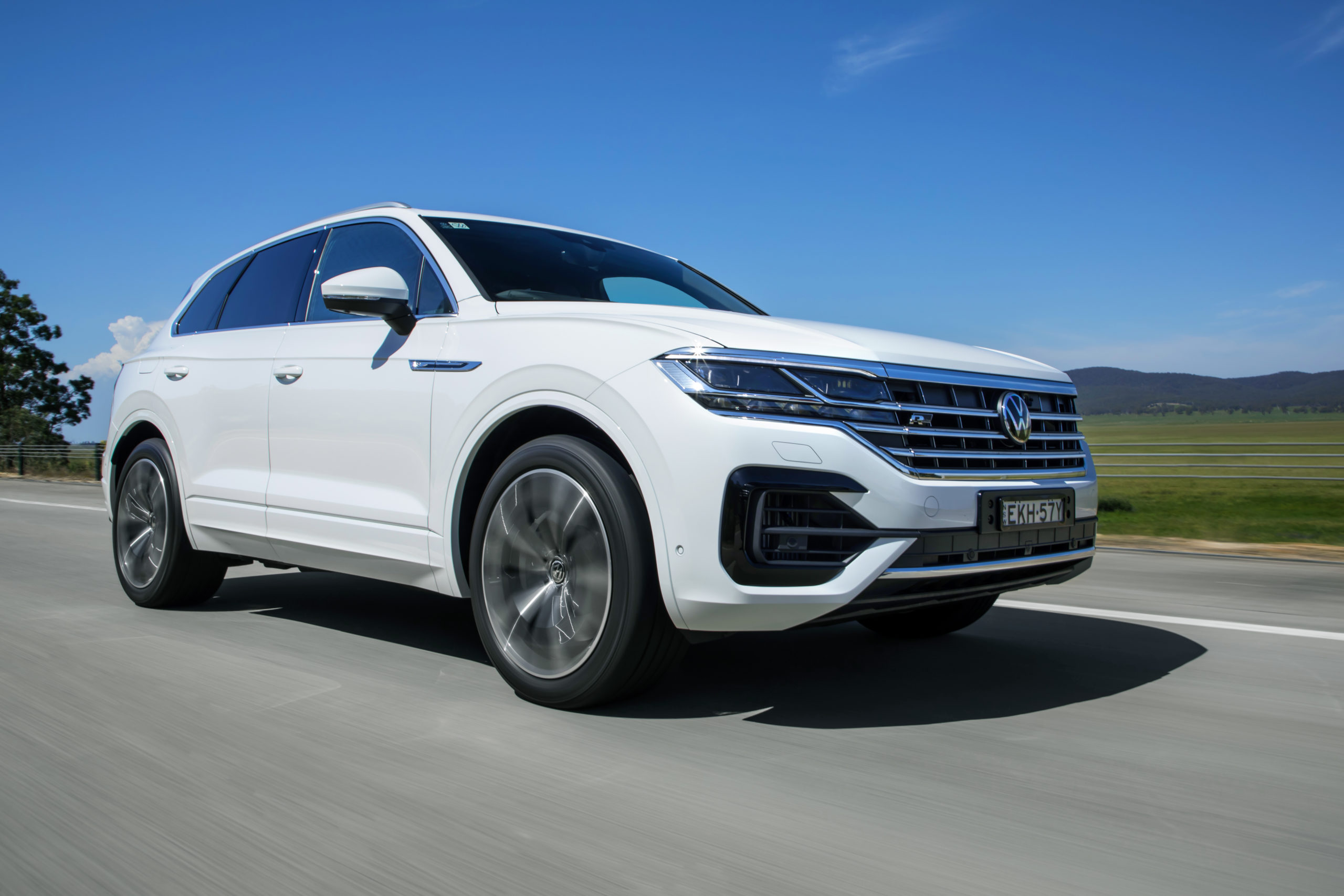 That's because this range-topping model comes fitted with air suspension at each corner, active roll stabilisation and four-wheel steering to maximise its potential. As a result it sits relatively flat when cornering and turns in with more directness than many of its rivals.
But the Touareg R-Line isn't really meant to be a corner-carver, it's a luxury SUV with a sporty touch. That means it's a pleasant car to drive everyday in whatever conditions you find – rain, sunshine, peak hour traffic or a winding country road.
Where would you most like to drive it?
The Touareg V8 R-Line would make an ideal companion for an epic open-road adventure. The engine has the ability to both thrill (900Nm) and chill (7.5-litres per 100km), so you can either get your kicks or cover long-distances whenever you choose.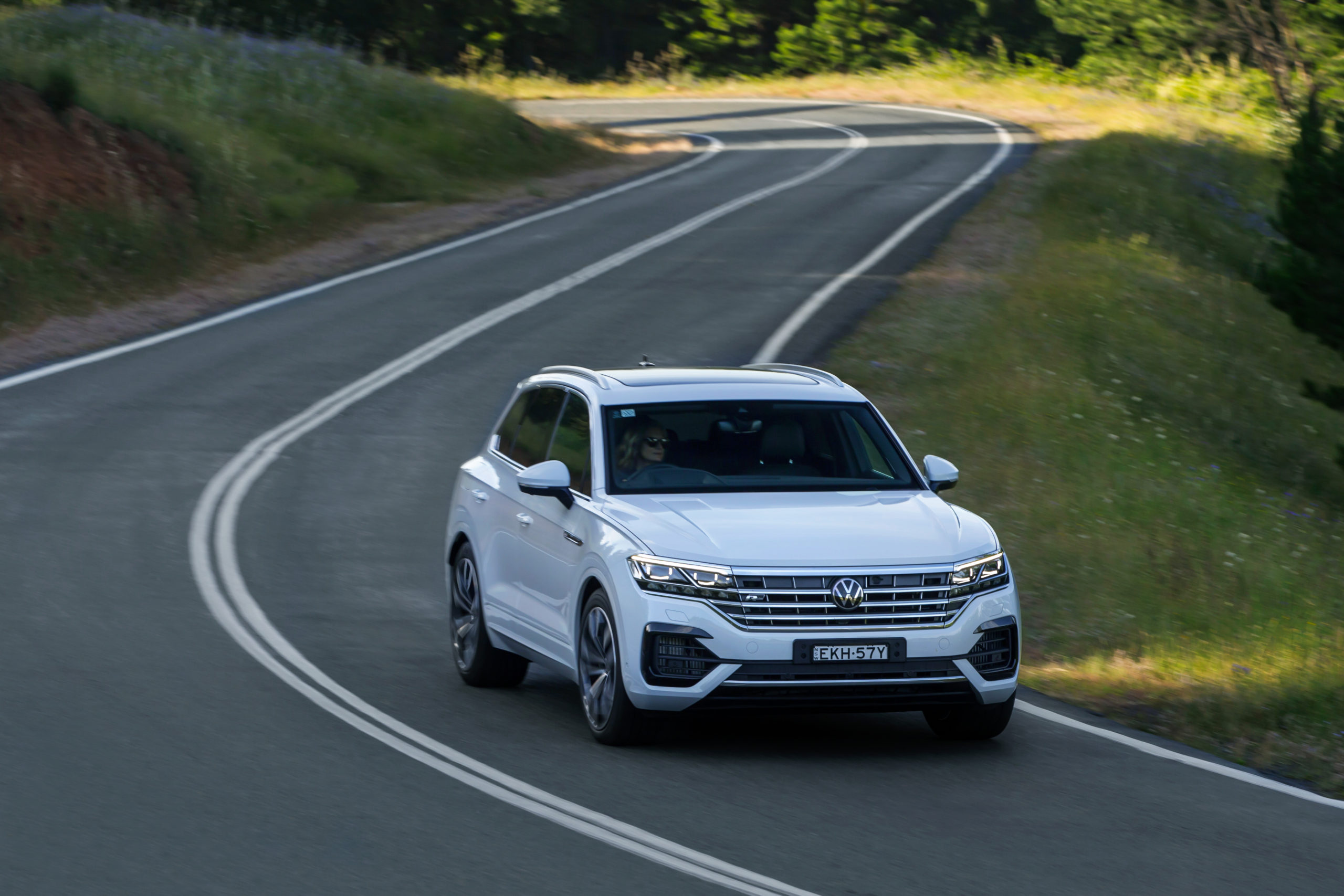 The ride is great, even on the standard 21-inch alloy wheels, so it feels easy to drive for extended periods.
Perhaps a trip through South America re-living Volkswagen's Dakar Rally glory days would be the ultimate Touareg road trip…
What's the interior like?
If you removed the 'VW' badges you'd think you were in one of the prestige European brands. There's no skimping because it's a mainstream brand, all the creature comforts you expect in a loaded luxury SUV. There's R-Line branded leather seats and trim, a 15-inch infotainment touchscreen, 12.3-inch digital instrument panel, heated front and outer rear seats, four-zone climate control and a Dynaudio and Consequence sound system.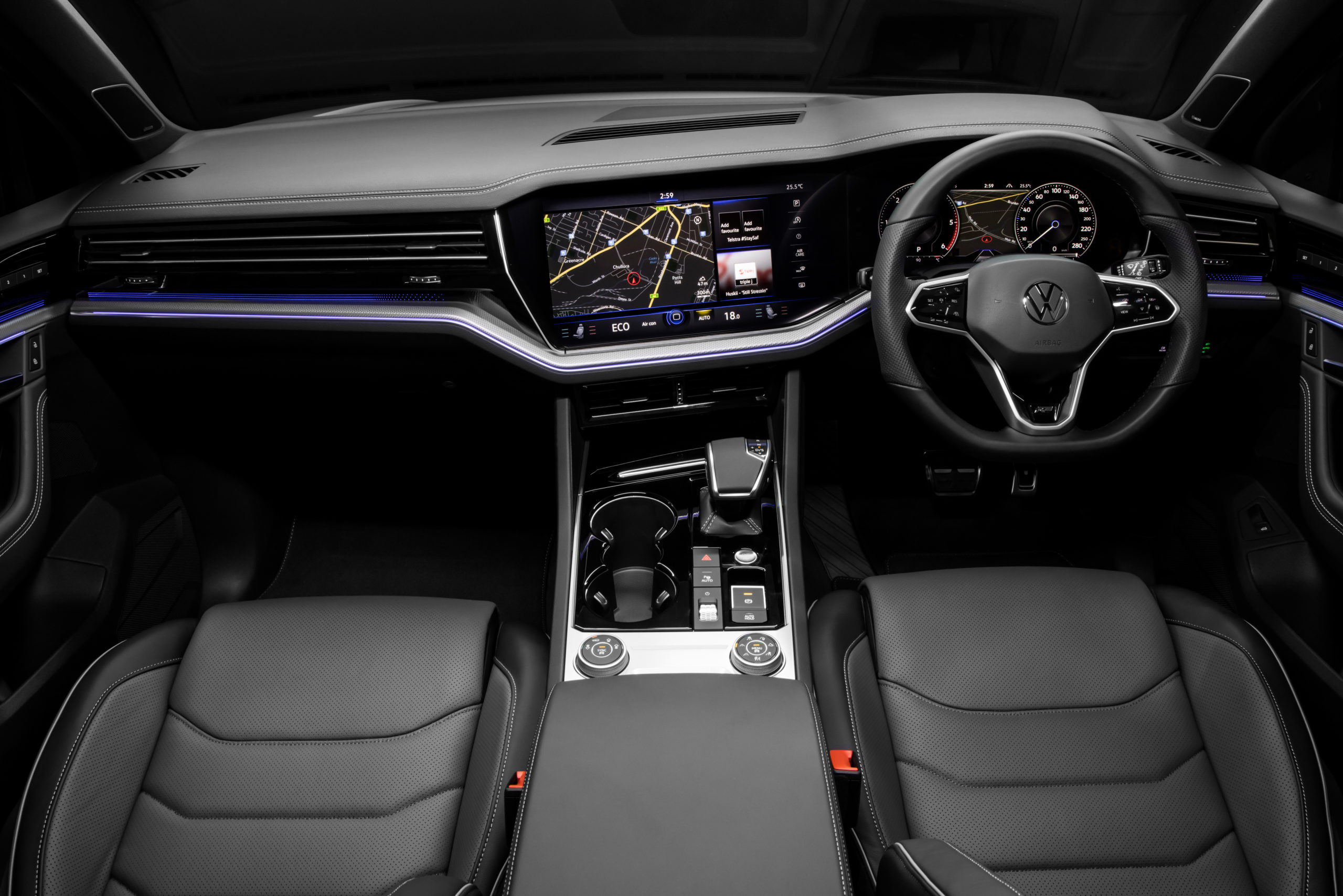 Is it good value for money?
While you miss out on the badge of the more illustrious German brands, the $136,490 (plus on-road costs) asking price feels more than reasonable.
Obviously that's well above the likes of the Hyundai Santa Fe, which tops out at $65,200 for the Highlander, and Mazda CX-9 with its range-topping Azami priced from $70,625.
But on price the Touareg lines it up against the likes of the Audi Q7 with 3.0-litre six-cylinder diesel, BMW X5 2.0-litre four-cylinder diesel and Range Rover Sport P300 (another 2.0-litre but this time a petrol model).
Where the value of the Touareg V8 TDI R-Line really begins to show is when you compare it to the models from within Volkswagen Group with the same engine. The Audi SQ7 TDI is priced from $162,500 while the Bentayga V8 diesel starts at $341,500 – that's a more than $200k premium. Obviously there are some significant differences between the Volkswagen and Bentley but in terms of performance and overall experience that's a big price gap to justify.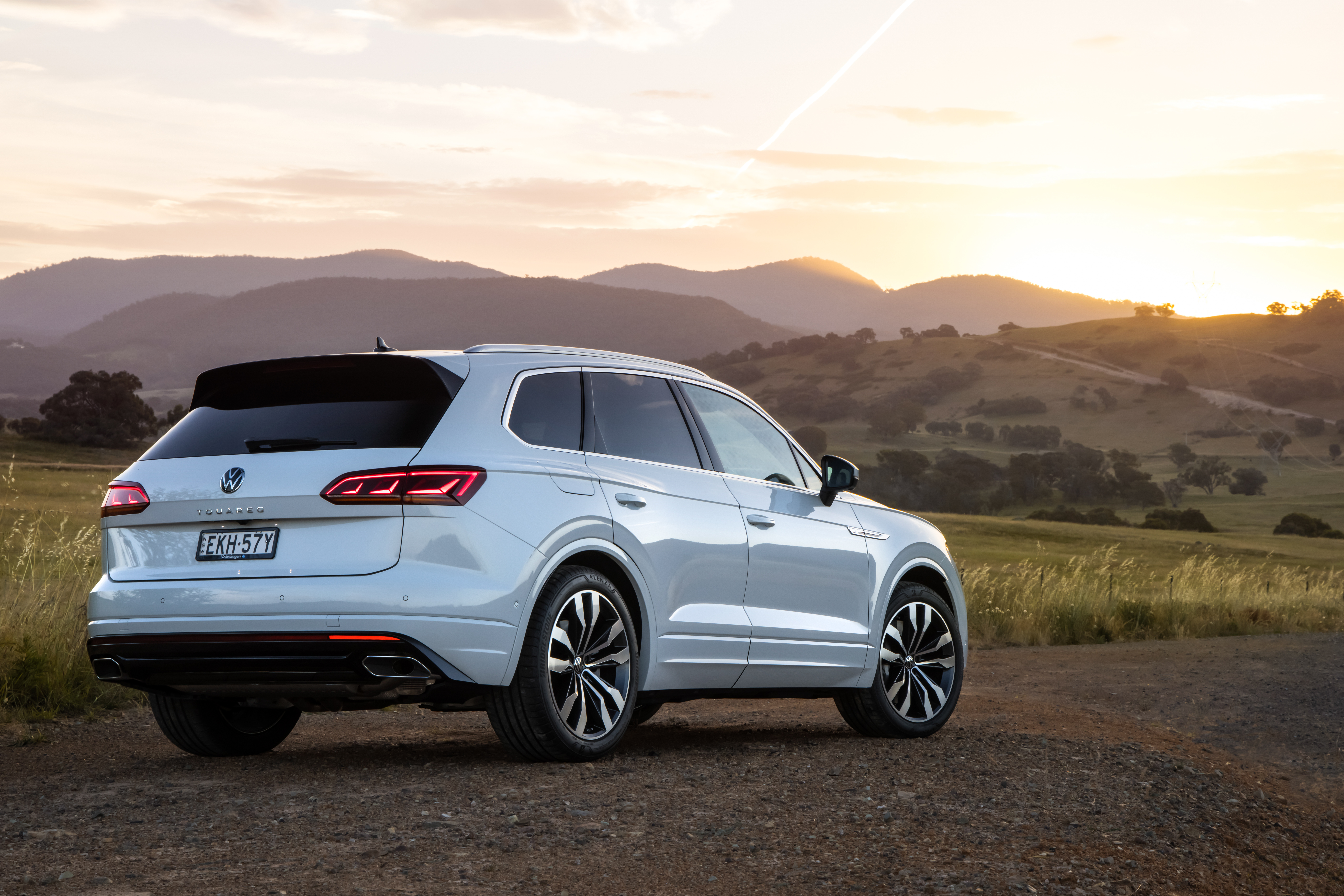 Would I buy one?
Most definitely, the Touareg was already an impressive offering in the luxurious SUV market with its V6 turbo diesel. This new V8 raises the performance to a new level and for the money it's one of the best bang-for-you-buck buys in the market.
2021 Volkswagen Touareg V8 TDI R-Line price and specifications
| | |
| --- | --- |
| Price: | From $136,490 plus on-road costs |
| Engine: | 4.0-litre V8 turbo diesel |
| Power: | 310kW at 4250rpm |
| Torque: | 900Nm at 1750-2750rpm |
| Transmission: | Eight-speed automatic, all-wheel drive |
| Fuel use: | 7.5L/100km |
| Wheels: | 21-inch alloys |
| Tyres: | 285/40 R21 |
| Length: | 4878mm |
| Width: | 1984mm |
| Height: | 1686mm |
| Weight: | 2354kg |
| 0-100km/h: | 4.9 seconds |