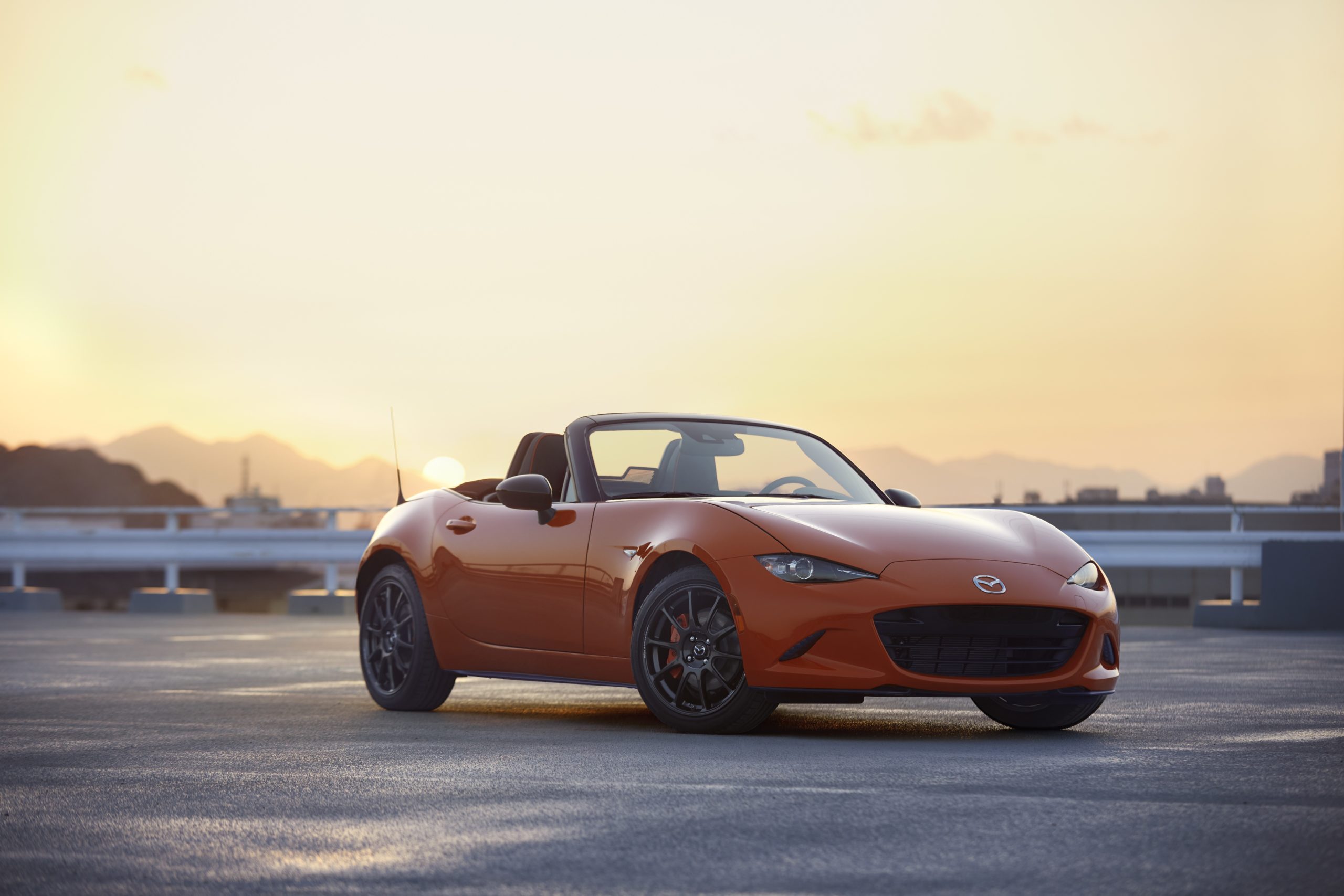 What is it?
A throwback to the classic 1960s Roadsters, like the Lotus Elan.
That's what Mazda set out to build in 1989 with the first generation 'NA' MX-5 and 30 years later, that's what it still builds. Along the way the MX-5 did what all cars tend to do, grow larger and heavier, but for the latest 'ND' model Mazda put it on a heavy diet and the end result is a car even shorter than the original, but wider, and almost as light – tipping the scales at just 1087kg.
Some may dismiss it as a "hairdresser's car" but that's missing the point (and it's not very polite to hairdressers). Yes, it's a convertible and a small one at that, but this is a proper little sports car.
We're testing the 30th Anniversary limited edition, which is finished in Racing Orange and has a range of upgrades to celebrate the milestone. Only 3000 have been built worldwide but Mazda Australia managed to secure an allocation and gave Torquecafe.com a chance to find out what it's like.
Does it have any racing pedigree?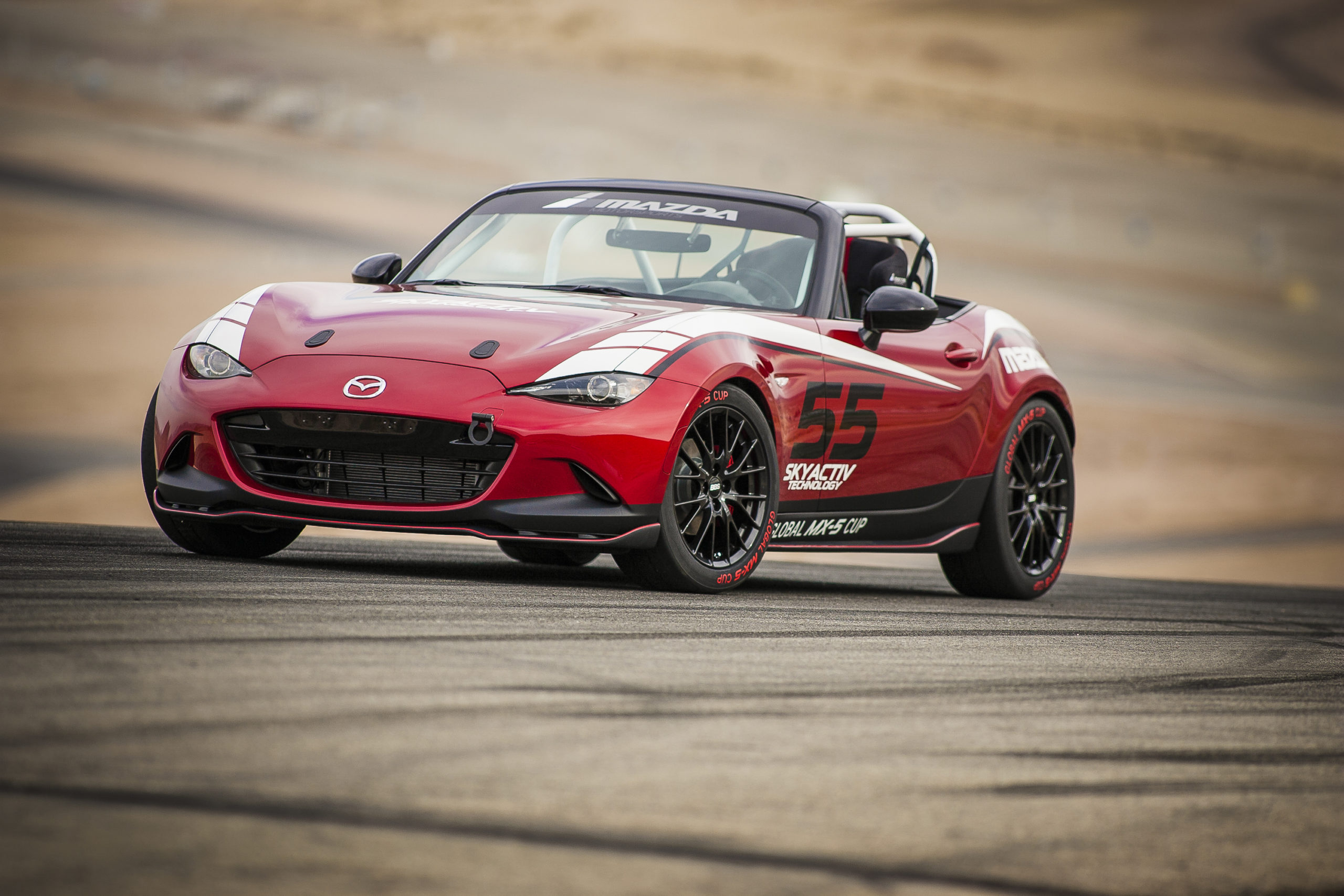 MX-5's of all vintages are a common sight at track days around the world, thanks to the combination of fun and value they provide owners. Internationally Mazda has used the MX-5 as a one-make racing car to support grassroots motorsport. The current 'ND' model has been used for the MX-5 Cup since 2016.
What's under the bonnet?
It's broadly-speaking the same 2.0-litre four-cylinder you'll find across the rest of the Mazda range, the company couldn't afford to develop a bespoke sports car engine. But it has been tuned to suit the character of the little soft-top and was updated for the 2020 model – with the same engine utilised in the 30th Anniversary model.
It makes 135kW of power at a screaming 7000rpm and 205Nm of torque from 4500rpm. While that's not a lot of grunt, remember this car weighs just over 1000kg so it doesn't need a lot of power. In fact, I'd argue that it's the the MX-5's lack of big kilowatts that makes it such an appealing car to drive.
With the modern obsession with turbochargers and big outputs, even modern hot hatches are boasting more than 200kW which makes it hard to enjoy them on public roads safely and legally. Not the MX-5, with it you can have fun, give it plenty of revs and enjoy the drive without feeling like you're risking your licence every time.
Paired to a six-speed manual gearbox and with a nicely-tuned rear-wheel drive chassis, this is the kind of old fashioned fun that too many modern cars miss out on with a focus on power and technology. Enjoyable simplicity.
How does it handle?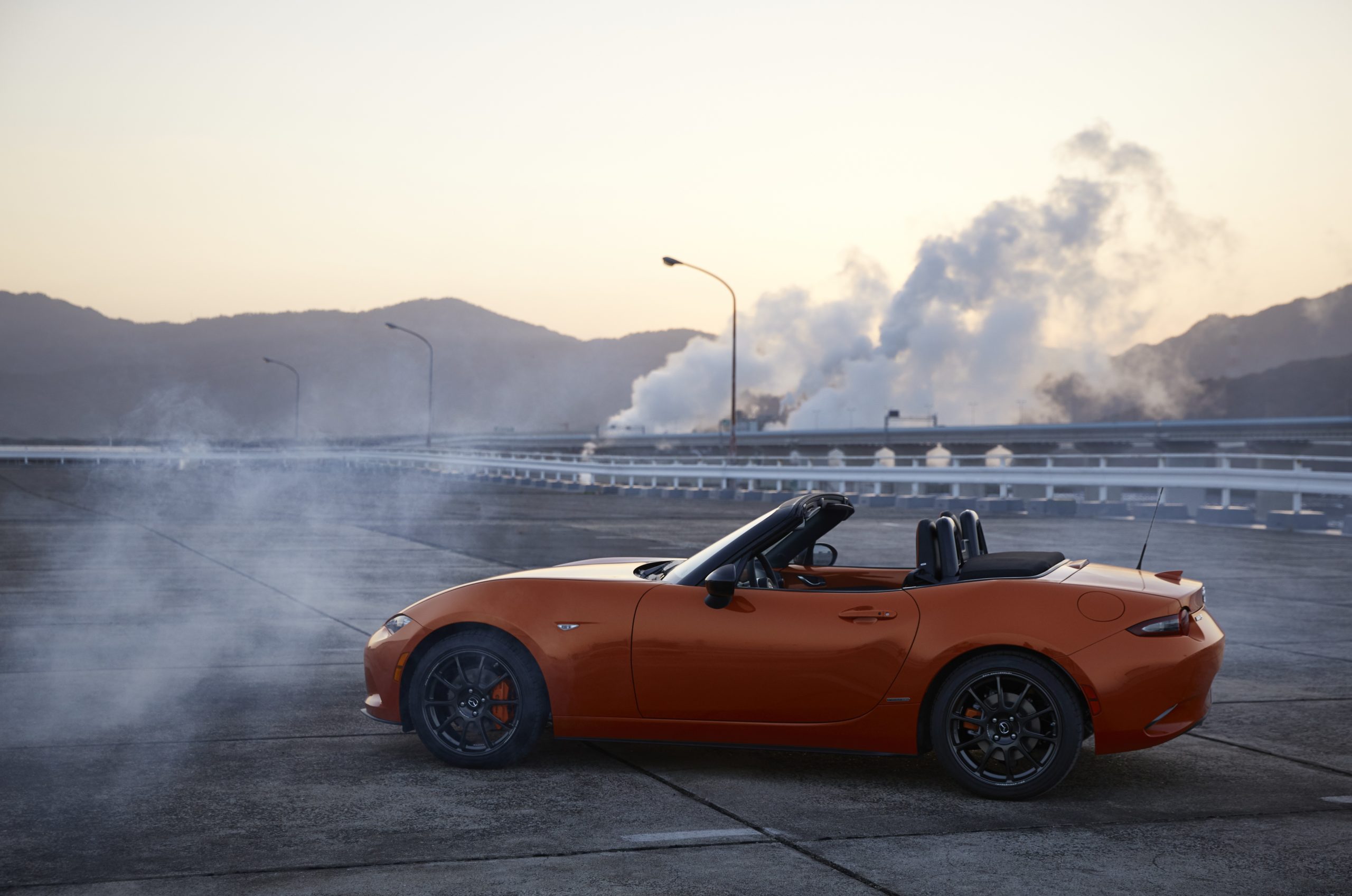 That simple, playful character of the drivetrain most definitely carries over to the chassis and the way the MX-5 handles. The 30th Anniversary model gets some new toys to make it even better, including Bilstein dampers, Brembo front brake calipers and 17-inch RAYS forged alloy wheels (complete with '30th Anniversary' engraving).
The result of these parts, combined with the short wheelbase (2310mm) and low kerb weight, the MX-5 is a dream to drive, especially when the going gets twisty. Interesting Mazda has bucked another modern trend, stiff suspension settings, in favour of a softer set-up that allows for more pitch and roll when cornering. While it's unusual and takes a little bit of getting used to, once you're comfortable you're rewarded with a really progressive and responsive sports convertible. Great steering, strong brakes and predictable handling – good things really do come in small packages.
Where would you most like to drive it?
A twisty coastal road on a summer's day is what the MX-5 is built for. The Great Ocean Road is too busy to really enjoy a car like this, you want to head somewhere quieter so you can let the engine scream to 7000rpm.
What's the interior like?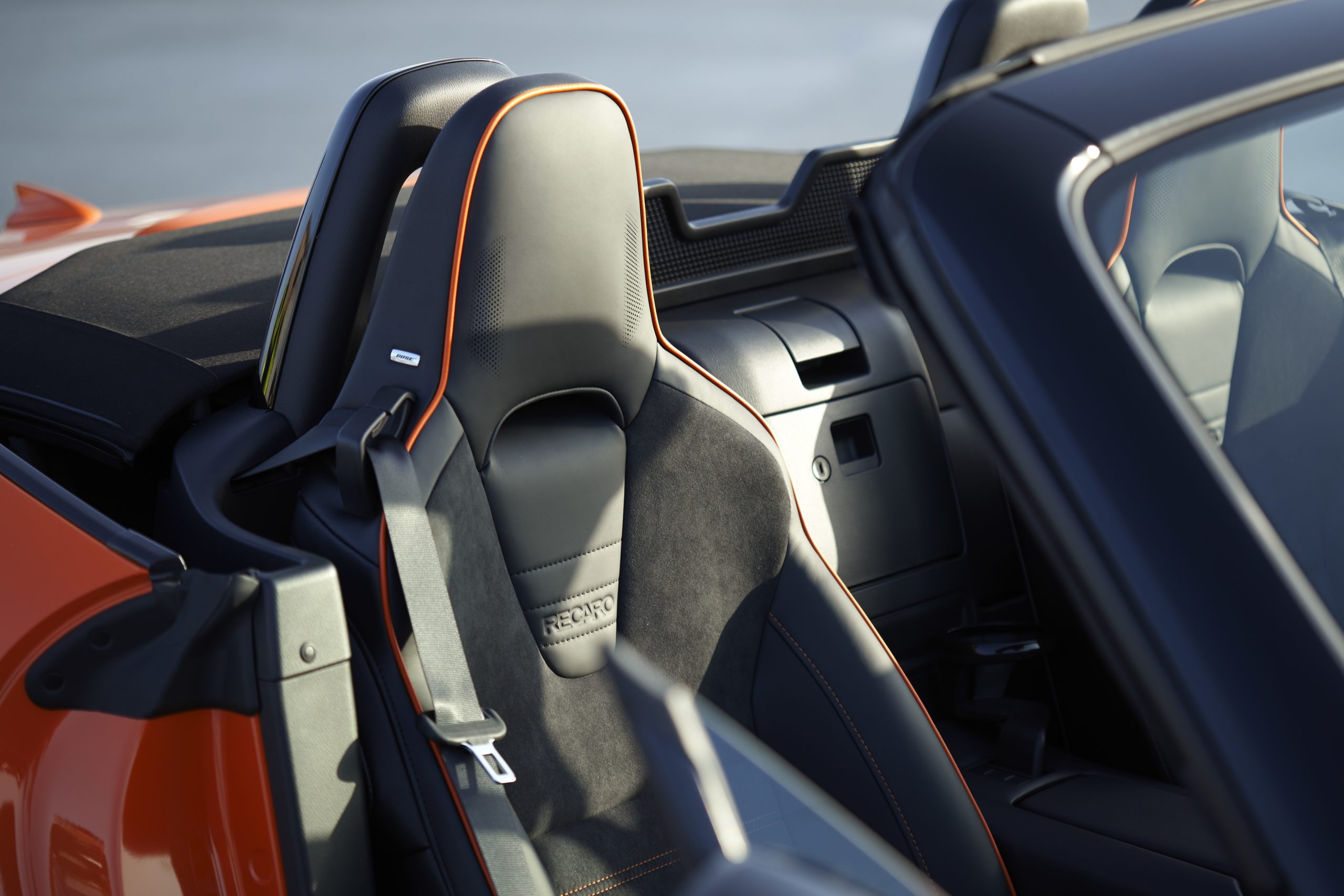 Like the rest of the car the cabin of the MX-5 is a study in simplicity, with nothing unnecessary in a bid to keep the weight down. However, the 30th Anniversary does get some unique elements to make it stand out. There's orange trim highlights to match the exterior, Alcantara trim on the doors and dashboard and sporty Recaro seats.
It's also worth noting the manual fabric roof is easy to use, just release the lock and push it backwards until it clicks into the closed position. It's so simple you can do it on the move if you have to.
Is it good value for money?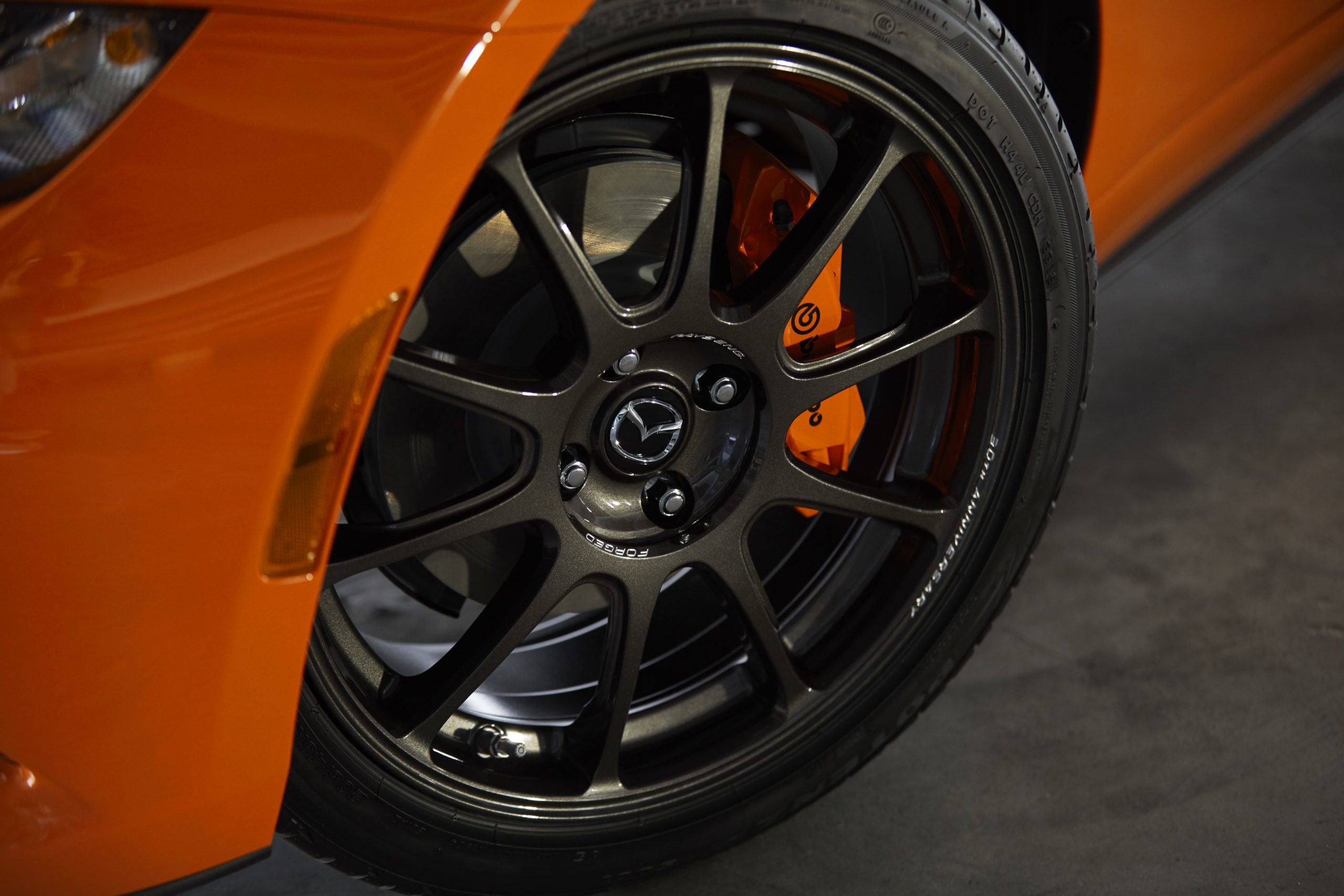 The 30th Anniversary edition is priced from $49,990 (plus on-road costs), which is a hefty $7000 more than MX-5 GT model it's based on. When you factor in the Bilstein shocks, RAYS rims and Recaro seats, plus the other extras it does seem more reasonable.
Personally, I think the entry-level MX-5 powered by the smaller 1.5-litre engine and costing $35,390 is the pick of the bunch. Same thrills for less money and an engine you can push even harder.
Would I buy one?
Unfortunately you can't. At least not the 30th Anniversary model, only 30 came into Australia and all were (unsurprisingly) snapped up. The good news is the updated 2020 model is due to hit showrooms shortly and promises to continue the MX-5 tradition of compact, convertible motoring for those who love to drive.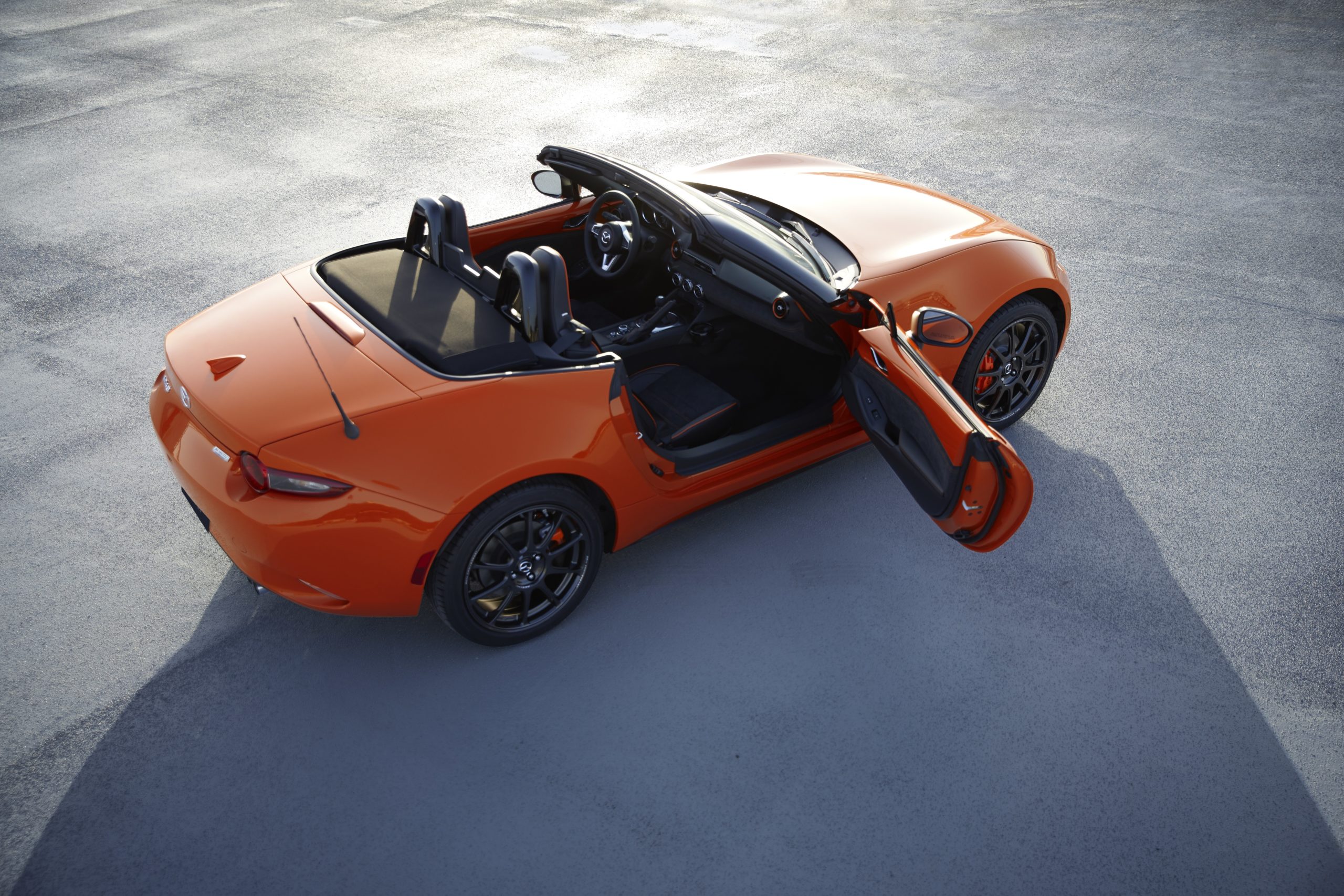 Mazda MX-5 30th Anniversary price and specifications
| | |
| --- | --- |
| Price:  | From $49,990 plus on-road costs |
| Engine: |  2.0-litre four-cylinder petrol |
| Power: |  135kW at 7000rpm |
| Torque:  | 205Nm at 4000rpm |
| Transmission:  | Six-speed manual, rear-wheel drive |
| Fuel use: | 6.9L/100km |
| Wheels:  | 17-inch RAYS alloys |
| Tyres:  | Bridgestone Potenza S001; 205/45 front and rear |
| Length:  | 3915mm |
| Width:  | 1735mm |
| Height: | 1235mm |
| Weight:  | 1087kg |
| 0-100km/h:  | 7.1 sec (claimed) |