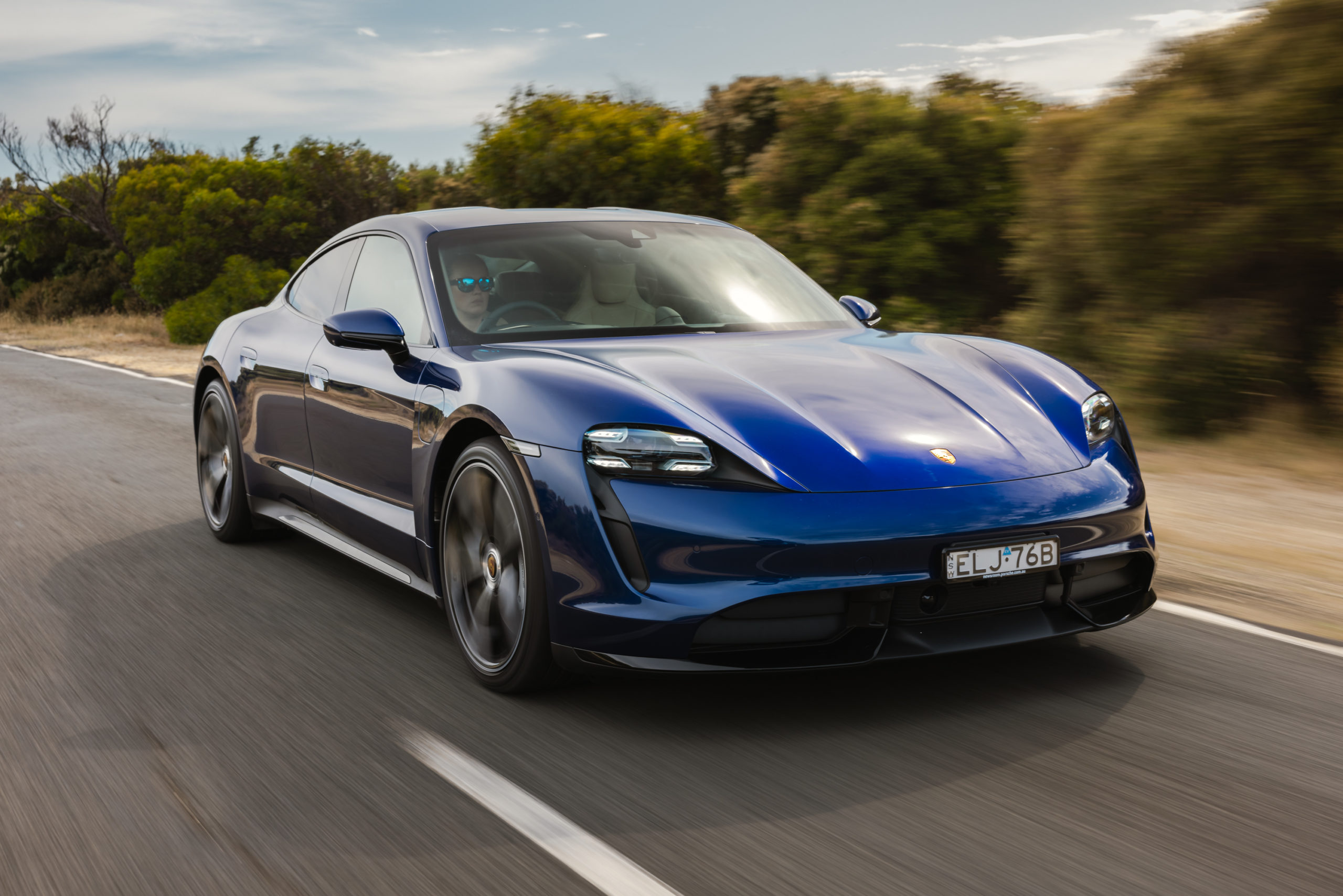 What is it?
This is Porsche's next step that will lay the foundations for its electrified future. The Taycan is the German brand's most radical car since it introduced the Cayenne SUV, switching petrol-powered for batteries and electric motors as the entire automotive industry looks to the future.
First previewed as the Mission E Concept back in 2015, Porsche started with a blank piece of paper to design the Taycan. Every aspect of it is new, with the German giant opting for a bespoke EV platform rather than simply converting an existing model with electric motors.
In more simple terms, the Taycan is Porsche's answer to the popular Tesla Model S and upcoming Audi e-tron GT. But it also fills a gap in the brand's range, with a mid-size sports sedan that gives Porsche a rival to the likes of the BMW M5, Mercedes-AMG E63 and Audi RS6.
But none of that really matters – the ground-breaking technology, the new market opportunities – if the Taycan is first and foremost a Porsche. So, let's find out if it lives up to its family's reputation for fast, engaging and stylish automobiles.
Does it have any racing pedigree?
It would be hard for Porsche not to instill racing knowledge into its cars; even the Cayenne and Macan SUVs have overtly sporty characters and feel comfortable on a racetrack. But the Taycan has plenty of motorsport DNA, thanks to Porsche's return to LMP1 racing in 2014 until 2017 – key development years for the Taycan.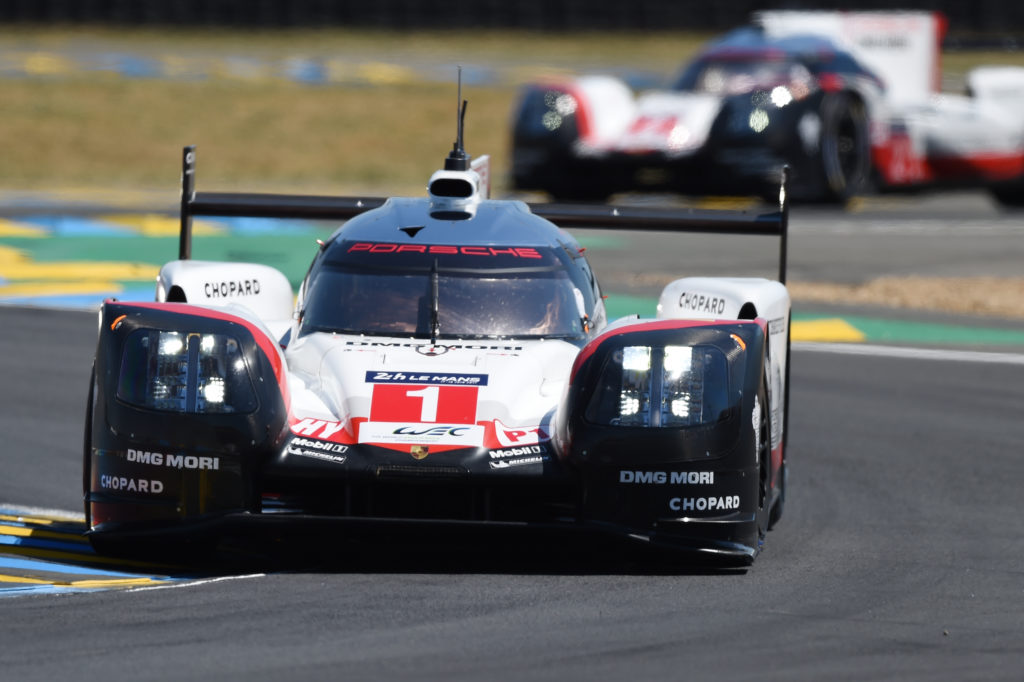 Racing with the 919 Hybrid allowed Porsche to accumulate vast amounts of knowledge and understanding of electric motors, batteries, thermal management and other key data that has helped develop the Taycan.
Since then the company has moved into Formula E to fully embrace the current EV push and further learn about the new world of electric performance.
Porsche also enlisted the help of Mark Webber to fine-tune the way the Taycan drove, giving his expertise not only in terms of pure performance but also his understanding of EV systems from his days in the 919 Hybrid.
One cool motorsport-inspired element of the Taycan is the Electric Sport Sound. It's an artificial sound generator that you can either switch on, or comes on automatically when you dial up Sport Plus mode, to help create a better sense of speed and acceleration. The sound is based on what the motorsport program developed for the 919 Hybrid simulator, to give Webber and his teammates a more realistic feeling of what they heard from the electrical system in the LMP1 machine.
What's under the bonnet?
Technically speaking, what's under the bonnet is a small luggage compartment. But, in terms of powertrain there's a pair of electric motors – one on each axle – that endows the Taycan Turbo with its monstrous performance.
In the Taycan Turbo (which, yes, doesn't have a turbocharger but is instead used as part of the naming structure) the two motors pump out a combined 460kW of power (by up to 500kW on overboost) and 850Nm of torque.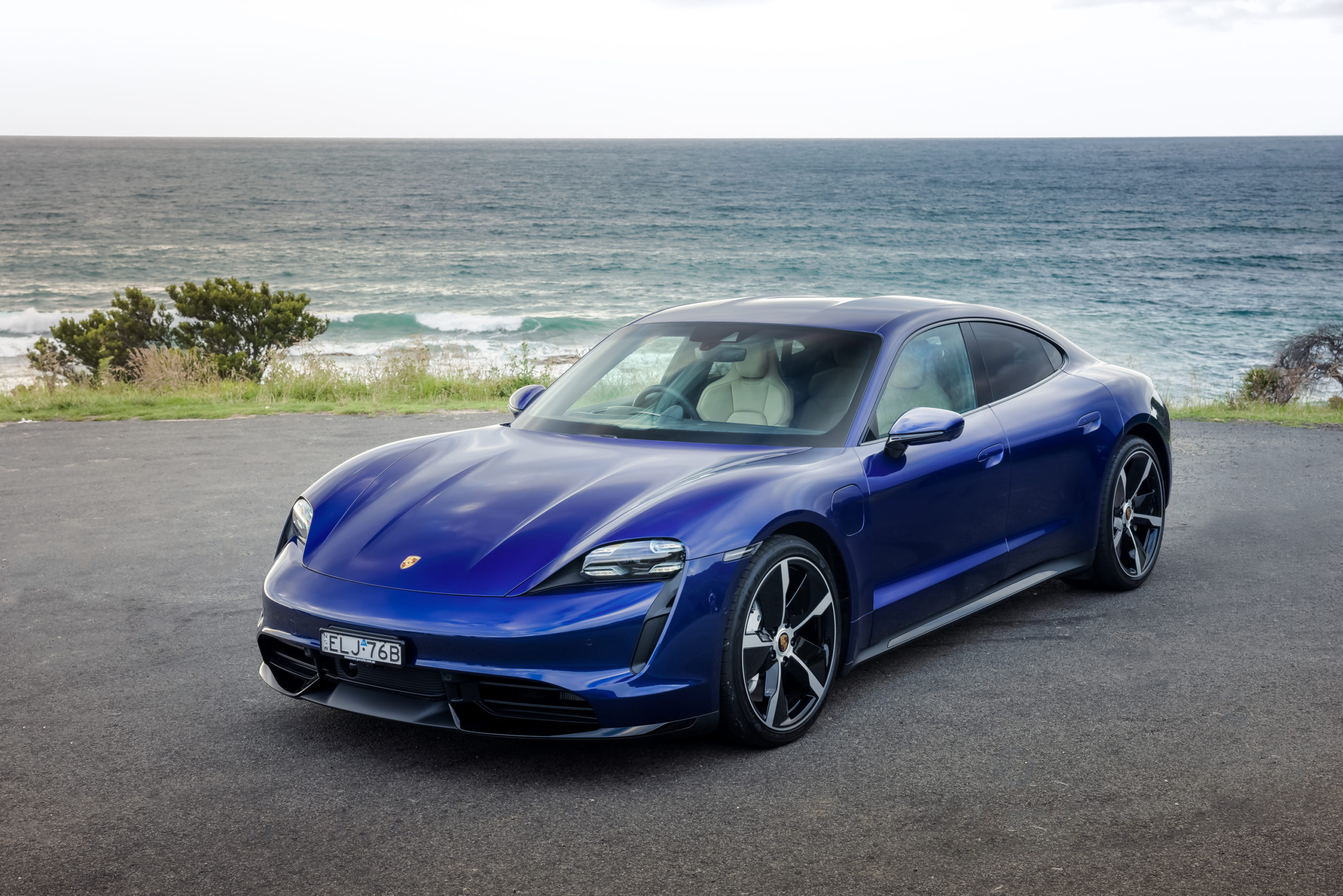 Unlike most modern EVs that use a single-speed transmission the Taycan has a two-speed automatic gearbox. The short-ratio first gear allows for a sudden burst of acceleration, while the longer second gear is able to do the rest of the work making the powertrain efficient while still having a high top speed.
Porsche claims that helps the Taycan Turbo launch from 0-100km/h in just 3.2 seconds and while we didn't get a chance to run our own times, based on our experience those numbers feel accurate. The acceleration is wild, it launches with such ferocity it forces you back in your seat. And it's not just off the mark too, it feels strong all the time, so whenever you feel like putting your foot down it just launches like a rocketship almost instantly.
It's the kind of performance we've come to expect from EVs thanks to Tesla's 'Ludicrous' mode but if this is the upside of losing internal combustion engines it may not be so bad.
The Electric Sport Sound (ESS) may come off as a gimmick on paper, but it actually adds a lot to the driving experience. Without an engine to rev up or gears to change, it's easy to lose an appreciation for the sense of speed you're carrying and the ESS provides that sensation of acceleration and deceleration that are so crucial to an engaging drive experience.
The electric motors draw power from the 93.4kWh lithium-ion battery pack, mounted underneath the floor. The Taycan Turbo comes standard with the Performance Battery Plus that offers extra punch, but even the standard battery used on the Taycan 4S uses the 800-volt electrical system that is a first for a production EV and crucial to its combination of performance, range and ultra-rapid charging.
The official claimed range is 420km, but our test car had a projected range of 376km which felt accurate based on our testing. While slightly short of the official claim, our test drive wasn't an economy run but even when drawing on its peak performance regularly, that 376km figure felt spot on.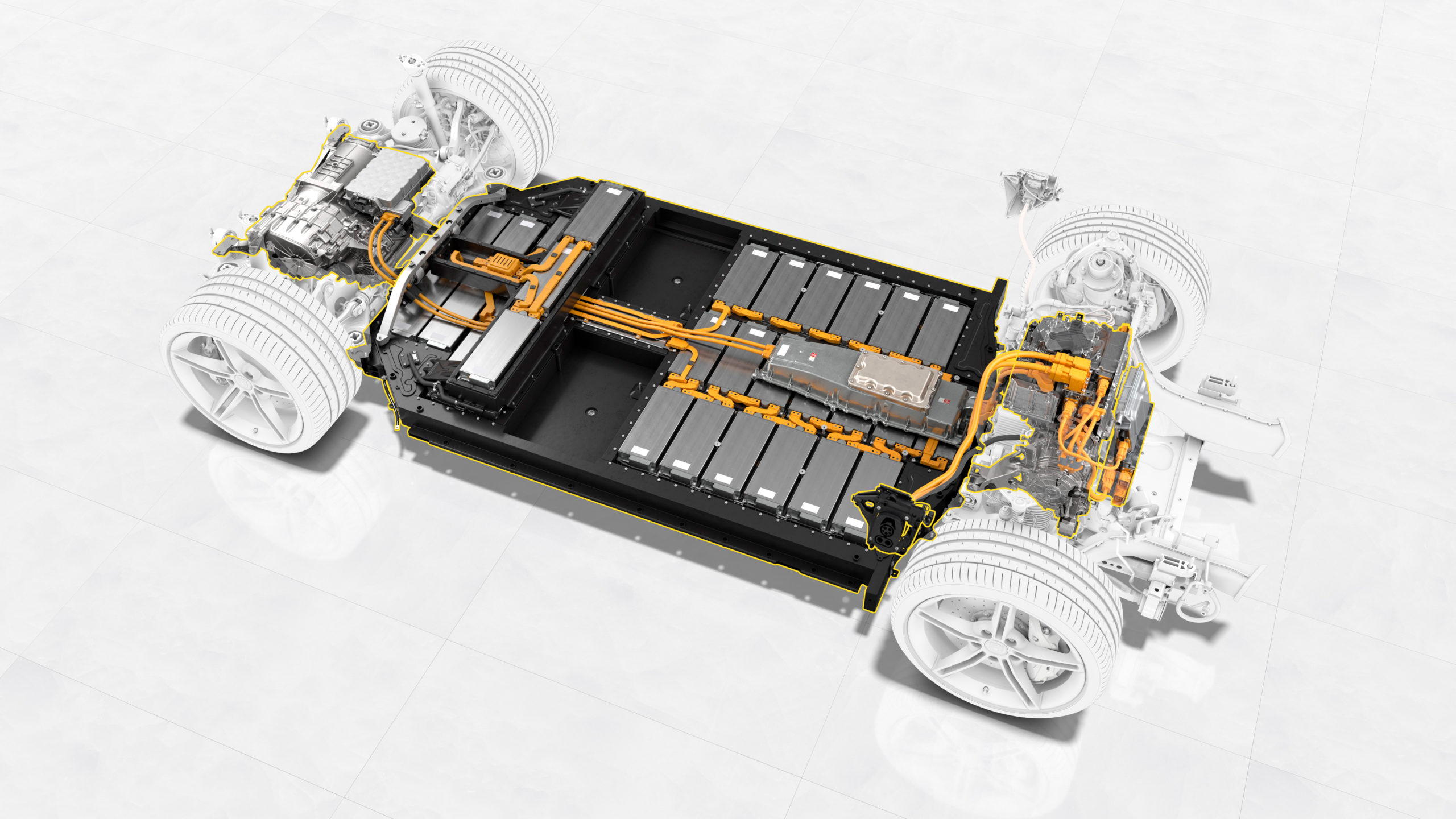 With the right charger, a 350kW unit, the Taycan can be recharged in just over 22 minutes but there are a limited amount of those units in Australia currently. However, using a publicly available Tritium 50kW charger we added exactly 50 per cent battery capacity in one hour; which is on par with Porsche's claim it will take 93 minutes for a 50kW charger to get it from five per cent battery capacity to 80 per cent.
Unfortunately, the biggest challenge for EV owners, as we've written before, is the lack of public charging infrastructure to keep up with the increasing demand for battery-powered cars. Like Audi, Porsche has a deal that grants Taycan owners free charging across the Chargefox Australia network. Finding a Tesla-free public charging outlet can be challenging (though not impossible) but if you buy a Taycan, the easiest solution will be to simply install a charger in your garage and only rely on the public chargers for top ups when needed. But with nearly 400km of range the Taycan will handle most people's daily duties.
How does it handle?
This is where Porsche's decades of experience really shines through. While the Tesla Model S accelerates with the same ferocity as the Taycan Turbo, when the road gets twisty the German machine is lightyears ahead. It may be an all-new model, but it has all the hallmarks you expect from a great Porsche – precise steering, massive grip, excellent body control and strong braking.
Every aspect of the Taycan drive experience feels like a proper Porsche, there's no compromises or excuses because it's swapped internal combustion for electric motivation.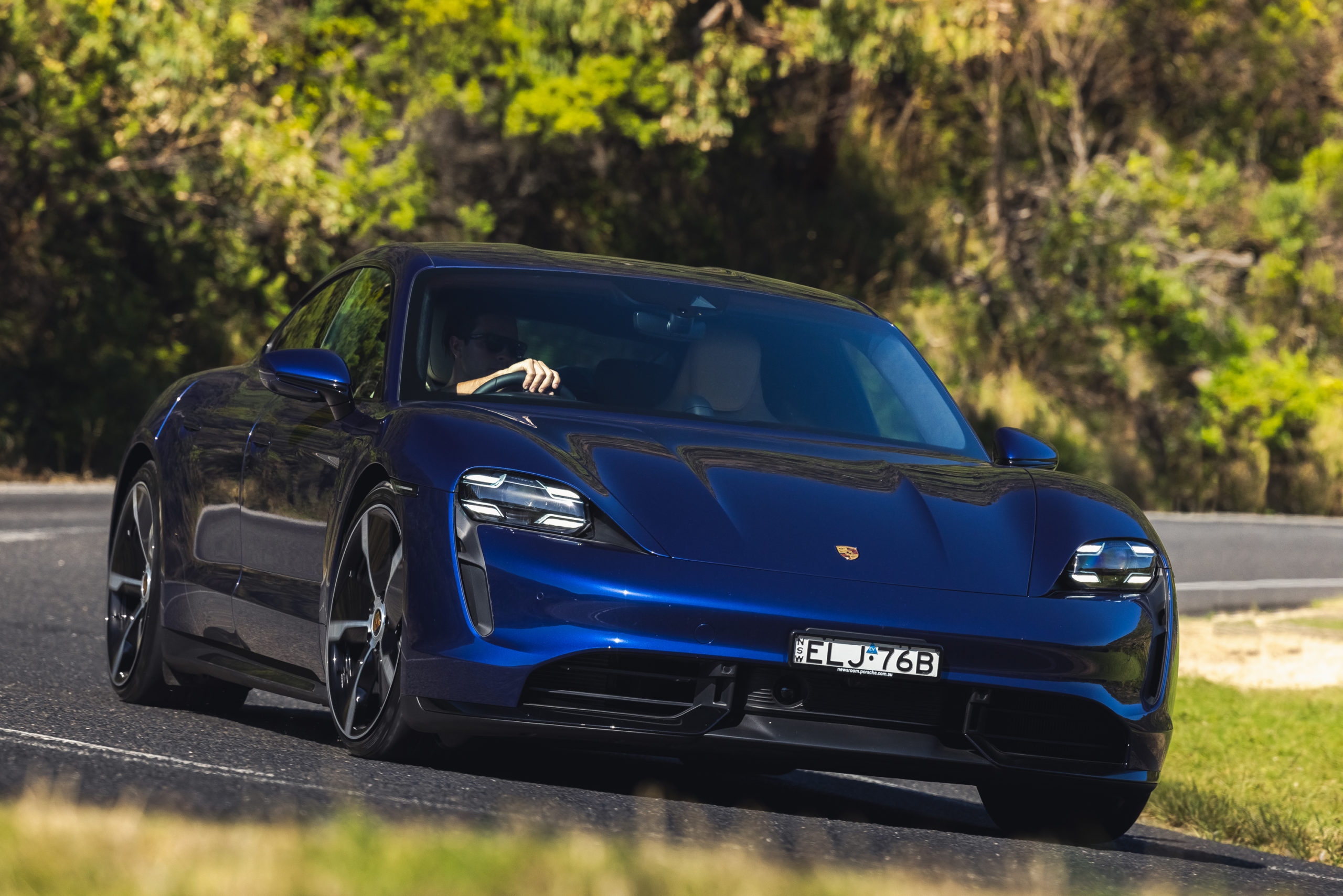 That's not to say a Tesla is a bad car to drive, but the Taycan is simply superior. The ride is a particular highlight, because even on the imposing 21-inch alloys the Macan doesn't feel harsh or crashy. Yes, you'll feel the odd sharp bump in the road but it does a good job of soaking up most of the imperfections in the surfaces.
Having said that, for Australia's patchwork roads we discovered the best drive mode setting was to have the powertrain in the most dynamic and responsive Sport Plus, while selecting the 'normal' suspension to best soak up the bumps and keep the car composed.
That allows for the steering to feel at its best too, not fussed by marks in the surfaces but instead direct and responsive. It's nicely weighted too, rather than being overly-assisted like so many modern cars – electric or otherwise. If anything, it's almost too heavy, so it may turn off some who prefer the Taycan as a luxury car rather than a sports sedan.
On the flipside, one of the most interesting aspects of the driving experience are the brakes, which Porsche reportedly worked long and hard on perfecting. Unlike most EVs that use regenerative braking as soon as you take your foot off the accelerator pedal, which means sharp deceleration, Porsche doesn't do that. Instead, there's regen braking built into the traditional braking system and it's so seamless it would take a well-trained right-foot to notice it working. All of which means, unlike every other EV that requires learning a new way to drive, the Taycan drives and behaves just like a conventional car.
More than anything what makes the Taycan truly feel like a Porsche is that it inspires you to want to drive. Perhaps it was the anticipation of finally getting behind the wheel, but as soon as this reviewer slid behind the wheel there was nothing else on my mind other than driving the Taycan and exploring its limits.
Where would you most like to drive it?
I wanted to really test the Taycan Turbo against the best, so my test drive featured my favourite roads on the outskirts of Sydney that throw up most types of challenges you can find – from fast, flowing country sections to twisty, narrow and demanding blacktop that snakes up and down hills and valleys.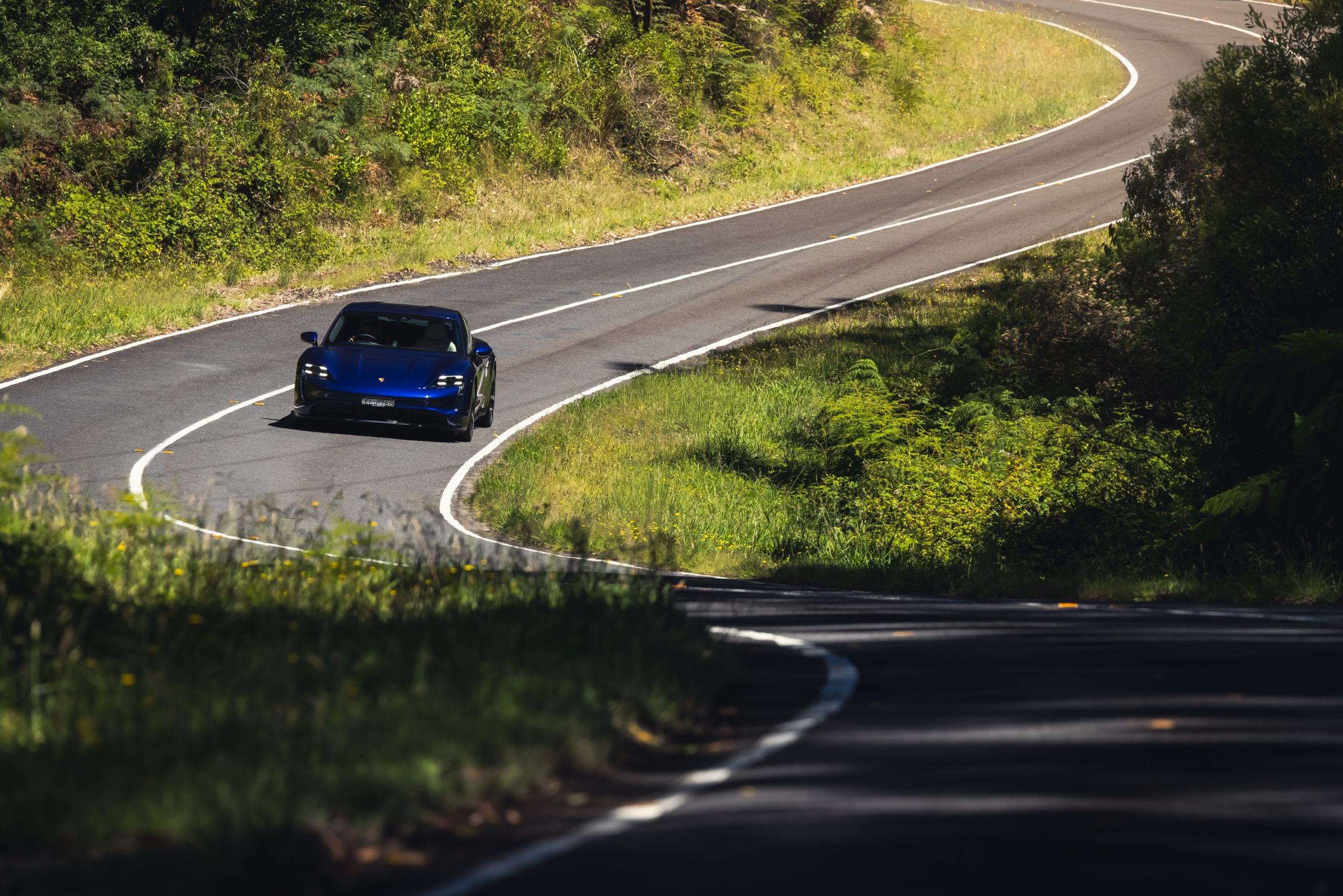 Our test route included a stretch of the famed Old Pacific Highway north of town, which happened to be the very same road I test drove the original Tesla Roadster nearly 10 years ago. The evolution of EVs between then and now is staggering, from Tesla's rather simple, Lotus-based sports car to this luxurious but ballistically sports sedan that feels in a different league.
What's the interior like?
Stunning. There are some obvious Porsche design cues but the Taycan is loaded with technology befitting its role as a ground-breaker.
The most obvious difference that purists will immediately notice is the lack of an analogue tacho. Unlike almost every other Porsche that at least features an old-school rev counter flanked by digital dials, the Taycan has a fully digital instrument cluster.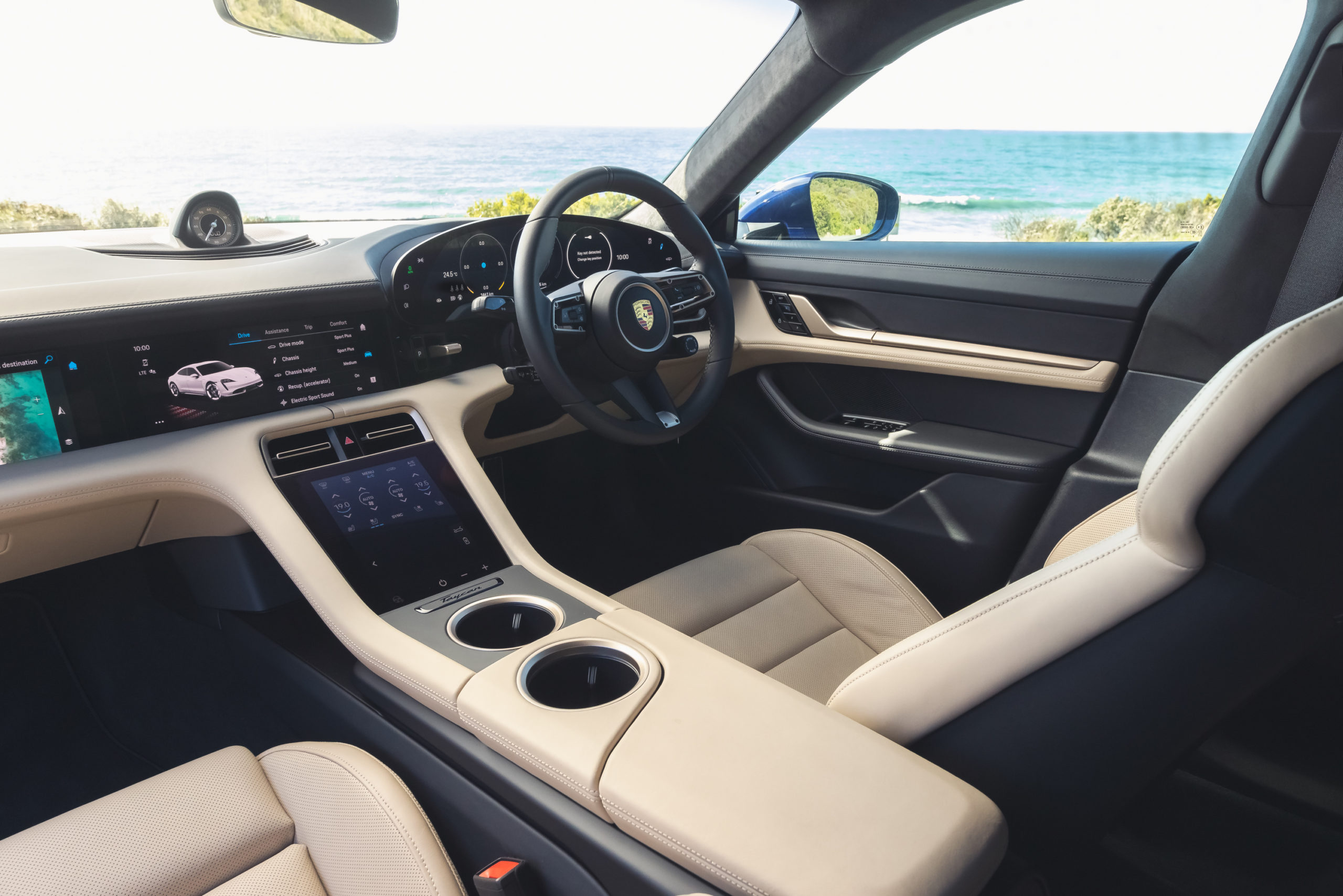 That's joined by three more screens in the Turbo – with one mounted between the seats for taking care of the climate control functions, one on the centre fascia for infotainment and a third in front of the passenger, allowing them to control anything non-driving related.
Another unique element is the gear selector (which is the same stubby toggle you find in the latest 911) is mounted high on the dashboard, just below the digital instrument display. It takes some getting used to but it makes logical sense and frees up space for practical elements between the front seats – a pair of cupholders.
The steering wheel remains a classic Porsche touch; not too thick, not too thin. It features some buttons for the infotainment and drive mode systems but is relatively simple and clean in its design.
The front seats are excellent – a genuine cabin highlight – they offer excellent support to keep you held tight when cornering aggressively but are comfortable enough to sit in all day long. Plus they look good too.
Rear space is relatively tight – more BMW 3-Series than 5-Series – with limited kneeroom and restricted headroom for anyone over 180cm (six-foot) thanks to the steeply tapering roofline. But the seats are comfortable at least.
The boot measures a modest 366-litres and has a relatively narrow opening. Plus, if you need to carry the charging cable it fits inside a bag that takes up a decent-sized chunk of room – even though this was an EV from the beginning there's no special compartment for the cable. As mentioned above, there's some extra cargo room under the bonnet, albeit small (84-litres) and oddly shaped.
Is it good value for money?
The Taycan Turbo sits in the middle of the range, priced from $268,500 (plus on-road costs), on par with what you'd expect to pay for a similar-sized petrol-powered sports sedan. A BMW M5 CS costs $274,900 while the Mercedes-AMG E63 S starts at $250,400, so the Taycan Turbo isn't charging a premium for its powertrain.
DETAILS: Porsche Taycan pricing and specifications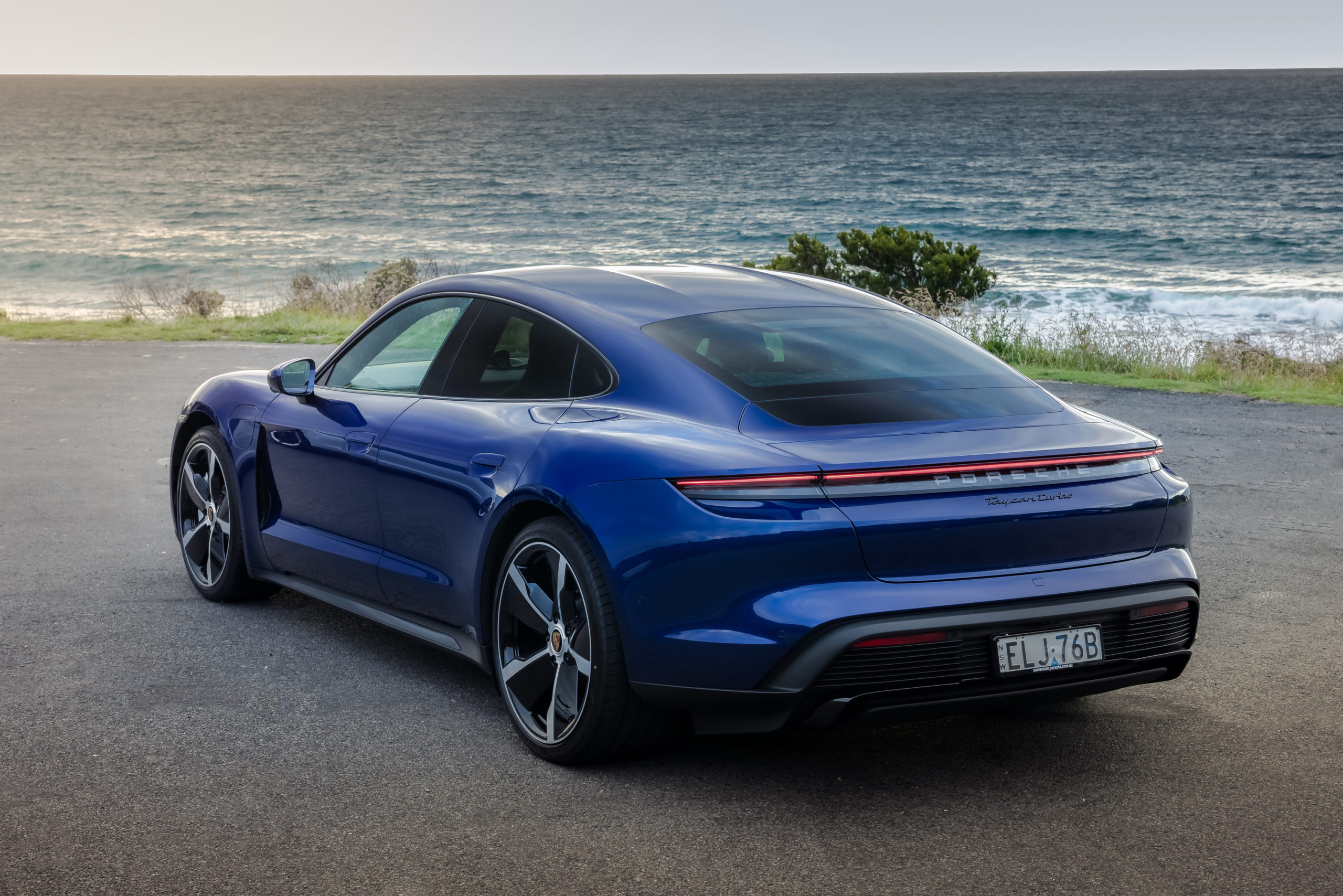 However, in terms of its direct rival, it's hard to make a fair assessment. The Tesla Model S Performance is currently priced from $154,200, but it's set to be replaced by a new, more powerful version that we don't have pricing on yet.
Would I buy one?
Most definitely. I'll admit I had high expectations for the Taycan, which can generally lead to disappointment when you drive an all-new model – but not the case for this German masterpiece.
The question we posed at the start was does it live up to Porsche's reputation for building fast and engaging cars? The answer is a resounding yes, it may be electric but it's still quintessentially a Porsche. It has the performance you expect from a Porsche, the engaging handling you expect from a Porsche and it's built like a Porsche.
More than that, it's just an impressive car in every aspect. Obviously it's not cheap, but it fills so many different roles – it's a sports sedan, but it's as economical as any car on the road. It's also a luxury car as much as it is a performance one.
It may only be February, but Porsche is already leading the race for the best car of 2021.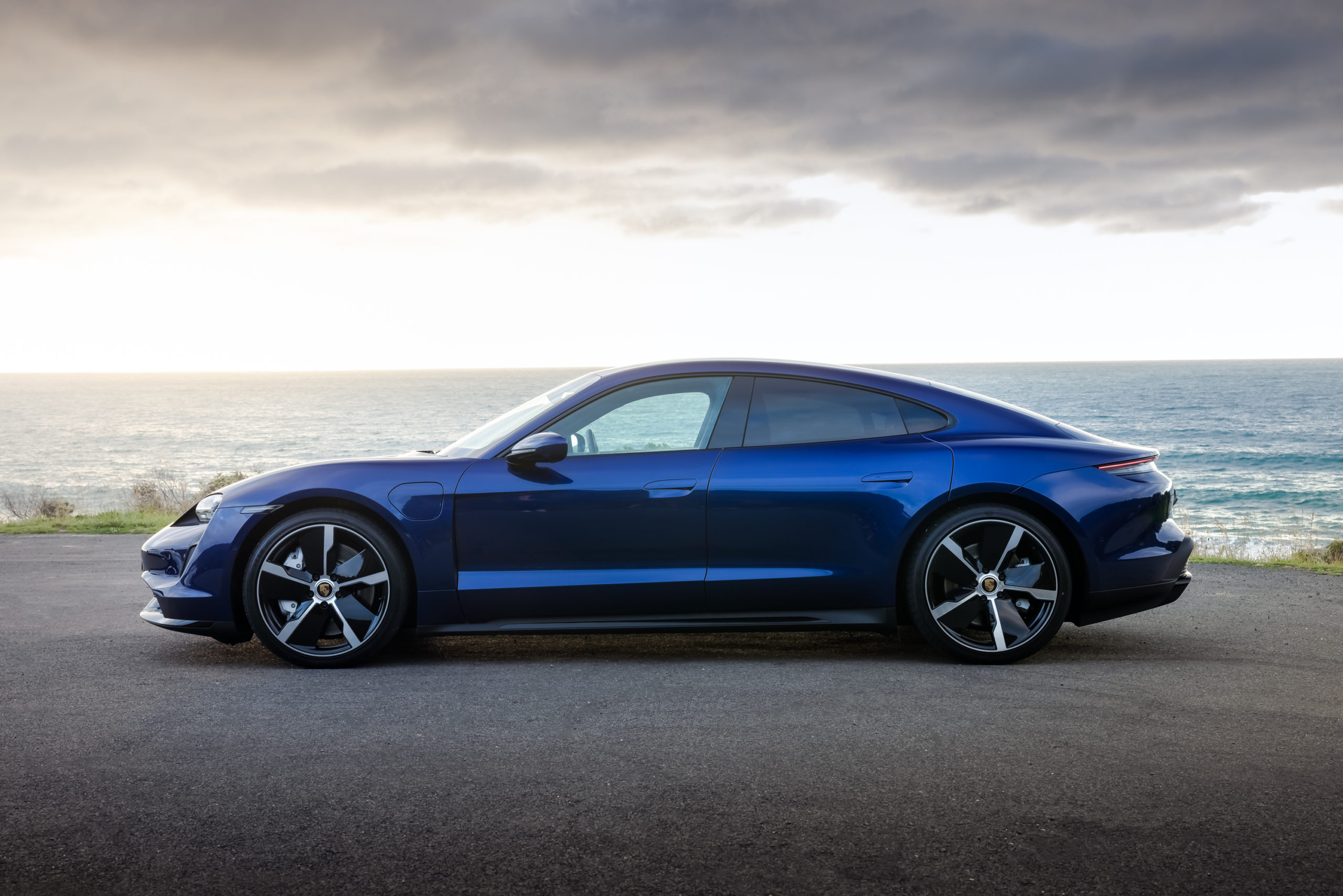 2020 Porsche Taycan Turbo price and specifications
| | |
| --- | --- |
| Price: | From $268,500 plus on-road costs |
| Powertrain: | Dual-electric motors |
| Power: | 460kW (500kW on overboost) |
| Torque: | 850Nm |
| Transmission: | Two-speed automatic, all-wheel drive |
| Range: | 420km |
| Wheels: | 21-inch alloys |
| Tyres: | 265/35 ZR21 (front), 305/30 ZR21 (rear) |
| Length: | 4963mm |
| Width: | 2144mm |
| Height: | 1381mm |
| Weight: | 2305kg |
| 0-100km/h: | 3.2 seconds (claimed) |