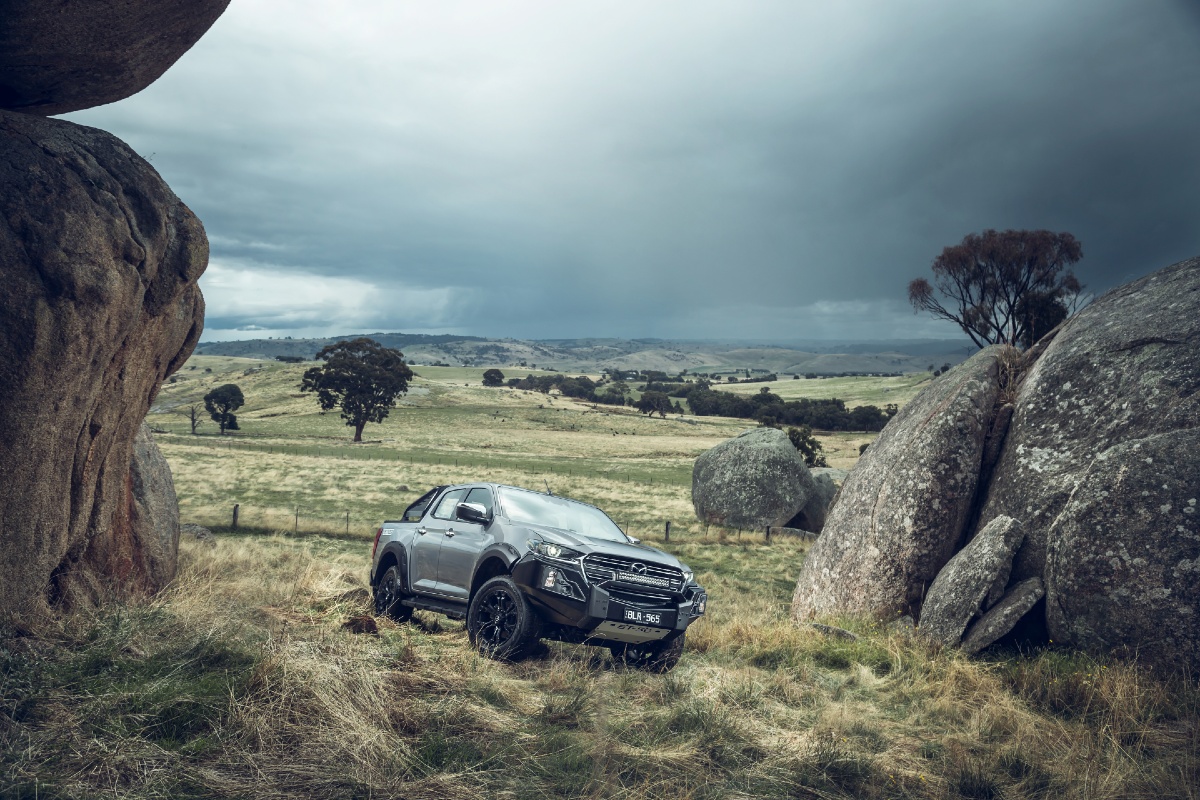 What is it?
A uniquely Australian ute.
The new-generation Mazda BT-50 launched earlier this year, a result of a new partnership between the company and fellow Japanese brand, Isuzu. The two joined forces after Mazda needed to find a new ute partner after previously sharing the Ford Ranger's development.
But, as the ute market is particularly important in the land down under, Mazda Australia has developed its own bespoke model, the BT-50 Thunder. Designed to look "aggressive" it lines-up against the likes of the Toyota HiLux Rogue, Ford Ranger Wildtrak and Nissan Navara PRO-4X Warrior.
It features a steel bull bar and Lightforce dual-row LED light bar at the front, black 18-inch alloy wheels and wider fenders at the side and a sports bar and electric roller tonneau at the rear. It also gets 'Thunder' stickers to make sure everyone knows what it is.
Does it have any racing pedigree?
Mazda has plenty of racing history, both around the world and here in Australia. It was the first Japanese brand to win the 24-hours of Le Mans and dominated the early years of the Bathurst 12-hour production car race with the RX-7.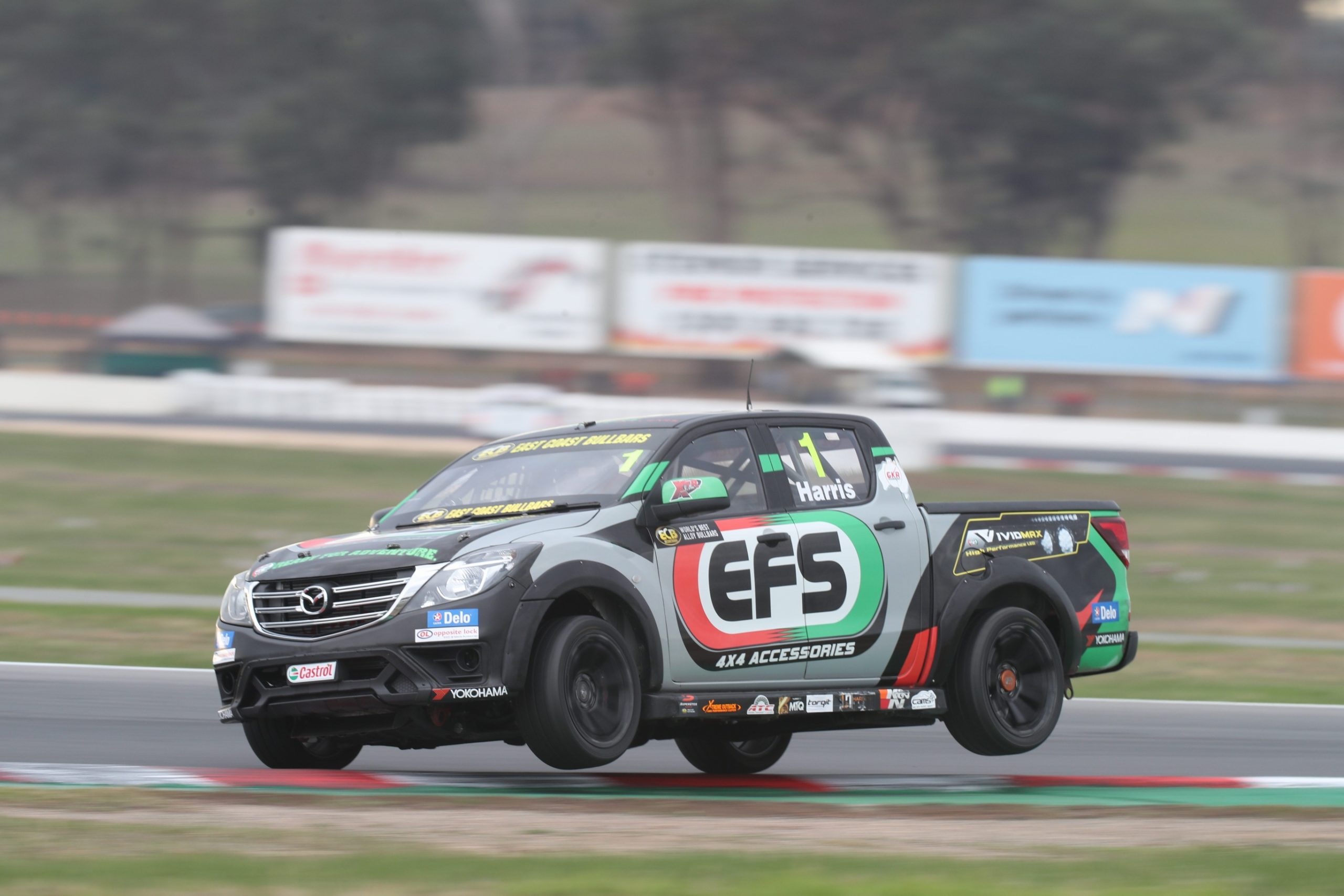 But none of that really helps the BT-50, which was primarily developed by Isuzu as the new D-Max.
You can see a Mazda on track this year, with Ryal Harris racing a BT-50 in the new V8-powered SuperUtes, but that's a previous Ford-based version.
What's under the bonnet?
The Thunder doesn't get anything special under the bonnet, utilising the same 3.0-litre four-cylinder turbo diesel as the rest of the BT-50 range. Fortunately it makes 140kW of power and 450Nm of torque, which is competitive – but far from class-leading – amongst its peers.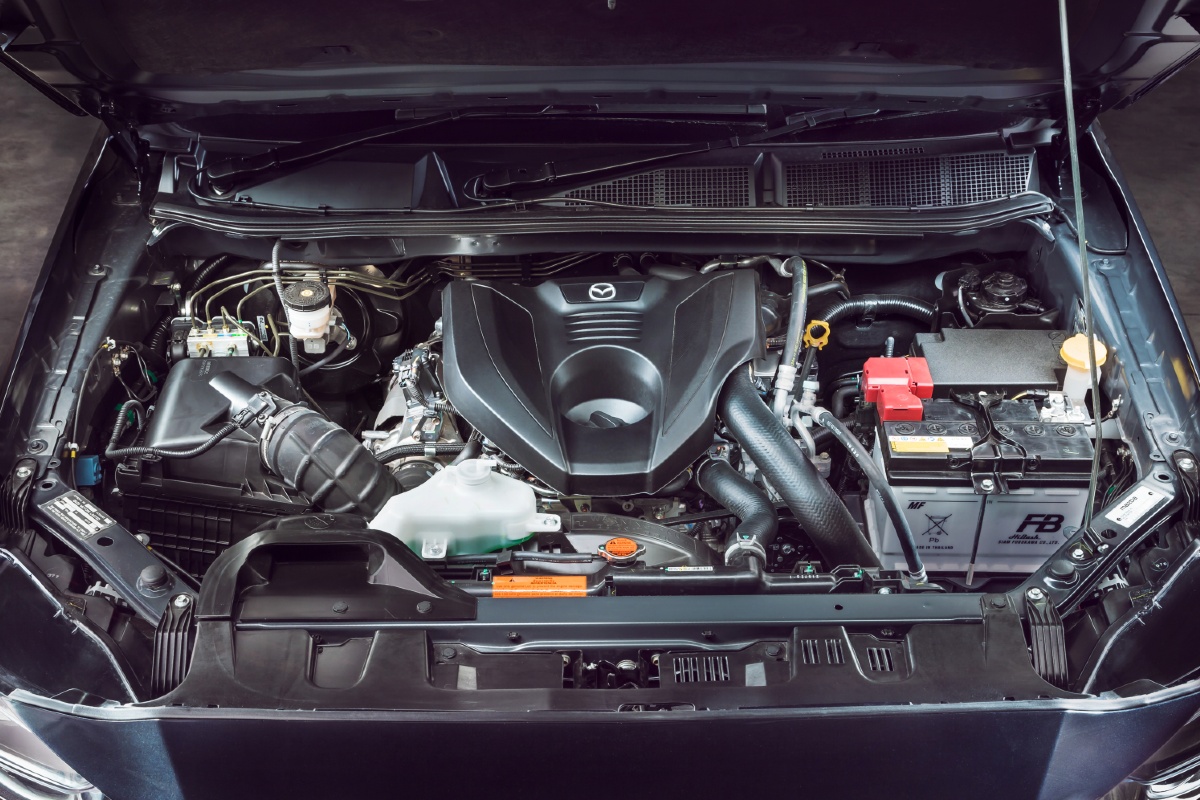 Peak torque is available from just 1600-2600rpm which makes for decent pulling power almost from standstill, which helps the Thunder feel like it would tackle off-road challenges well (although covid lockdowns meant we couldn't head to our preferred off-road tracks to put that theory to the test), but it does run out of puff if you keep your foot down. It certainly lacks the punch found in the more potent Volkswagen Amarok 3.0-litre V6 or the Ranger's twin-turbo four-cylinder turbo diesel, but it's not meant to be a sports ute so that needs to be remembered.
You get a choice between a six-speed manual or automatic transmission. Our test car was fitted with the latter and it was well-matched with the engine, accessing that bottom end torque and then allowing it to cruise along at low revs to help keep fuel use down to a claimed 8.0-litres per 100km.
How does it handle?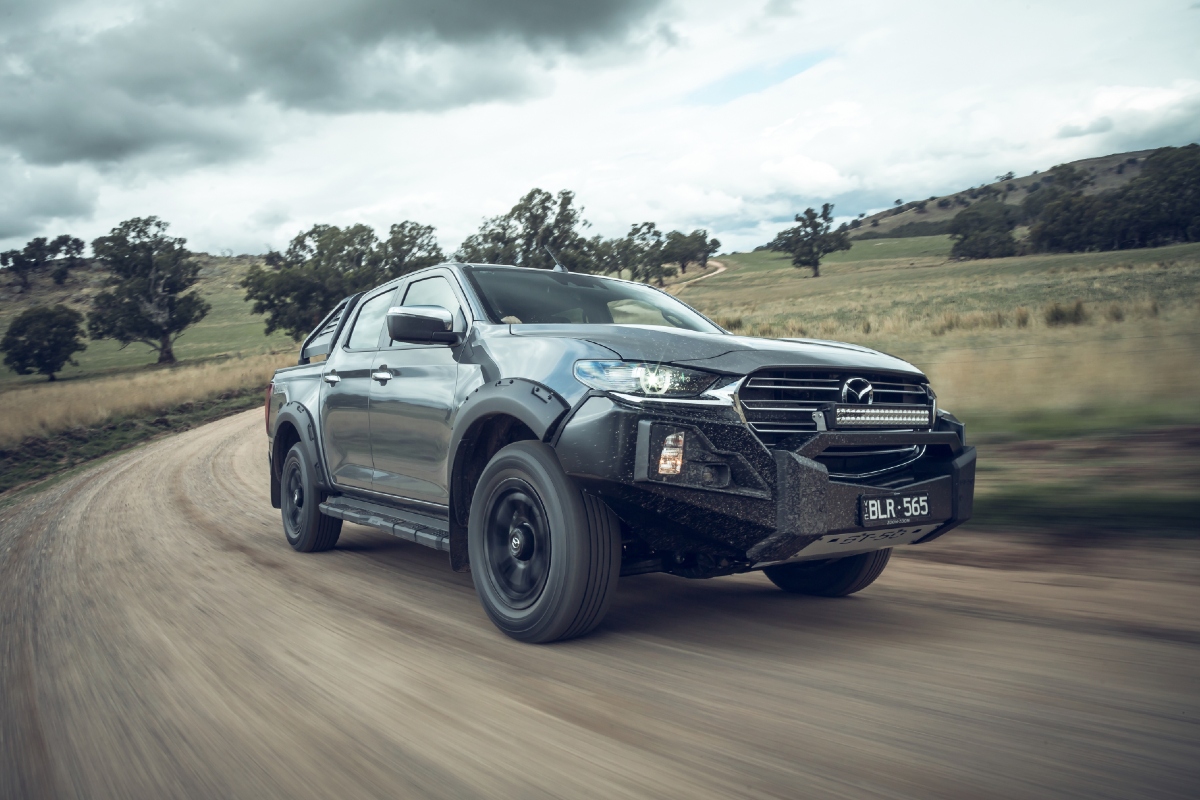 This was a big question mark hanging over the new Isuzu-based BT-50, because it's predecessor was able to rely on the very good platform laid out by its Ranger underpinnings. The good news for Mazda fans is the Isuzu-based BT-50 performs admirably on paved roads. It's not quite on the same level as the class-leading Amarok and Ranger, but it's not far behind with direct and responsive steering and suspension that offers good control and compliance without a load in the tray.
As mentioned earlier, we didn't get a chance to sample it off-road this time around, but on paper it offers up some solid specs – a 25.8 degrees approach, 24.2 degree departure and 23.8 degrees ramp-over angles, plus 240mm of ground clearance and the ability to wade in up to 800mm of water.
Where would you most like to drive it?
Once the law allows I'd love to take the BT-50 Thunder to get its wheels dirty. While there's an element of styling to the Thunder package each piece adds something to its off-road ability, so a weekend trip through mud, rock and water would be an ideal test of Mazda's latest ute.
What's the interior like?
The Thunder is based on the range-topping GT specification, which means it's as luxurious as a dual-cab ute gets. There's brown leather trim, a leather-wrapped steering wheel and as much technology as Mazda could fit in the cabin.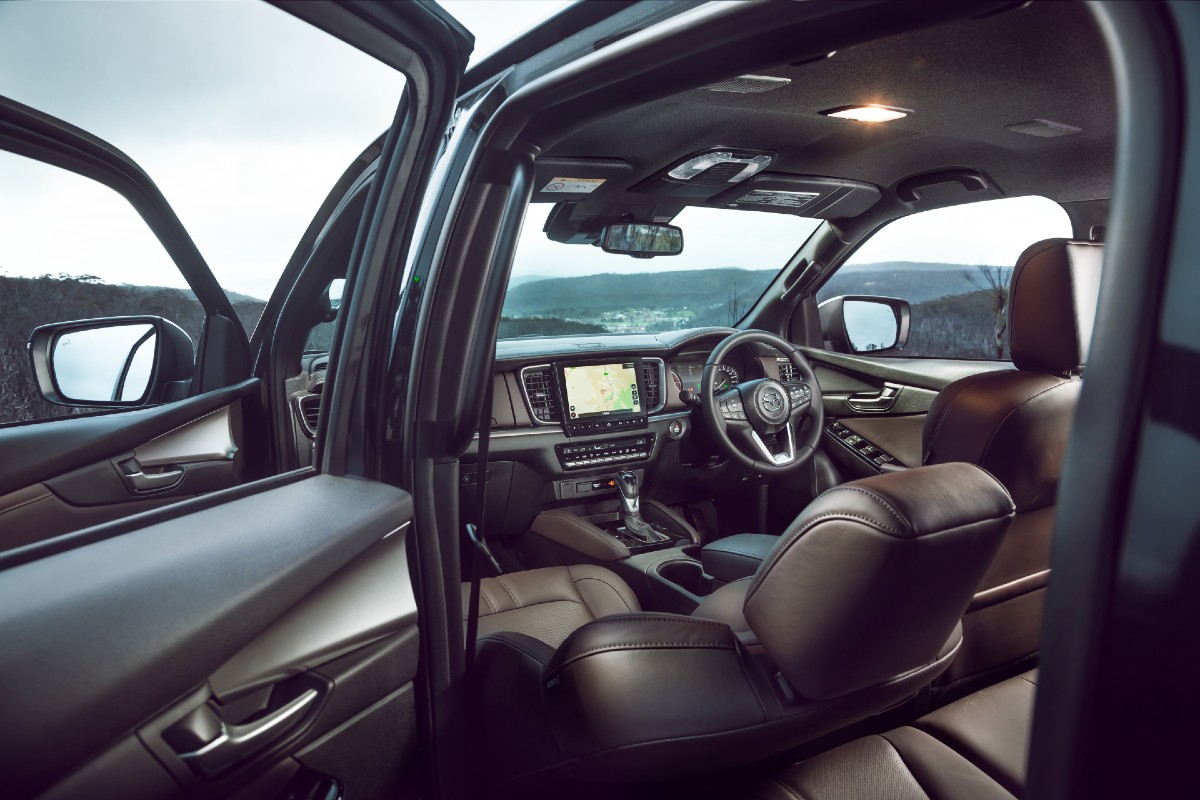 It's still a working-class ute so there's plenty of hard plastic and the aesthetic isn't what you'll find in the rest of the Mazda range, but there's an infotainment touchscreen that's compatible with Apple CarPlay and Android Auto, USB ports and integrated navigation.
The leather-lined seats are comfortable and the front chairs are heated. The rear seats offer ample room for a pair of adults or three at a squeeze. There's plenty of cupholders and storage spaces spread around the cabin too.
Is it good value for money?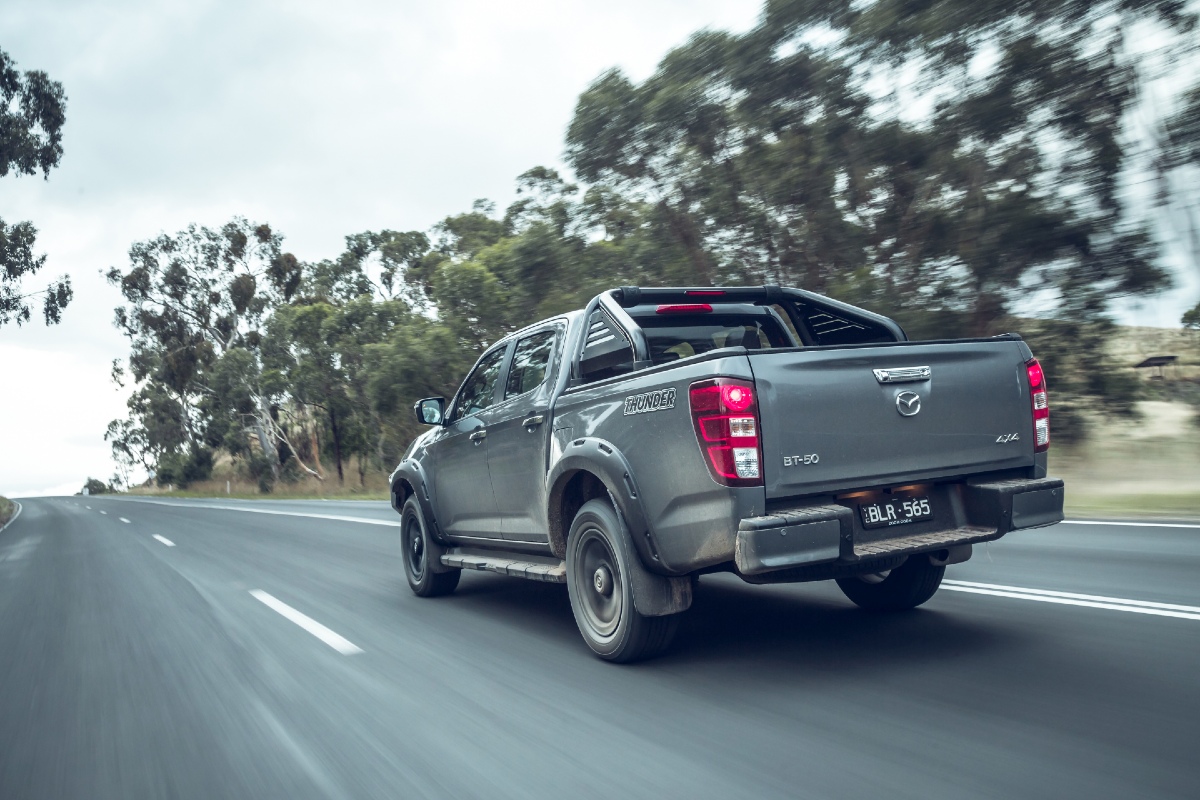 Not surprisingly the Thunder sits atop the BT-50 range on price, starting at $65,990 for the manual and $68,990 for the automatic (all prices exclude on-road costs). That's a $9000 premium over the BT-50 GT, but Mazda claims all the additional extras add $13,000 worth of value.
In terms of how it compares to its rivals, the HiLux Rogue starts at $68,990, the Ranger Wildtrak 2.0 at $68,290 and the Navara PRO-4X Warrior $67,490.
Would I buy one?
The dual-cab ute market, specifically the high-grade models, has become extremely competitive in recent years. The likes of the HiLux Rogue and RuggedX, Ranger Wildtrak and Raptor and Navara PRO-4X Warrior have not only forced Mazda's hand to create the Thunder, but it gives buyers plenty of great choices.
With the new Ranger around the corner I wouldn't be rushing to buy the BT-50 Thunder, but it's certainly worth having on your short-list.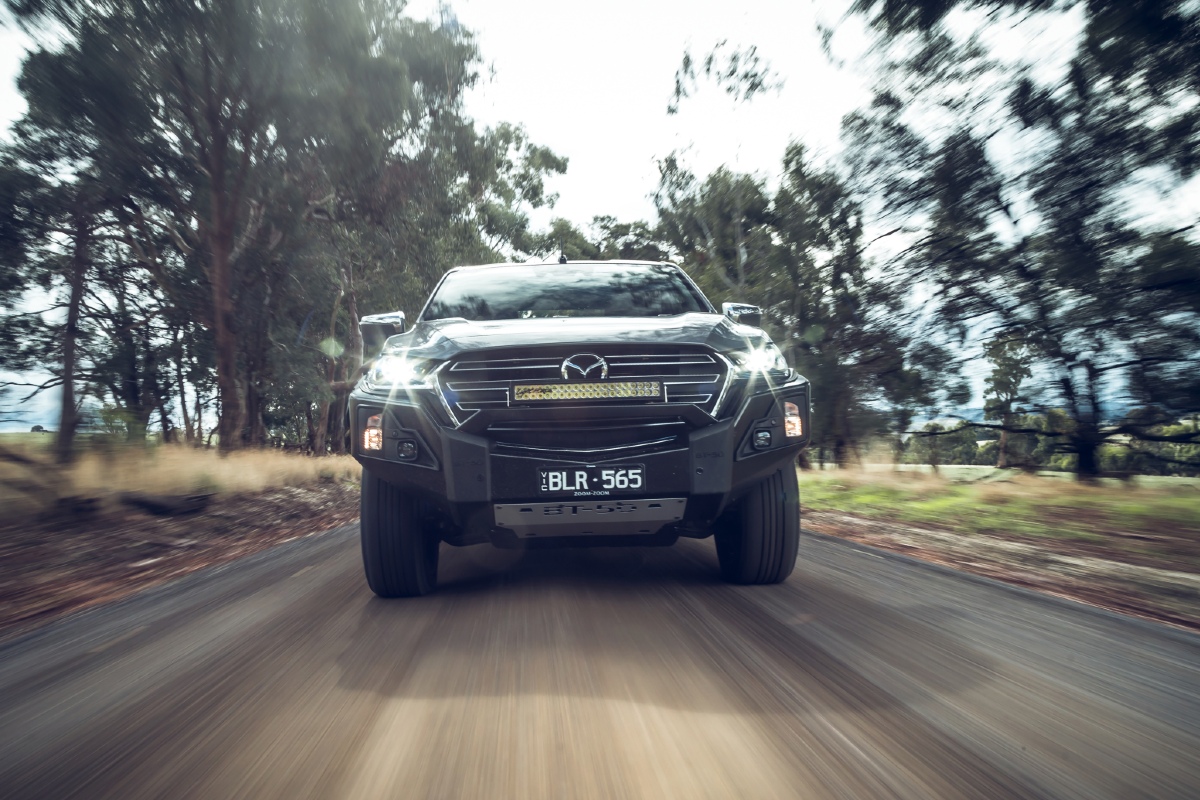 2021 Mazda BT-50 Thunder price and specifications
| | |
| --- | --- |
| Price: | From $65,990 plus on-road costs |
| Engine: | 3.0-litre four-cylinder turbo diesel |
| Power: | 140kW at 3600rpm |
| Torque: | 450Nm at 1600-2600rpm |
| Transmission: | Six-speed automatic, four-wheel drive |
| Fuel use: | 8.0L/100km |
| Wheels: | 18-inch alloys |
| Tyres: | 265/60 R18 |
| Length: | 5280mm |
| Width: | 1860mm |
| Height: | 1870mm |
| Weight: | 2035kg |
| 0-100km/h: | No claim |