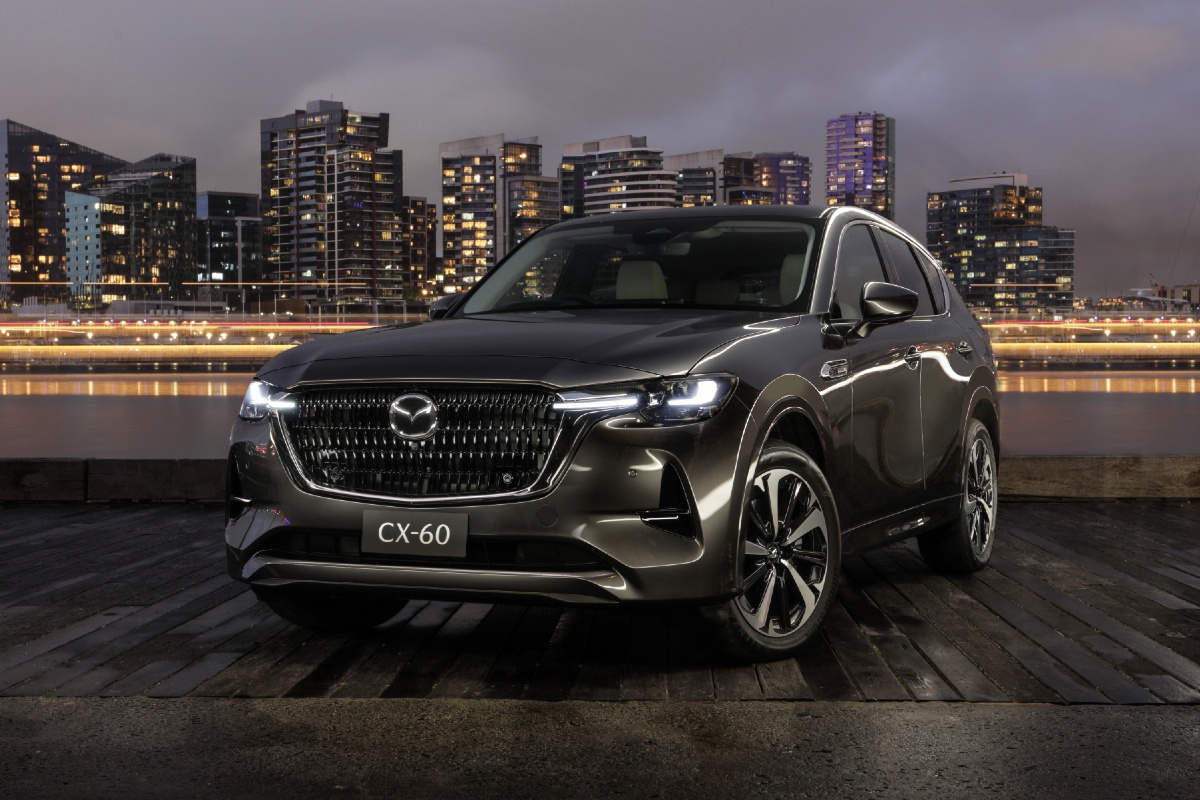 Mazda Australia is preparing to take on the luxury brands likes Mercedes-Benz, BMW and Audi with its all-new CX-60 that will arrive in the middle of 2023.
The brand confirmed local pricing and specifications for its new luxury-focused SUV ahead of its arrival next year, confirming pricing will start at less than $60,000 but will stretch to almost $90,000. This puts it in direct competition against the likes of the Audi Q5, BMW X3 and Mercedes-Benz GLC-Class.
Mazda calls the CX-60 the new "flagship" of the range, placing it above the larger CX-9 in the brand's hierarchy despite it being only slightly larger than the CX-5. But the new model sits on an all-new platform that has been developed for a new line-up of premium orientated models, with new inline six-cylinder engines, hybrid technology and a rear-wheel-biased all-wheel drive system.
COMING SOON: Mazda's BMW rivals
The CX-60 will be the first model offered by Mazda with an entirely hybrid powertrain line-up, with both petrol and diesel engines with mild-hybrid as well as a plug-in hybrid (PHEV) option.
While not explicitly saying it is targeting the likes for Audi and BMW, Mazda is not shying away from the challenge and Mazda Australia marketing chief, Alistair Doak, has made it clear the brand sees the CX-60 as a step up from the rest of its range in terms of its technology, design and finish.
"Not specifically [looking to take sales from luxury brands], but you're right, it is an evolution of the brand… We're expanding our footprint rather than walking away from where we've been," Doak told Torquecafe. "If you look at the market opportunity, and not just from an Australian perspective but globally, there's been opprotuiniutes for CX-60 and the other large models we've talked about in the past. So you're always looking at expanding and we know that the crucial thing in Australia, we have people who buy CX-5 and at some point they're earning more money and they say 'alright, what's next? What's aspirational?' They're attracted to something that's either bigger or faster or more sophisticated or whatever it is."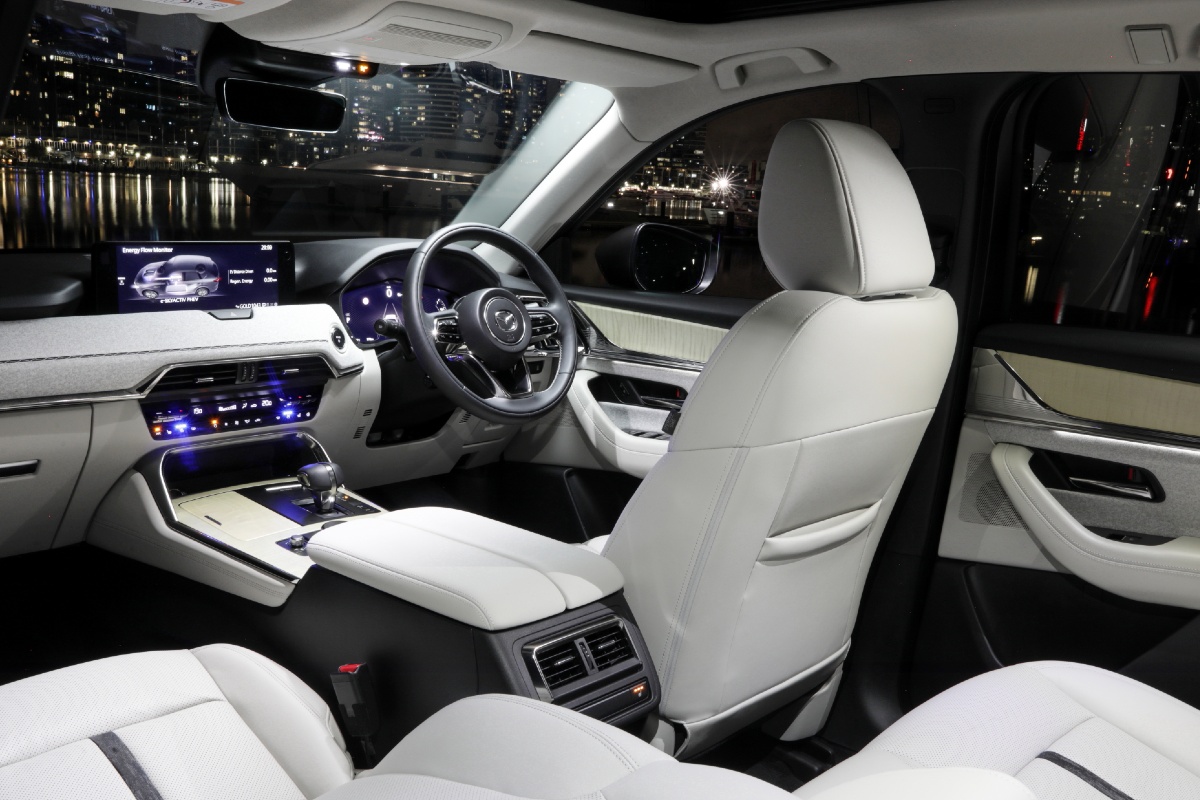 Despite this move into a more premium part of the market, Doak is adamant that Mazda will remain a mainstream brand and the likes of the CX-5, CX8 and CX-9 will remain core models for the brand.
"We will always, and you'll see in our advertising… we've moved into a more premium position, but it doesn't mean we're walking away from the volume segment of the market," he explained. "We have no aspiration to become a 15,000 [vehicle] per year luxury brand; that's nonsense, why would we do that? So we're expanding our footprint not contracting."
As mentioned earlier, the CX-60 will be available with three powertrains, badged as P50e for the PHEV, G40e for the petrol and D50e for the diesel.
The P50e is the first plug-in hybrid offering from the brand. It's so-called e-Skyactiv powertrain combines a 2.5-litre four-cylinder turbocharged petrol engine and 100kW electric motor to produced a combined output of 241kW of power and 500Nm of torque.
There's a 17.8kWh lithium-ion battery which the company claims is enough for a 76km electric-only driving range and helps the model returned an official fuel consumption rating of just 2.1-litres per 100km.
The G40e and D50e are both 3.3-litre inline six-cylinder engines with a 48-volt electrical system for mild-hybrid assistance and are paired to an eight-speed automatic transmission.
The G40e makes 209kW and 450Nm (and does not have an official fuel economy rating yet) while the D50e offers up 187kW and 550Nm while using only 4.9L/100km. This is significantly more torque than the 2.2-litre diesel in the CX-5 produces while also using 0.8L/100km less fuel.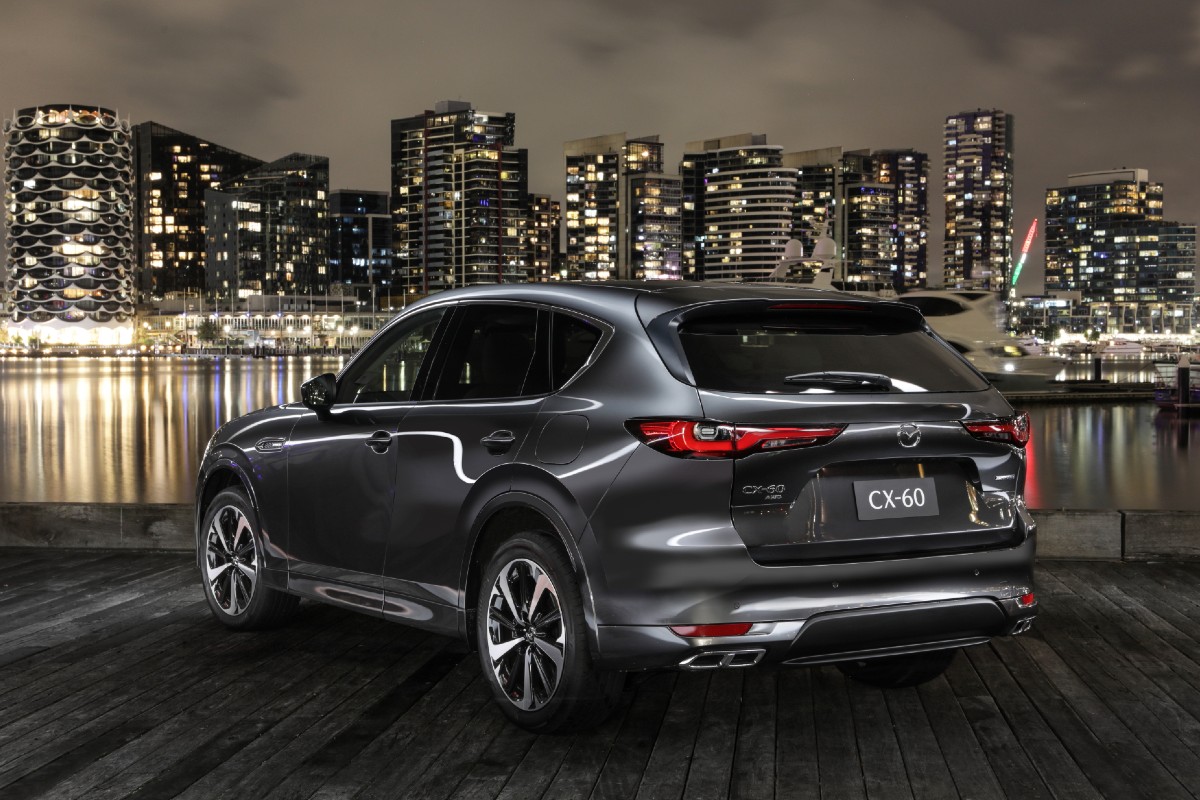 Although all models come with all-wheel drive, the system is "rear-wheel drive biased" according to Mazda. The CX-60 is also equipped with the brand's latest Kinematic Posture Control suspension system, which debuted on the MX-5.
Mazda Australia will offer all three powertrains with three trim levels – Evolve, GT and Azami. Pricing for the CX-60 range begins at $59,800 for the Evolve Skyactiv-G with the diesel an extra $2000 but the PHEV costing $10,500 more – priced at $72,300. The range tops out at a very premium $87,252 for the high-grade Azami with PHEV powertrain.
The key for Mazda's premium push with the CX-60 is in the details in many respects. For example, this is the first Mazda offered with an electrically-adjustable steering column. Also the Azami gets nappa leather interior, wood trim, adaptive LED headlights, 360-degree 'see-through' monitor and 20-inch alloy wheels to ensure the CX-60 offers plenty of luxury and equipment for its price.
There's also an optional 'Takumi Package' which adds quilted white nappa leather seat upholstery and white maple wood trim or an 'SP Package' adds tan nappa leather and black alloy wheels.