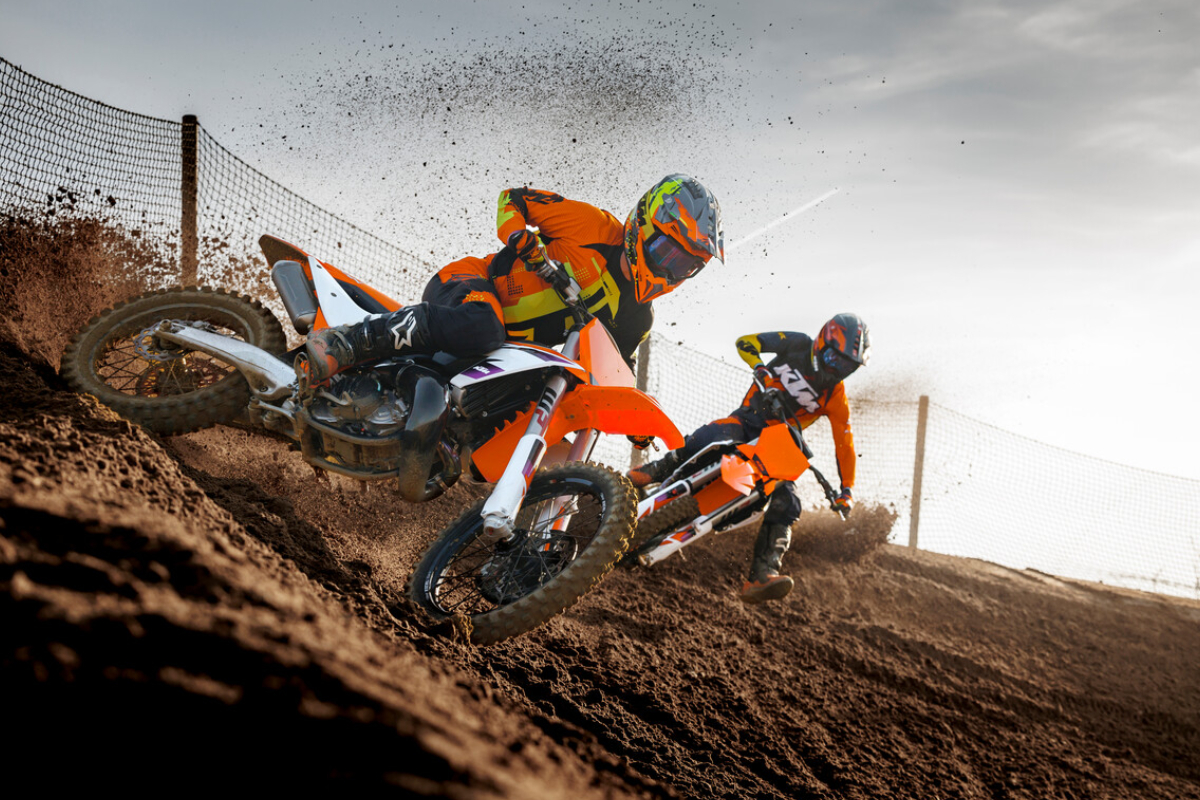 Following the introduction of the completely renewed 2023 KTM SX range, the 2024 KTM motocross range lines up at the gate with reworked suspension settings and a fresh new look.
Sleeker, slimmer, and engineered to provide riders with unmatched levels of control, the 2023 KTM SX range of motocross superiority shot onto the podium as the most innovative and highest-performing READY TO RACE production motocross machines ever built.
As a recap, the 2023 KTM SX range debuted a completely redesigned chassis built around a hydro-formed, laser-cut, and robot-welded frame, a 2-piece polyamide reinforced aluminium subframe, and a hollow, die-cast aluminium swingarm.
Designed and constructed with specifically calculated parameters of longitudinal and torsional flex, the frame provides exceptional rider feedback, energy absorption, and straight-line stability at speed.
For 2024, the KTM SX and SX-F range retains these advancements, with the addition of renewed suspension settings focused on improving bike balance and comfort. These improvements are also significantly noticeable when it comes to cornering agility.
At the rear, a WP XACT rear shock provides advanced damping characteristics for unsurpassed traction and energy absorption, while up front, the 48 mm WP XACT front fork provides improved bottoming-out resistance, and damping, and allows the fork to stay lower and more planted on initial acceleration after a hard landing.
Ergonomically, the 2024 KTM SX and SX-F range retains a best-in-class rider triangle, resulting in exceptional knee contact, especially when standing on the pegs. This, along with added contact surfaces on the bodywork, and a flat seat profile, improves overall handling, agility, and confidence.
Above the surface, an all-new graphics set takes centre stage, which like the previous year, takes inspiration from the early 1990s. The designers of the 2024 CTG used purple as a highlight colour as a nod to when purple was a predominant hue in the KTM signature styling. However, orange, and white tones still dominate the overall look and are applied using time-proven in-mould technology.
Armed with the 2022 MX2 Championship trophy, more forgiving suspension, unmatched performance, and cutting-edge technology within easy reach for riders of all ages and riding levels, the 2024 KTM SX and SX-F range continues its assault on motocross competition.