The Brabham name is no stranger to taking on Ferrari, McLaren and co. in a straight fight – winning grands prix and world championships against the biggest names. Now it's doing it again on the road.
David Brabham set out to create the ultimate track day car when he established Brabham Automotive. But when customers saw the BT62 in action they didn't want to be restricted to just driving it on the track – and so the BT62R has been born.
The third variant of the Australian-made machine will be a road-going hypercar that has just finished its final approvals to make the switch from the track.
READ MORE: Brabham reveals the key to BT62 performance
"Launching the BT62R is a great achievement for the team at Brabham Automotive," explained Dan Marks, CEO of Brabham Automotive. "All the requisite design and engineering to turn the track BT62 into the road going BT62R has been done inhouse by our team of engineers, which is a great testimony to their endeavor and expertise."
Brabham Automotive have had to make a number of changes to ensure the BT62R was compliant for various countries around the world. Among them are a new variable ride height system, new front and rear splitters, a quieter exhaust system, air-conditioning, new seats, Goodyear road tyres and even the option of a sound system.
The company will offer the BT62R in both left- and right-hand drive to cater to its global audience. Customers will be able to order the car in a custom colour or choose one of the 'Celebration Series' livieres that pay homage to Brabham's 35 Formula One victories.
READ MORE: First Brabham BT62 delivered to customer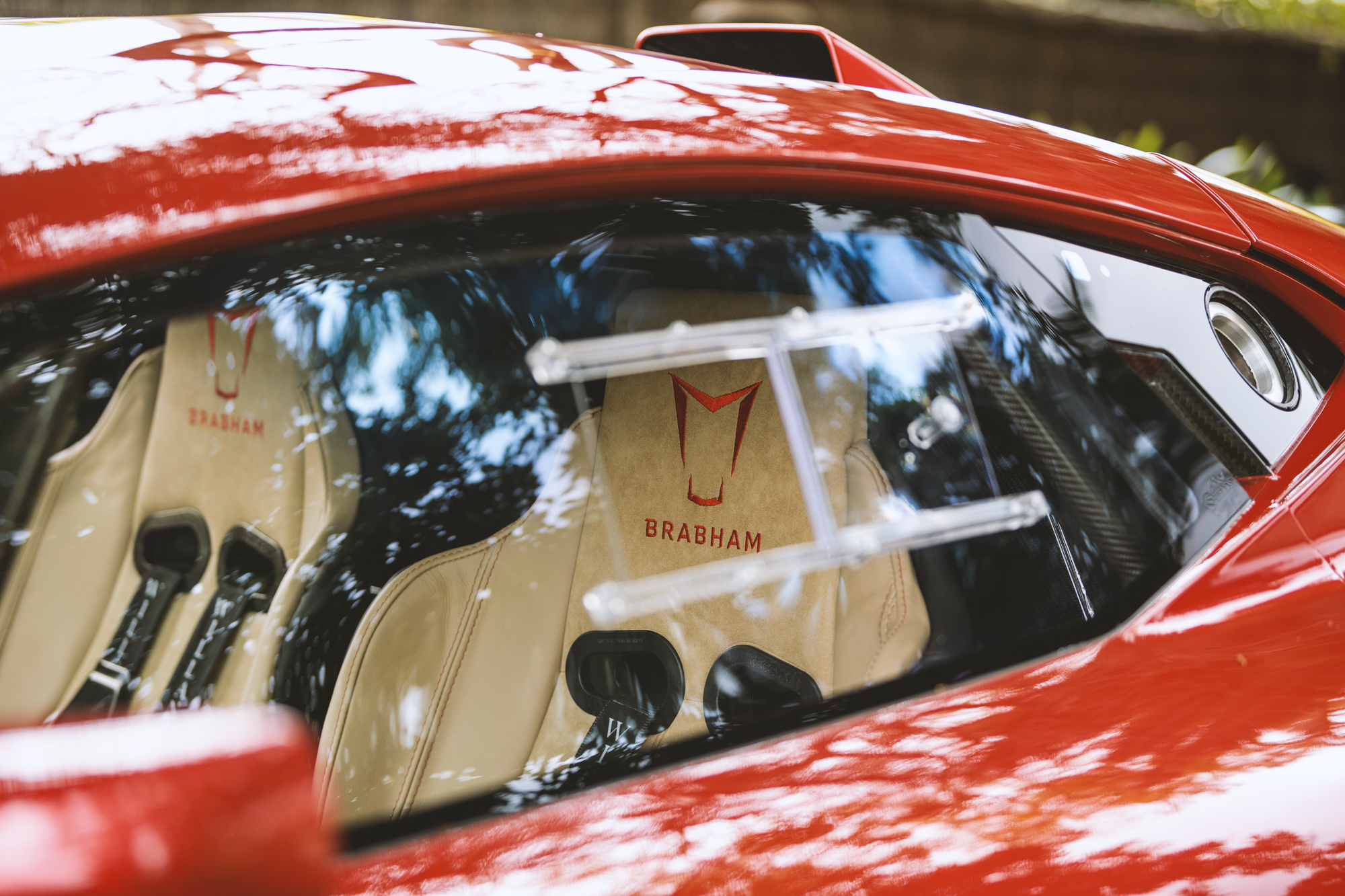 The rest of the package is relatively unchanged with the same 5.4-litre naturally-aspirated V8 engine fitted inside a spaceframe chassis draped in carbon fibre bodywork. The engine still makes a massive 522kW of power and 667Nm to ensure its performance remains suitably rapid.
It drives through a six-speed sequential transmission operated by steering wheel-mounted paddle-shifters, however Brabham has added a traditional clutch pedal for easier road use.
Instead of the functional cabin of the track-only BT62, this version features a pair of carbon fibre seats that can be trimmed in either leather or Alcantara. There's also more sound deadening material, that combines with the new exhaust, to make the cabin a quieter, more liveable space.
There's also a new dashboard display for road use, although it can switch back to the specific track view on demand, and the BT62R uses a rear-view camera instead of a mirror because of the lack of a rear window.
But this is only the beginning for the company's plans to move into the road car market. Marks confirmed that more details of its second all-new model will be coming soon.
"This is a significant milestone for Brabham Automotive as we continue towards the launch of our next car, which will be a fully homologated road car," the CEO explained. "We will be making further announcements about this exciting next chapter in the coming months. For now, customers can get a taste of what it is like to drive a Brabham on the road with the BT62R."