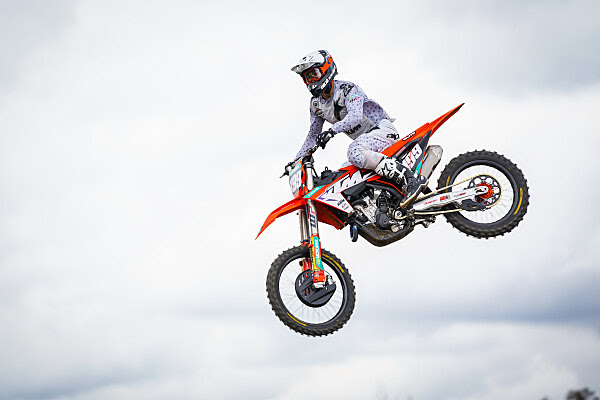 An expanded KTM Racing Team will feature both extensive race-winning experience and incoming young talent, with the three-rider line-up to include Kirk Gibbs, Nathan Crawford and Kayden Minear in the Australian ProMX Championship.
After making a welcome return to KTM in 2022, former Australian MX1 Champion Gibbs still has no shortage of desire to return to the top step of the podium.
Consistency and motivation have always been the Queensland-based racer's key strengths and after a top-five result this year – including three round podiums – Gibbs is determined to deliver another competitive performance riding the new generation KTM 450 SX-F in 2023.
In the MX2 class and equipped with the 2023 KTM 250 SX-F, Crawford is 'Ready To Race' as he returns for another shot at the ProMX championship, having made a multi-year commitment with the KTM Racing Team.
Crawford missed the bulk of the 2022 ProMX championship with injury, but staged a spectacular late-season return that included three race victories, including a double-moto sweep at the penultimate round.
The Brisbane-based racer continued that impressive form into the Australian Supercross Championship, where he finished third overall in the final SX2 standings.
Meanwhile, talented young Western Australian Kayden Minear also joins the KTM Racing Team for 2023 at only 15 years of age, lining up for his rookie season in the MX2 division.
After a breakout 2022 campaign that saw him emerge victorious in the MX3 category and also with two Australian Junior Motocross Championships to his name, Minear is excited to see how he compares to the competition when he joins the professional ranks next year.
The 2023 Australian ProMX Championship will commence on March 5 when the season drops the gates at Wonthaggi, Victoria, for round one of eight scheduled.
Kyle Blunden (KTM Group Australia Motorsport Manager): "We are delighted with the KTM Racing Team we have assembled and have a great mix of experience, raw speed and emerging talent. Both Kirk and Nathan have shown they have the pace required to run up front in their respective classes, and Kayden has demonstrated he has what it takes to put a championship together. This calibre of rider, combined with a terrific group of technical staff, is a very exciting prospect. We look forward to working together over the summer along with many of our partners in preparation for the opening ProMX round in March 2023."
Kirk Gibbs: "It's awesome to return with KTM for another year. We have a lot of history together and it's great that we can continue that into the future. Honestly, this team feels like I'm home and it couldn't be a more perfect fit for me! I'm looking forward to another great year with the KTM Racing Team and being able to build on everything that we've learnt in 2022, putting in a strong pre-season and moving up a few spots in the 2023 championship standings."
Nathan Crawford: "I'm super, super-stoked to be back with the team and signing a multi-year contract speaks volumes of how much I want to be there and how much faith KTM puts in me as a racer. I've got such a good relationship with everyone involved and I couldn't ask for a better place to be. As far as my expectations go, we only have one goal and that is to win. We want to be consistent, be up there every weekend without any injuries and have fun – if we can tick all those boxes, we should be able to achieve our goals. I want to focus on the task at hand and that's having a successful 2023 season."
Kayden Minear: "I'm really excited to be with the KTM Racing Team for 2023. I've been with KTM since I raced 50s and, in my opinion, they're the best bike in every aspect of motocross. MX2 is going to be a great step up for me, as I always want to improve and progress my racing. I'm really looking forward to the challenge and will put in as much training as I can during the pre-season, so I'm 100 percent ready for Wonthaggi."