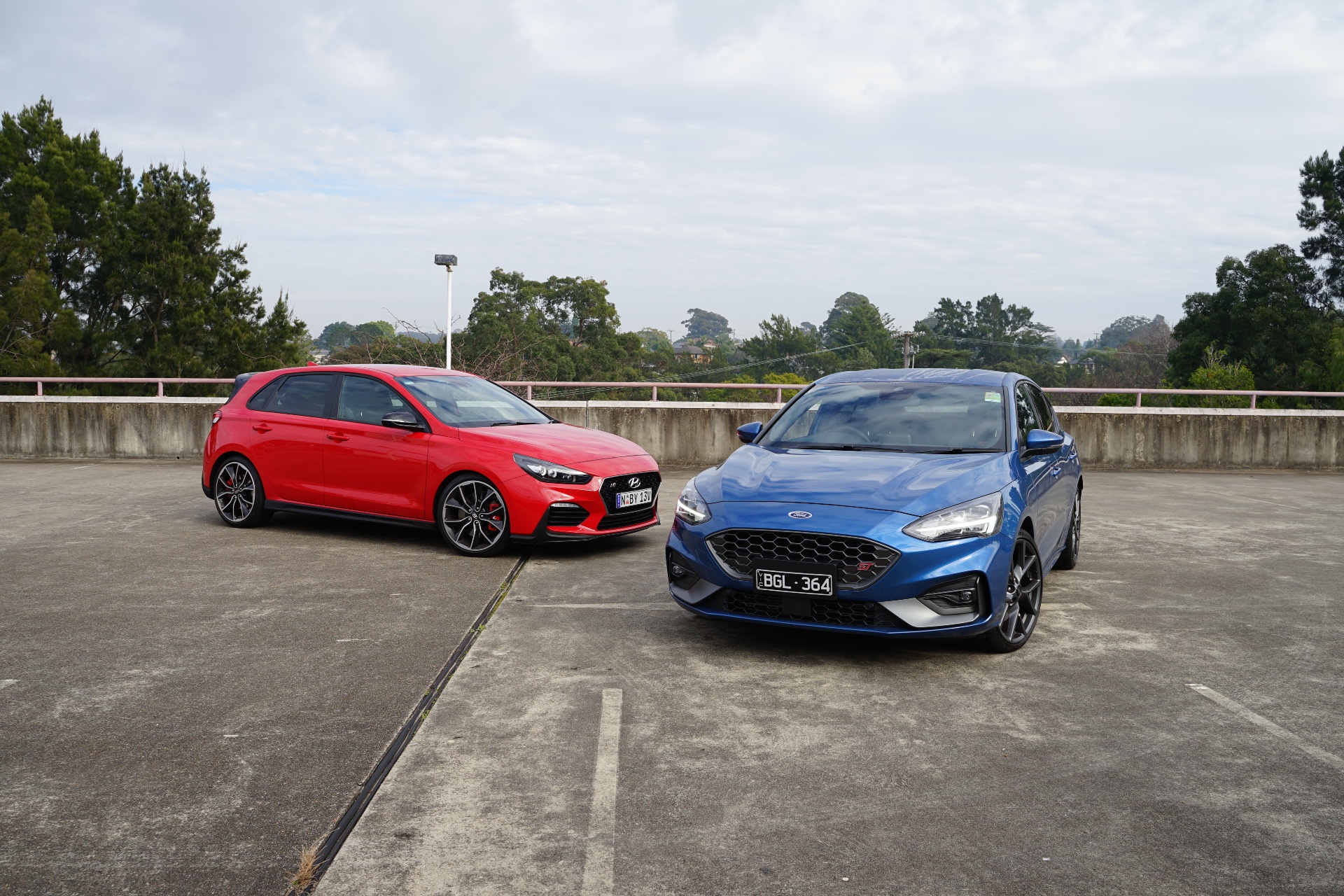 The hot hatch has become a key battleground for car makers. At a time when most cars are increasingly similar – at least in terms of reliability, safety and drivability – car companies need something to help them stand out to attract buyers
Which is why cars that inspire passion and enthusiasm around a brand have become so important. And the hot hatch is the perfect platform for mainstream brands, because it means they can utilise an existing volume-selling model to create something special.
But not all hot hatches are created equal, because building a fast one isn't a challenge (a big turbocharged motor will do most of the work), but building a hot hatch that's fun and engaging is more challenging.
So we're comparing two of the best on offer today – the Ford Focus ST and the Hyundai i30 N. While the Hyundai is due to be updated in 2021, it's still one of the best on the market, so it makes a suitable challenger to the newer Ford.
REVIEW: Hyundai i30 Fastback N
How do they compare with racing pedigree?
Ford Performance is no stranger to the racetrack or rally stage, competing in several major categories around the world including Supercars, NASCAR and the WRC. But none of those are with the Focus. Despite being a global model the blue oval is yet to fully leverage the performance appeal of the Focus ST.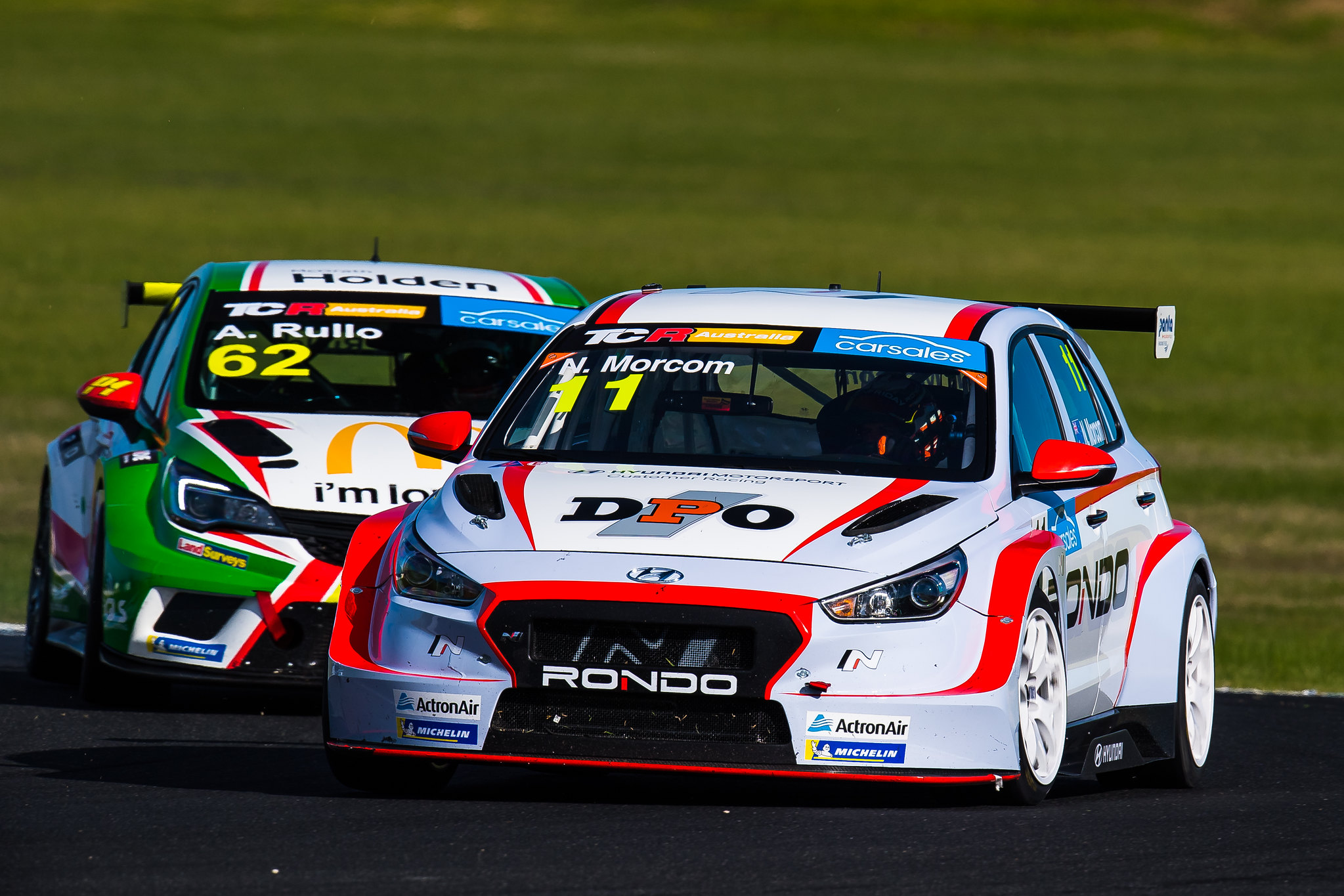 Hyundai on the other hand have gone big with the i30 N, making it the company's first official racing car (as opposed to rally entry) – entering it in TCR. Since then it has arguably become the most successful TCR car around the world, winning back-to-back World Touring Car Cup titles and the inaugural TCR Australia crown; and numerous other domestic series
What's under the bonnet?
Both these models follow the classic hot hatch formula – powerful engine, manual transmission and front-wheel drive. But like all things evolution has taken effect and these 2020 models are packing a serious punch – more than 200kW of power.
Ford has upped the ante in this segment, installing the 2.3-litre four-cylinder turbo from the previous generation Focus RS. It ups performance significantly from the old Focus ST, pumping out 206kW and 420Nm; a 22kW and 80Nm improvement respectively.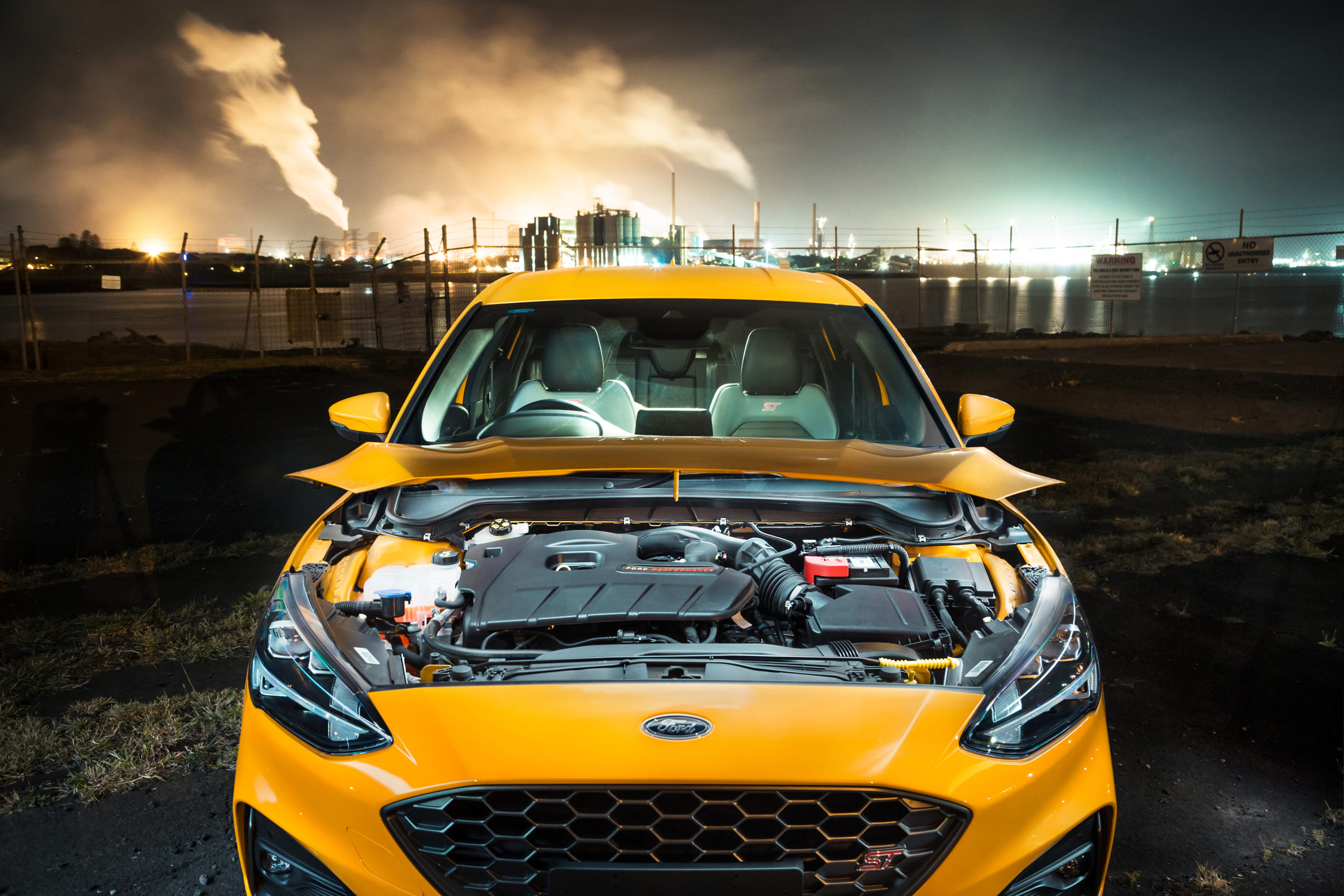 Hyundai stuck to the more familiar 2.0-litre four-cylinder turbo for its first hot hatch, but it's still good for 202kW and 353Nm, which does put it at a disadvantage to the Ford on paper.
But on the road you couldn't call either car short of poke. The new Focus feels a lot more potent than the model it replaces, with the extra torque spread evenly across the range to provide a steady stream of grunt when you put your right foot down.
The Hyundai may be lacking the numbers to match the Ford, but drive the pair on the same piece of winding open road and you have more than enough performance to leave you satisfied.
Where the Ford should have a big advantage over the Hyundai is the transmission, because unlike the manual-only i30 N, the Focus ST is available with an automatic; typically the far more popular choice for buyers. However, Ford has opted for a torque converter auto, rather than a faster-shifting dual-clutch (favoured by Volkswagen for its popular Golf GTI) and it doesn't feel well-matched to the engine.
It feels like a late addition to the ST program because Ford doesn't even offer a Sport mode in the transmission. So you can either change manually with the steering wheel-mounted paddles or leave it in Drive and the 'box will naturally hunt for a fuel-saving taller ratio even if you want to drive with vigour. It's a disappointing own goal for Ford, failing to take advantage of what should be a key appeal.
Instead, you're left with the two evenly matched six-speed manual gearbox that are both slick-shifting and will appeal to enthusiasts.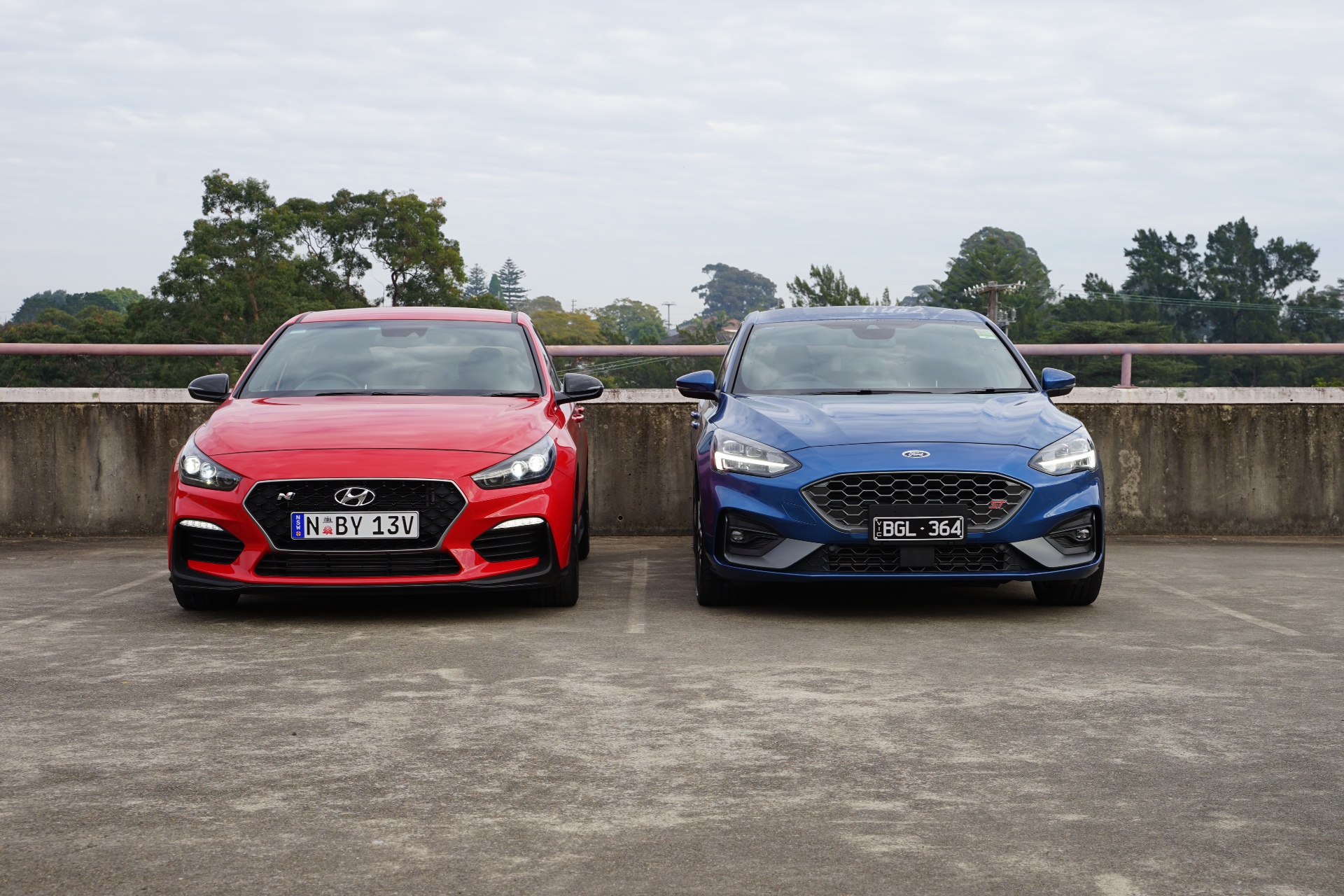 Which handles better?
To paraphrase the famous Spider-Man line, with great power comes great responsibility to tame it. With both these modern hot hatches sending more than 200kW to the road via only the front axle there's a lot of work that has gone into ensuring it goes down smoothly.
So both are equipped with electronically-controlled limited slip differential, use sticky rubber (Michelin Pilot Sport 4S on the Ford and Pirelli P Zero on the Hyundai) for maximum cornering ability and get electronically adjustable dampers for a balance between ride and handling.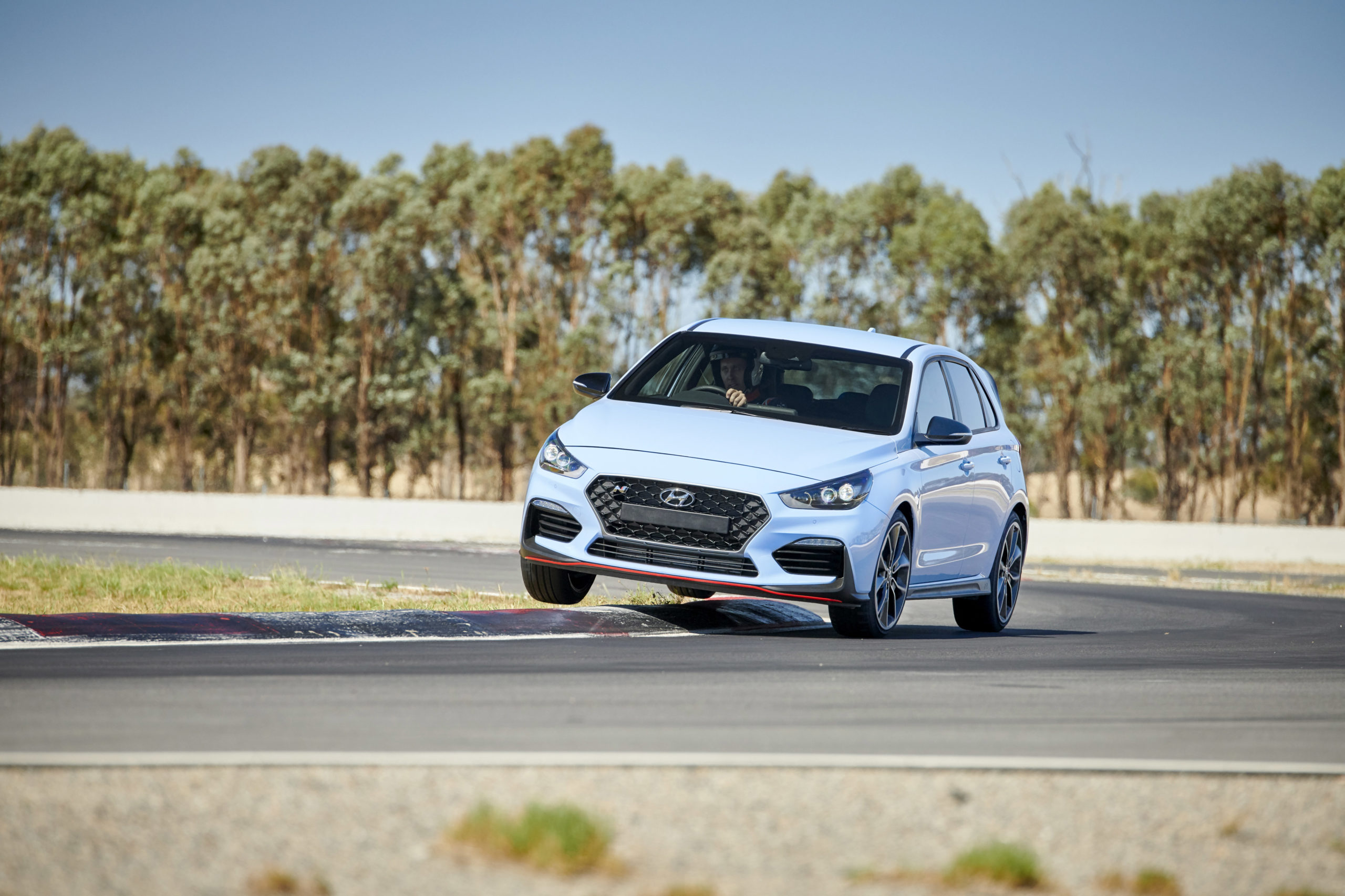 Both cars were also tested and tuned extensively at Germany's Nurburgring, however, Hyundai Australia crucially undertook a local ride and handling program to further refine it for this country's unique road conditions.
The Focus is unquestionably a fast and fun hot hatch to drive, but the greatest strength of the i30 N is how engaging and playful it is to drive. Australian roads are generally not as smooth as those in Europe, so the local work done by Hyundai pays dividends when you're on those kind of twisty rural roads that are made for hot hatch weekend drivers.
The other key advantage the i30 N has is adjustability. While the Focus ST has four drive modes – Normal, Sport, Slippery and Track – you are locked into Ford's settings for each mode. In contrast Hyundai offers its hot hatch with Normal, Eco, Sport and N to match Ford, but crucially adds an N Custom mode that allows you to alter each individual parameter of the settings – engine, gearbox rev-matching, eLSD, exhaust, suspension and steering in any combination you want. All told there are 1944 possible combinations, but obviously you're unlikely to try every one. Where it really pays off is the freedom to choose the softer suspension setting but most aggressive powertrain when you're on a choppy strip of tarmac; the Ford simply doesn't give you that choice.
Where would you most like to drive the two together?
Obviously both of these cars would be at home on the track, and a technical layout like Winton Raceway would be an ideal venue. But to make it a more even contest I'd opt for one of New South Wales' best driving routes – the Putty Road. This 172km stretch of road that runs between Windsor and Singleton is like a longer version of the Nurburgring, with every type of corner imaginable.
The Ford could have the advantage on the longer, more open stretches of roads thanks to its extra power and torque, but thanks to its adjustable drive modes the Hyundai would be the better package in the corners.
Which interior is best?
Once again both follow the familiar formula of a hot hatch – take a run-of-the-mill hatchback and add some new sports seats and other sporty touches to make it look the part.
However, execution is important and while both could be better, the Ford has the edge on Hyundai in this department.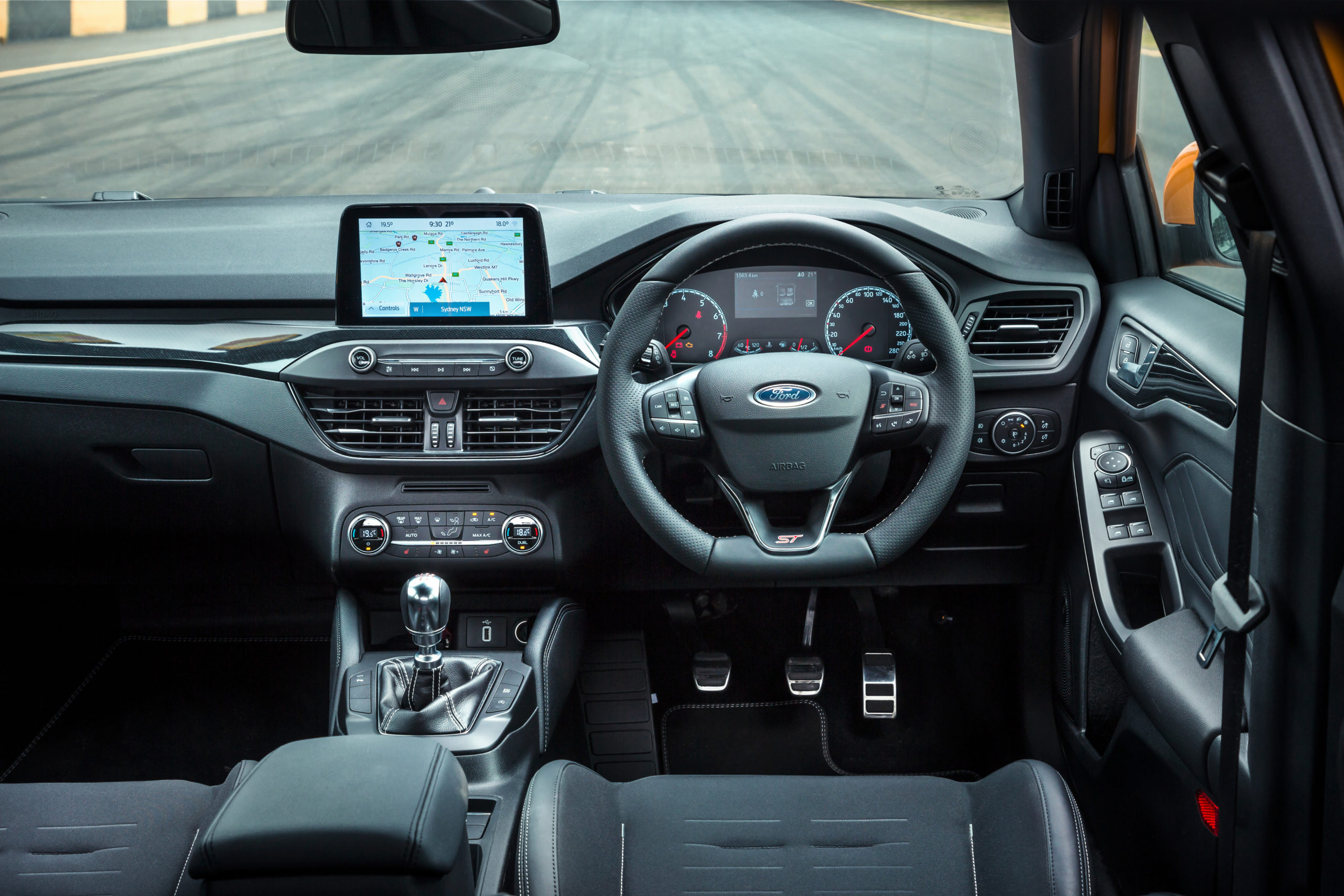 The Focus ST has a thick-rimmed steering wheel wrapped in partially-perforated leather that feels good in your hands. It also gets proper Recaro-branded sports seats, which offer good support, particularly lateral support, and are comfortable too.
Ford's SYNC3 infotainment system is also the pick of the pair, with its user-friendly interface.
The Hyundai, on the other hand, looks and feels a bit more plain. Yes, there are unique seats and a new steering wheel with 'N Mode' buttons, but the overall presentation is too close to the standard i30 in our books.
Which car is the best value for money?
In simple terms the Hyundai has the clear advantage here, starting at $41,400 (plus on-road costs) compared to $44,890 (plus on-roads) for the Ford. However, it's worth noting that Ford offers the manual and automatic Focus ST for the same price, which not only expands its market appeal but also tilts the value argument slightly back in its favour.
Both cars offer similar equipment and performance so what ultimately becomes the biggest separator, at least in our eyes, is Hyundai's warranty which covers non-competitive track use. That means you can take your i30 N to as many track days as you like and have peace-of-mind that any would-be problem will be dealt with by your local dealer.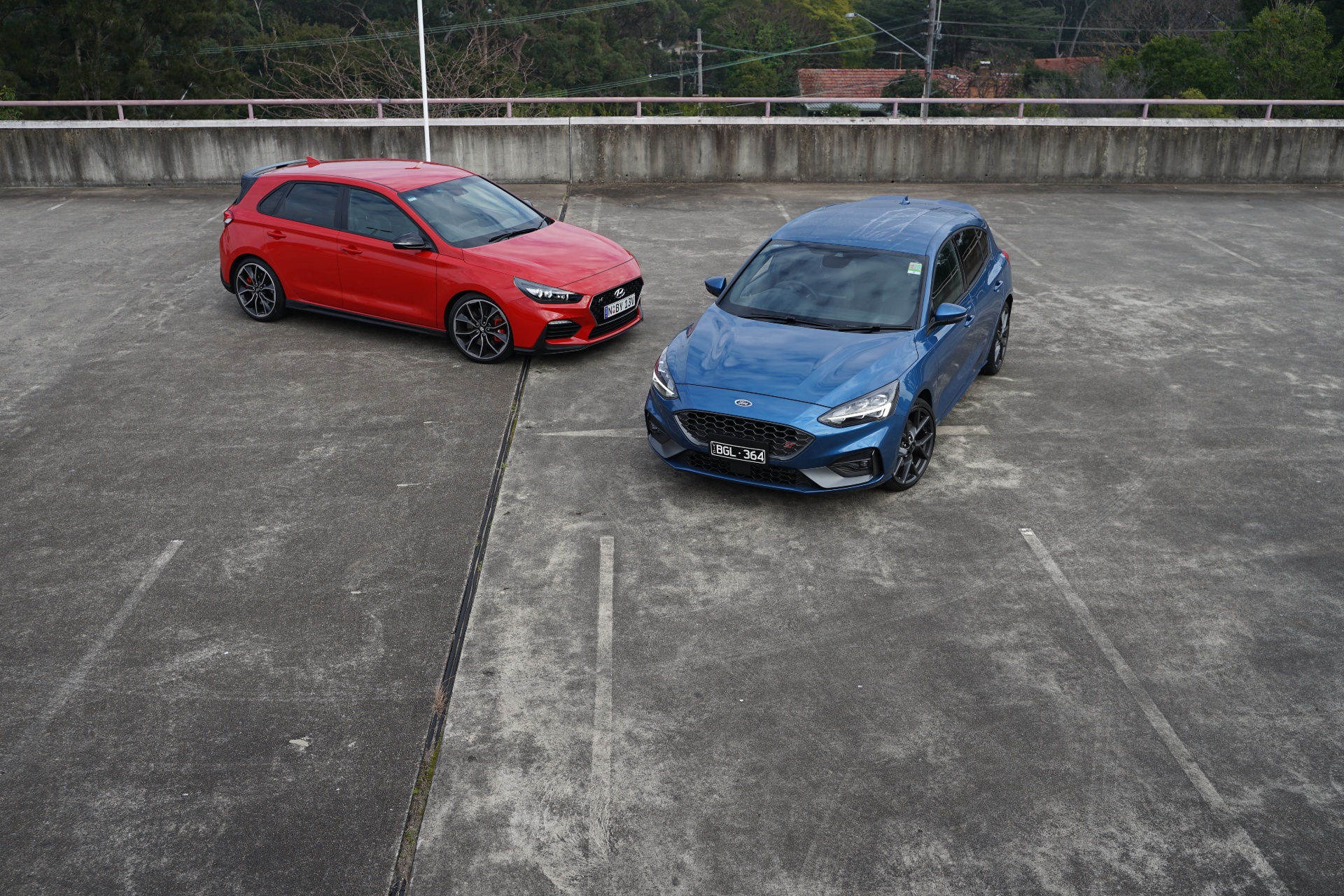 Which one would I buy one?
Picking a winner isn't easy because both are very good hot hatches. The Focus ST offers more punch and is fun to drive with the manual gearbox, but the automatic option is disappointing. But the auto speaks to the larger issue with the Ford, specifically that it feels rushed or compromised in certain areas.
In contrast the i30 N feels like a complete package that has had suitable focus and attention on the key areas, like the adjustable and customisable drive modes. Of course, the obvious catch for anyone looking to buy the Hyundai is the new model will arrive within the next eight months, so you could wait for the more powerful version; and you can get an eight-speed dual-clutch auto if you do.
2020 Ford Focus ST price and specifications
| | |
| --- | --- |
| Price: | From $44,890 plus on-road costs |
| Engine: | 2.3-litre four-cylinder turbo petrol |
| Power: | 206kW at 5500rpm |
| Torque: | 420Nm at 3000rpm |
| Transmission: | Six-speed manual or eight-speed auto, front-wheel drive |
| Fuel use: | 8.8L/100km |
| Wheels: | 19-inch alloys |
| Tyres: | 235/35R19 |
| Length: | 4388mm |
| Width: | 1825mm |
| Height: | 1458mm |
| Weight: | 1536kg (man)/1562kg (auto) |
| 0-100km/h: | 5.7 secs (claimed) |
2020 Hyundai i30 N price and specifications
| | |
| --- | --- |
| Price: | From $41,990 plus on-road costs |
| Engine: | 2.0-litre four-cylinder turbo petrol |
| Power: | 202kW at 6000rpm |
| Torque: | 353Nm at 1450-4700rpm |
| Transmission: | Six-speed manual, front-wheel drive |
| Fuel use: | 8.0L/100km |
| Wheels: | 19-inch alloys |
| Tyres: | 235/35R19 |
| Length: | 4335mm |
| Width: | 1795mm |
| Height: | 1447mm |
| Weight: | 1429kg |
| 0-100km/h: | 6.1 secs (claimed) |