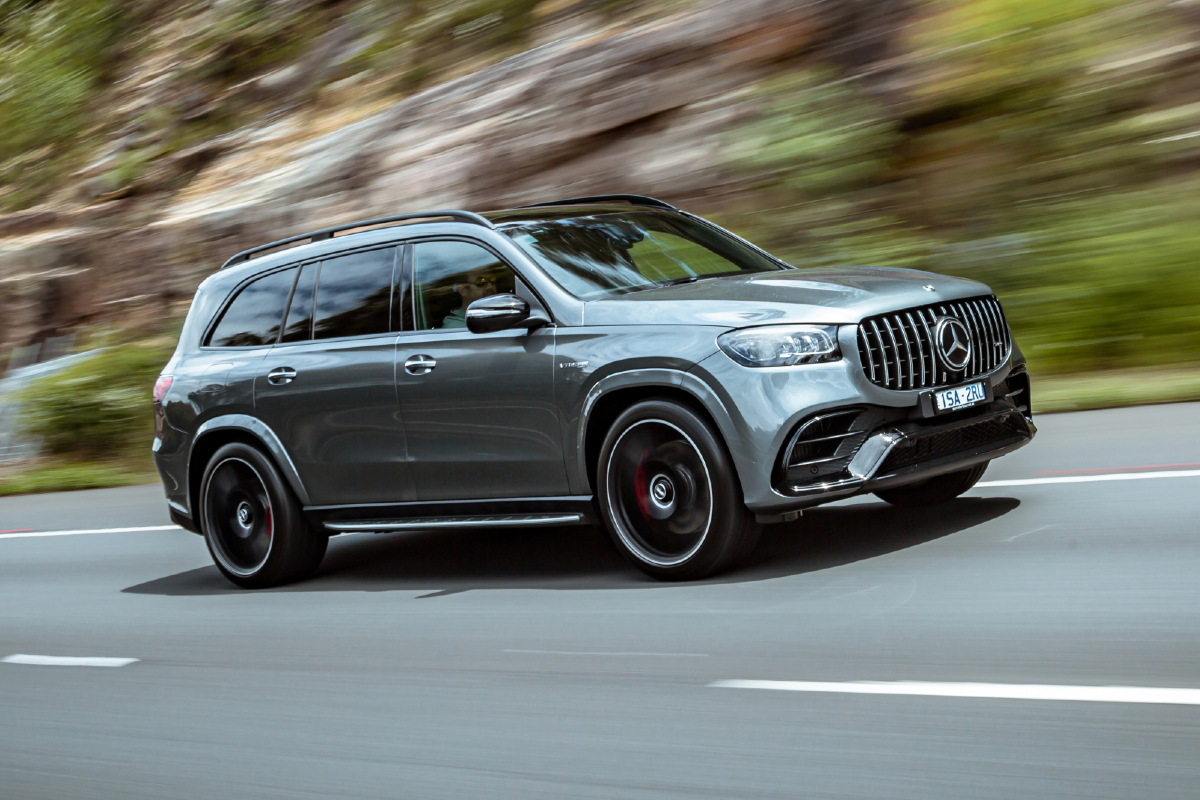 What is it?
A performance car hidden inside a pampering, spacious and luxurious SUV. The GLS sits at the top of the Mercedes range as the high-riding alternative to the S-Class limousine (although the Mercedes-Maybach is technically above both in luxury terms, but it's a sub-brand so it doesn't count as a Mercedes-Benz).
This AMG version packs quite the punch thanks to its twin-turbo V8 engine with electric power boost. This makes the GLS63 S a rival to the likes of the Porsche Cayenne Turbo, Range Rover SV Autobiography and even the Bentley Bentayga.
Does it have any racing pedigree?
Mercedes and AMG obviously have plenty of motorsport history – and present. Obviously the GLS is less directly related to racing that other models, say a AMG GT, but all AMG models benefit from the company's motorsport know-how.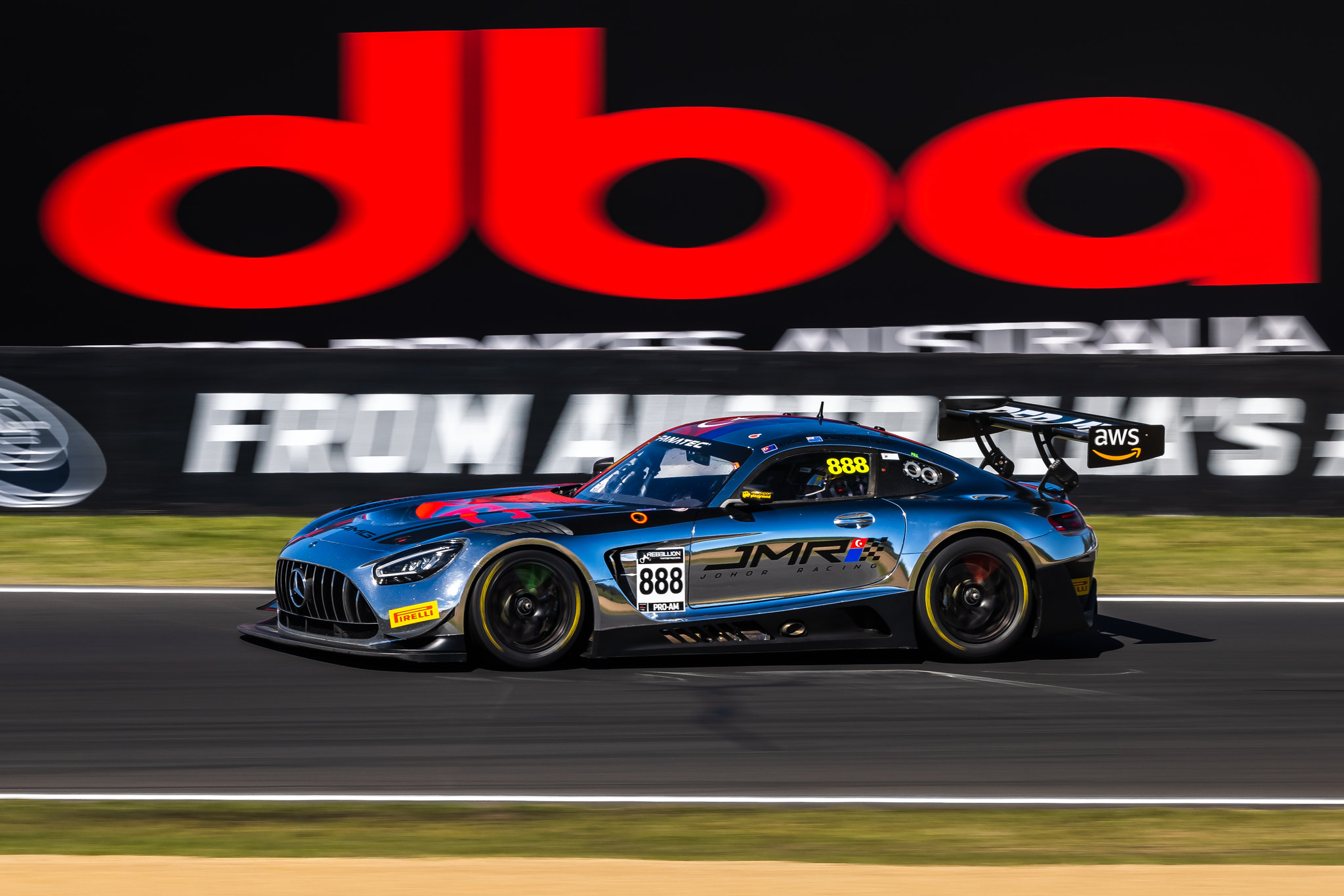 AMG is heavily involved in Formula 1, Formula E and GT3 racing, none of which are directly tied to the GLS (the AMG GT3 runs the older 6.2-litre V8) but it's only natural expertise will trickle down to the brand's road cars in various ways to make them better.
What's under the bonnet?
The GLS is a big SUV so it runs AMG's big engine, a 4.0-litre twin-turbo V8 making 450kW of power and 850Nm of torque which is enough to make even the sizable GLS rapid. The German brand claims the GLS63 will run 0-100km/h in just 4.8 seconds and keep going all the way to a limited 280km/h.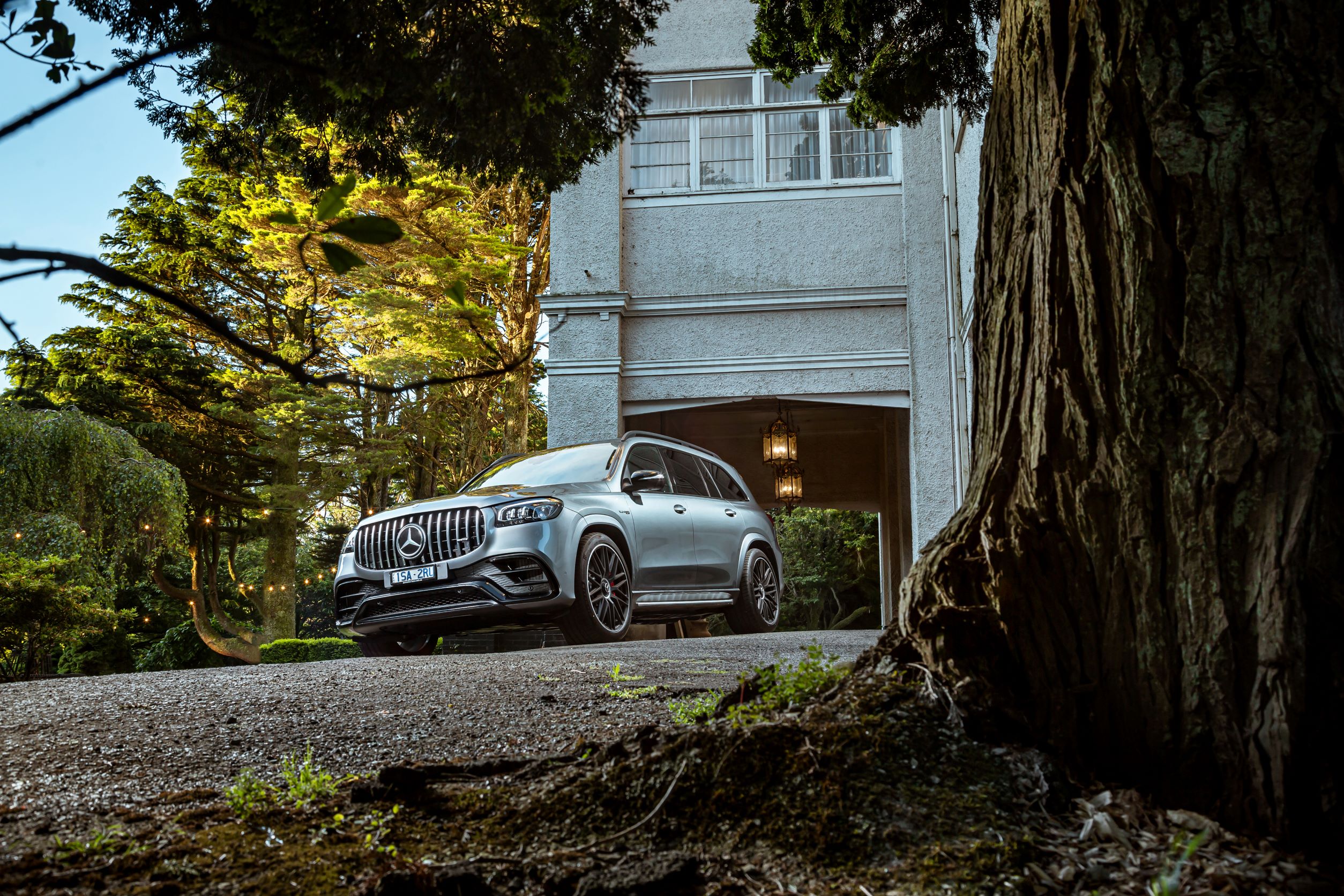 The engine is paired with a nine-speed automatic transmission and AMG Performance all-wheel drive which includes a limited-slip rear differential.
Performance is helped by EQ Boost technology, a starter-alternator combined with a 48-volt electrical system that adds an extra 16kW/250Nm for short bursts as well as helping the engine save fuel by coasting, recuperating energy and providing a stop-start function.
The GLS63 feels every inch as quick as AMG claims it is, offering up the kind of easy, effortless acceleration that makes a big SUV feel smaller than it is. But it's not only quick for a seven-seat SUV, it's quick period.
Like most modern performance cars there's an array of adjustable drive modes to choose from so you can dial up your pereference between comfort and sport depending on the conditions – or your mood.
There's punch when you put your foot down thanks to the EQ Boost, then the torque kicks in and comes on strong through the middle of the rev range and then there's power at the top end. In a word, the performance is epic.
How does it handle?
The GLS63 is loaded with technology to help it go around corners well, but ultimately this is a five-metre long, 2700kg, seven-seat SUV so if you're expecting razor-sharp handling you'll be disappointed. But, what the GLS63 does have is impressive manners for such a big bus.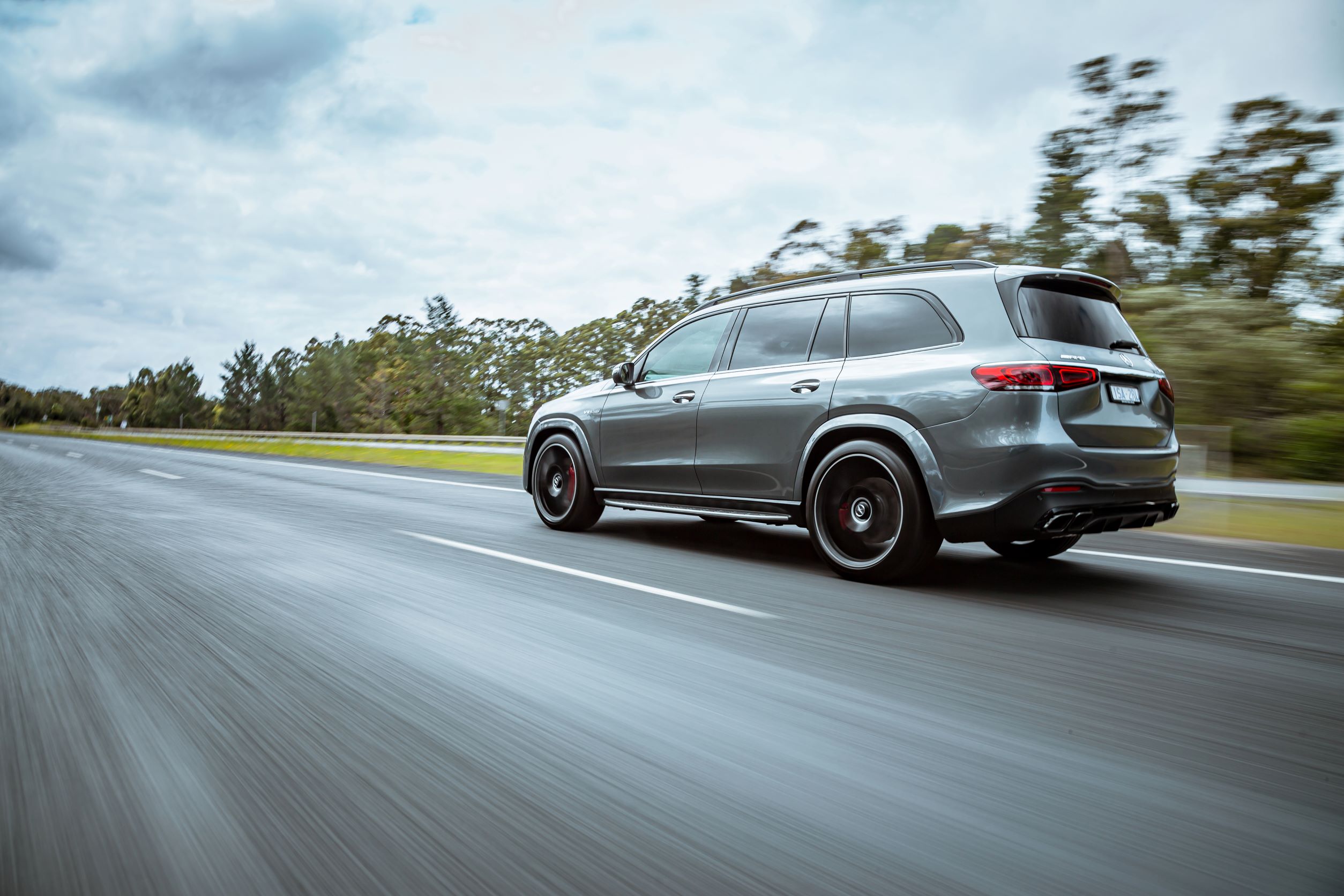 That's in large part thanks to AMG's Active Ride Control that uses the previously mentioned 48-volt electrical system to power active front and rear anti-roll bars. This helps the GLS sit flatter in corners that physics suggests it should, which it turns makes it feel more responsive and stable.
Also helping the GLS feel in control when cornering are the standard Michelin Pilot Sport 4S tyres, which offer up exceptional grip even on such a big car. While the standard GLS63 comes with 22-inch alloys, our test car was equipped with even larger 23-inch rims. Even with the adjustable air suspension doing its best the ride can feel a little fussy at times, because a big SUV on big alloy wheels is always going to be challenging to control.
Where would you most like to drive it?
Anywhere. The GLS63 is an ideal daily driver for anyone who loves performance and luxury but needs space. This combines the best parts of a luxury SUV with the punch of a sports car, making it easy to live with day-to-day and coming alive when the road opens up.
What's the interior like?
The AMG GLS63 blurs the line between mainstream luxury (Mercedes, BMW, etc) and true prestige brands (Bentley, Aston Martin, etc) with the level of opulence in the cabin.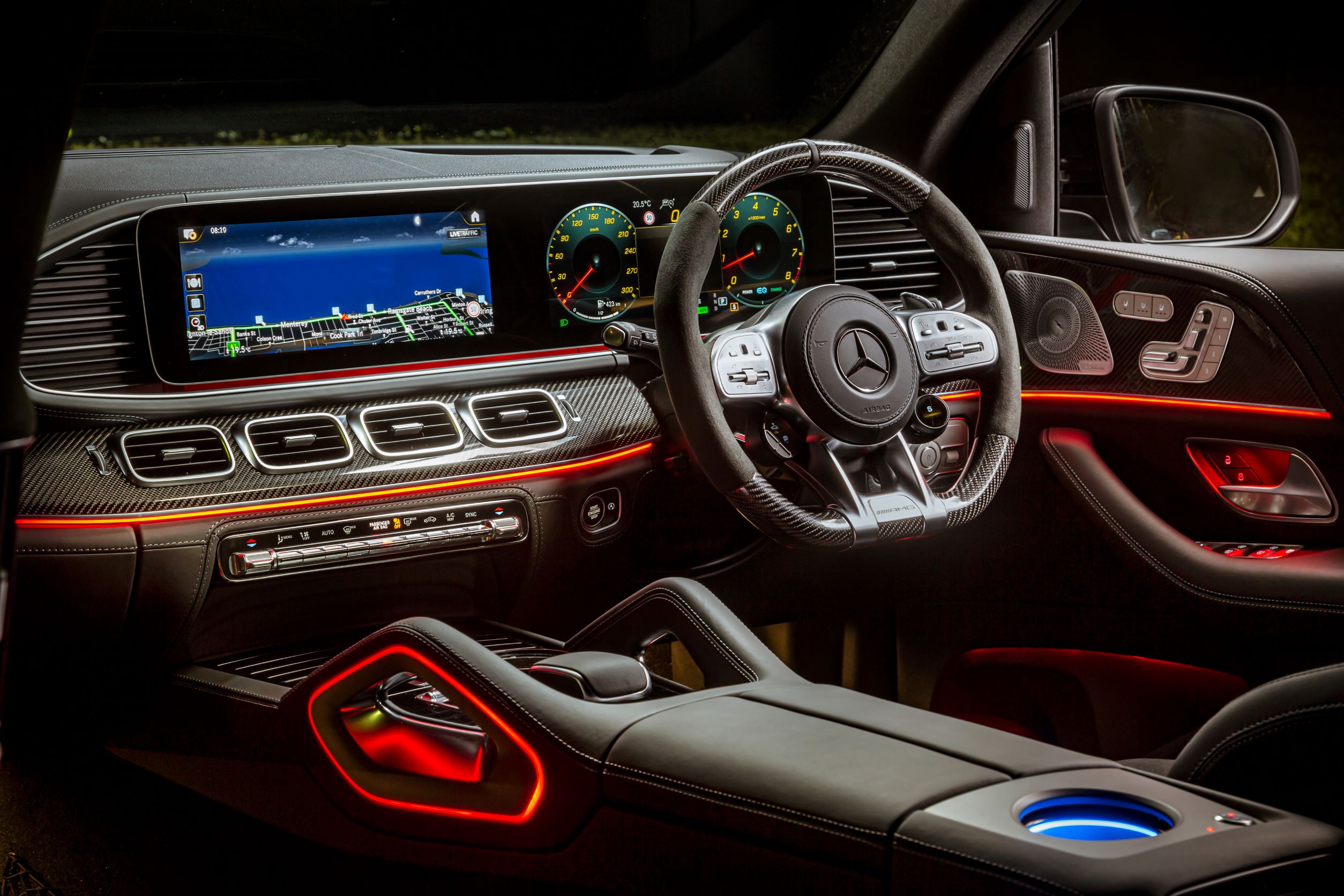 Not only is it spacious, with room for seven in comfort and their luggage, it comes fully-loaded with seemingly every piece of luxury equipment you could desire.
The seats are upholstered in AMG exclusive nappa leather and not only are they heated and ventilated but even the arm-rests are heated too. The front seats also come with multiple massage functions, including a simulated hot stone option.
And to keep your coffee warm there's even a temperature-controlled cup-holder.
It's not just the front seat occupants that get looked after. For starters there's five-zone climate control so each row can decide on their optimum temperature, plus those in the back get heated leather seats with ample room.
The rear seats also come with a tablet mounted inside the centre armrest (which doubles as a seat when needed) that allows you to control all the key infotainment functions.
Even the third row is looked after with its own air-con and a pair of USB-C ports in the arm-rest to keep your devices charged up.
Is it good value for money?
The AMG GLS63 S is priced at $266,976 (plus on-road costs) which is obviously a lot of money for an SUV but when you look at in the context of its competition it's arguably very good value.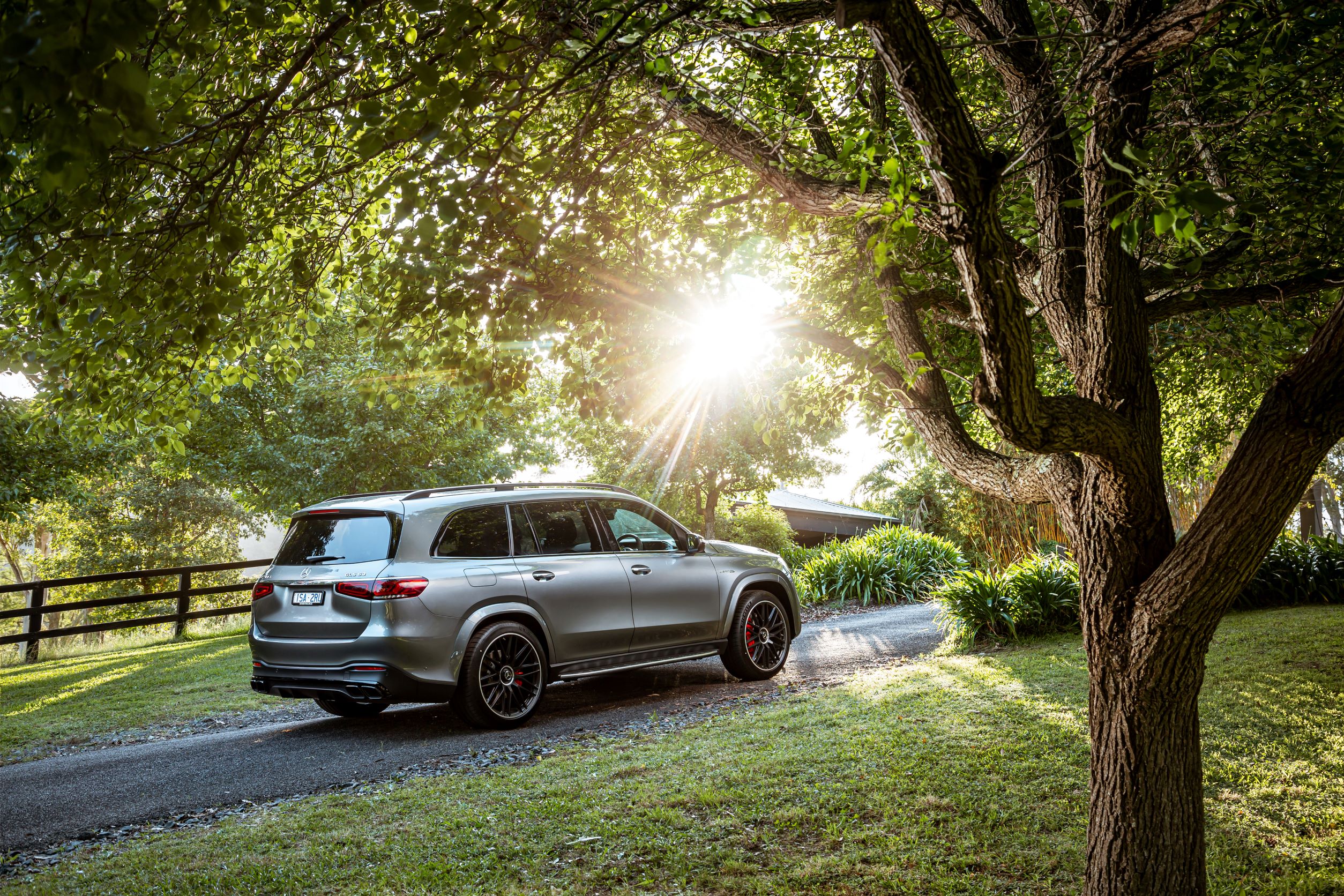 The smaller – but still seven-seat – Audi SQ7 TDI is priced from $162,377, while the less-potent BMW X7 M50i starts at $181,900 and the five-seat Porsche Cayenne Turbo will cost you $250,500; so there are cheaper options if you can't stretch your budget.
But when you line it up against its more premium competition it starts to look very appealing. For example, the Bentley Bentayga V8 starts at $364,800 and the Range Rover SV Autobiography from $350,944.
Then there's the internal comparisons. The four-door, five-seat AMG E63S sports sedan is priced from $253,776, which is obviously more dynamic thanks to its smaller, lower body but in terms of comfort and space the GLS63S is only $13,000 more expensive (which isn't much in relative terms).
Would I buy one?
Absolutely. This is a magnificent blend of Mercedes' experience building luxury cars and AMG's performance know-how. As someone with kids and a passion for fast cars this manages to combine both my needs into a very appealing package.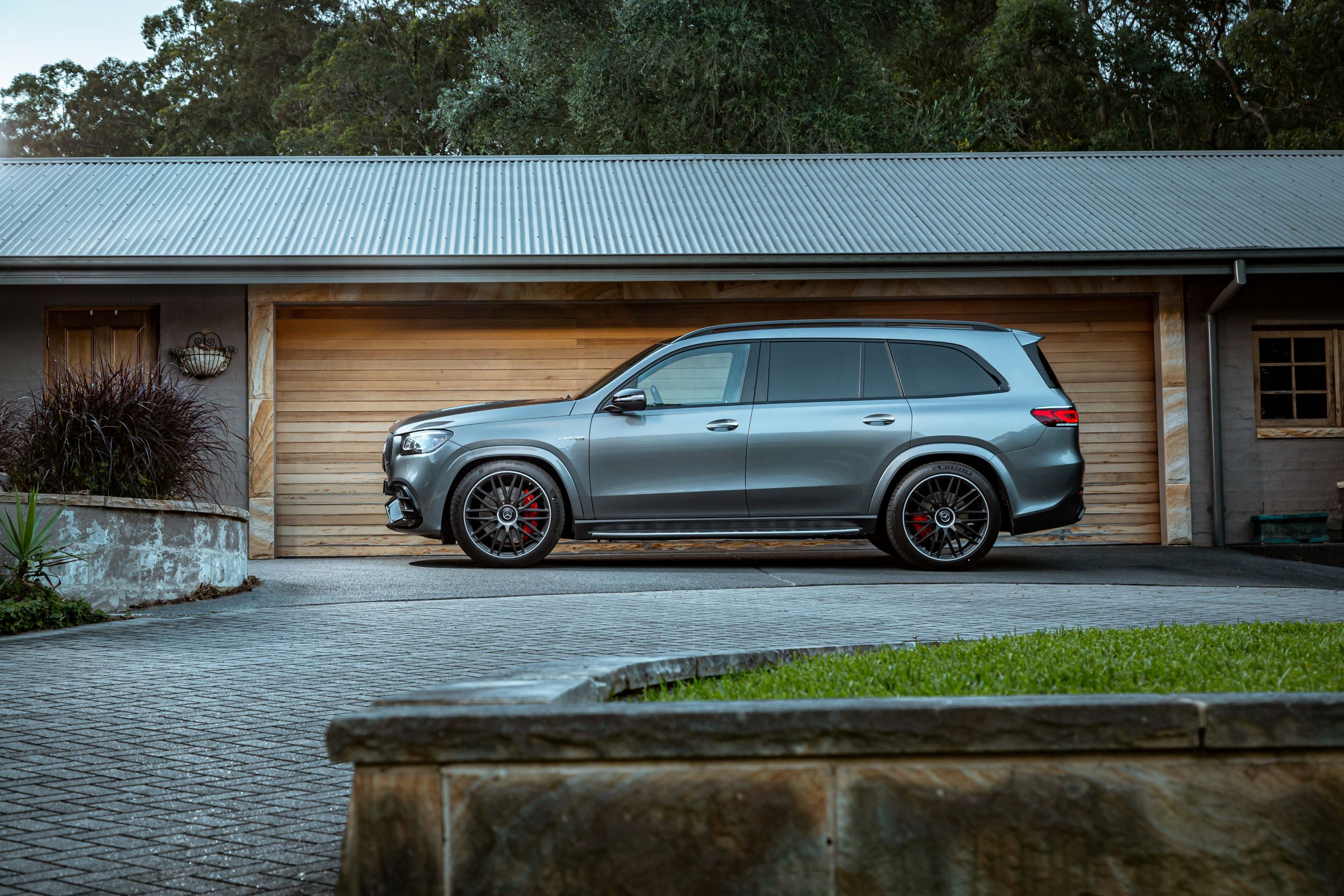 2021 Mercedes-AMG GLS63 4Matic+ price and specifications
| | |
| --- | --- |
| Price: | From $266,976 plus on-road costs |
| Engine: | 4.0-litre V8 twin-turbo petrol |
| Power: | 450kW at 5750-6500rpm |
| Torque: | 850Nm at 2500-4500rpm |
| Transmission: | Nine-speed automatic, all-wheel drive |
| Fuel use: | 13.0L/100km |
| Wheels: | 22-inch alloys |
| Tyres: | 285/40 ZR23 (front), 325/35 ZR23 (rear) |
| Length: | 5243mm |
| Width: | 2030mm |
| Height: | 1837mm |
| Weight: | 2710kg |
| 0-100km/h: | 4.2 seconds (claimed) |