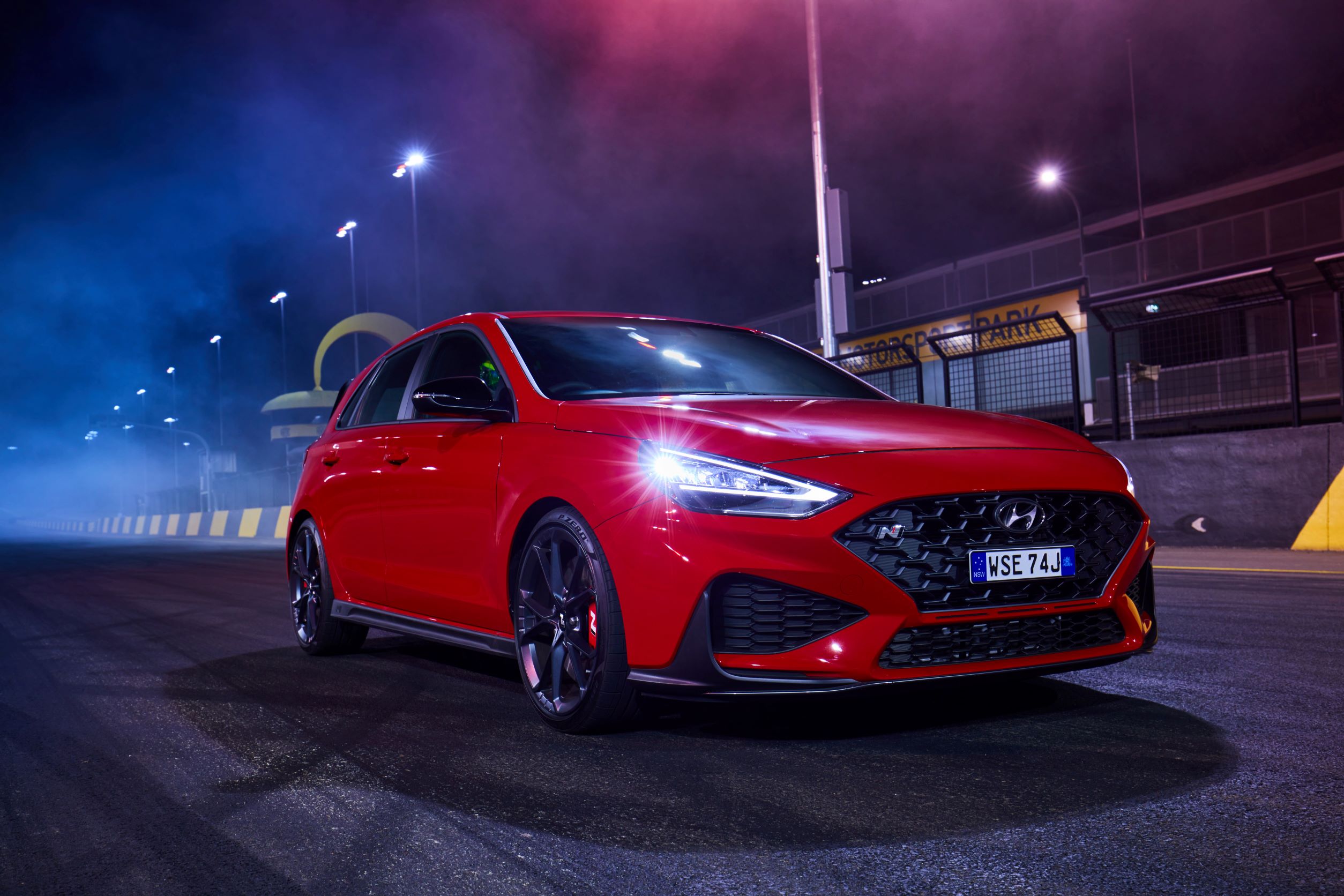 What is it?
The updated version of Hyundai's first hot hatch. The i30 N arrived with much fanfare in late 2018 and immediately impressed. It was not only a great first-up effort from the South Korean brand unfamiliar with building performance cars but a genuinely competitive hot hatch, capable of going wheel-to-wheel with the Volkswagen Golf GTI, Ford Focus ST and others.
Buoyed by that success Hyundai's N division (named for its Namyang R&D facility and a nod to the Nurburgring where it also has a test centre) has given the i30 N a subtle but effective upgrade. There are some minor styling tweaks but the big changes are underneath, with a more powerful, re-tuned engine, a reworked chassis and, the most important of all (at least from a sales perspective), the introduction of a new dual-clutch transmission; the first auto option of the i30 N.
COMPARISON: Hyundai i30 N v Ford Focus ST
Does it have any racing pedigree?
Hyundai is keen to stress the importance of motorsport to its N division, with the i30 N the basis for its first factory-backed circuit racing car – the i30 N TCR. But it's not just marketing spin, while there may not be a lot of direct crossover between the TCR racer and the road car, Hyundai Australia was heavily involved in the development of the new turbocharger fitted to this updated 2021 model.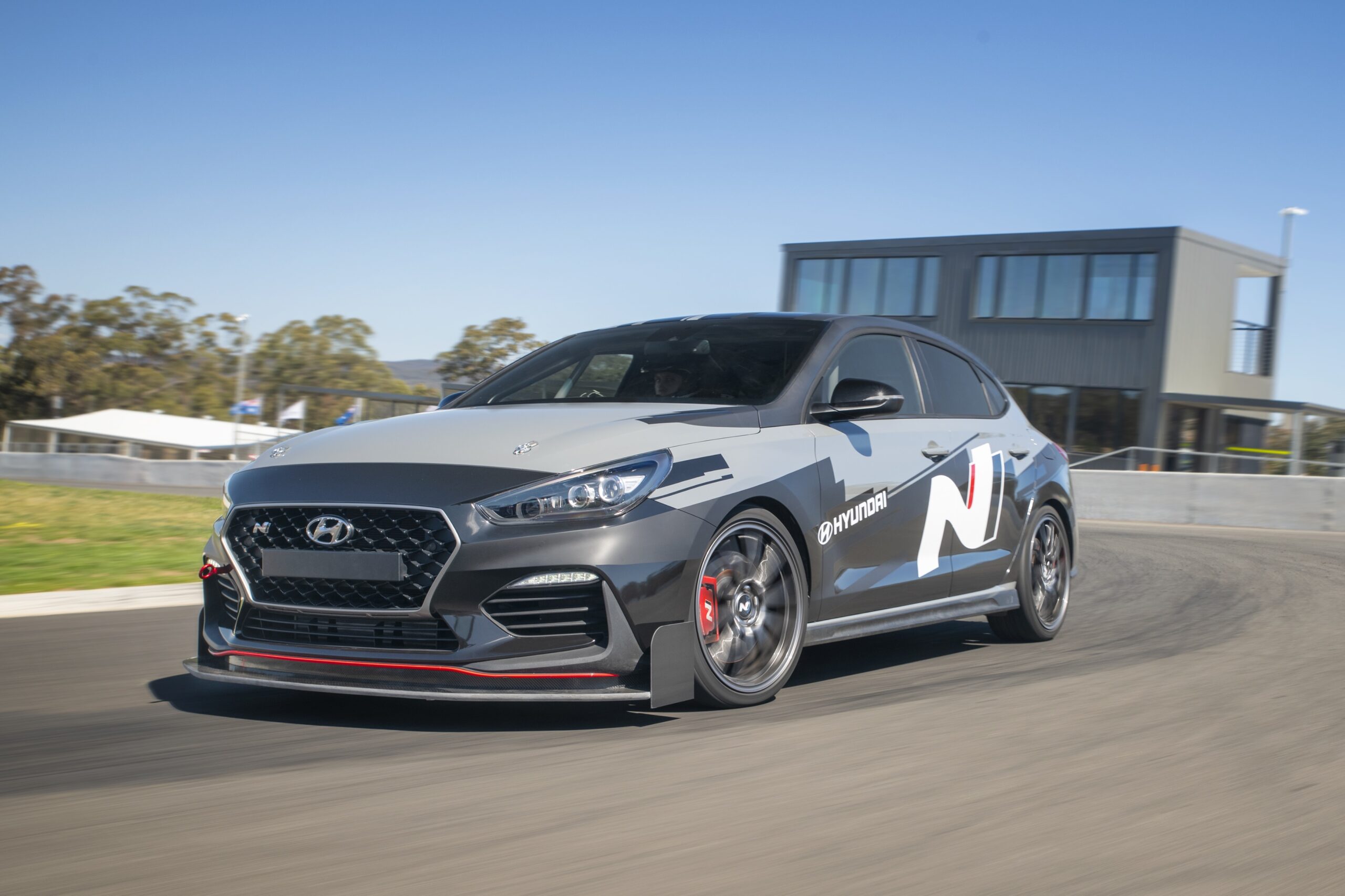 Hyundai sent the new turbocharger and a small team of technicians to Australia to test and develop it on the i30 Fastback N that competed at the 2019 World Time Attack event. This program gave them real-world data to study and played a vital role in the improvements made to the engine.
REVIEW: 2019 Hyundai i30 Fastback N
What's under the bonnet?
It's the same basic 2.0-litre four-cylinder turbo petrol engine, but thanks to the new turbocharger and intercooler set-up it now makes more power and torque – 206kW and 392Nm respectively. That's only a relatively minor upgrade over the old engine, which made 202kW/353Nm, but the engine has also been re-tuned to deliver its performance across a broader rev range. This so-called "flat-power" engine tune is what you really notice on the road in the new i30 N.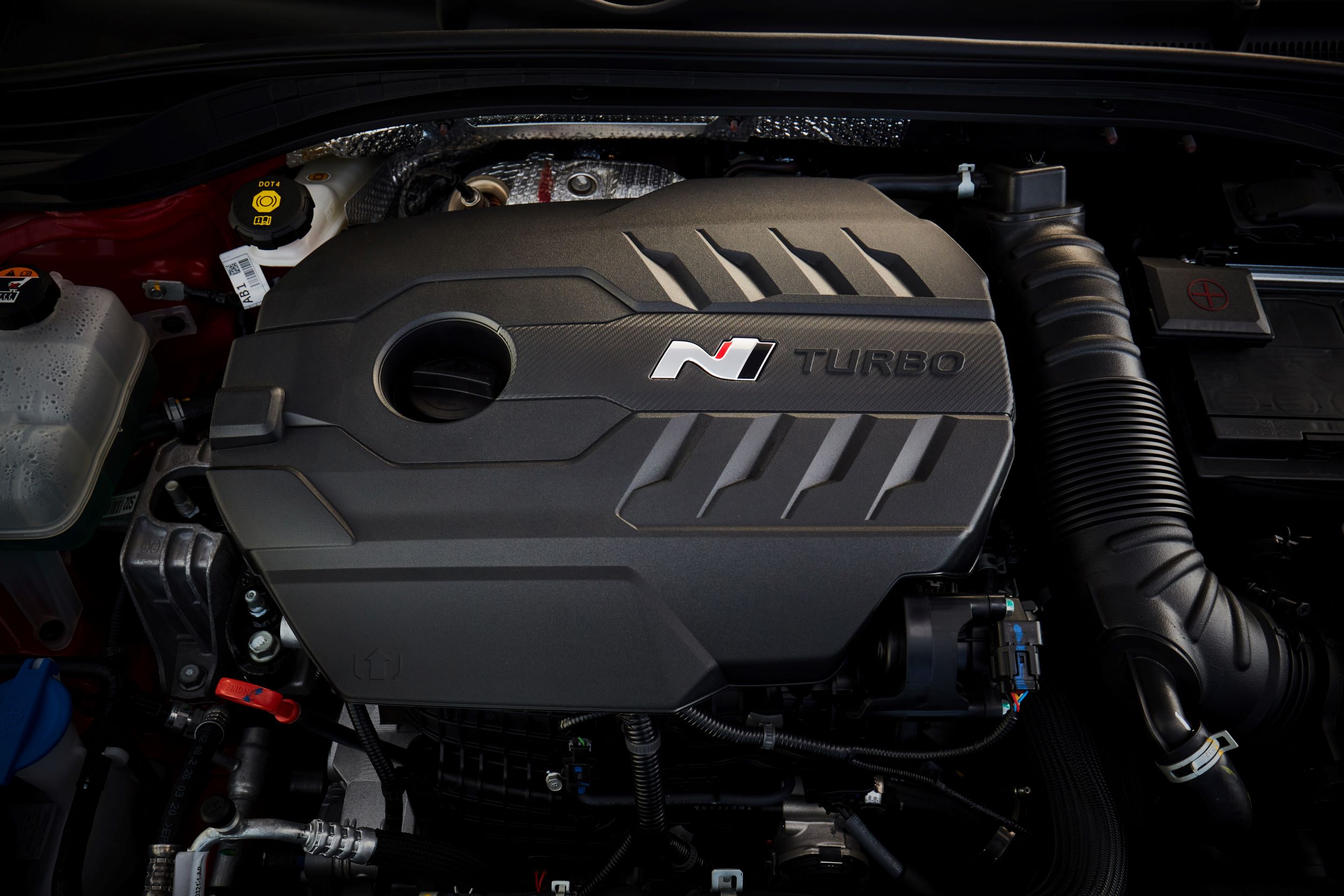 Peak torque kicks in slightly later but stays steadier and maintains until peak power is ready to kick in. This makes the new model feel more responsive and punchy when you put your foot down.
While the six-speed manual remains, and will be the go-to for enthusiasts, Hyundai is hoping to broaden the appeal of the i30 N by introducing an automatic option. The newly-developed eight-speed dual-clutch transmission – dubbed N-DCT – will make the i30 N a more accessible hot hatch (Australia's overwhelming buy autos, even in performance cars) but not at the expense of the fun-to-drive nature of the car.
READ MORE: The hot hatch war between Hyundai and Volkswagen is heating up
Indeed, even driving around the urban environment the N-DCT feels sporty, holding onto gears for better response rather than slotting into taller ratios in a hurry for fuel saving. It offers crisp shifts and there's no sign of the jerkiness and hesitation at low speeds that plagued earlier dual-clutch gearboxes.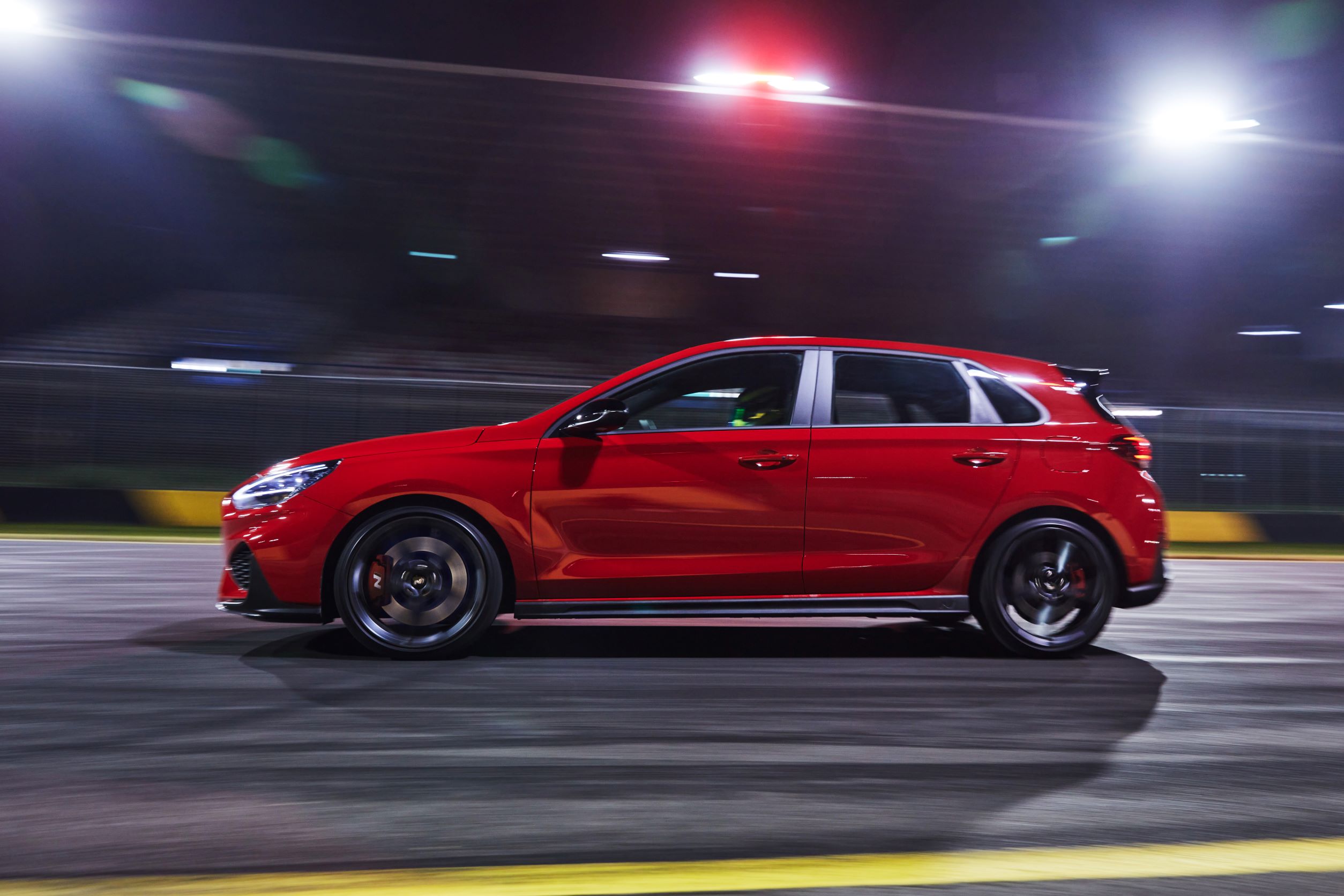 Hyundai has developed several specific modes for the DCT, each with a unique name – N Grin Shift, N Power Shift and N Track Sense Shift. Grin Shift is activated by a button on the steering wheel for a 20 second burst of maximum performance, Power Shift kicks in at 90 per cent throttle to reduce power loss when upshifting and Track Sense engages the more responsive 'Sport' transmission setting automatically if it senses racetrack-like conditions.
How does it handle?
Unfortunately our test drive was limited by the current COVID-19 restrictions, so we weren't able to hit the track in it, but when we can, rest assured we will give it a proper drive and a more comprehensive review. Our initial impressions are positive though, importantly Hyundai didn't mess with a winning formula and it remains a responsive and engaging hot hatch to drive – even around the city and suburbs.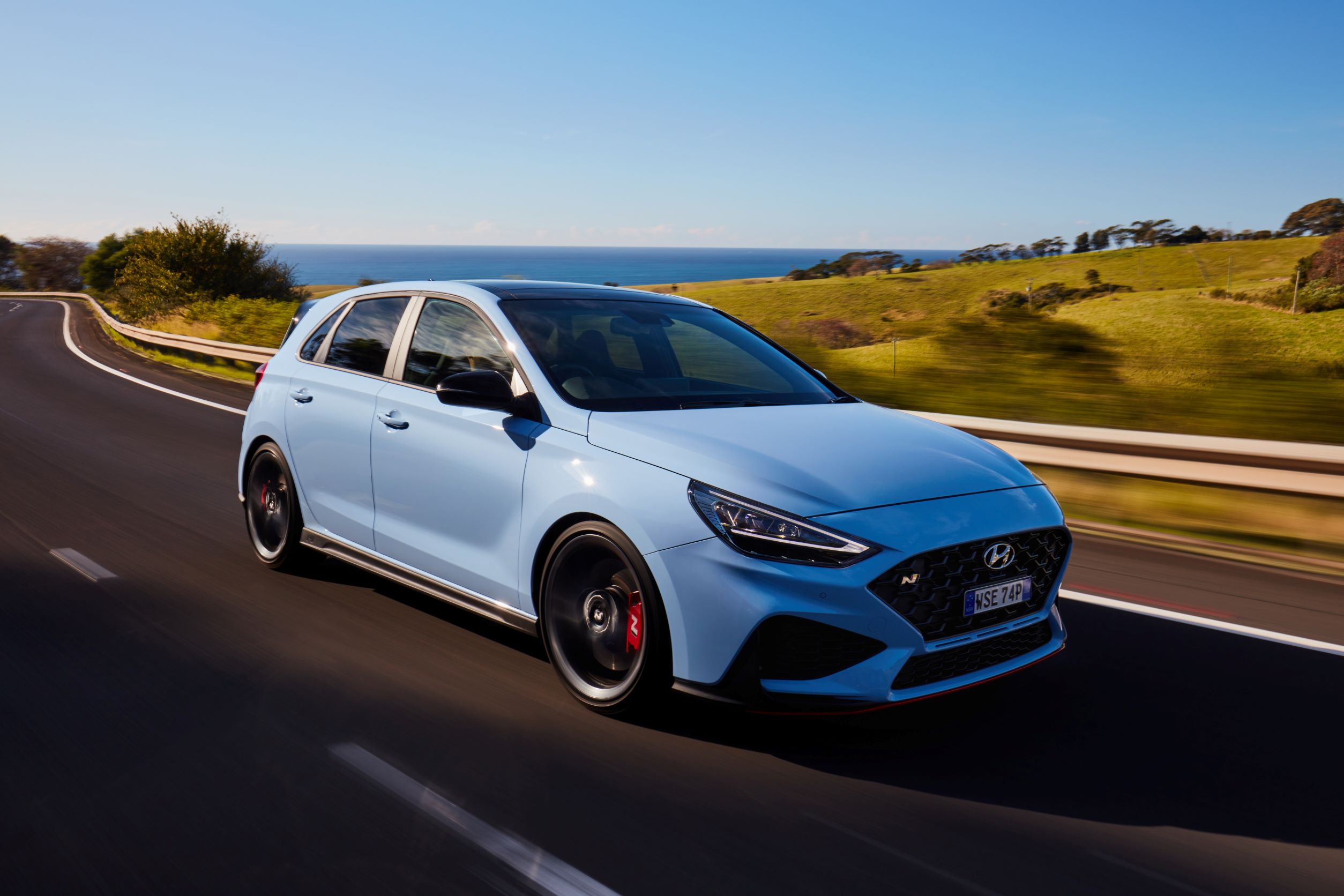 Hyundai Australia has prided itself on its local ride and handling program that has allowed them to have cars built with unique suspension and steering settings tailored to local road conditions. With good reason too, Hyundai HQ were reportedly so impressed with the Australian-tune of the i30 N that it was largely copied for the chassis tuning of the i30 Fastback N.
This updated model now rides on new 19-inch forged alloy wheels that cut 3.6kg of unsprung mass per corner, which has required a re-working of the suspension settings. It's actually quite a bit of change to the suspension, with more camber and a wider front track plus there's a new damper tune and revised spring rates.
But again, just like the engine tune, this new setting hasn't spoiled the already good work done for the original. It does feel tauter, at least at low speeds, but without sacrificing too much comfort.
The i30 N rolls on Pirelli P-Zero tyres as standard, and these ones have been specifically developed for the car, complete 'HN' branding moulded onto the sidewalls.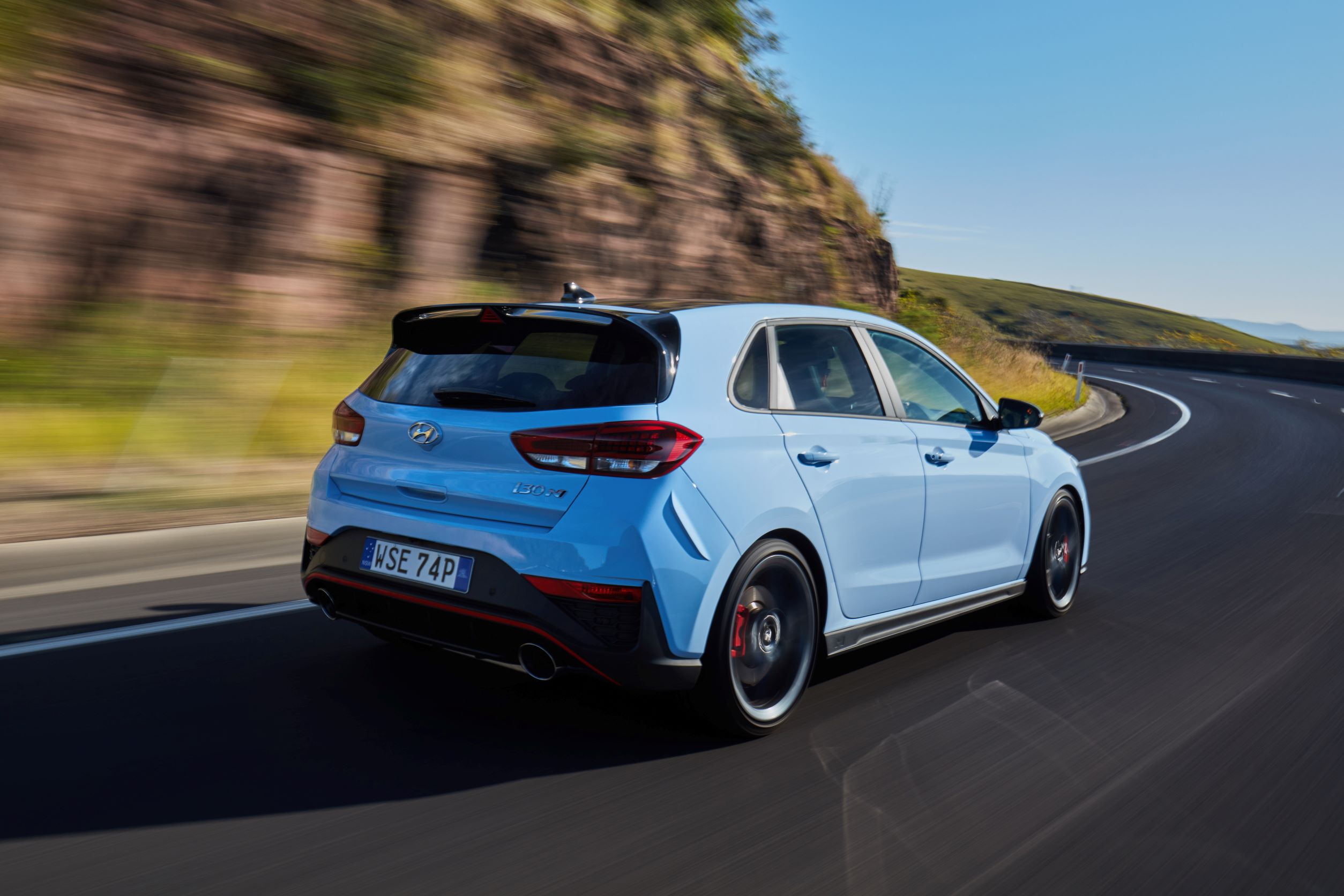 We'll have to wait until we can give it a longer, more exhaustive test drive before a final verdict but initial impressions are good.
Where would you most like to drive it?
While the i30 N was always fun on the road, it really did shine on the track. Hyundai even offers a 'track warranty' that protects against usage in non-competitive track events to encourage track day use. Obviously we can't do that at the moment, but when rules allow it would be great to take it to a track we've experienced the original i30 N on, such as Wakefield Park, to compare them like-for-like.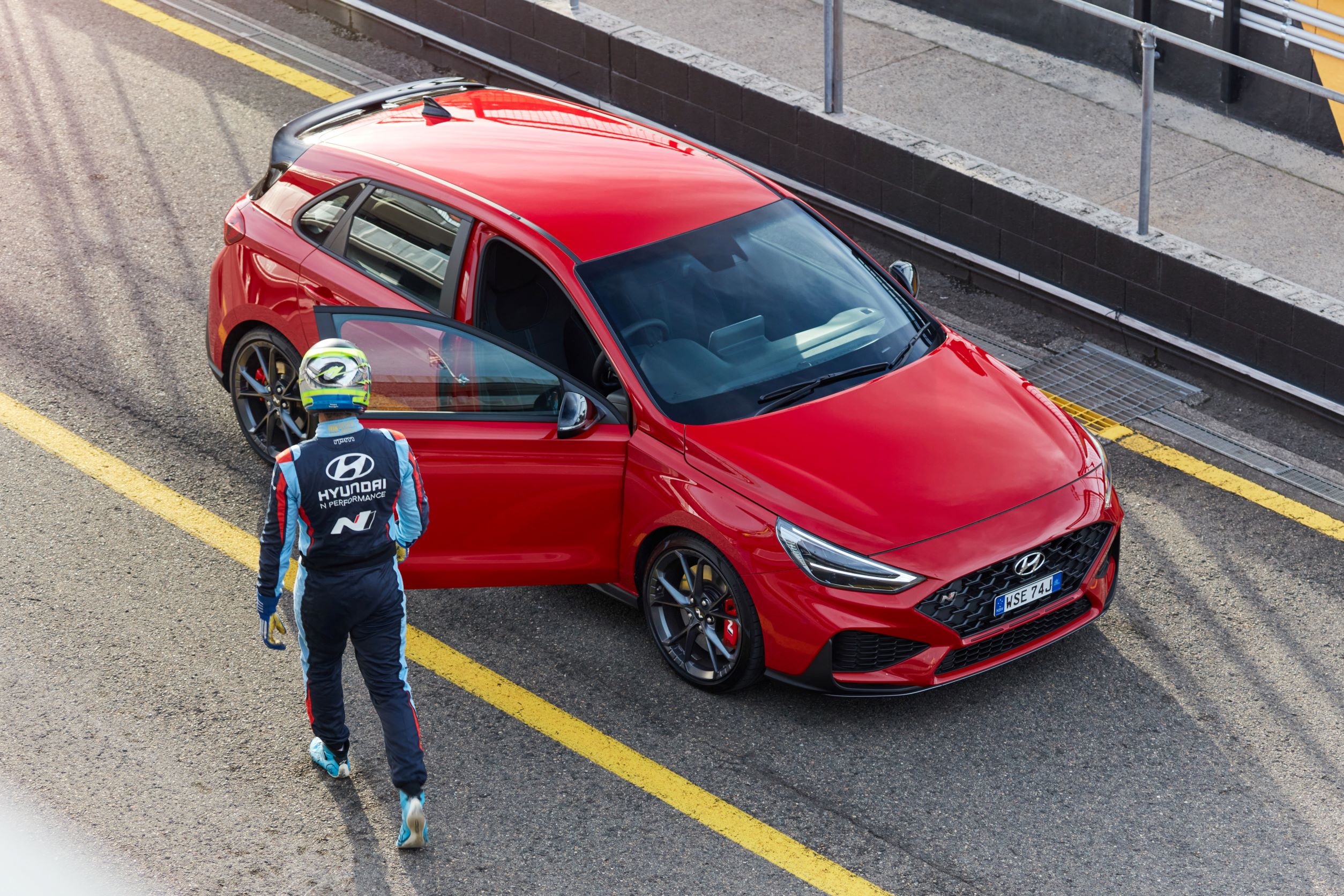 What's the interior like?
One of the biggest criticisms of the original i30 N was it's rather plain interior, which aside from a thick-rimmed sports steering wheel and some new seats didn't differ much from the regular i30. And for this updated model… nothing much has changed.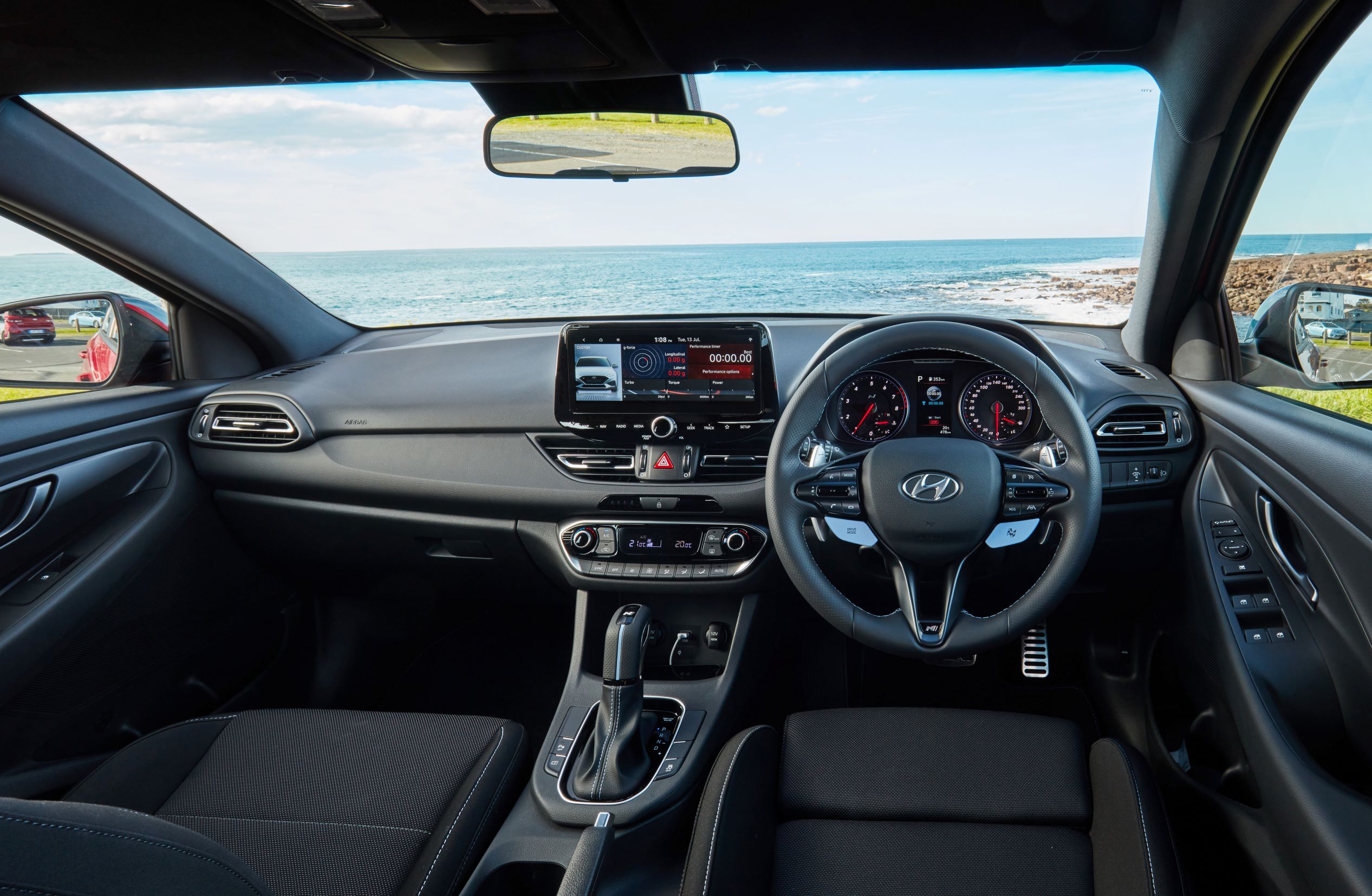 The sports wheel is nice and the standard sports seats offer good support and get contrasting 'Hyundai Performance Blue' stitching, but overall there's not a huge amount of difference between the N and the standard small hatch.
Unless you pay for the i30 N Premium model, in which case you get the new N Light seats (pictured below), which are 2.2kg lighter than the usual seats and reportedly offer more support. We haven't had a chance to drive a Premium specification yet so we can't speak to the comfort level of them, but they do certainly look the part.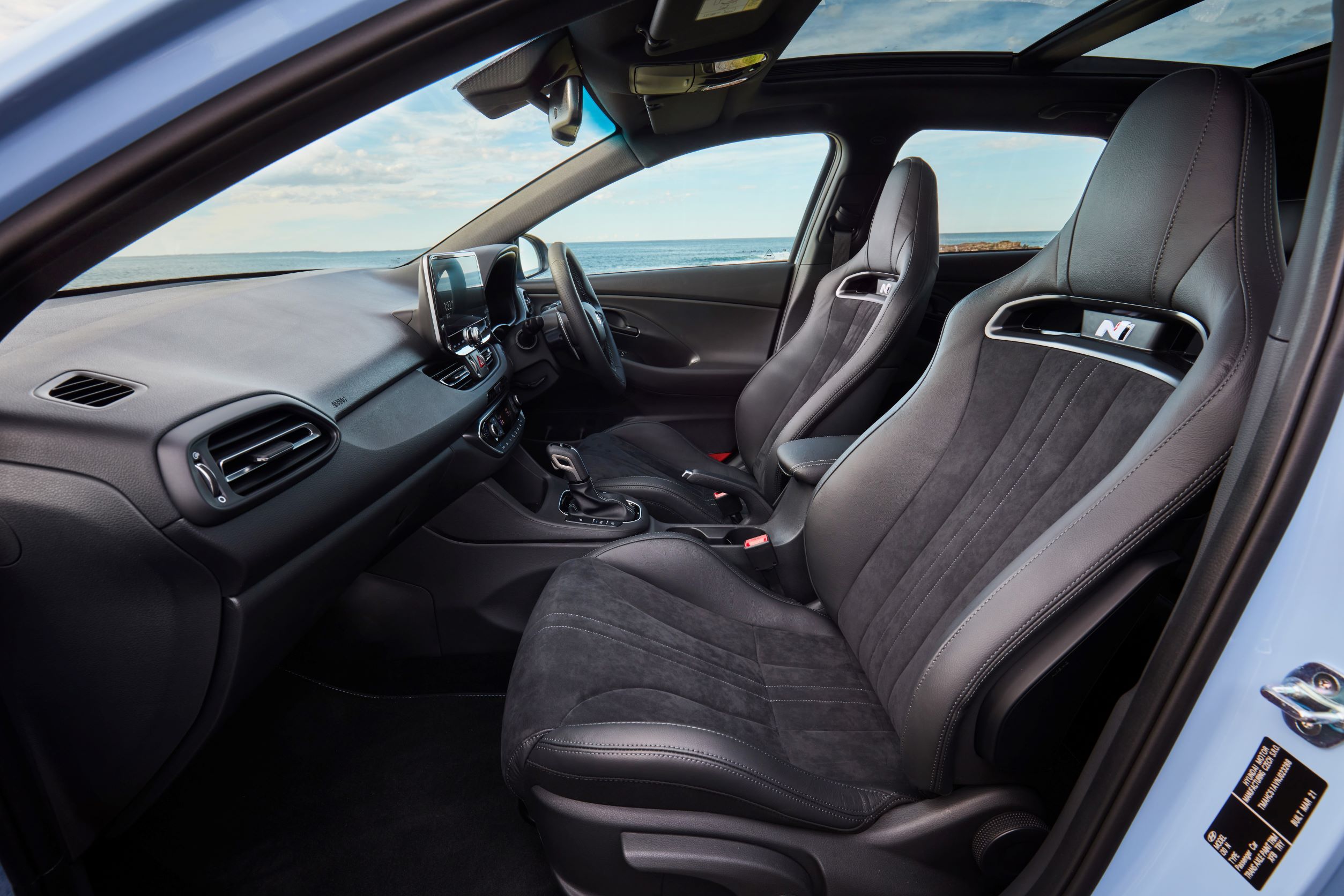 Is it good value for money?
Despite being only a mid-life update and coming just three years after launching, there has been a significant price jump for this new model. Whereas the i30 N hit the market with a sub-$40k price ($39,990 plus on-roads) this new model starts at $44,500 for the i30 N manual, with the N-DCT an additional $3000. Stepping up to the i30 N Premium will cost you $47,500 and is only available with the manual transmission. If you want the i30 N Premium with the N-DCT you'll also have to get a sunroof, which takes the price to $52,000.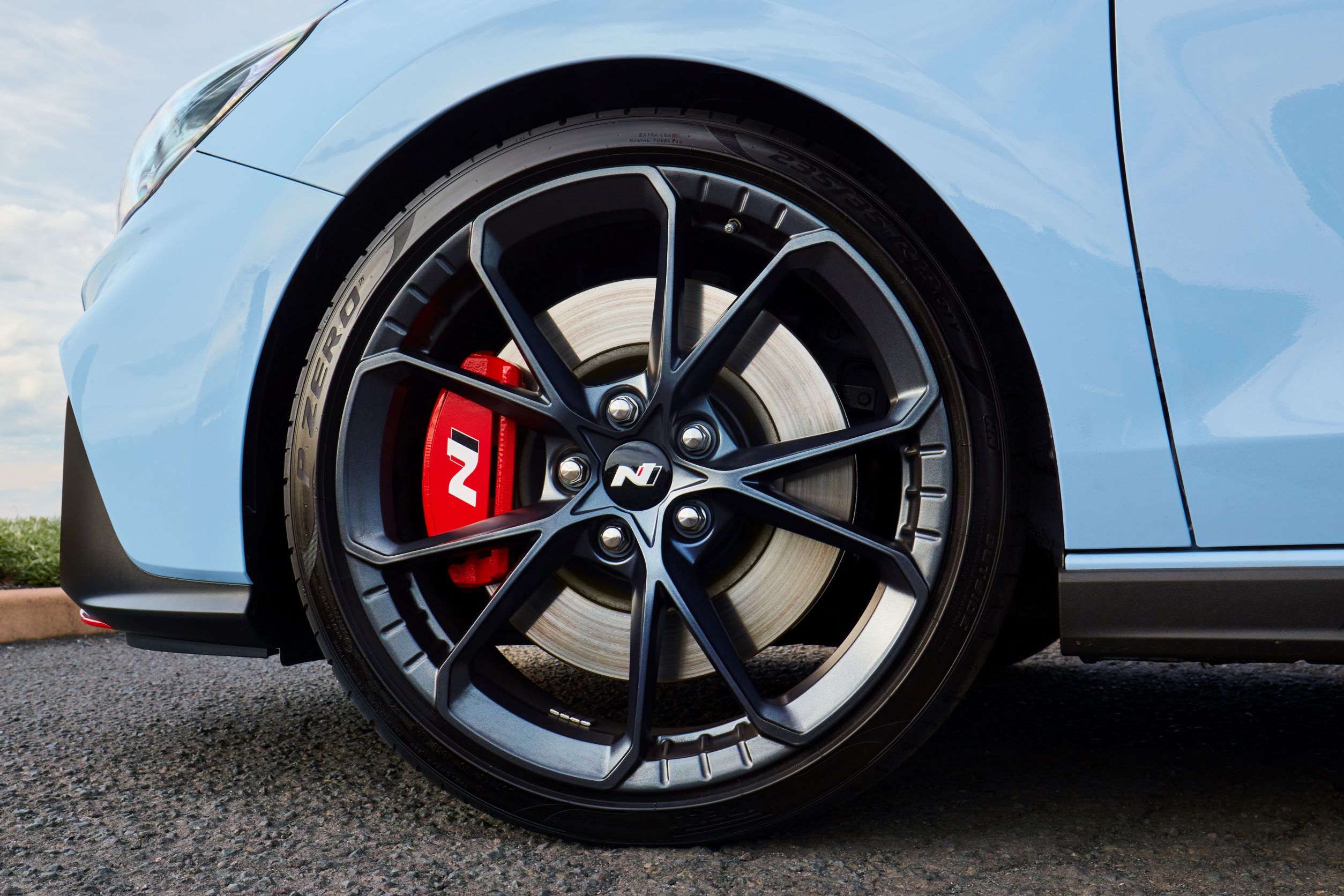 Hyundai argues that in addition to the more powerful engine and re-tuned chassis, the forged alloy wheels (pictured above) help justify the price increase. And, to be fair to the South Korean brand it is not alone in increasing prices in the hot hatch segment. All models are up, including the i30 N's direct rivals, the Volkswagen Golf GTI (from $53,300) and Ford Focus ST (from $44,890).
Would I buy one?
I was a big fan of the original, it's blend of everyday usability and racetrack capability combined with its playful nature made it arguably the pick of the hot hatch bunch. The new i30 N is certainly an improvement and while we haven't had a chance to assess it in the variety of conditions we'd prefer, all early indications are that all those same ingredients are there.
The introduction of the N-DCT does make it easier to live with, without spoiling its character as some auto-optioned hot hatches can. In fact, even as an enthusiast who loves the manual version our first experience of the N-DCT may have converted me.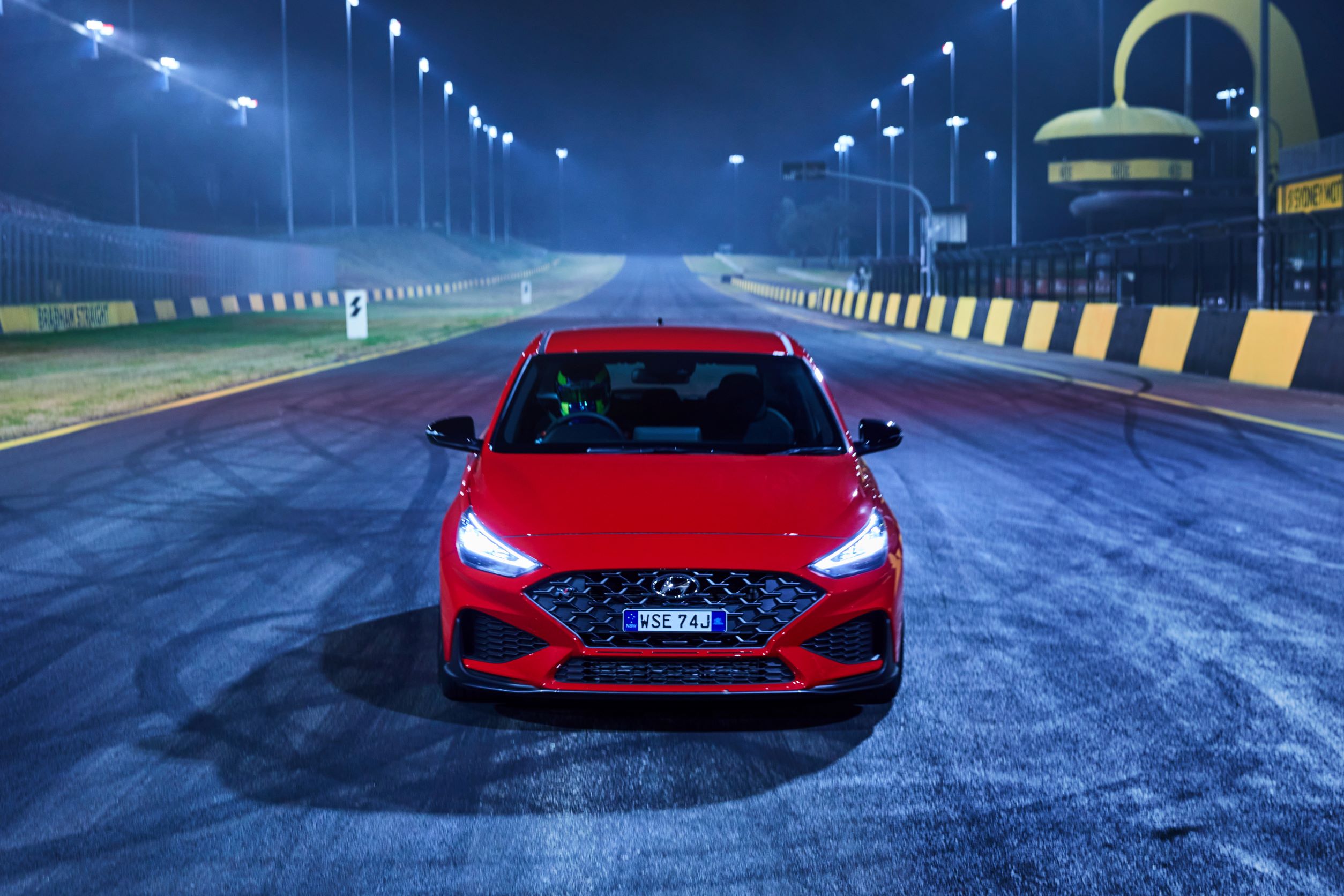 2021 Hyundai i30 N price and specifications
| | |
| --- | --- |
| Price: | From $44,500 plus on-road costs |
| Engine: | 2.0-litre four-cylinder turbo petrol |
| Power: | 206kW at 6000rpm |
| Torque: | 392Nm at 2100-4700rpm |
| Transmission: | 6-spd manual or 8-spd DCT, front-wheel drive |
| Fuel use: | 8.5L/100km |
| Wheels: | 19-inch alloys |
| Tyres: | 285/40 ZR23 (front), 325/35 ZR23 (rear) |
| Length: | 4340mm |
| Width: | 1795mm |
| Height: | 1445mm |
| Weight: | 1447kg (man)/1480kg (DCT) |
| 0-100km/h: | 5.4 seconds (N-DCT claim) |