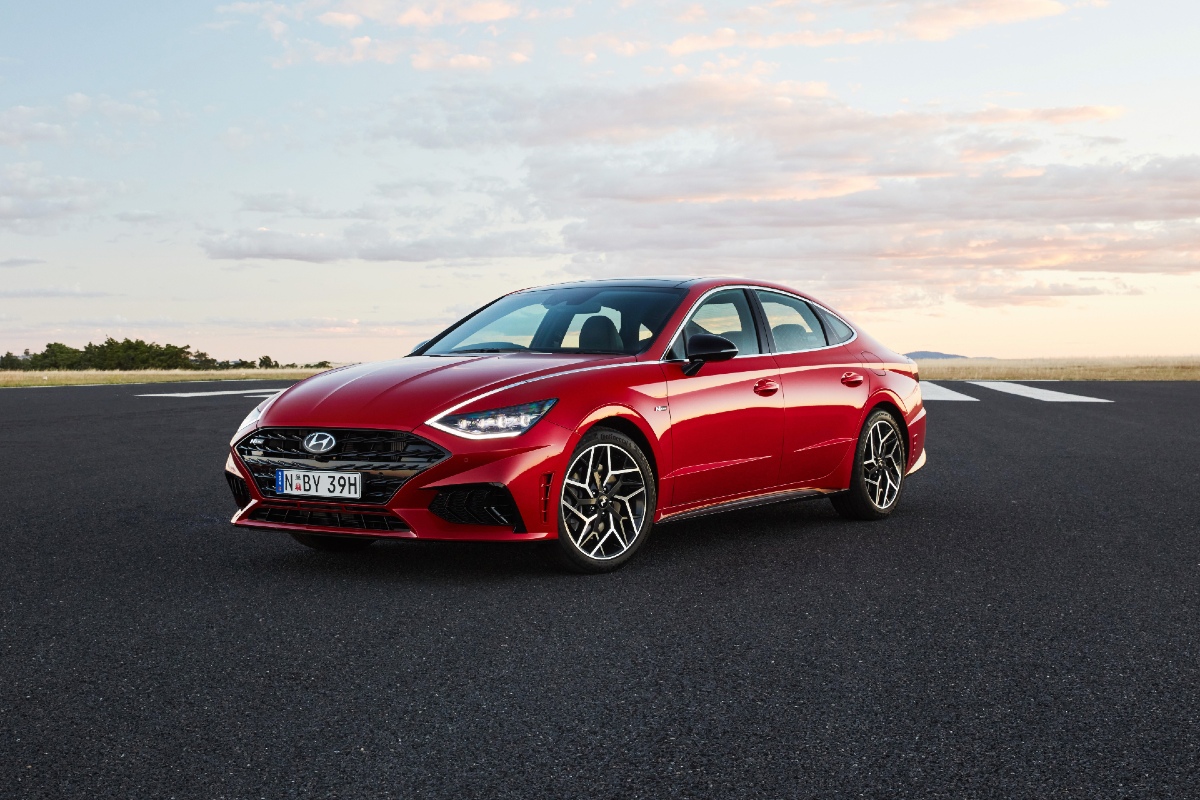 What is it?
An old-school sporty sedan.
At a time when the car-buying public is abandoning the traditional sedan in favour of SUVs, Hyundai is giving its once-popular Sonata one-last shot at trying to capture people's imaginations. The N Line is the only Sonata available in Australia, there's no longer your run-of-the-mill sedans in the Hyundai showroom – it's the sporty N Line or nothing.
Being an N Line, as opposed to a full-blown N performance model means it lacks the dynamic enhancements cars like the i30 N and Kona N receive, but it does get a turbocharged engine.
It also looks that part thanks to an N Line body kit that accents an already dramatically-styled new-generation Sonata. The aggressive bumpers, larger alloy wheels and various design lines are on the verge of being a bit too much, but ultimately allow the Sonata N Line to make a statement.
Does it have any racing pedigree?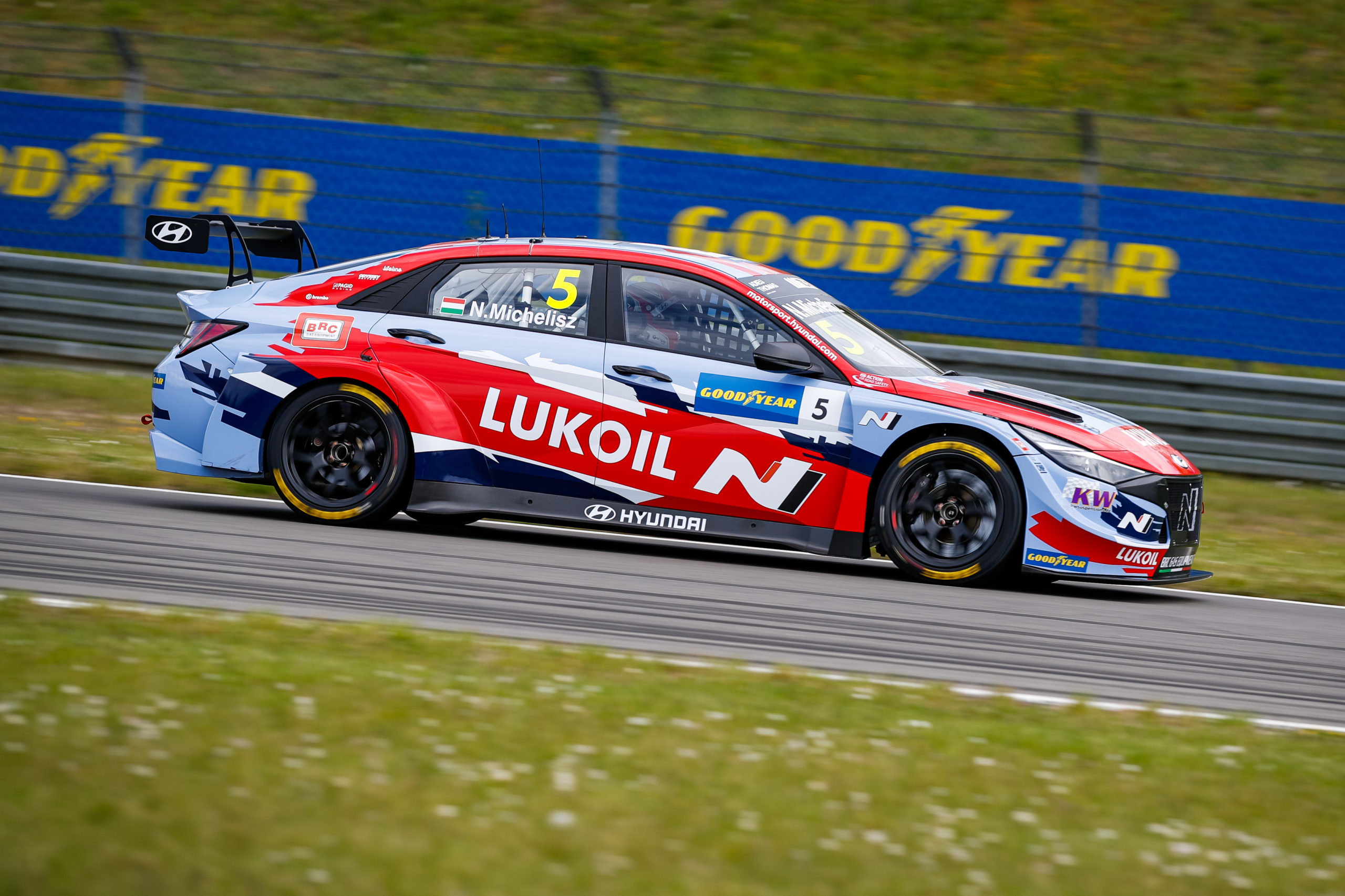 While it may not be a full fat N performance model it does benefit from the learnings Hyundai N has gained in recent years with its TCR program. Hyundai entered the touring car category with the i30 N TCR in 2018, won the World Touring Car Cup that same year with Gabriele Tarquini and backed it up the following year with Norbert Michelisz. Closer to home it won the inaugural Australian TCR title with Will Brown driving an i30 N for HMO Customer Racing.
While the Sonata hasn't hit the track Hyundai has added TCR versions of the Veloster and new i30 Sedan N to its portfolio.
What's under the bonnet?
Again, it may miss out on the full N treatment but the Sonata N Line is the most powerful Sonata Hyundai has ever offered. That's thanks to its 2.5-litre four-cylinder turbo petrol engine making 213kW of power and 422Nm of torque the N Line has plenty of punch for a mid-size sedan.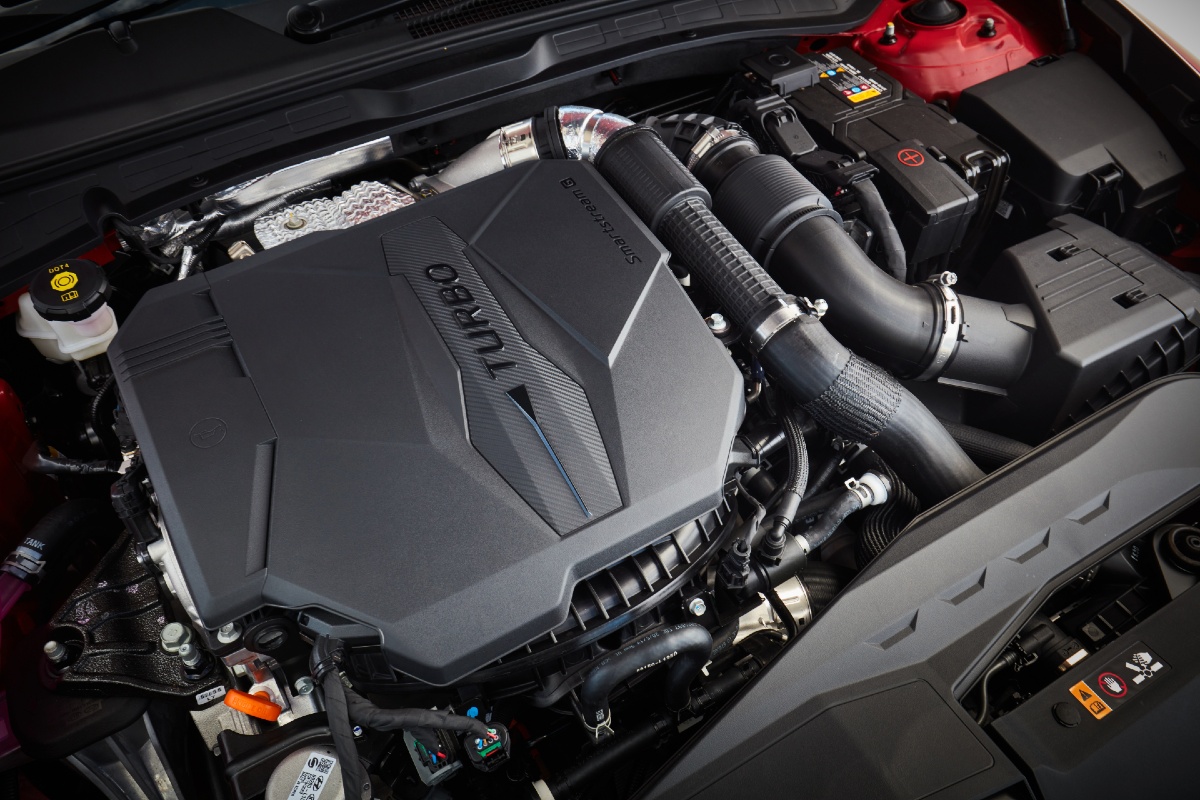 The engine is paired to an eight-speed dual-clutch automatic transmission (the same found in the new i30 N) and sends drive to the front wheels. As a result the engine stays in its sweet spot when you want to maximise its performance, but the front-wheel drive nature does blunt its ability to get all that power to the road smoothly at times.
How does it handle?
The Sonata N Line lacks the sharpness of a true performance car, but as front-wheel drive sedans go it's enjoyable to drive. It's quite a big car too – if it still technically fits the definition of a mid-sizer – at 4900mm in length, and that plays into its handling. Hyundai Australia had its input into the chassis tuning from earlier in the development than usual, as an extension of its widely-praised local ride and handling program, and aimed for a "grand tourer" rather than a "sports sedan" in terms of on-road character.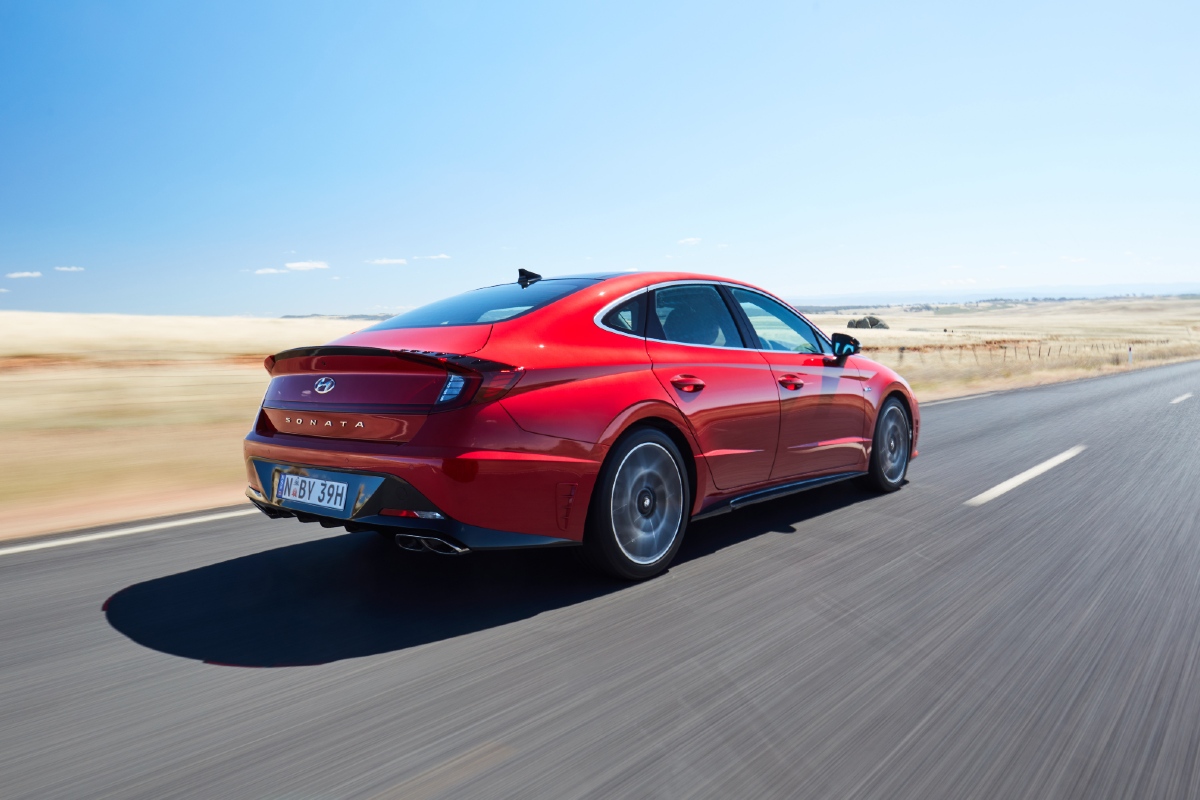 That's certainly what the Sonata feels like, missing the responsiveness of a true sports sedan but feels comfortable and controlled when you do throw it into some corners. The steering is direct and offers enough feel to help you try and manage its tendency to torque-steer when you put your foot down hard.
The relatively long wheelbase, 2840mm, means it has stability when you corner too, while the Continental tyres offer up respectable grip. So while it may not be the sharpest sedan on the market, it's certainly above-average in its competitive set.
Where would you most like to drive it?
As Hyundai planned this is more of a grand tourer, so a drive on your favorite open, flowing country roads would be an ideal spot for the N Line.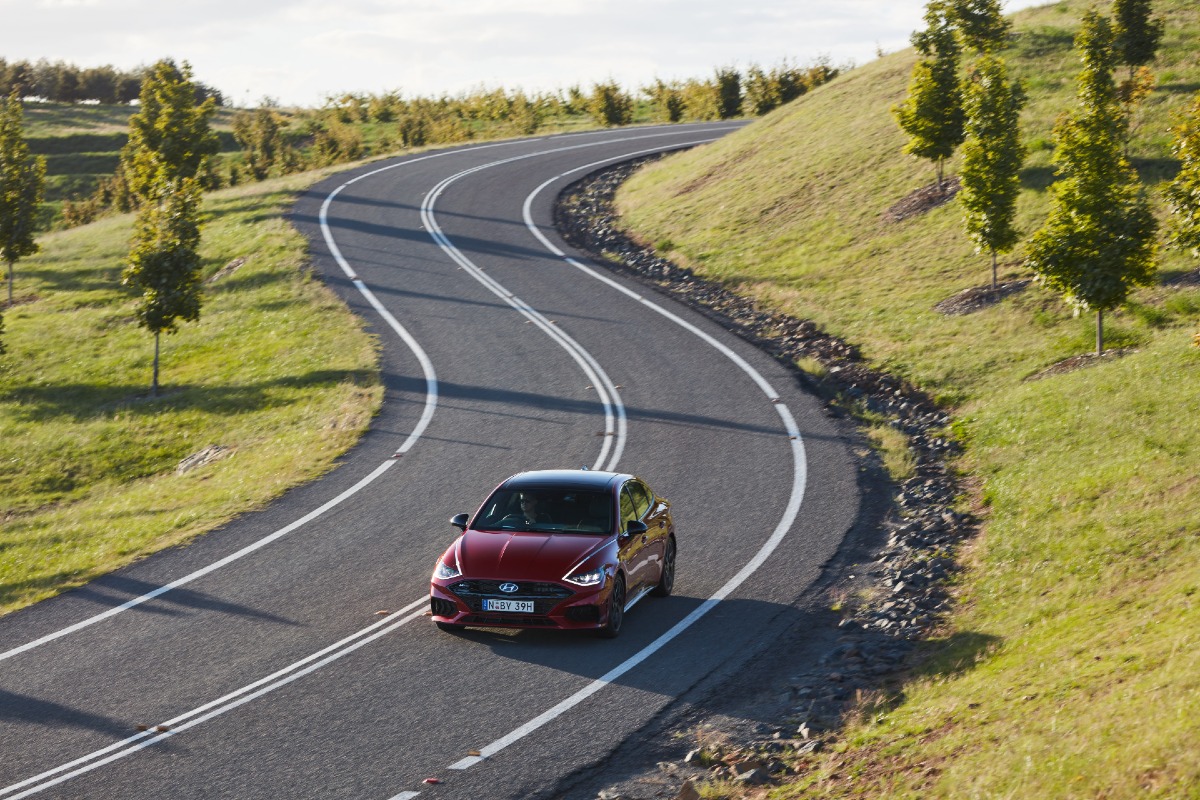 What's the interior like?
Hyundai has been pushing a more premium image recently, with its new design language extended from the exterior into the cabin. While it's not yet on the same level as a genuine luxury brand, it's certainly a leap forward from the previous generation Sonata and makes a clear statement about where Hyundai sees itself – a brand that makes quality cars, not cheap ones.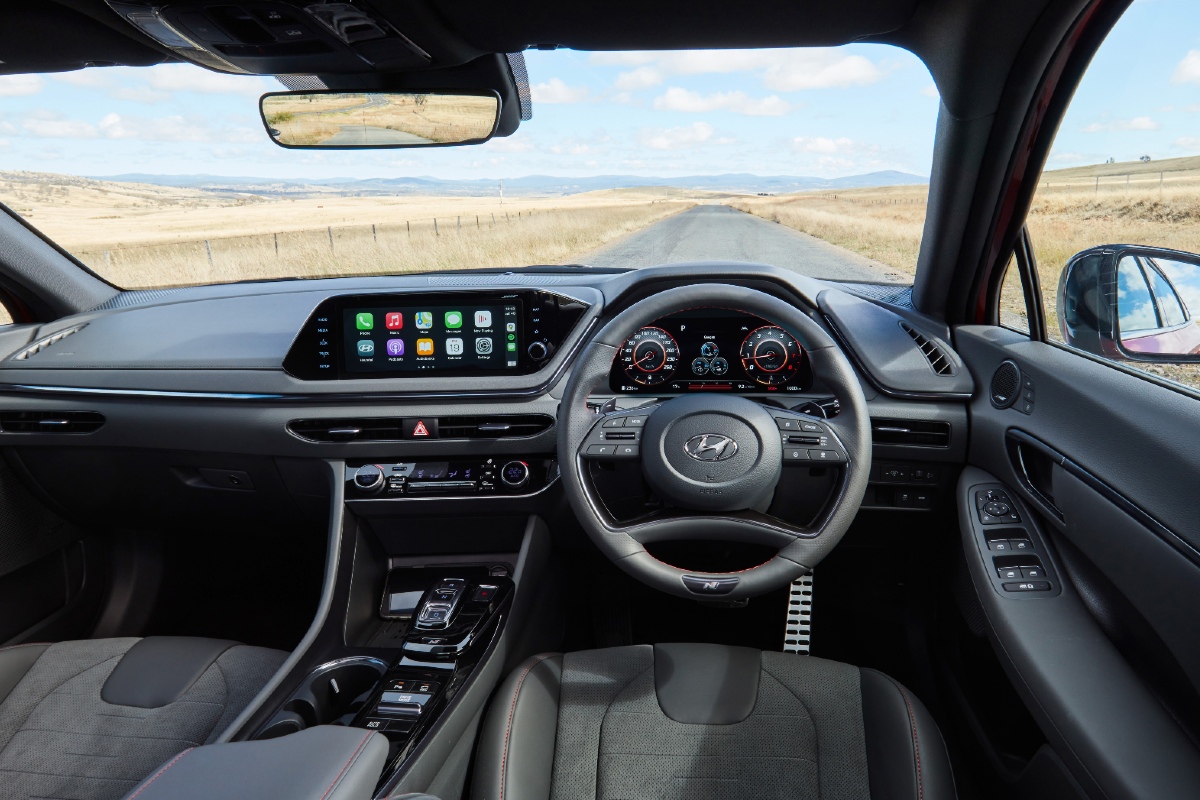 Elements like the four-spoke steering wheel and the gear selector buttons won't appeal to everyone, but overall the design looks and feels quite upmarket. The large infotainment screen (which incorporates Apple CarPlay and Android Auto) as well as the digital instrument panel only add to that premium feel.
The seats are nice and sporty, which suits the character of the N Line, but the seating position will be too high for some (this reviewer included) and that compromises headroom. Space in the back is good, as you'd expect from a sedan this size. There's also a spacious 510-litre boot too.
Is it good value for money?
All this sportiness and premium touches doesn't come cheap, with the Sonata N Line priced from $50,990 (plus on-road costs). Naturally that puts it at the top end of the (shrinking) mid-size sedan market against cars like the Mazda6 Atenza (from $50,090), Toyota Camry Hybrid SL (from $46,990) and upcoming new Volkswagen Arteon.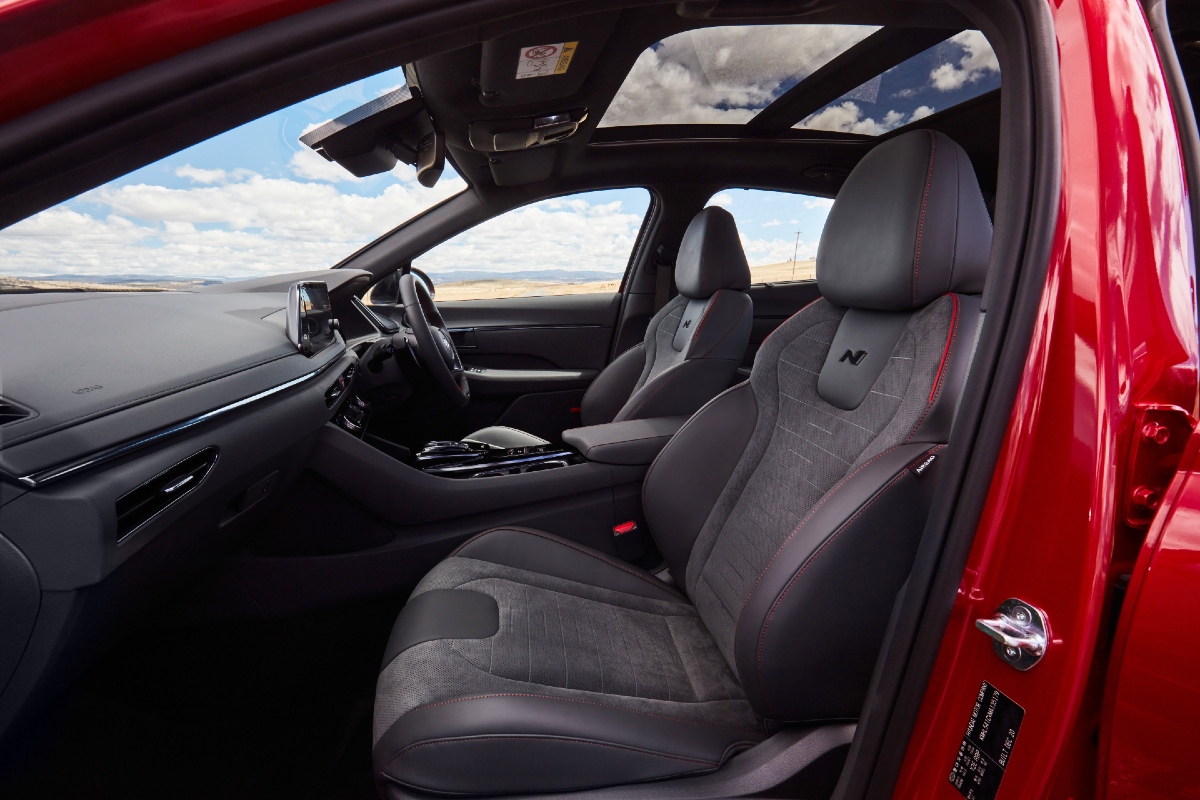 But perhaps the most direct rival, in terms of performance, is the Skoda Octavia RS (from $48,290). The Czech machine only offers 180kW/370Nm from its 2.0-litre four-cylinder turbo engine and is slightly smaller in length, but it's also a more overt performance car, with clear links to the Volkswagen Golf GTI hot hatch.
Would I buy one?
Hyundai isn't expecting the Sonata N Line to smash sales records, it's deliberately a specific car with a particular audience in mind. Personally, I'd trade-off some space for the more dynamically capable Skoda Octavia RS, but for those who still prefer a spacious sedan with a punchy engine and a premium interior the Sonata N Line will have strong appeal.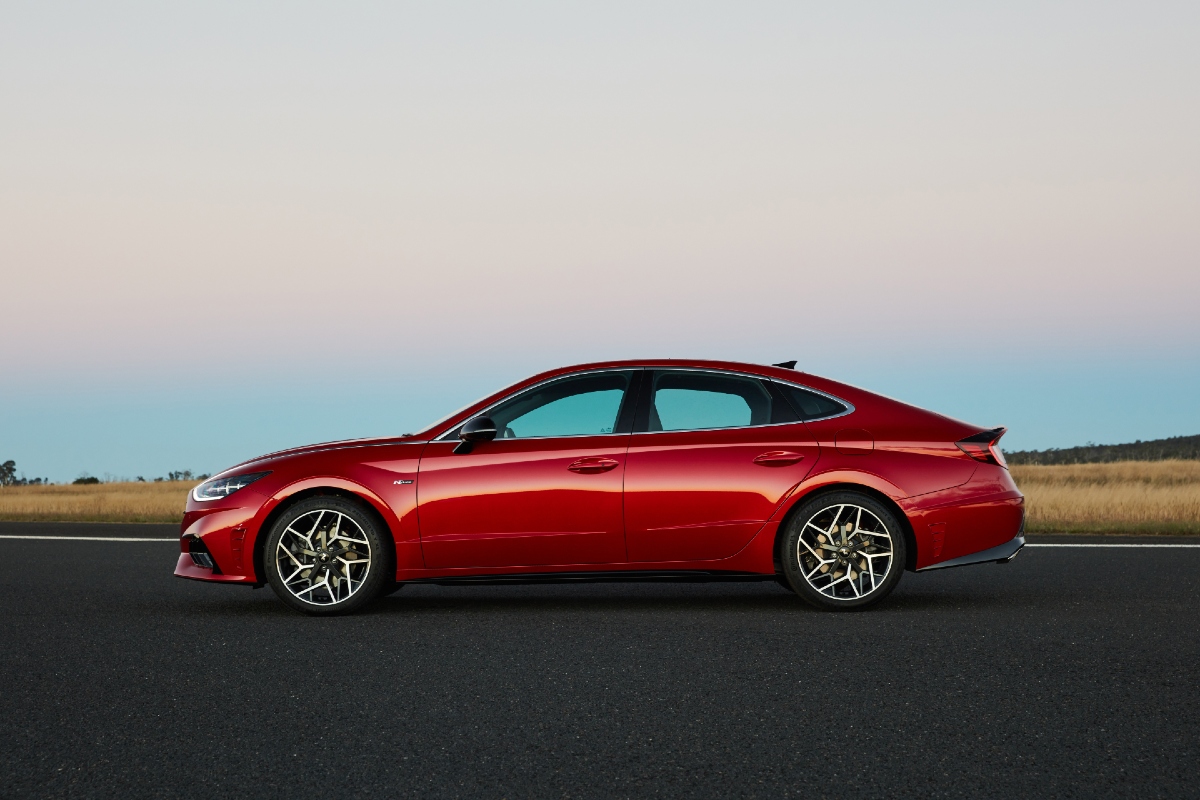 2021 Hyundai Sonata N Line price and specifications
| | |
| --- | --- |
| Price: | From $50,990 plus on-road costs |
| Engine: | 2.5-litre four-cylinder turbo petrol |
| Power: | 213kW at 5800rpm |
| Torque: | 422Nm at 1650-4000rpm |
| Transmission: | Eight-speed dual-clutch automatic, front-wheel drive |
| Fuel use: | 8.1L/100km |
| Wheels: | 19-inch alloys |
| Tyres: | 245/40 R19 |
| Length: | 4900mm |
| Width: | 1860mm |
| Height: | 1445mm |
| Weight: | 1636kg |
| 0-100km/h: | 6.2 seconds (claimed) |