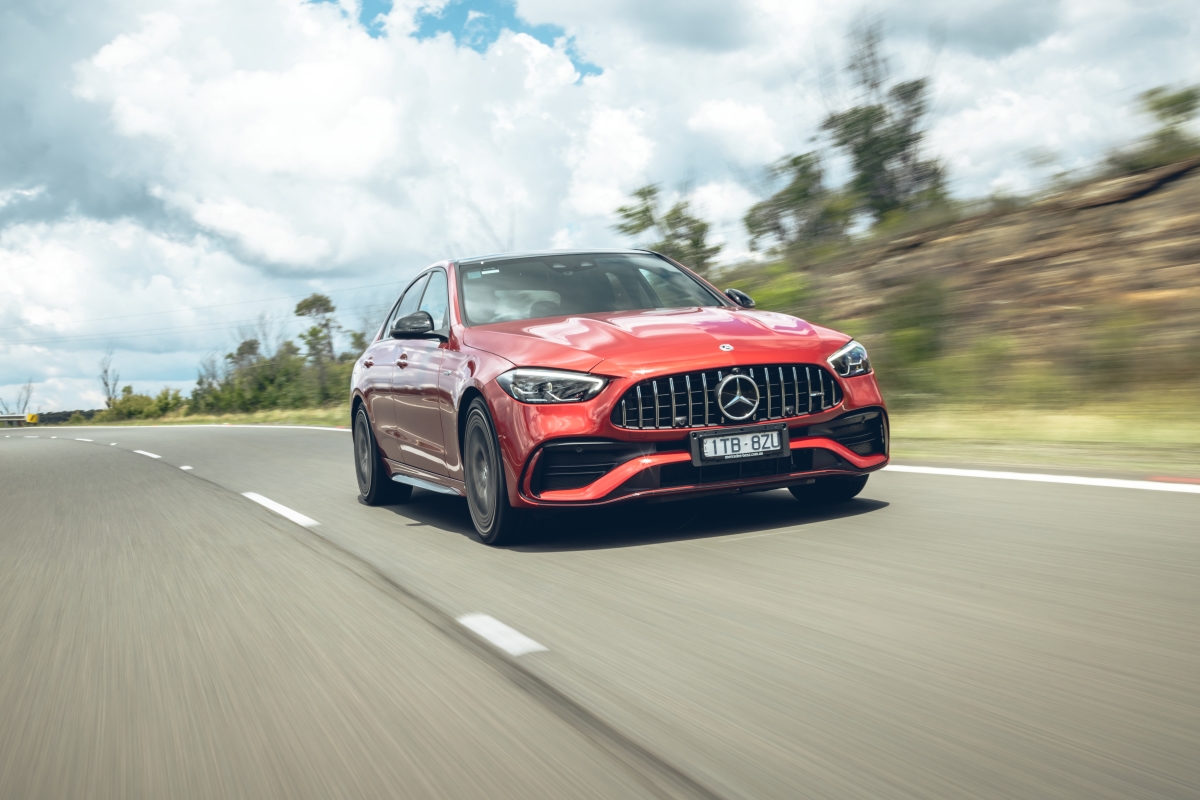 What is it?
The German brand is ushering in a new era for its AMG performance division as the world turns electric and this C43 is a part of the evolution. It's still powered by an internal combustion engine, but it's smaller and gets electric help.
This paves the way for the C63 later this year, which has also ditched its V8 engine for a more emissions-friendly alternative. But for a brand like AMG, which is so synonymous with big, loud and powerful engines it does raise questions about where this brand is headed.
Luckily, we were able to sample the new C43 on the way to and from this year's Bathurst 12-hour.
Does it have any racing pedigree?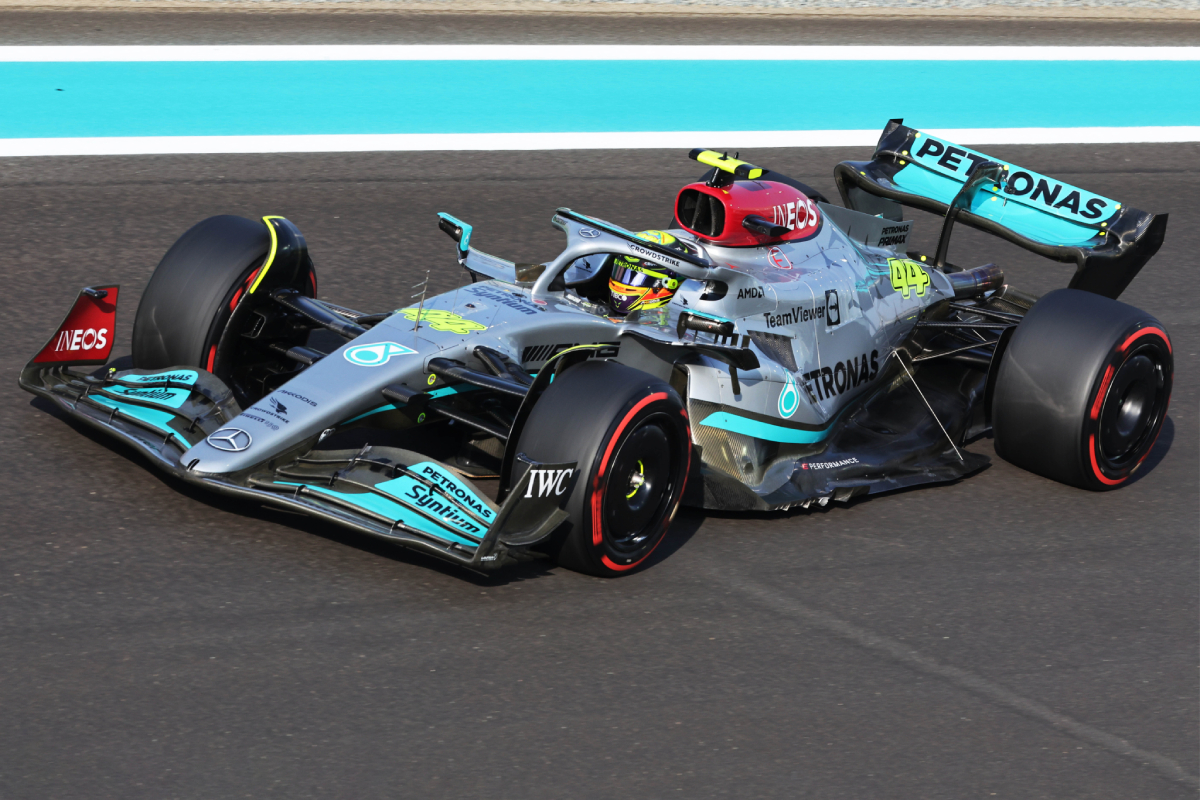 It was appropriate that Mercedes decided to launch the C43 at the Bathurst 12-hour, because it meant we were on-hand to witness the company's GT3 racer storm to an impressive win. But whereas the Mercedes-AMG GT3 is powered by the old 6.2-litre V8, this new C43 road car takes its inspiration from Mercedes' other motorsport program – Formula 1.
The engine has been designed and is built by AMG (not Mercedes-Benz) at its Affalterbach headquarters, like the other AMG engines of years gone by. But the technology used to extract maximum performance has come from F1, specifically a so-called 'electric exhaust gas turbocharger'.
What's under the bonnet?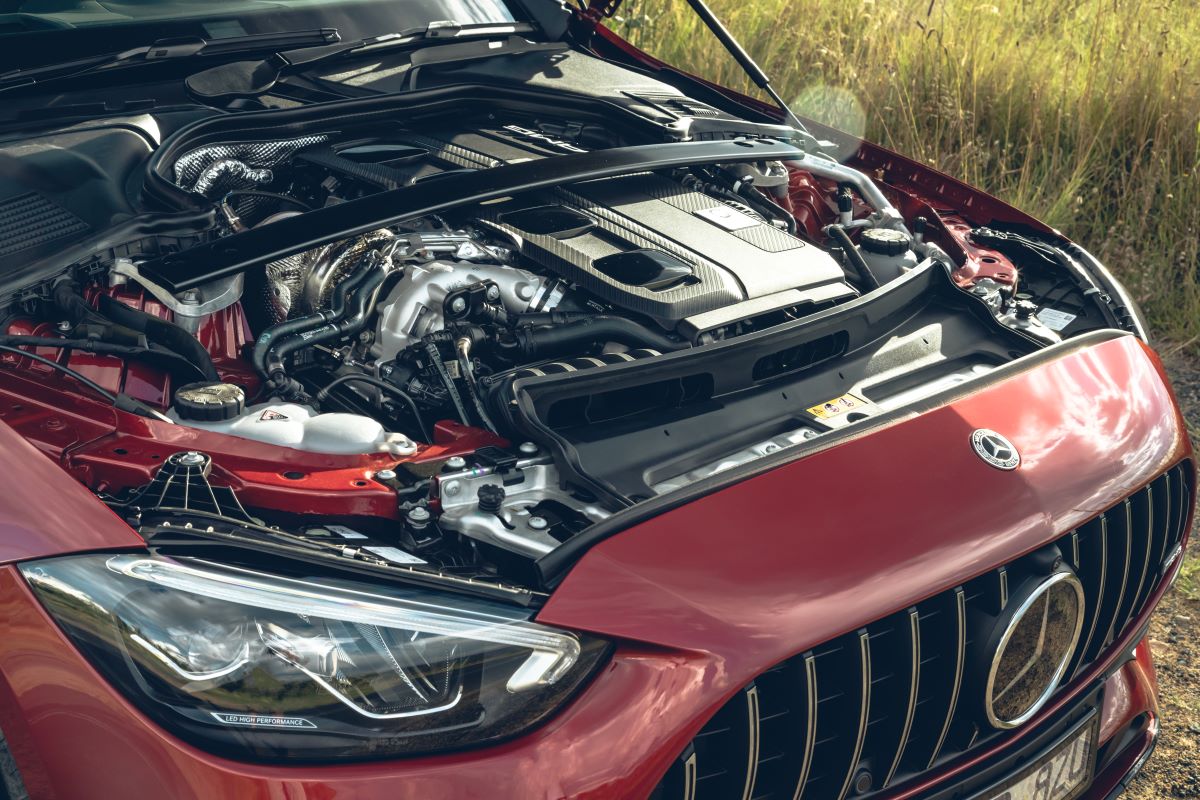 The engine in question is a 2.0-litre four-cylinder petrol engine, but instead of relying on a conventional turbocharger, AMG used lessons learnt from Lewis Hamilton's world championship winning engine.
The electric exhaust gas turbocharger integrates a small electric motor directly on the turbocharger shaft, which is powered by a 48-volt mild-hybrid electrical system. The 48-volt system is able to power the motor which spins up the turbocharger immediately, instead of waiting for the exhaust gases to take over (like a conventional turbocharger). This means the engine has better response and effectively eliminates turbo lag.
If that all sounds very technical, don't worry, all you really need to know is that it's a potent engine. It makes 300kW of power and 500Nm of torque, which is a lot of grunt from such a compact engine.
It feels every kilowatt on the road, with immense acceleration when you put your foot down. Unfortunately, it is let down by its gearbox at times. It's paired to a nine-speed multi-clutch automatic transmission, which Mercedes claims has been designed to optimise response, "especially during spurts and load changes." But in our test drive we felt a noticeable hesitation from the transmission to shift down when we stamped on the throttle for a sudden burst of acceleration.
Of course, the other noticeably missing element from the smaller, more-efficient turbocharged engine is a six-cylinder soundtrack like the previous C43. Instead it's a more muted affair which sounds more like a modern hot hatch rather than a raspy sports sedan.
How does it handle?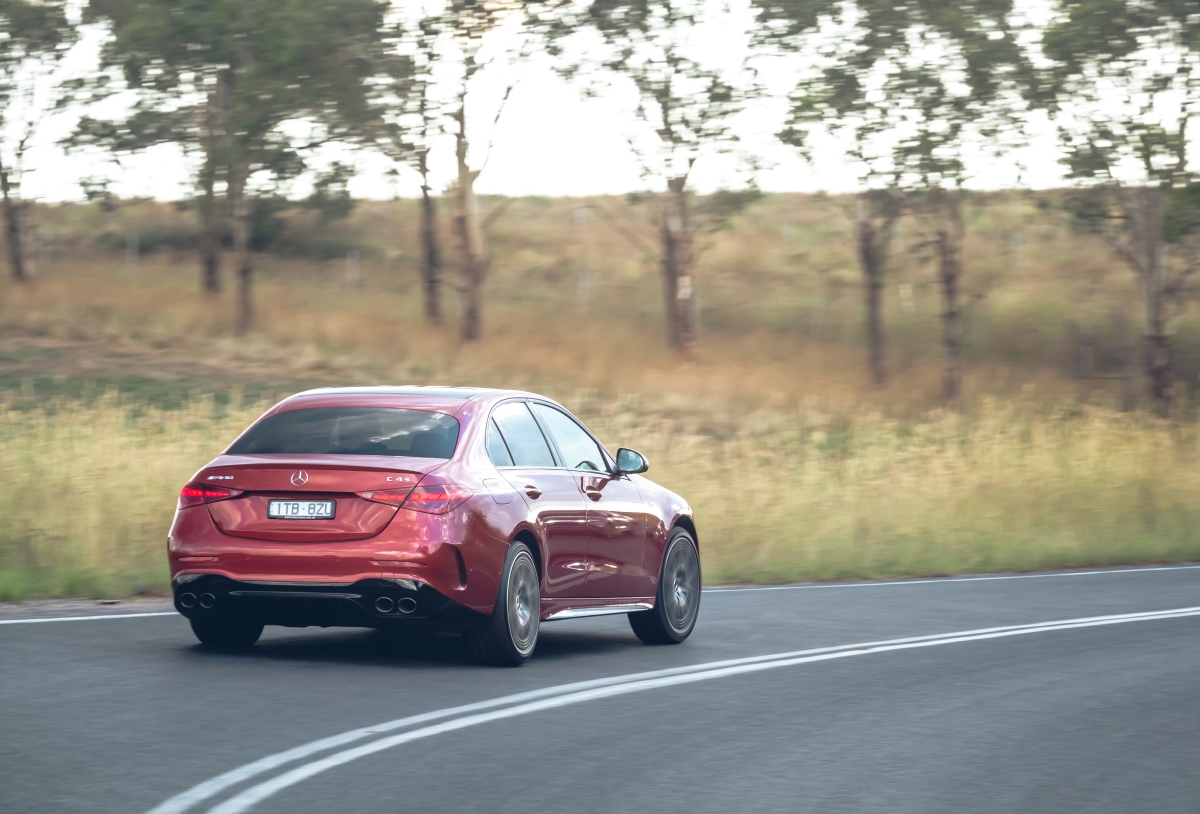 Handling is one area where AMG once struggled to match its German rivals BMW and Audi, but in more recent years it has been able to go toe-to-toe with the best. The C43 is a sharp handling car with a well-sorted chassis.
One of the key reasons it's so responsive is it has rear-wheel steering as standard, which provides up to 2.5 degrees of help when turning. Its all-wheel drive system is also rear-biassed, so it handles more like a sports sedan than a big hot hatch too.
Where the C43 is let down, at least on local roads, is the adaptive dampers and how they are tuned. There are three settings – Comfort, Sport and Sport+ – but none are able to strike the right balance between control and compliance. The 20-inch alloy wheels with 30 profile tyres (on the rear) don't help with the ride quality, but the way the C43 hits bumps simply should be better.
It feels too stiff for Australian public roads in either of the Sport settings and even in Comfort it will hit bumps hard and struggle to settle. It's a shame because the busy ride lets down an otherwise enjoyable car to drive.
Where would you most like to drive it?
A racetrack, with a nice smooth surface, would be a great place to explore the potential of the C43. Although, it is worth noting the C43 is definitely not a car on the same level as the C63, so it should be measured against its direct rivals (BMW M340i and Audi S4) and not judged as a track toy. But on a smooth, fast-flowing track like Phillip Island it would certainly feel at home.
What's the interior like?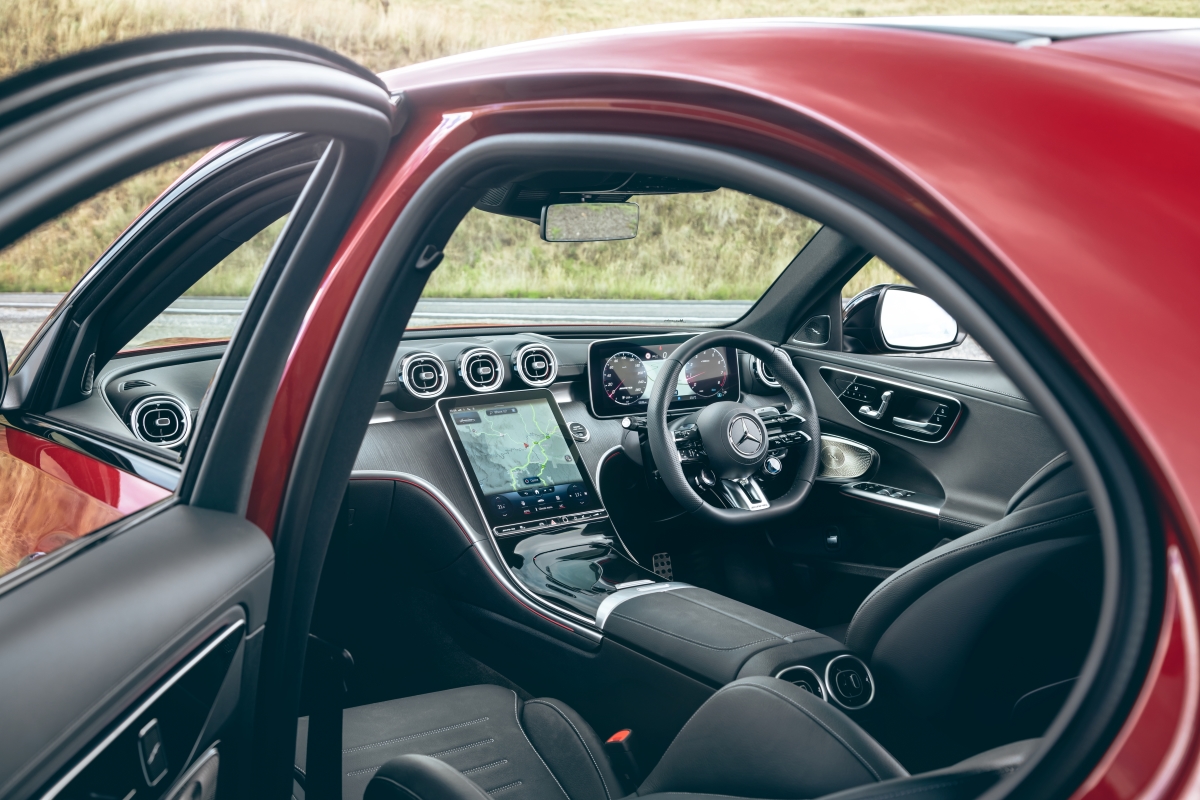 This is one of the highlights of the car, nicely combining the luxury you expect from a Mercedes with the dynamic touches you want from an AMG. There's an AMG steering wheel, sports seats and a digital instrument panel that can be changed between a variety of different displays from simple to incredibly complex graphics.
How much does the Mercedes-AMG C43 cost?
The addition of the F1 technology plus the other changes that come with this being a new-generation C-Class has seen a price rise over the old model. The C43 now starts at $134,900 (plus on-road costs), which positions it approximately $30k above its BMW and Audi competition.
Would I buy one?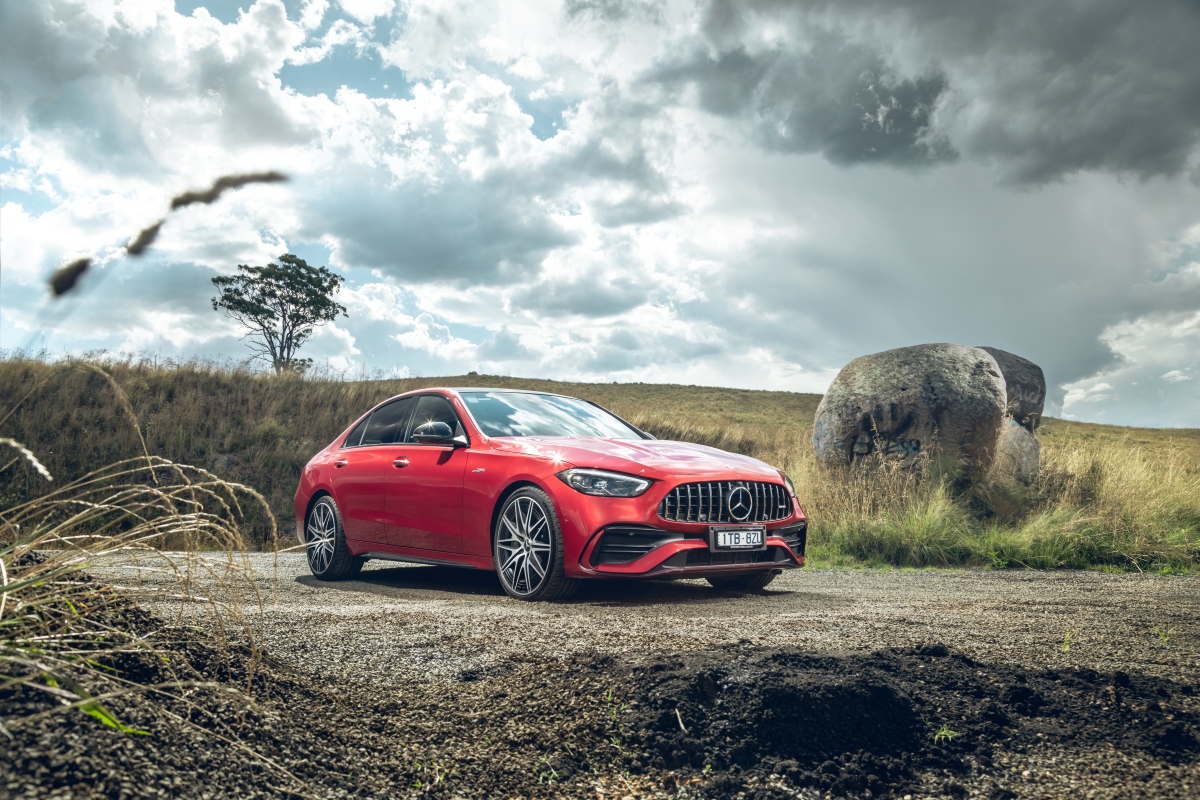 This new C43 is a good car, but not a great one. AMG faces a difficult challenge in the next few years to try and maintain its loyal following that love its high-performance muscular cars at a time when government regulations around the world are restricting what they can offer.
It may not be a perfect car but it has some very likeable elements that will appeal to those looking for a dynamic but restrained sports sedan.
2023 Mercedes-AMG C43 price and specifications
| | |
| --- | --- |
| Price: | From $134,900 plus on-road costs |
| Engine: | 2.0-litre four-cylinder turbo petrol |
| Power: | 300kW at 6750rpm |
| Torque: | 500Nm at 5000rpm |
| Transmission: | Nine-speed multi-clutch automatic, all-wheel drive |
| Fuel use: | 9.1L/100km |
| Wheels: | 21-inch alloys |
| Tyres: | 245/35 ZR20 (front), 265/30 ZR20 (rear) |
| Length: | 4791mm |
| Width: | 1824mm |
| Height: | 1450mm |
| Weight: | 1856kg |
| 0-100km/h: | 4.6 seconds |