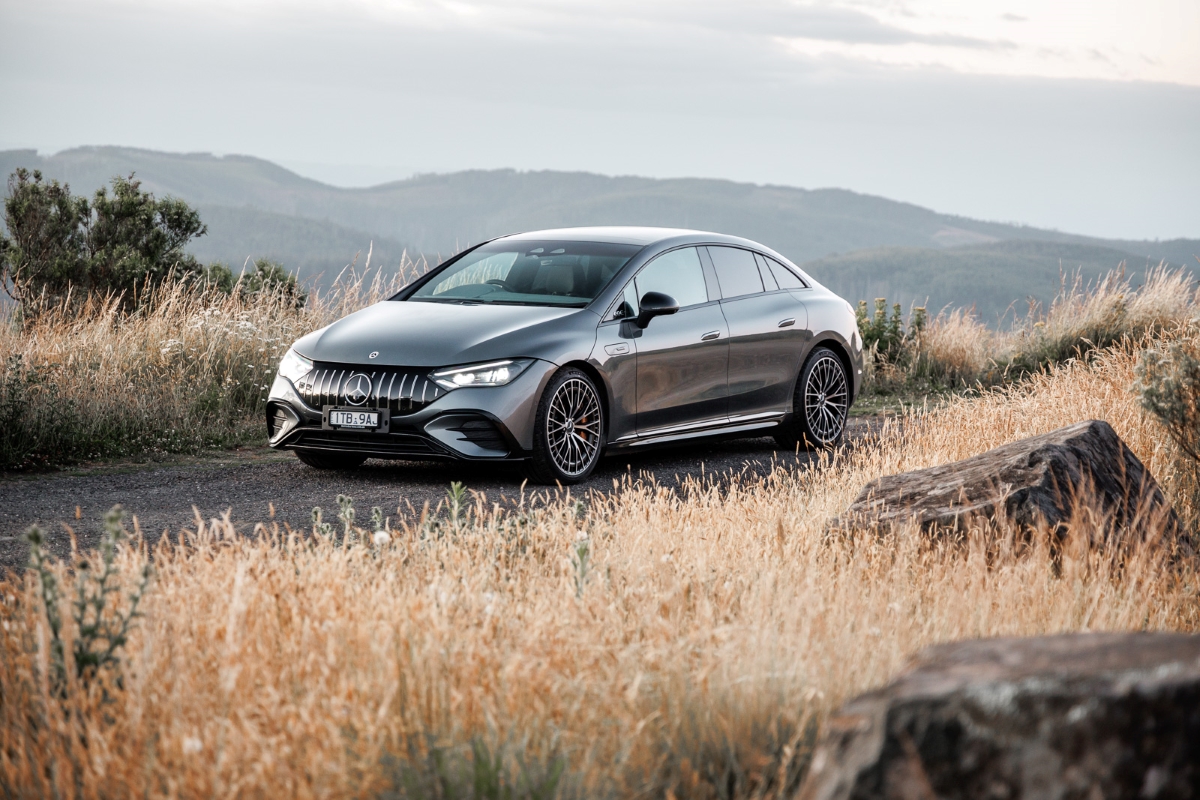 What is it?
The future of Mercedes-AMG performance cars. The EQE 53 4Matic+ is not the first all-electric AMG model, but it's the latest and it makes it clear the brand is headed for an electric-only future as soon as feasible.
The EQE 53 is the flagship model of the new EQE Sedan range, which also features the entry-level, single-motor EQE 300 and the dual-motor EQE 350 4Matic. This mid-size luxury sedan gives the three-pointed star brand a competitor to the recently-arrived Audi e-tron GT as well as giving buyers an alternative to the currently unavailable Tesla Model S.
Does it have any racing pedigree?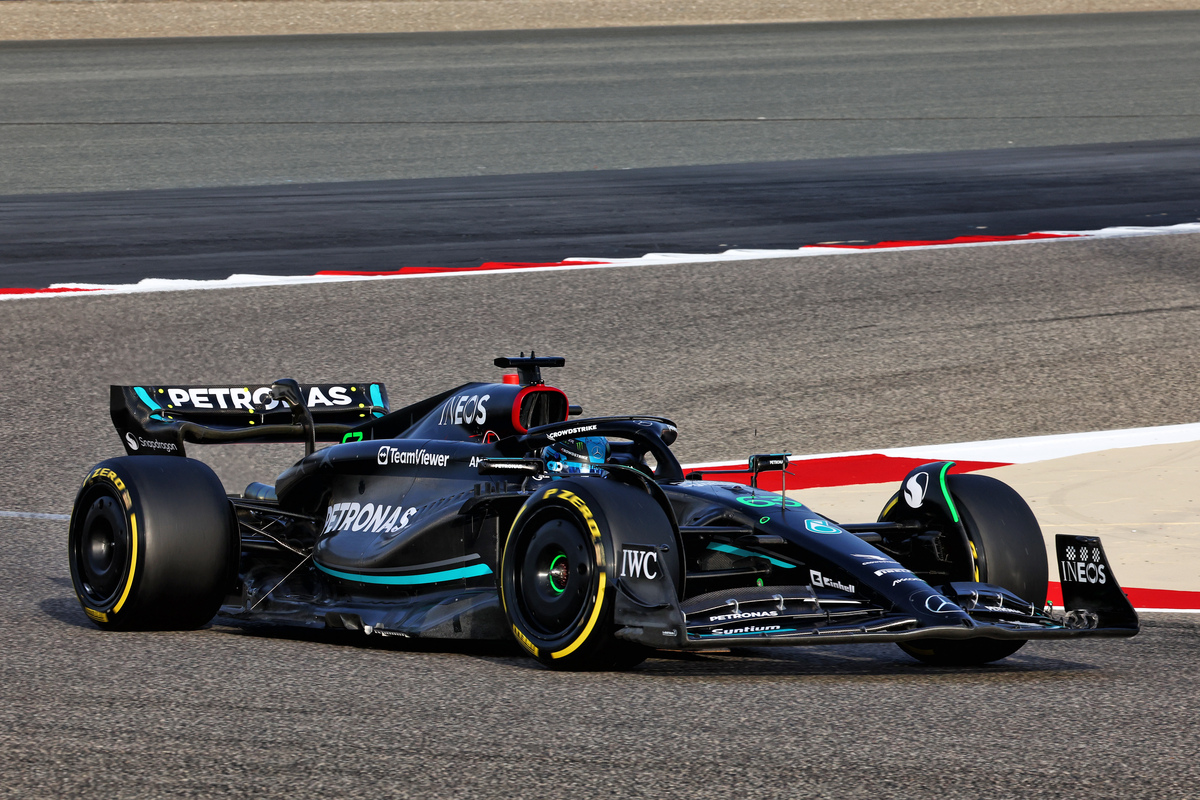 Mercedes, and specifically AMG, have been pushing electrification hard in recent years as a key to its performance future. Just last week, Mercedes' chief technology officer, Markus Schaefer, highlighted the key role that the brand's Formula 1 team is having on the development of its electric vehicles.
Specifically, the engineers and designers at the High Performance Powertrain division of the F1 team have been able to pass on technical and procedural learnings to their road car counterparts to speed up and improve the development of Mercedes' upcoming EV models.
What's under the bonnet?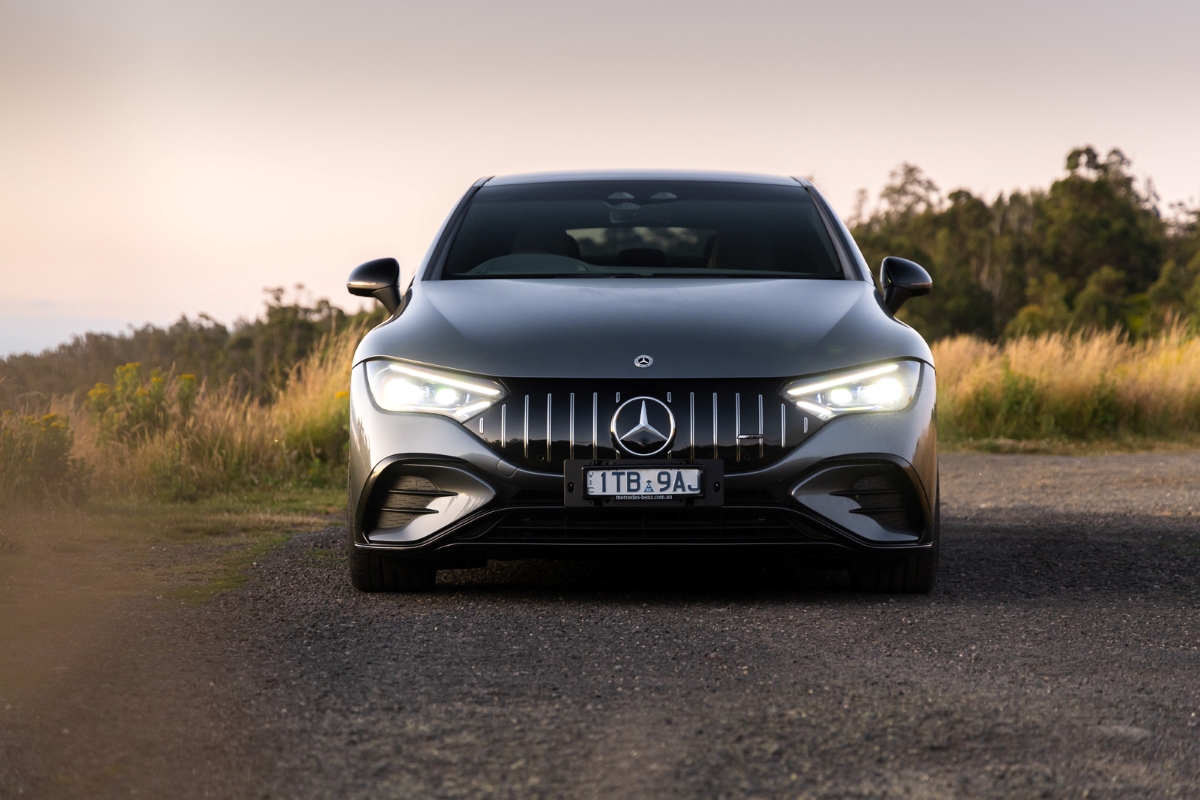 In the past an AMG model would separate itself from the rest of the range with a bigger engine – more cylinders, more capacity and (probably) more turbochargers. But with electrification, it has to make do with a uniquely tuned version of its dual motors.
But that doesn't mean the EQE 53 doesn't have AMG levels of performance. The motors (one mounted on each axle for all-wheel drive) push out a very healthy 460kW of power and 950Nm of torque. With all that grunt and all-wheel drive traction, unsurprisingly the EQE 53 launches with ferocity, running 0-100km/h in just 3.5 seconds.
If that isn't enough for you Mercedes offers the optional AMG Dynamic Plus pack for $7400. It elevates power and torque to a whopping 505kW/1000Nm, while also adding AMG functions including Track Pace and Race Start.
While impressive on paper in the rear-world the EQE 53 leaves this reviewer with mixed feelings. From a performance point-of-view, there's so much to like, with near-instant torque delivery making the car feel incredibly rapid for a large luxury sedan – or, actually, any car.
The obvious downside with electrification is the loss of sound, with the electric motors delivering all that performance in near-silence. This is something acutely noticeable in an AMG, because the brand has made some of the best-sounding engines over time, from roaring V8s to angry four-cylinders, so missing that does detract from the driving experience somewhat.
The EQE 53 draws its power from a 90kWh lithium-ion battery, which allows it a driving range of up to 435km, according to Mercedes.
How does it handle?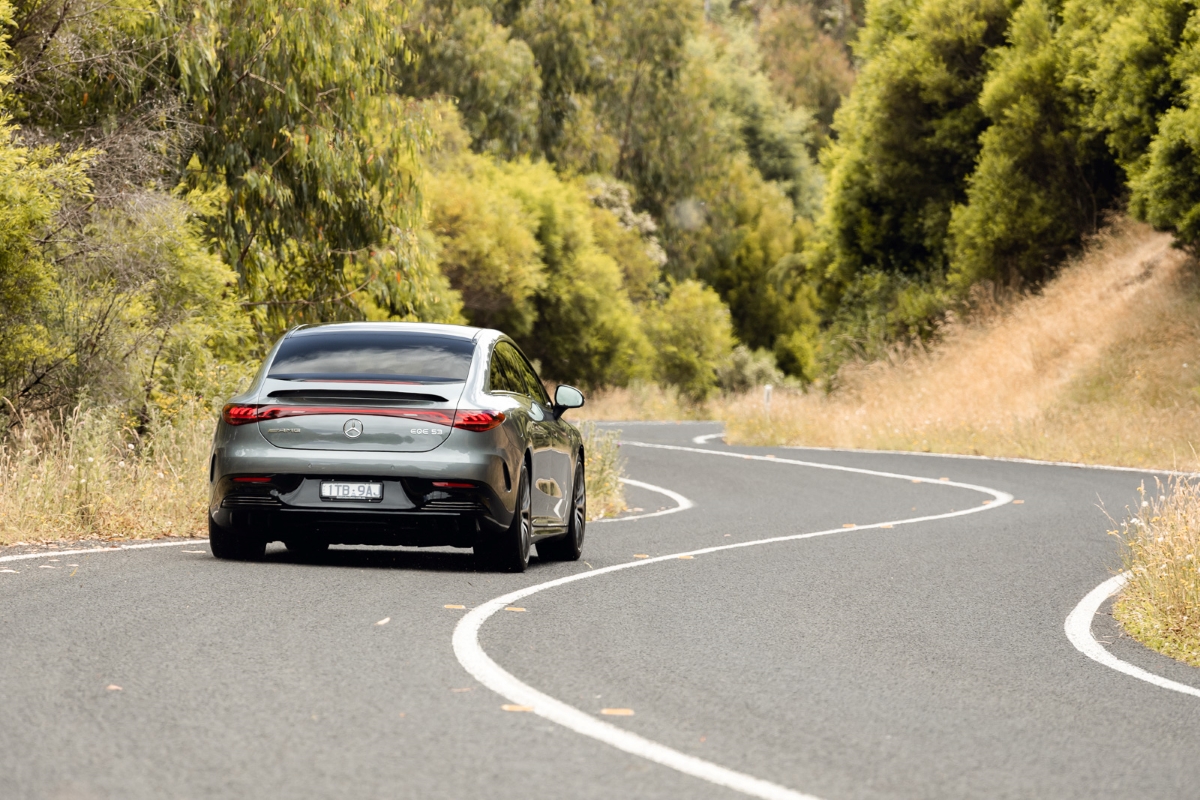 While it's important for a sports sedan to have a powerful engine (or motors, in this case), handling is just as important to modern buyers. The key to the EQE's driving dynamics is the AMG Ride Control suspension, a specially developed air suspension set-up that allows the 53 to both control its significant mass while also riding over bumps without jarring; which is a common problem amongst sporty EVs so far.
Compared to the standard steel spring suspension on the EQE 300 and 350, the AMG model feels more resolved and settles more quickly over dips. This allows it to feel more stable and controlled, which allows you to push.
The local launch route took in some of Victoria's most challenging rural roads in the hills to the east of Melbourne and the EQE 53 felt right at home winding through the countryside. Even when pressing on it felt composed and engaging.
The biggest negative are the brakes, with an obvious jolt when the regeneration switches to the mechanical braking hardware. This isn't something we've experienced on the EQE's rivals, so Mercedes should iron out this kink.
Where would you most like to drive it?
It's an AMG, so the racetrack should be its ultimate test. The EQE 53 is limited to a top speed of just 220km/h (or 240km/h if you get the option pack) so it doesn't need to be somewhere with a long straight. Instead it would be good to test out its handling and ability to launch out of corners on a more technical layout, such as Winton Raceway.
What's the interior like?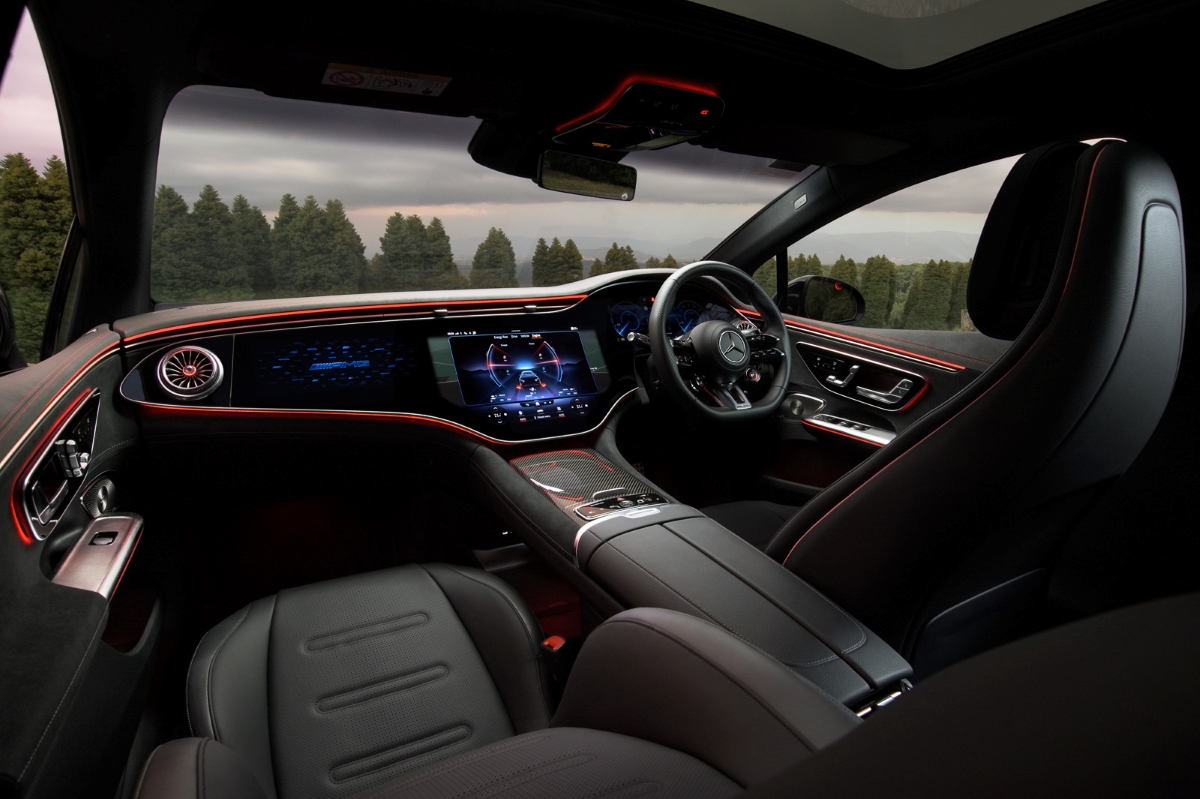 It's a nice blend of classic Mercedes-Benz luxury and modern electric car technology. The materials used are all top-notch, but there's also digital tablet-style screens for the instrument display and infotainment screen.
Depending on how much money you want to spend you can give the EQE Mercedes' most spectacular party trick – the hyperscreen. This massive panel takes up almost the entire dash fascia and includes a huge central infotainment screen and an extra screen in front of the passenger. But it doesn't come cheap, costing a whopping $16,000.
The other notable element of the cabin is the space, because the EQE Sedan is built on Mercedes' bespoke electric vehicle platform. That means there's an extra 180mm for the wheelbase, which liberates an extra 80mm of interior room making for a spacious second row.
How much does the Mercedes-AMG EQE 53 cost?
The EQE 53 4 Matic is priced from $214,900 (plus on-road costs), which is competitive for a sports sedan this size – regardless of what energy source it uses. If that's too much, the EQE 300 is priced from $134,900, while the EQE 350 starts at $154,900, which is very competitive for a mid-size luxury sedan.
Would I buy one?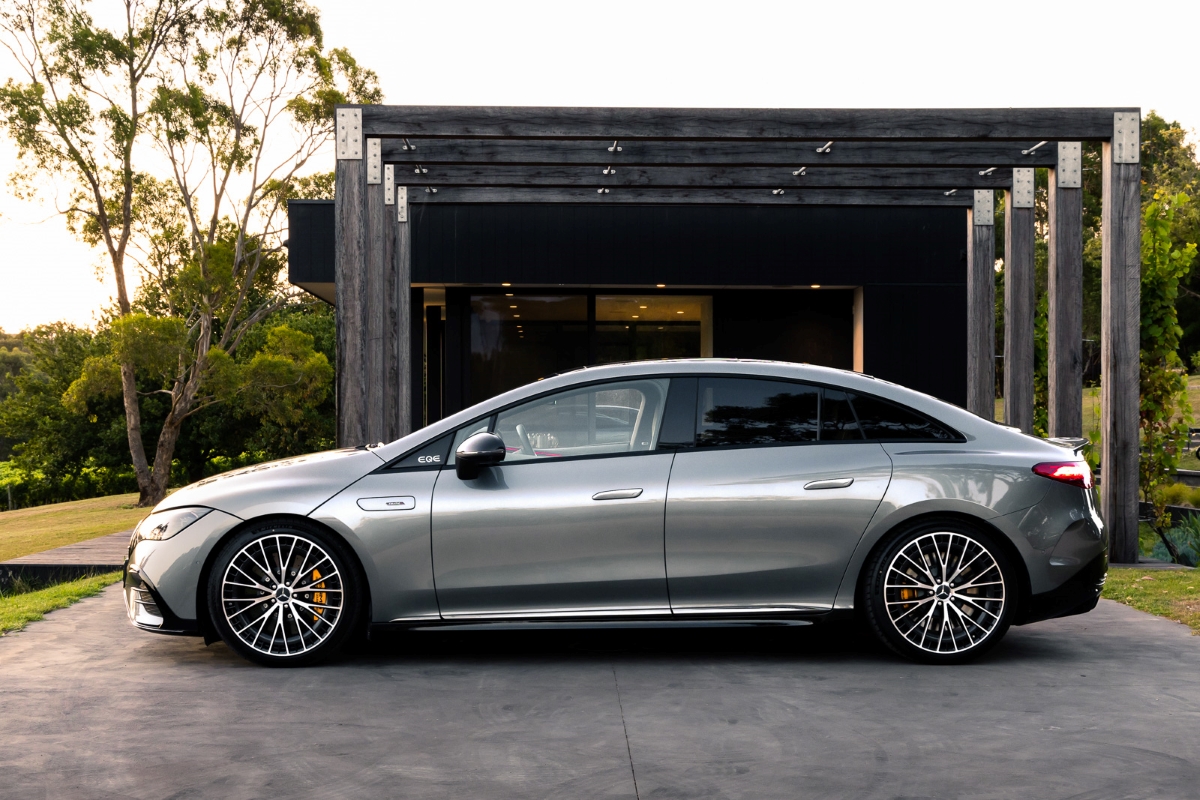 There's certainly a lot of appeal to the AMG EQE 53, from its shove-you-back-in-your-seat performance to its engaging driving experience and luxurious and spacious cabin. But for a real AMG enthusiast the lack of sound will be confronting and does make me want to enjoy the company's internal combustion engined cars for as long as I can. Even if the future looks promising, I'll live in the present for now.