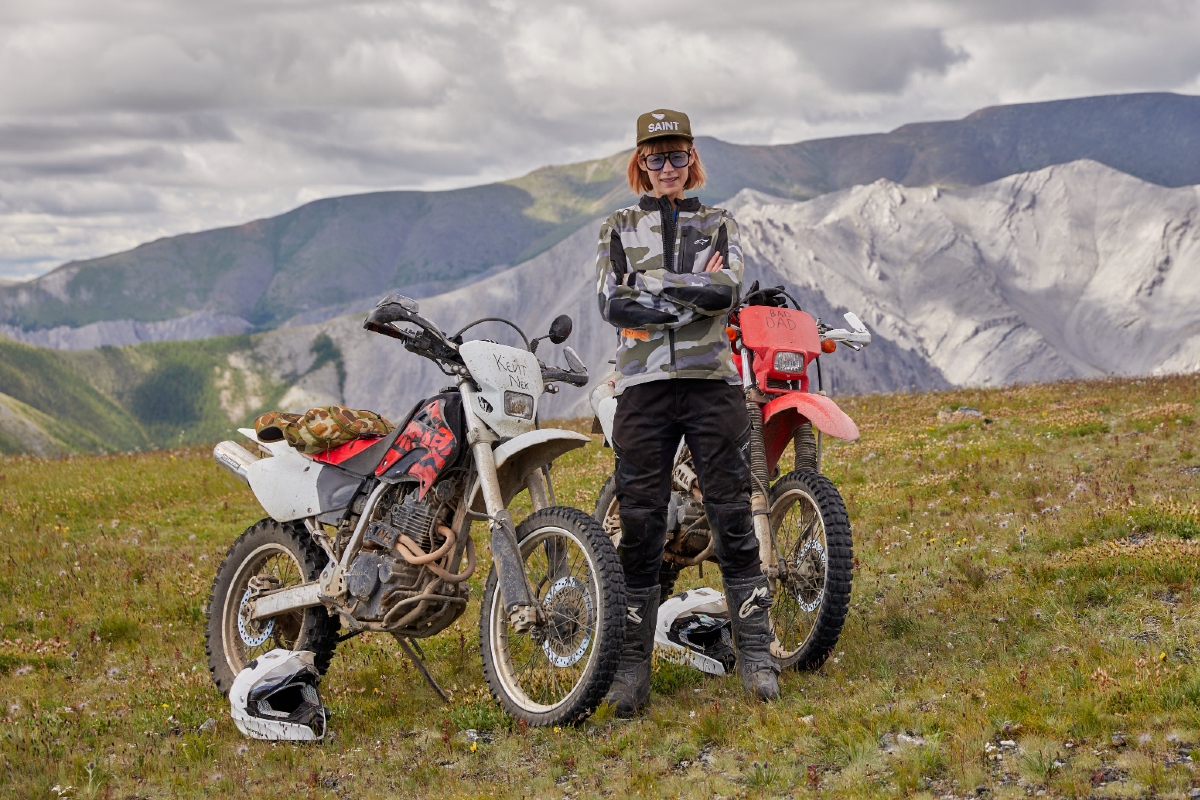 Mongolia. I can't say it's up there with Bali for popularity with tourists. I knew nothing about Mongolia except according to the Western world, they do a damn good Mongolian beef, which they probably just call beef.
But I am a dead-set sucker for an adventure. When my mate Rex at the moto tour company Himalayan Heroes suggested his 'Mongolian Maniacs' trip, it was a no-brainer. I roped in my partner and moto mad dad, plus a few mates, and took off for 12 days of chaos, collisions, culture and adventure. And just to underline just how moto mad my dad is, this would be his 96th country by motorcycle – that's 49 per cent of the world's countries.
We landed in the capital of Mongolia, Ulaanbaatar. The population of Mongolia is only three million, half of that live in the capital. The other half live as proud nomads, cruising around in their Gers aka Mongolian tents. Imagine if half of Australia lived in tents. Wild.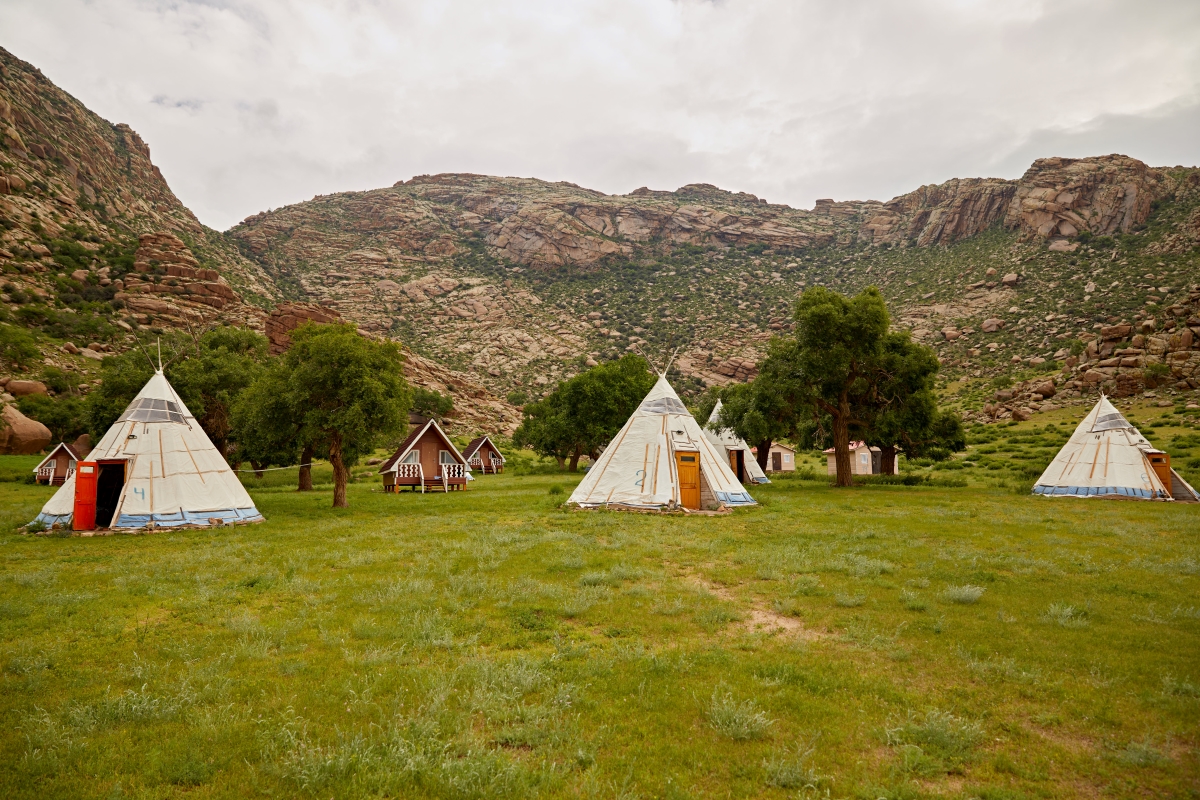 Soon into the trip, we met our fearless leaders, the most incredible set of guides who knew the territory like native trackers. Which was good, because there were no street signs where we were heading.
The tension and excitement levels were through the roof to pick up the bikes 150km west of the capital. COVID-19 cancelled this trip on me once, so it had been a long time in the making. I was ready.
My noble steed was a 2008 Honda XR400. I was expecting a kickstart. Praise be, the moto gods blessed me with a starter button. Each bike was labelled. My dad's was 'Bad Dad'.
After being randomly being interviewed on the Mongolian national news before we got on the bikes, we discovered my name in Mongolian is Kent Nek. So obviously my 400 was named Kent Nek.
Got to love a rain storm to kick things off, but thankfully it didn't last long. Soon, we hit the dirt, the sun came out, and from there began the most jaw-dropping scenery I've ever ridden through. Everywhere you looked was like a scene from Mario Kart. Green hills that never seemed to stop rolling and no other human in sight – just yaks, horses and an occasional Ger.
On the first night, we arrived at the sweetest little Ger and Wood Cabin Camp at the base of a sacred mountain in the Khugnu Khan National Park. Upon our arrival, the camp owner and our guides insisted on doing shots of whiskey, which then began a regular evening ritual. This suited me just fine.
Day two and the sand dunes were calling. I can't say any of us had done much sand, which is unsurprising because sand is a pain in the ass. Luckily, it doesn't hurt when you go down because most of us did.
The recent record-breaking rain meant we'd regularly change routes as the water crossings became gigantic. At one 100m long crossing, I was the first to go down and much to my amusement, my dad was next. We both drowned our bikes. Dad stayed up till 2am that night fixing his.
The next mega crossing, our lead guide Iji, a very experienced rider, rode in first, got halfway and became almost completely submerged. A horse and rider then tried to rescue him, and they too, almost got swept away. Was it wrong I was laughing? Such is the joy of off-roading, getting a good giggle out of other's misfortunes and prangs, especially when they're the better rider.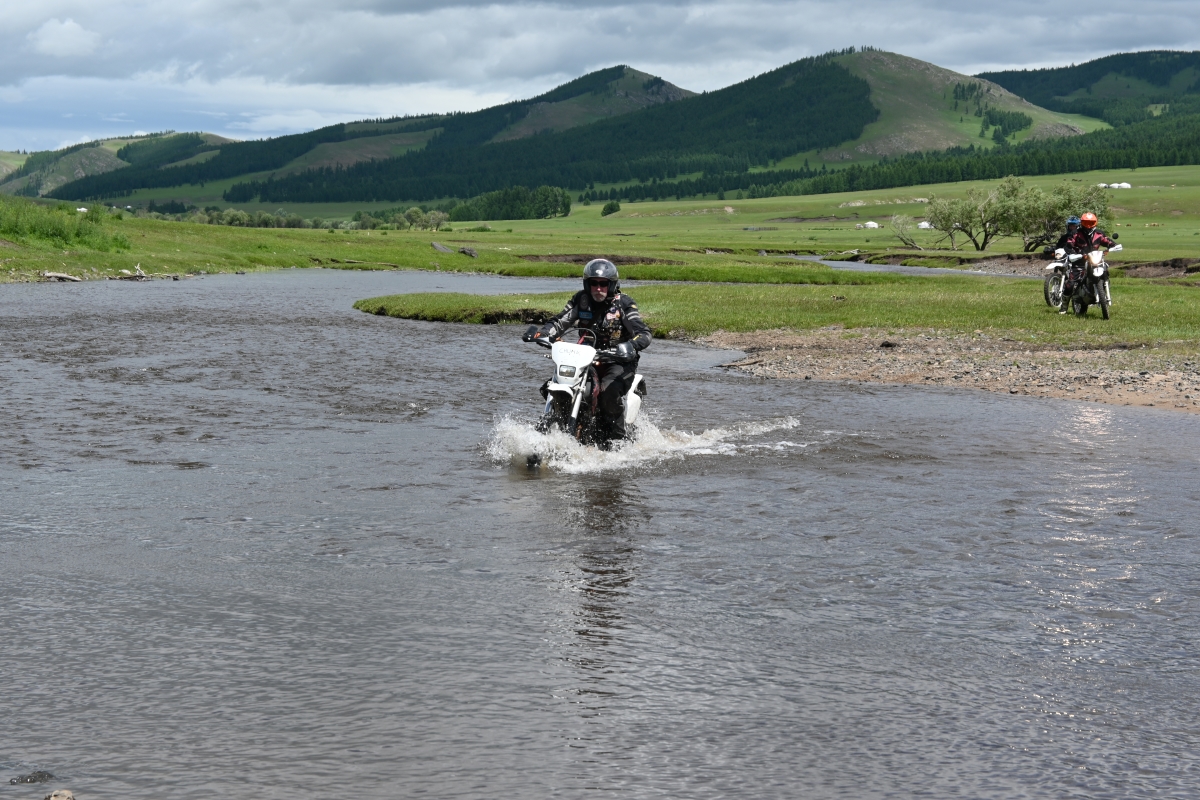 Days would kick off at 8 am on the bikes and finish anywhere from 4.30 (if we were lucky) to 7.30pm, depending on the dramas, fun and games. Which is no problemo because the sun doesn't go down till about 10 pm in Summer. 
Moving into treacherous mud and forest with sketchy, mossy tree roots up the Suvraga Khairkhan Mountain. We'd reached the halfway mark, and that meant hot springs! Apparently, in the previous group, one of the riders had a few beers in the spring and became so horrendously dehydrated that he had to go to hospital. I was sure to take beers and water into the tub to avoid a Mongolian hospital.
From the Springs, we headed north, passing by the volcanic gorge river Chuluut and around the extinct Khorgo volcano to the Terkhiin white lake – a popular destination for holidaying Mongolians. The roads were rough and steep heading through the surrounding mountains. But that didn't stop Mongolia's king of the road – the Toyota Prius, from attempting the same route we were on. Not many made it to the end, but man o' man, were they keen to send it.
Here we ate Yak intestines. An acquired taste that many of us struggled with. Much to my surprise, I finished my plate.
The next day was more mountain riding – less vast open plains, more technical single track. We arrived at Shine Ider camp, and I hosted a moto yoga class because ya'll get to keep flexi if you want to continue riding for eight hours each day.
Moving into the final stages of our trip, I was becoming quite used to sleeping in Gers. The beds were rock hard, and the pillows were lumpy, but I never noticed due to exhaustion and whiskey. Inside, they were wonderfully spacious, and some even had power points. Each morning and night, you could have your Ger's fire lit, which was handy to dry out river-soaked moto gear.
More rocky, gravel mountain riding was to lead us to our final camp, where we'd stay two nights at one of the largest freshwater lakes in the world – Lake Khuvsgul – a sight for sore eyes. A cold glass lake, 136km long and up to 260m deep. I knew it was cold because I dove in, lasting for 0.4 of a second. It was three degrees to be exact. The surrounding area is a popular destination for wealthy holidaying Mongolians.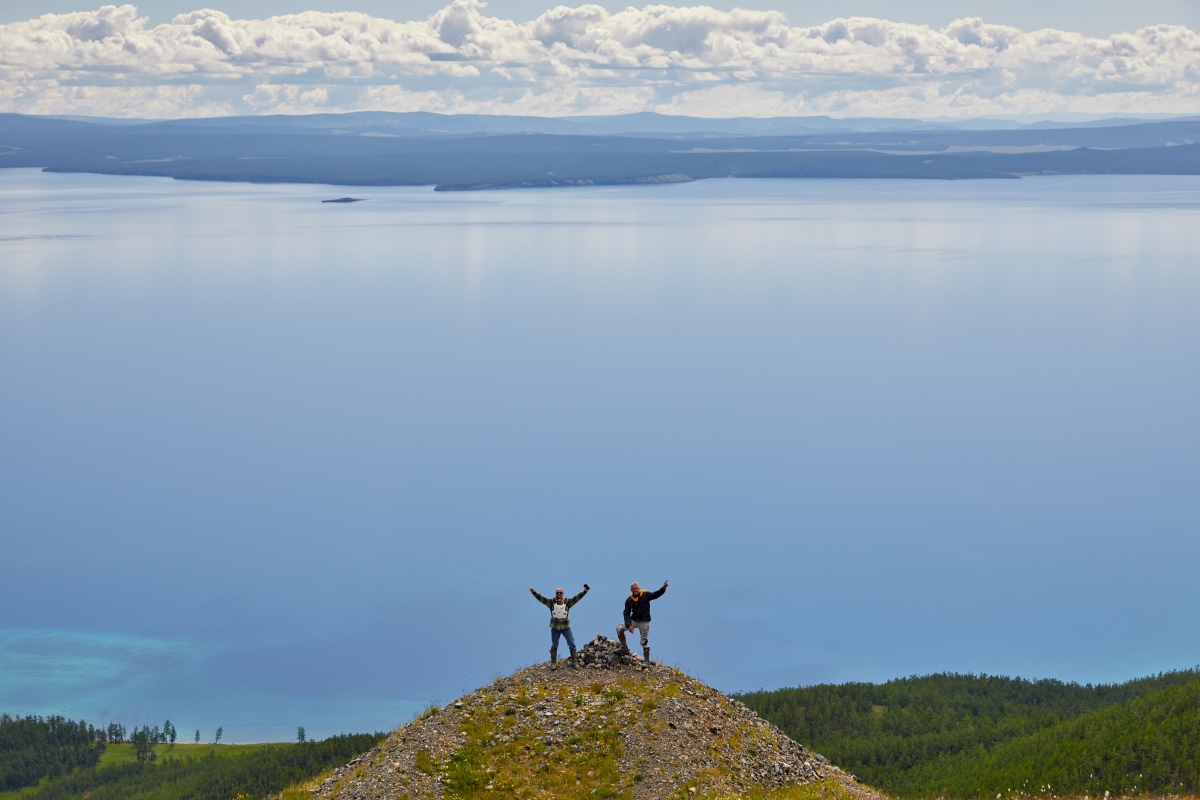 From here, we'd ride out on loops, including a tricky hill climb up the Holy Khoridol Saridag mountain, 3100m above sea level. This ride took us 20km south of the Russian border. I was a bit sweaty about getting the drone up.
Come the end of the trip, I had fallen head over heels for my Honda XR400. I drowned it and dropped it, crashed it and smashed it. It absorbed everything. The beauty of going low-tech and Japanese is that everything can be fixed anywhere, anytime. Ergonomically, for a rider like myself at 5'11, the XR400 was the perfect height and fit.
The bikes were beaten up by the end, needing new sprockets, tyres, chains and a bit of TLC. My Dad had to push start his XR400 at every departure, providing me much entertainment. At 73, he didn't mind.
Mongolia was an adventure I'll remember forever. It was a good reminder that life is short, so don't put off the things that make you happy.
If this wild adventure tickled your fancy, you can head to the Himalayan Heroes for more information.