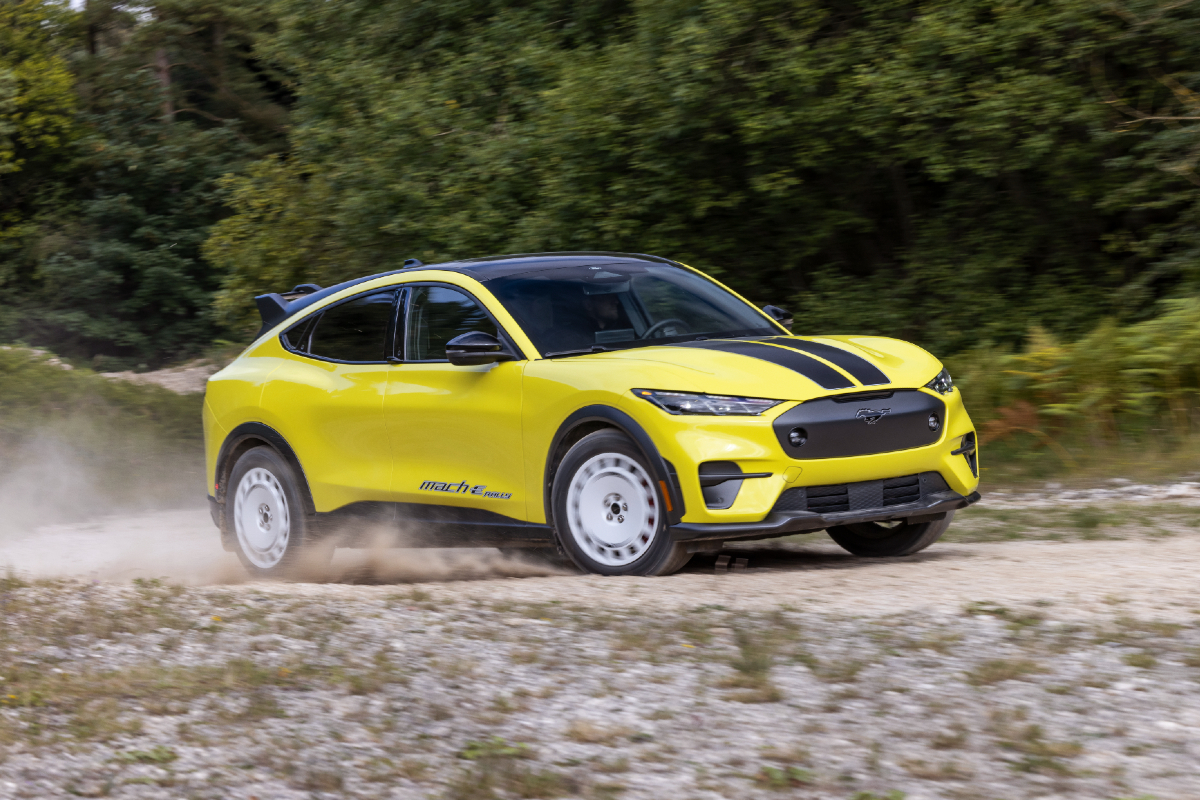 This might be the closest we ever get to a Ford Mustang Raptor. Like the Baja-inspired Ranger Raptor, the all-new Mustang Mach-E Rally is ready for action on or off-road.
Previewed this year at the Goodwood Festival of Speed, the new Mach-E Rally is the first Mustang designed for off-road use. Ford developed an all-new rally stage at its Michigan proving grounds, with input from rallycross racers, just to test this new model.
REVIEW: Read all about the Ford Mustang Mach-E here
Changes for this new addition include underbody protection to shield the motors from flying gravel, a unique front bumper with built-in rally lights, a rear wing and a black steel roof. The Rally comes standard with twin racing stripes down the centre of the car, which can be blue, black, green or bright yellow. It also gets new 19-inch rally-style alloy wheels fitted with Michelin CrossClimate2 tyres, as well as a 20mm right height increase with new MagneRide shocks and unique springs.
Underneath it's powered by a dual-motor electric powertrain that Ford is aiming to tune to 358kW of power and 880Nm of torque, while still providing up to 400km of driving range.
The Mustang Mach-E Rally is just the latest in a long-line of motorsport-inspired models Ford has released in recent years, including the Mustang GTD, the Bronco Desert Racer and the GT Mk IV.
Ford CEO Jim Farley said the company was motivated to create the Mach-E Rally as a celebration of its long-term involvement in the sport.
"Mustang Mach-E Rally puts Ford's decades of passion for rally championships around the world right in the hands of our customers," Farley said. "It takes Mustang where it hasn't been before – to gravel and dirt roads. Inspired by true driving enthusiasts, a driving experience like never before for the pure joy of driving."
There's no word yet on whether the Mach-E Rally will be offered in Australia, but the standard model is due to reach local showrooms before the end of the year.