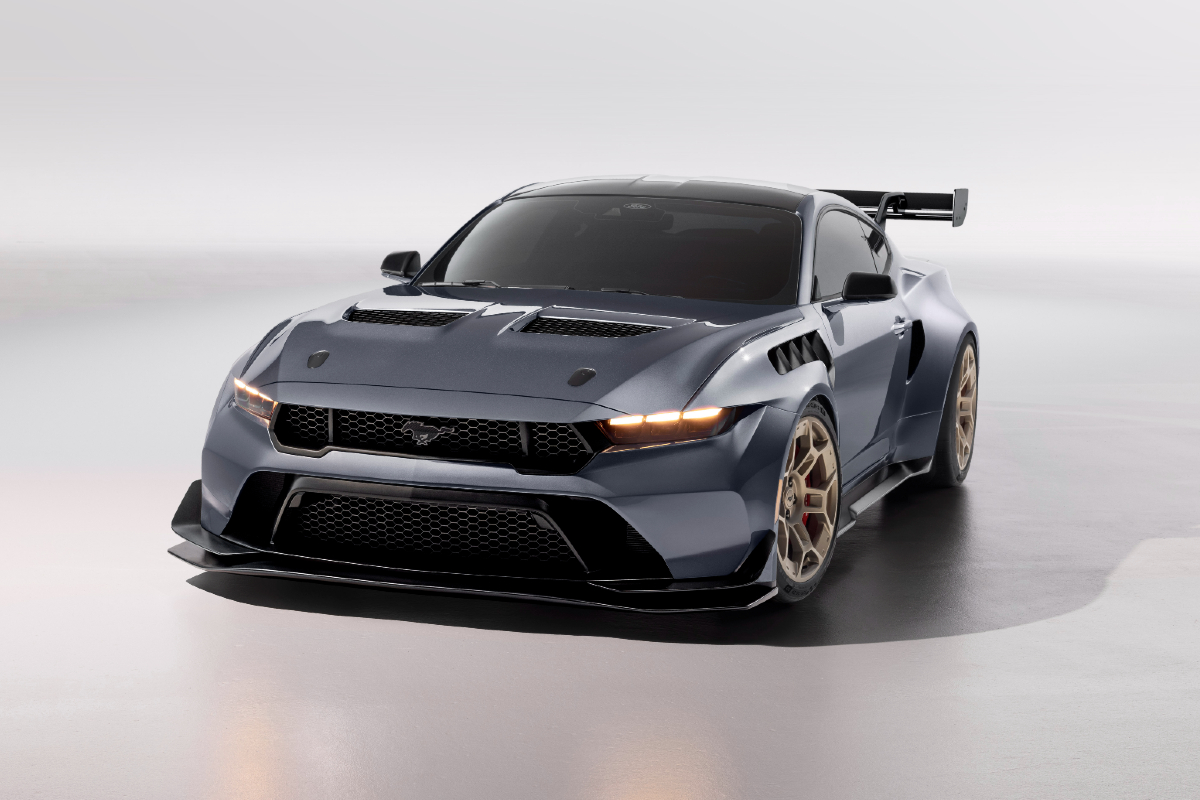 Ford has taken the covers off its "most audacious and advanced" take on its iconic pony car in its 58-year history – the Mustang GTD.
As first reported by Torquecafe in September last year, Ford has been inspired by its entrance into the global GT3 racing category, known as GT Daytona in the US IMSA series. Ford global president Jim Farley told Torquecafe at the launch of the seventh-generation pony car that we should expect something special.
"To go to Le Mans you need a road car," Farley said at the time. "You should be asking what that car's about but I couldn't tell you. So there'll be more."
The "more" is indeed Le Mans inspired, taking clear inspiration from the new Mustang GT3 built by Multimatic, the Mustang GTD has a race-style aerodynamic package with huge front fender vents and an unmissable swan neck rear wing.
But that's only the beginning because Ford says "every precision part of Mustang GTD is purposefully designed. Every form is driven by function."
ROAD TEST: 2023 Ford Mustang Dark Horse review
Ford and Multimatic worked together again on this road-legal version of the racing car, to ensure it had the most amount of racing technology it could. That means a supercharged V8, a new eight-speed dual-clutch transaxle, carbon fibre driveshaft, carbon fibre panels for much of the body, active aerodynamics, magnesium wheels and carbon ceramic brakes.
"Mustang GTD shatters every preconceived notion of a supercar," Farley said, revealing the car today. "This is a new approach for us. We didn't engineer a road car for the track, we created a race car for the road. Mustang GTD takes racing technology from our Mustang GT3 race car, wraps it in a carbon fibre Mustang body and unleashes it for the street."
READ MORE: Ford CEO goes racing
Farley is so confident in his creation he's challenged any other car company boss to a racetrack showdown against the Mustang GTD.
"This is our company, we're throwing down the gauntlet and saying, 'Come and get it,'" Farley said. "We're comfortable putting everybody else on notice. I'll take track time in a Mustang GTD against any other auto boss in their best road car."
The engine is a 5.2-litre V8 with a newly-developed supercharger and dry-sump oil system (the first for a road-going Mustang) that reportedly makes 596kW (800hp). To get that power to the rear wheels, Ford has deployed a transaxle (similar to what's used in the local racing Supercars) and the carbon fibre driveshaft to achieve almost ideal 50/50 weight distribution.
The next major advancement is the suspension, a bespoke adjustable system that allows the GTD to lower when it gets to the track by 40mm. The complex hydraulic system for the suspension – along with the transaxle and rear wing mounting posts – take up the space used as the boot on the standard Mustang, so if you're looking for a practical Mustang this isn't it.
The front suspension is a short-long arm set-up that Ford claims "provides enhanced lateral stiffness and improved kinematics especially in high-G cornering," while the rear suspension is an integral link pushrod and rocker arm design with inboard Adaptive Spool Valve dampers and coil-over springs, developed by Multimatic.
Multimatic's executive vice president, Larry Holt, said the suspension is more advanced that what's typically allowed in racing.
"We are extremely proud of our work on the Mustang GTD," Holt said. "It showcases our state-of-the-art DSSV spool valve suspension technology, with features not even allowed in racing. The Mustang GTD sets a new benchmark for road-going racers, and we can't wait for clients to experience the thrill of driving it."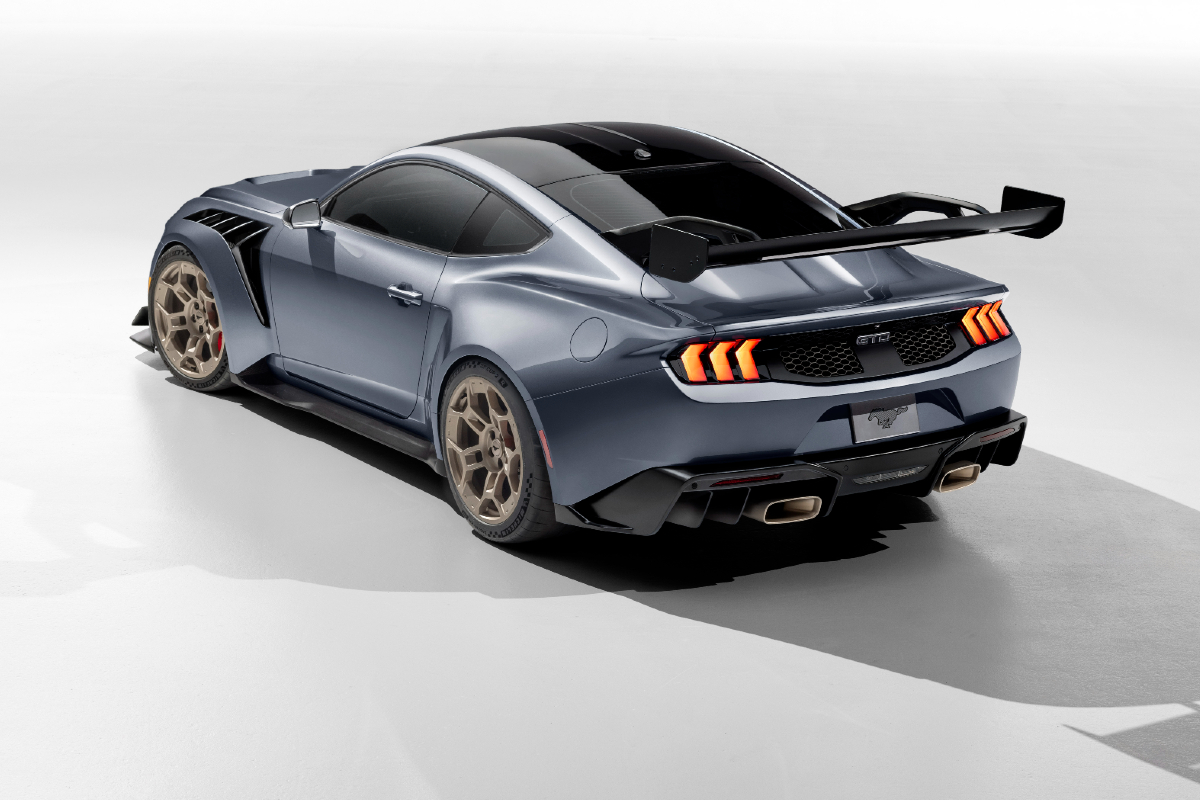 To keep the Mustang GTD stuck to the road – beyond the aero kit – are massive 325mm wide front tyres and 345mm rear rubber wrapped around 20-inch forged aluminium or forged magnesium (depending on what the owner opts for). To underline how extreme this Mustang is, those front tyres are wider than the rear tyres were on the GT supercar.
Inside the cabin features Miko suede, leather and carbon fibre trim, as well as Recaro racing-style seats and 3D-printed titanium parts made from retired Lockheed Martin F-22 fighter jets.
Ford has said the run of the Mustang GTD will be "limited" but hasn't provided any number, but has revealed pricing will start at US$300,000 (approx. $468,000) – but customisation will likely add to that figure. The Mustang GTD will start life on the traditional Flat Rock Assembly line but will be converted to GTD specification at Multimatic's specialist facility in Markham, Canada – where the Ford GT and Bronco Desert Racer have been built.