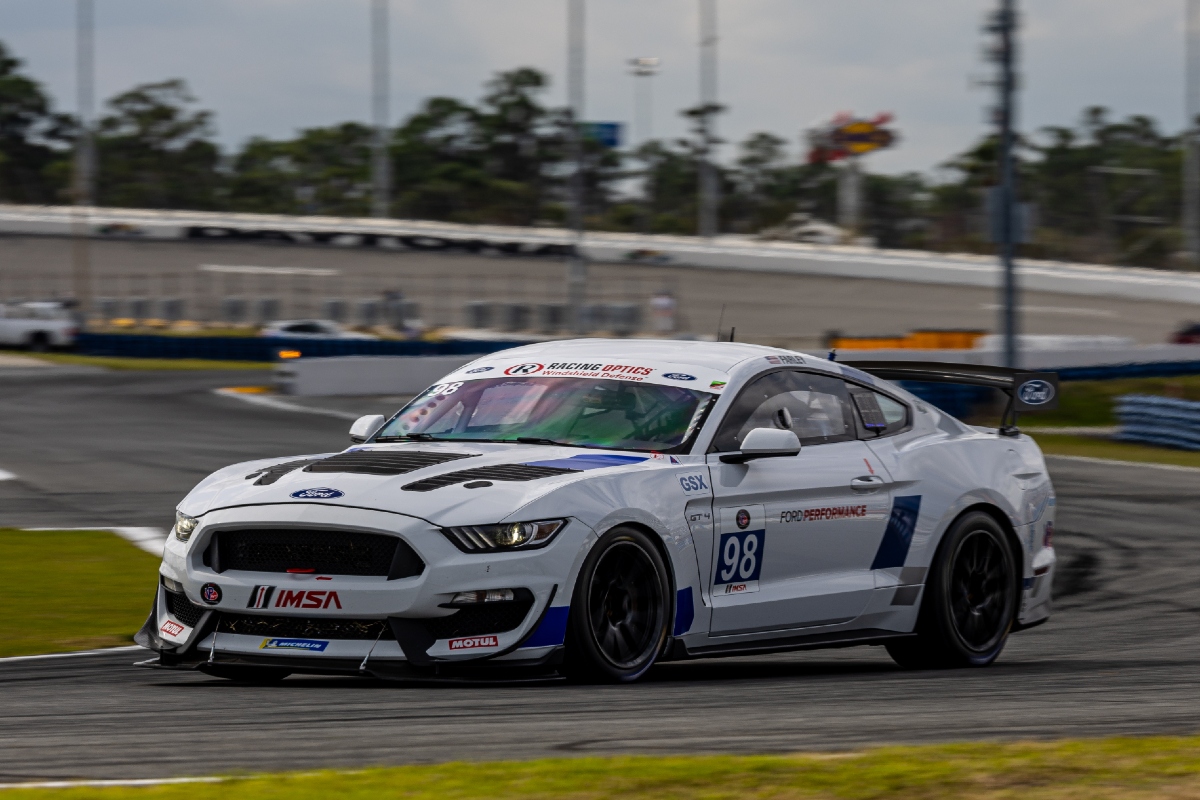 Some of the biggest names in motorsport have descended on Daytona International Speedway for the annual racing festival surrounding the 24-hour race. Porsche, Acura, Cadillac and BMW are all racing in the new top-level IMSA GTP class with some of the best sports car drivers on the planet, including Australia's own Matt Campbell and former Supercars superstar Scott McLaughlin.
But one of the most important figures in the Daytona paddock isn't competing in the main event 24-hour race but instead took part in the new VP SportsCar Challenge for LMP3 prototypes and GT4 cars. His name is Jim Farley and when he's not racing his Ford Mustang GT4 he's CEO of the Ford Motor Company.
READ MORE: What is the future of motor racing in a changing car world?
That's right, the global boss of one of the biggest car companies on the planet is a die-hard racing fan. So much so that his entry in the VP SportsCar Challenge is entirely self-funded and not some Ford-back joyride.
Farley has long been a passionate advocate for motor racing and the positive impact it can have on a brand, overseeing the blue oval's involvement in NASCAR, NHRA, Supercars and GT3/GT4 competition. And while he has driven some of the brand's most famous racing cars in PR events – most notably driving the Detroit-based Mustang Supercar – he has restricted his racing activities to history events until now.
READ MORE: Ford boss hints at Bronco and more for Australia
Last weekend he managed to finish 12th and seventh in class in the two races at Daytona and has committed to running the next round of the series at Sebring in March.
"It's a lot different [to historics]," Farley told The Daytona Beach News-Journal. "It's more competitive. I like it a lot more."
He added: "It's the difference between a professional prize fight and a golf match at the country club. That's what it's like. People are just trying to do well. They have other people invested in them and they have a lot to prove."
READ MORE: Ford welcomes Walkinshaw Andretti United to its Supercars ranks
The VP SportsCar Challenge is a six-round series by Farley's commitments to his high-profile 'Monday-to-Friday' job, plus his need to self-fund his Multimatic Motorsport-run Mustang means he may not do the whole championship.
In fact, he told The Daytona Beach News-Journal that his "personal CEO", his wife, will need to approve his racing budget.
Regardless of how many races he does, fans of Ford and motorsport should feel enthused that the company is headed up by a clearly passionate racing advocate.
Check out Farley taking US talk show host Jimmy Fallon for a ride in the Supercars Mustang below.