What is it?
Audi's affordable sports car. At least by Audi's standards.
The R8 may be the four-ring brand's hero, but it costs more than $300k (when it goes back on sales) while the TT starts at $80k making it more accessible. That because where the R8 shares its underpinnings with the Lamborghini Huracan, the TT has more in common with an Audi S3 (or dare we say, Volkswagen Golf R).
But that's not meant as a criticism, it's still a potent compact sports coupe wrapped up in a stylish package.
Does it have any racing pedigree?
Audi has toyed with taking the TT on track, the original model was the basis for its DTM entry but that was under the non-works Abt Sportline banner. Instead, officially, Audi has prefered to race other models and leave the TT to sell on its looks rather than its racetrack success.
What's under the bonnet?
It's the same 2.0-litre four-cylinder turbocharged engine as you'll find in the S3 and Golf R, which means it's both potent and reliable. In this entry-grade TT it produces 169kW of power and 370Nm of torque, enough to make it feel suitable sporty. Couple to a slick-shifting six-speed dual-clutch transmission and an all-wheel drive system, the TT 45 TFSI has genuine punch when you put your foot down. Traction isn't an issue and the gearbox swaps cogs with precision and a crackle from the exhaust.
Audi offers its Drive Select settings in the TT, which allows you to switch between Comfort, Sport and Economy drive modes that can tone down and dial up the engine and transmission responsiveness depending on the situation or your mood.
That's really the appeal of the TT, it's a bit like a hot hatch for grown ups. You can put it into the Comfort settings for your daily commute, but when you want to have some fun you press the Sport button and unleash the engine.
How does it handle?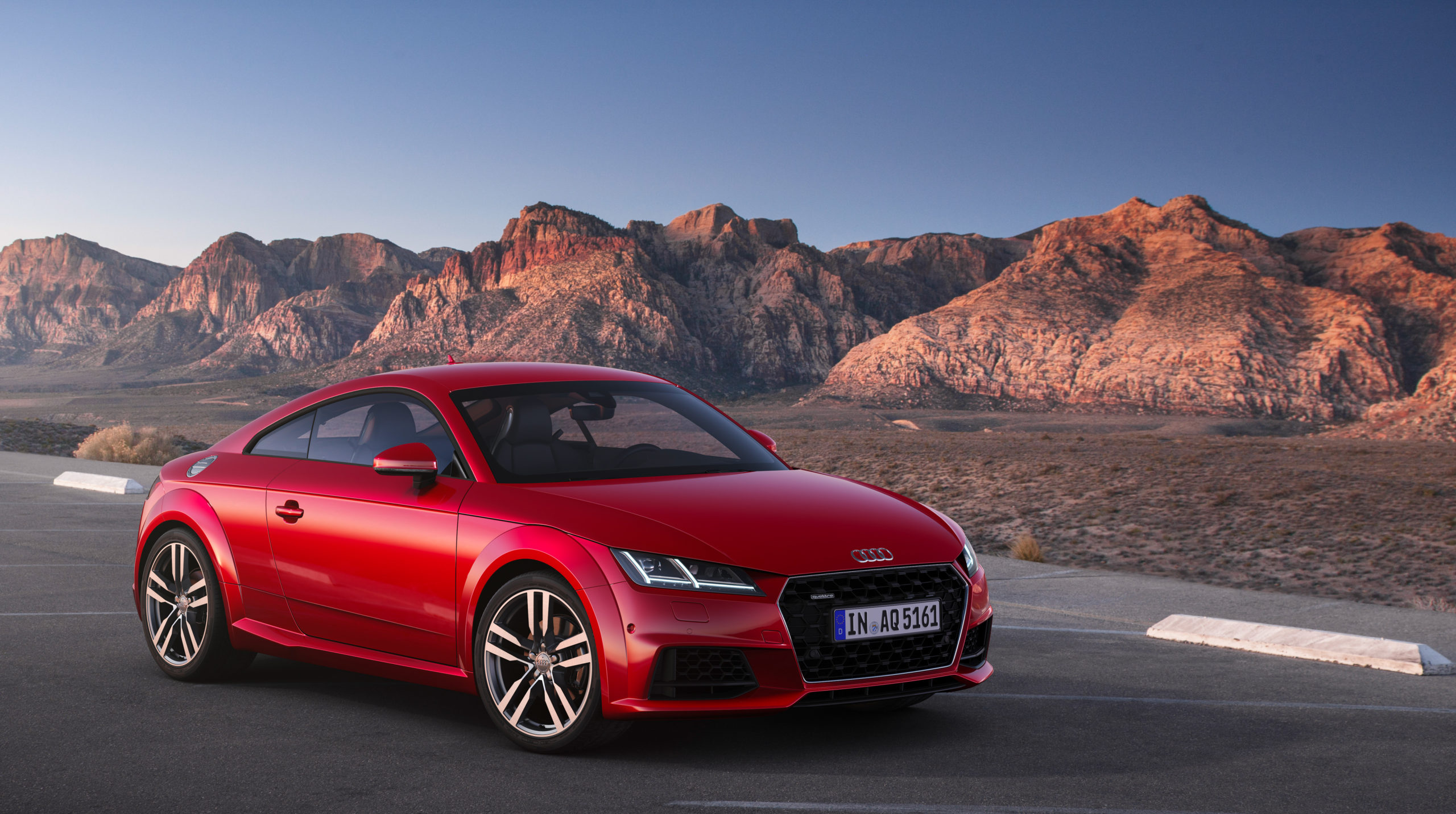 It's shared underpinnings with the S3/Golf R (known as Volkswagen Group's 'MQB' architecture) gives it a familiar feel to a hot hatch on the road. Not too firm, not too soft, it finds a nice balance between something you can use every day and a car an enthusiast driver car enjoy.
It's responsive, with direct steering and a well sorted chassis that feels balanced. But it lacks excitement ultimately, the steering needs more feedback and the chassis could be more playful. This is a clinical and efficient sports car, the kind you respect and appreciate but never really fall in love with – at least the way it drives.
Where would you most like to drive it?
The TT is built for a spirited drive in the country, somewhere like you local wine region. It's ideal for cruising comfortably through traffic on the way out of town and then enjoying the road when it gets more open and twisty in the countryside.
What's the interior like?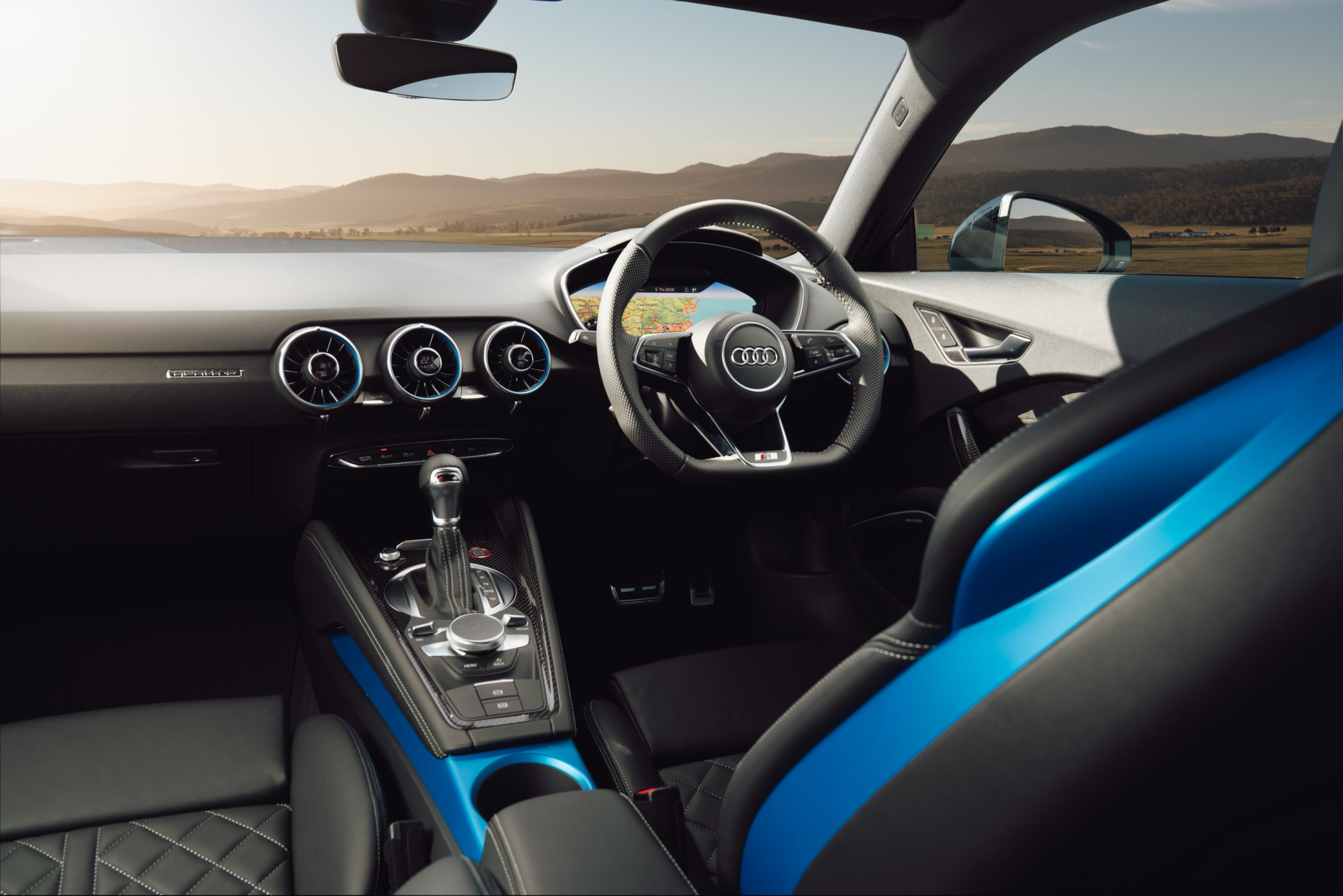 This is where you really fall in love with the TT (if you're going to), it has one of the best cabin designs of any car on sale today. Audi has beautifully integrated all the key elements of the car's infotainment system into the design to give it a stylish appearance blended with the latest technology.
For example, the TT comes standard with a 12.3-inch digital instrument panel, which has a variety of menus and displays you can cycle through, but it also controls all the infotainment functions – including the radio and navigation. The driver can adjust many functions on the steering wheel itself, or use the rotary dial in the centre console (which also has a touchpad integrated into it so you can write characters with your finger) to adjust what you need.
Then there's the air-conditioning controls. Instead of having separate controls and air-vents, Audi has integrated them together – there's a small digital touchscreen and dial built into each vent. It looks fantastic and is highly intuitive to use.
The end result is a clean cabin, with a minimum of buttons and dials, that makes the TT looks suitably elegant for a style-focused European sports coupe.
Is it good value for money?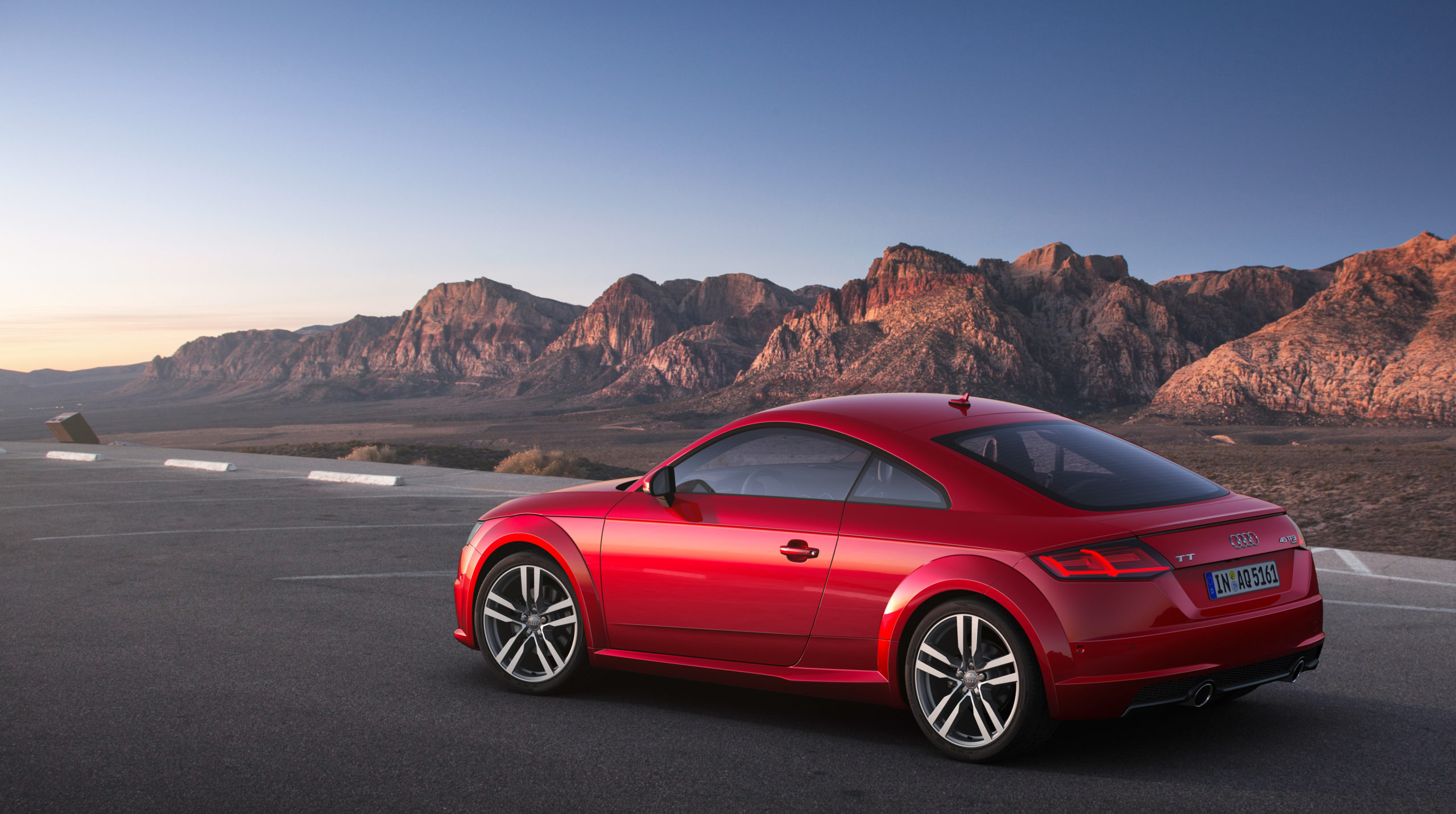 Certainly on a mechanical level the TT looks poor value compared to the cheaper S3 Sportback. But that misses the point of the TT, this is a car where its looks play such an important role in defining its character.
Yes, you could argue it's a hot hatch in a pretty dress – but what a pretty dress it is.
Would I buy one?
Personally I like the styling of the TT, especially this latest evolution of the original Bauhaus design theme. While the interior alone almost makes me want to buy one. Ultimately though, it's lack of fizz on the road, when you really push it towards its limits leaves me wanting more. I'd rather sacrifice the style and get something a little bit more exciting to drive.
2019 Audi TT 45 TFSI price and specifications
| | |
| --- | --- |
| Price:  | From $79,990 plus on-road costs |
| Engine:  | 2.-litre four-cylinder turbo petrol |
| Power: |  169kW at 4500-6200rpm |
| Torque: |  370Nm at 1600-4300rpm |
| Transmission: |  Six-speed dual-clutch automatic, all-wheel drive |
| Fuel use: |  6.6L/100km |
| Wheels: |  18-inch alloy |
| Tyres:  | 245/40/R19 |
| Length: |  4191mm |
| Width:  | 1832mm |
| Height:  | 1353mm |
| Weight:  | 1410kg |
| 0-100km/h: | N/A |