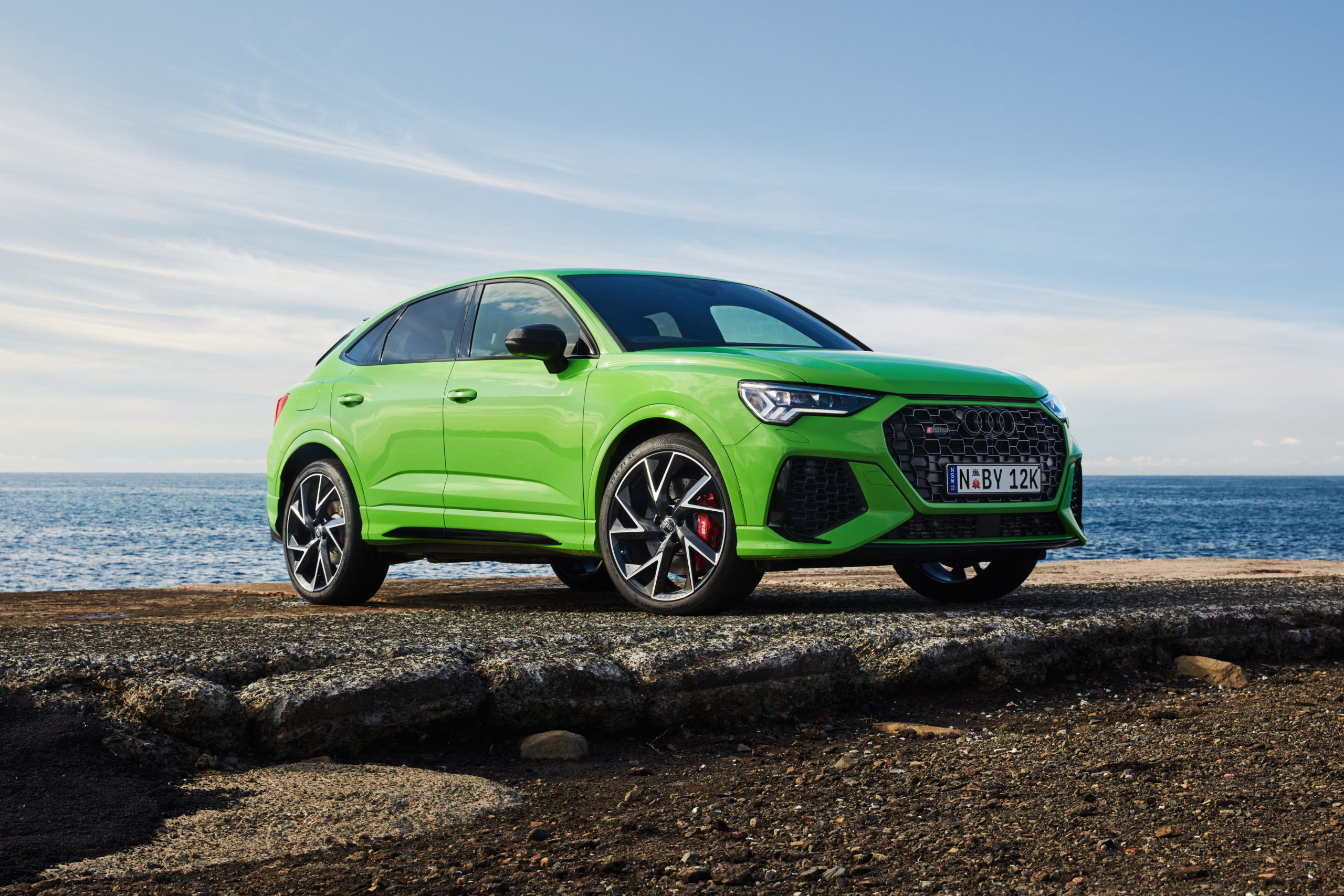 What is it?
This is the evolution of Audi Sport, and indeed the very nature of compact performance cars.
In simple terms this is an RS3 on stilts, combining the long-time Australian love affair with performance and its modern love of SUVs. It takes the same key components of the RS3, specifically the rorty 2.5-litre five-cylinder turbocharged engine, and houses it inside the new Q3 Sportback body.
Does it have any racing pedigree?
The RSQ3 Sportback is an all-new model so it hasn't done any racing – but it's engine is steeped in history. Audi's advertising campaign for the RSQ3 featured the tagline – 'Raised by Racecars' – and it's fitting.
The five-cylinder layout dates back to the 1970s but it really took off when it was installed under the bonnet of the original Quattro that dominated rally competition in the 1980s. After it was done beating everyone on the special stages, Audi switched to America's Trans-Am and IMSA sports car racing and once again the five-cylinder turbo was a front-runner.
It died off in motorsport after that but the brand revived the concept in 2021 for the TTRS and it's been around ever since in both that model and the RS3 and now the RSQ3.
What's under the bonnet?
The latest iteration of the 2.5-litre five-pot turbo makes 294kW of power and 480Nm of torque – a lot of grunt from such a compact engine. It sends that grunt to all four wheels via a seven-speed dual-clutch automatic transmission.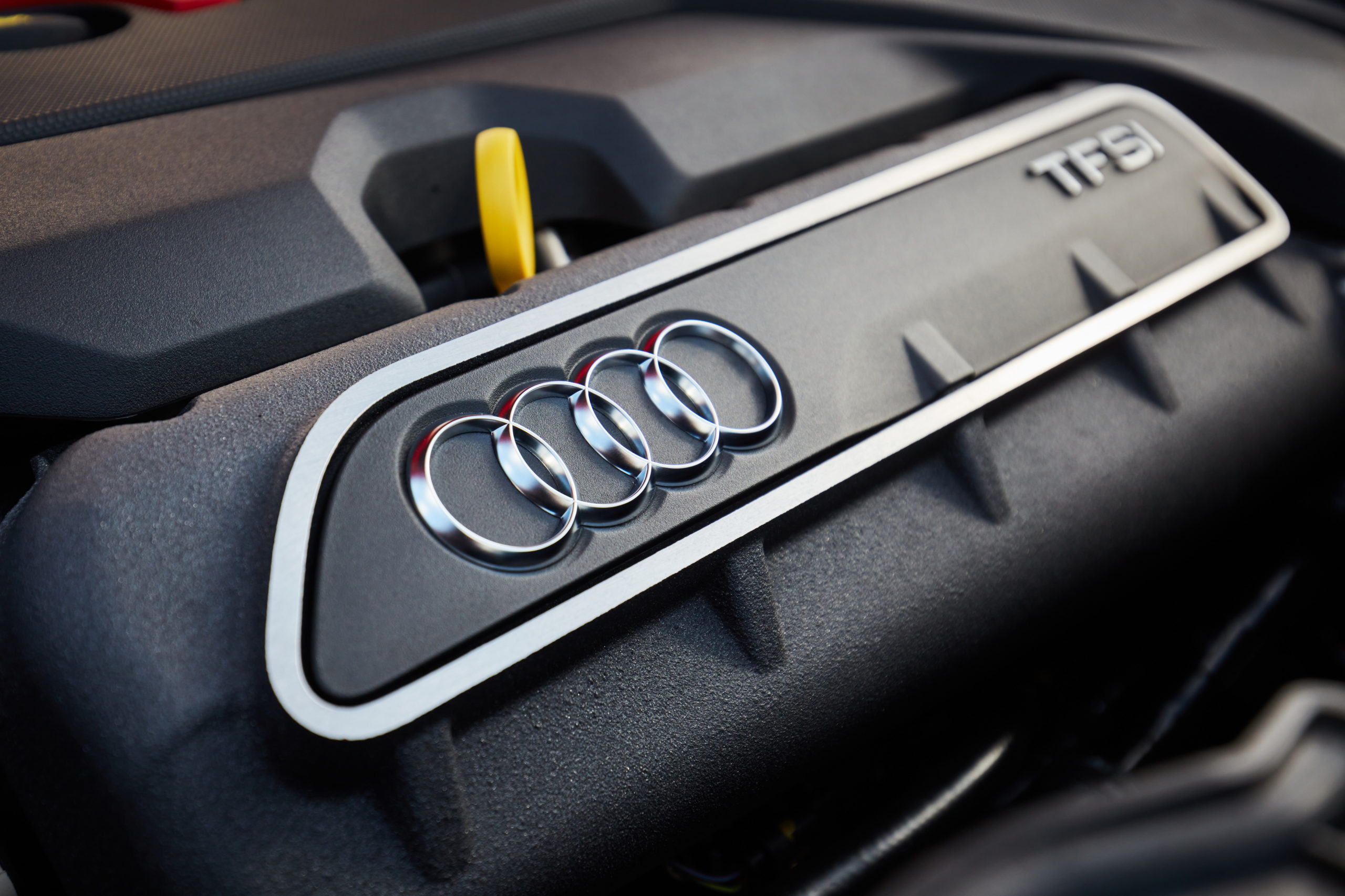 That's the same set-up as the RS3, so that's where the feeling that this is a hot-hatch-on-stilts comes from. It may be a taller SUV body, but it has the same punch that you expect from a hot hatch, with 0-100km/h coming in just 4.5 seconds.
Not only does it keep pulling hard beyond that initial acceleration, but what makes the RSQ3 and its five-cylinder engine so engaging is the noise it makes. It's slightly subdued compared to previous uses of the engine but it still makes that raspy growl and pops and bangs like only a five-cylinder can.
How does it handle?
Once again I'm drawn back to the hot-hatch-on-stilts metaphor because that's exactly what the RSQ3 Sportback feels like. Obviously it's taller and heavier than the smaller, lower RS3 (by about 200kg) so it isn't quite as sharp at the very limit, but overall this is an incredibly well-sorted chassis that is a genuine pleasure to drive.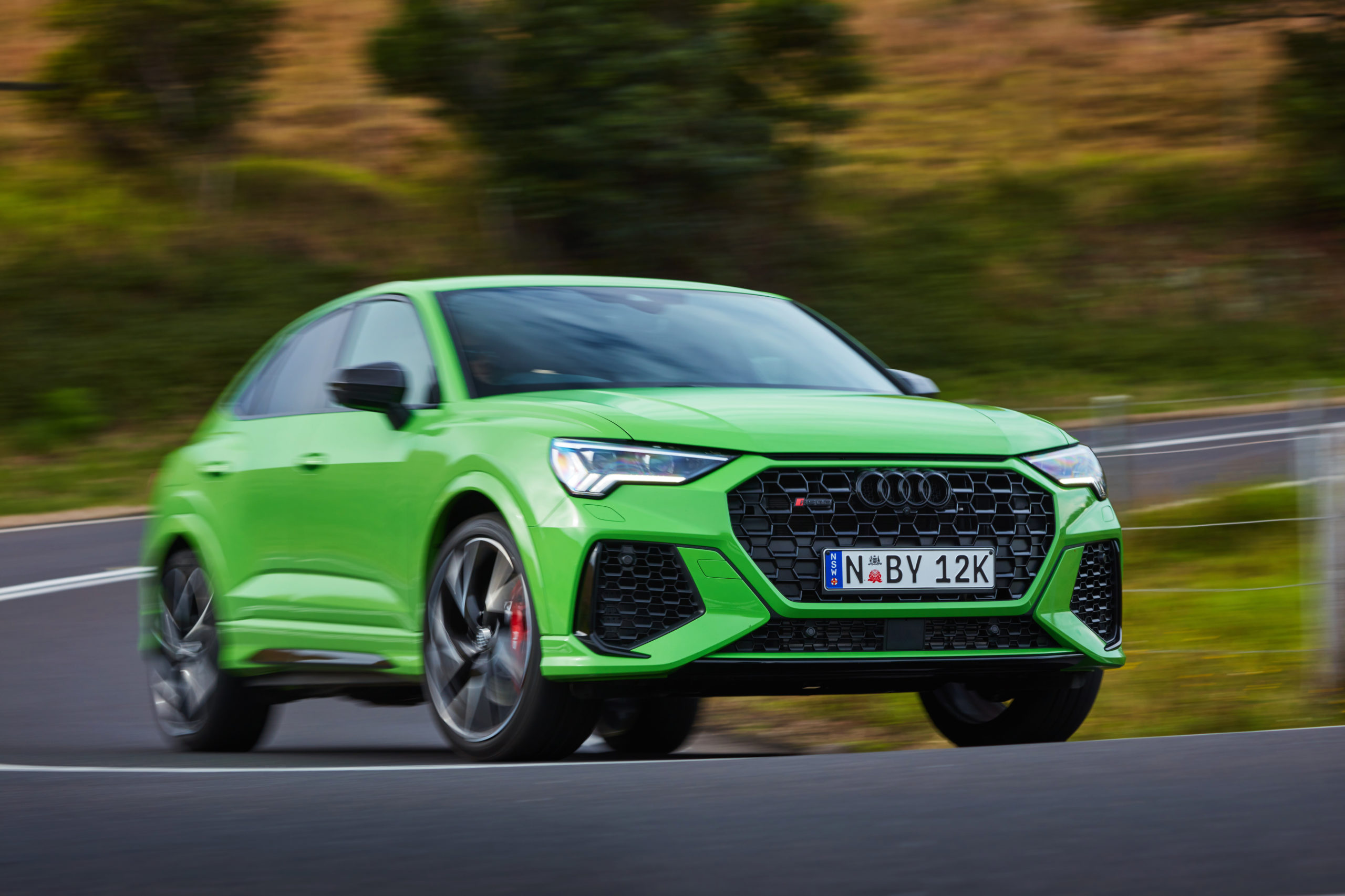 It feels agile and responsive just like a hot hatch, and thanks to Audi Sport's continual improvements in steering feel and feedback the RSQ3 feels more engaging and connected than some of its hot hatch predecessors.
This isn't just a show pony, designed to cater to the seemingly unending desire for more and more SUVs, this is a seriously quick and capable performance car that you'll want to go hunting for twisty roads in.
Where would you most like to drive it?
While it's perfectly at home on twisty roads, to really experience its full potential I'd love to take it to a track. Yes, it's an SUV that really wouldn't feel out-of-place on a circuit; which neatly fits with Audi's 'Raised by Racecars' slogan.
Somewhere relatively tight and technical, like Wakefield Park or Winton, to really test the way it changes direction and shoots out of corners with its all-wheel drive traction would be the ideal playground.
What's the interior like?
First things first, there's good space inside the cabin which speaks to the practical nature of an SUV. Obviously it's a compact SUV so it's not really meant to take a large family all the time, but it easily accommodates smaller kids and would be great for couples or singles who want to take friends on road trips.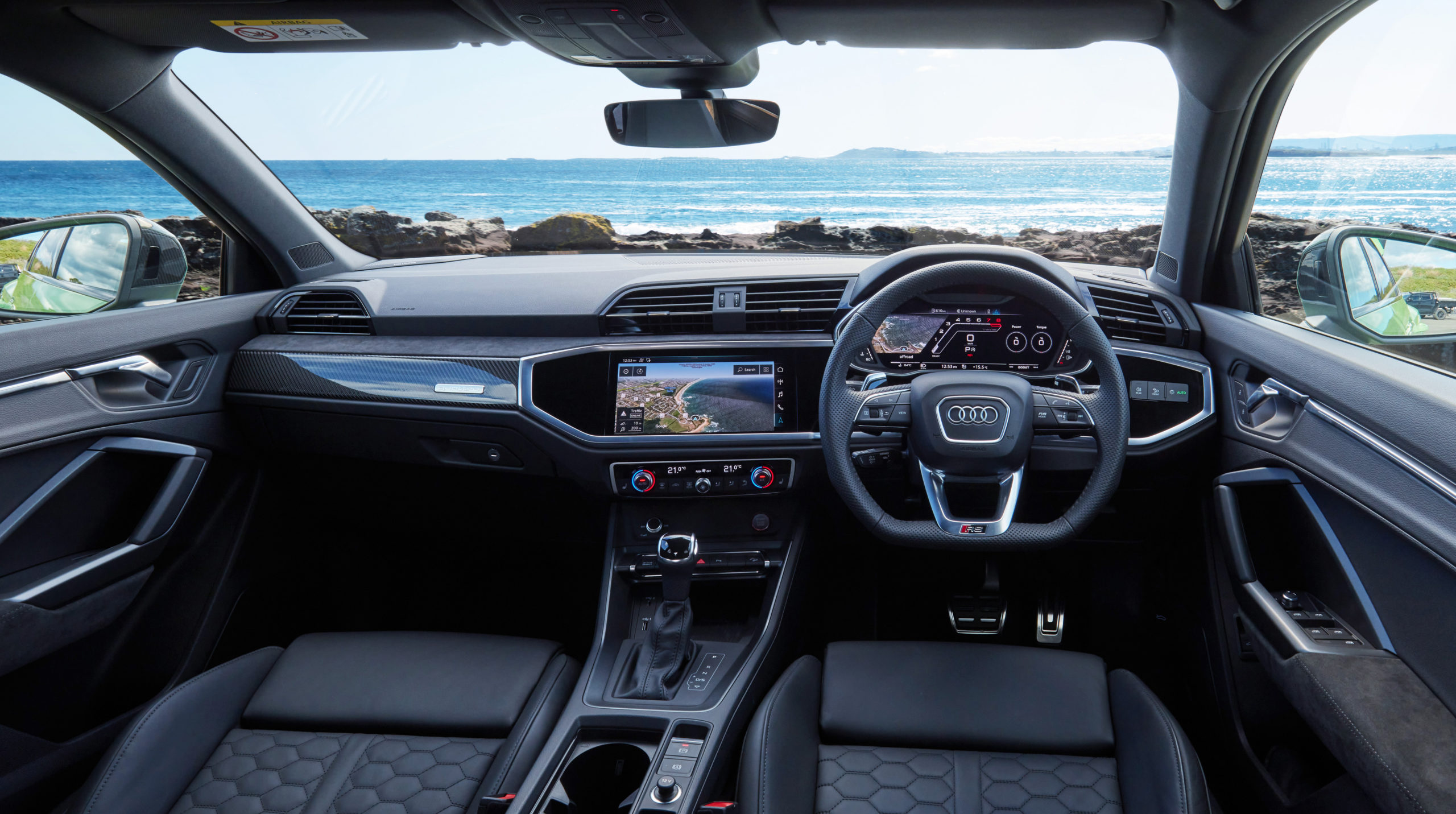 But the real highlight of the cabin is the design. Audi has long been the leader in interior styling, and the RSQ3 Sportback is a great example of the brand's ability to blend the functional with the technical in an interesting manner.
Our test car was particularly impressive because it was fitted with the optional ($2500) RS Extended Design Package which added black Alcantara-wrapped steering wheel and gear selector as well as trim highlights in blue Alcantara.
Is it good value for money?
The RSQ3 Sportback is priced from $92,900 (plus on-road costs) which is what you should expect to pay for a premium brand's compact performance SUV; even if there isn't currently a lot of competition in this particular segment.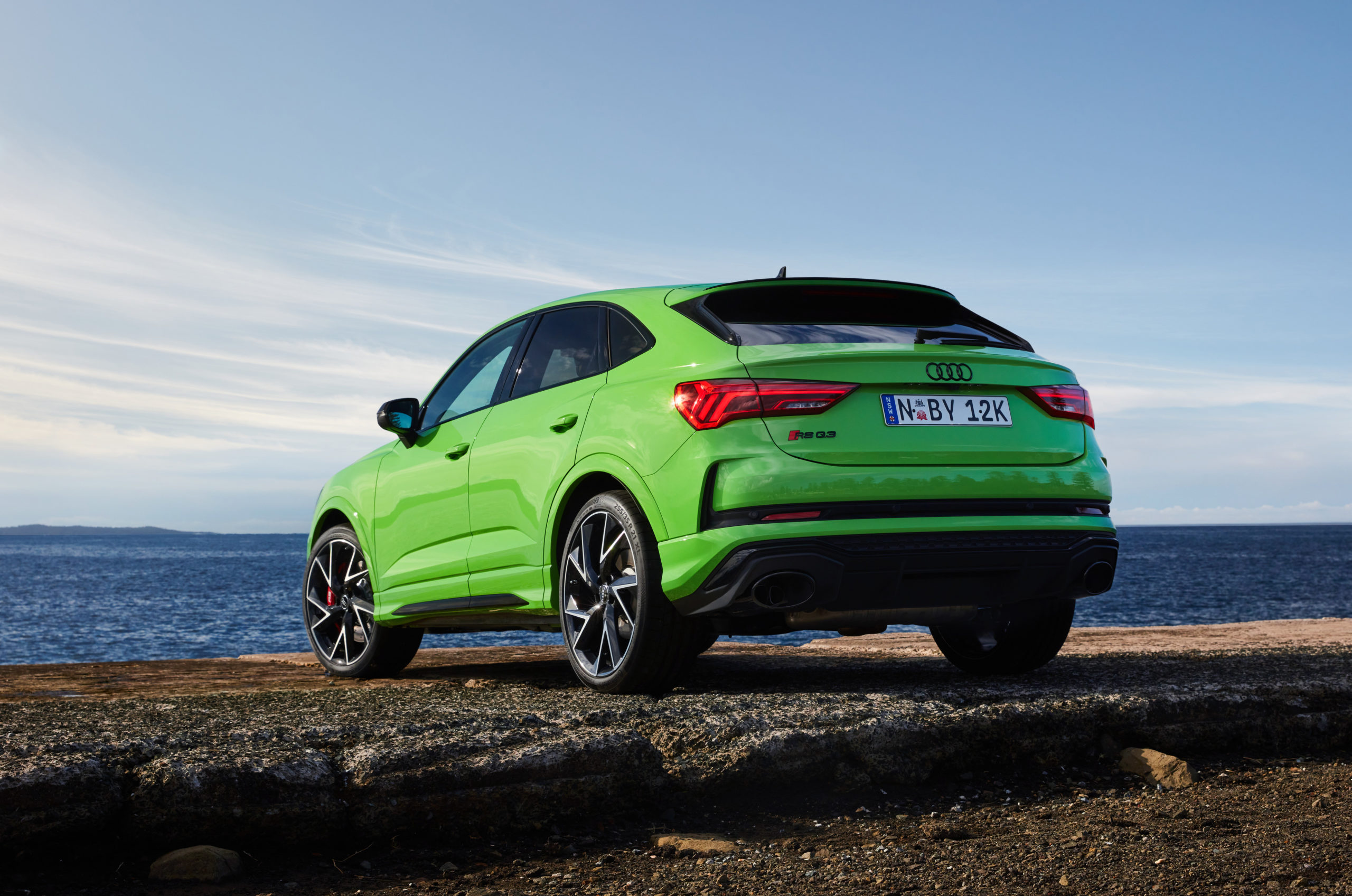 It's most direct rival is the Mercedes-AMG GLA45 S and it starts at $107,035, so it undercuts that by a significant margin. There are cheaper, less potent, alternatives however, such as the BMW X2 M35i (from $69,990) and Jaguar E-Pace R-Dynamic (from $73,648).
But the most interesting comparison is perhaps to the RSQ3's closest relation – the RS3 Sportback. The hot hatch is nearly $7000 cheaper, priced from $86,136, for those who want five-cylinder performance but not the SUV body.
Would I buy one?
As a longtime hot hatch fan there's a big part of me that doesn't want to like the RSQ3 Sportback because of what it stands for. This push towards high-performance SUVs seemed like a fool's errand only a few years ago, because SUVs simply lacked the dynamic ability to match it with their lower, lighter passenger car alternatives.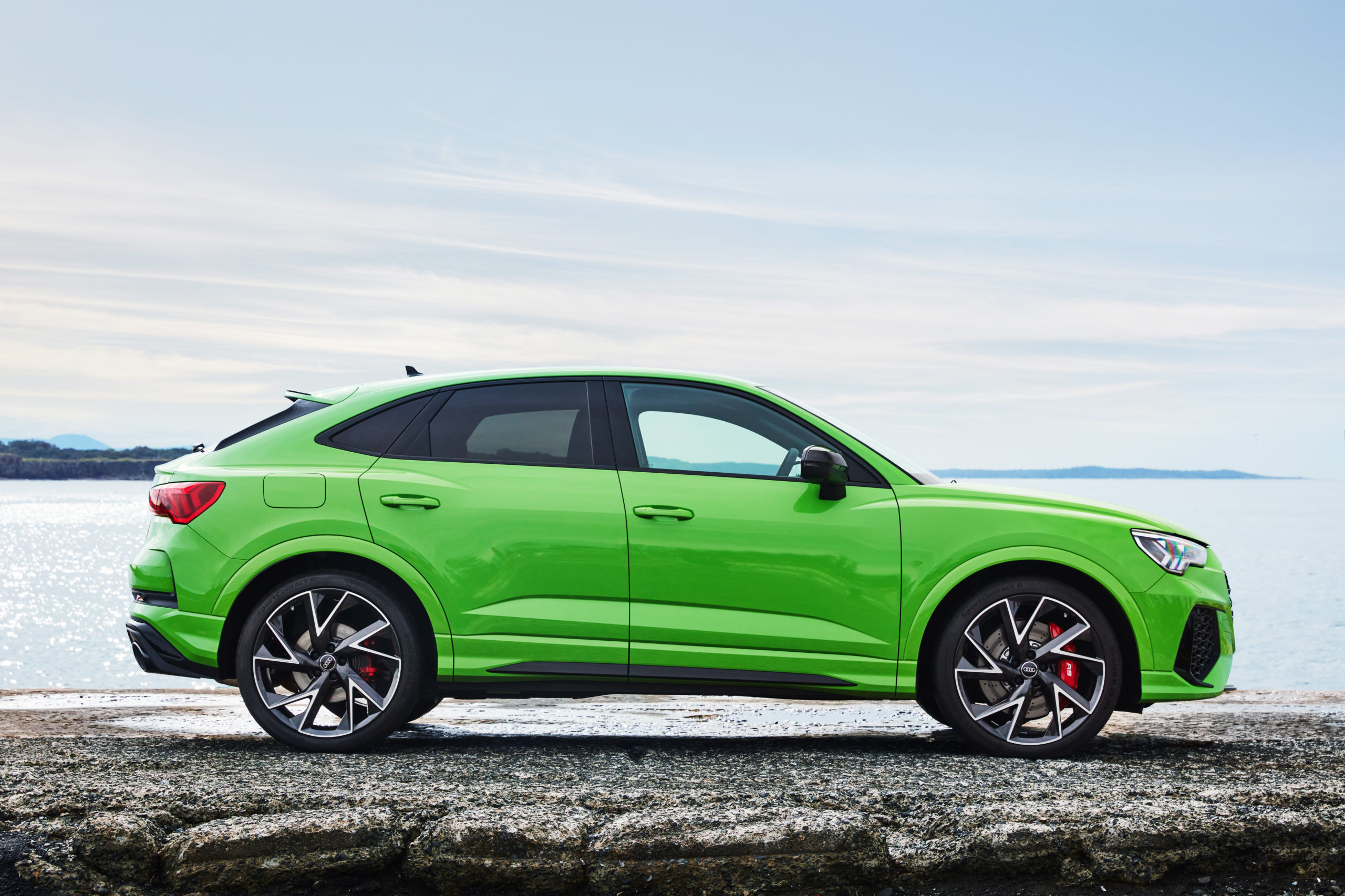 But newer examples, like the RSQ3 Sportback underline just how far car companies have come in this evolution towards high-riding performance, becoming genuinely impressive and engaging despite their body shape.
I'm not sure it's quite enough to tip the balance in favour of the RSQ3 over the RS3, but it certainly hard decision thanks to just how well executed the RSQ3 Sportback is.
2020 Audi RSQ3 Sportback price and specifications
| | |
| --- | --- |
| Price: | From $92,900 plus on-road costs |
| Engine: | 2.5-litre five-cylinder turbo petrol |
| Power: | 294kW at 5800-7000rpm |
| Torque: | 480Nm at 1950-5850rpm |
| Transmission: | Seven-speed dual-clutch automatic, all-wheel drive |
| Fuel use: | 8.9L/100km |
| Wheels: | 21-inch alloys |
| Tyres: | 255/35 R21 |
| Length: | 4507mm |
| Width: | 1851mm |
| Height: | 1557mm |
| Weight: | 1775kg |
| 0-100km/h: | 4.5 secs (claimed) |