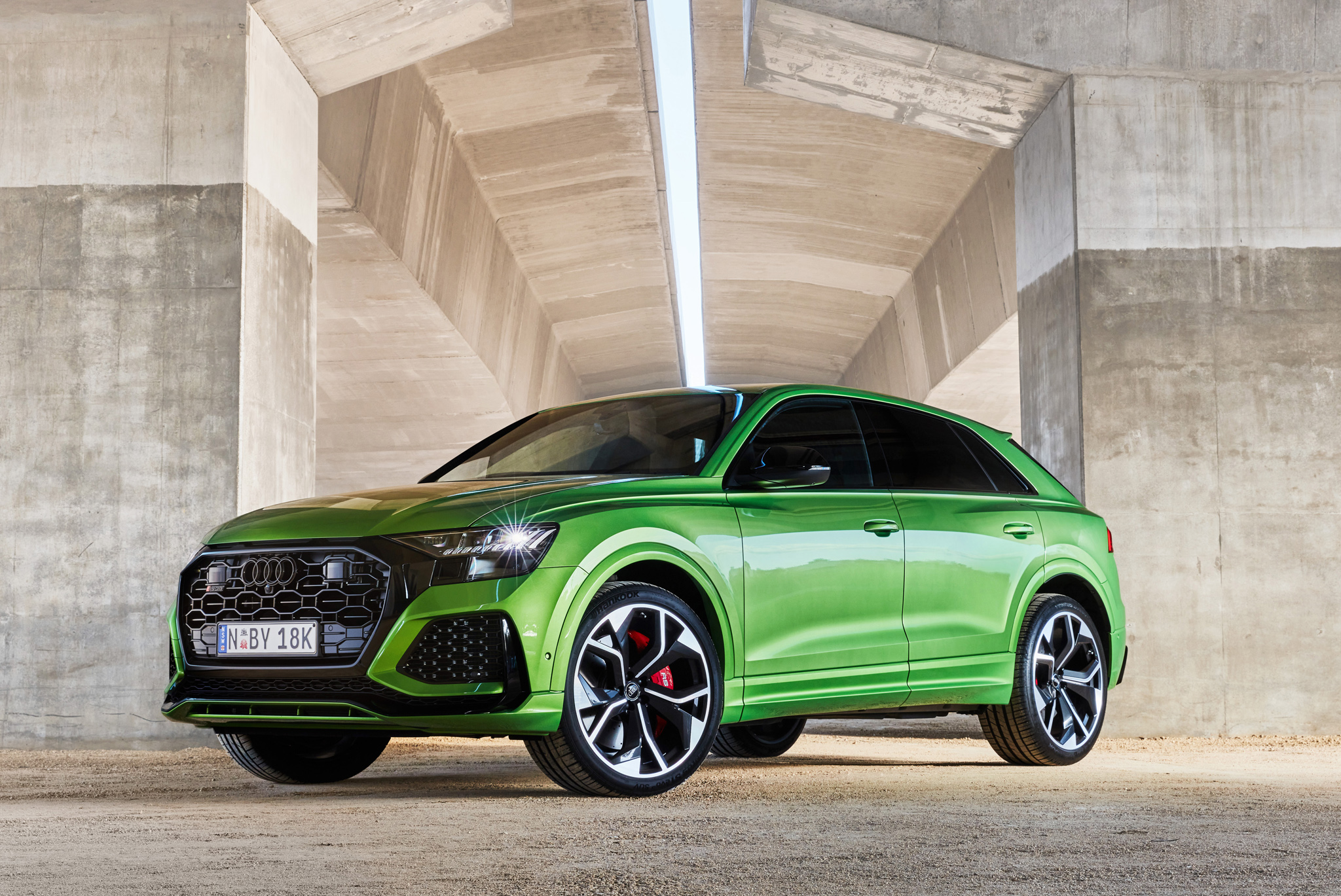 What is it?
The new "spearhead" of the Audi Sport range, sitting at the top of the line-up alongside the R8 supercar.
While high-performance SUVs are all the rage these days, they are also yet to be fully embraced by die-hard enthusiasts because of the obvious challenges of making such a big machine go fast and handle well. But if anyone can do it it's Audi Sport, after all, this is the brand famous for making station wagons both very fast and very cool.
Does it have any racing pedigree?
Audi Sport likes to use the tagline 'Raised by Racecars' in its advertising, trying to draw a direct line between the brand's Le Mans-winning heritage and its more recent success in GT3 racing with the R8 LMS.
There's no direct tie between those racing cars and the RS Q8, but like all major manufacturers looking to show off its new model's performance credentials, Audi sent it to the Nurburgring Nordschleife. Audi racing veteran Frank Stippler pushed it to its limits on the 20km course and claimed a new SUV record lap time of 7:42.25 seconds.
What's under the bonnet?
To move such a big machine (the RSQ8 weighs more than 2100kg) Audi Sport installed a big engine – a 4.0-litre twin-turbo V8 petrol unit. It makes a massive 441kW of power and 800Nm of torque, which is enough grunt to launch it from 0-100km/h in just 3.8 seconds and it can keep going all the way to 305km/h.
It's a very impressive powerplant, offering up massive amounts of performance across the rev range. Peak torque arrives at just 2000rpm so the RSQ8 launches with more ferocity than you'd ordinarily expect from a two-tonne SUV. And it keeps pulling, bury your right foot and the big machine accelerates so rapidly you have no trouble believing it can keep going beyond 300km/h.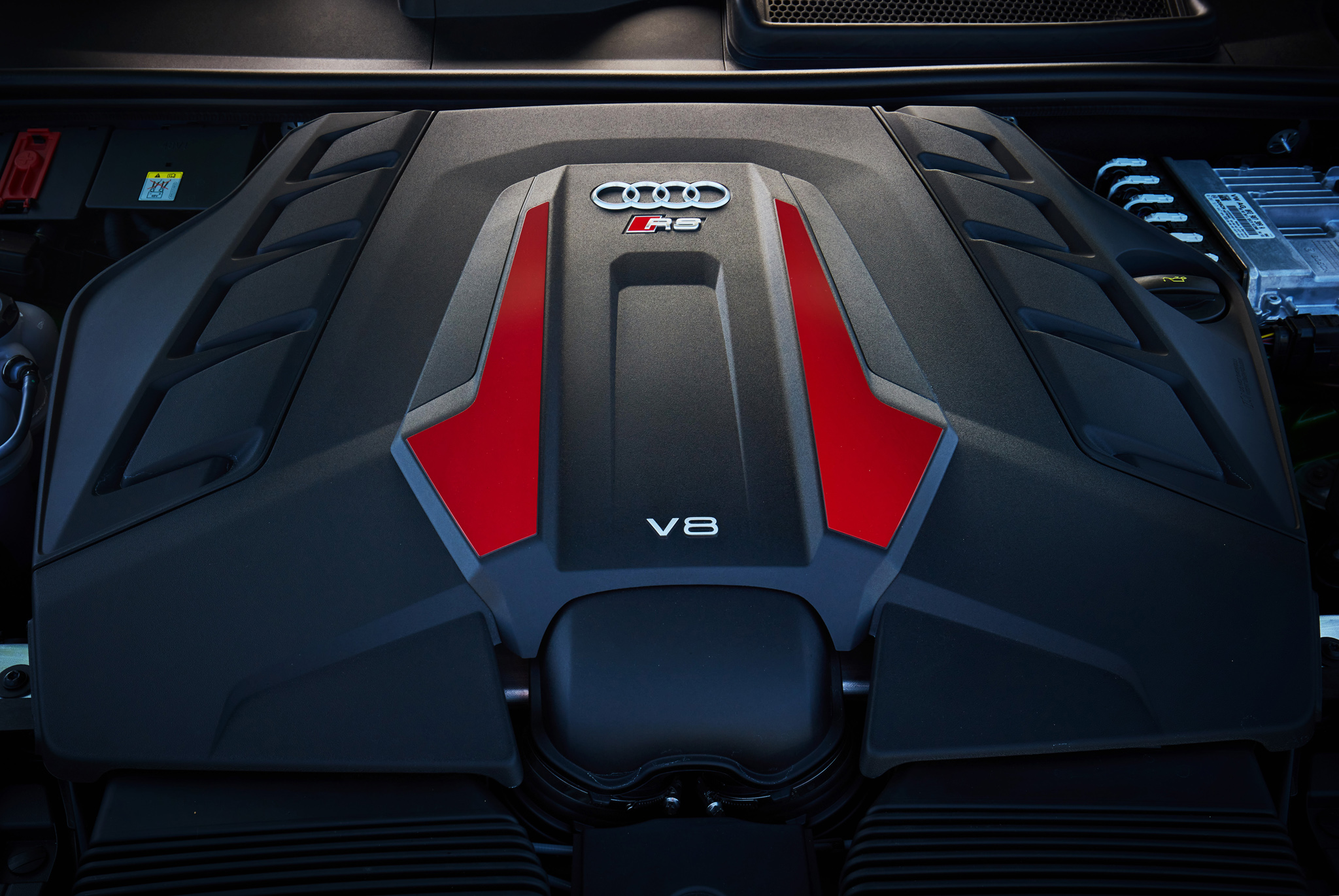 The eight-speed automatic works smoothly and feels well matched with the engine, and thanks to a standard quattro sport differential as part of the all-wheel drive system there's never any issue delivering so much power to the road.
But it wasn't just power Audi was worried about, they also added a 48-volt mild hybrid system to help save fuel. The system achieves this by capturing energy from the belt alternator starter and storing it in a lithium-ion battery, then deploying it at coasting speeds (either below 22km/h or at low loads between 55-160km/h). The net result is a return of 12.1-litres per 100km, which isn't exactly a fuel-miser but Audi claims the mild hybrid system saves 0/8L/100km.
How does it handle?
To really be the Audi Sport spearhead the RSQ8 can't just be quick in a straight line, it needs to go around corners well. Which is why the four-ring's go-fast division has looked at every aspect of the chassis and loaded it with the latest and greatest technology in its arsenal.
Audi has fitted it with both adaptive air suspension and electromechanical active roll stabilisation in order to try and control the sheer size and weight of the RSQ8. The air suspension has a range of 90mm between its highest and lowest settings, and can be controlled via the seven drive modes available.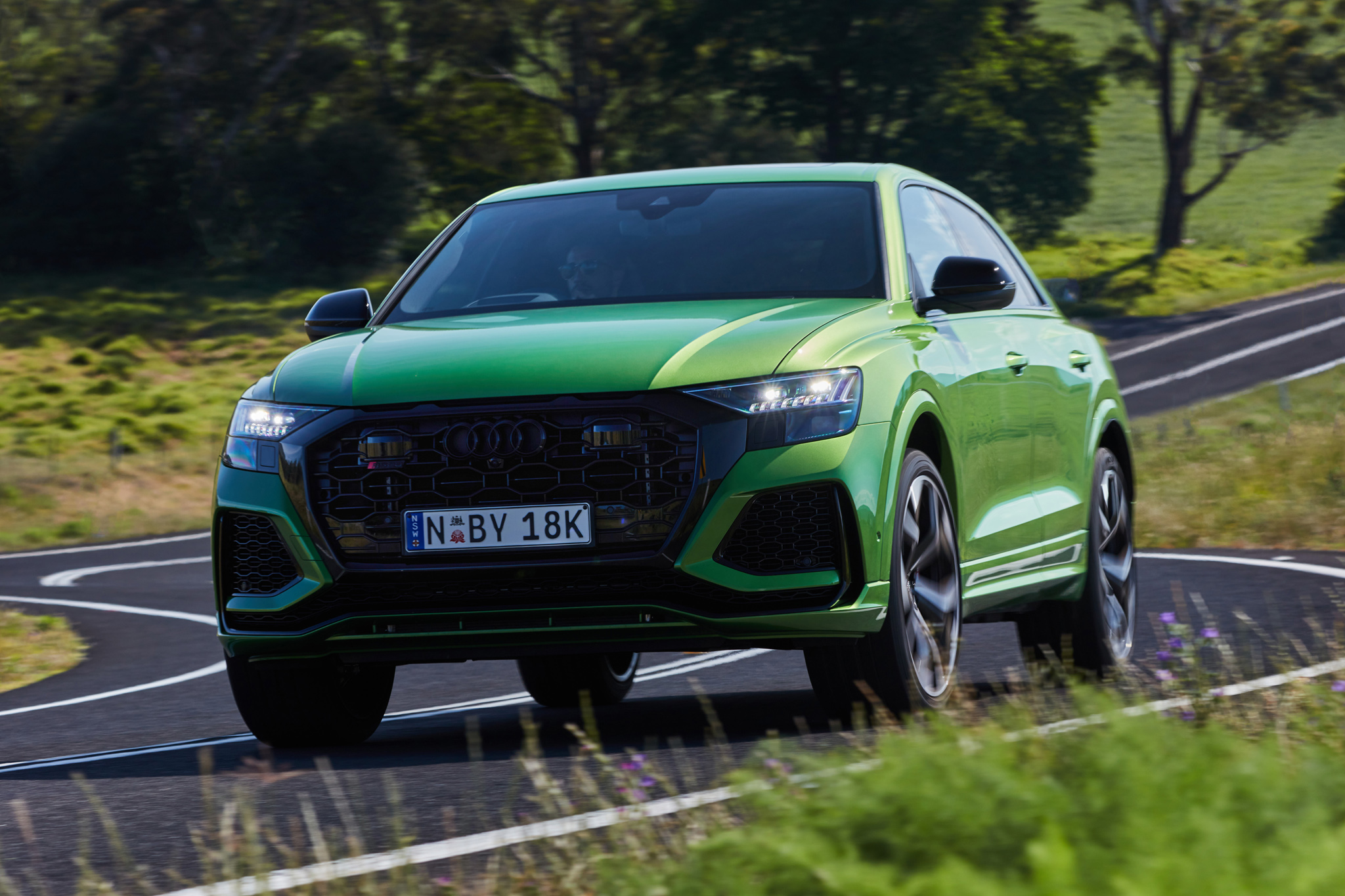 The electromechanical active roll stabilisation runs off the 48-volt system and can uncouple the stabilisation bar as required; uncoupled for better comfort when cruising or engaged when you throw it into some corners.
The net result of both these systems, coupled with all-wheel steering, is a surprisingly agile and responsive SUV. No, it doesn't sit as flat or turn in with the same poise as a smaller model (say and RS4 Avant) but it does feel stable when pushed.
For the record, the seven drive modes are – Comfort, Auto, Dynamic, Efficiency, Allroad, Offroad and Individual – the latter allows you to mix and match the various parameters (powertrain, suspension, etc) to your personal needs and tastes, and then program them into the 'RS' button on the steering wheel; you can have two saved settings, RS1 and RS2.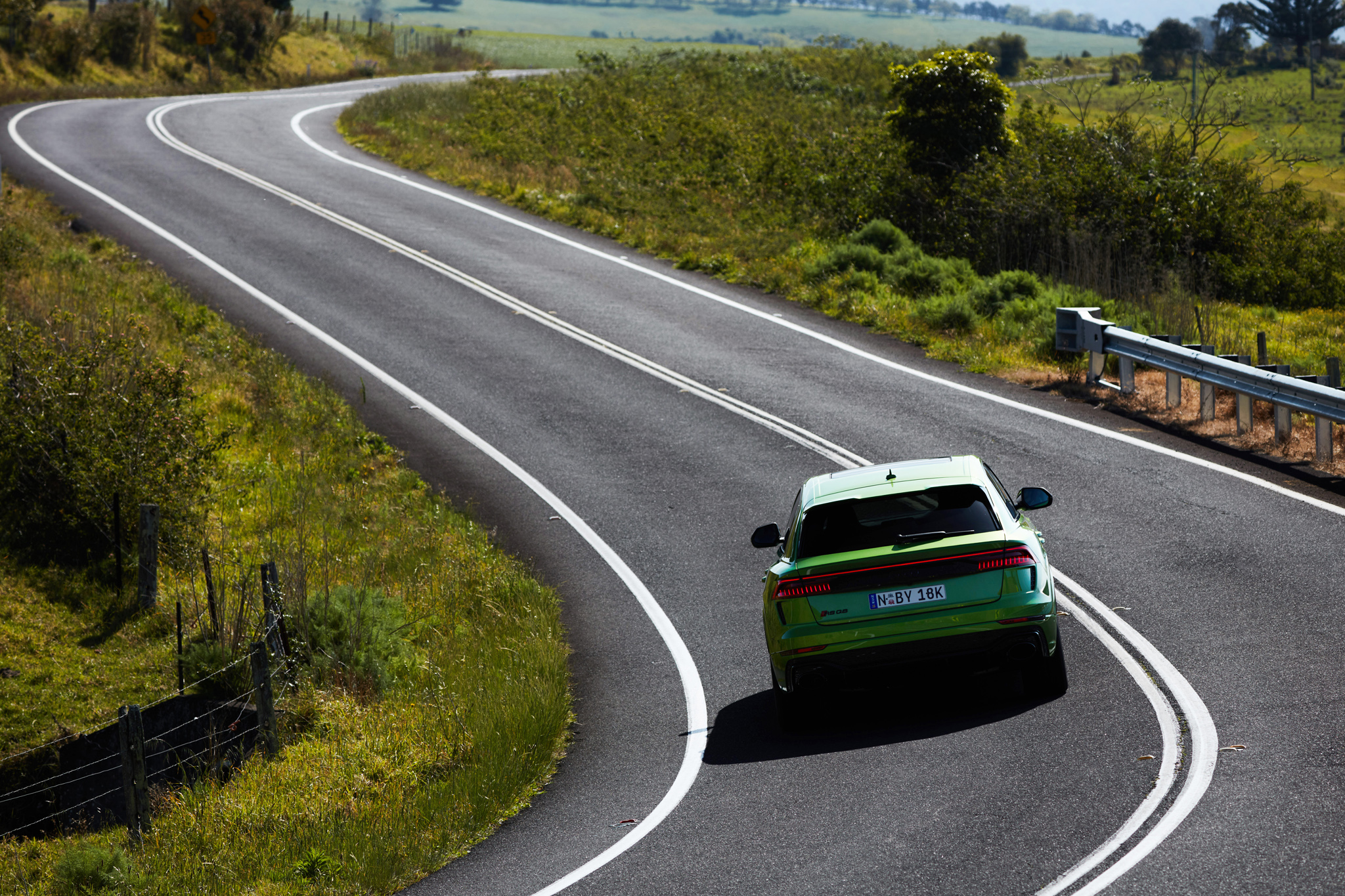 Then there's the braking because trying to pull up more than 2100kg of SUV packing more than 441kW under the bonnet is important. That's why Audi Sport has installed what it claims are the largest production car brakes in the world. The standard hardware are steel rotors measuring 420mm up front, clamped by 10-piston callipers, and 370mm at the rear with six-piston callipers.
But that's not all. Audi Sport offers even bigger optional carbon ceramic brakes (440mm front rotors with 10-piston callipers) that also save 34kg on unsprung weight to further add handling.
Where would you most like to drive it?
For all the technology, the RSQ8 still feels more comfortable on faster, more open roads that don't have constant changes of direction that challenge its ability to shift its considerable weight.
Interestingly, Audi Australia made the point that the RSQ8 has been built with track days in mind, so it would be fun to find its limits on a fast, flowing racetrack like Sydney Motorsport Park or Phillip Island – as strange as that may sound.
What's the interior like?
The cabin is a fantastic combination of fine materials (Nappa leather and Alcantara) and the latest technology, all seamlessly flowing together.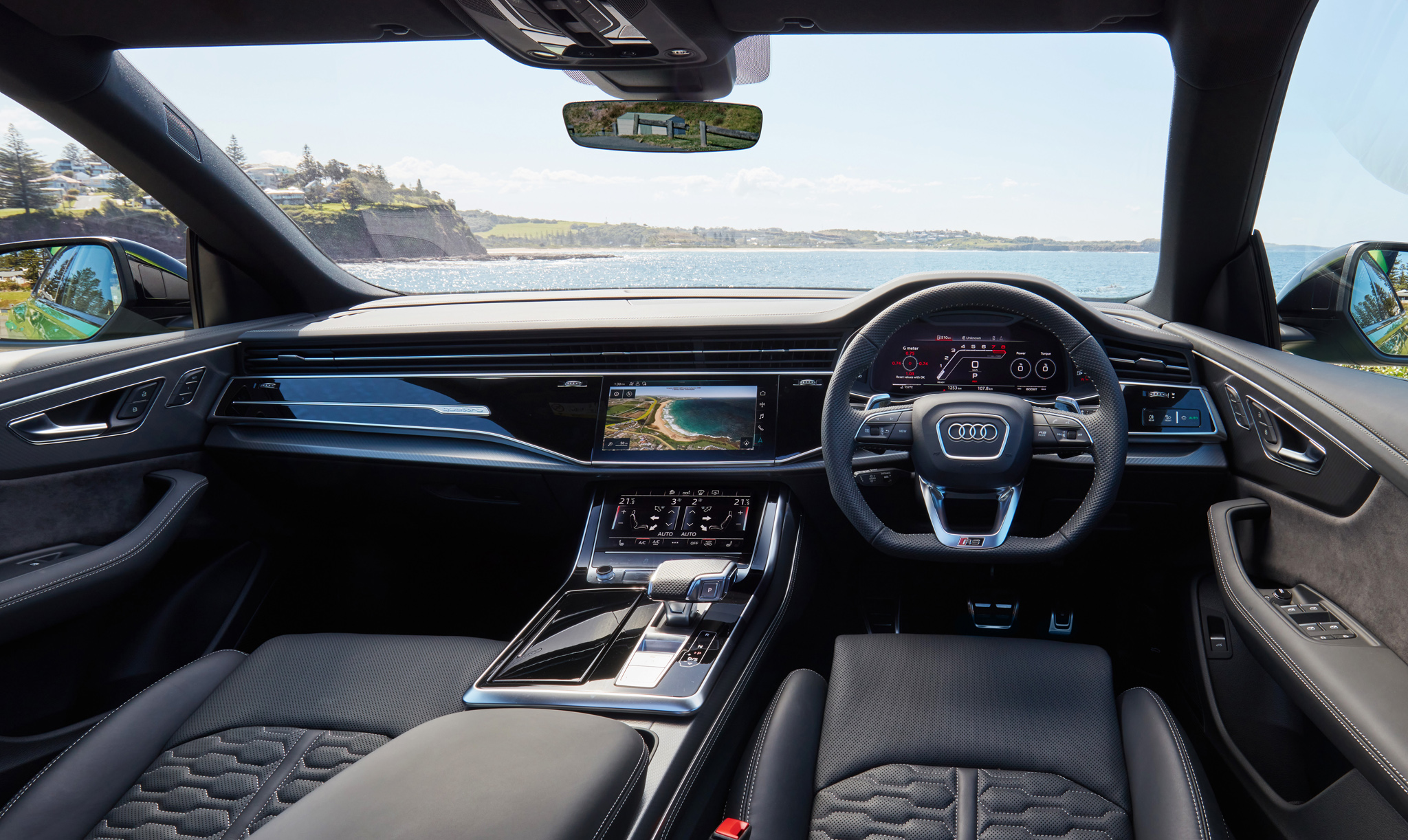 There are few traditional elements, there's a digital dashboard that flows horizontally to a pair of large touchscreens in the centre fascia. These control all the infotainment and climate functions with a smartphone-style interface.
The RS sports seats are worth highlighting, finished in Napa leather with honeycomb stitching and offering the lateral support you need when you throw the SUV into some corners.
The catch is the Q8's 'coupe-style SUV' design does lack some of the obvious practical benefits of an SUV like its Q7 stablemate. There's less room in the back (and no seven-seat option) and a smaller boot.
Is it good value for money?
Priced from $208,500 (plus on-road costs) the RSQ8 offers plenty of luxuries, as well as its performance, to help justify the cost.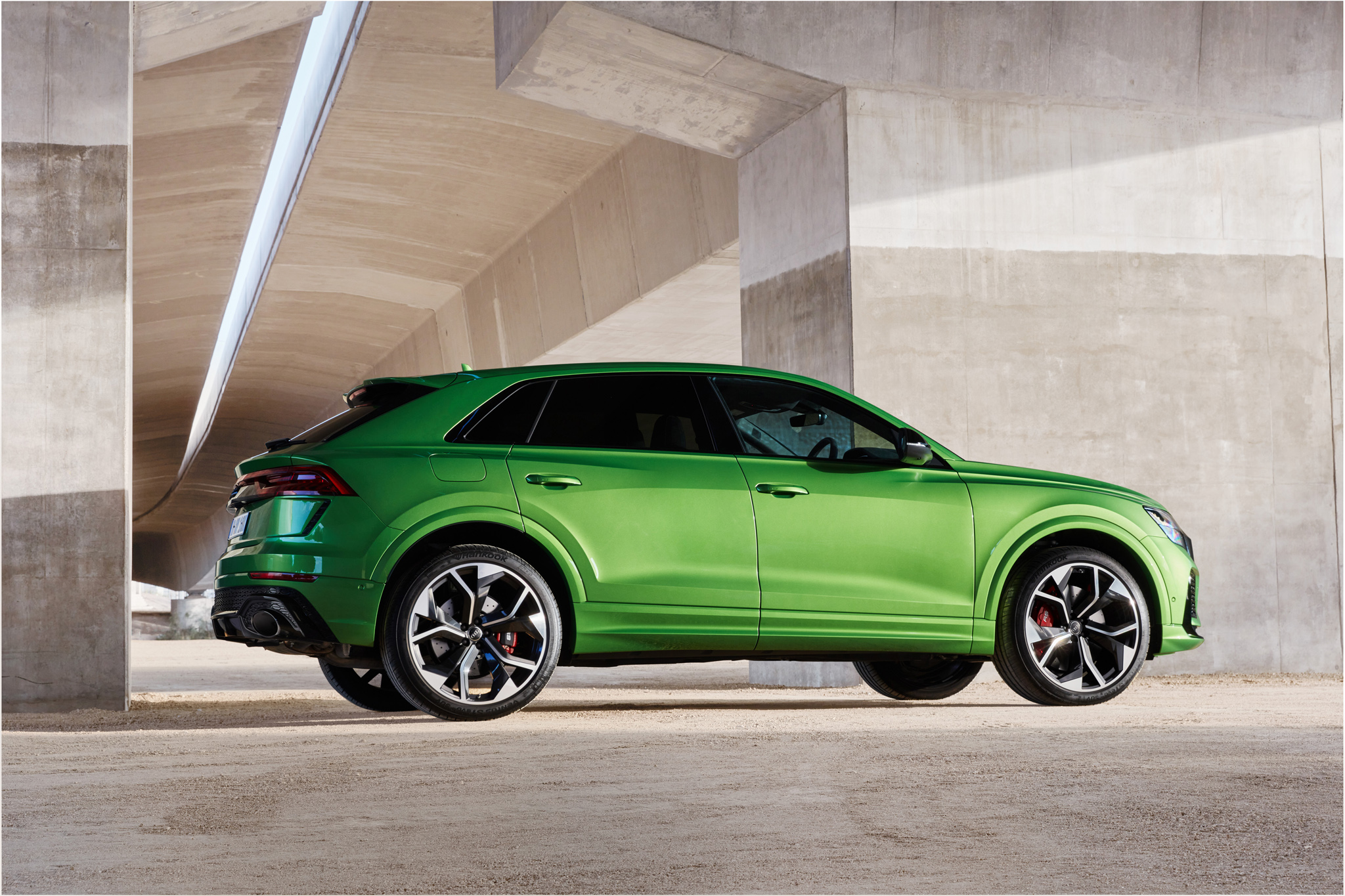 To name just a few of the extensive list of standard gear there's 23-inch alloy wheels, Matrix LED headlights, Audi's virtual cockpit (digital dashboard), a 17-speaker Bang & Olufsen 3D sound system, four-zone climate control and a sunroof.
The catch is the RSQ8 has a lengthy list of competitors as car makers cash in on the demand for high-performance SUVs.
On the plus side it's a lot cheaper than the Lamborghini Urus ($390,000) despite sharing plenty of mechanical componentry underneath the surface. But there's also the BMW X6M Competition (from $209,900), Mercedes-AMG GLE 63S Coupe (from $222,700), Range Rover Sport SVR (from $244,249) and Porsche Cayenne Turbo Coupe (from $259,000).
Would I buy one?
There's no question Audi Sport has created an incredibly fast SUV in the RSQ8 that deserves to sit at the top of the RS heap. But by its very nature of being an SUV it feels compromised as a performance car.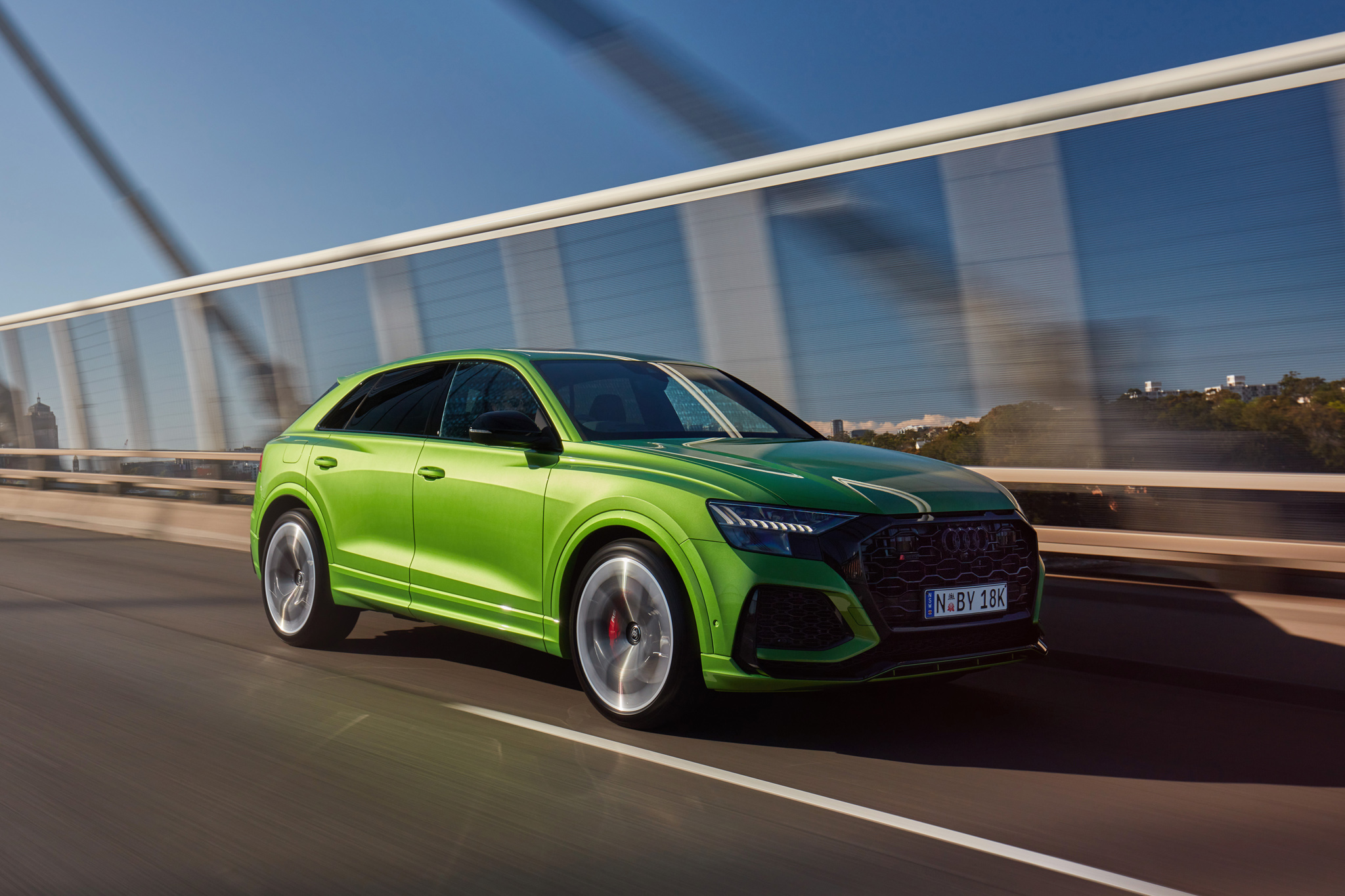 For pure performance in a family car package it's hard to be the Audi RS6 Avant, it may not be the "spearhead" anymore but it's undoubtedly the true icon of the Audi Sport line-up. But if you really prefer an SUV, the SQ7 TDI is $47k cheaper; and what it lacks in performance compared to the RSQ8 it makes up for in practicality (it comes with seven-seats and a bigger boot), which is what SUVs are meant to be about in my book.
2020 Audi RSQ8 price and specifications
| | |
| --- | --- |
| Price: | From $205,500 plus on-road costs |
| Engine: | 4.0-litre twin-turbo V8 petrol |
| Power: | 441kW at 6000rpm |
| Torque: | 800Nm at 2000-4000rpm |
| Transmission: | Eight-speed manual, all-wheel drive |
| Fuel use: | 12.1L/100km |
| Wheels: | 23-inch alloys |
| Tyres: | 295/35 R23 |
| Length: | 5012mm |
| Width: | 2190mm |
| Height: | 1694mm |
| Weight: | 2135kg |
| 0-100km/h: | 3.8 secs (claimed) |