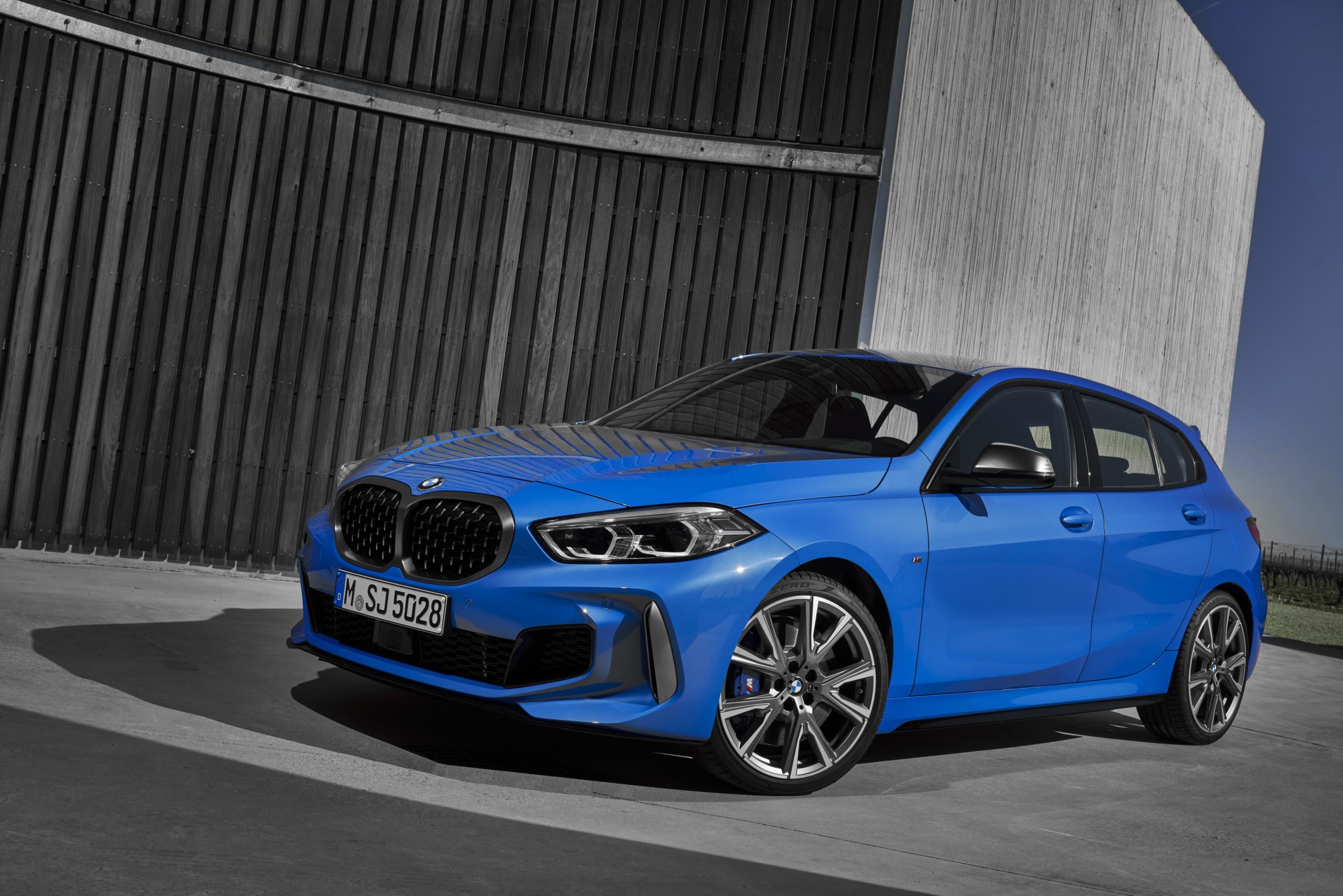 What is it?
A Mini disguised as a BMW… or is it? BMW has copped a lot of flack from diehards about its decision to take this all-new 1-Series onto the same front- and all-wheel drive underpinnings as the Mini range. For the range-topping M135i xDrive that means a 2.0-litre turbocharged petrol engine (shared the Mini Cooper S) and an all-paw traction – quintessential hot hatch ingredients.
The problem is the old M140i was a cult hero among hot hatch fans, with its unique blend of six-cylinder engine and rear-wheel drive chassis that made it stand out from the competition.
Does it have any racing pedigree?
BMW never officially raced the 1-Series as a factory-built car, but British team West Surrey Racing turned the previous-shape 125i M Sport into a race-winning British Touring Car. It's too early in this new model's lifecycle to see it on track, but given the brand's focus on Formula E it seems a return to tin-top racing is unlikely with the M135i – even if it has all the right attributes to be a TCR star.
What's under the bonnet?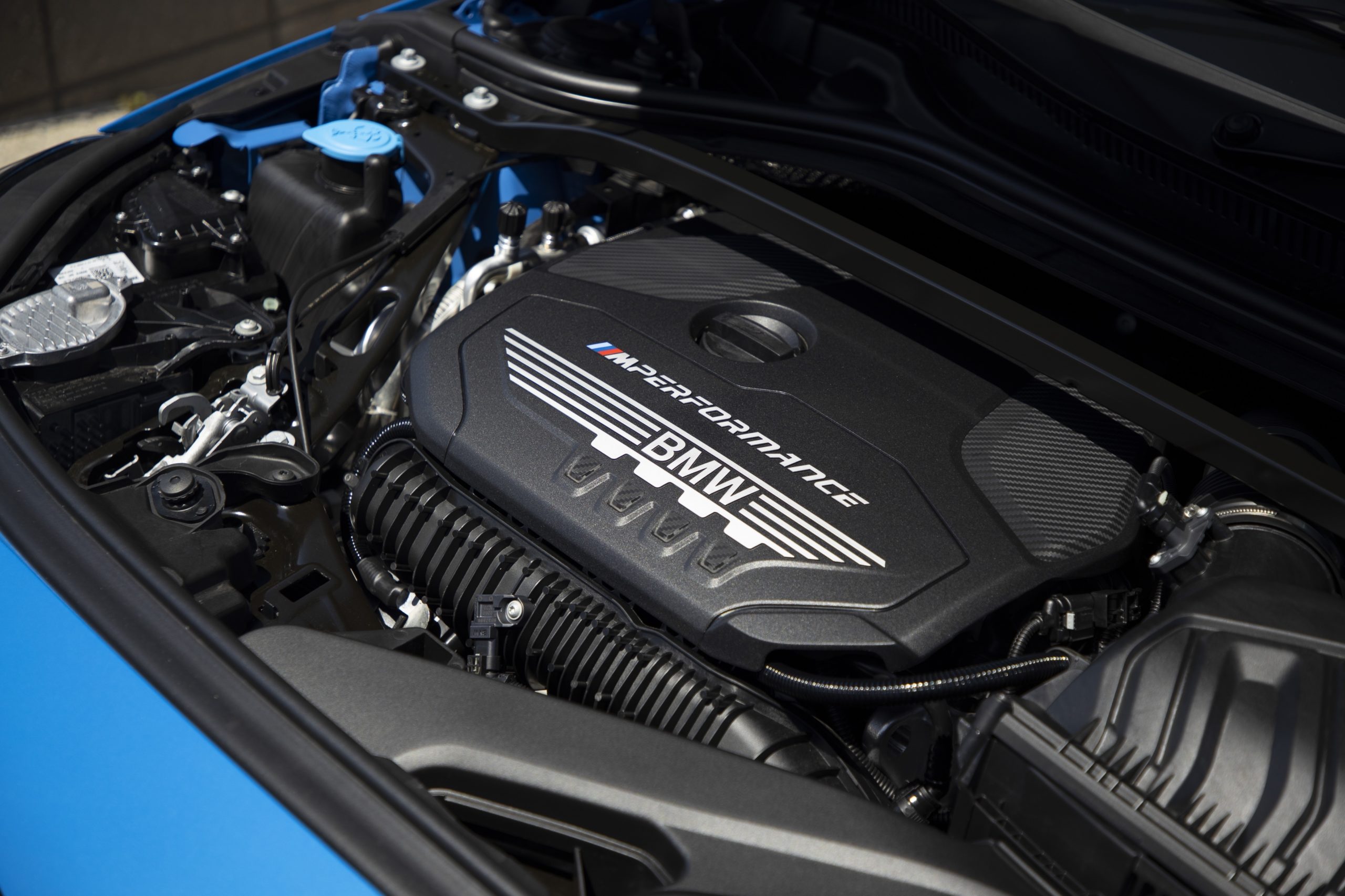 The most powerful four-cylinder engine the Bavarian brand has ever built for a production car. The 2.0-litre turbocharged four-pot has been tuned to extract 225kW of power and 450Nm of torque, which makes this a seriously potent hot hatch.
While it lacks the character of the old six-cylinder and a little bit of grunt (it has 250kW and 500Nm), thanks to its combination of an eight-speed automatic transmission and all-wheel drive traction the M135i can run 0-100km/h in just 4.8 seconds.
It also misses out on the inline six soundtrack of the old car, instead offering up a more Mini-like engine note, the new engine does match the smooth power delivery you expect from the BMW hot hatch. The four-cylinder engine is a gem, offering up all that power and torque in a linear fashion from low down in the rev range all the way to the redline.
The eight-speed auto is a traditional torque converter type, rather than a sportier dual-clutch, but it suits the more refined character of the BMW. It slips effortlessly between the ratios to maximise the potential of the engine.
It may have two less cylinders than before but it doesn't feel deficient.
How does it handle?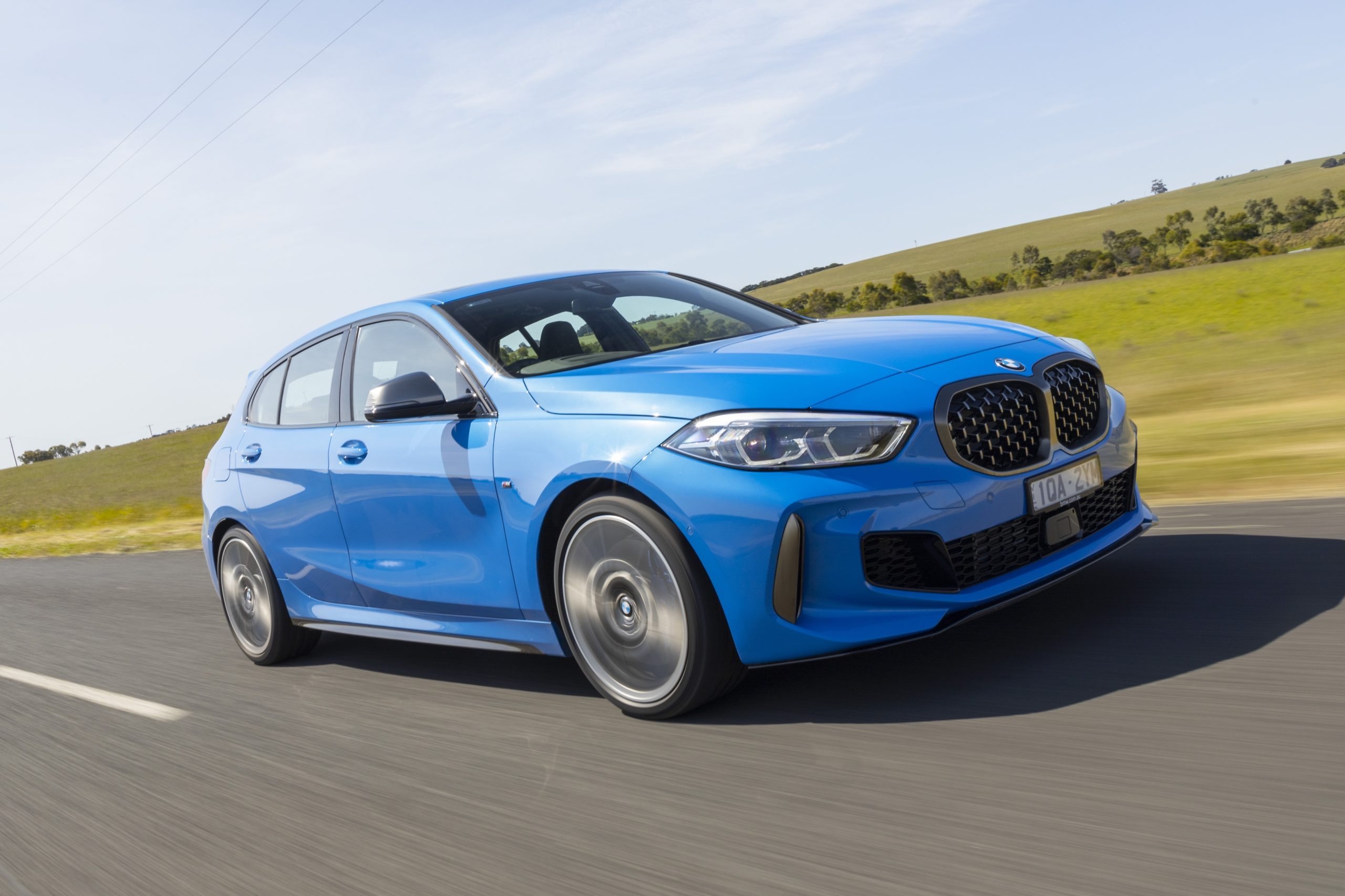 The old M140i drove more like a shrunken sports sedan rather than a typical hot hatch. In contrast, the M135i feels much more like a conventional all-wheel drive hot hatch from behind the wheel.
For starters, it's a front-biased all-wheel drive system, like you get in the Volkswagen Golf R, which means the M135i doesn't feel like any BMW you've ever driven before. And while it's very different, that doesn't mean it's bad. On the contrary the M135i is an engaging hot hatch and feels suitably quick and responsive when the going gets twisty.
If anything BMW might have tried to over-compensate for its decision to ditch rear-wheel drive and has loaded the M135i up with heaps of gizmos and gadgets to ensure it handles with panache. For starters there's a mechanical limited-slip differential, but the real trick technology is what BMW is calling 'ARB', or to put it more technically, an "actuator contiguous wheel slip limitation system." This system has been taken from the electric i3, so this is its first use in an internal combustion powered car.
According to the company it uses a "slip controller positioned directly in the engine control unit rather in the control unit for the Dynamic Stability Control (DSC) system," which means it can react approximately 10 times faster to wheel slip.
Why go to all this trouble? Because ARB works with the DSC system to reduce torque-steer, that feeling of the steering wheel tugging in your hands when powering out of a corner, which is something BMW drivers won't be familiar with.
One thing BMW drivers will be accustomed to is the firm ride, which is a brand trademark. It's not a harsh or uncompromising ride (like some BMW M cars can be) but you certainly feel more bumps more acutely than you would in some rival hot hatches. It's worth noting that the standard 19-inch alloy wheels are only available with a fixed-rate suspension, but you can add adaptive dampers if you're willing to opt for 18-inch rims.
Where would you most like to drive it?
I'd love to cut some laps at a tight and technical racetrack, somewhere like Winton or Wakefield Park, where you could really test the hi-tech drivetrain to its limits. The smoother tarmac on a circuit would also be another plus over Australia's generally pockmarked back roads that are typical hot hatch territory.
What's the interior like?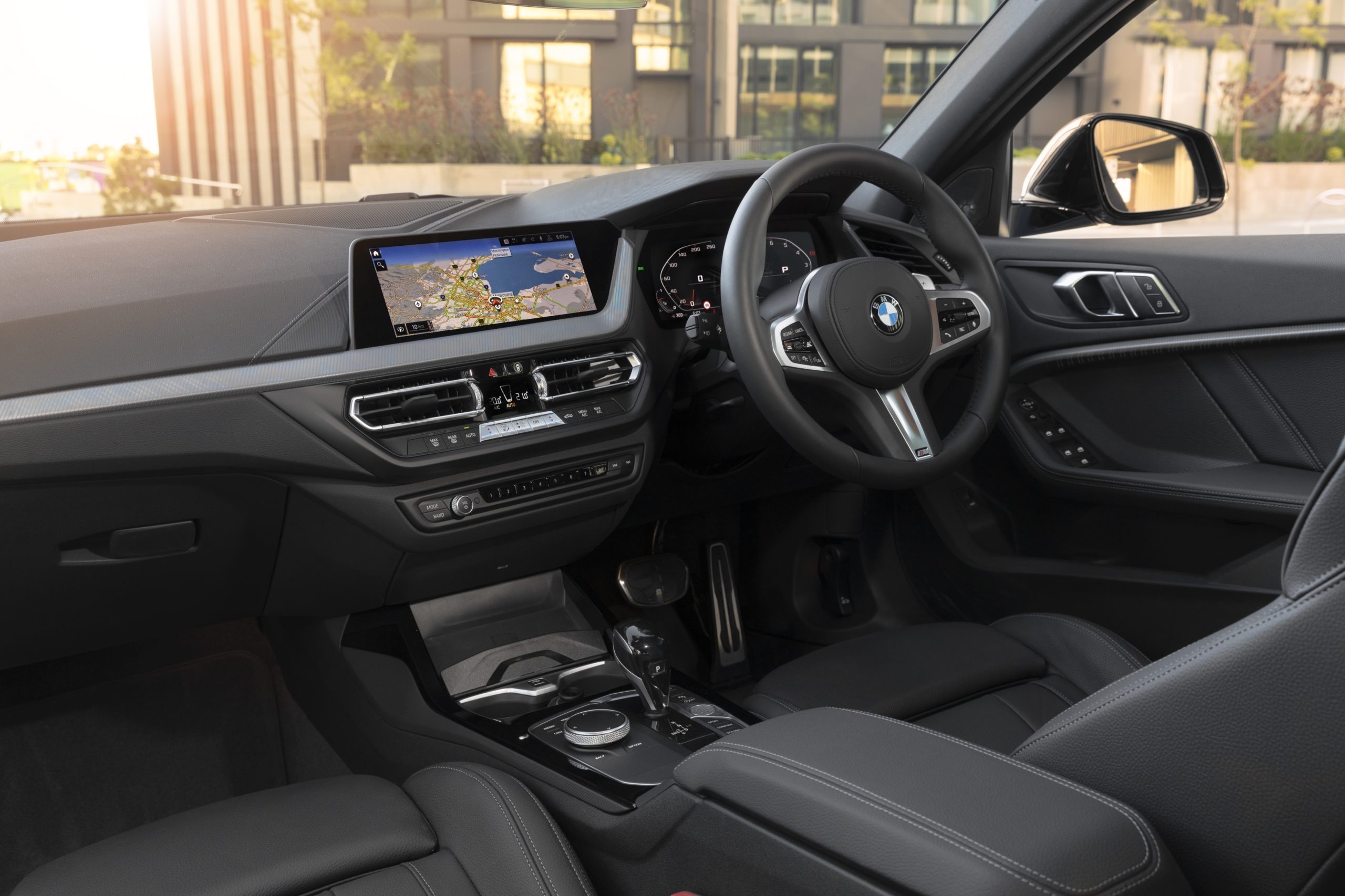 This is where all the sacrifice of the six-cylinder engine rear-wheel drive pays off, with a more spacious cabin that makes the M135i a true four-seat hot hatch, rather than the cramped 2+2 layout of the old M140i. Passengers in the back no longer have to sit crossed-legged like a primary school student thanks to an additional 33mm of kneeroom for the rear. There's also more luggage room in the back and the entire cabin is wider too, so overall this new-generation 1-Series is just packaged better than the old model.
And upfront the new model retains all the typical BMW design cues you find on the rest of the range, from the switchgear to the infotainment system all of the brand's cars have a commonality. Not in a bad way though, in fact if you own a 1-Series you're getting a lot of the same elements as an 8-Series. The front seats are worthy of praise, both for offering plenty of comfort and support, but also looking suitably sporty.
Is it good value for money?
That depends what you cross-shop it against. Priced from $63,990 (plus on-road costs) it's competitive against its premium-badged competition – the Audi S3 (from $64,200) and Mercedes-AMG A35 (from $69,300). But you can get the same powertrain packaged inside the Mini Clubman JCW ALL4 from just $57,900.
Or there are plenty of mainstream brands that offer cheaper, but no less thrilling hot hatches including the Golf R, Golf GTI, Hyundai i30 N, Honda Civic Type R, Renault Megane RS and new Ford Focus ST – all of which are under $60k.
Would I buy one?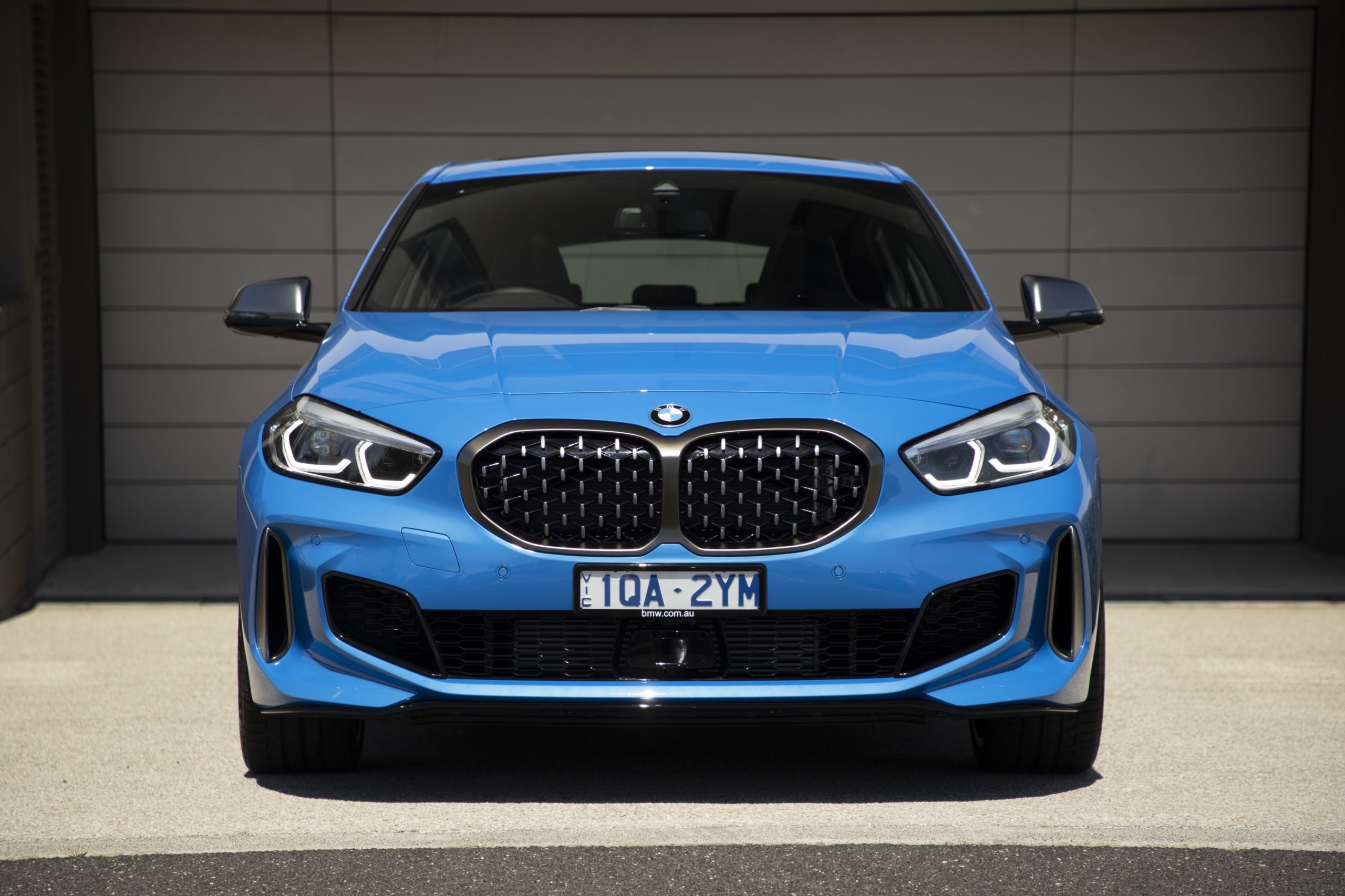 The new M135i is arguably a better hatchback than the model it replaces, but perhaps not a better BMW. Brand traditionalists will rage against it because it's not rear-wheel drive, but judged on its merits as a hot hatch this new machine stands up proudly.
The engine is a cracker, the cabin is roomier and the handling is on par with its competition. Unfortunately the loss of the classic rear-wheel drive is the price of progress.
Whether that's enough to lure you away from what is now a very deep field of hot hatches is another question, because unlike its predecessor, this one doesn't have anything that really helps it stand out from the crowd.
2020 BMW M135i xDrive price and specifications
| | |
| --- | --- |
| Price: | From $63,990 plus on-road costs |
| Engine: | 2.0-litre four-cylinder turbo petrol |
| Power: | 225kW at 5000rpm |
| Torque: | 450Nm at 1750rpm |
| Transmission: | 8-speed automatic, four-wheel drive |
| Fuel use: | 7.5L/100km |
| Wheels: | 19-inch alloys |
| Length: | 4319mm |
| Width: | 1799mm |
| Height: | 1434mm |
| Weight: | 1525kg |
| 0-100km/h: | 4.8 secs |