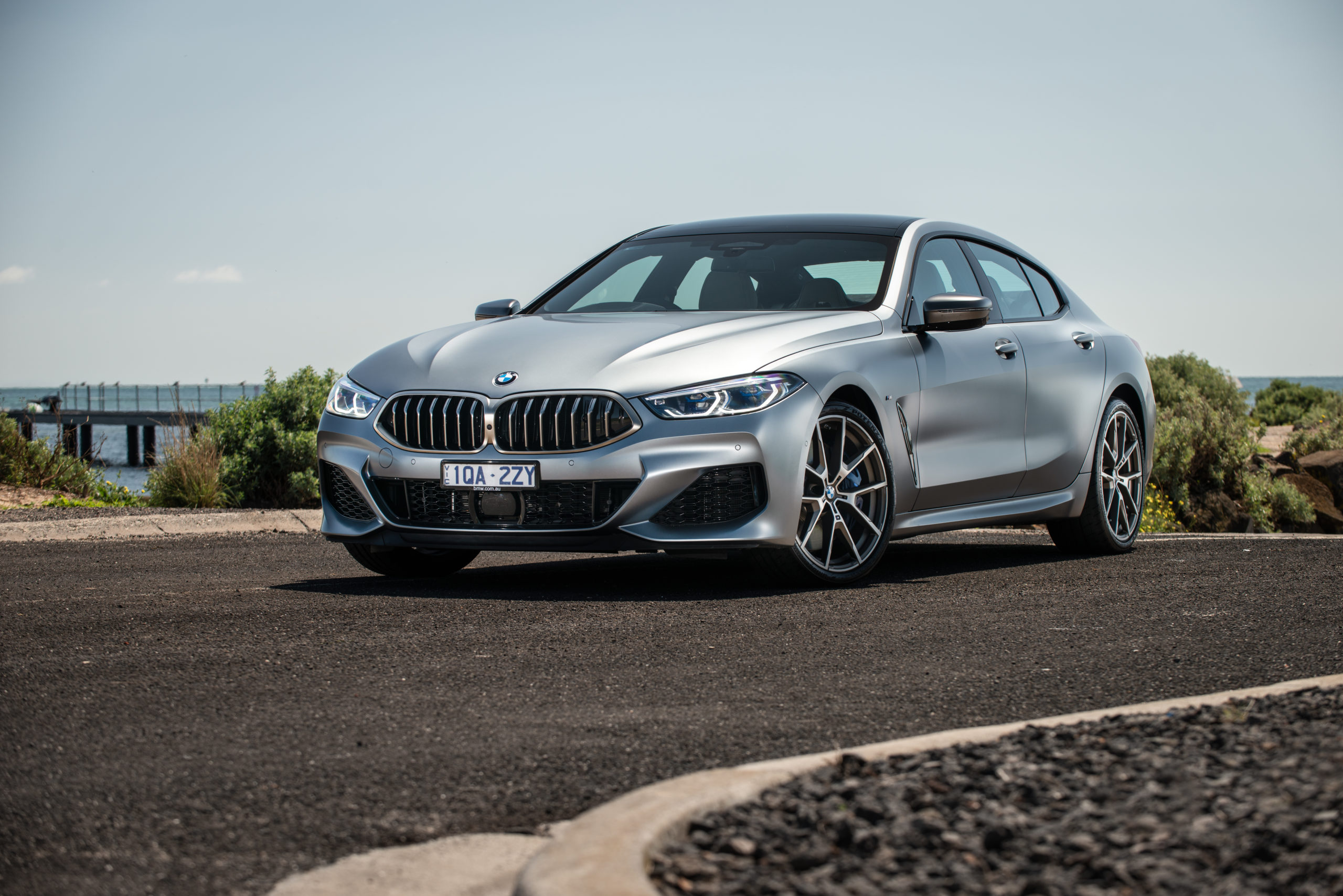 What is it?
Depending on your point-of-view, it's either the best of both worlds or a compromised car that misses the mark.
The M850i Gran Coupe is the latest addition to the revived 8-Series range, joining the existing Coupe and Convertible. Gran Coupe is BMW's term for a four-door sedan with a sloping roofline, what car company's like to incorrectly call a 'four-door coupe' (because a coupe by definition has two-doors, but I digress).
In other words, it's trying to combine the twin-turbo V8 performance of the M850i Coupe with a more practical layout for four people.
Does it have any racing pedigree?
Obviously BMW hasn't raced a Gran Coupe, but it does have plenty of motorsport heritage and recently has used the closely related M8 as the basis for its GTE-class racer.
Importantly the engine found in the M8 GTE is based on the same 4.4-litre twin-turbo V8 you'll find powering the M850i Gran Coupe.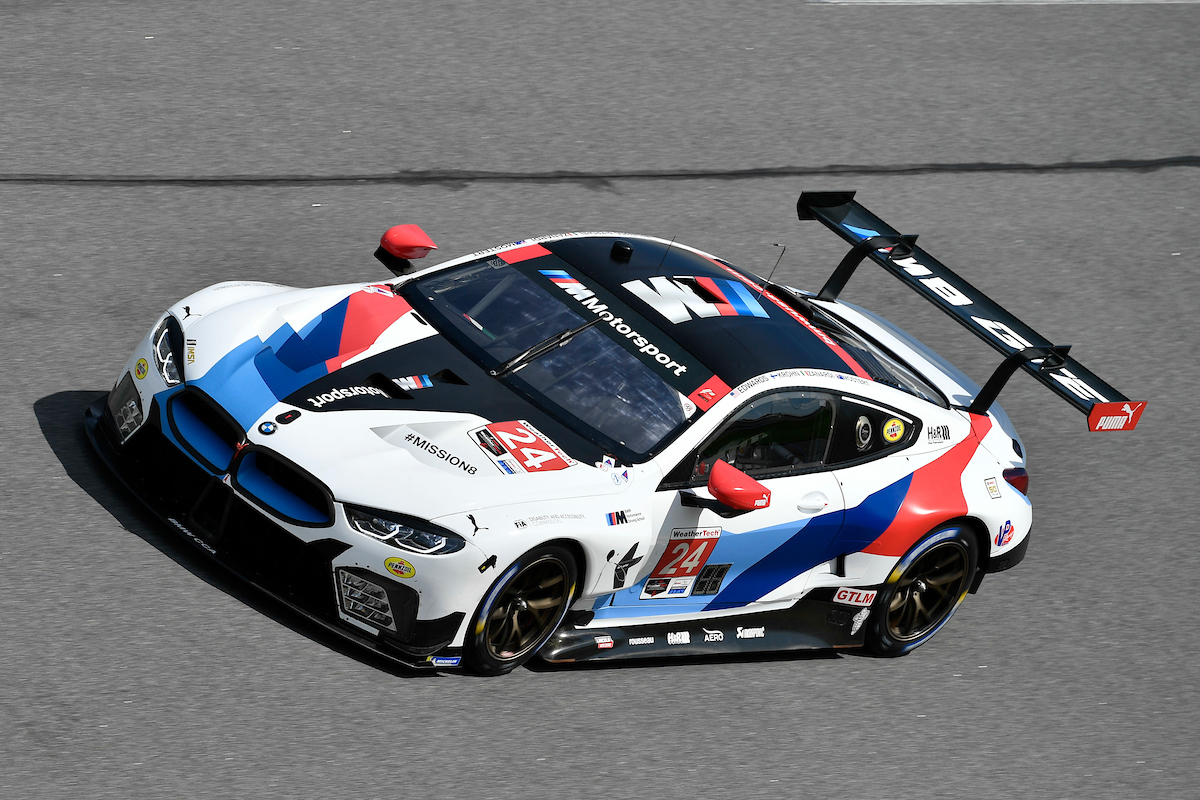 What's under the bonnet?
As just mentioned it's a 4.4-litre twin-turbocharged V8 petrol engine, the same used in most of BMW's larger performance vehicles – M8, X5M, X6M, M850i, etc.
For the M850i GC it's tuned to make 390kW of power and 750Nm of torque, is paired to an eight-speed automatic transmission and sends power to all four wheels via BMW's xDrive system.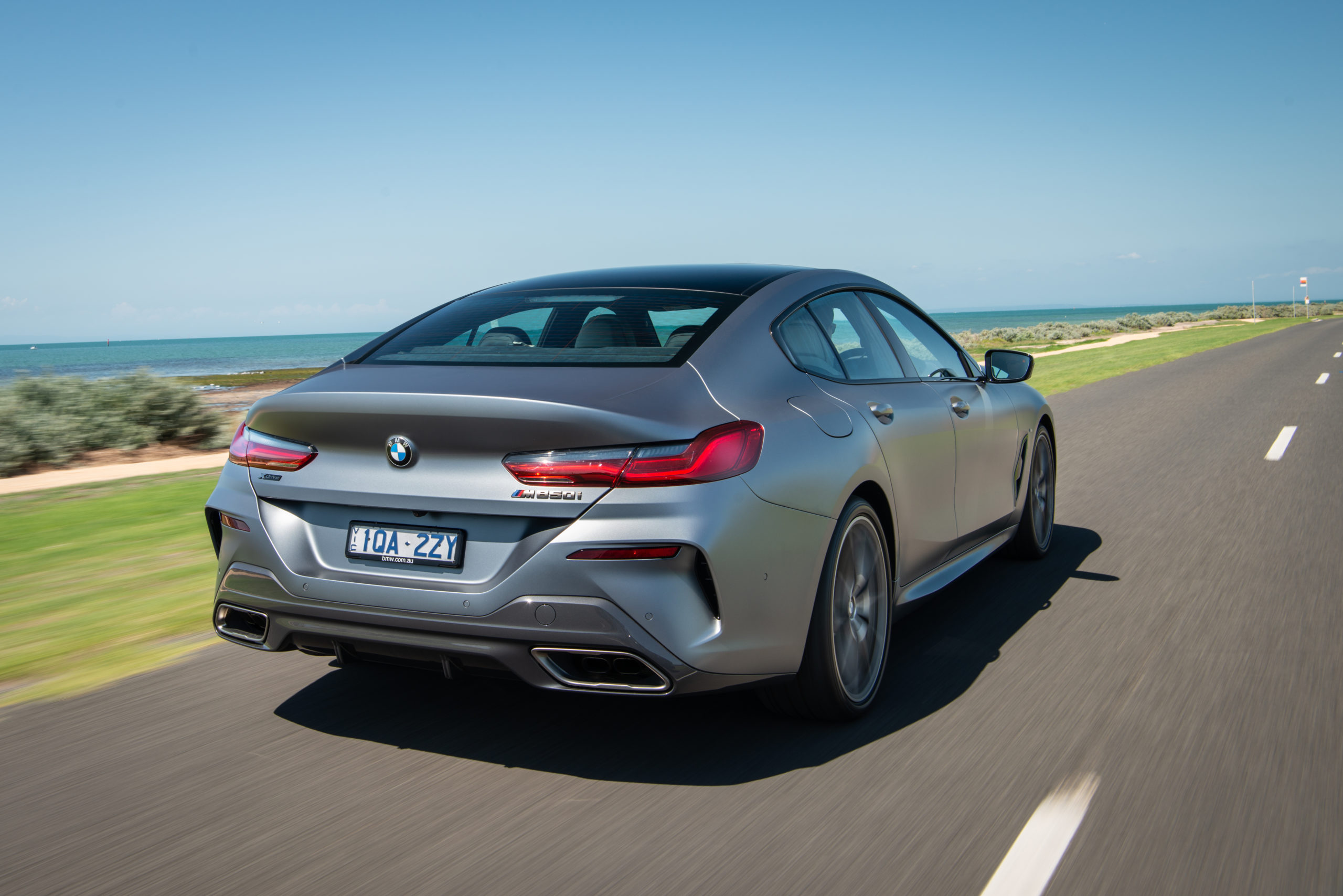 The combination is, put simply, excellent. Luxury performance cars must do one thing above all others – provide that performance in an easy manner. It should never feel stretched or flustered, instead the pulling power should kick in early and stay steady and strong.
That's how the M850i GC feels. As soon as you squeeze your foot down the V8 makes a subtle burble that can build to a raucous growl as it shoves you back in your seat. It never feels like it's really working hard, just gradually unleashing its awesome potential.
How does it handle?
One of the pleasant surprises when we drove the M850i Coupe last year was just how well it handled for such a big car. It may be long and wide but it had the kind of poise and precision you expect from a more compact sports car.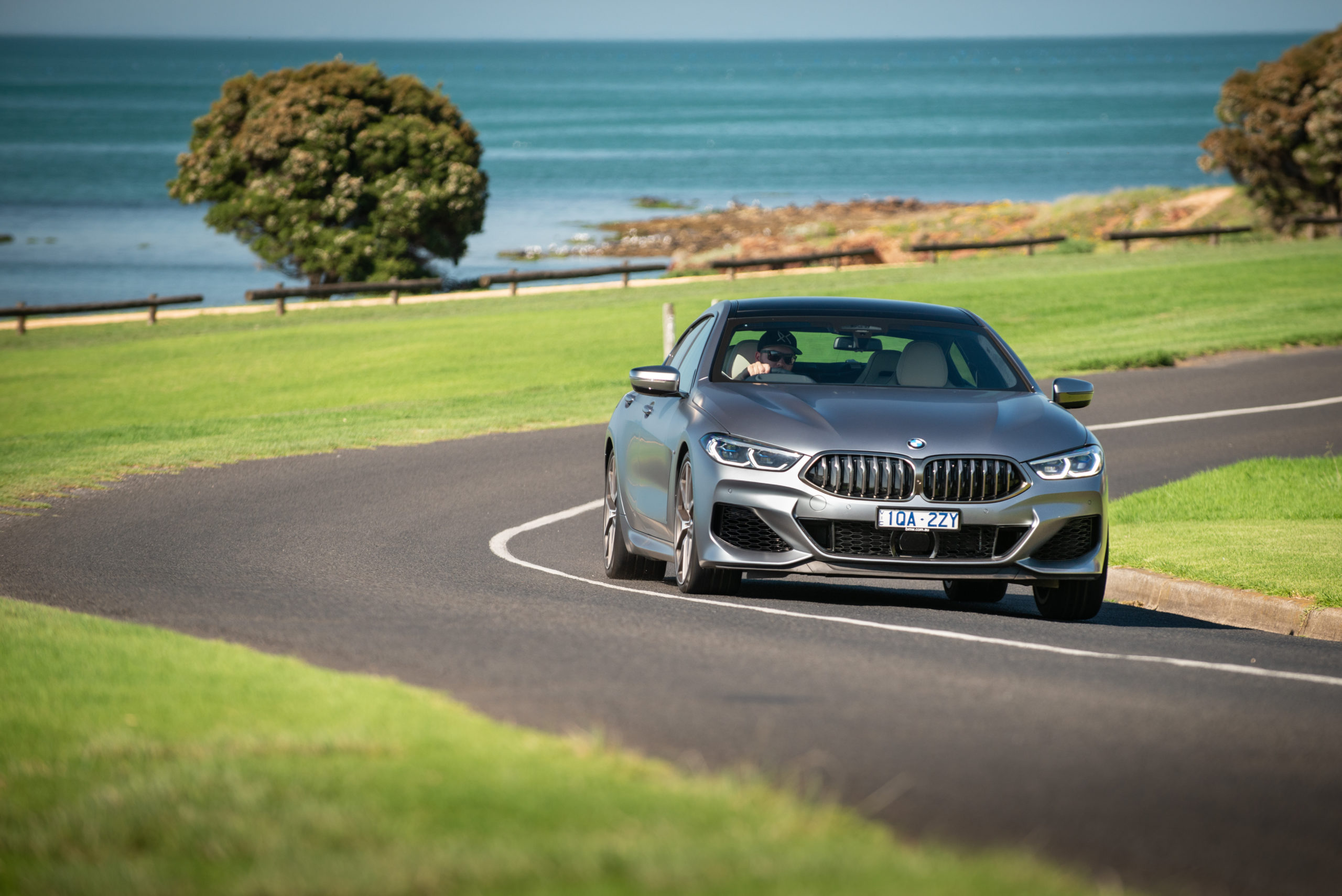 Obviously the even longer Gran Coupe is slightly less agile but it's still a sharp and engaging car to drive. It feels more responsive than a car that looks like this should. The steering is nicely sorted, the chassis is progressive and the brakes feel strong too.
But that's the point of the M850i Gran Coupe, it's designed to appeal to those who need space for four but still want a sporty driving experience. That's what separates it from the 7-Series, that's a more overt luxury limousine.
Where would you most like to drive it?
The beauty of the M850i GC is that it feels at home both on the drive to work or tackling challenging open roads. But to really put it to the test and fully experience its potential it would be great to try it on a fast, flowing racetrack like Phillip Island.
What's the interior like?
BMW has done a nice job in the cabin, blending the need for luxury with a desire to give it a sporty and dynamic feel. The thick-rimmed steering wheel, complete with 'M' logo is a sporty element, while the 12.3-inch digital dashboard adds a sense of technology.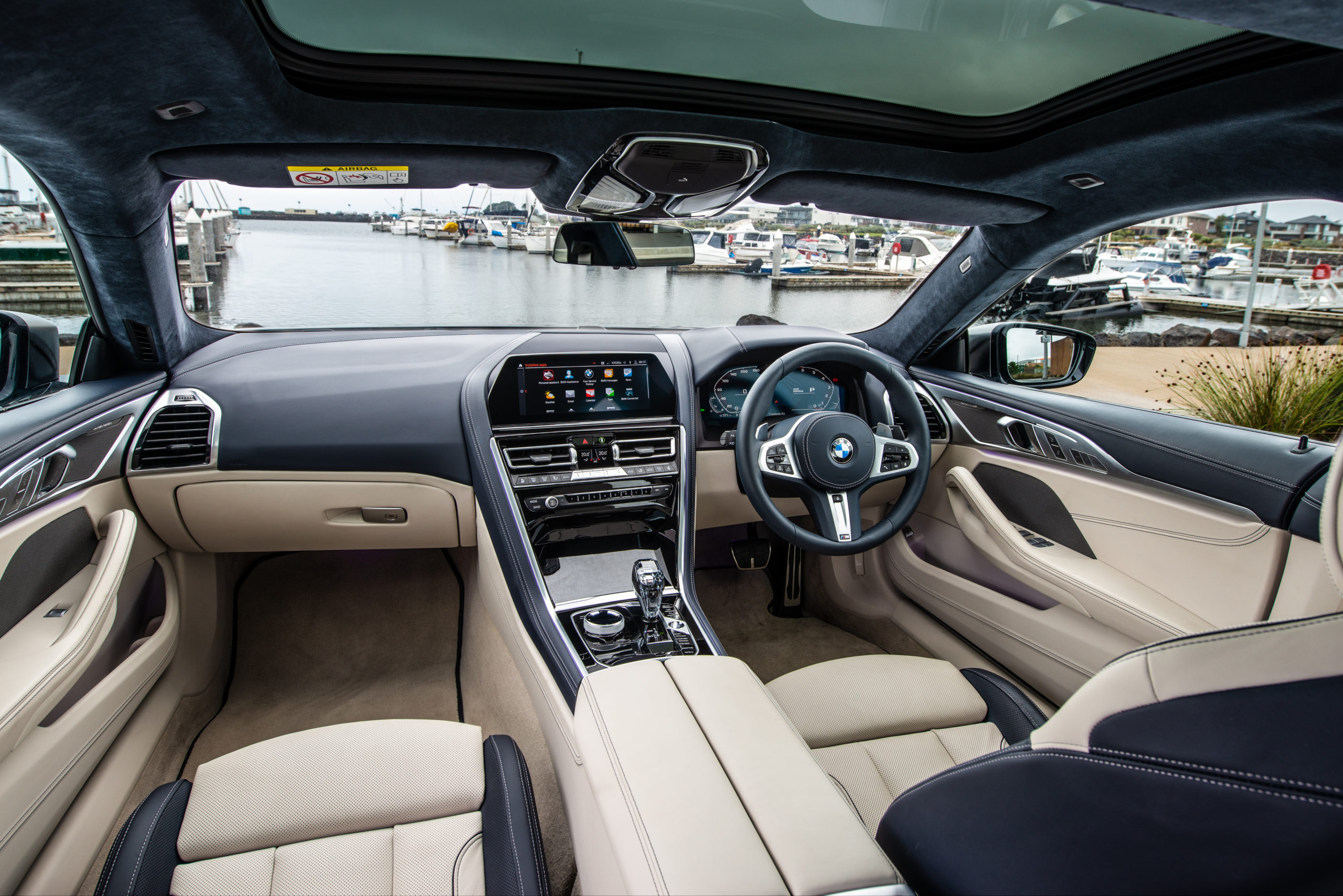 But the overall feeling is one of luxury and comfort thanks to the copious amounts of leather used and the comfortable, supportive seats.
Of course the biggest difference between the Coupe and the Gran Coupe is the back seat. Obviously they're easier to access with rear doors, and there's meaningful legroom thanks to the 231mm longer wheelbase. However, the sloping roofline which separates the Grand Coupe from a 7-Series does make getting in a bit more challenging (watch your head) and taller adults and teenagers may feel a little snug on headroom.
Is it good value for money?
The M850i Gran Coupe is priced from $277,900 (plus on-road costs) which is competitive against its rivals, without being a standout.
For example, Audi's less potent S7 Sportback starts at $159,136 while the more aggressive RS7 is priced from $224,000; so both undercut the Beemer. But the Mercedes-AMG GT 4-Door starts at $256,235 for the six-cylinder GT53 while the V8-powered GT63 S is $358,735.
If you want something similar with a more premium badge the V8-powered Porsche Panamera GTS starts at $366,700, while the Maserati Quattroporte GTS starts at $299,990.
Would I buy one?
So which point-of-view do we take – best of both worlds or a compromise that fails to find its target?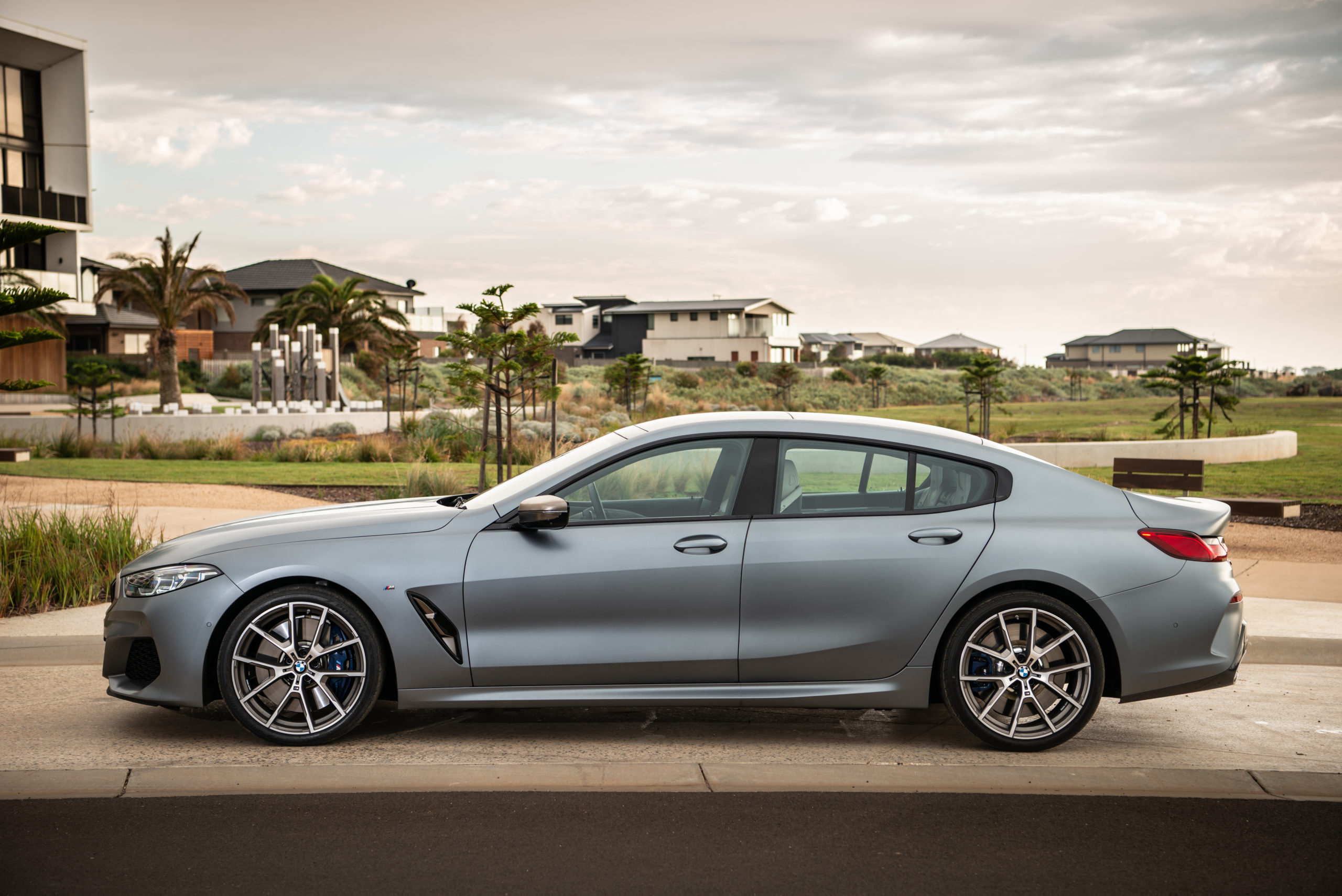 This reviewer finds it very much the former, a great blend of performance and practicality in a stylish and sophisticated package. Whereas the previous 6-Series range failed to find the right balance this new generation 8-Series has been an early success for BMW.
And as the list of rivals above demonstrates, if you've got $300k to spend on a luxury four-door you're spoiled for choice, despite the rise and rise of SUVs.
2020 BMW M850i Gran Coupe price and specifications
| | |
| --- | --- |
| Price: | From $277,900 plus on-road costs |
| Engine: | 4.4-litre twin-turbo V8 petrol |
| Power: | 390kW at 5500rpm |
| Torque: | 750Nm at 1800rpm |
| Transmission: | 8-speed dual-clutch automatic, all-wheel drive |
| Fuel use: | 10.7L/100km |
| Wheels: | 20-inch alloys |
| Tyres: | 245/35 R20 front; 275/30 R20 rear |
| Length: | 5074mm |
| Width: | 1932mm |
| Height: | 1401mm |
| Weight: | 1995kg |
| 0-100km/h: | 3.9 secs (claimed) |