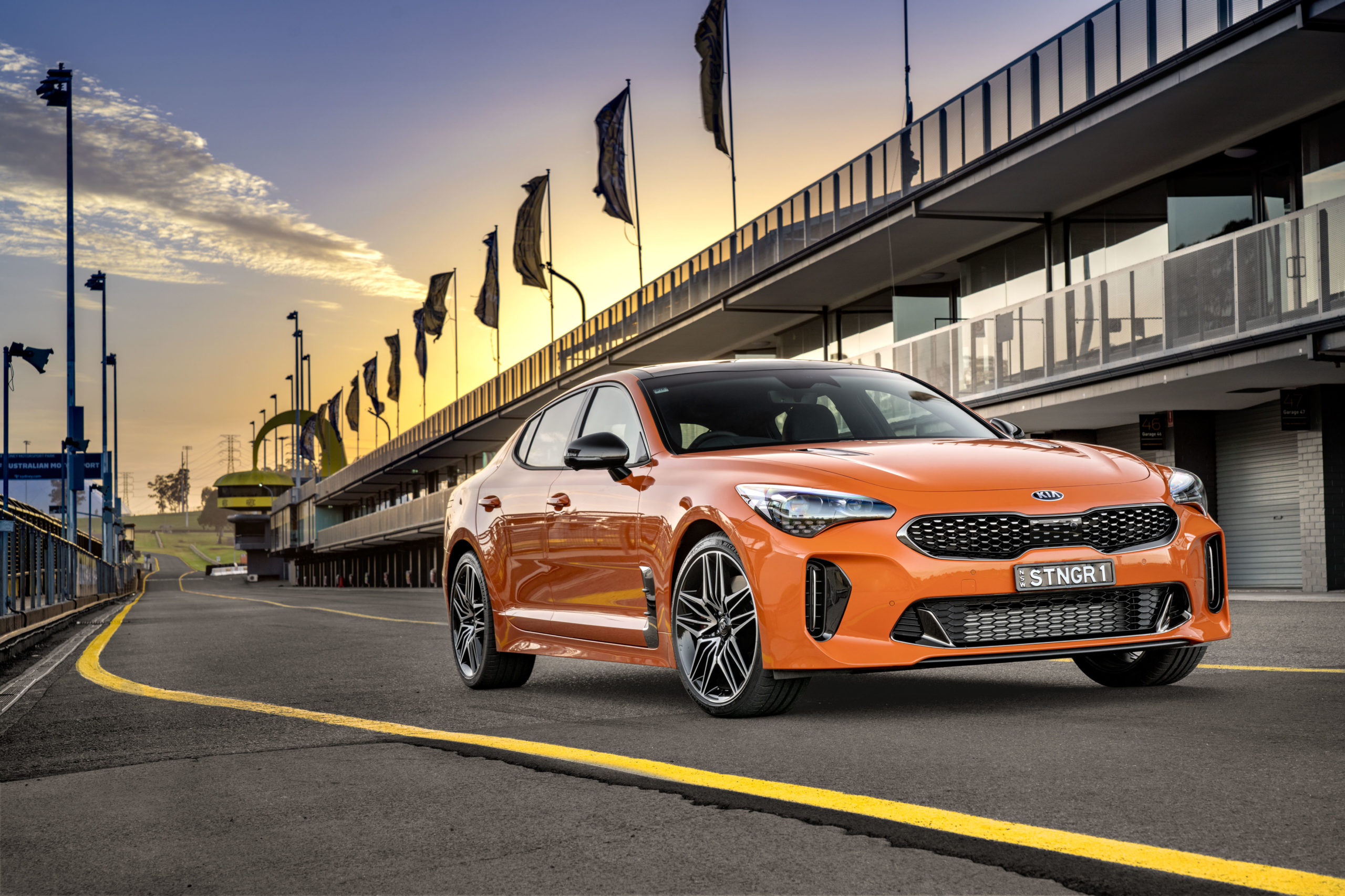 What is it?
It's without doubt the most exciting car Kia has ever built. When the Stinger first arrived in 2017 it seemed poised to fill the gap left by the departure of the locally-made Holden Commodore and Ford Falcon – with its combination of twin-turbo V6 engine, rear-wheel drive and fastback four-door style.
In highsight it was too much pressure to place on the South Korean sports sedan and it has failed to be a major sales success. However, it has attracted a steady stream of customers and for 2021 Kia has given the Stinger a refresh.
The most notable changers are the new LED headlights and daytime running lights, as well as the rear LED lights which now include a chequered flag motif. There's also new alloy wheel designs and more safety features.
Does it have any racing pedigree?
Unfortunately the most notworthing thing about the Stinger's motorsport history is that it has none. Despite the obvious suitability for Supercars racing Kia Australia has never felt the time was right to join the competition between Ford and Holden.
READ MORE: Kia rules out Gen3 Supercars entry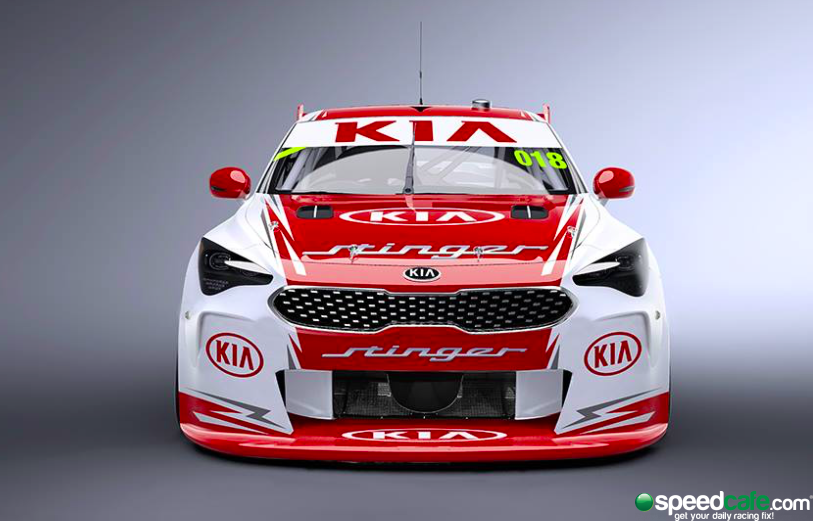 It's a shame because the Stinger would arguably make a great Supercar and help the brand continue to evolve its image from its previous days as a 'cheap' car maker to one that now competes on equal terms with Toyota, Mazda, Hyundai and co. as a genuine mainstream option. In recent years Kia has charged up the sales charts, as a fan of both Supercars and Kia it's a shame it hasn't tried to have the Stinger charge up the racing grid.
What's under the bonnet?
While it's four-door body and rear-wheel drive layout created obvious parallels to the Commodore and Falcon, Kia opted for a more contemporary powertrain than a V8. That's why the Stinger is powered by a 3.3-litre twin-turbo V6 which makes 274kW of power and 510Nm. That's only a 2kW improvement over the previous model thanks to the new bi-modal exhaust system, but it was already plenty punchy enough it didn't need a major engine upgrade.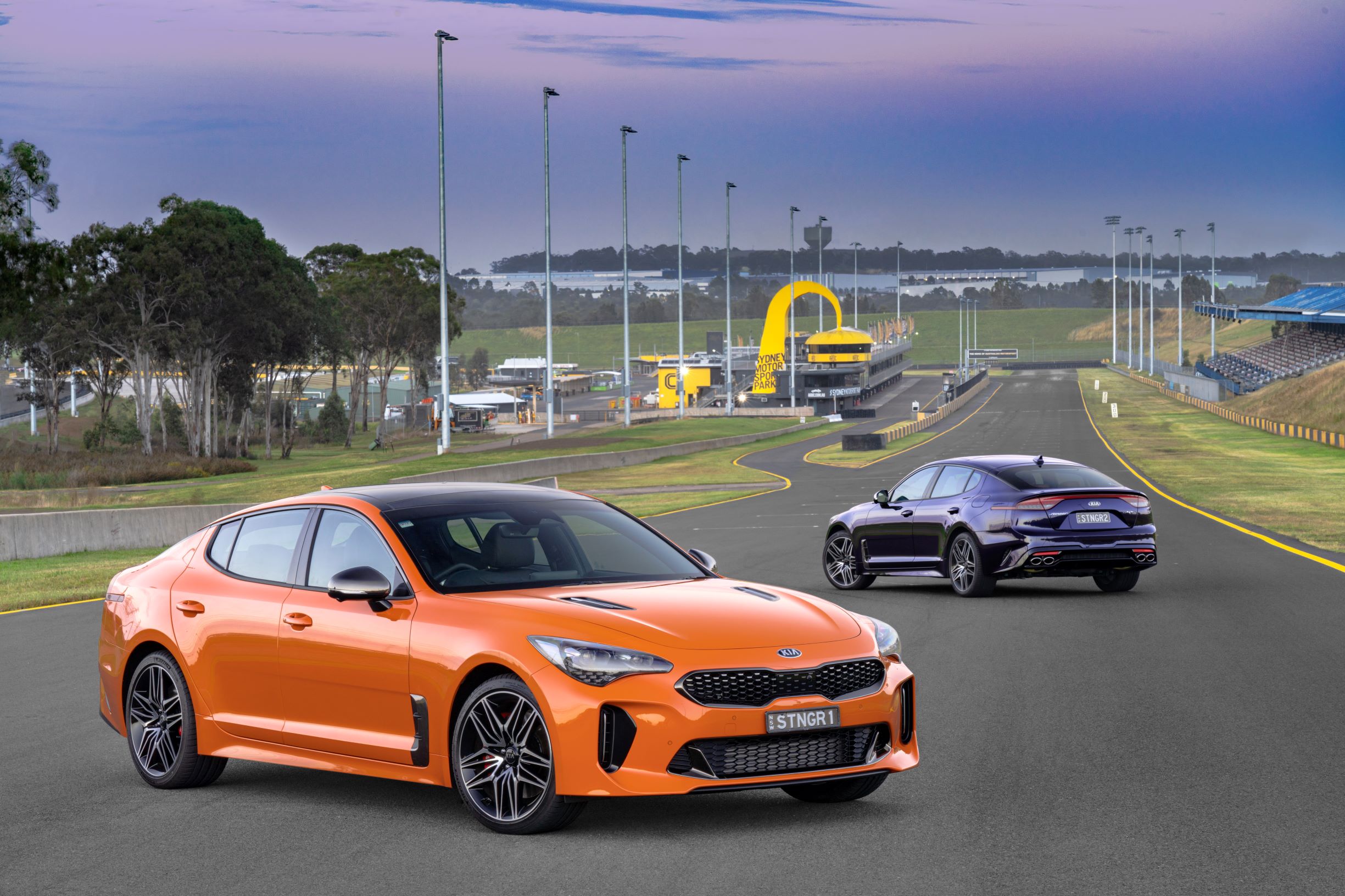 The V6 has real shove when you put your foot down, not just a fast family sedan but genuine performance car acceleration. Kia claims the Stinger can run the 0-100km/h sprint in 4.9 seconds, which feels achievable based on our experience; although we didn't get a chance to run it against the clock.
But while it has plenty of bite, it does lack some bark – so to speak. Even with the bi-modal exhaust the V6 sounds a little flat and could do with more drama to really embrace its sports sedan image.
Another issue is the transmission. The eight-speed automatic gearbox does fine around town, but when you want to get sporty it doesn't feel as well sorted. It can hunt around too much for the right gear and that dulls the engine's performance somewhat.
Overall though, the V6 is a cracking engine and elevates the Stinger beyond what's left of the affordable sports sedan crowd.
How does it handle?
This is the other area where the Stinger does a better- or at least, different – job than most of the remaining sedans on the market. It's rear-wheel drive marks it out against the likes of the Peugeot 508, Skoda Superb, Mazda 6 and Volkswagen Passat, giving it a fundamentally more dynamic performance.
There's a drive mode selector inside the cabin that allows you to alter just how dynamic it feels, with the Sport setting making it feel noticeably tauter and more responsive both through the suspension and the steering.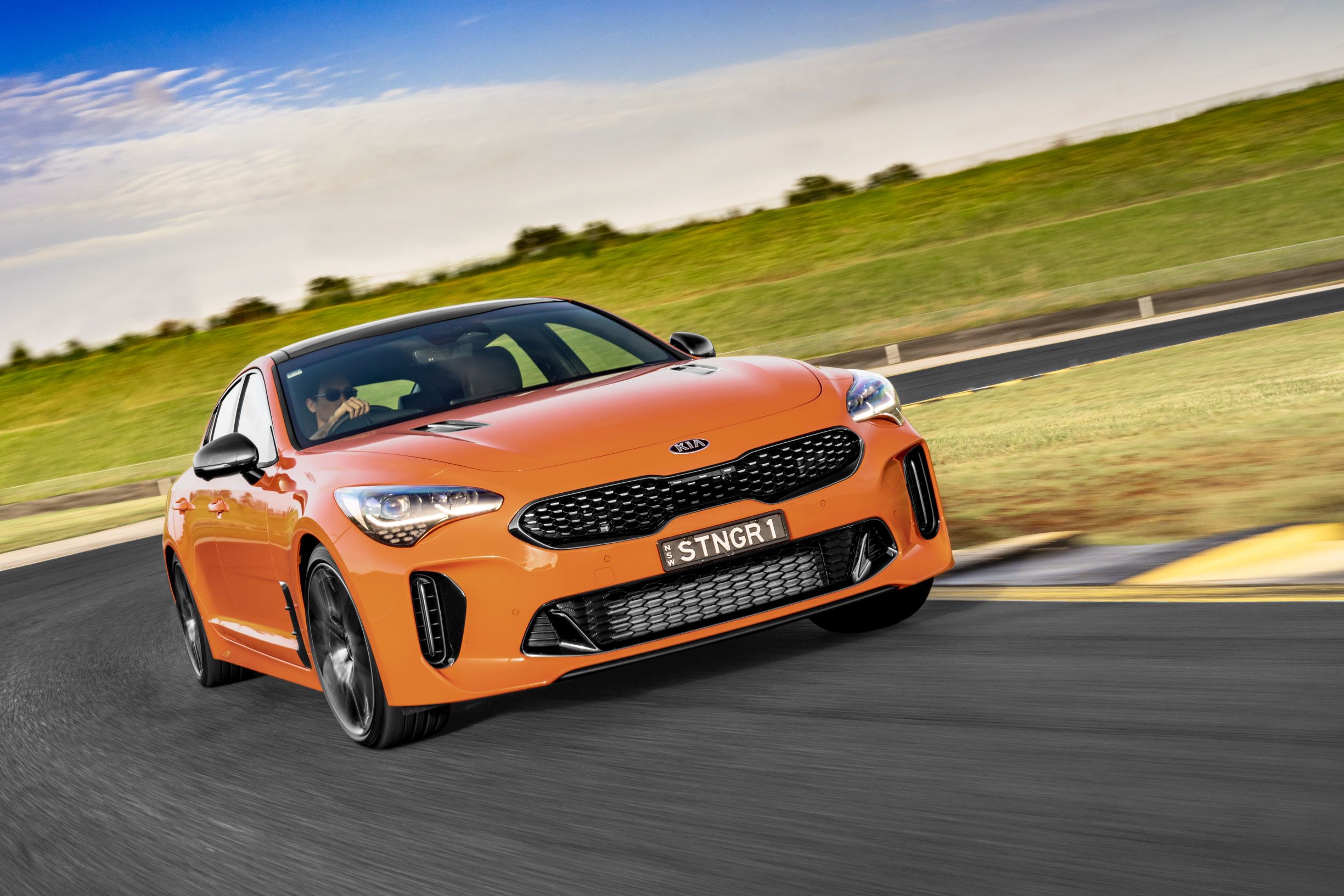 Like most Kia's sold here, it has been given a unique chassis tune for local roads by a team from Kia Australia. It undoubtedly helps improve the car, but feels like it has slightly missed the mark. Specifically the way it tries to put all the power from the V6 to the road. Even with grippy Michelin rubber the back end feels prone to slipping into oversteer – only for the stability control system to jump in and shut it down. It means you have to be extra careful when putting down your right foot, making sure you manage the kick of torque from the engine as the turbos come on boost.
Once you get accustomed to that the Stinger is a really enjoyable car to drive. The steering is well sorted and inspires confidence, while the suspension feels well sorted – offering a suitable balance between control and compliance.
For those who miss the unique driving experience of a rear-wheel drive sedan and don't have money for a European luxury car, the Stinger should help satisfy your enthusiasm.
There is one thing that really frustrates me about the driving experience, however. It's the lane keeping assist system, which has an annoying tendency to tug at the wheel whenever the car decides it doesn't like your position in the lane – even if you're happy as the driver. It feels like a video game, with the software trying to help you even when you don't want it to. It's not a unique problem to the Stinger, in fact it's problematic across all recent Kia and Hyundai models we've driven with the same system. Thankfully there's a button on the steering wheel to turn it off, but you do need to remember to do it every time you start the car.
Where would you most like to drive it?
A racetrack might seem like the obvious answer, and having driven a Stinger at Wakefield Park I can attest to it being more-than-capable on a circuit. That it's not really a track car, it's more at home on the open road, be it on a road trip or just a specific drive to your favourite piece of black top.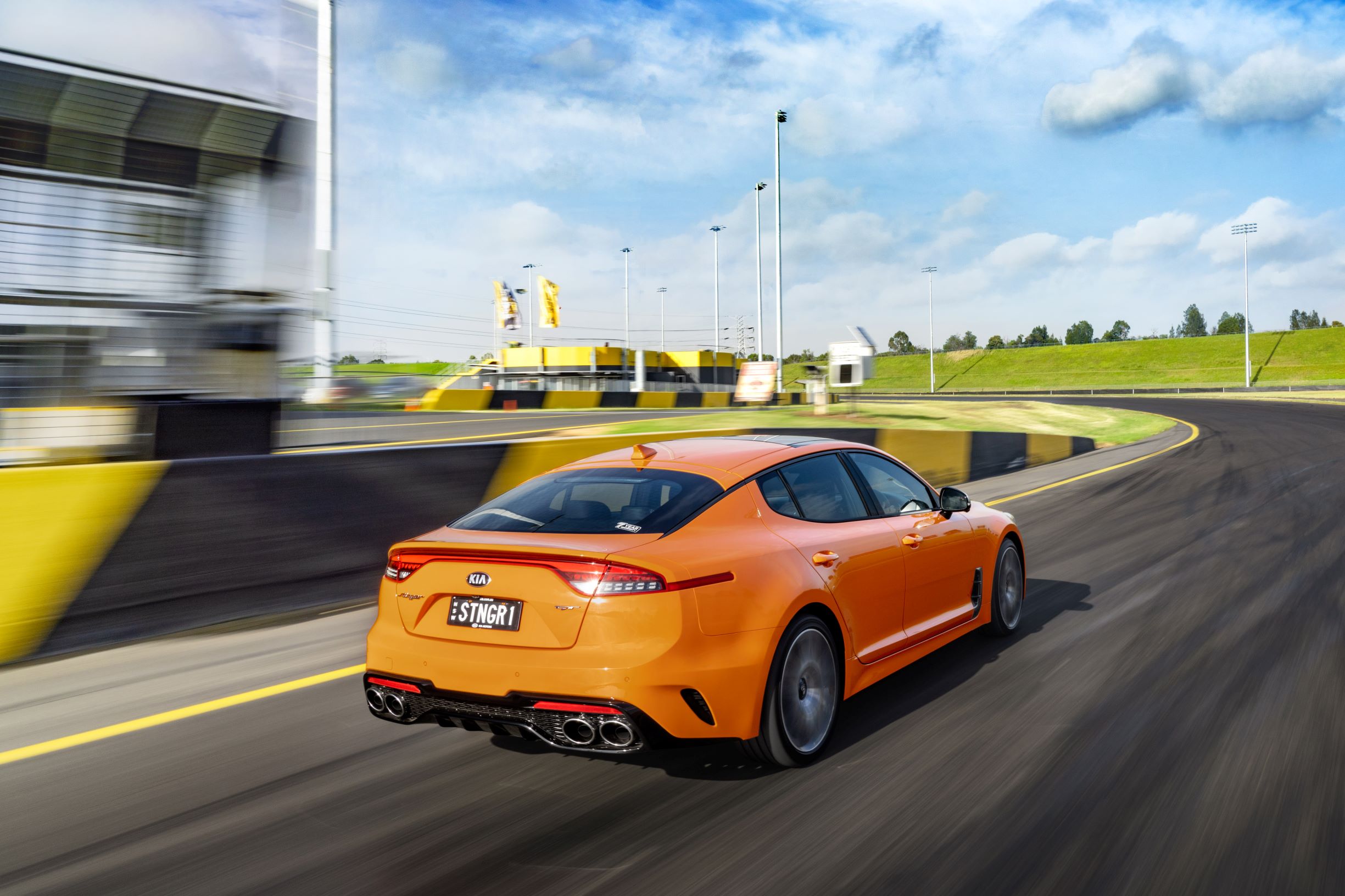 Whether it be a winding mountain road or a run through a flowing ribbon of rural tarmac, the Stinger GT lives up to its name as a grand tourer.
What's the interior like?
In addition to the exterior tweaks there are some changes to the cabin of the Stinger. While much of it is carried over it still looks stylish and sporty with its thick-rimmed steering wheel and round air-vents, the big change is the 10.2-inch infotainment screen. Not only is the screen bigger than before it also has the company's latest infotainment system, which includes upgraded functionality and graphics.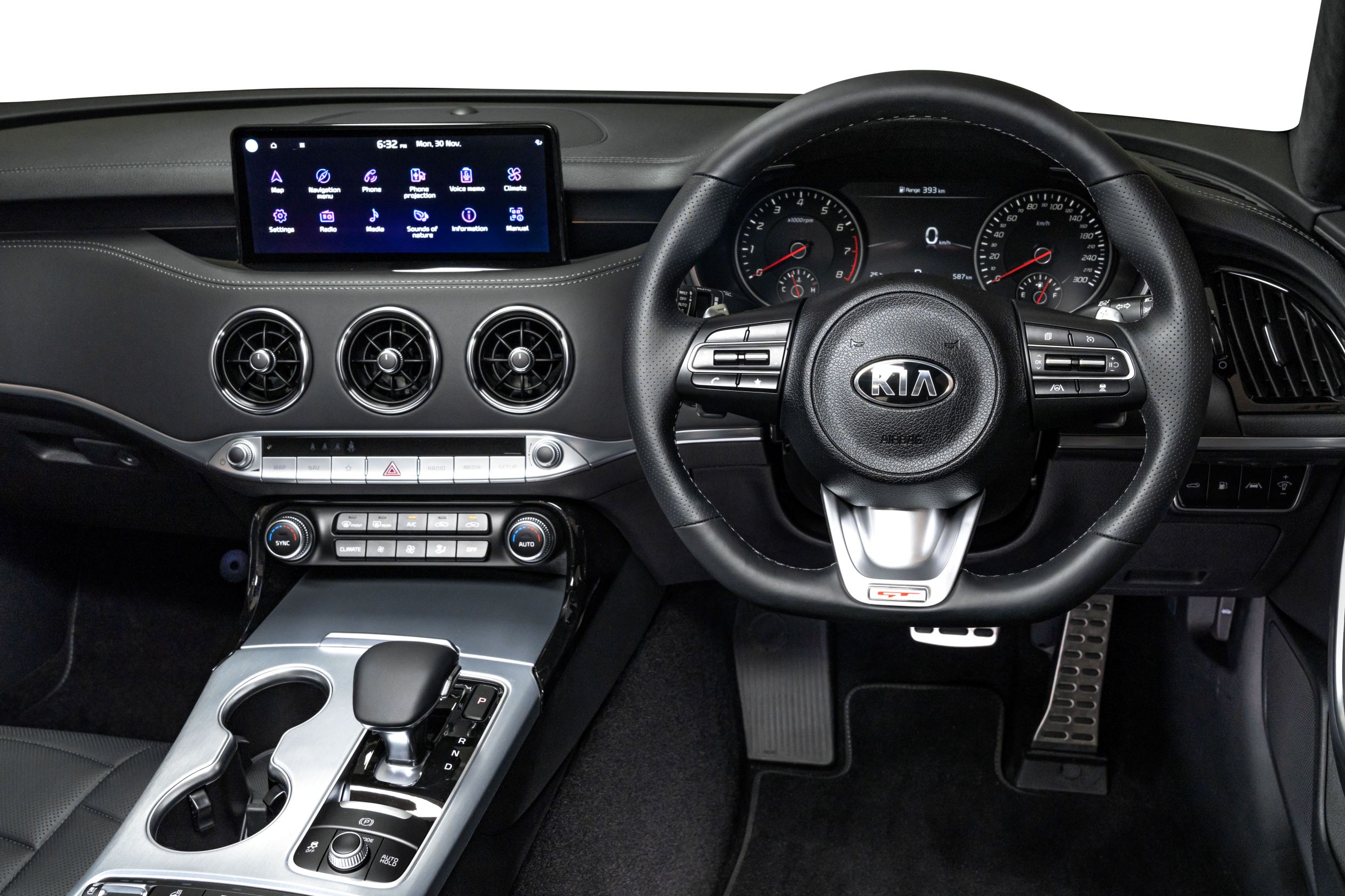 As a nice, premium touch, there's also a new 'Mood Lamp' function that creates ambient lighting around the cabin that you can alter the colour of. There are 64 colours to choose from and it helps to give the Stinger a touch of Euro luxury.
The seats are nice too, especially in the high-grade GT trim we tested, complete with leather upholstery. It must be said that rear space – specifically headroom – is compromised slightly by the sloping roofline, but as a trade-off the liftback boot makes loading large items a breeze.
Is it good value for money?
The top-of-the-line V6 GT we tested is priced from $63,260 (plus on-road costs), but you can get the lower-grade 330S for $53,330 if your budget doesn't stretch that far.
In terms of its value compared to the competition, it largely depends on what you consider an alternative to the Stinger. In terms of price and size, the Skoda Superb 206 TSI 4×4 Sportline starts at $60,390 and gets a 206kW 2.0-litre four-cylinder turbo engine and all-wheel drive. Or there's the Peugeot 508 GT Fastback is priced from $57,490 but only has a 1.6-litre four-pot engine with 165kW/300Nm and front-wheel drive.
If you want rear-wheel drive you need to look at the likes of Alfa Romeo, BMW, Mercedes-Benz. The Alfa Romeo Giulia Sport starts at $63,950, but makes just 147kW/330Nm from its 2.0-litre engine. If you want a six-cylinder, rear-wheel drive sedan you'll need to spend six-figures for the likes of a BMW M340i or Mercedes-AMG C43.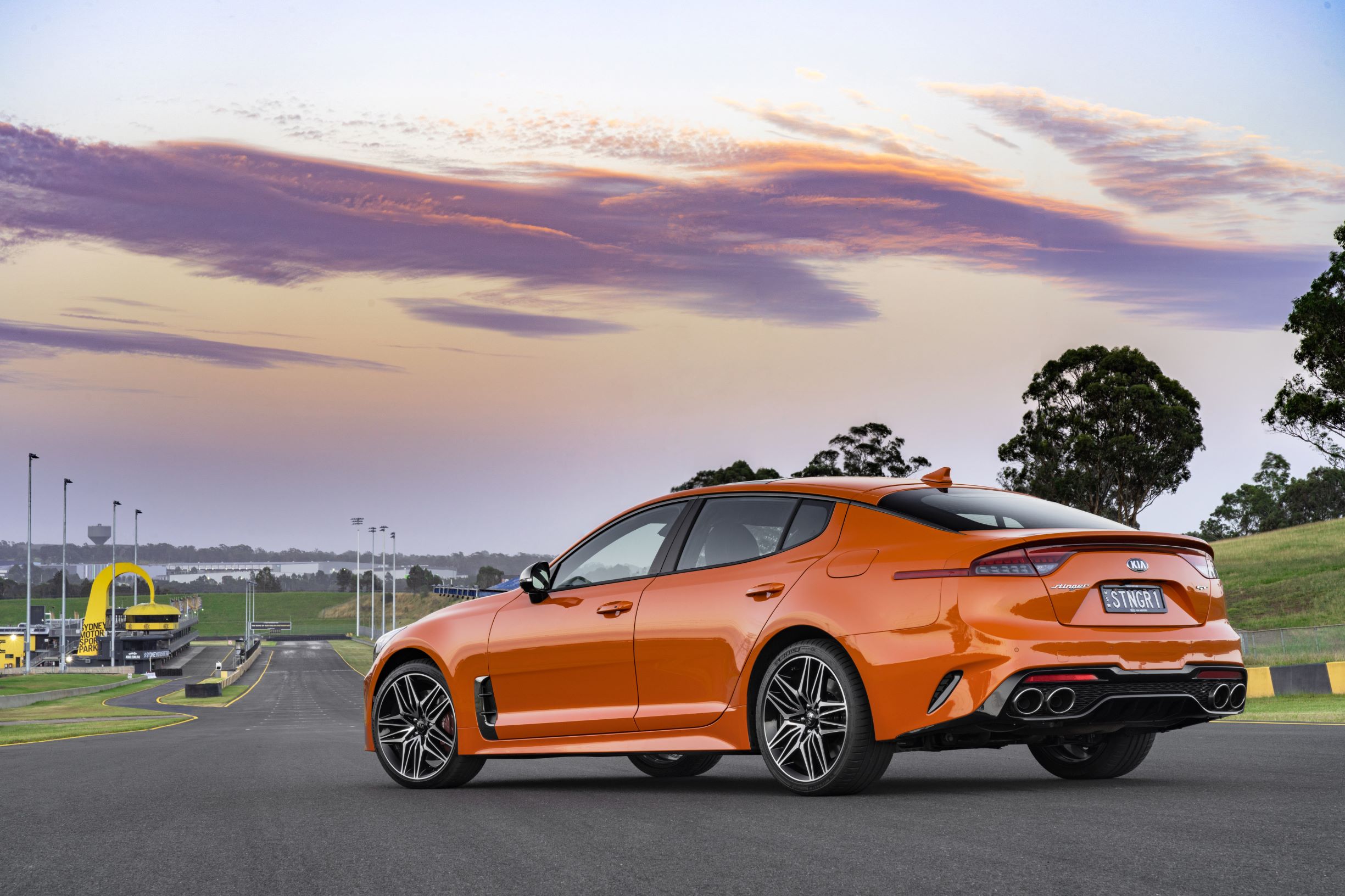 Would I buy one?
A big part of the let down many people felt when the Stinger first launched is that it didn't match the performance and handling we'd come to expect from the local sports sedans from Holden and Ford. However, with time to reflect it's easy to see now that the expectations on the Stinger were simply too high from many people.
The Commodores and Falcons we'd come to love had decades of knowledge and experience built into them, the Stinger is Kia's first attempt and entered the fray with no heritage to support it.
But taken on its merits, judged squarely on what it produces as a sports sedan, the Stinger is a welcome addition to the local market. It still has some areas where it can improve, but for those who want a family-friendly performance car it fits the bill nicely.
Maybe an entry into Supercars under Gen3 would help convince more people to take a chance on the Stinger specifically and Kia in general – just a suggestion…
2021 Kia Stinger 3.3 GT price and specifications
| | |
| --- | --- |
| Price: | From $63,260 plus on-road costs |
| Engine: | 3.3-litre V6 twin-turbo petrol |
| Power: | 274kW at 6000rpm |
| Torque: | 510Nm at 1300-4500rpm |
| Transmission: | Eight-speed automatic, rear-wheel drive |
| Fuel use: | 10.2L/100km |
| Wheels: | 19-inch alloys |
| Tyres: | 225/40 ZR19 (front), 255/35 ZR19 (rear) |
| Length: | 4830mm |
| Width: | 1870mm |
| Height: | 1400mm |
| Weight: | 1793kg |
| 0-100km/h: | 4.9 seconds |