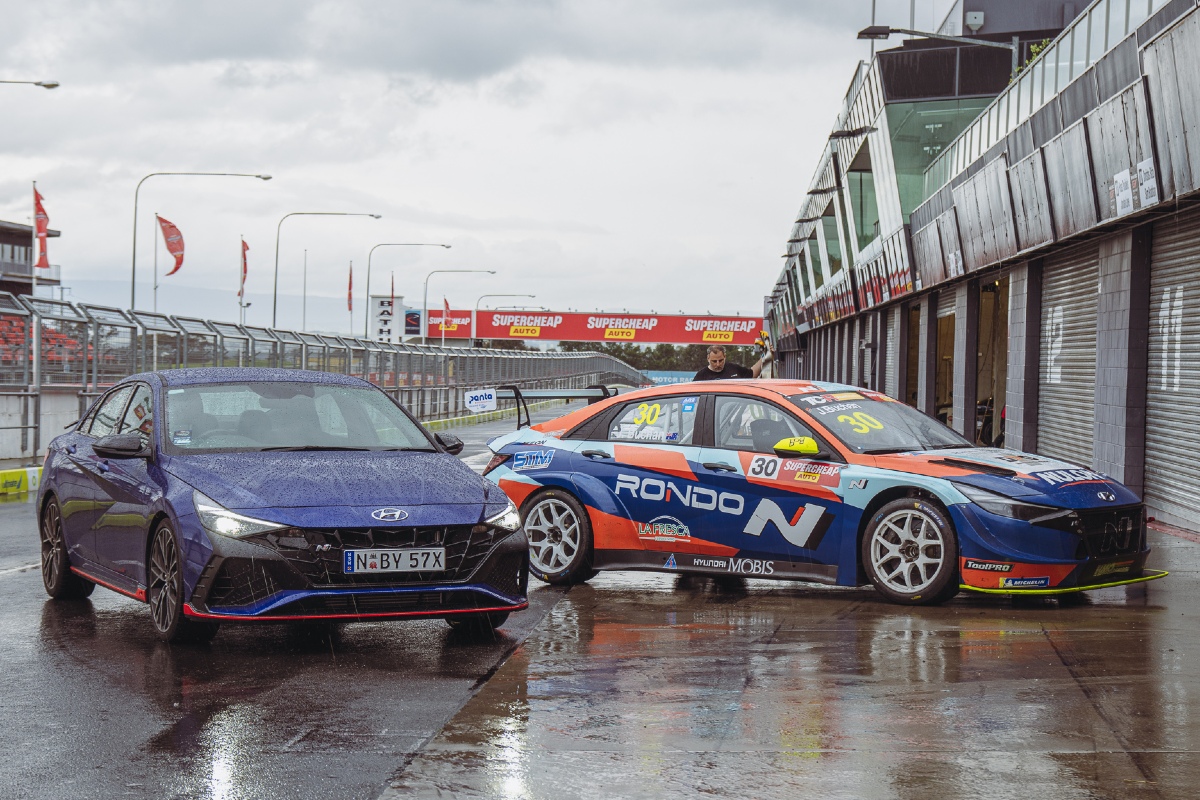 "Oh Gawd".
We're braced, at 80km/h, for what looks like an insignificant pothole on Bells Line of Road. A wonderful, undulating spaghetti strip of road that winds through the Blue Mountains that rewards patience, overtaking strategy and a sharp chassis. One that today, leaving the Supercheap Auto Bathurst International, is littered with fresh craters, bumps and cracks following heavy rain that impacted the final TCR round at Mount Panorama.
The race was the Australian debut of the Hyundai i30 Sedan N whose largest singular fault is the naming convention. I'd much rather call it an i30N sedan, which I will from this point forward. Speedcafe.com's F1 editor, Mat Coch disagrees – as the TCR homologation for this car record it as the Elantra sedan N – the name applied to showroom versions in all markets bar Australia (stick to one-on-ones with Riccardo, Coch…).
READ MORE: Our first installment of our Hyundai i30 Sedan N long-term test
That tells you that despite sharing i30 nomenclature, the sharply styled, booted version that we're attempting to dodge potholes with is far more than the existing hatch with a boot added. It also has quite a pedigree for its short racing history, having led a Hyundai TCR one-two at the 2022 Nürburgring 24 Hours back in May and a World Touring Car title sewn up in November.
The i30N sedan went on sale earlier this year and brings with it a completely new platform to the older hatch. Think of the two platforms leapfrogging each other, with the sedan currently the having jumped ahead. While the next i30 hatch will benefit from the sedan's underpinnings, for now that gives our Bathurst TCR weapon unique dimensions: the 2750mm wheelbase is 70mm longer, the tracks slightly wider and those 19-inch Michelins super-low 35-series profile. Despite that, it's actually lighter than the hatch according to Hyundai – which also says it comes with Pirellis…
Collecting it from Chateau-de-Ottley in Sydney for the wrestling match through traffic towards the Blue Mountains was a bit of a shock – a good one, at that. Bags in the back first and the boot space is surprisingly cavernous – officially 464-litres, and much larger than the G70 sedan (in turn a restyled Kia Stinger) that we recently engaged on a four-person trip plus luggage…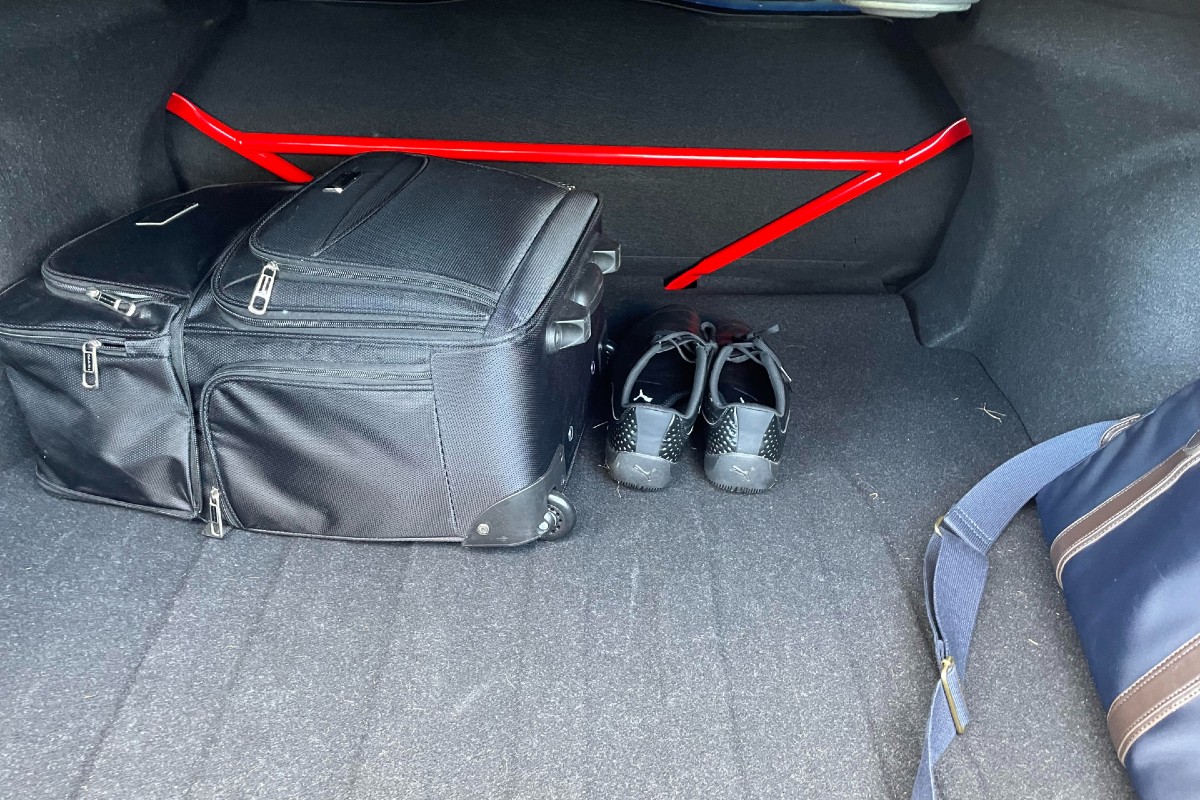 The red rear strut-brace is a nice teaser of this car's priorities – carving up corners – while in walk from the boot to the driver's door you realise that the exterior design has few corners, but a lot of sharp edges. It's not beautiful, but I like it and it does turn heads. Inside, I love the seats and the dash buttress that designers have incorporated down the passenger side of the centre console, ensuring occupants know that this car is for the person in the driver's seat – where it took me a while and several minor adjustments to get my seating position just right.
One thing in traffic is immediately apparent: the i30N sedan is extremely obedient. With the thick-brimmed steering wheel I could immediately place it millimetres (it seems) with precision, accuracy and no vagueness. Confidence came quickly. The front end is brilliant – and that's reinforced on the long sweepers climbing and diving across The Great Dividing Range.
The digital gauges were easy to read – on a jump-in and drive journey like this, I had opportunity to delve into the settings beyond the drive modes, which saw the dash colours change accordingly. Normal mode was fine – Sport mode did give you better throttle response and a louder exhaust, which seemed noisier to onlookers than it was in the cabin, based upon the reactions…
The front-end is so full of bite, so responsive and accurate. What's even better is that the 206kW 2.0-litre turbocharged four under the bonnet has the power to exploit it – even if it provides more an athletic push rather than neck-snapping punch.
Flatten it in a straight line on a dry road, and it will wheelspin just a little, but its purchase is excellent as the engine and eight-speed dual-clutch gearbox – which is slick enough not to have you reach for the paddle shifters – deliver a hasty, fun take-off but not one where your eyeballs hit the back of your skull. Even with 392Nm from 2100rpn, your passenger can still sip their coffee (well, almost).
So while the engine punch is well managed, it's the steering and chassis that is the immediate standout and story of this car's capability. That minimal lift on take-off translates into cornering poise, where the N slides into the groove of a corner like a needle of a record player. Yet it's switchable in an instant, with brilliant brakes and rotation that far exceeds expectations.
The trade-off is, of course, that firm suspension which is perfectly tolerable around town and a massive asset on mountain roads turns unassuming bumps into massive events that crash through the cabin in a flash and have you wondering if the wheels are still round… somehow, they still are. That's what we're bracing for as we carve up between the trees along Bells Line of Road back towards Sydney enjoying every second. I'll have to borrow it again.