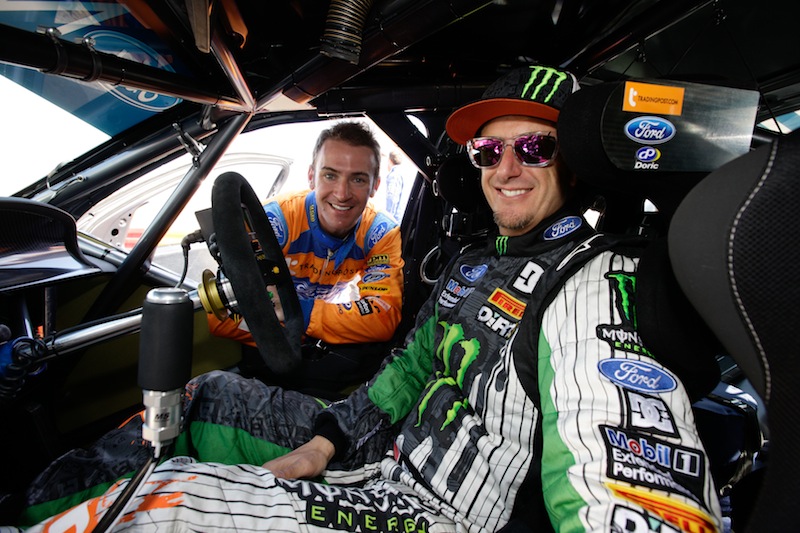 Few people have had as much impact on car culture in the last decade as Ken Block.
Despite taking up motor racing later in life, after a successful business career that included founding skate clothing brand DC Shoes, the American has enjoyed a diverse career. He has competed in rally and rallycross but by far his most successful ventures are his 'Gymkhana' YouTube videos which have amassed hundreds of millions of views.
While some dismiss his videos as nothing more than stunt driving, that diminishes the skill involved and misses the point that he's trying to achieve. Block has combined his background in marketing and entertainment with his love of driving to create the wildly popular videos featuring him drifting, donut-ing and just generally enjoying high-powering hooning. In short, Block made driving fun rather than just serious business.
While his 10 Gymkhana installments are great, he has diversified and thanks to help from his sponsors – most notably Ford – he has produced plenty of exciting content to keep us entertained. Here, in no particular order, are five of his best videos.
Gymkhana Five: Ultimate Urban Playground
Why Five? While all of the Gymkhana films are entertaining – from the simple purity of the first to the epic, multi-vehicle 10th installment – it's the fifth version that really stands out. Gymkhana Five: Ultimate Urban Playground took the concept from its humble roots, tearing around old airports and racetracks into a major American city. Watching Block drift and jump his way around San Francisco is nothing short of breath-taking – no wonder it's notched more than 100,000,000 views.
Climbkhana: Pikes Peak
By 2017 and seven Gymkhana installments down, Block was looking for ways to mix up his videos to keep them fresh – for both himself and us, the audience. So what better way to make an exciting video than by combining the world's most famous Hill Climb course – Pikes Peak – with his most extreme vehicle – the Hoonicorn.
The Hoonicorn began life as a 1965 Ford Mustang but thanks to Block's imagination and some expert builders he turned it into a Mad-Max-meets-DTM-meets-NASCAR tyre-destroying burnout machine. Technically this is the Hoonicorn V2, because in order to combat the loss of power at altitude, Block added a pair of turbochargers to his already powerful NASCAR-spec V8 engine to extract 1043kW (1400hp) to pull him up to the summit of Pikes Peak.
RaptorTrax Shredfest
Block began his motorsport career driving Subarus, but Ford was quick to see his potential as a crossover star and lured him to the blue side for Gymkhana Three and beyond. It gave him freedom to get creative and he was able to combine his love of snowboarding with his driving in 2014 when he created the RaptorTrax.
Block took a standard Ford F-150 Raptor ute and ditched the wheels and tyres in favour of four individual tank-style trax at each corner. Combined with the supercharged V8, specially developed off-road suspension and a raft of other mods, the RaptorTax can basically go anywhere it chooses – as Block demonstrates with the help of some pro snowboarder mates in this video.
Block tries a V8 Supercar
Back in 2011 Block made a visit to Australia with his Gymkhana Three Ford Fiesta to shred tyres at Melbourne's Calder Park. And then-factory team, Ford Performance Racing came out to join in on the fun with its drivers, Will Davison and Mark Winterbottom.
Davo and Frosty got a chance to sample Block's all-wheel drive Fiesta, before the American tried his hand at a Falcon Supercar. Check out the video to see how they fared.
Block and Atko in a Ford Escort MkII
Block's love of motorsport started with stage rally driving, but having started later in life he needed some expert help to get up to speed. So he enlisted Australian rally ace Chris Atkinson to help master the art of rear-wheel drive driving in a classic Ford Escort. The result is three minutes of two friends having a lot of fun; driving at its most enjoyable.