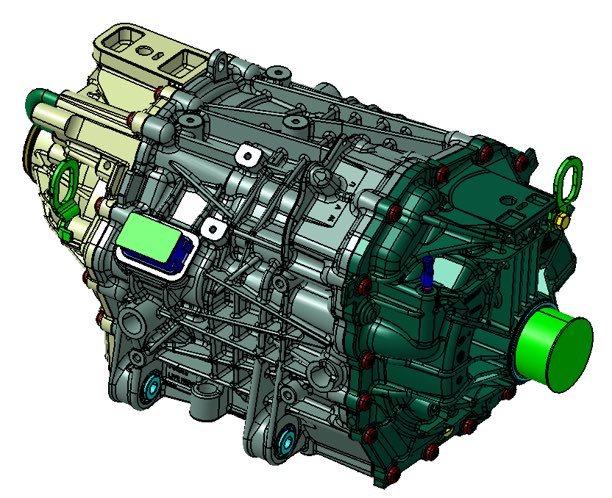 Meet the Eluminator – the future of crate motors.
Ford has teased this all-new electric motor that will soon be available for anyone to buy and install in their car, potentially converting any classic into an electric vehicle (EV). The blue oval teased the new motor (with its name a nod to its Aluminator V8) on social media this week, but has been cagey on the details promising all will be revealed at the SEMA Show in November.
What they did reveal were the dimensions, with the Eluminator measuring 570mm long, 345mm wide and 370mm tall; although that doesn't factor in the size of the battery pack. Final outputs haven't been confirmed but it has been reported that the Eluminator will make 210kW of power and 431Nm of torque.
While that's hardly extreme performance it's only 3kW behind what the 4.6-litre V8 in the fifth generation Mustang made as recently as 2005. Presumably Ford has ensured the Eluminator will be compatible with a variety of previous models, including the Mustang and F-Series trucks.
While swapping your old petrol engine, especially a V8, for an electric motor will be shocking for some petrol-heads, the market for EV conversions is growing and becoming a new market for car makers.
Ford's arch-rival, Chevrolet introduced its own eCrate motor in 2020, unveiling a 1977 K5 Blazer powered by the same electric motor found in the Volt EV. If the reports are accurate, Ford has out-muscled its competition with the Chevrolet motor only making 149kW and 361Nm. The reveal of the Blazer came after Chevrolet built an electric-powered C-10 pickup for the 2019 SEMA Show to demonstrate the possibility of electric hot rods.
With most major car companies going electric by the end of the decade, or the middle of the next, performance cars are headed that way too. Dodge has committed to launching the world's first 'eMuscle car' by 2024 and Chevrolet is reportedly planning to axe the Camaro and replace it with an electric sports sedan.