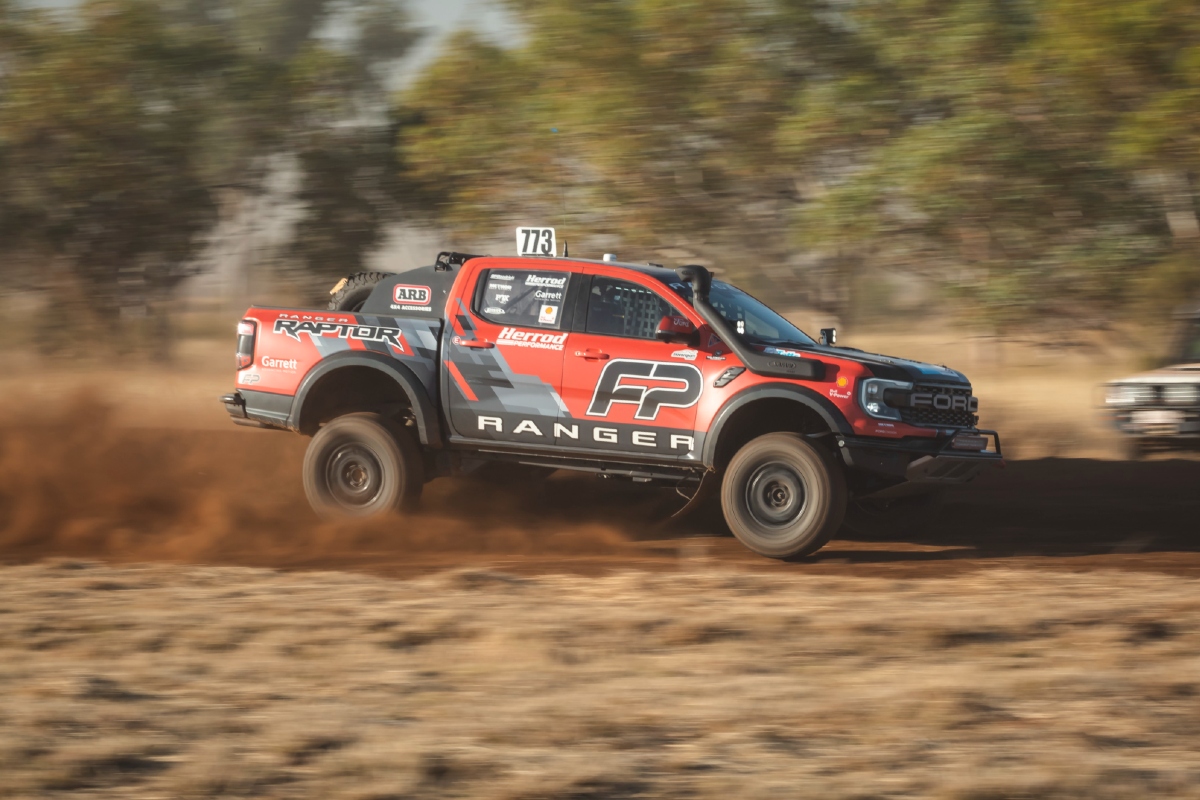 Ford and Herrod Performance are set to introduce a range of upgraded parts for the Ranger Raptor that have been battle-tested in the Finke Desert Race.
The two companies have a long history of working together, with Herrod Performance a long-time collaborator with Ford Performance in the USA to provide a range of upgrade parts for the Mustang. With the Ranger Raptor now one of the blue oval's most popular models there is an opportunity for Herrod Performance to expand its offering.
In a tweet showing the bonnet of the Finke-entered Ranger Raptor with the new 'FP' Ford Performance branding alongside the Herrod Performance logo, company boss, Rob Herrod wrote: "There are many reasons to why we are teaming up with Ford Performance and Ford this weekend in the Finke Desert Race this weekend.
He added: "More information coming soon" and "Not just media hype but the real deal."
View this post on Instagram
It's understood that Herrod Performance will soon offer a range of parts for Raptor owners, primarily additional coolers for better high-speed performance and durability.
It's not just Herrod Performance using the Finke Desert Race as a test bed for these parts, Ford Australia has used both the Finke and Baja 1000 events as a real-world test of the Raptor.
Speaking to media before the Finke event, Justin Capicchiano, Ford Performance Ranger Raptor programme director said that the Ranger Raptor had already been through significant testing but the pressure of competition does highlight durability elements.
Any Ford model must pass the company's so-called 'desert endurance run', a 1000-mile non-stop high-speed desert test, to earn the right to be called a Raptor, which the current Ranger has done so entering Baja and Finke as validation rather than an all-new test.
"You get a better look at seeing some of the durability aspects of it, but it's not all that different than some of the stuff we do in the desert endurance run," Capicchiano said. "That whole thing is meant to simulate a Baja 1000, right. So it's not like we've broken things on this [Finke racer] that we haven't broken before. We literally just bought this back from Baja and put some new bits on it, there was nothing really [significant] that we had to change."
While there's unlikely to be a Ranger Raptor 'Finke Edition' anytime soon, Capicchiano did say that the race program has allowed experimentation with possible new features, such as a 'recovery mode' for future updates.
"Some of the things you play around with, we're playing with the suspension to see what live valves can do for us," he explained. "In that car we're playing with what you can do in 'Sport' mode setting, so when you put it in sports mode it locks the shocks out in full extension. That doesn't do much for us here, but in Baja when you get stuck and when you're on the belly, it locks the shocks in maximum stiffness so when you're recovering out it doesn't roll out on the wheel as much… so it's playing around with stuff like that and seeing what would be practical to bring back."