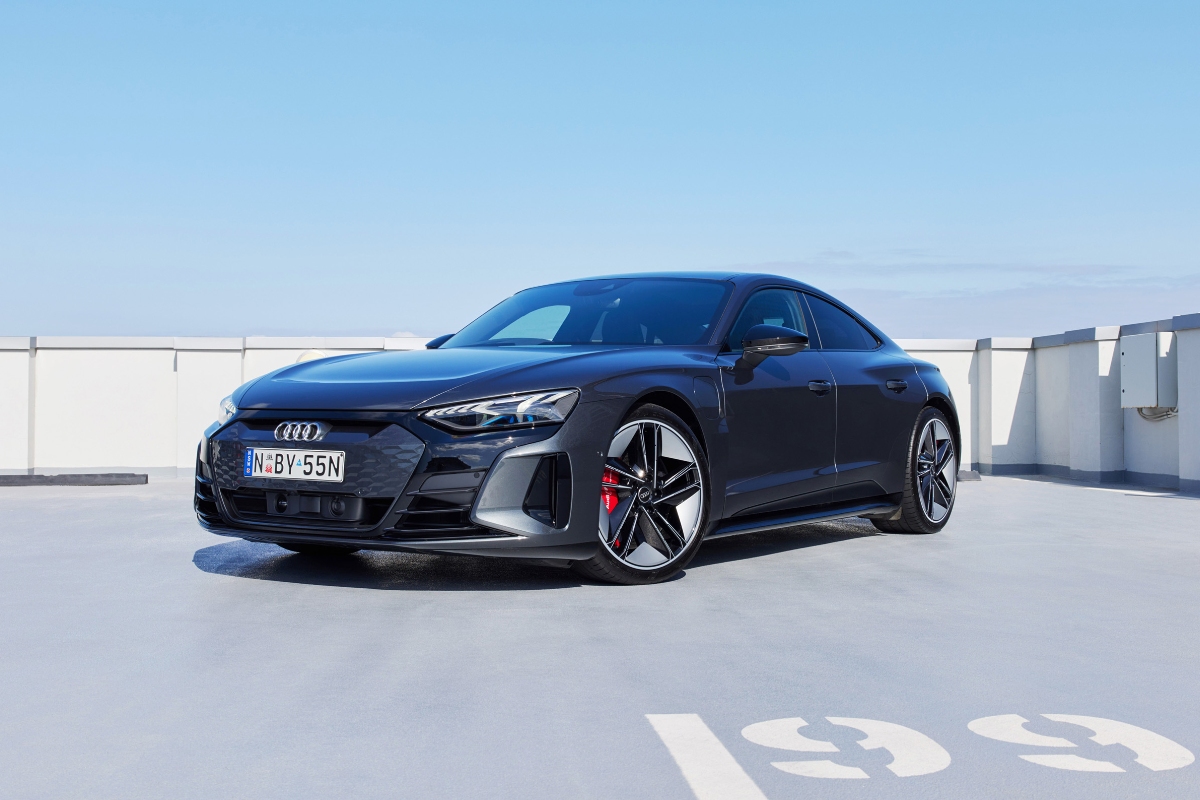 What is it?
Audi's new hero. The RS e-tron GT effectively replaces the R8 as the brand's flagship performance car. And while it may be a very different beast – swapping internal combustion for electric propulsion – it's most definitely a performance car by any reasonable measure.
ROAD TEST: 2022 Audi e-tron S review
In simple terms this is Audi's version of the Porsche Taycan, utilising much of the same underpinnings but there are some key differences too. Starting with the looks with Audi designing a completely unique exterior and interior to give the e-tron GT its own personality. It's a great-looking car, combining the four-ring brand's key design elements from today with some futuristic touches that suit its powertrain and status in the range.
READ MORE: How electric cars will lead Audi's performance future
The RS e-tron GT and the less-powerful e-tron GT were meant to arrive in Australia back in 2021 and were delayed until 2022 before finally reaching showrooms now. Torquecafe was invited to the long-awaited first local drive to see if this new addition was both worth the wait and has the speed and handling to earn its place as the new performance flagship.
Does it have any racing pedigree?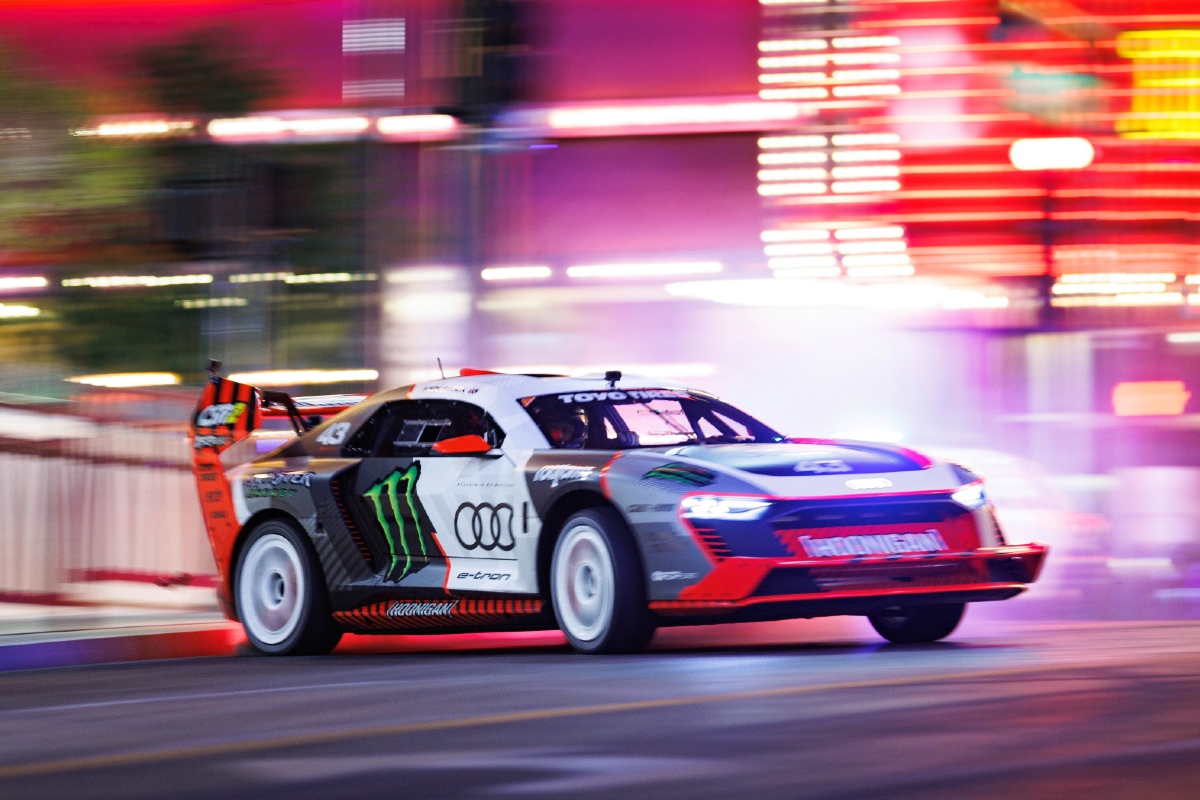 The e-tron GT was developed in collaboration with Porsche and both brands were able to draw on lessons learnt during the hybrid LMP1 era in prototype sportscar racing as well as their respective Formula E entries. Audi was one of the first major brands to introduce hybrid power to motorsport back in 2012 so has plenty of experience to draw on for both technology and marketing.
VIDEO: Watch Ken Block's Electrikhana
More recently, Audi invested millions building the S1 e-tron 'Hoonitron' for the late Ken Block to showcase its electric know-how in the spectacular Electrikhana video. It's part of a wider plan for the brand to push its electric vehicles as high-performance machines and centres around the RS e-tron GT.
What's under the bonnet?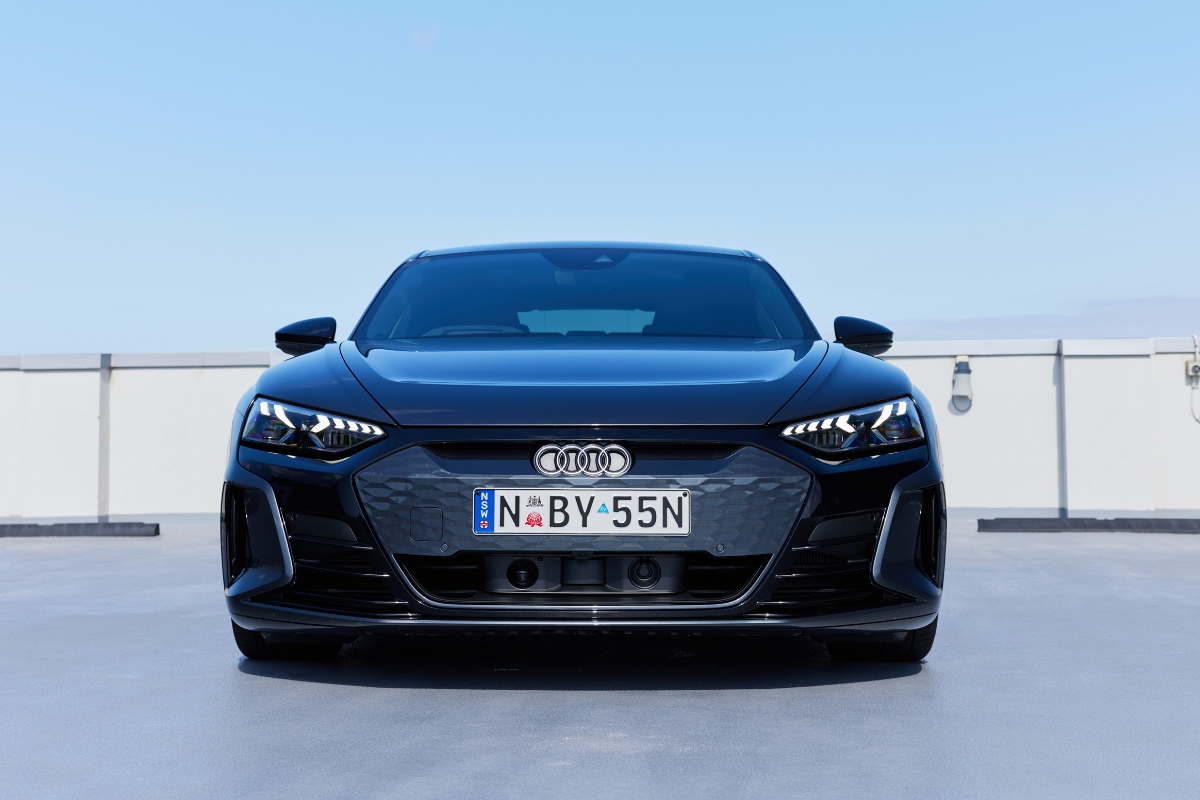 While the dual-motor powertrain is shared with the Taycan, being electric means each model can be tuned differently to create separation between them. That means the RS e-tron GT with 440kW of power and 830Nm of torque slots between the Taycan GTS (380kW/850Nm) and Taycan Turbo (460kW/850Nm).
It also gets the two-speed transmission Porsche developed that provides both excellent acceleration (0-100km/h in just 3.3 seconds) and plenty of driving range (504km).
While the on-paper specifications are good, the real-world driving experience is what counts. Not surprisingly the RS e-tron GT is rapid in a straight line thanks to all that power and torque. Like the Taycan, it can be sickeningly fast, literally in some cases, thanks to its ability to launch forward with ferocity anytime you squeeze the accelerator pedal.
How does it handle?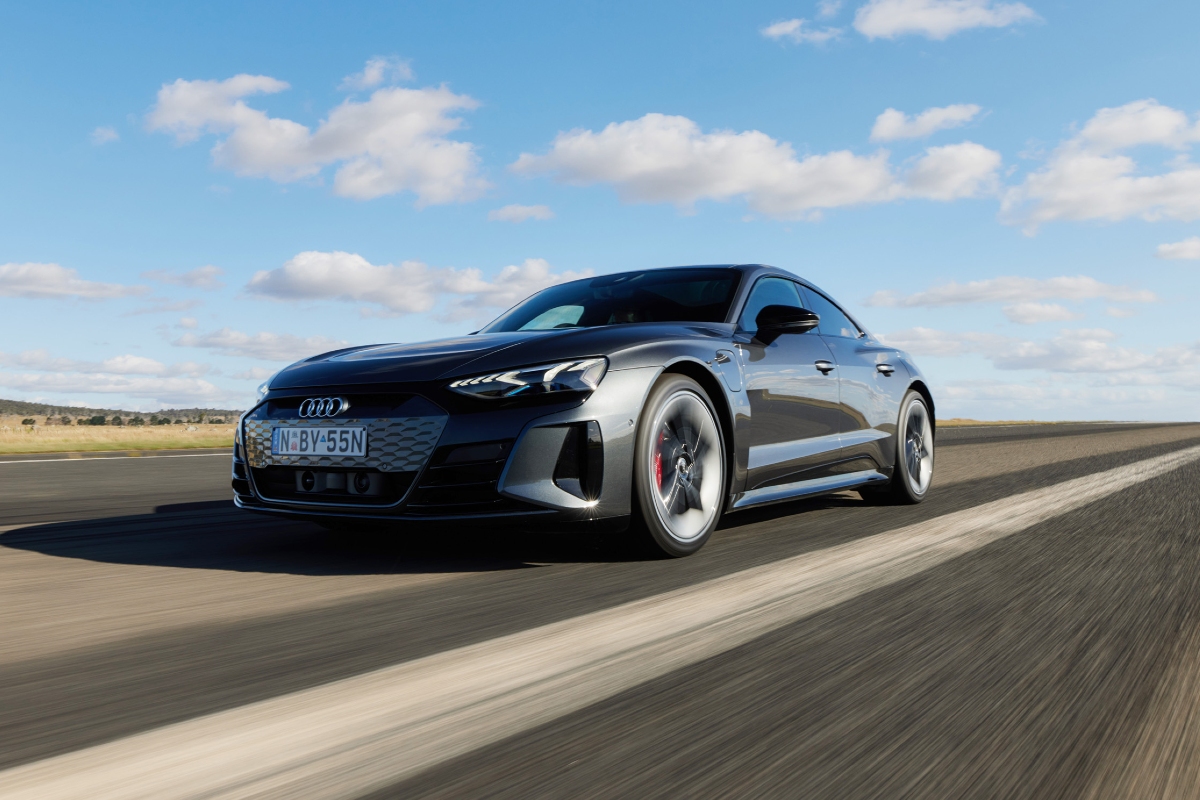 Straight line performance is fairly common amongst electric vehicles, in fact, it's arguably one of the key selling points these days. But not all EVs can really handle and it's an area where a company like Audi with its decades of experience really shines through.
The drive program Audi set out for the RS e-tron GT involved tackling some of the best roads in New South Wales across the stunning scenery of the Snowy Mountains. The high alpine roads highlighted the excellent work done tuning the e-tron GT chassis, with sharp, responsive and progressive handling that few of its competitors can match.
The RS e-tron GT is a particularly engaging EV for the driver, the steering is nicely sorted and the ride is firm and controlled while still being compliant enough for a comfortable drive.
The other standout feature are the brakes, which like the Taycan, somehow manage to rely on regenerative braking to recover energy without feeling artificial or stilted. Instead you'd be hard-pressed to pick the difference between the regen and the mechanical discs and callipers.
Where would you most like to drive it?
To really test out the handling limits of the RS e-tron GT you'd need a racetrack. Somewhere with a nice combination of long straights and quick corners and without too many big stops and changes of direction that challenge such a heavy vehicle. A track like Sydney Motorsport Park or Phillip Island would be an ideal venue to really explore the dynamic traits of this new electric hero.
What's the interior like?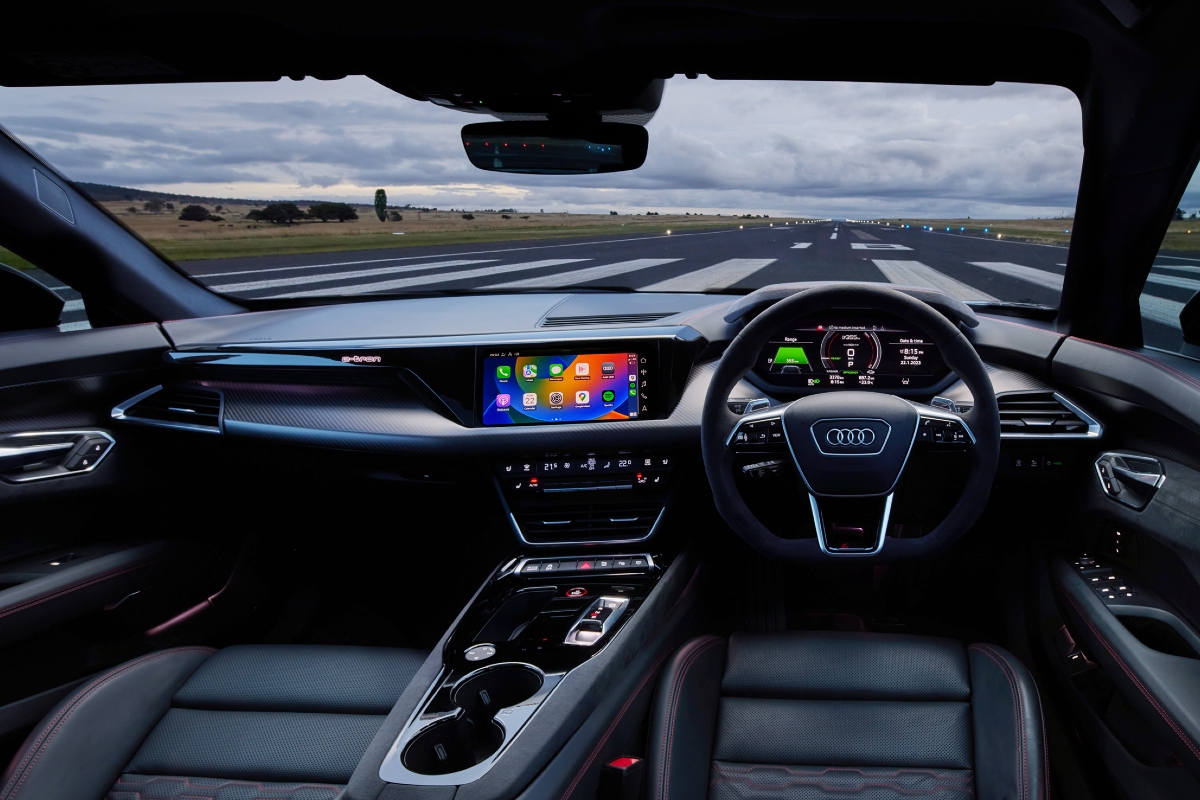 The cabin design is very much on theme for the RS e-tron GT, with a combination of Audi's traditional high-quality presentation mixed with some futuristic elements that make it look suitably hi-tech and luxurious.
In terms of size it slots between the A5 and A7 in the range, so provides adequate space for four adults but not much more than that. The front seat passengers are certainly better accommodated than those in the rear but the back seats have ample space for kids.
One quirk of the design is despite the roofline suggesting it's a liftback, the e-tron GT is actually a sedan. That means it has a boot which opens up to a reasonably sized load area but via a relatively small opening.
How much does the Audi RS e-tron GT cost?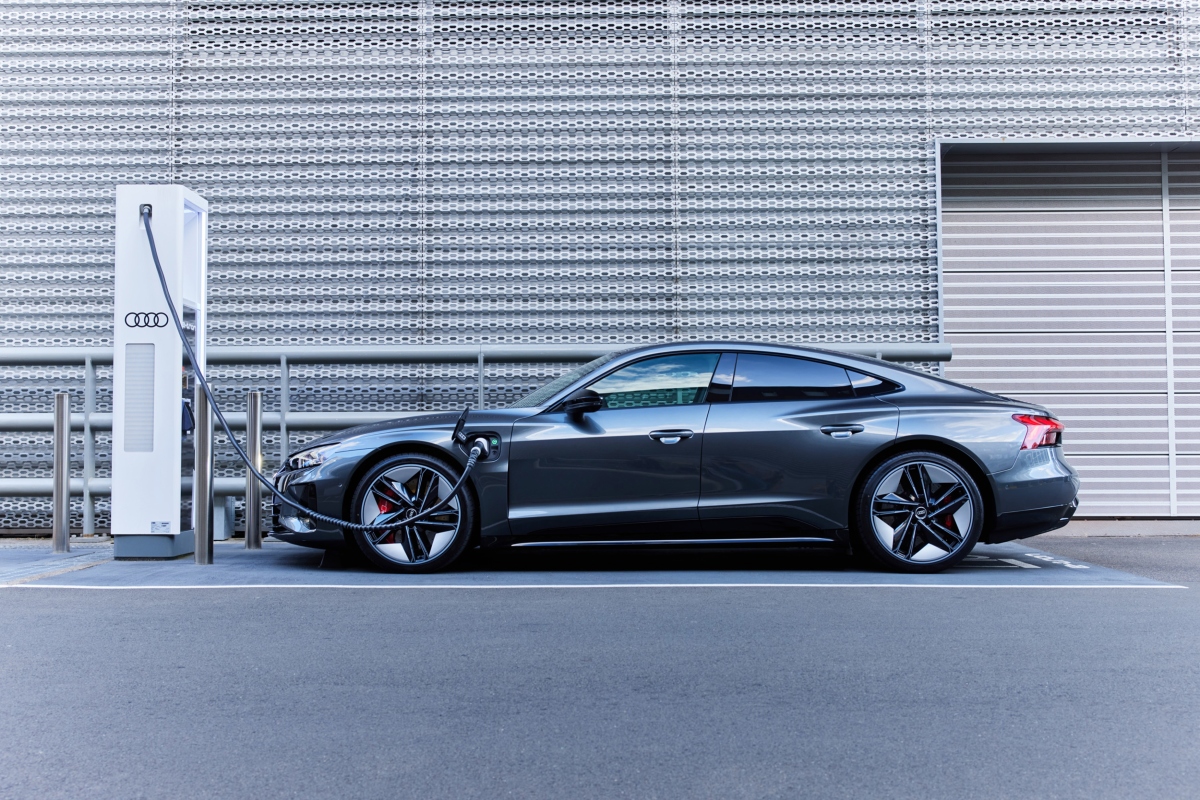 The e-tron GT begins the range at $180,200 while the RS e-tron GT is priced from $248,200 (both prices exclude on-road costs). To put that in context against its most obvious rival, that slots the RS e-tron GT in-between the Porsche Taycan GTS ($240,300) and Taycan Turbo ($280,300).
In terms of other competitors, the Tesla Model S remains unavailable for Australian customers while the Mercedes-AMG EQS53 is a more luxury focused offering rather than the sporty Audi.
Another element to consider is Audi includes a six-year subscription to the ChargeFox network, which gives you access to its public fast-charging network. This adds to both its value equation and usability and pracicality.
Would I buy one?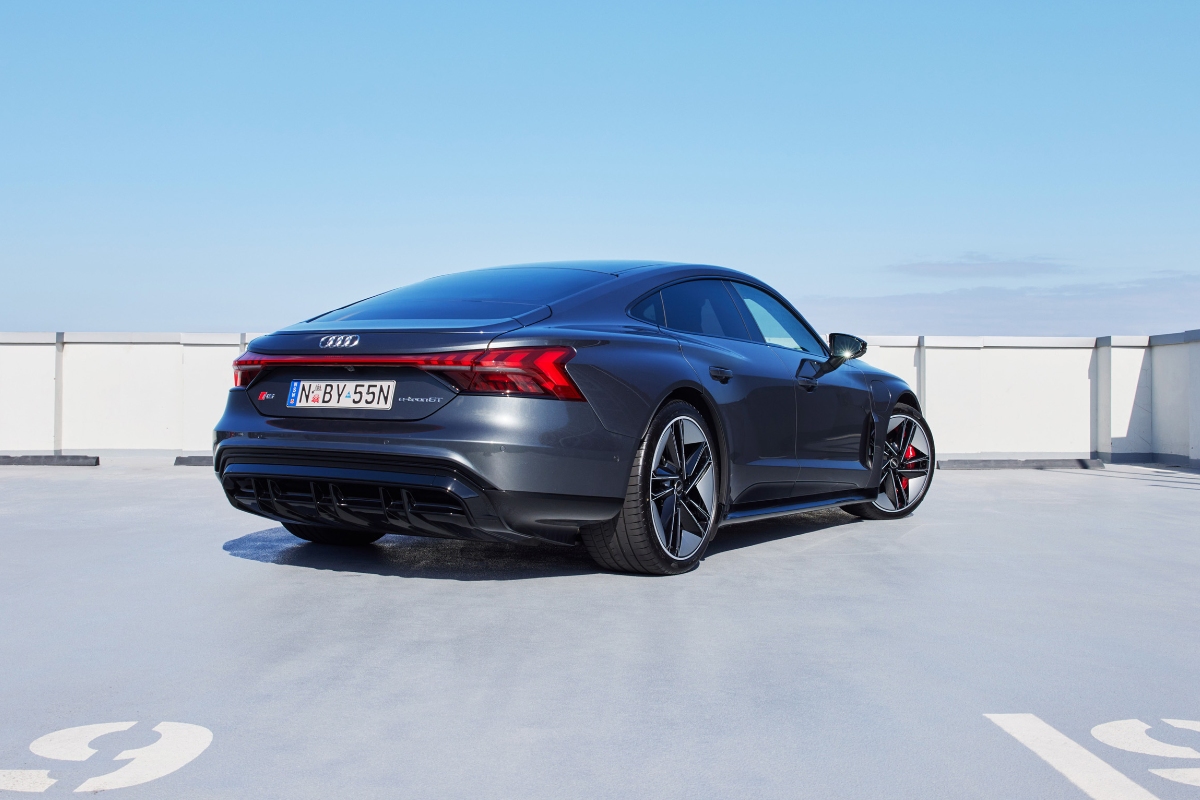 It's only January but the RS e-tron GT is an early contender for one of the best cars of the year. Its combination of performance, dynamic handling, effortless cruising and stylish and luxurious cruising make it very appealing. The fact it's electric is just a bonus, offering quiet driving when you need it and instant torque when you need that.
If this is the future of performance Audis, it looks very promising indeed.
2023 Audi RS e-tron GT price and specifications
| | |
| --- | --- |
| Price: | $248,200 (plus on-road costs) |
| Powertrain: | Dual-electric motors |
| Power: | 440kW |
| Torque: | 830Nm |
| Transmission: | Two-speed automatic, all-wheel drive |
| Range: | 504km |
| Wheels: | 21-inch alloys |
| Tyres: | 265/35 R21 (front), 305/30 R21 (rear) |
| Length: | 4989mm |
| Width: | 1964mm |
| Height: | 1396mm |
| Weight: | 2422kg |
| 0-100km/h: | 3.3 seconds (claimed) |