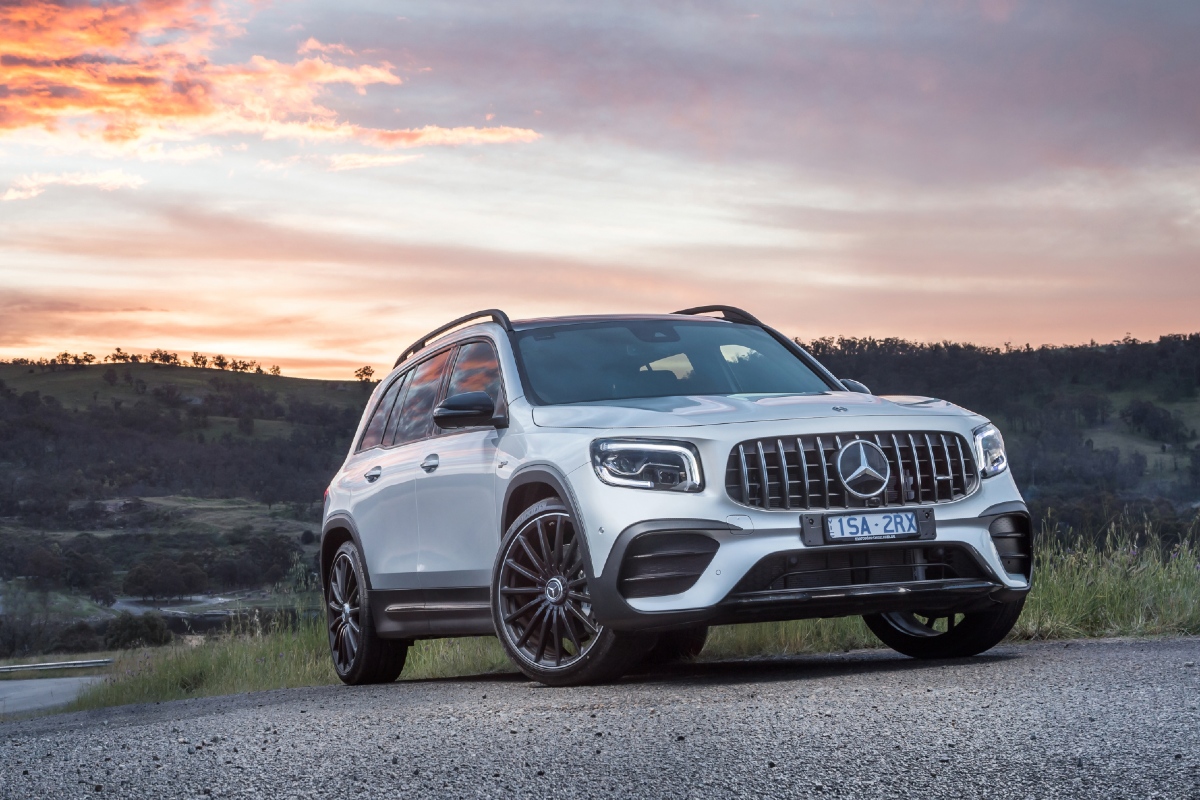 What is it?
A compact SUV that's both practical and fun to drive.
The GLB is a new addition to the Mercedes range, as like all brands the three-pointed star looks to ensure it has an SUV to fit every would-be buyer. But with even SUVs with a performance bent in high demand, the German brand let the AMG work its magic to ensure it had all its bases covered.
The AMG GLB35 may not get the more highly-tuned engine found in the GLA45 but it still has a hot hatch powertrain underneath to ensure it has some genuine performance capabilities, all wrapped up in a luxurious and appealing SUV package.
REVIEW: 2021 Mercedes-AMG GLS63 S 4Matic+
Does it have any racing pedigree?
The GLB is an unlikely race car but it's still able to benefit from AMG's extensive database of knowledge accumulated over decades on track. There's no question AMG's involvement in Formula 1 in recent years has given it a far greater understanding of turbocharging and helped make this 2.0-litre four-pot engine so potent.
What's under the bonnet?
As mentioned earlier the GLB35 misses out on the same engine as the '45' models, but it still packs quite a punch from its 2.0-litre four-cylinder turbo petrol. It pushes out 225kW of power and 400Nm of torque and sends it to the tarmac via an eight-speed dual-clutch automatic transmission and all-wheel drive.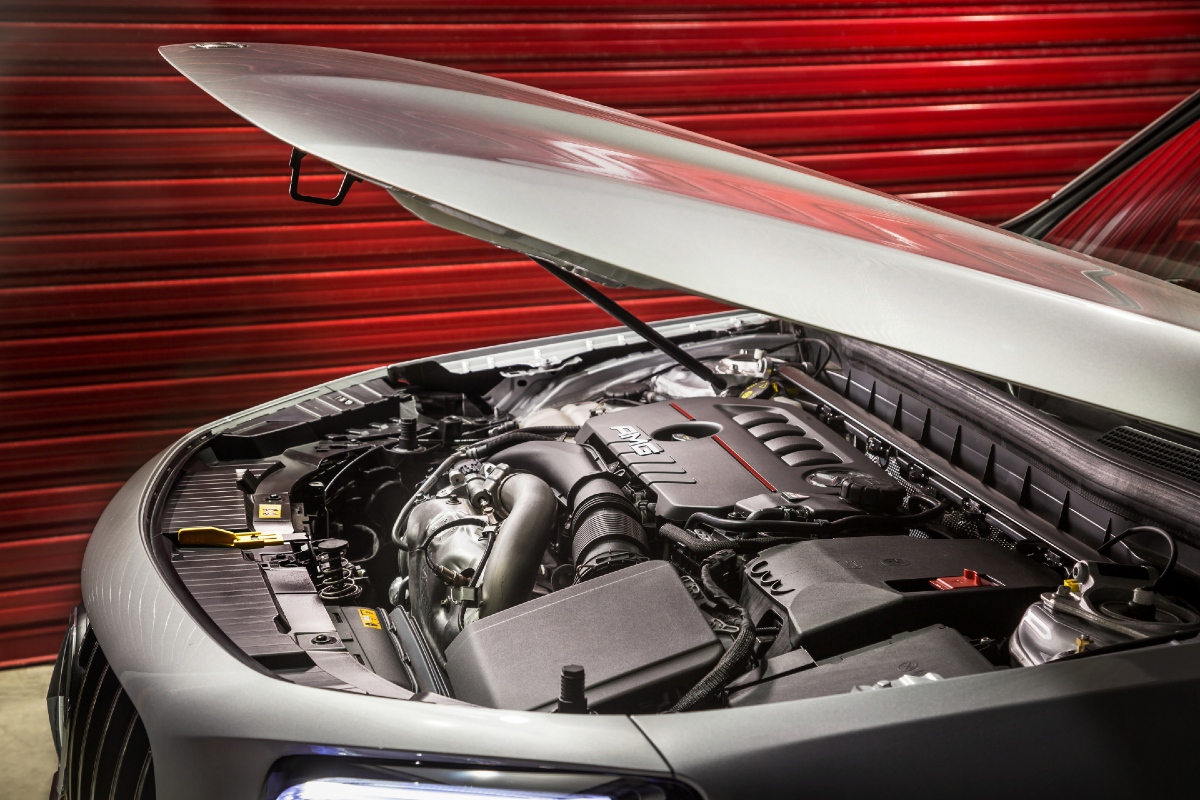 While the engine in the smaller GLA45 S makes a mind-boggling 310kW and 500Nm, that engine is more highly-strung and therefore lacks the smoothness of the engine in the GLB35. That means the GLB35 feels more linear when you put your foot down, but still feels really fast. Despite being capable of carrying seven people, Mercedes claims the GLB35 can run 0-100km/h in just 5.2 seconds. It feels that quick too, with the eight-speed dual-clutch 'box rapidly firing through the gears when needed.
REVIEW: 2020 Mercedes-AMG CLA45 S 4Matic
However, unlike the more potent 310kW version of this engine, this 225kW version is much more relaxed and easy to live with around town, so the GLB35 can play the role of urban commuter just as easily as an open-road fun-machine.
How does it handle?
It may be an SUV, so the handling isn't as sharp as a traditional hot hatch, but it's still an AMG and that means plenty of effort went into ensuring the GLB35 handles well. There's a revised suspension tuning with adaptive dampers and unique steering, compared with the rest of the GLB range.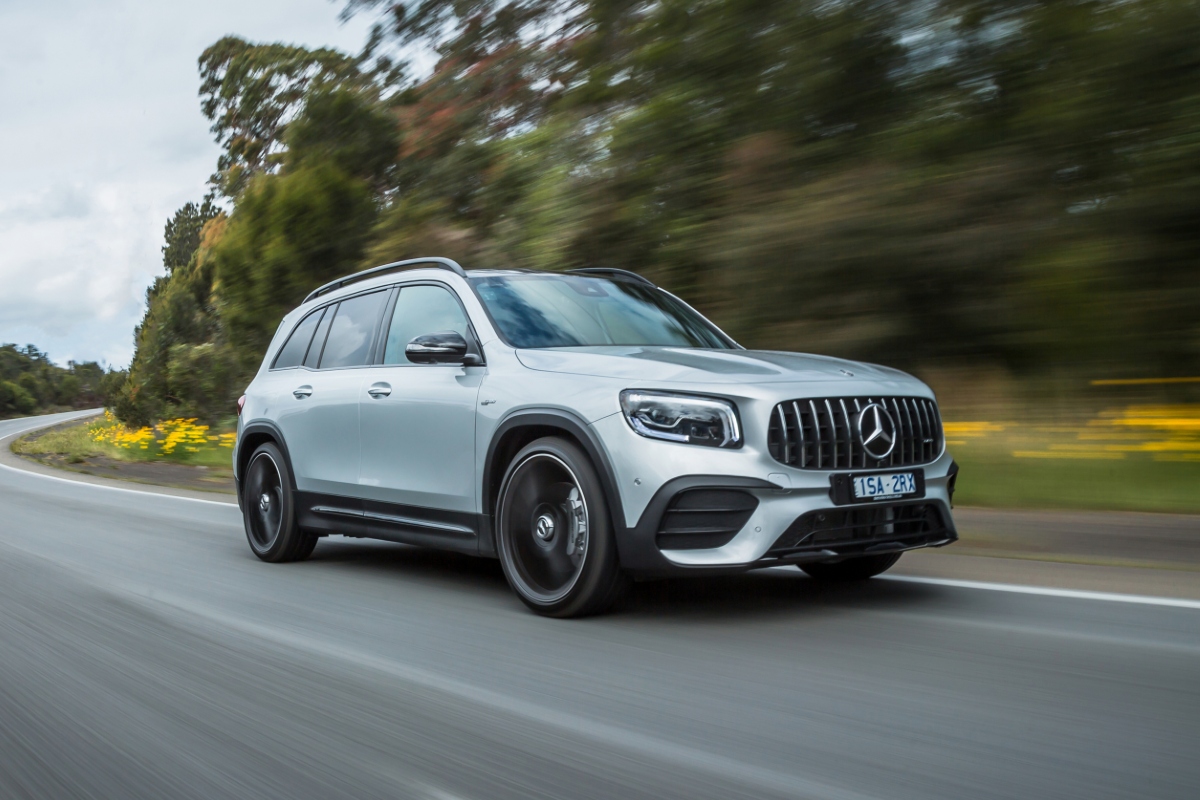 It also gets a drive mode system that allows you to tune the different elements of the car – engine, gearbox, suspension and driver assistance – between comfort and dynamic settings, depending on the driving situation.
What this translates to on the road is an above-average SUV when it comes to carving through corners. The steering is direct and responsive, the body sits surprisingly flat for such a tall vehicle and the suspension offers excellent control without feeling harsh. It's helped by the Michelin Pilot Sport 4S rubber that was fitted to the 20-inch alloy wheels. These provided excellent grip when cornering and added to the feeling of stability and control that the GLB35 creates.
It isn't a small vehicle though, measuring 4.6m long and tipping the scales at 1857kg, so you do notice the size at times. If pure performance is your thing, you're better off looking at one of AMG's extensive range of sedans and 'four-door coupes', like the A35 Sedan or C43.
Where would you most like to drive it?
The GLB35 is an enjoyable car in a variety of settings. It's comfortable and easy to live with as a daily driver, whether it's running to the shops or taking the kids to school, or if you want to have some fun on a winding country road, it handles that with fun too.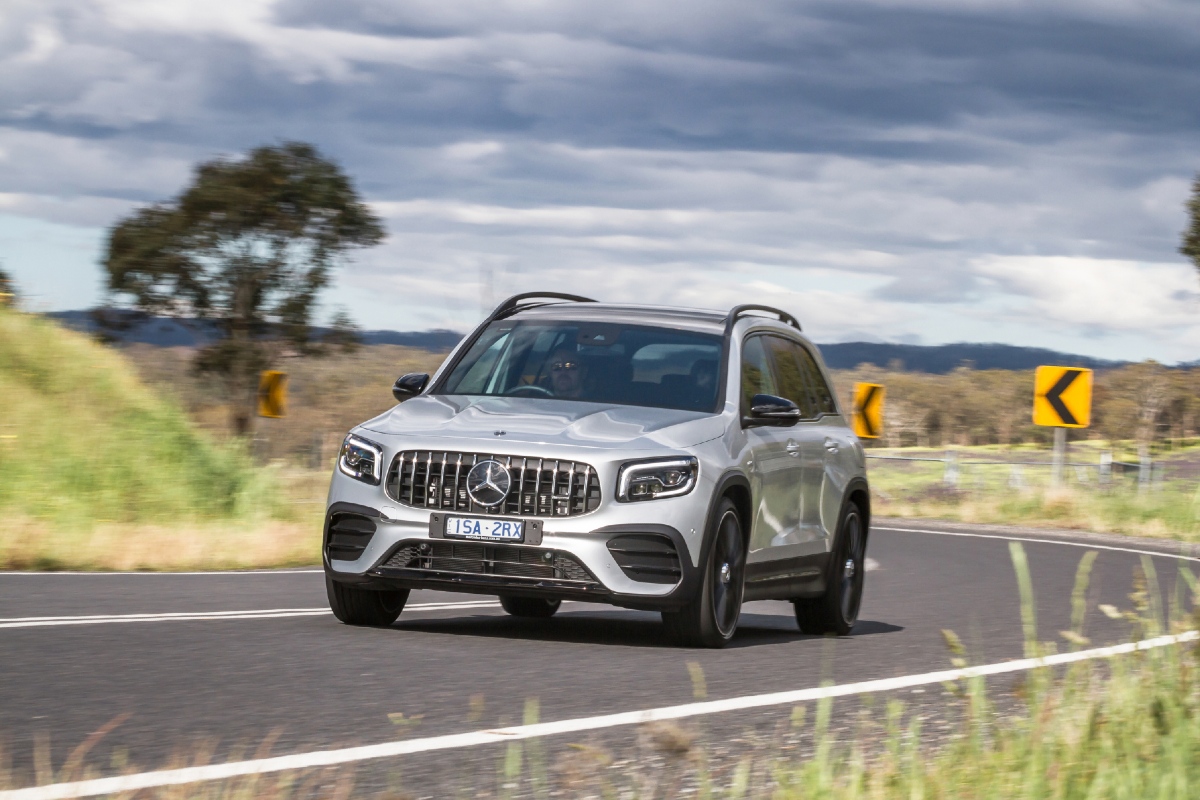 It would make an ideal road trip companion (when we can all travel again) with its ability to play multiple roles. Something like a tour down the Great Ocean Road between Melbourne and South Australia would be an enjoyable drive in the GLB35.
What's the interior like?
Luxurious but sporty, but also practical. That's because while it's an AMG, Mercedes has managed to squeeze seven-seats into its relatively compact proportions.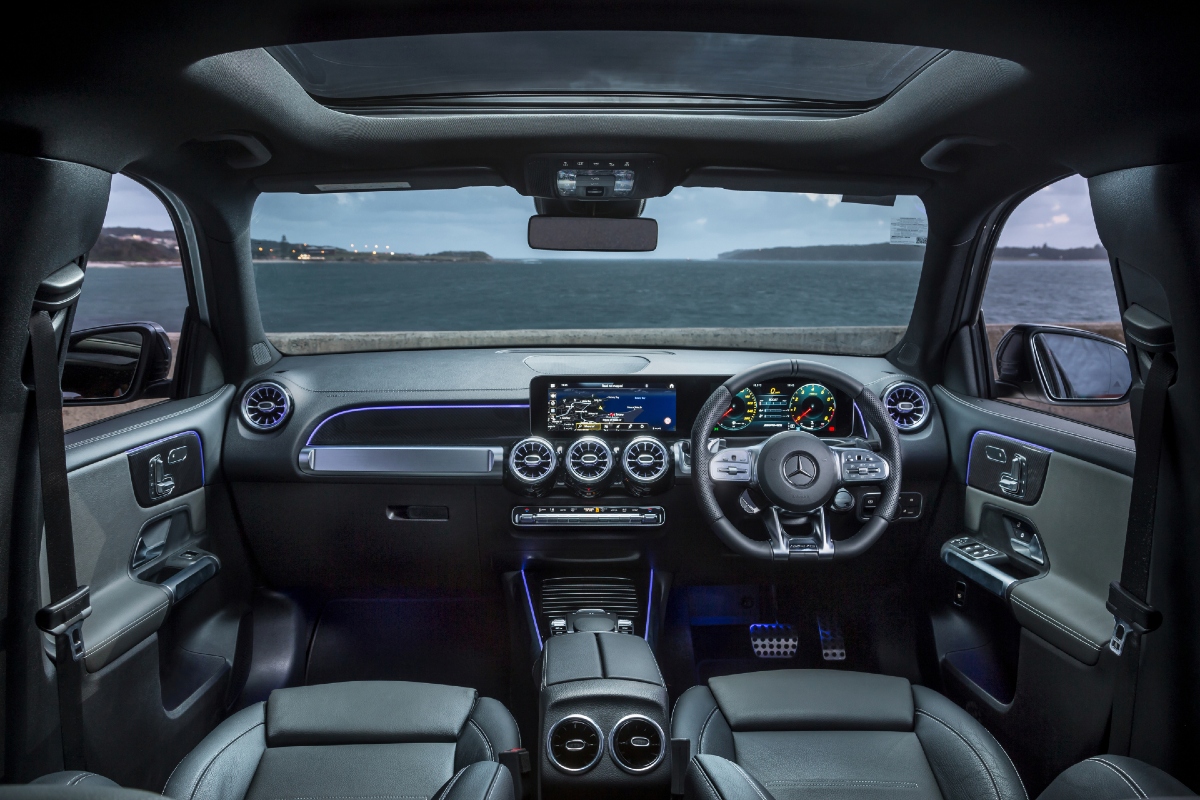 It still has the usual level of fit and finish you expect from Mercedes-AMG, with comfortable leather seats, a thick-rimmed steering wheel and metallic-finished trim. So it ticks all those boxes for people expecting a combination of luxury and sportiness.
But the decision to make it a seven-seater will give it appeal to families who want some flexibility without buying a bigger, bulkier SUV. That said, while it has seven seats, it's best to think of the GLB as a '5+2' seat layout, which is to say it will take five in comfort but can squeeze in an extra pair when needed. The third row seats are strictly for smaller children, and even then only for short trips.
Is it good value for money?
The GLB manages to find itself in a middle ground in terms of its size and value proposition, slotting between the more conventional small GLA and mid-size GLC in the Mercedes lineup. However, there are some models that come close to offering the kind of luxury and sportiness but none with the seven-seat option of the GLB35.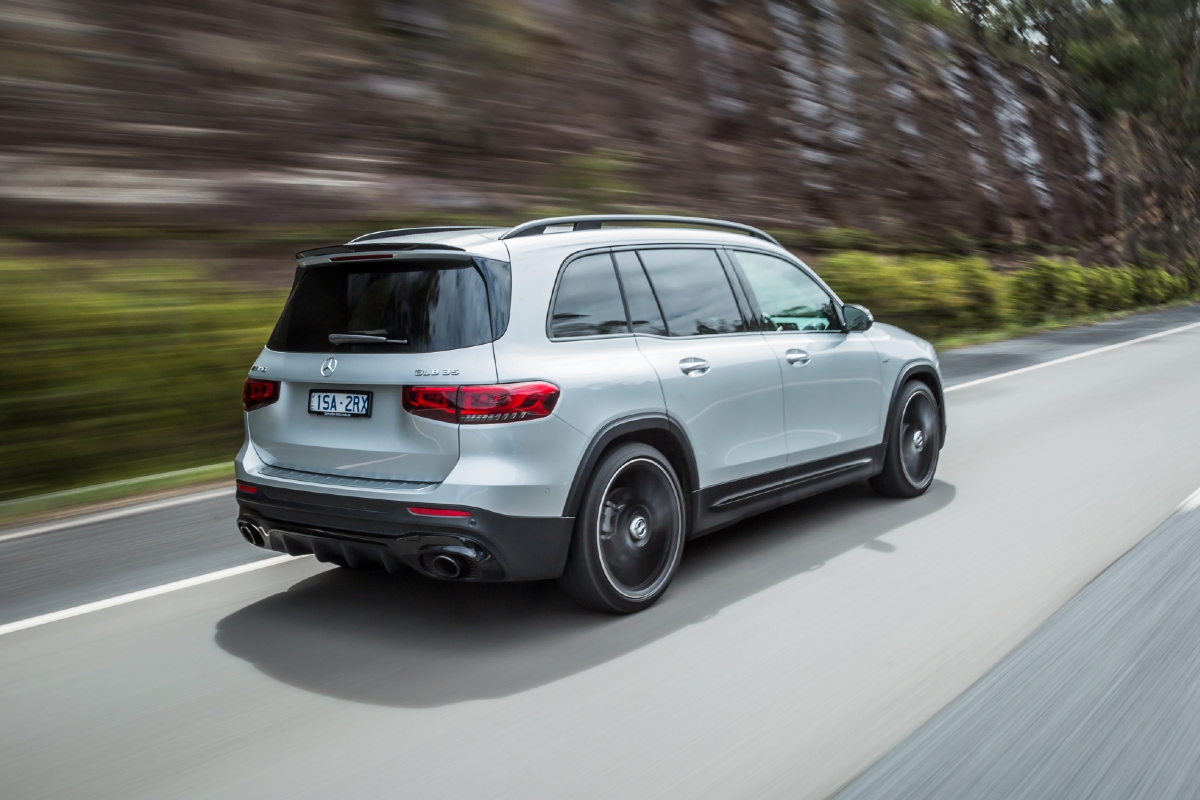 Priced from $89,176 (plus on-road costs), the AMG is only $5600 more expensive than the GLA35 which makes it a compelling value proposition if you're set on a car with a three-pointed star badge.
If you're willing to sacrifice the extra seats and some power there are similar-sized and priced alternatives, such as; the Jaguar E-Pace P300 Sport (from $81,776), the entry-level Porsche Macan (from $84,800) and Range Rover Evoque R-Dynamic HSE (from $79,276) and the new Genesis GV70 3.5T Sport (from $83,276).
Would I buy one?
I used to be staunchly against 'performance SUVs' believing them to be a contradiction – how could a bigger, boxier vehicle be a performance car? Well, with new car buyers around the world – but particularly in Australia – desperate for SUVs in any shape and size it was inevitable that companies like AMG would work out a way to make them genuine performance cars.
The GLB35 ticks a lot of boxes – fast, luxurious and practical – which is why I'd be happy to have one in my driveway on a permanent basis.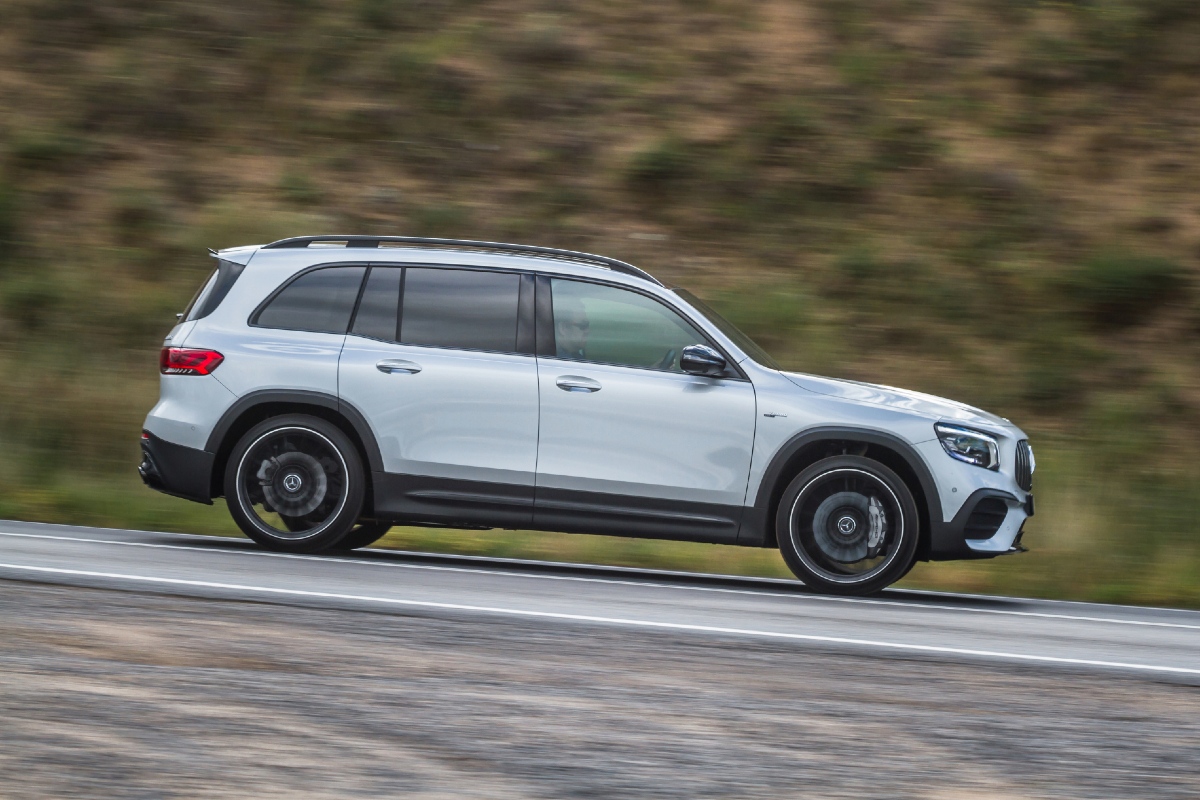 2021 Mercedes-AMG GLB35 4Matic price and specifications
| | |
| --- | --- |
| Price: | From $89,176 plus on-road costs |
| Engine: | 2.0-litre four-cylinder turbo petrol |
| Power: | 225kW at 5800rpm |
| Torque: | 400Nm at 3000-4000rpm |
| Transmission: | Eight-speed dual-clutch automatic, all-wheel drive |
| Fuel use: | 8.3L/100km |
| Wheels: | 20-inch alloys |
| Tyres: | 255/40 R20 |
| Length: | 4634mm |
| Width: | 1834mm |
| Height: | 1658mm |
| Weight: | 1857kg |
| 0-100km/h: | 5.2 seconds (claimed) |