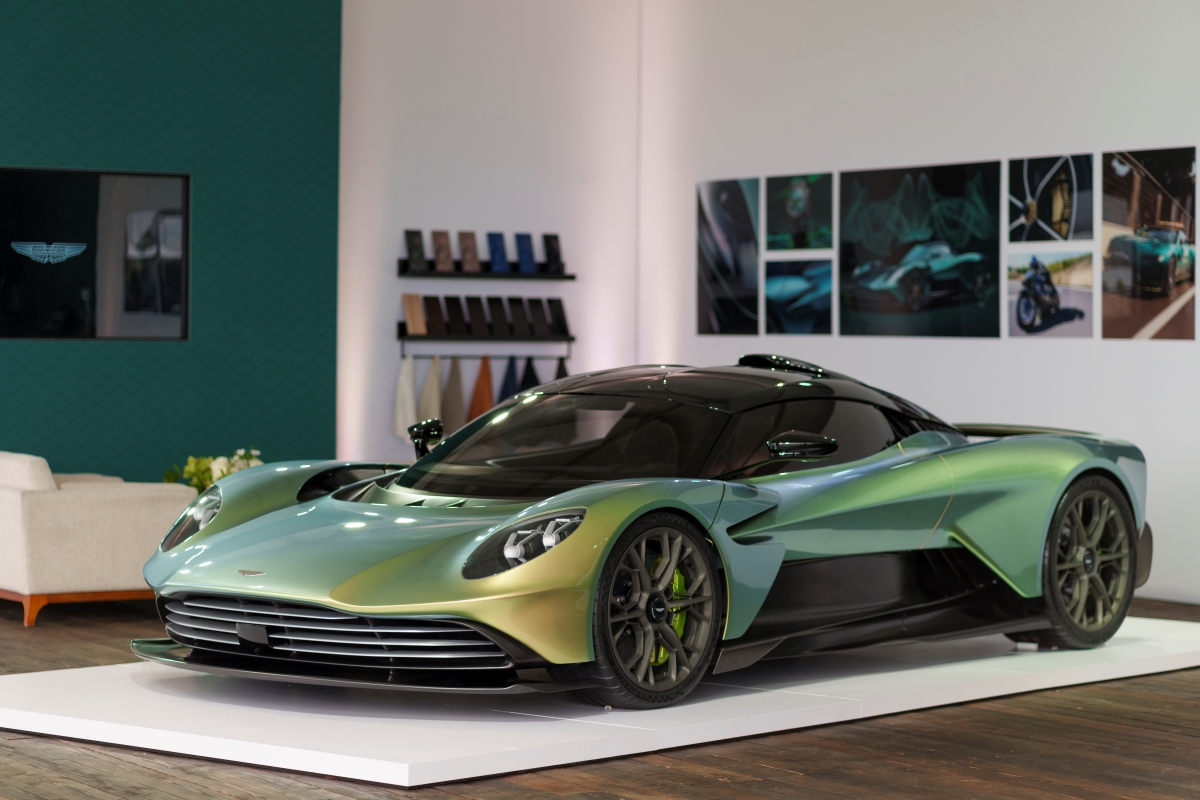 Years in gestation, the Valkyrie was unleashed earlier this year – as was Fernando Alonso's arrival to the Aston Martin F1 team. The Spaniard has been quick in pre-season testing, showed promise on the first practice before delivering a stunning podium from third on the grid at the season opener. He then backed that up at the second race in Saudi Arabia – even leading for a period – to make it two podiums in a row.
Aston Martin has the ex-Ferrari driver claiming silverware, but in the showroom it's targeting Ferrari customers, too – and if the first podium for Aston is the Valkyrie, the second is the Valhalla.
Aston Martin's first mid-engined series production car, the Valhalla is smaller, more affordable and more practical hypercar, designed to be as usable as a car with such capability can be.
Yet that doesn't make it anything close to ordinary: while still in development, this $1.2million, 350km/h machine has a unique carbonfibre chassis, runs a twin-turbo V8 with three electric motors, producing 1012hp (744kW) sent through an eight-speed transmission to all four wheels. And yes, it's a plug-in hybrid with a 0-100km/h acceleration claim of 2.5 seconds.
Aston Martin is targeting – publicly, which is significant – a six-minute and 30-second lap time around the Nürburgring's Nordschleife. That is faster than any road car it has produced, with Aston using the latest 2023 Porsche 911 GT3 RS's recent 6:49.328 lap "for context". So Valhalla is not merely fast – it's designed to be a genuine world beater.
It's a rare blend of heritage and future facing tech, so brings new buyers as well as also hoping to appealing to traditional Aston owners.
"It's our first V8 mid-engine supercar – people we're talking to, many are from other brands that have mid-engined supercars, and we haven't played in that sort of area before, so they're coming to us with fresh faces, new to the brand," says Nathan Lowe, Regional Manager Sales and Aftersales for Aston Martin ANZ.
"The other ones of course are the long-time Aston aficionados who are interested in the future of the brand and the highest performing cars that we've made to date."
The vehicle we're viewing won't end up in anyone's garage, as it's a prototype that Aston says is 95 per cent when it comes to the final exterior execution, and 90 per cent in terms of its cabin finish.
The dramatic shape of the Valhalla is impressive in person. Its flowing form, the sculpted shaped looks like it's been melted by the wind as its black cockpit rises like a glass visor from between its two strakes for an energetic, kinetic silhouette.
While at first glance its elegantly simple, its smooth body covers complex aero channels that run from the active front splitter and pushrod front suspension and intentionally shows off what the brand calls its 'pure aerodynamic function'. It's a true downforce car – with a claimed 600kg of downforce "well before v-max", according to Aston, but being mid-engined it also needs to feed the engine as well as dissipate heat.
Further details emerge as the dramatic visual impact subsides: the cuts in the side body work, including the DB-taillight inspired door cut-outs, through to the jewel-like taillights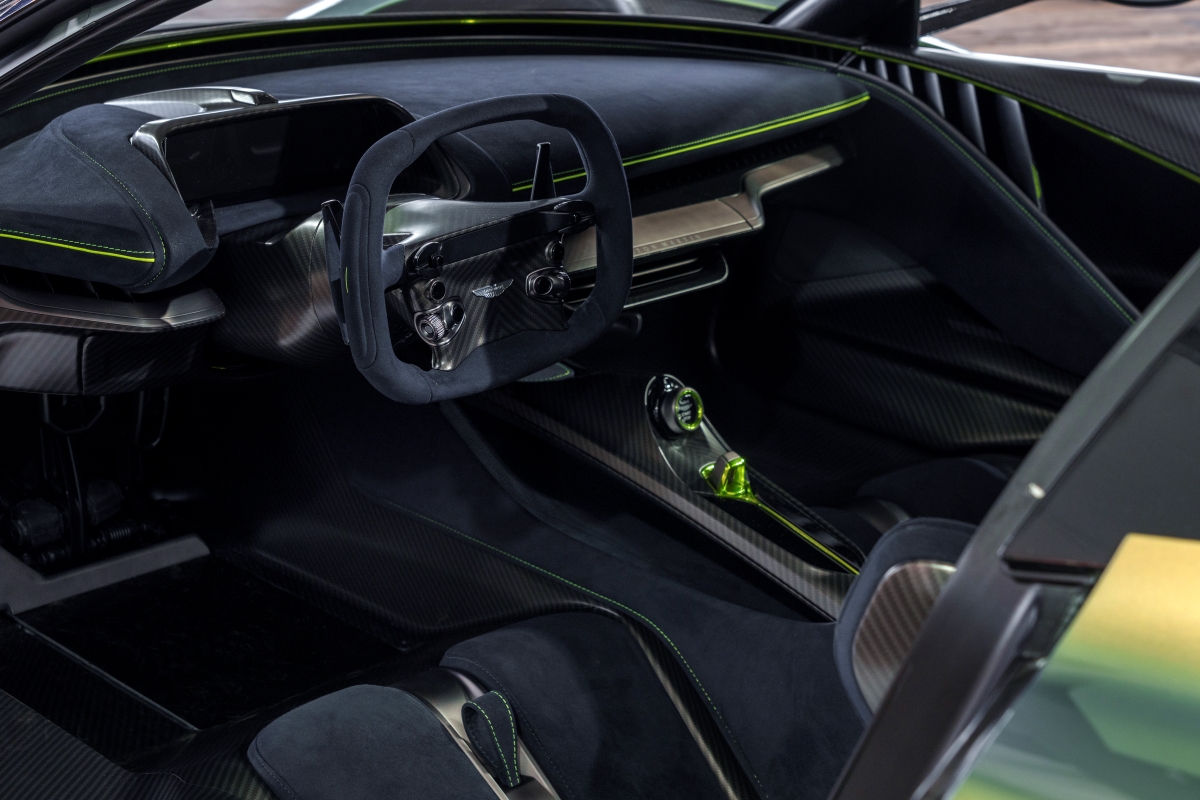 It's our first time inside, however – and peeling back those dramatic dihedral doors shows the drama and scale of the aero work that has gone into this masterpiece, with the engine intake's raw pasta-like folds of solid carbon both effective and a reminder of the drama that this package has been created for. The car, says Lowe, has been designed from the inside out.
"This car – the Valhalla – is straight out of F1," he says. "There's double diffusers, there's Venturis that you really only see them on an F1 – you won't see them on anything else in this segment. The engineering brief on the car is really about making the most driver focussed Supercar that's ever been made."
That includes the 'F1 style' driving position with its 'hip-to-heal' ratio, with the production model set for a fixed pedal box but adjustable, single-piece carbonfibre seats.
There's yet more theatre before you sit in the Valhalla, though, as on the scissor doors, 'Hand built in England' is written in a sleeve within the raw carbonfibre and further down, the front 20-inch tyre tread is visible.
From here, you'll likely have your gaze pulled towards the centre of the near symmetrical cabin. A deep-dished three-spoked leather-wrap steering wheel interrupts the smooth Alcantara coated dash, with the centre of the cabin speared by the central tunnel rising up to shape Valhalla's two seats.
The driver's seat is supportive – noting again that this is prototype – and easy to slide into, given the access that the door and roof cut-outs bring. This journalist, at six-feet tall, fit inside, and with the cockpit closed had ample space as a driver in leg-, shoulder- and headroom even if there is an awareness of the cabin roof surroundings as you peer forward.
It almost – almost – feels like an open wheeler, the driver between the chassis rails, yet it's not as cumbersome to climb in and out of like, say, a Lotus Elise, nor do you feel as exposed – there's that usability Aston has talked about for this car.
There's more drama in that you can see the exposed wheels that you saw on your way into the driver's seat through sculpted bonnet cut-outs, adding again to the open-wheeler feel.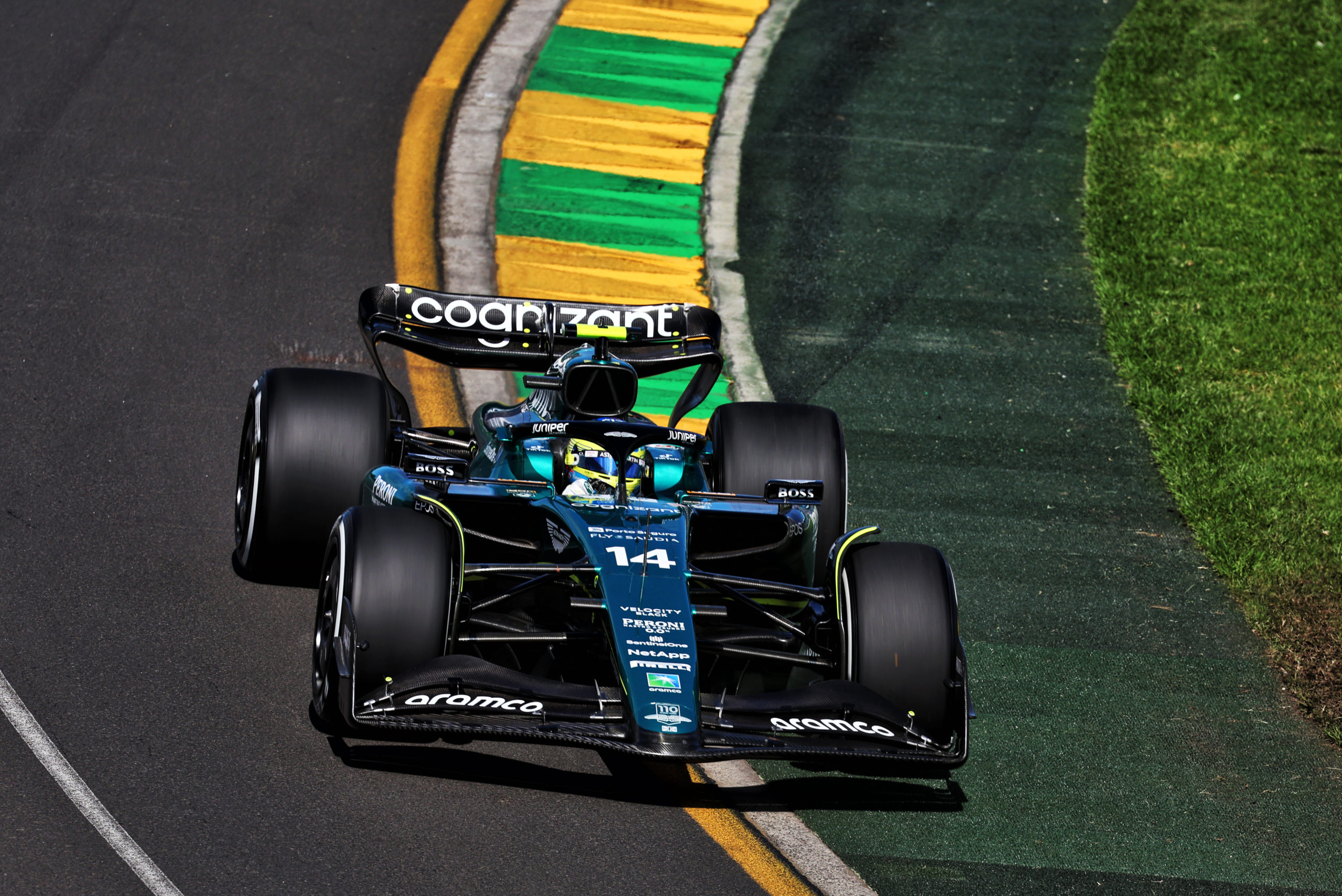 You can imagine the glasshouse turret as almost an oversized racing helmet – a little silly, yes, but that's a genuine feeling in a car that is so Spartan – it's what's missing that makes it what it is. It's raw, visceral yet somehow also complete.
There are digital instruments which we can't access on this prototype, and a centre touchscreen will join the final production spec, but we can see the elegant, elongated lines of the dash and the interior's brushed aluminium and carbonfibre surfaces, punctuated by pops of yellow to accompany the stitching, shifter and steering wheel.
That band extends across the cabin as a waterline that separates the cockpit from the outside, an intentional separation – the calm, inner sanctum separated from the energy being generated by a 1012hp hypercar…
It's a stunningly impressive machine in terms of design, and on paper has the stats to rattle Ferrari, whose SF90 Stradale is clearly in its sites. If its Valkyrie reviews are anything to go by, the Valhalla could be one of the ultimate real-world hypercars of the decade. A revelation from an old hand, quite like that of one Fernando Alonso – the ex-Ferrari driver luring Ferrari customers.